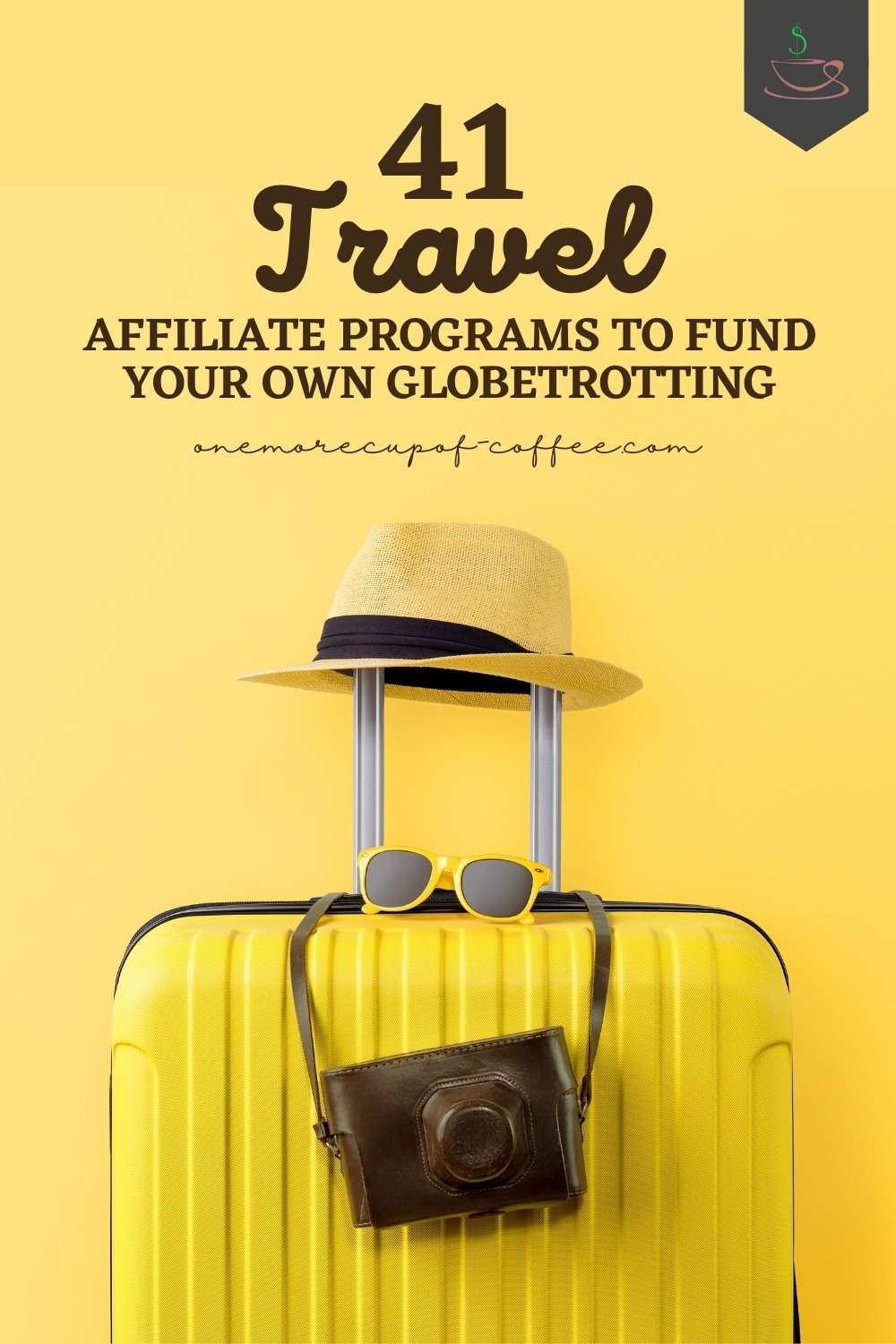 Travel is something that most people enjoy to some degree. Some are passionate, dedicated travelers who aim to see the entire world. Others are content to go on one trip each year to get away and see something new. Traveling is fun and often eye-opening, educational, and exciting, but it's not the easiest thing to do.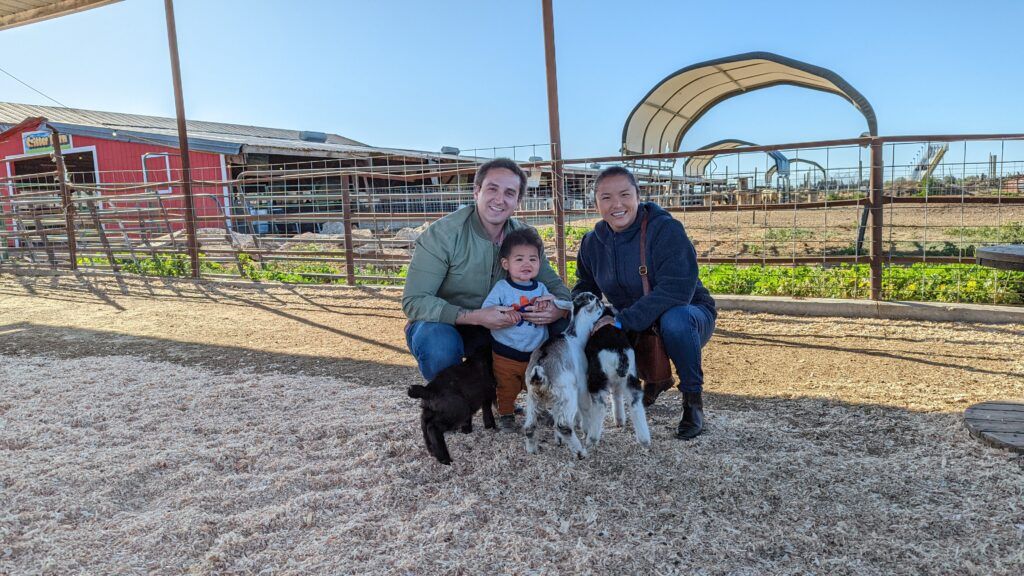 Are You Ready To Work Your Ass Off to Earn Your Lifestyle?
Are you tired of the daily grind? With a laptop and an internet connection I built a small website to generate income, and my life completely changed. Let me show you exactly how I've been doing it for more than 13 years.
If you're considering starting an affiliate website as a business, the travel niche is an excellent choice to consider. Not only is the travel industry huge and constantly growing, but it also offers a wide variety of products and services that can be promoted through affiliate marketing. This can provide a lucrative opportunity for affiliate marketers to earn high commissions and build a profitable business.
One of the key benefits of the travel niche is the potential for high sales and earnings. People are always looking to book flights, hotels, and other travel arrangements, and an affiliate website that offers these products can generate significant revenue. Additionally, the travel industry is constantly changing, with new products and services being introduced all the time, which means there is always something new to promote and earn commissions on. With the right strategies and tactics, an affiliate marketer in the travel niche can earn a substantial income from their website.
Another reason the travel niche can be interesting for a business owner is the potential to specialize in a particular area or focus. For example, an affiliate website could focus on luxury travel, budget travel, or eco-friendly travel, which can help attract a dedicated audience and differentiate the website from competitors. This can provide a unique angle and value proposition for the website, and help it stand out in a crowded market. By focusing on a specific niche, an affiliate marketer can increase their chances of success and maximize their profits.
As for how an affiliate marketer promoting travel products can help consumers, there are several ways. First and foremost, an affiliate website can provide a convenient one-stop shop for all of a consumer's travel needs. Instead of having to visit multiple websites to book flights, hotels, and other travel arrangements, a consumer can do it all on one website, saving time and hassle. This can make the process of planning and booking a trip much easier and more convenient for consumers. By providing this valuable service, an affiliate marketer can earn commissions on the products and services they promote.
Additionally, an affiliate website can offer valuable resources and information for consumers planning their trips. This can include travel tips, destination guides, and recommendations for the best places to eat, stay, and visit. This can help consumers make informed decisions and have a better overall travel experience. By providing helpful and useful information, an affiliate website can become a trusted resource and go-to destination for consumers looking to plan their travels. This can help increase website traffic and conversions, and ultimately lead to higher profits for the affiliate marketer.
Furthermore, an affiliate website can provide access to exclusive deals and promotions that may not be available elsewhere. This can include discounted rates on flights, hotels, and other travel arrangements, as well as special offers and perks from travel providers. This can help consumers save money and get more value for their travel budget. By offering these exclusive deals, an affiliate website can provide added value and incentives for consumers to book through the website. This can increase the chances of making sales and earning commissions, and ultimately lead to higher profits for the affiliate marketer.
Overall, the travel niche can be a highly profitable and interesting option for those looking to start an affiliate website as a business. By offering a wide variety of products and services, specialized focuses, and valuable resources and information, an affiliate marketer promoting travel products can help consumers plan and enjoy their trips to the fullest. Whether you're looking to earn passive income or build a full-time business, the travel niche is worth exploring as a potential opportunity for making a profit.
Travel can be broken down into many distinct categories, like the travel itself – flying, driving, trains, etc – and accommodations – hotels, hostels, BnB's, resorts, etc. There are affiliate programs for all of them, meaning you can zero in on whichever area of travel you prefer. The following 41 programs all have great earning potential and quality products, services, and experiences to offer. Though this is a general list of good travel affiliate programs, you can niche down deeper, and look at these specific travel niches for more ideas of which direction to take your site, or what potential products and services you could use to monetize your content.dis
1. HomeAway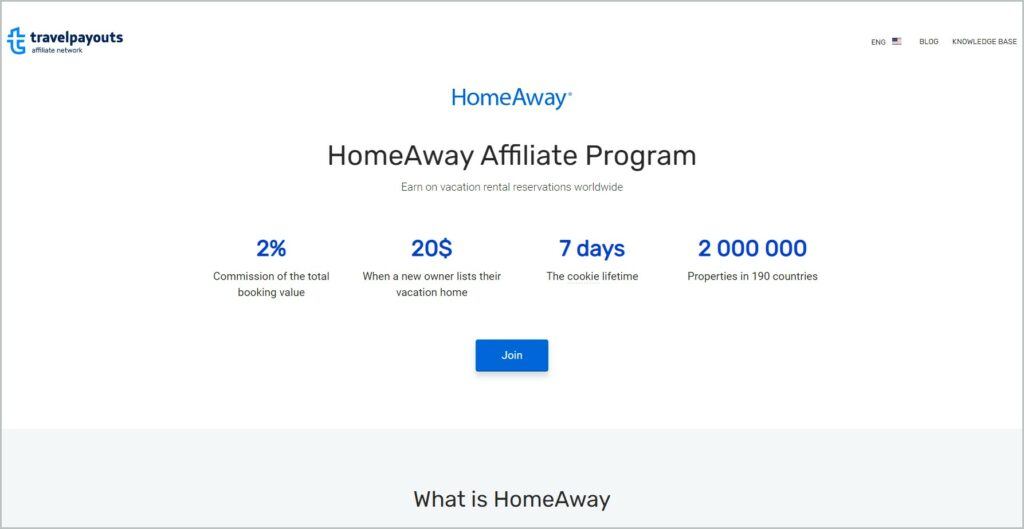 Home Away is Expedia's vacation rental service with over 2 million listings for their customers to enjoy. They have everything from apartments and condos to cabins, cottages, and full houses. They help you find all of the amenities you're looking for to ensure your vacation is the best it can be.
For those who like to plan every detail, they can help you figure it all out with their trip board feature. You can compile all your favorite places and invite family or friends to contribute. Everyone can comment and vote, making group decisions easier.
Affiliates who promote the service will earn 2% on bookings from a traveler, and a flat rate of $20 for every new listing they refer.
Why you should promote Home Away: They offer 2 million listings and their useful trip board features make collaborative planning a breeze.
2. Airport Parking Reservations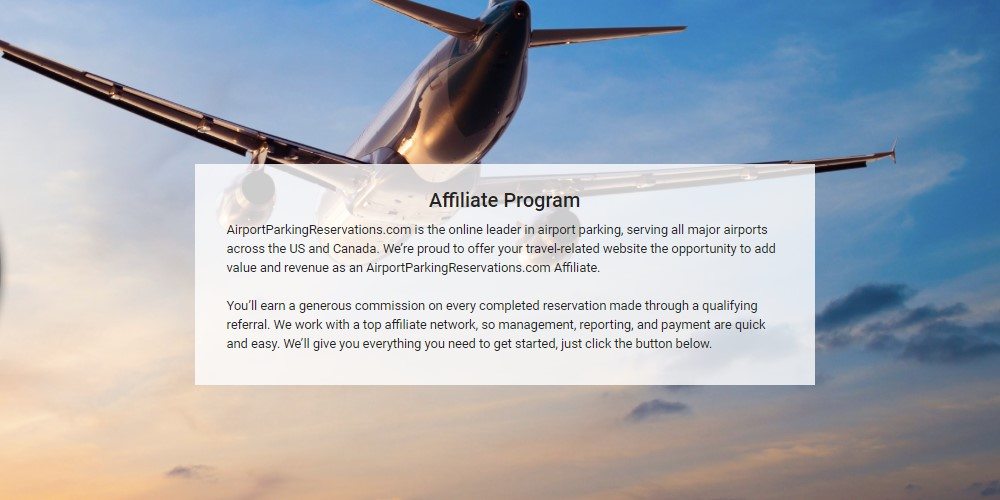 Navigating the airport and trying to make your flight on time is stressful enough. If you're driving yourself and need to find parking, it adds another layer of stress and time consumption. Airport Parking Reservations aims to make this part of the process fast, easy, and seamless.
They don't own the parking lots, but they help you find the best rates, best locations and facilitate the reservation for you. Many of their deals are exclusive and they have made more than 600,000 reviews on their website to help you make the most informed decision possible.
Affiliates are offered a strong commission rate of 20%. They also boast an impressive conversion rate of 8.5% which means the earning potential is fantastic. They use CJ Affiliate to run their affiliate programs.
Why you should promote Airport Parking Reservations: It's a unique and practical service that will save people time and headaches at the airport.
3. Tour Scanner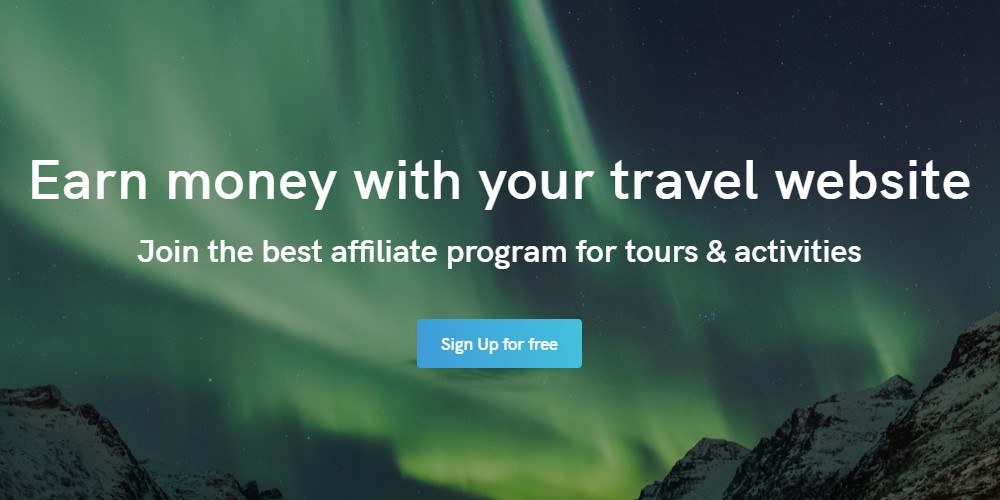 Once you've decided where to go, Tour Scanner helps you find things to do. From tours, attractions, activities, and more. Some of their top attractions include the colosseum, a Harry Potter studio tour, a helicopter tour of New York City, and a trek to Machu Picchu.
You can search by destination or by a specific activity. Tour Scanner finds the best prices, best seats, skip the line tickets, whatever you may need, and allows you to compare all the options.
Affiliates earn a standard 10% commission on all sales with a solid 45-day tracking cookie.
Why you should promote Tour Scanner: Their service is completely free and allows you to find the best of the best for your trip in just a few clicks.
4. Contiki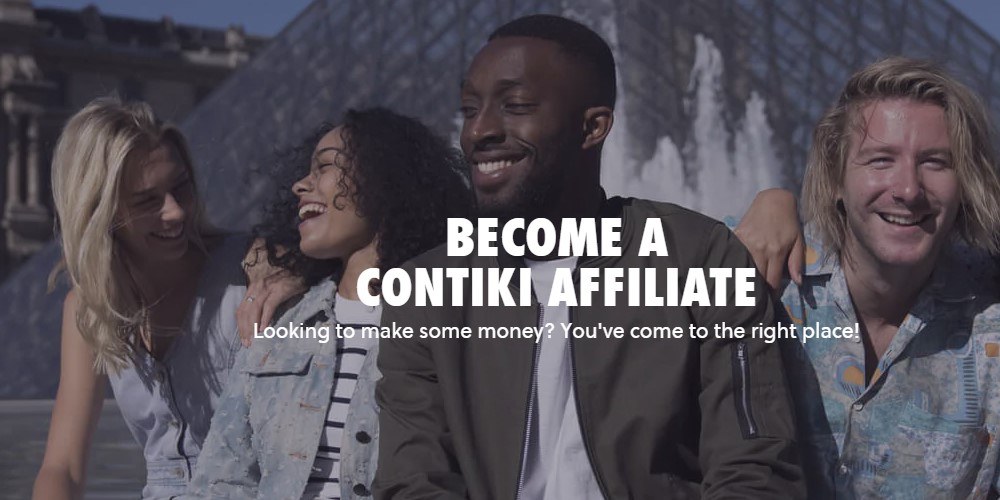 Contiki offers tours that cater to those between 18-35. Their tours span more than 40 countries in six continents across the world. They offer options for many different kinds of travel, wanting to leave no one out. From flying to road-tripping, they've got something for you.
Their tours offer many unique experiences that serve to benefit the community around them. They believe in giving back and providing sustainable experiences that pay employees and workers in the countries a fair wage. They are also passionate about the environment and strive to reduce the number of plastic products used by travelers. Part of their efforts includes a refillable water bottle with a built-in filter to ensure travelers have safe drinking water anywhere they go.
They offer a base commission of 5% but will offer higher rates to those who consistently perform well. Their cookie tracking is solid at 90 days – understanding that many people take time to solidify their plans.
Why you should promote Contiki: They provide quality tours while making an effort to leave a positive impact on the places their travelers visit. They are also environmentally friendly and strive for sustainability.
5. STA Travel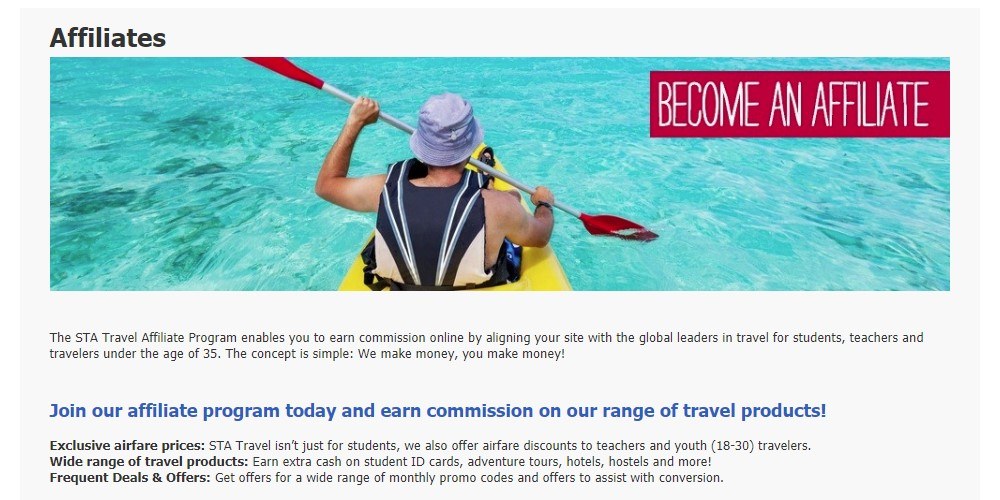 STA Travel aims to help young people travel – particularly students. The company was founded by two students who traveled when they were young. They realize that many students wish to travel but must do so on a strict budget. They aim to create affordable experiences and adventures.
They offer tours, hotel/hostel bookings, trains and buses, and travel insurance. They help students get set up for each part of the process and offer some great deals at the same time. They also offer financing options for students with their interest-free "book now pay later" program.
They offer affiliates a standard 10% commission which adds up quickly, even on more affordable trips, which will still cost a few hundred dollars. However, it's important to note that the 10% only applies to booking tours. Flights only earn a small $4 flat rate. The program is a good one if you're able to push tour bookings.
Why you should promote STA Travel: Founded by students for students, the company recognizes the need for students and youth to be able to travel at affordable prices. They cover every part of a trip from accommodations, travel, and insurance so no one has to go anywhere else.
6. Gray Line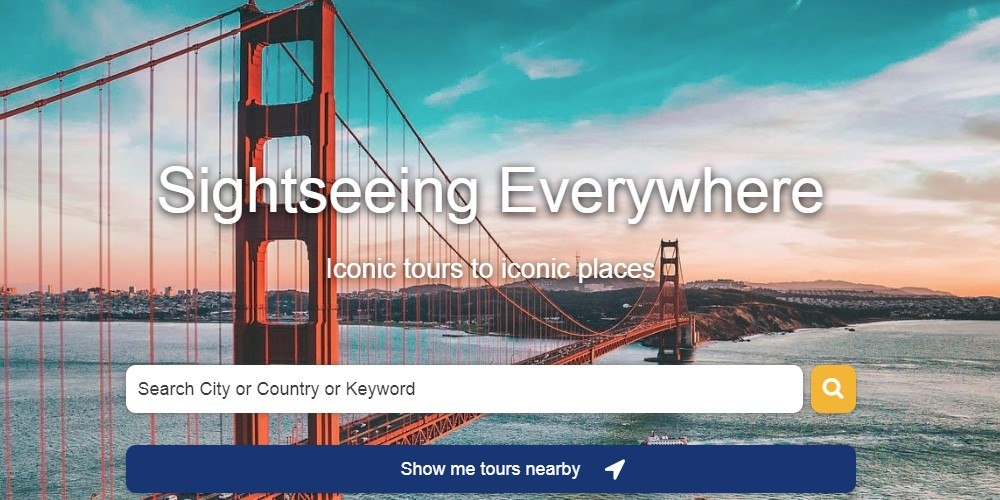 Grayline is a world leader in tours all over the world – specializing in sightseeing. They have been in operation since 1910, meaning they have more experience in the industry than much of their competition.
They offer their sightseeing tours in over 700 locations on six continents. They offer a huge variety of tour types to cater to all kinds of travelers. This includes day trips, "hop on hop off" tours, walking tours, multi-day packages, even airport transfers, and more specialized destinations
The affiliate program offers a 5% commission rate on all tours booked.
Why you should promote Gray Line: They have been around for more than 100 years and can offer some of the most experienced service in the industry. They offer such a variety of sight-seeing experiences, your audience will no doubt find something that appeals to them.
7. Lonely Planet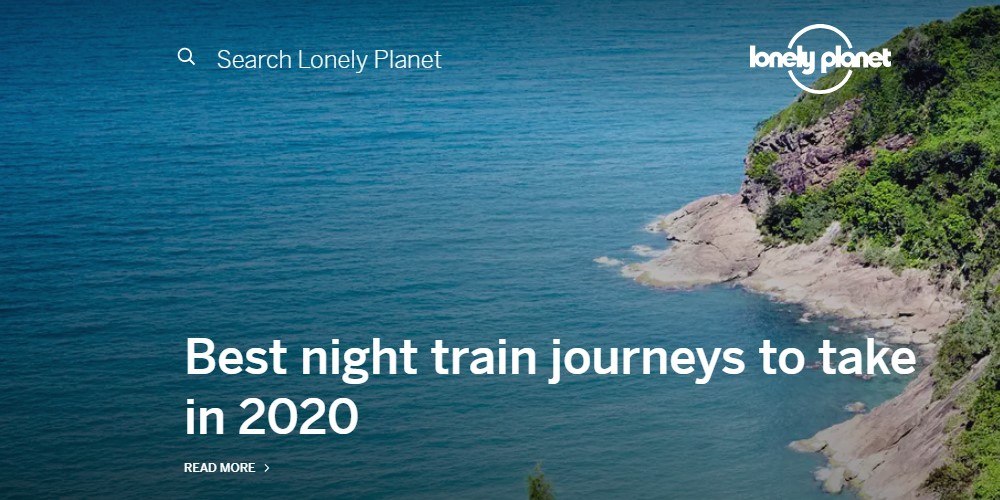 Lonely Planet began when founders returned from an amazing trip across Asia. From the trip, they created their first guidebook with physical paper and a stapler. It has since evolved into a huge, trusted source of guides, information, and content regarding many popular destinations.
The content is curated by experts who have visited the locations themselves. Guides are available in print and digital form. They also offer a sleek, easy-to-use mobile app that offers a wide array of travel content.
Affiliates are given a solid 15% commission on sales of both print books and ebooks.
Why you should promote Lonely Planet: Not everyone likes to travel on a whim, nor does everyone enjoy extreme spontaneity. Lonely Planet provides detailed, comprehensive guides to assist in the proper planning of trips all over the world. They also boast an impressive conversion rate of 12%.
8. Get Your Guide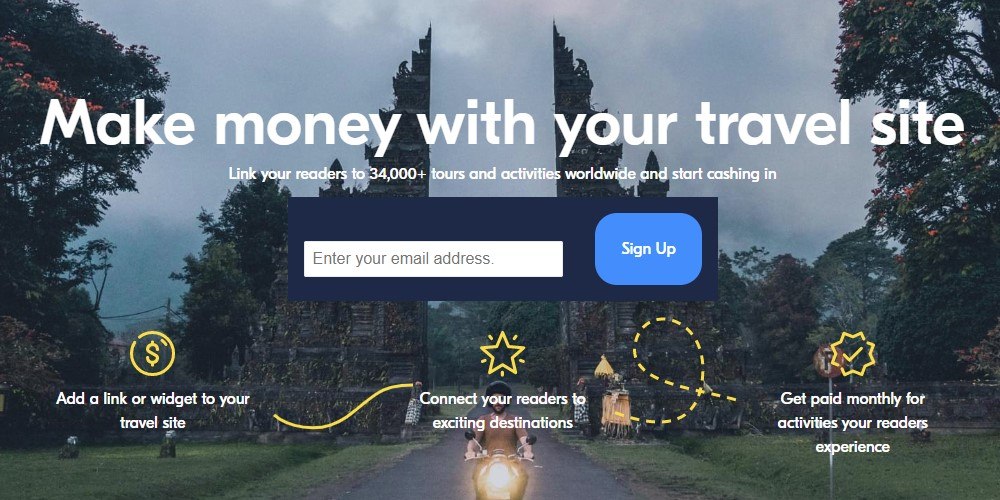 Get Your Guide provides personal accounts from many destinations across the world. Their aim is to turn your trip into something truly extraordinary. Once you tell them where you're going, they'll let you know what's best in that area.
They make the planning process a total breeze. All you need to do is book what you want, and they'll tell you exactly where to be and when. They have activities in their database for all ages, and they offer skip-the-line privileges when you book ahead of time.
Affiliates earn commission on every booking they refer. They also offer tips for link placement, dedicated support, and the ability to add both links and widgets to your site.
Why you should promote Get Your Guide: They have provided amazing travel experiences to millions of users, meaning their satisfaction rate is high. Their affiliate program also offers affiliates a tremendous amount of help and support.
9. Viator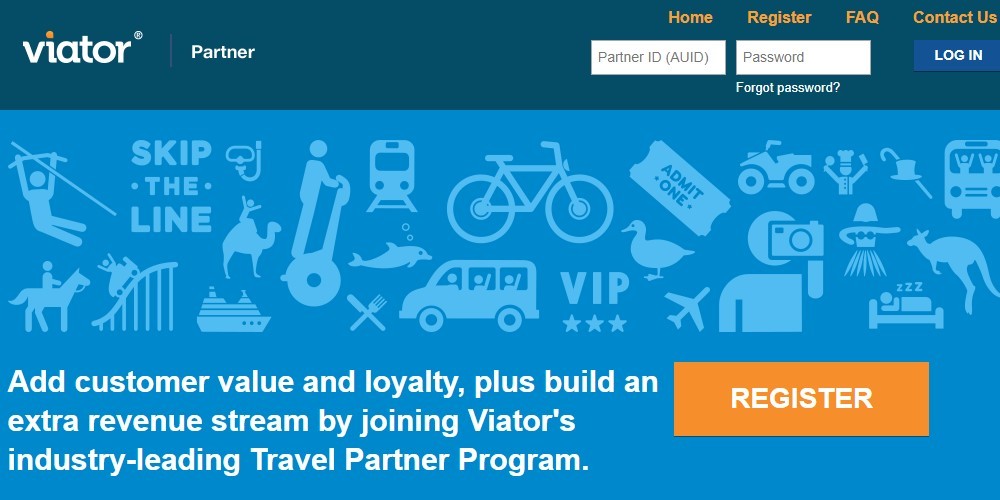 Viator offers a catalog of more than 200,000 activities for their customers to book. The platform is optimized for mobile browsing and booking, with options to book on the go or far in advance. Many activities will give you access to skip-the-line passes, which makes for a more seamless experience.
They also offer full refunds as long as you cancel within 24 hours, as well as the option to reserve an activity without paying in full right away. This offers a lot of flexibility and takes the pressure off those who are more capable of paying off a trip over some time rather than all at once.
Affiliates can promote these trips and earn a commission when they refer a booking. They offer a number of different widgets and tools to help you advertise in a way that suits your specific website for the most possible conversions.
Why you should promote Viator: With their cancellation policy and the ability to reserve now pay later, they offer one of the most flexible booking services out there.
10. World Nomads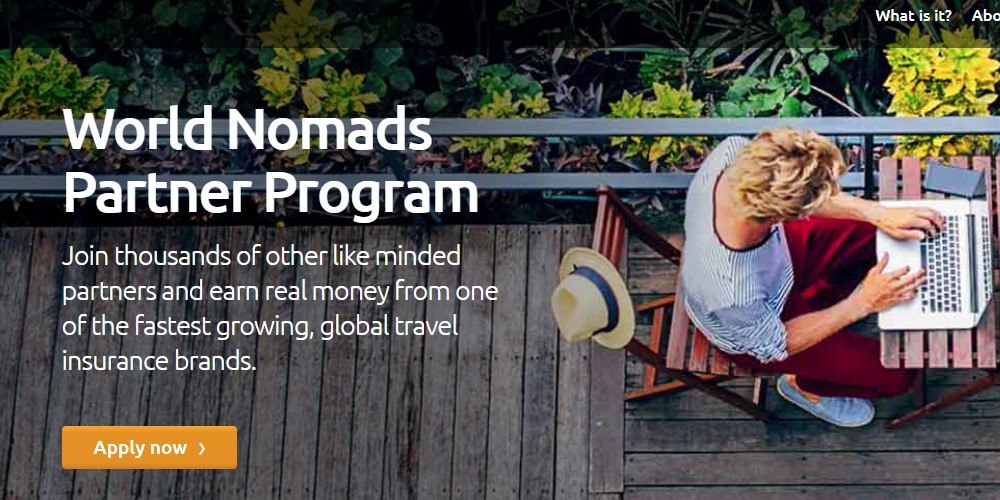 World Nomads is an independent travel insurance provider. Travel insurance is a boring part of the process, but it's necessary, especially if you're traveling outside your home country. Many banks offer it, but World Nomads was founded by true travelers who understand the unique needs of travelers.
They cover people from 140 different countries with all kinds of coverage, from medical, evacuation, and emergency assistance. In addition to their basic coverages, they also offer language guides and travel blogs that are mobile optimized. They are truly passionate about keeping travelers safe while on their adventures.
Affiliates are given tools and content that are easy to integrate and fantastic earning potential with loyal customers all over the world.
Why you should promote World Nomads: The company supports and promotes many charities as well as providing scholarships to creative travelers who are curating content about their experiences.
11. Skyroam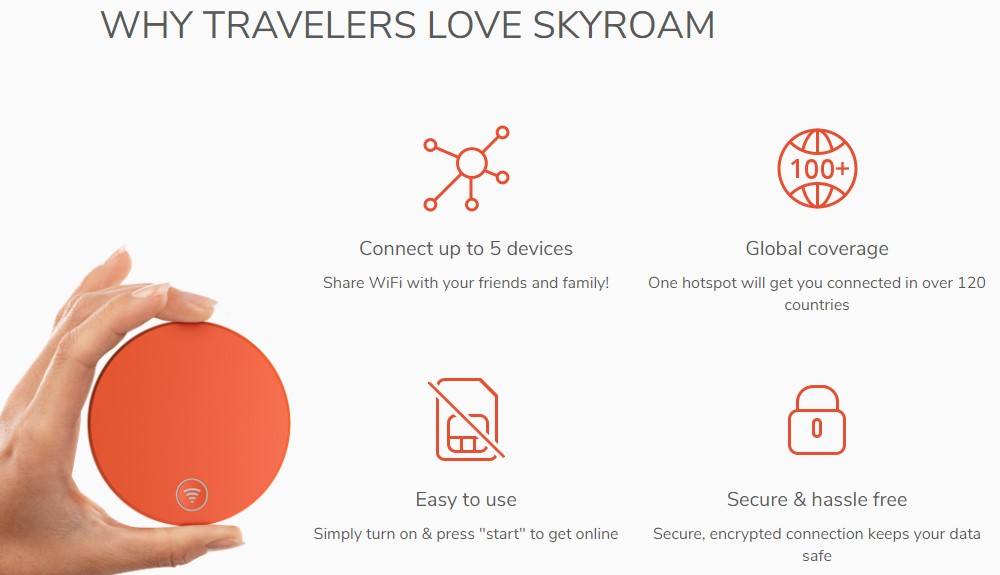 Skyroam is another company that provides a mobile Wi-Fi hotspot. Their device is called the Skyroam Solis and it can be bought or rented. Renting is a good choice for occasional travelers, with buying be worth it for those who travel frequently. If you own the device, you'll need to purchase "day passes" to connect on your trip. For renters, all-day passes for the trip will be included.
Day passes give you unlimited data for a 24 hour period. This means you won't have to worry about limits or overage charges. They provide strong, secure internet all over the world – in more than 130 countries. You can connect up to five different devices.
Affiliates are offered a 10% commission on sales, whether the customer buys or rents the device.
Why you should promote Skyroam: Their innovative device offers the easiest, fastest global internet overage for travelers. The company is made up of passionate travelers who understand what travelers need.
12. Sky Scanner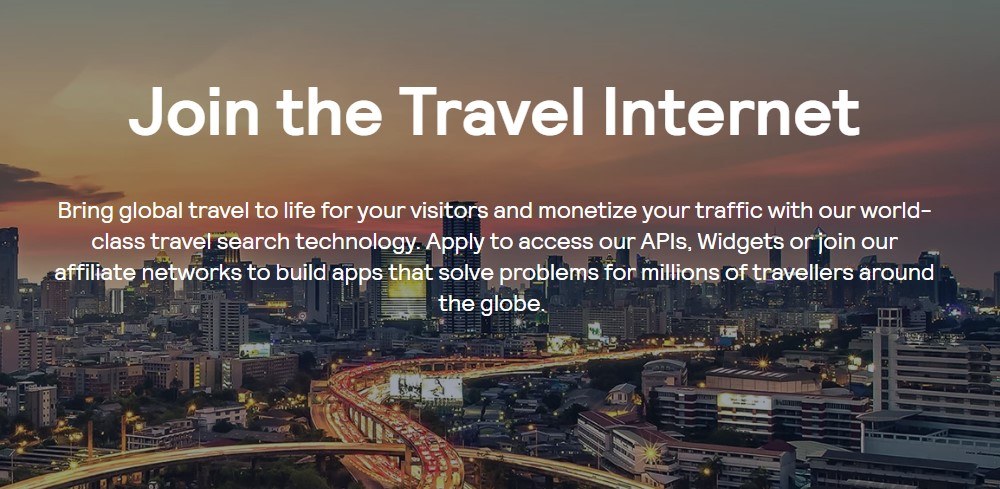 Skyscanner partners with more than 1200 companies to provide their customers with a quality network of companies that can help them plan the perfect trip. This includes airlines, car rental companies, accommodation booking, and more.
Their goal is to make travel as easy and as simple as possible. Their website and app help more than 100 million people all over the world make their plans each month. The app is available in more than 30 languages to cater to as many customers as possible.
Affiliates can promote this service and receive an impressive 50% commission.
Why you should promote Sky Scanner: In addition to their extremely high commission rate, they place a focus on sustainable travel. They will highlight flights that emit less CO2, and they are constantly working to become even more sustainable.
13. Hotwire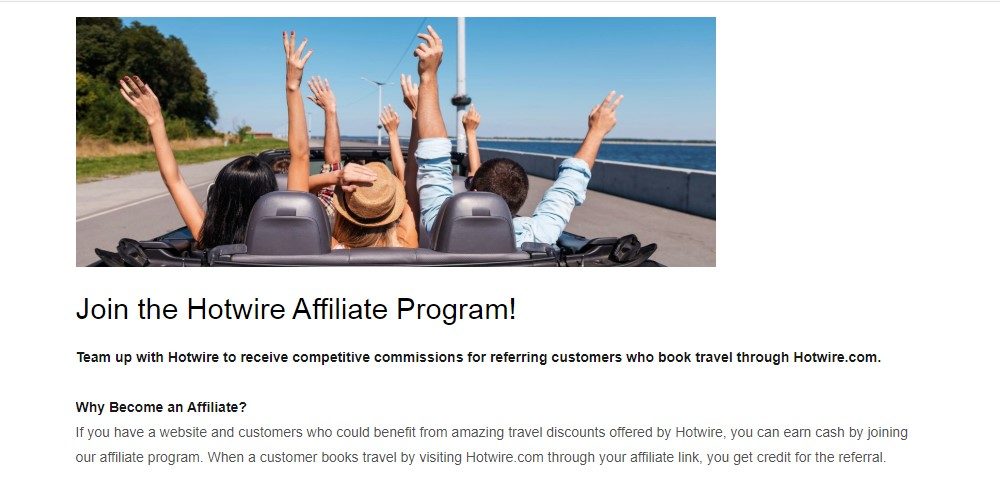 HOtwire is made up of a team of individuals who are both passionate about travel and experienced with it. Hotwire is a company that facilitates travel plans. It helps travelers book accommodations find rental cars and more. Their goal is to help travelers get the best deals possible, allowing them to travel more often with the money they save.
They also offer travel tips and guides that can help customers make the best decisions about where they want to go.
Affiliates are given a 2% commission rate on all bookings they refer to. The rate is low, but if someone is booking their entire vacation with Hotwire, the commission will add up fast. They also offer payouts every 15 days rather than monthly, which is most common.
Why you should promote Hotwire: They are a well-known and widely-used travel service. They give people solid information as well as great deals on their vacations.
14. Travel Stack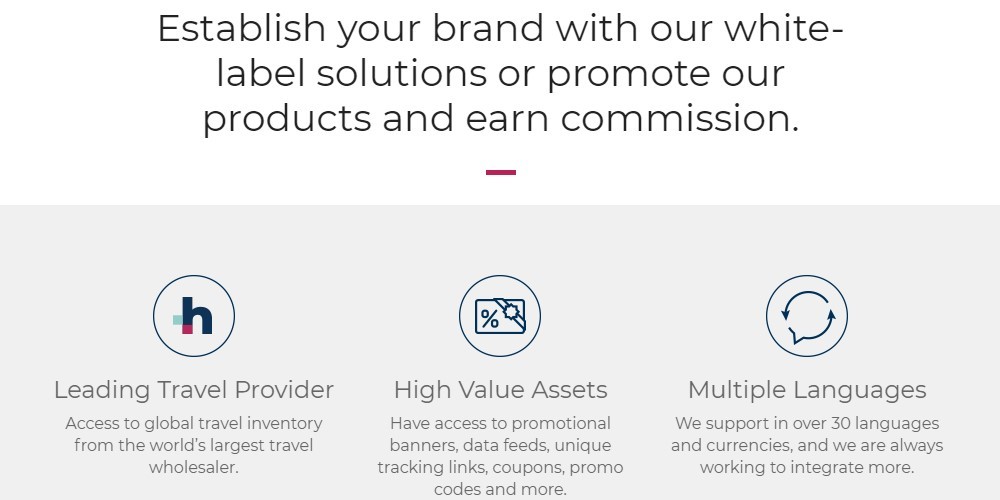 TravelStack is a company that provides comprehensive travel and booking solutions for those who own hotels, car rental companies, travel booking services, etc. They make it easy for you to offer top-notch services to your customers.
They have many options and services with an easy implementation that you can choose from, depending on your specific business. TravelStack can be the perfect solution if the business is slow and you want to increase bookings and grow your business.
The affiliate program allows you to promote their services to travel companies, as well as their wholesale travel products from the other section of their business.
Why you should promote TravelStack: They offer something to the business side of the travel industry. It's a great program to promote if there are any business-owning travel gurus in your audience.
15. Hotels Combined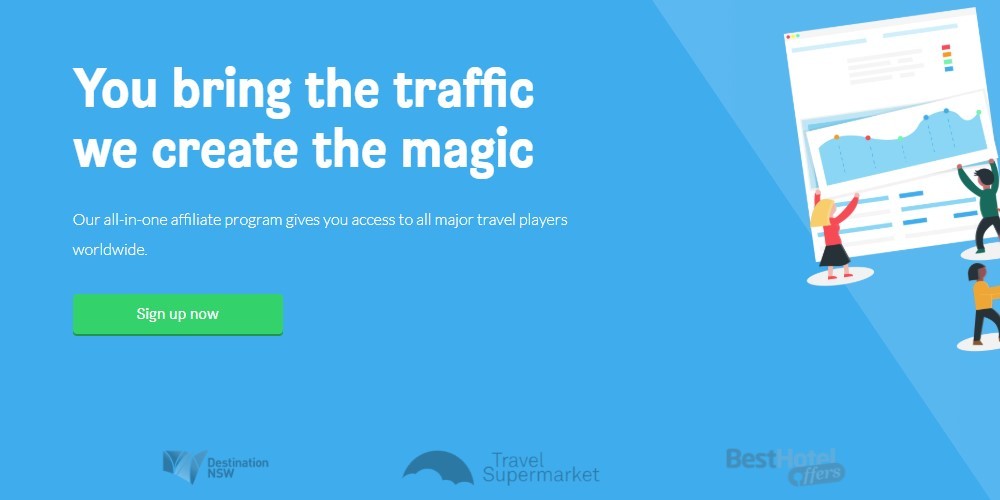 Hotels Combined helps you find the best deals possible on hotels around the world. In fact, finding the best deals is their guarantee. They don't charge any booking fees and there is no mark-up. They also compare all other top travel sites in one search so you can see all possible deals.
They also have a responsive mobile app so you can perform your searches and compare prices at any time and while on the go.
The affiliate program is comprehensive with lots of tools, dedicated support, and a generous commission. Tools include widgets that allow people to search and browse hotels right on your website.
Why you should promote Hotels Combined: They are the ultimate resource with all the access to great hotel prices. With their integrated website search tools, they offer your audience the best options and the most convenience.
16. Top Villas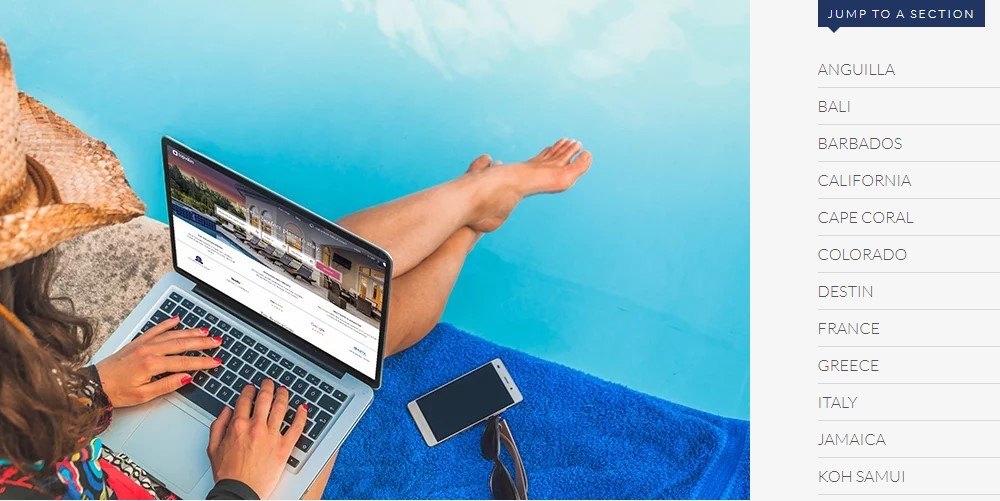 Top Villas is a booking company that focuses on luxury rentals, such as beautiful, top-notch villas, in more than 50 countries worldwide. In addition to their high-end properties, they offer luxury add ons as well. This can include high-end car rentals, private chefs, and butler service.
They also have a blog that's full of great content for those looking to travel with them. They go over the best time to visit popular destinations, things to do in certain cities, and more.
Affiliates are given a standard 10% commission on all bookings made through their links. They offer helpful tools like pre-made banners and deep linking. They also offer content ideas for those struggling to get started.
Why you should promote Top Villas: They offer something a little different and unique. They focus on a higher-end of travel, making them the perfect resource for those who prefer to vacation this way.
17. Enterprise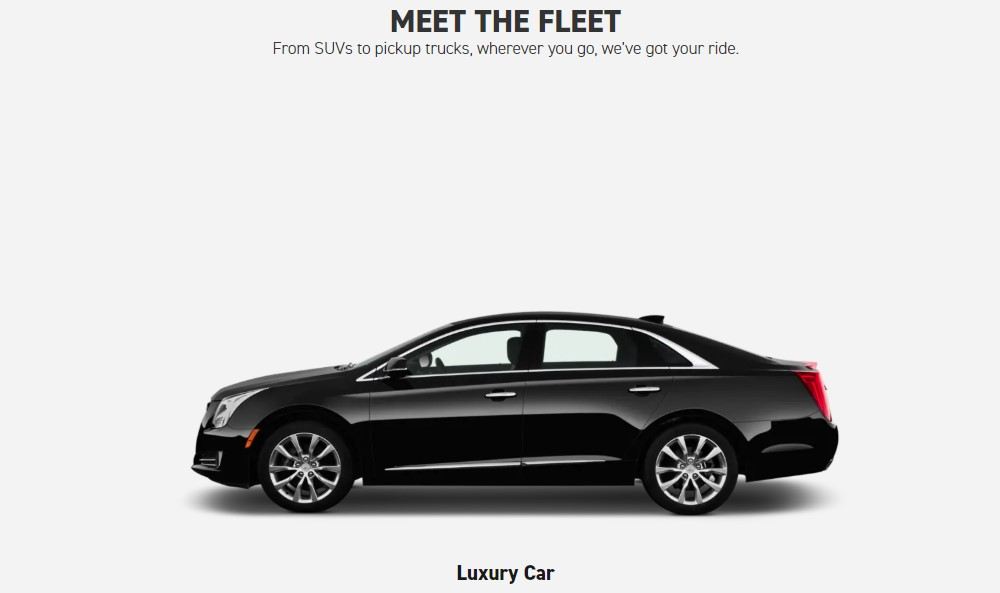 Enterprise is a leading car rental company. They have been in business since 1957. While they are known for their rental service, they also offer car-sharing and sales. They currently have more than 7,600 locations all over the world.
The company is one of the largest transportation providers in the world and has become a go-to, household name for travelers and road trippers. They operate with honesty, integrity, and a passion for customer service and satisfaction.
Affiliates are offered a 2.5% commission rate. The company's popularity, presence, and reputation make a partnership with them worth the effort despite the low commission rate.
Why you should partner with Enterprise: Not only do they provide top-notch service, but they give back in big ways. They have committed $60 million to fight world hunger, they have pledged to plant 50 million trees in 50 years, and they operate a program for youth sports teams to raise funds for their team.
18. Cruise Direct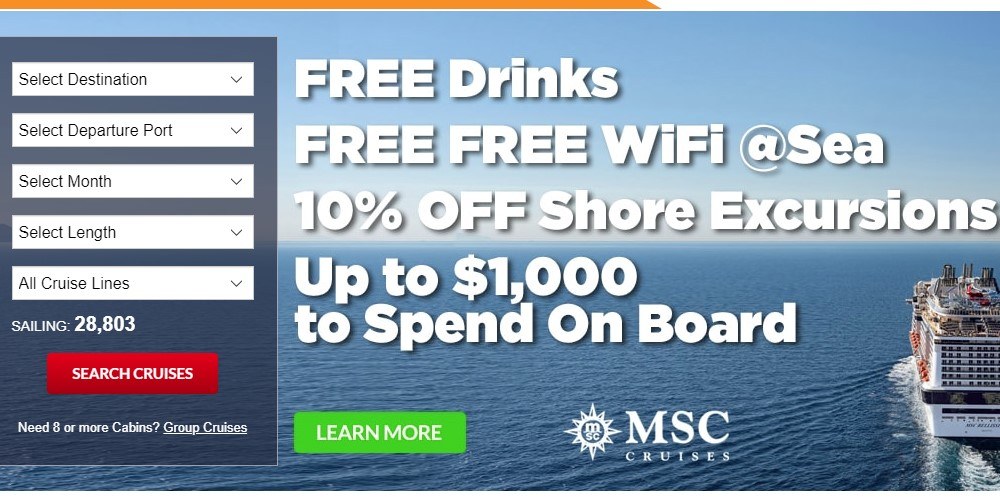 Cruise Direct is a booking agency for cruises. They aim to make the planning process fun and easy. They begin by providing a series of informational content for customers who don't yet know exactly where they want to go. Then, they help you find the best prices for the dates you want.
You can search for cruises by destination, cruise line, and departure location. You can even find some deals on last-minute cruises. The company has won many awards and has numerous positive reviews from extremely happy customers. They are connected to all the major cruise lines and are a fantastic resource for finding your dream cruise.
Their affiliate program offers a 3% commission rate on all bookings, which will add up considering the high prices of even discount cruises.
Why you should promote Cruise Direct: They are the perfect solution for travelers who are looking to go on a cruise specifically. They'll only see relevant options rather than having to filter through unwanted trips and bookings.
19. eBags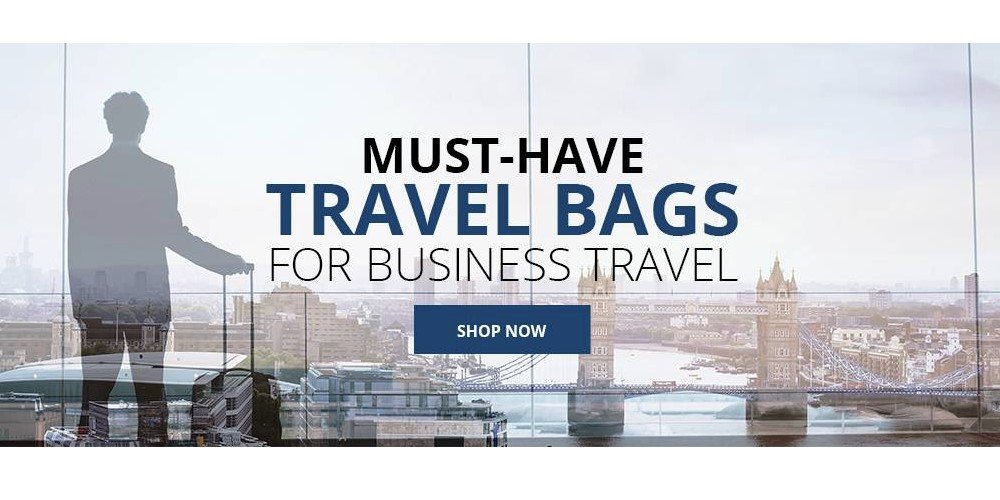 eBags is the leading online retailer for travel bags and accessories. The company began in 1998 with five guys who all had experience in the luggage industry. They started with seven brands to sell, and now they have sold more than 29 million bags to date.
They have a bag for every single travel situation you could imagine. From backpacking across the countryside to packing for a stay in a luxury resort, they've got you covered. They sell styles for men and women, as well as accessories. This includes packing cubes, travel cosmetic bags, RFID accessories, pet carriers, headphones, portable chargers, and many more things to make your traveling experience better and easier.
Affiliates are given a 3% commission rate on all sales. This can add up given the sheer number of products and brands eBags have available. Many travel needs can be met in the same place. They partnered with Impact to run their affiliate program.
Why you should promote eBags: They do the grunt work and pay attention to detail in order to provide the best possible products to their customers. The company is made up of travelers, so they understand the needs of those struck by wanderlust.
20. The Container Store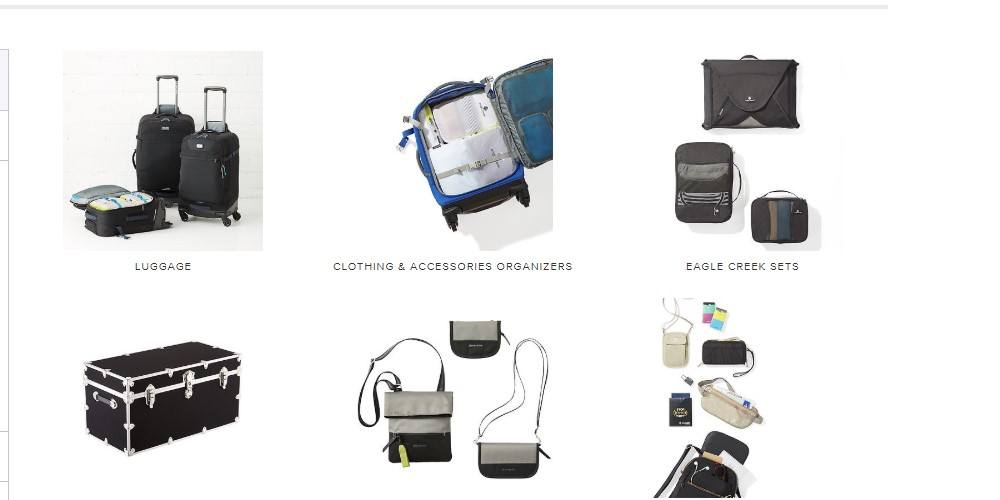 The Container Store sells the world's leading supplier of storage and organization products in the United States. They are also the only retailer that is exclusively devoted to this category. Their selection is unmatched.
Their variation of containers is not only good for storage but they can make packing for a trip much easier and more efficient. When traveling, you need to compact your belongings, and the more organized your bags are, the more you'll be able to fit. They have everything from travel-size shampoo bottles to suitcases and luggage.
Their affiliate program boasts "generous" commissions on more than 4000 products and an average order size of around $100.
Why you should promote The Container Store: Your readers can find everything they need in terms of travel essentials, plus some organization options for their home. This can lead to extra commissions for you as they can do it all in one place.
21. Hostel World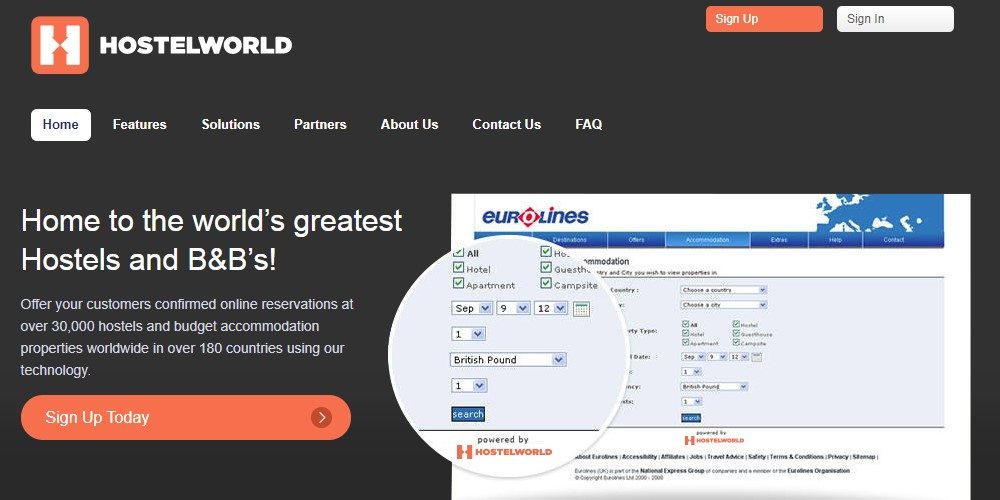 Hostel World is a leading resource for booking hostels and low-key BnB's. Many people travel on a budget and can't afford luxury hotels and resorts. Hostels are a good, cheap solution that is still a step above camping, which can't always be done year-round.
Hostel World has been a leader in hostel booking for more than ten years, catering mostly to a younger crowd on a budget. They have budget-friendly accommodations in over 180 countries with city guides and podcasts to help you make a good decision.
Affiliates will make a commission on every booking. Hostel World also offers group booking which will have commissions adding up even faster.
Why you should promote Hostel World: They are the perfect way to cater specifically to the younger side of your audience who may be operating on a smaller, tighter budget but still wanting to travel.
22. All Travel Sizes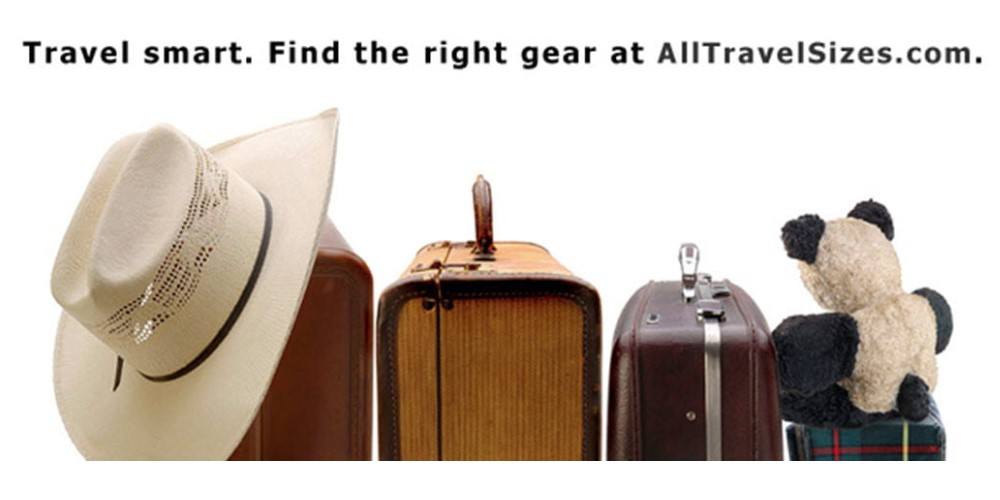 All Travel Sizes specializes in travel products and accessories. They carry many major brands that people love and use on a regular basis, but they sell convenient travel sizes. This includes snacks, hair care, sunblock, beauty products, allergy medicine, pain relief, travel gadgets, laundry detergent, and much more.
Especially for long-term trips where you'll need all your daily hygiene and personal care products, this is a fantastic resource. Drug stores often sell a few travel-size items, but none have the selection that All Travel Sizes do. You can get everything here and all for very reasonable prices.
Affiliates are given a 6% commission on all sales and their links will have a 45-day tracking cookie.
Why you should promote All Travel Sizes: If your audience is full of passionate travelers, they'll inevitably be going on a trip eventually. You can offer them an amazing level of convenience by introducing them to this useful, practical resource.
23. Wandering Earl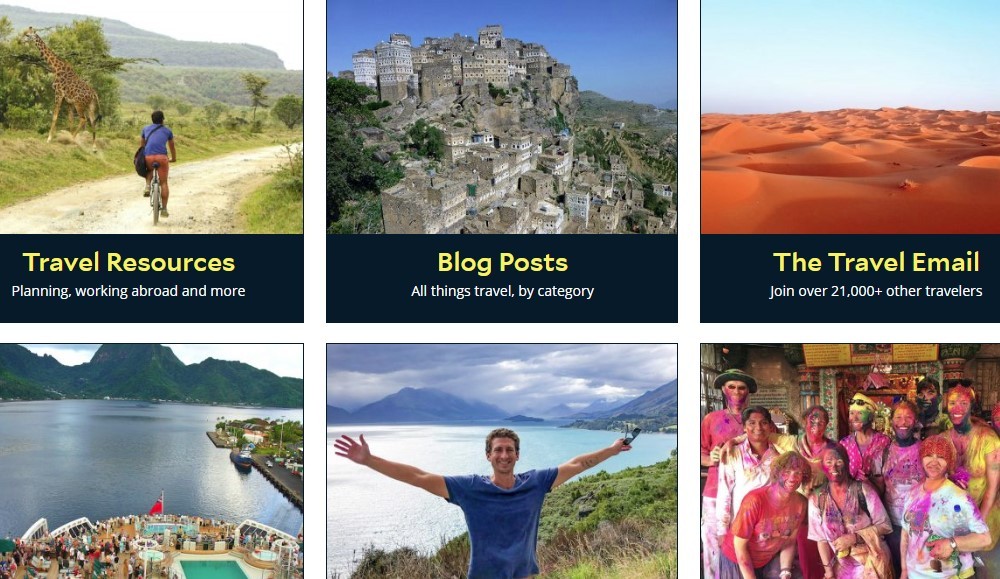 Wandering Earl is a blog that was founded by a man who decided to become a permanent traveler. He has either visited or lived in more than 100 countries around the world, working as a tour manager at times, and running his blog.
He has created some guides using his many years of expertise and experience. These sell on his blog, and it's where affiliates can earn money. He offers a 50% commission on all sales. There isn't a huge variety of products and the earning potential is on the low side, however, his website is an invaluable resource to passionate travelers, and/or those looking to live a similar life of permanent travel.
Why you should promote Wandering Earl: Despite his limited product selection, there is an impressive 50% commission to be earned. You'll also garner the appreciation and gratitude of your audience for introducing them to such an amazing wealth of information.
24. Naughty Nomad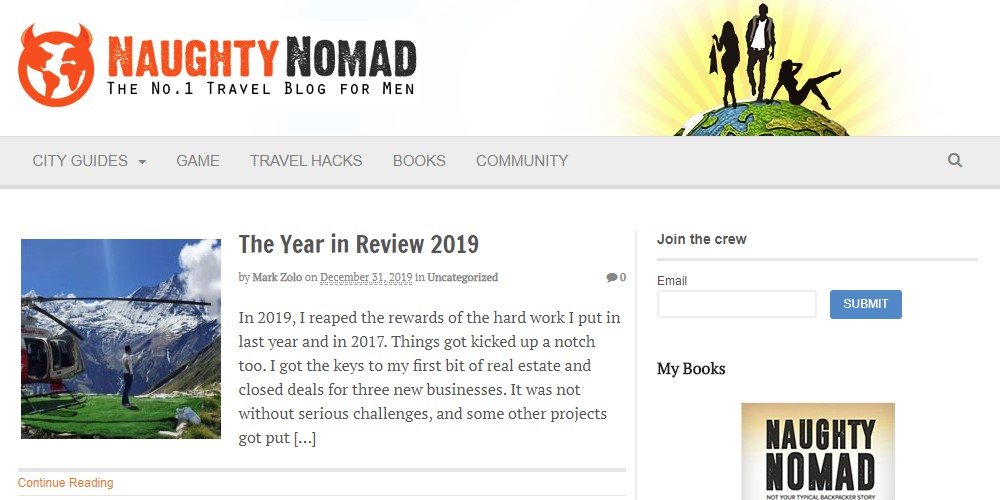 Naughty Nomad is a travel blog with a unique purpose: it caters exclusively to men. The author is an avid traveler, having visited more than 110 countries. Unlike other bloggers, he's blunt, real, and a little hardcore. He's eccentric and likes to take risks. His blog documents this, as do his books and guides.
His content is not for the faint of heart, but it's certainly unique and perhaps exciting for those who are seeking the kind of advice he strives to give. His expertise has translated to a number of books and city guides that can be purchased on his website.
Affiliates earn an impressive 75% commission on sales made through his website.
Why you should promote Naughty Nomad: He's a traveler that brings something new and unique to the industry. The men in your audience will appreciate something dedicated entirely to them.
25. Agoda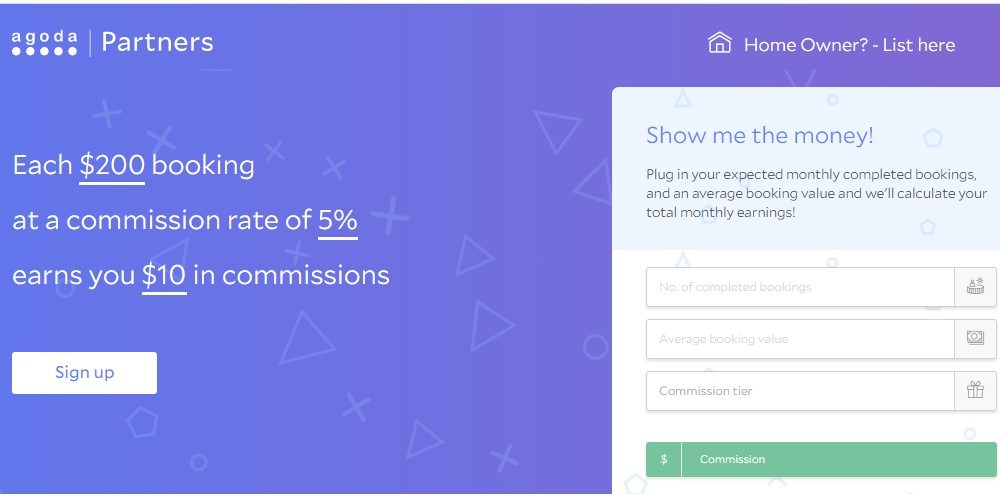 Agoda is a major resource for any and all types of accommodations. There are more than two million properties in their database, including resorts, hotels, privately owned homes, and hostels. There are options for every budget, preference, and type of trip.
They provide a similar service for booking flights, scanning hundreds of travel sites at the same time. To round out their convenient travel services, they can help you book transportation for your transfer between airports, or directly to your accommodations.
Their commission rate ranges from 4-7% depending on the number of bookings you refer to. To reach the highest tier, you must refer to over 999 bookings.
Why you should promote Agoda: They provide an easy and convenient way to book and plan each part of your trip. Their database is large and has millions of options so you're sure to get the best one for you.
26. Kayak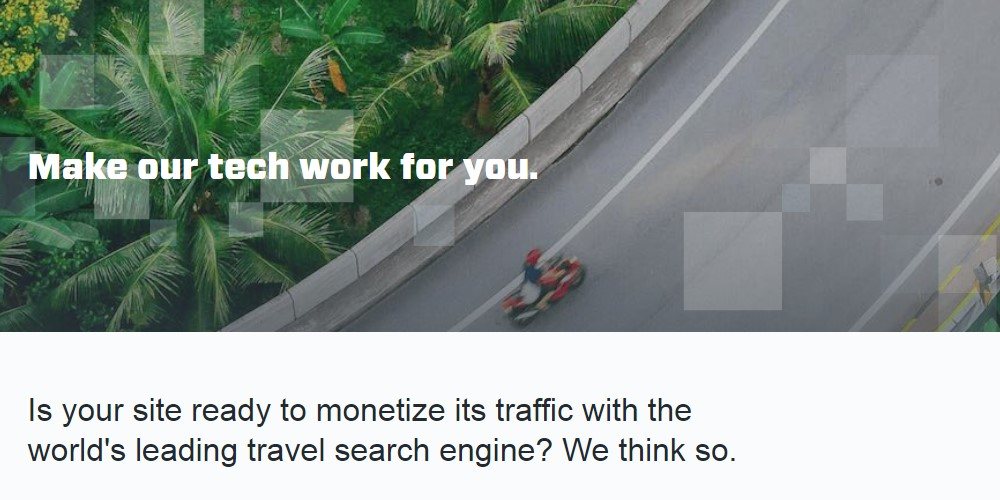 Kayak is one of the most popular and well-known travel services in the world. They were among the first to do what they're doing – searching multiple travel sites at once to find the best bookings for the best prices.
Their platform processes over 6 million queries each year. They truly cater to everyone with more than twenty available website languages and 60+ international sites. By becoming a Kayak member you can also receive personalized offers and a 35% discount. The platform is comprehensive and proven to bring you the best possible booking experience.
Affiliates can team up with Kayak to bring their unmatched services to their audience. Kayak handles commission structures on a case-by-case basis and will award you a rate based on your readership.
Why you should promote Kayak: There are many great travel booking services but Kayak is one of the originals. They have the experience, resources, and partnerships to bring customers more options and convenience than anyone else.
27. Anantara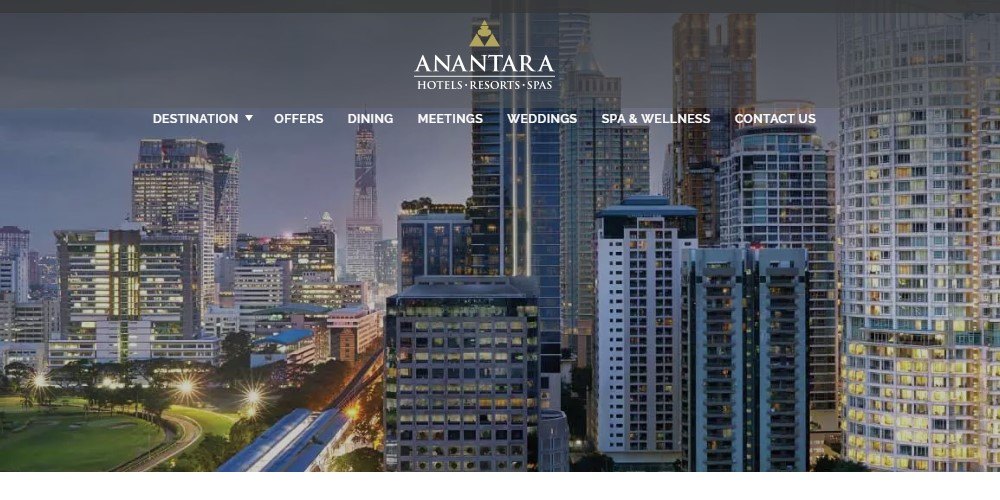 Anantara is a line of luxury hotels and resorts that began in Thailand in 2001. Since then, they've grown to accommodate guests and many locations. They have destinations for any preference – cities, islands, deserts, beaches, and heritage destinations.
They strive to create unique hotels that accurately reflect the culture they're located in. They allow travelers to engage with the place and immerse themselves in local culture and history.
Affiliates can promote these unique, luxury vacation destinations to their audience, and receive a 5% commission for each referred booking.
Why you should promote Anantara: They have hotels in many desirable vacation destinations and the experience they provide is truly unique. It's a fantastic option for your readers who want to consider a higher-end vacation.
28. G Adventures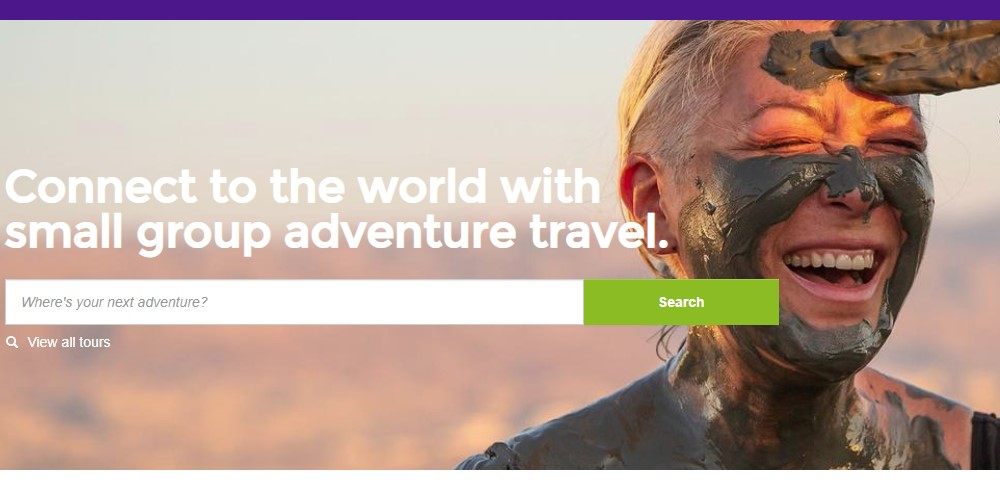 G Adventures helps travelers create their perfect adventure. They work with small communities all over the world to put together tours, activities, and packages that are unique and authentic. They've done this all over the country, allowing you to search for activities and tours by destination or tour type, whichever you want.
The "G" in G Adventures stands for "Good." They believe that travel can be used to create good in the world. This is reflected in their personal work with those local to all destinations, and in their on-profit efforts and charitable partnerships.
Affiliates are offered a 6% commission, which will add up given their average order value of $2,600. Their tracking cookie is impressive at 90 days. They partnered with Awin to administer their affiliate program.
Why you should promote G Adventures: Not only do they provide tours that are interesting and unique, but they do so in an authentic and sustainable way.
29. Roam Right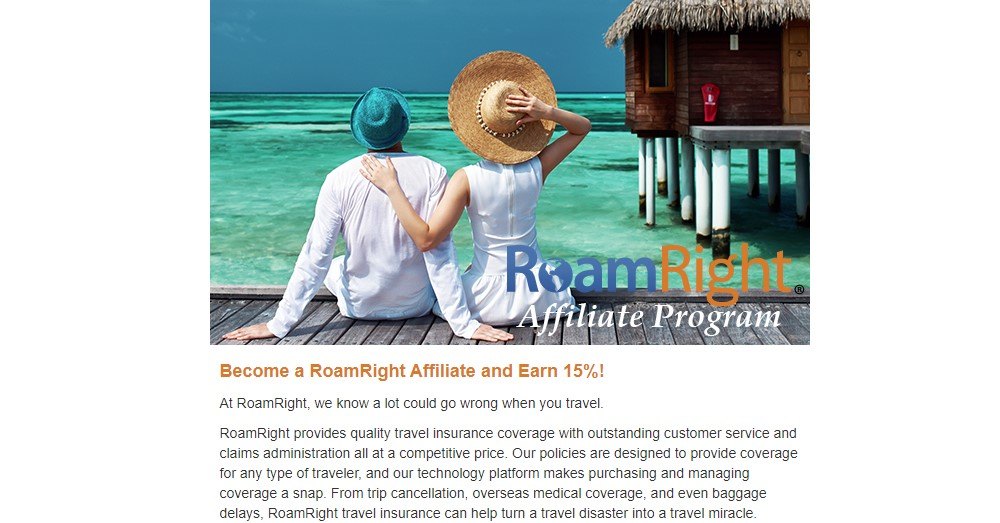 Roam Right offers travel insurance. Travel insurance is an important part of the process that can be forgotten about in the excitement of planning. However, it shouldn't be an afterthought – you want proper coverage that will actually be useful should something happen.
Roam Right specializes in travel insurance and they offer every kind you may need. From cancellation, sickness, emergency medical, baggage, and even rental car coverage. You can pick and choose what you need based on the trip you're taking. They have reasonable prices and help available 24/7.
Affiliates can earn a solid 15% commission fee, with a $10 bonus upon making the first sale. Their cookie tracking lasts an entire year.
Why you should promote Roam Right: Many insurance companies offer travel insurance but Roam Right specializes in it, meaning travelers will get the best value, exceptional service, and the exact type of insurance they need.
30. Travel Payouts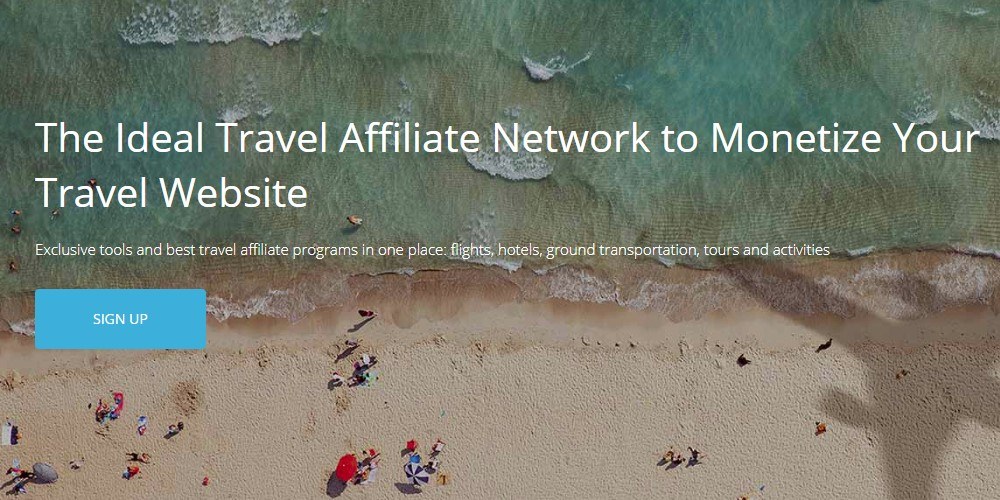 Travel Payouts has partnered with several different travel websites, companies, and services to create an overall affiliate program that allows you to offer all of these services in one place. You can use them to book hotels, find rental cars, compare flight prices, and more.
They have a blog with lots of content about the company, including updates and travel business tips. They also have some more in-depth information about the services they offer.
Affiliates can earn up to 80% commissions, depending on what service they make a sale on. This makes for some amazing earning potential.
Why you should promote Travel Payouts: They give affiliates access to many different services across several companies that can be promoted with the same affiliate platform. Their commission rate is extremely high, perhaps the highest in the industry.
31. Tour Radar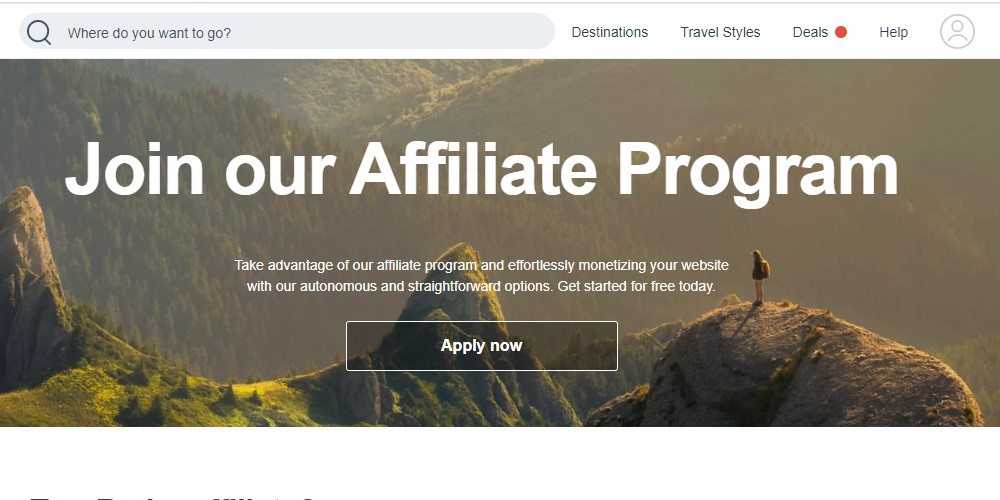 Tour Radar is made up of a diverse group of individuals who are passionate about creating unique and meaningful travel experiences. They take activities and locations from around the world and put them together to create the perfect tours They also provide detailed itineraries, helpful pictures, and how-to guides.
They also have travel experts available at all times for customers who have concerns either on the road or before their trip.
Affiliates are offered an industry-standard 5% commission rate on all tour sales. They also offer a solid 90-day tracking cookie and tools that are easy to set up and use.
Why you should promote Tour Radar: They make the process of booking a tour easy and seamless. You can plan the tour itself and they will help you book your travel, accommodations, and insurance at the same time.
32. Rental Cover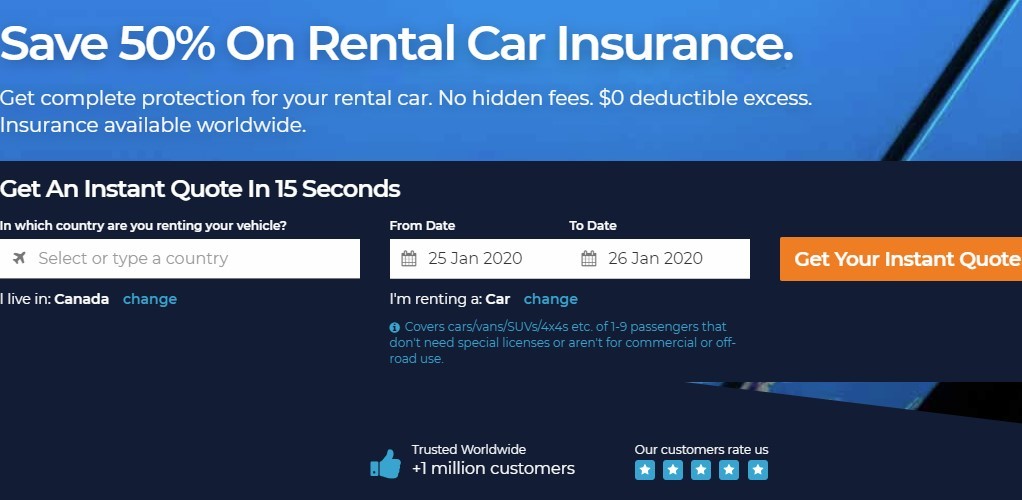 Rental Cover offers rental insurance on any and all rental cars. The insurance can apply to any car rental company in the world, both big and small. They provide complete and comprehensive coverage against theft and damage, and they do so at much more reasonable rates than many of the rental companies themselves.
Their coverage extends to all damage – whether it's a simple scratch or a major accident. They are flexible as well, you can cancel your insurance for a full refund up until the day before you're scheduled to pick up the car. They also automatically cover additional drivers, provided they are also on the rental agreement.
Affiliates can promote this reasonable, affordable insurance coverage to their travel-enthused audience and earn commissions.
Why you should promote Rental Cover: The company also owns a travel agency platform for booking or travel agents who want to also make some commissions on arranging travel for their clients.
33. Uber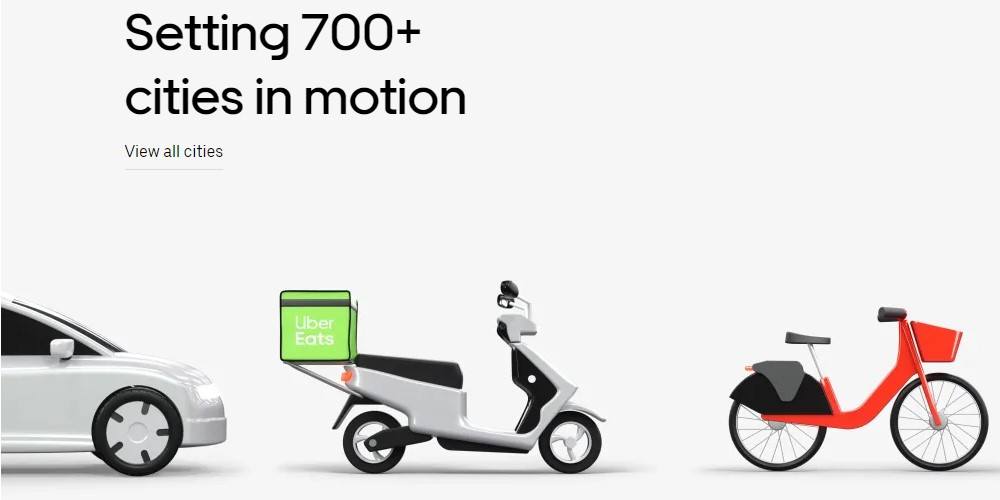 Uber is a company that most have heard of at this point, but not everyone has taken the plunge. For travelers who are without a car, Uber can be an easy, convenient way to get where they're going within a city. It's much easier than walking or public transit, and rides are affordable.
For those on a tight budget, Uber offers many options. You can choose a basic ride, or you can save money by sharing the ride, meaning they might pick up and drop off other riders along the way. They also offer luxury vehicles for those with a bigger budget.
The affiliate program is simple and straightforward, offering a $5 flat rate to those who successfully refer other riders.
Why you should promote Uber: They are an affordable transportation option that is cheaper than a taxi but faster and more private than the bus. Drivers are familiar with the area, making it a great option for those who are visiting somewhere.
34. Airport Service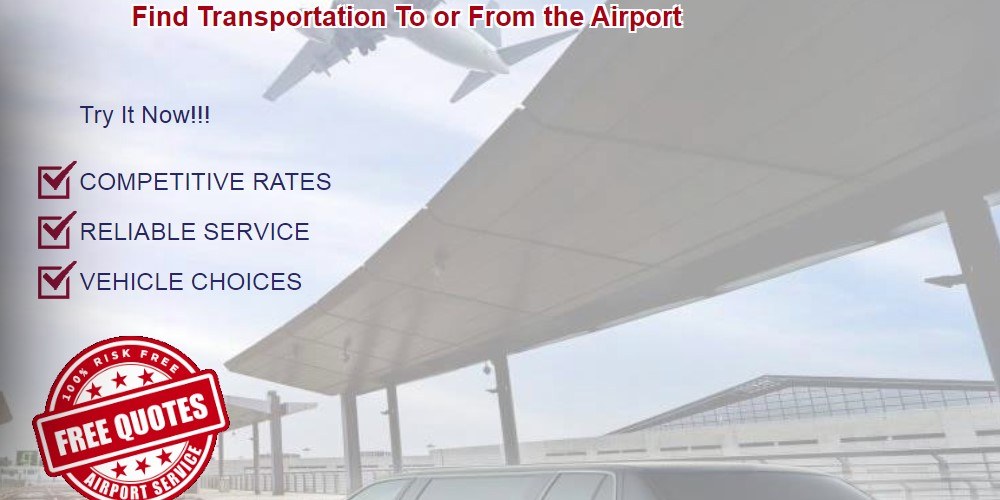 Airport Service has a simple purpose: to transport you to and from the airport. It's a hassle to drive yourself and keep your car at the airport. You often need to make arrangements beforehand and pay a fee for every day that it's there. Getting a lift there is ideal, but not everyone is able to find their own ride.
Airport Service helps you track down the best options from transportation providers who are driving to and from the airports on a regular basis. They put you in contact with the company and don't take a commission or mark-up any prices for you, allowing you to pay the best price possible.
Affiliates can place an Airport Service search box on their own website. Then, they can earn between $1-3 flat-rate commissions on every search completed – regardless of whether or not the search results in a sale.
Why you should promote Airport Service: They offer a much-needed service for those going on a trip, and they do so at reasonable, affordable rates. Their unique commission structure allows for a lot of earning potential.
35. Transfer Wise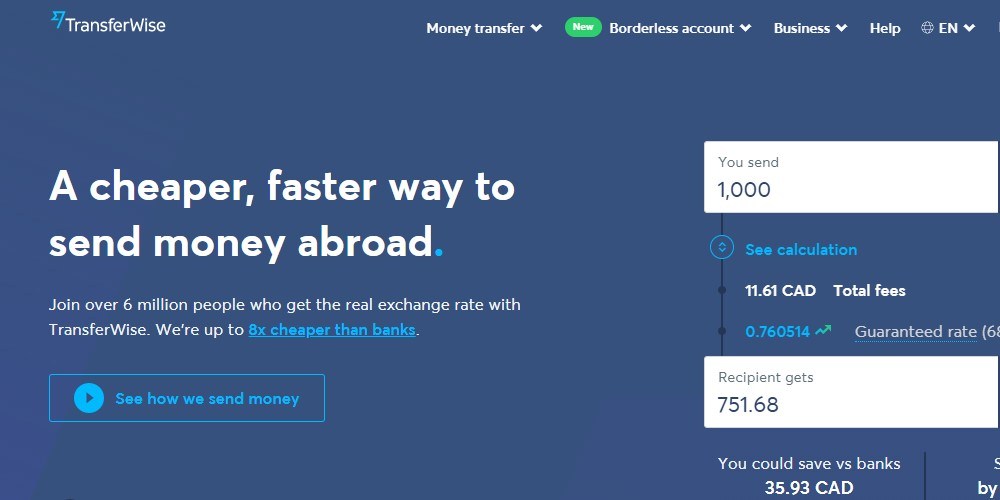 Transfer Wise is a service that can be practical and useful for those who travel frequently to a variety of locations. They allow you to hold local bank accounts in a variety of different currencies. You can then transfer money between these accounts, and the balance will automatically reflect the correct amount after conversion.
They use the real exchange rate for the moment you're transferring so you get the exact amount of money that you should. There are no hidden fees and they keep their rates as low as possible. They want to make a frequent currency transfer an easy, simple process for those that need it.
To start, affiliates will earn a flat rate of $10 per new user they refer. After some time, your account may be assessed and given a higher rate depending on performance.
Why you should promote Transfer Wise: They offer a service no travel agency or booking website will think of. Currency conversion can be confusing and going through regular banks can put a huge delay on the availability of funds – they make it easier and faster.
36. Eating Europe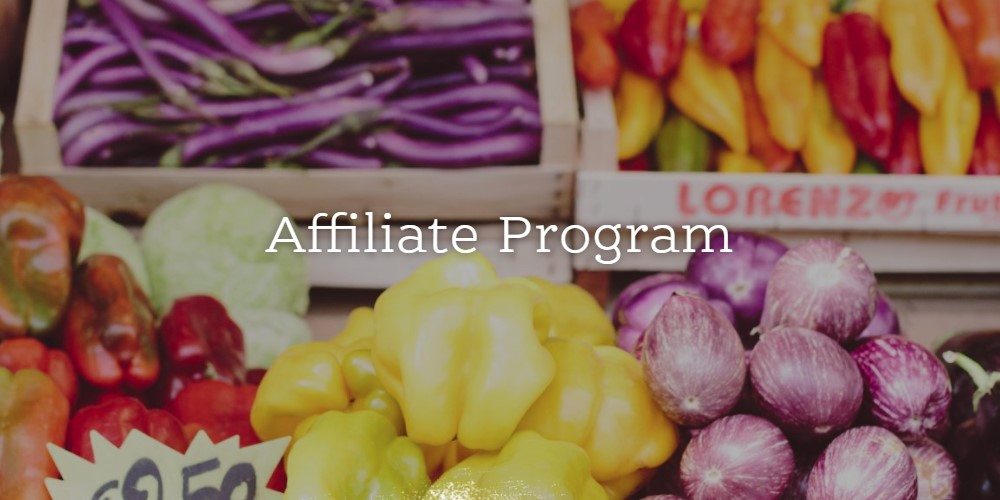 Eating Europe provides travelers with unique culinary experiences around Europe. The culture is rich and the people are interesting – they want to connect travelers to this part of the experience.
They don't send people to the top tourist destinations, but rather focus on smaller, largely undiscovered cities with one-of-a-kind places to eat. The idea is to experience the city as a whole as though you were a local. These tours are for those seeking adventure rather than just a vacation.
Affiliates are given a 6% commission rate with a standard 30-day tracking cookie.
Why you should promote Eating Europe: They bring something new and different to the table. They take travelers off the beaten path and show them the more authentic side to the places they're visiting.
37. Camping World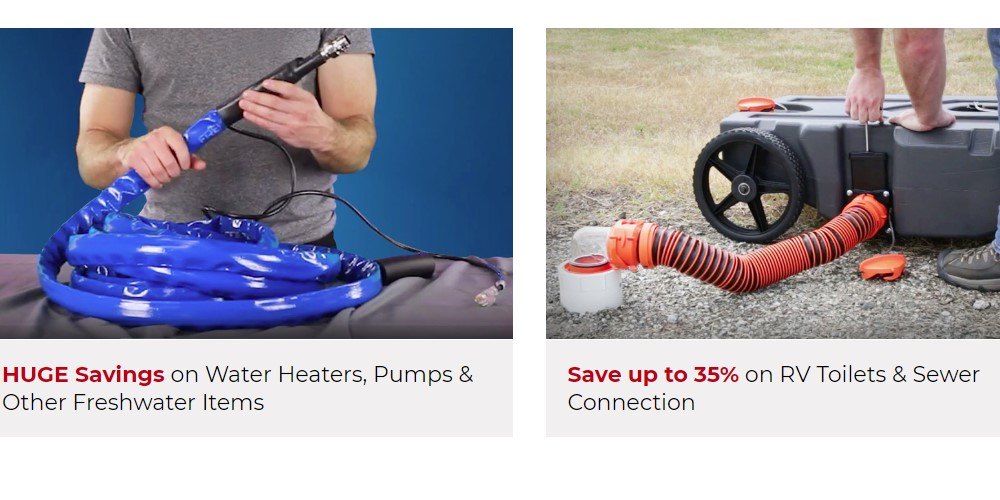 Everyone travels differently. Sometimes, it's dependent on budget, other times it's more about preference. Regardless, many people like to camp out or stay in an RV when they're on the road. Camping World is the perfect resource for this type of travel.
They have everything you may need to utilize and maintain your RV. They also sell a great line of camping gear like tents, chairs, tools, outdoor electrical equipment, and more. They also have a series of mobile gadgets and electronic accessories.
Affiliates can earn a 6% commission, which will add up if someone uses Camping World to stock up on everything for their trip.
Why you should promote Camping World: They cater to the more rugged traveler who likes to spend their time outdoors. They provide everything from leisure and convenience to safety.
38. Rail Europe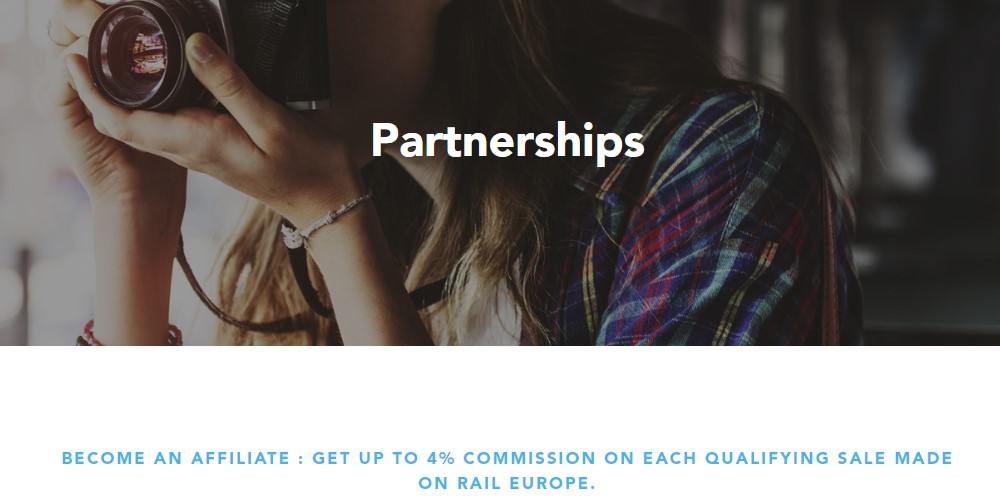 Rail Europe wants to help travelers experience Europe by train. While not the fastest mode of transportation, for some, it's a favorite. Many trains are quite comfortable and depending on where you are, the scenery can be beautiful.
Their booking platform allows customers to book in their preferred language and currency, making the process fast and easy. You have access to more than 50 European train companies in the same place.
Rail Europe uses Rakuten to administer its affiliate program. Affiliates are given a 4% commission rate. The program provides flexible ad formats that are easy to implement.
Why you should promote Rail Europe: They are the leading website for European train travel, providing a unique and interesting way to go sightseeing and travel across the country.
39. Trainline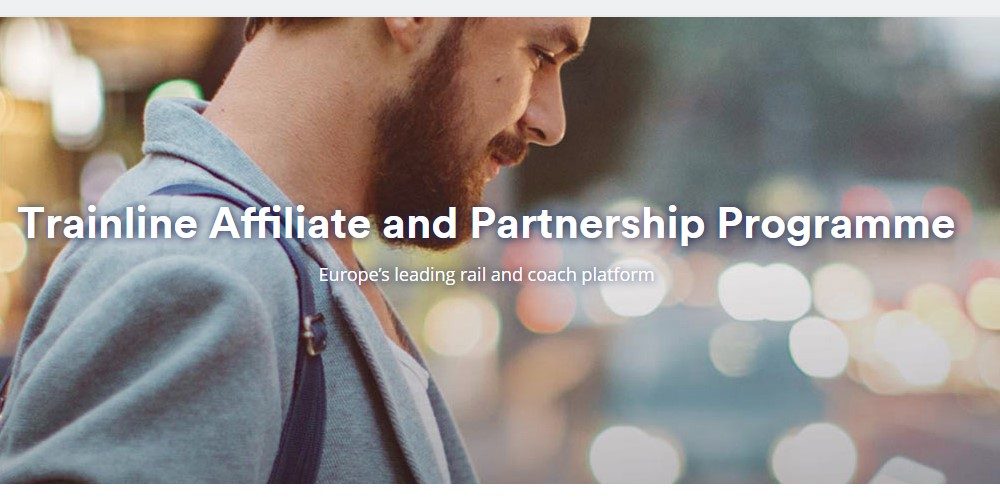 Trainline offers customers access to more than 270 train and coach companies in 45 countries. This allows you to save time and find the best, cheapest, and most suitable tickets with ease. Not only do they provide this easy access for booking but they have real-time travel information and update available on their app.
You can browse by a specific company, by destination, or view round-trip journeys that you can book with a single click. They also accept all major points and discount cards so you don't have to miss out on points just because you're booking with them.
Not much is known about the affiliate program before signing up but with their strong reputation and widespread access, they will make a good partner.
Why you should promote Trainline: The earning potential is fantastic as they sell more than 175 tickets every single minute with over 80 million visitors each month.
40. Sandals Resorts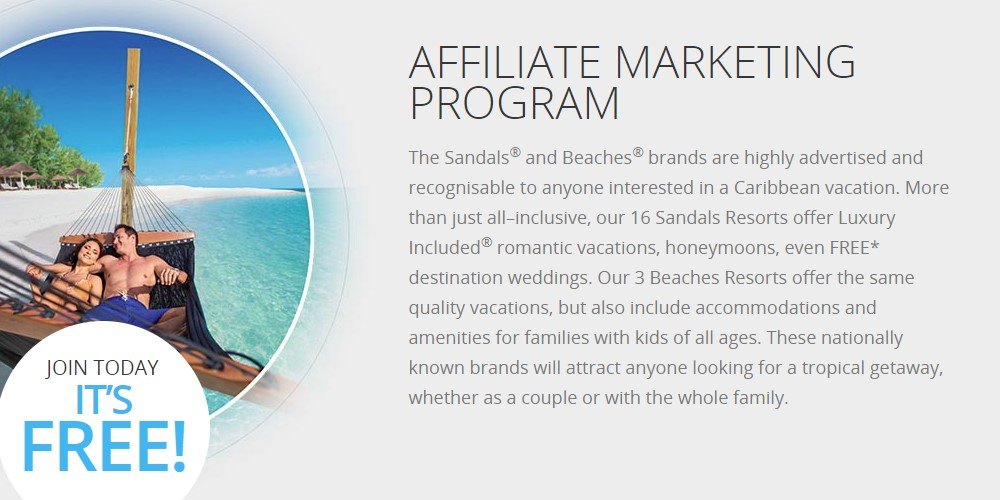 Sandals is one of the most popular and well-traveled resort chains in the world. They are known for their adult-only atmospheres which are perfect for honeymoons. Their tropical destinations offer the most ideal environment for an all-inclusive luxury vacation.
They do have three locations that are designed for families with children of all ages. Many people specifically seek out Sandals resorts, while others will end up deciding on a Sandals resort after seeing all it has to offer.
Affiliates can promote their resorts and luxury vacation packages for a 4% commission rate.
Why you should promote Sandals: They have a fantastic reputation for providing some of the most relaxing, luxurious vacations. Many people go every year as a tradition and you can stand to make a lot from loyal customers like these.
41. Superstar Blogging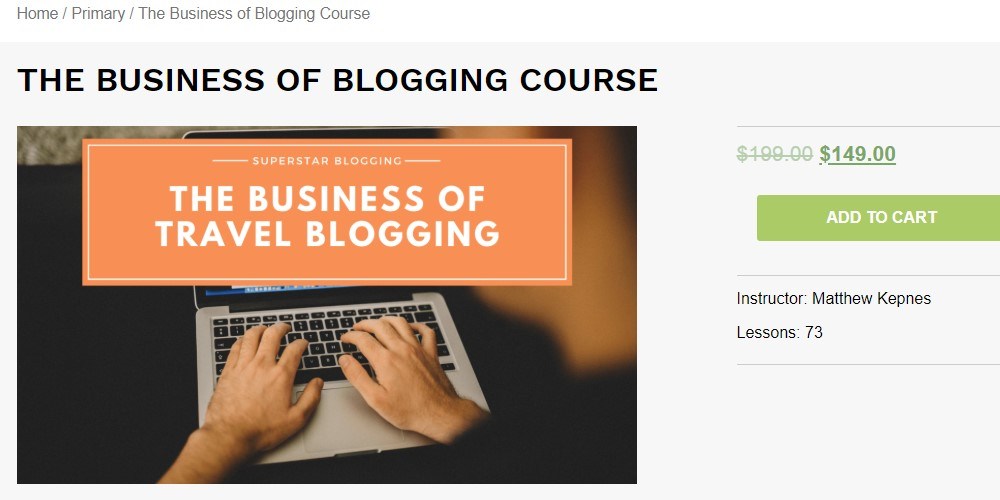 Superstar Blogging offers a business course specifically aimed at travel bloggers. It's a popular and growing niche with some healthy competition. This course wants to teach you how to be more than just a typical, average influencer.
It goes over specific strategies, tips, and methods you can use as a travel blogger to find success and start turning a profit. It includes a total of 73 lessons to work through, created by someone who has found great success in the blogging niche. If your audience is passionate about traveling, they might want to consider turning it into a business or side hustle. This is the perfect way for them to start.
Affiliates who promote this course will earn a 40% commission on all sales they make.
Why you should promote Superstar Blogging: It gives your audience a chance to see another side of traveling, and opens up a possible opportunity for them to use their passion in a new way.
Travel Affiliate Website Ideas
If you're looking to start a travel affiliate website, these programs alone give you many options. Narrowing down your audience to a specific type or group of travelers will give you the best chance of creating a following quickly. You can start with the actual act of traveling. Whether people want to drive, fly, take a train or even a boat, they need to reach their destination somehow.
Did you know that some people are so afraid to fly that they just drive everywhere? A travel site for people afraid of flying is one unique idea to start with!
You can also create a whole website around accommodations. The options here for travelers are endless. Airbnb is a good all-around solution as they offer whatever people choose to list – be it a single room or an entire mansion. There are also resorts, like Sandals, that offer a commission when bloggers and influencers send customers their way. You can also use Home Away and refer both travelers and owners looking to list their homes for rent.
So, what about a website just about the best lighthouse rentals around the world?
You could also choose to focus on the experiences themselves. Services like Contiki, STA Travel, and G Adventures are dedicated to helping travelers find things to do and see while on their trip. There is a service out there for everything – sightseeing, tours, adventures, and even food-related experiences. This can be an exciting way to go as there is really no limit to the unique and interesting experiences you can offer to your audience.
I've got a trip planned to Iceland this year, and I'm looking for adventure travel. There are plenty of sites I'm browsing at the moment which is proof that blogging about adventure travel in Iceland could lead to ad revenue and affiliate sales!
Here are some more ideas I could come up with off the top of my head.
Luxury safari travel: This niche focuses on high-end safari experiences in Africa. The website could promote luxury safari lodges, private safari guides, and exclusive safari experiences, such as hot air balloon rides and bush dinners.
Budget travel in Asia: This niche focuses on affordable travel options in Asia. The website could promote budget-friendly hotels, flights, and travel packages in popular Asian destinations, such as Thailand, Vietnam, and Indonesia.
Eco-friendly hotels in Central America: This niche focuses on sustainable and environmentally-conscious hotels in Central America. The website could promote eco-friendly hotels and resorts in destinations such as Costa Rica, Guatemala, and Belize, as well as tips for reducing your environmental impact while traveling in the region.
Adventure travel in New Zealand: This niche focuses on exciting and adventurous travel experiences in New Zealand. The website could promote adventure travel companies, gear and equipment rentals, and travel insurance for activities such as hiking, bungee jumping, and skydiving.
Food and drink travel in Italy: This niche focuses on travel experiences centered around food and drink in Italy. The website could promote food and drink-themed tours, cooking classes, and culinary experiences in popular Italian destinations, such as Tuscany, Rome, and Sicily, as well as recommendations for the best restaurants and bars in the country.
Everyone loves to travel, so don't hesitate to jump into these programs and start spreading the word about your favorite products, trips, and services. Everyone needs at least a little help planning their trips and will turn to people like you to point them in the right direction for the best service. When you partner with the right companies, you'll earn a nice passive income just for sending people their way and convincing them to purchase something they were looking for anyway.
Boost Your Affiliate Earnings
These 10 affiliate programs are just the beginning of what's possible. There are hundreds of ways to earn affiliate commissions with your website, including product reviews, top 10 lists, how-to guides, and more
But what about traffic and conversions? How do you make sure your affiliate links get clicked?
I used the affiliate training here to turn my brand new website into a six-figure income generator in less than two years. Build a business, not just a pocket-money side project!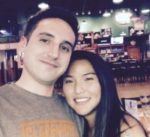 Nathaniell
What's up ladies and dudes! Great to finally meet you, and I hope you enjoyed this post. My name is Nathaniell and I'm the owner of One More Cup of Coffee. I started my first online business in 2010 promoting computer software and now I help newbies start their own businesses. Sign up for my #1 recommended training course and learn how to start your business for FREE!