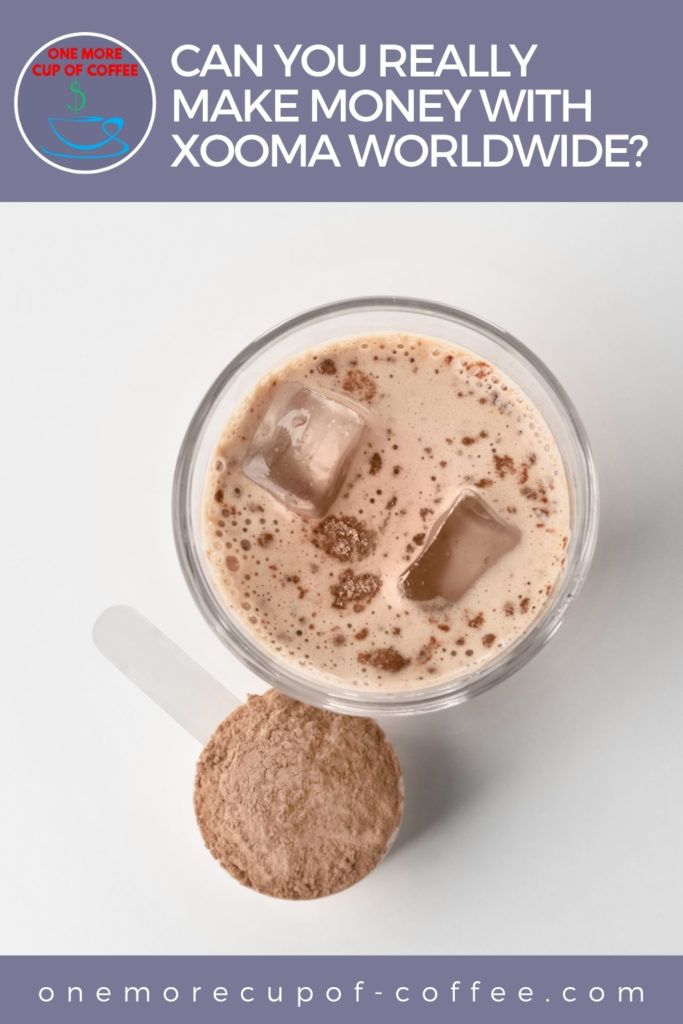 Xooma Worldwide Review
Company Name: Xooma Worldwide
Costs: $100
Rating: 22/100
Do I Recommend Xooma Worldwide?
While you can make money with Xooma Worldwide, I don't have many positive things to say about the company. Their provided products are mostly unappealing, while earning involves buying and then reselling. You could make more money through affiliate marketing with much less risk.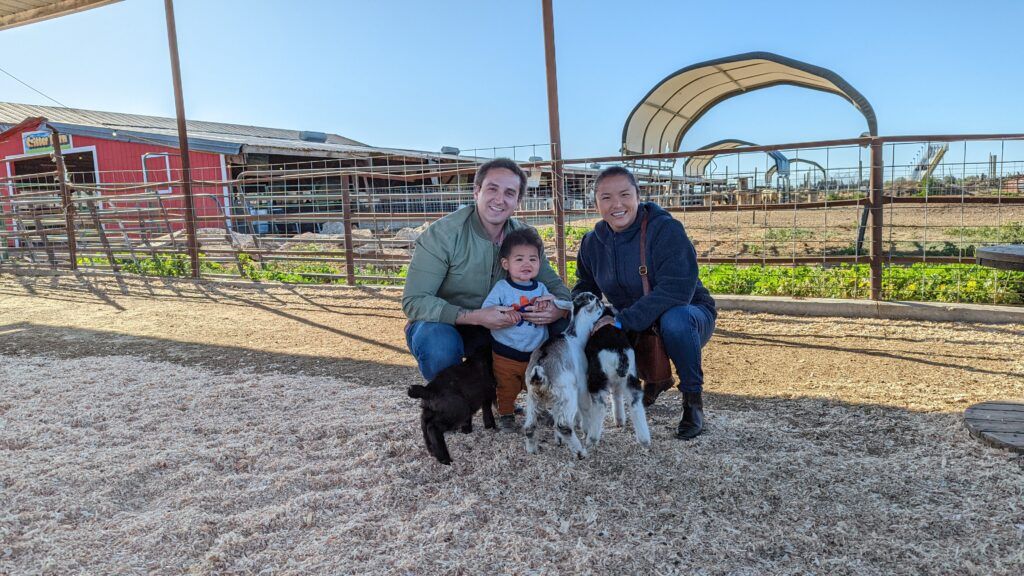 Are You Ready To Work Your Ass Off to Earn Your Lifestyle?
Are you tired of the daily grind? With a laptop and an internet connection I built a small website to generate income, and my life completely changed. Let me show you exactly how I've been doing it for more than 13 years.
What Products Does Xooma Worldwide Sell?
If we consider products alone, Xooma Worldwide could be considered a health and wellness company. They have more than 30 products on offer in this field.
The company's marketing suggests that these are all amazing. They talk about 'cutting-edge nutritional science', 'premium quality ingredients' and 'exclusive patented formulas'. All of those phrases sound good but they're mostly meaningless. Most similar companies could make the same claims, even if they chose not to.
Beyond the marketing, the products are mostly what you'd expect. For example, one is Probiotix, which is simply a probiotic supplement.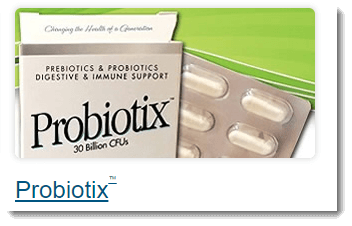 There is some evidence that probiotics can offer health benefits, especially for people with poor gut health. I even find this area fascinating myself. But, probiotics are far from unique. None of the information on Xooma Worldwide's site suggests that their version is better in any way.
Another example is KardiaXyme. This is a supplement that's meant to lower inflammation and improve cardiovascular health. To do so, it contains various vitamins and extracts from algae.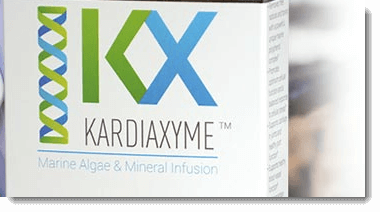 The style is less common but it's not revolutionary either. There are other algae supplements out there, including ones that use spirulina. More importantly, there is no evidence that this is actually beneficial or any better than other products. Instead, all of the scientific studies they refer to are about the individual compounds.
None of this means that the products are horrible, not at all. Some of them are even somewhat unusual. For example, they have something called Chocolate Fix, which is basically a way to get cocoa flavanols. It also contains a fruit and vegetable blend, along with coconut oil.
The problem is that the benefits of the items are unclear. At best, they're similar to other products on the market. At worse, they're expensive snake oil.
The company's flagship product is a good example of this. It is called X20 and contains a 'unique nature-made mineral complex'. This is added to water to increase the benefits. The ingredients label looks like this: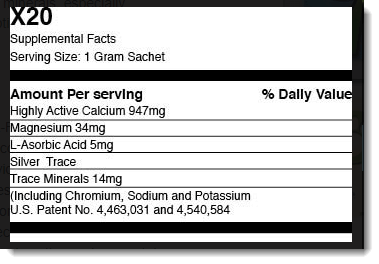 The concept seems to be that you're adding in various minerals, while also making the water alkaline. Alkaline water is popular in some circles but many more people claim that it is just a myth. The evidence certainly isn't in yet and your body will maintain roughly the same pH regardless of whether you drink alkaline water.
A final note is that none of the products look high quality. Instead, they seem somewhat cheap and the marketing focus is clear even from the product labels.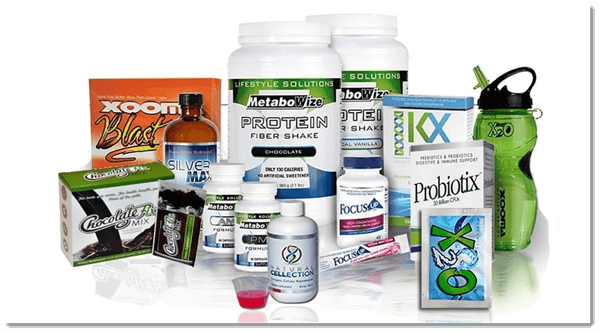 Appearances aren't everything, of course. Some good products have poor packaging and vice versa.
But remember, you have to sell these items – and people do judge based on the way things look. So, could you convince people that these items are worth the money? The answer mostly depends on how convinced you are and whether you're a good salesperson. Either way, this is worth thinking about.
The final thing is the price.
Xooma Worldwide doesn't offer this information on their site, although some details can be found online. For example, a 15-day supply of X20 (30 sachets) costs $35.95. That's fairly expensive for just adding extra minerals to water. Other prices are likely to be similar.
I find this pattern concerning. Remember, there is no evidence that these products offer any significant health benefits. You would have to convince your audience that the items are useful and that they're worth the price. That's a tough sell, especially to anyone who hasn't heard of Xooma Worldwide.
Health, Wellness And Income
Products to improve health are everywhere, especially in the direct marketing field. Companies like IDLife, Lifebrook and Immunotec are all examples. I could easily name dozens more, not to mention all the national, local and online companies that offer similar products.
What makes Xooma Worldwide different? Honestly, not a lot.
The biggest difference I notice is that the site focuses more on the opportunity than the products. That's never an encouraging pattern. Companies that do so often don't put as much effort or research into their products. Instead, they're just focused on making them good enough to promote.
So, why choose Xooma Worldwide? The products aren't that impressive and they're certainly not competitive. You could just as easily promote health products through affiliate programs. At least then you could pick high-quality and competitive items, ones that people are already interested in.
Is Xooma Worldwide A Good Business Opportunity?
You can probably tell that I don't think much of Xooma Worldwide's products. Honestly, the industry is far too competitive for these to be successful and the items don't see that amazing.
But, that doesn't mean income is impossible. You can make money selling just about anything if you go about it the right way. If nothing else, Xooma Worldwide offers many marketing terms and angles that you could focus on.
You might also be passionate about the products yourself. If that's the case, you have a definite advantage.
One fascinating thing about Xooma Worldwide is their focus. Most MLMs start their compensation plan talking about commissions and then move onto the team building aspect. But, Xooma Worldwide doesn't do that. Instead, commission is far down in their compensation plan.
Basically, you earn from 20% to 50% commission on each sale. That sounds amazing but it's a bit misleading.
The reason is that you earn by purchasing products yourself and then reselling them. How much you earn is based on what people pay for the products. The style is profitable but there are major limitations as well.
You have to predict what people want. The biggest advantage of buying and reselling is that people get the items when they purchase them. This means you have to order them ahead of time. To do that, you need to predict what is likely to sell well. With more than 30 items to choose from, that's a tough call. Doing so would get easier as you learn your audience but it would take time to get to that point.
You may have leftovers. You're never going to get your orders right all of the time. As a result, you're likely to have some products that simply don't sell.
You have to keep buying. You need to buy at least $100 in products each month. If you can sell that much, this isn't an issue. But, if you struggle with sales sometimes, you might end up spending more than you make.
You may need to discount. People often find that they discount products to make sales. This may even be necessary for Xooma Worldwide, as the items are pretty expensive. Discounts cut into your profit margin. People may also start expecting them, which makes things worse.
There's more risk. Even if you're great at predicting sales, buying and reselling will always involve more risk. After all, you're spending the money first.
It is still possible to make money this way. Reselling is even a popular idea. That's a key reason why people often turn to Amazon FBA.
Even so, buying and reselling takes time to learn and you'll probably make mistakes along the way. If nothing else, make sure you know the risks and have the time and finances to work out any kinks.
Beyond reselling, you can also earn from orders that Retail Customers make through Xooma Worldwide's site. You earn retail profit here as well (minus shipping). But, Retail Customers get discounts, so your profit margin is lower as well. The company mentions that you earn 24% PV on top of that amount but it's not clear how that calculates out.
Either way, the focus is on sales you make in person. The quantities from retail sales don't even factor into the rest of the compensation plan, so they don't give you many bonuses.
The Rest Of The Plan
As I mentioned earlier, Xooma doesn't emphasize commissions all that much. Instead, their plan is mostly focused on the bonuses that they offer. Xooma Worldwide sums up the money-making system in three steps.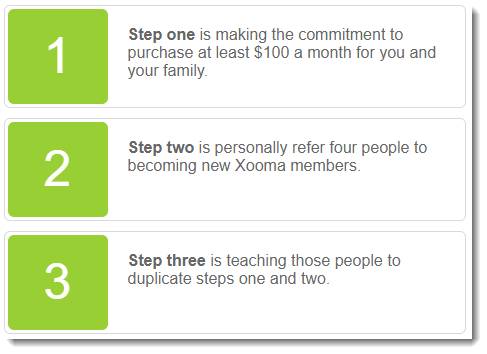 The first thing to mention is the $100 per month requirement. This refers to products you 'move', which includes buying them for yourself or selling them to others. You also need to recruit four people who do the same.
If you can do this, then you earn an $80 bonus each month. There is an additional bonus for getting 16 active members at the second tier. The idea is that each person you recruited will recruit four others. In practice, some people you recruit will be more successful than others.

This aspect isn't the main way to make money, it's mostly just a bonus. But, if you can get four people involved, it is consistent income. You could even earn more this way than from actual sales.
There is still one obvious limitation here – the bonus refers to active members. You have to recruit four (or more) people who are spending/selling at least $100 each month. Is that achievable? Sure. But, think about your audience carefully before you commit yourself to the idea.
The overall compensation plan is called a Dual Team Prosperity Plan. Other companies use the term binary system or something similar. The idea is to split the people you recruit into two teams (even though you may have four or more recruits).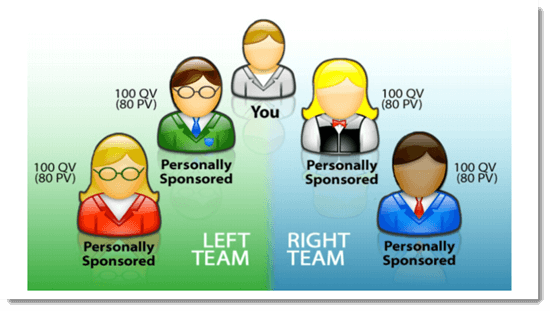 These two teams are then the basis for many of the commissions and bonuses that you earn. With Xooma Worldwide, you're paid in cycles. These are activated when the sales of the least successful team total $160 and you then earn either 10% or 15% of their PV. The style means you can hit the cycle many times, potentially making large amounts of income.
The design means you need at least two good salespeople in your downline, one on each team. The better your teams do, the more you can earn.
There are various other bonuses as well. For example, you earn some income directly from how much your direct recruits make from their teams.

There is also generational pay, if you can get far enough through the company. The image below is a visual example.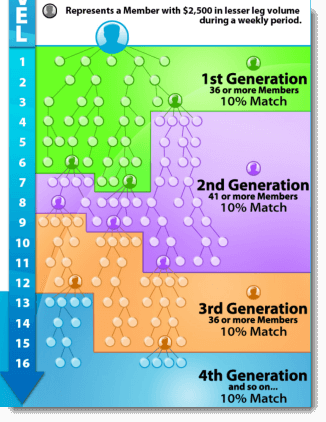 This image illustrates two things. First, it shows how complicated the system gets and how many different groups of people become involved. Second, it does show the income potential. If you could create a downline like this, it's easy to see how much money you could make.
But, that's the catch. Creating a large downline isn't easy. Not only do you need to recruit people, you also need to make sure that they're successful. That often requires considerable guidance and support on your part.
Members of your downline also compete with one another (and with you!) for sales. As a result, you need a broad social circle and the ability to find new contacts as time goes along.
All of this is entirely achievable but most members won't get far. In reality, most people you know will be hesitant about buying the items, let alone joining and making sales themselves.
And again, I'm not convinced about the products. Any MLM model is tricky but you do have an advantage if the products are high-quality and are likely to sell. With the items from Xooma Worldwide, this aspect is debatable. Some people would be interested, of course. But, many people would be hesitant or completely disinterested.
Xooma Worldwide?
The Xooma Worldwide Review
Xooma Worldwide seems to love marketing but the income potential is still low. If you did want to find success, you would need to get heavily involved in recruitment and team building.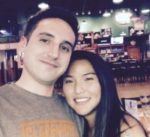 MLM Critic & Author: Nathaniell
What's up ladies and dudes! Great to finally meet you, and I hope you enjoyed this post. I have to be honest though. I'm not a big fan of MLM. Tried it. Hated it.
Affiliate marketing is cheaper, faster, and easier. See for yourself and join millions of other successful affiliates generating income from their blogs!
No inventory. No fees. No recruiting. 3 BILLION potential buyers online.
Reader Interactions