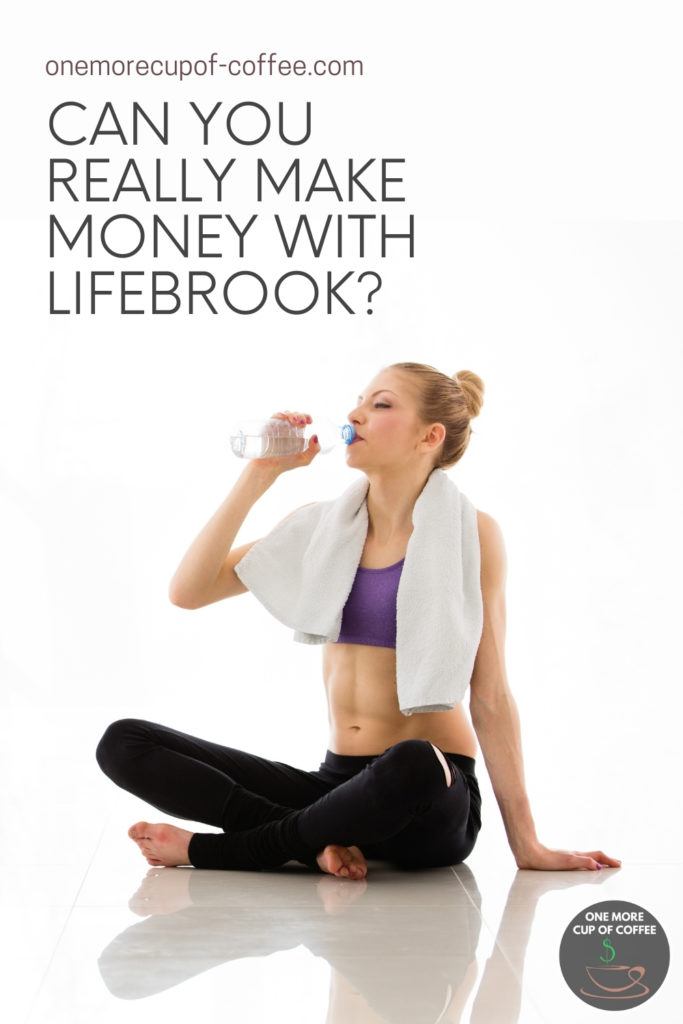 LifeBrook Review
Company Name: Lifebrook
Costs: $39.95
Rating: 24/100
Do I Recommend Lifebrook?
Even though you can make money with Lifebrook, I hesitate to recommend the company. The whole idea is simply too gimmicky and the company itself only offers three products for you to sell. Instead, you'd have much better odds of promoting high-quality health products through affiliate marketing.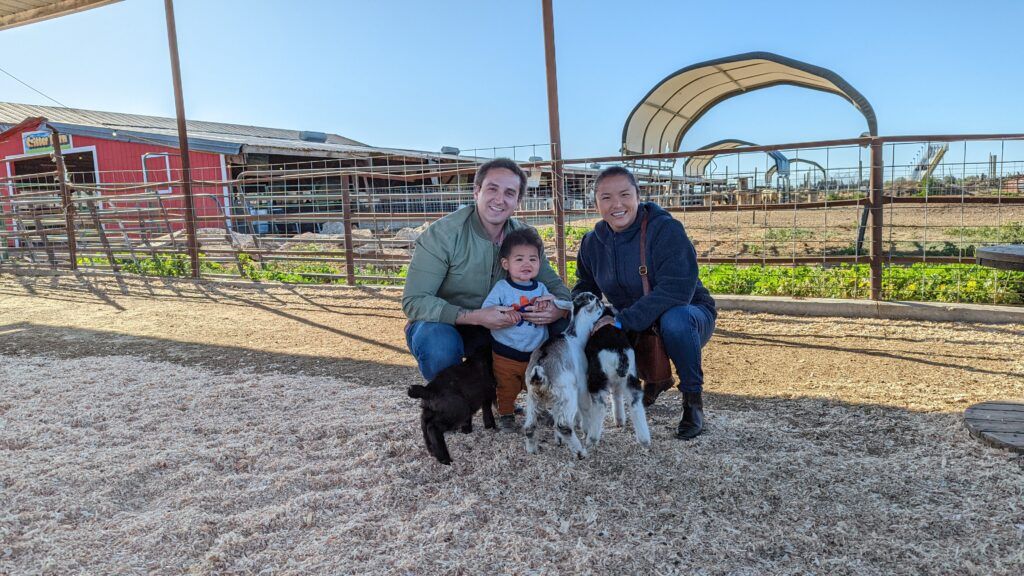 Are You Ready To Work Your Ass Off to Earn Your Lifestyle?
Are you tired of the daily grind? With a laptop and an internet connection I built a small website to generate income, and my life completely changed. Let me show you exactly how I've been doing it for more than 13 years.
What Products Does Lifebrook Sell?
Like many companies, Lifebrook focuses on health and wellbeing. This means the various products are all designed to make you feel better and live longer while decreasing your risk of disease. Lifebrook does this by focusing on one particular ingredient – Aronia.
According to Lifebrook, Aronia is 'America's own superfruit', one that offers a range of different benefits.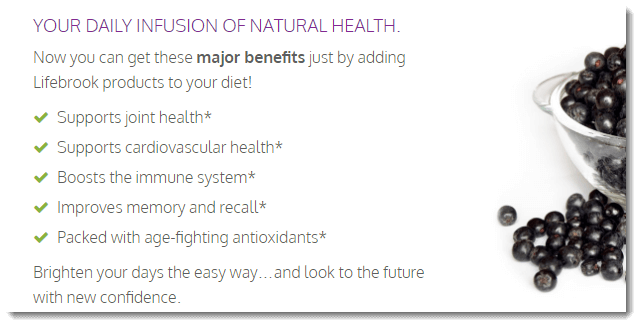 Of course, the same claims can be made about any antioxidant-rich fruit. You could easily just turn to blueberries or tart cherry juice for the same general benefits at a much lower price.
The approach isn't new. Many companies focus on a single 'amazing' ingredient, often one that is somewhat obscure. XanGo does this with mangosteen, for example, and Zija focuses on Moringa olefera leaves. Other examples include hemp, aloe, essential oils, coffee, and mushrooms, along with many more.
The idea gives Lifebrook a marketing edge. After all, where else can you buy Aronia-containing products? They're certainly not something you'll find in a regular store. This gives distributors something new to talk about too. That aspect alone could increase the chance of sales.
But, what about Aronia? Is it actually any good?
The problem is the lack of evidence. Lifebrook focuses on the fact that it has been used for generations, which doesn't mean much. After all, we've used alcohol for generations too and that doesn't make it a health tonic.
There have been some research studies into Aronia itself but not many. Most of these were conducted in animals or with a very specific group of people. Right now, there simply isn't enough evidence to assume any benefits for the general population.
Lifebrook also links to various research about antioxidant and anti-inflammatory impacts and their relationship to health. There is much more evidence for this area. But, many other plants can lower oxidation and inflammation – so this doesn't mean anything for Aronia specifically.
The Products Themselves
Aronia isn't particularly exciting as an ingredient but it is still a berry. So, if nothing else, you're going to get some antioxidant and anti-inflammatory advantages, along with various plant-based compounds.
This brings us to the next part, the products. As it turns out, these aren't too exciting either, partly because there are just three products.
The first is Puronia. The marketing implies that this is just Aronia berry juice but the drink actually contains water, lemon juice (from concentrate), and natamycin as well. That last component is a mold inhibitor and has been subject to some controversy.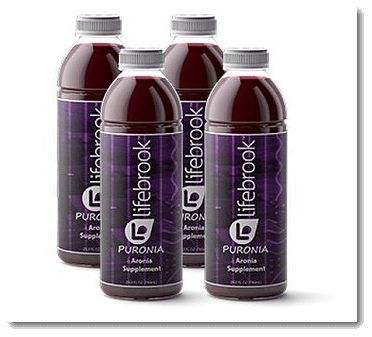 The next product is Puronia-CP. This one is a powdered version of the berries, which you can dissolve in water. In this case, the added ingredients are citric acid, natural flavors, and stevia. That isn't a large number of extra ingredients. But, it's unclear what the natural flavors are or why they needed to be included.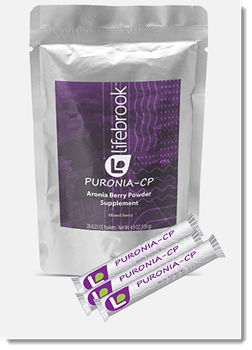 The final item is Vitronia Daily. This is a multivitamin that contains Aronia berry powder. The ingredients for this one are similar to most other multivitamins that you'll find, aside from the Aronia.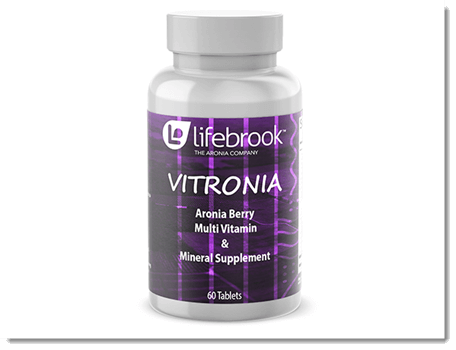 Honestly, the products aren't that impressive. The only selling point they have is Aronia berry – and the evidence for Aronia simply isn't there.
The other thing to mention is the price. The supplements sell for $39.95 for 30 servings. That's more expensive than many multivitamins but not dramatically so.
The other two items are more challenging to examine. The powder sells for $59.95 and you get 20 servings. With no similar products on the market, there is nothing to directly compare it to. Even so, almost $60 is high for something that is basically an antioxidant supplement.
The juice isn't sold separately. Instead, you can buy it in a 4-, 8- or 12-pack, starting at $129.95. If you buy the 4-pack that calculates to around $32.50. That's expensive juice, especially as the bottles are just 24.5 fl oz.
From the information on the bottle, the juice appears to be fairly concentrated. Even so, it's an expensive product for debatable benefits. You'd probably get just as many advantages from tart cherry, pomegranate, or cranberry juice and you can pick all of those up at the store.
The end result is expensive products with debatable benefits. Even if you end up loving the flavor of the drink and see benefits from the products, could you convince others?
Is Lifebrook A Good Business Opportunity?
The products from Lifebrook aren't especially appealing. But, this is only half of the story. You could still make sales with the right audience and some people are passionate about new health products and superfoods. So, let's look at the business side of things.
Lifebrook prides itself on having nine different ways to make money, which is true but somewhat misleading. Like other MLMs, they basically let you earn money from sales and from the success of your team. The rest of the 'ways' to earn money are various bonuses.
To start off with, you buy an electronic or physical business kit for $39.95 or $59.95, respectively. This allows you to make sales through a replicated website. All of your sales are made in this way and you earn 20% commission by doing so.
You can also earn by getting people enrolled as preferred customers. These are individuals who sign up for a monthly autoship and get a 20% discount on their purchases. If you get people to do this, you earn a 10% commission. You can also earn a bonus based on how many preferred customers you have enrolled at a time.
There are also First Order Bonuses, which pay you extra each week based on the sales of the people you enroll, up to a cap of $500 wholesale.
The other main area is making money from your team. As always, this is where things start to get complicated. The idea here is that you earn money from the sales of the people below you. This can include the people you recruit, the ones they recruit, and so on.
The bonuses you're eligible for depends on your rank. You start off as an Independent Advocate. This gives you the income opportunities I mentioned above, along with a 4% commission from the people you directly recruit (Level 1). The next level is the Business Builder. With this one, you earn 4% Level 1 and also 4% from Level 2. But, you need to enroll three Independent Advocates to reach this rank. Those advocates all need to stay active to keep you there.
The pattern continues as you go forward. With each new rank, you can earn from deeper levels in your team and other bonuses increase as well. But, so too do the requirements.
There is also another tier altogether, which is the Executive Phase. This aspect becomes more complicated still and you need a high performing team to get into it. With this, you start earning from generations below you, rather than individual levels. The company describes it like this.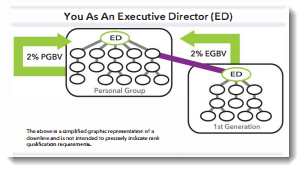 The graphic isn't all that helpful, but you would probably understand it by the time you actually got to that rank. Regardless, the idea is simply that you're earning from more groups of people.
This pattern is one of the largest challenges with the MLM model. Most of the income potential comes from building a team. This is where most of your bonuses come from. If you can get (and keep) a large enough team, then the income potential is high.
In fact, most MLMs have a handful of powerful success stories. These are people who have made a full-time income from the company or say that it has changed their life.
But, doing getting to a high level is no picnic. Most people know very few others who would be able and willing to join as an independent advocate. Plus, the larger your team gets, the more difficult it becomes to make sales and to recruit.
After all, how many people could you get to buy Aronia products regularly? Most of your contacts would get sick of the concepts pretty quickly.
Ongoing Requirements
It's also worth mentioning the ongoing requirements. For most of the bonuses, you have to be considered active within the company. This involves having at least $103 of Personal Bonus Value (PBV) every month. The company states that this PBV is normally 80% of the retail value but maybe less for some items. As such, you're probably looking at somewhere around $130 in volume every month.
This PBV seems to be based on sales that you make and also anything you purchase yourself (although, the company doesn't state this explicitly). This means you may not have to buy anything yourself to stay active, as long as you make enough sales.
But, people often find that they don't make sales consistently from one month to the next. Instead, there may be some lower months. When this happens you might end up buying more yourself to stay active and earn bonuses. That pattern can easily mean you end up spending more than you intend to.
The requirements to progress through ranks are also monthly. As a result, you could actually drop down ranks if sales weren't as good one month or if a distributor quit. This makes it hard to earn a consistent and reliable income. It can be a frustrating aspect as well.
Successfully Making Money With Health
To make money with any MLM, you have to be able to sell the products consistently. Ideally, you also need to recruit people into the company and have them make sales as well.
With Lifebrook, the biggest advantage is that you're promoting health products. Health and wellness are considered evergreen areas. As such, there will always be interest. People will even keep buying the products in a recession, simply because health is important at an emotional level.
The unique nature of the products also helps. Even though there isn't much evidence for Aronia benefits, many people will be interested simply because the berry is a 'superfood'. For that matter, many people do look for the next amazing health product.
On the flip side, you have just three products to sell, they're all expensive and the Aronia is literally the only thing that makes them unusual.
Could you be successful? One approach is to look at your audience. You want people who regularly spend money on health products, including ones with no proven benefit.
For example, if you have friends who regularly buy coconut oil, tart cherry juice concentrate, and shop at Whole Foods, you might have a good chance at making sales. In contrast, if your contacts mostly tend to look for discounts and prefer whole food over supplements and juice – sales would be much more difficult.
If you're interested in health, you could look at the field of affiliate marketing instead. This is similar in that you're earning money by promoting products. But, there are also key differences.
For one thing, you're selling online. That gives you access to a larger audience and you don't have to physically interact with them either.
You also get to choose your products. This can include ones that are already popular and items that are competitive. After all, it's much easier to sell things if people already want them. To do this, you simply turn to affiliate programs. There are many different options in the field of health, such as massage, nootropics, gardening, or aromatherapy.
Can You Generate Reliable Income With Lifebrook?
The Lifebrook Review
Lifebrook looks good at face value. But, once you start looking into the products and the compensation plan, it's clear that there isn't much to offer. Even if you're convinced about joining a health MLM, there are better ones out there.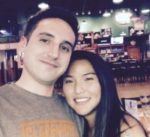 MLM Critic & Author: Nathaniell
What's up ladies and dudes! Great to finally meet you, and I hope you enjoyed this post. I have to be honest though. I'm not a big fan of MLM. Tried it. Hated it.
Affiliate marketing is cheaper, faster, and easier. See for yourself and join millions of other successful affiliates generating income from their blogs!
No inventory. No fees. No recruiting. 3 BILLION potential buyers online.
Reader Interactions