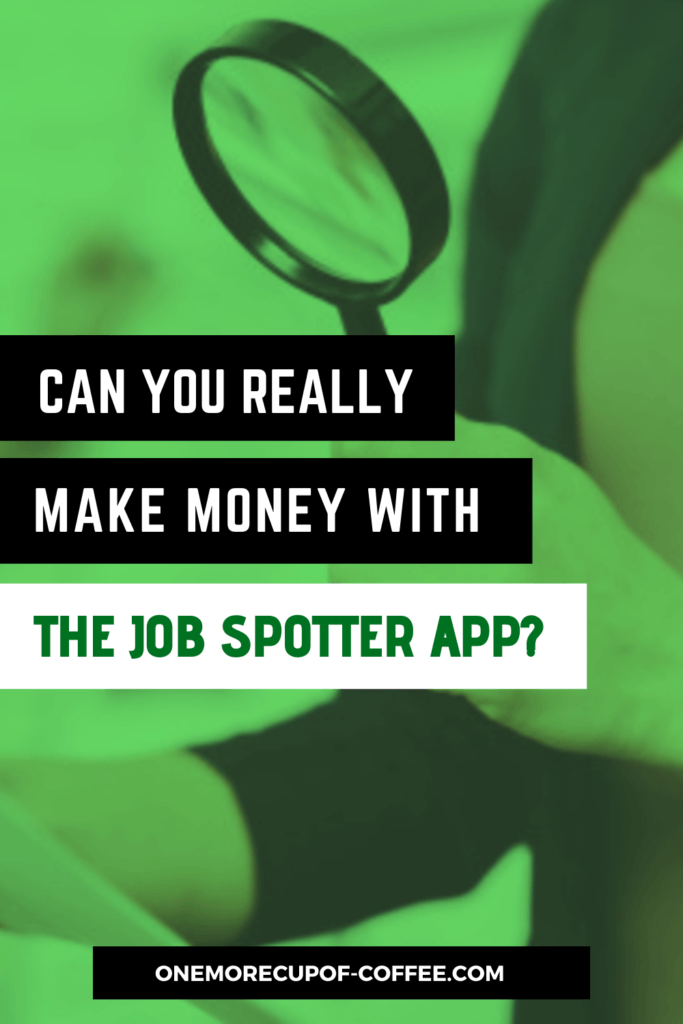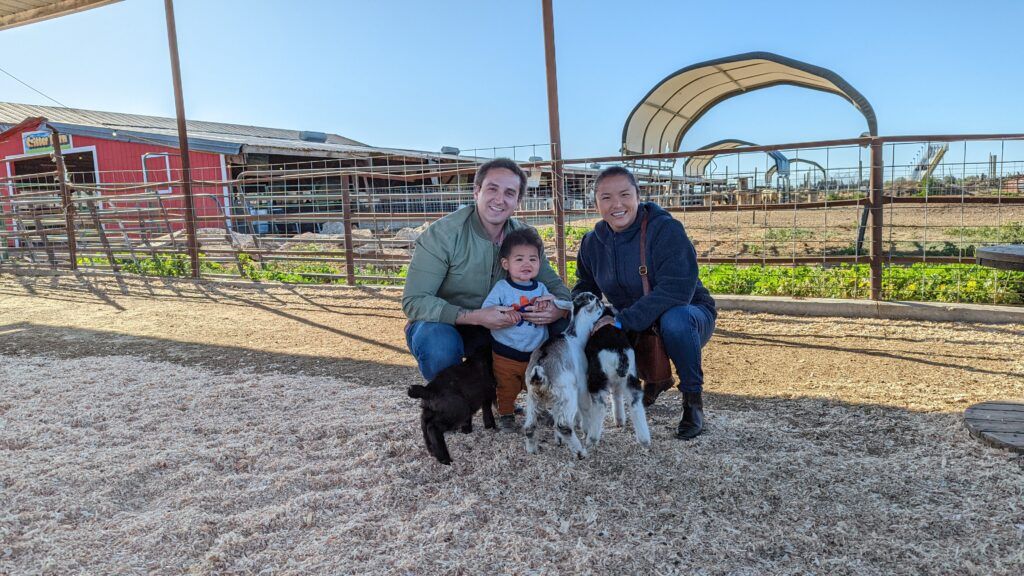 Are You Ready To Work Your Ass Off to Earn Your Lifestyle?
Are you tired of the daily grind? With a laptop and an internet connection I built a small website to generate income, and my life completely changed. Let me show you exactly how I've been doing it for more than 13 years.
Have you ever needed a job, but weren't sure how to go about finding one? Sometimes, it can seem like help-wanted ads are hard to come by—unless you just happen to be in the right place at the right time.
But this app seeks to correct this problem by paying cash for help-wanted notices uploaded by people like you and I. But can you really make money with the Job Spotter app?
This was obviously the most important question, and I were determined to find out—so I decided to download it ourselves in order to give it a quick trial run. I've already been earning some side cash here, so know that some apps are legit. Some are scams though!
Does Job Spotter have what it takes to make the cut?
How To Make Money With JobSpotter
There are a lot of apps in the App Store that claim to help you make money – whether it's a little or a lot. In this post, I'm going dive into what this app is supposed to do, whether it works or not, but most of all, whether or not it's a good opportunity for you to make money.
I definitely don't want to waste my own time with shoddy apps and scams, and I'm betting you don't want to wast your own time either!
The Basics: What Is Job Spotter?
Job Spotter is technically an app that pays people money (in the form of gift cards) to upload pictures of local hiring signs from their own neighborhoods. It's basically a microtasking app, but it works a little bit differently than others in that field (like Field Agent and Observa).
Here's a blurb from the app description in the Google Play Store that might help to explain the concept just a little bit better.
"Job Spotter is an awesome way to explore your community and earn redeemable points, all in the name of helping local businesses. If you spot a hiring sign, take a picture of it and the storefront, and submit it to job spotter."
The app goes on to explain that if you submit enough hiring signs, you will earn enough in points to redeem them through an Amazon gift card. According to the app description, there is no limit to how many signs you can upload—though your uploads do have to be approved before your account can be credited.
The app has been downloaded over 100,000 times, and has a Google Play Store rating of 4.2… which is pretty good.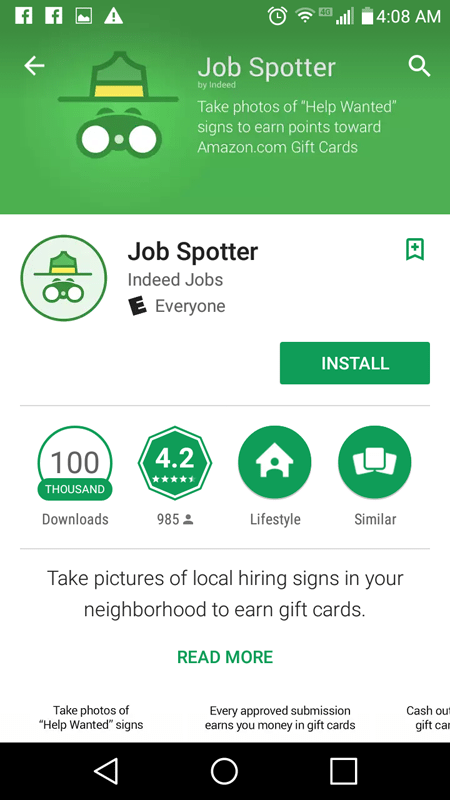 But we were still interested in seeing how it worked from the inside. So we downloaded it and ventured inward on our own. Here's what we found.
Getting Started With Job Spotter
When we opened the app, we were greeted with the following.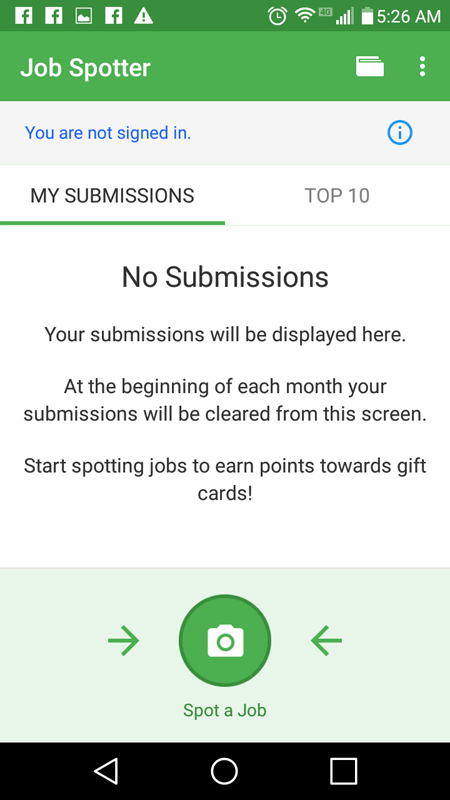 This screen scrolled side to side. One side was labeled as 'My Submissions,' while the other was labeled 'Top Ten.' The Top Ten screen simply seemed to show who (among users) had the most points and how many points they had, not so unlike the leaderboard in online video-game lobbies.
But the My Submissions page seemed to contain a lot of information that was relevant to the task of spotting jobs and getting paid for the uploads… which, to me, seemed infinitely more important.
The app told us here that the submissions get cleared from this page at the beginning of each month—meaning that you would need to keep uploading to keep jobs in this section. We tried to click on the menu button at the top-right corner of the screen, but were directed to this page when we did so.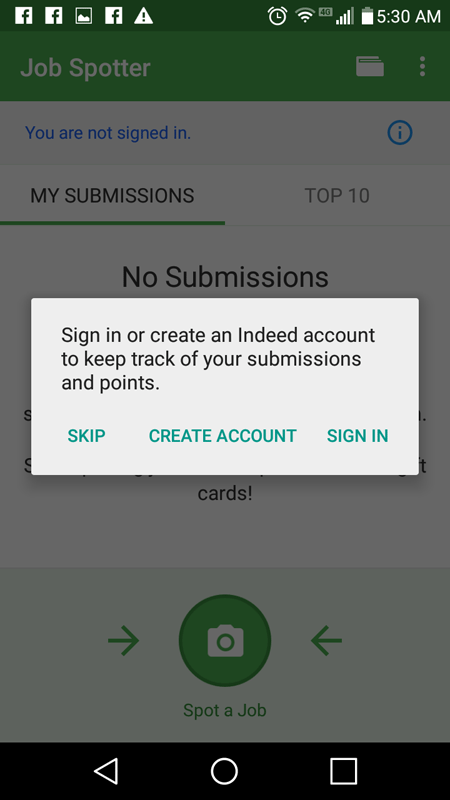 It seemed that the time had come to make an account, so that's what we got started on next.
Creating A Job Spotter Account
After clicking the Create An Account link, we were taken to this registration page.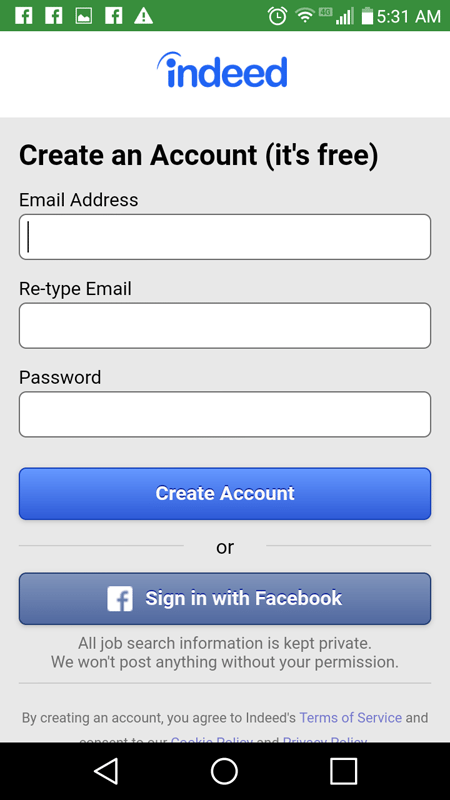 It seemed like a pretty basic registration screen, really. We chose to use our Facebook login, which is almost always easier. Next, we had to choose a username, which we did. After that, our registration seemed to be complete, and we were allowed to take a look around the menu (or Wallet) section of the app.
Here, we found this screen.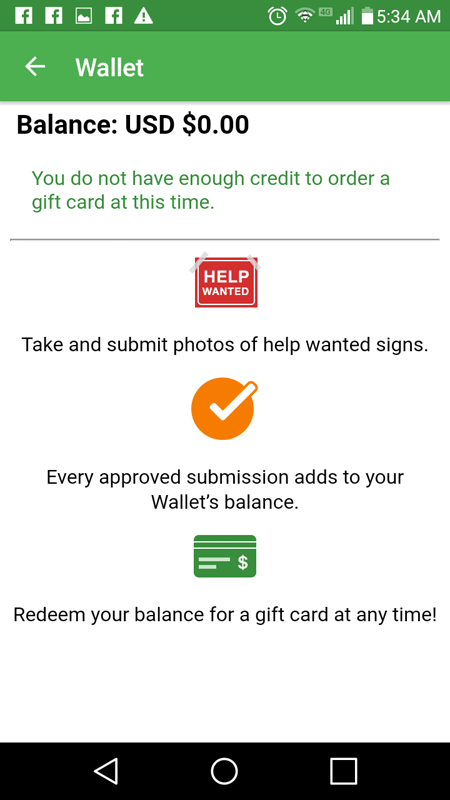 Here, we could review our account information, and read more about exactly what the app could do. There were also some good links and pages to visit in the drop-down menu at the top right of the screen as well… which led us to doing some research into exactly how much money this app could actually make you.
The actual amounts that are awarded for each upload had seemed a bit vague up until this point—so we decided to take this a step further and really dig into the literature on the site.
How Much Can You Actually Earn With Job Spotter?
In the About section of the app, we learned that you can earn anywhere from 5 to 150 points on a submission, based on how good the submission is and how relevant it could be to people in the local area who were looking for a job.
Job posters that are always posted, such as those you might see on or in fast-food restaurants and corporate retail stores, pay less than help-wanted posters on businesses that seem to be offering a unique or special opportunity that is not always available… so it really just depends on what you find and how well it scores in the app's algorithm.
But, we did not see anything that told us how many points it takes to cash out. We do know that you can redeem your balance in the form of a gift card—but we had no idea how many points it took to equal some real-world currency.
So we took to the internet to see what we could find.
How Much Are Points Worth?
We visited Indeed.com, which seems to be the website of the company that published this app. But we didn't really see anything on this website that suggested how much the points were worth. Instead, we turned to the Google Play Reviews to find out what other users have said, and were certainly not disappointed…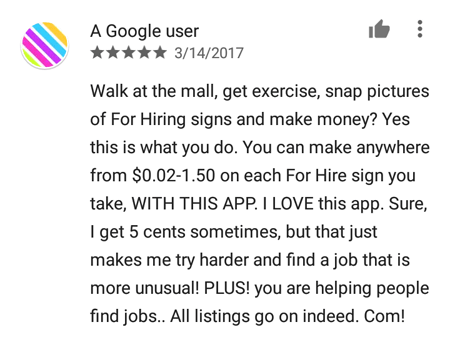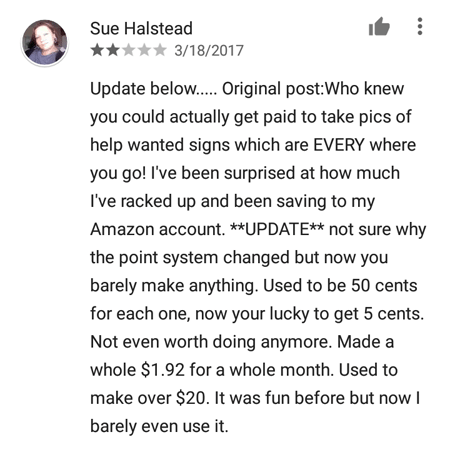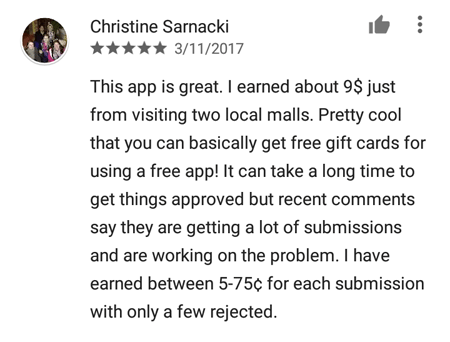 These reviews seemed to give us a pretty good indication that the amount of points pretty much equals cents. So, a job that scores you 50 points, it seems, will actually award you somewhere close to $0.50 in cash—which isn't too bad, though it could take a lot of leg-work and time to actually find enough help-wanted signs to make it worth it.
Some people in the reviews said that they made the best money on this app at the mall, where there are a lot of businesses all stuck in one place… but a lot of other people said that the running around it takes to actually make money on this app renders it a bit useless in the long-run.
Help wanted signs are obviously not always super-common—so only making a little bit (less than $1) on each one could certainly keep the app from being as financially viable as it could be.
But, at the same time, people who spend a lot of time in areas where there are a lot of businesses located in and around one small area could stand to make quite a bit of money on the app for very little actual work.
Taking pictures of the listings seems pretty easy. Here's a screenshot of the camera that the app employs to fulfill this function…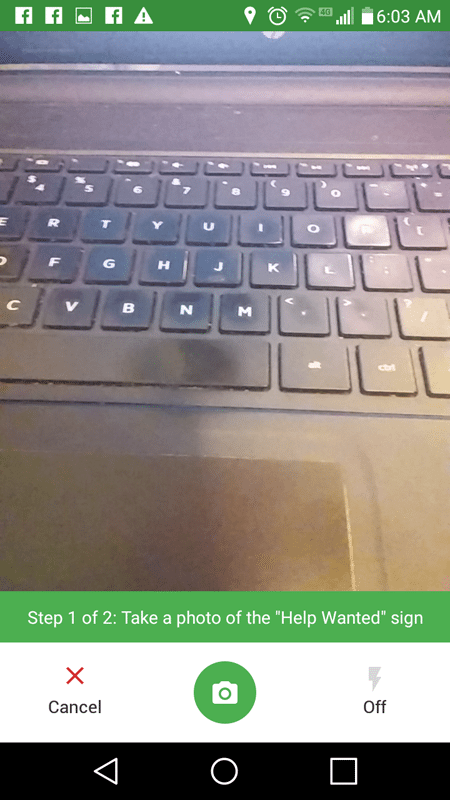 The camera works well, as does the rest of the app. We just had a difficult time imagining that we could make enough money with the app to make it worth it. Granted, the idea is a really good one. A lot of people are looking for jobs right now, and this app could really, really help them out—but is it worth the time required to snap the pictures and upload them?
Can You Make Enough To Make It Worth It?
This depends a bit on your situation—but I know that for me, living in a smaller-sized town (population of 6,000 people in the central United States), I would be really hard pressed to find more than 3 to 5 of these types of signs per week.
Plus, after the first couple of weeks, even this number would probably go down, because I wouldn't be able to re-upload the more permanent types of help-wanted signs that tend to go up on retail and fast-food chain stores.
This would add up to less than $3 per week, if I was lucky… probably more like $1.50 per week, to be completely honest. That would add up to around $6-12 per month. If my normal routine regularly brought me around such signs, then it might prove to be worth it—but for this kind of money, it wouldn't be worth it to traverse far out of my way.
People who regularly visit busy business centers would be a lot more likely to encounter such signs. This would also make them more likely candidates for this app.
The app works well and does what it was designed to do—but it would be a stretch to earn any real, reliable side income with it, in my personal opinion (especially in the type of town that I live in). For a broader range of tasks available every day, for consistent earnings try this site.
Our Final Thoughts About Job Spotter
Should you download it onto your phone?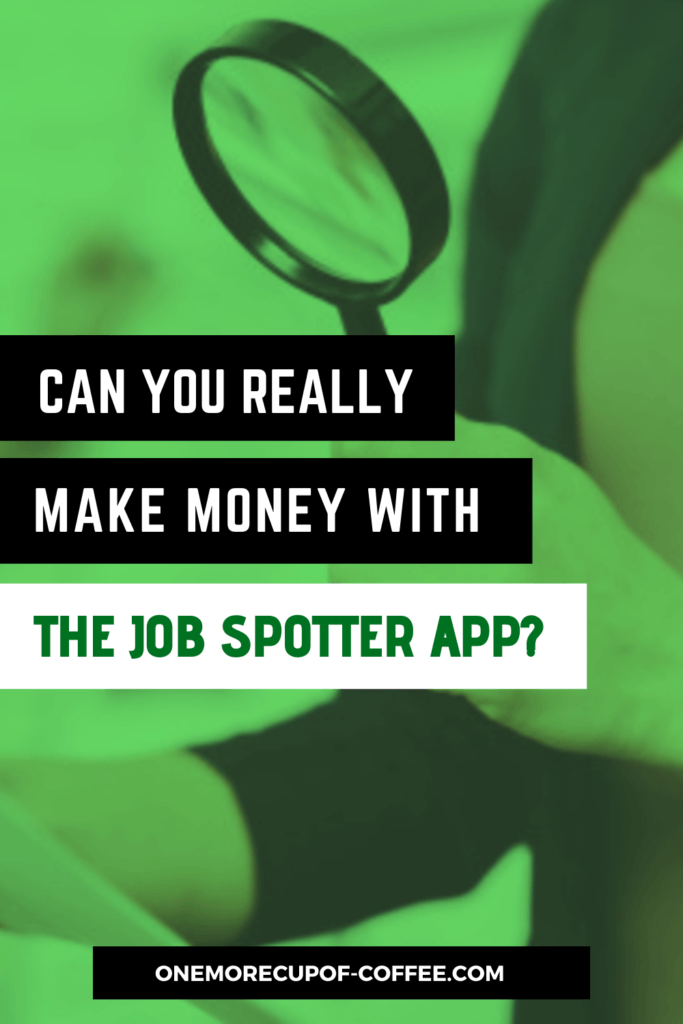 The Job Spotter App Review
Honestly, there are tons of various apps that claim to help you "make money", but really there are two facts to consider. 1) Most of them don't actually work. 2) If you can make money, it's not going be very much. If I'm going to spend any amount of time working online, I want to be working for myself by building my own profitable website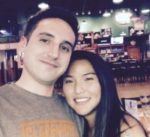 Nathaniell
What's up ladies and dudes! Great to finally meet you, and I hope you enjoyed this post. My name is Nathaniell and I'm the owner of One More Cup of Coffee. I started my first online business in 2010 promoting computer software and now I help newbies start their own businesses. Sign up for my #1 recommended training course and learn how to start your business for FREE!