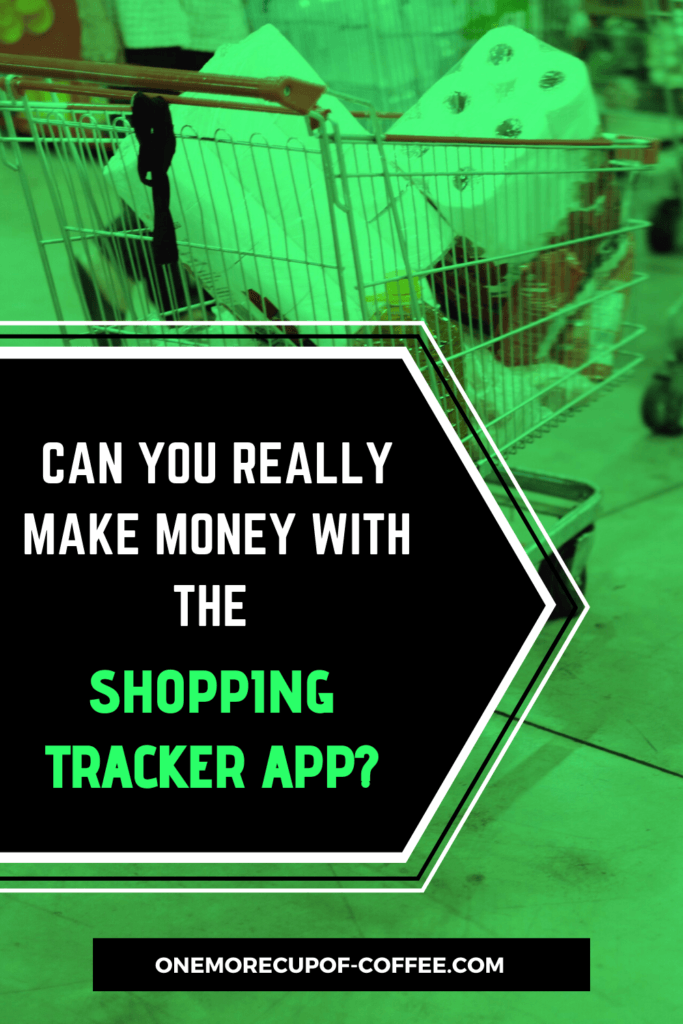 Have you ever wished that you could save more money while shopping? We have—and our search led us to this app. Can you really make money with the Shopping Tracker app?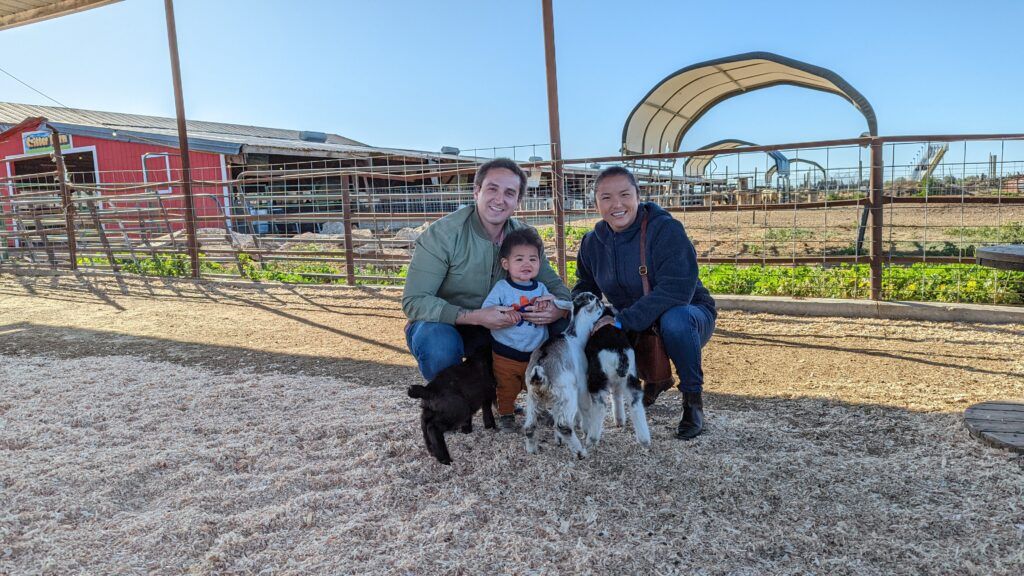 Are You Ready To Work Your Ass Off to Earn Your Lifestyle?
Are you tired of the daily grind? With a laptop and an internet connection I built a small website to generate income, and my life completely changed. Let me show you exactly how I've been doing it for more than 13 years.
That's the question that we set out to answer as we downloaded and opened it up.
Making Money With The Shopping Tracker App
Our first step was to take a look at the app itself, including how it works when you first load it up. Here's what we found.
The Basics: What Is Shopping Tracker?
Shopping Tracker is an app that's available for free on the Google Play Store. It's got a 4.7 star rating, has been downloaded 5,000 times, and is labeled as an app that can help you to 'manage your purchases, compare prices, and share [your findings] on Facebook.'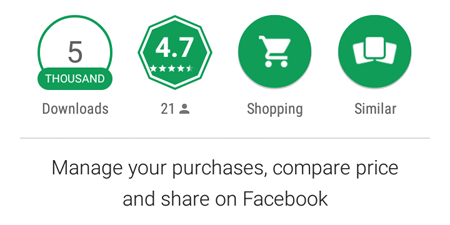 The app has far more 5 star reviews than 1 star reviews… but we were a bit skeptical when we realized that it had only been reviewed 21 times.
We also realized pretty quickly that the content in the 'Read More' section of the Google Play Store was not written in clear, grammatically correct English. Here's a screenshot of the app's description. This was literally what we found in the Google Play Store 'Read More' section. This should do an adequate job of showing you what we mean by this…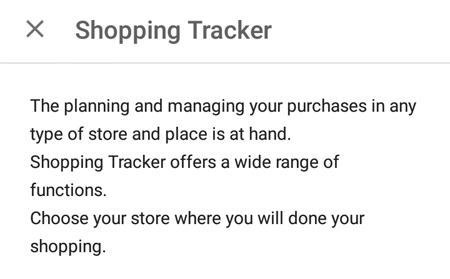 So far, maybe not so good. We also realized that this app won't actually make you money. But rather, the point of it is to save you money by allowing you to do price comparisons, among other things. But we felt that this was still worth pursuing. After all—a penny saved is a penny earned, right?
So we cracked it open on our mobile device and took a look around.
Getting Started With Shopping Tracker
Here's what we found when we opened up the app for the first time.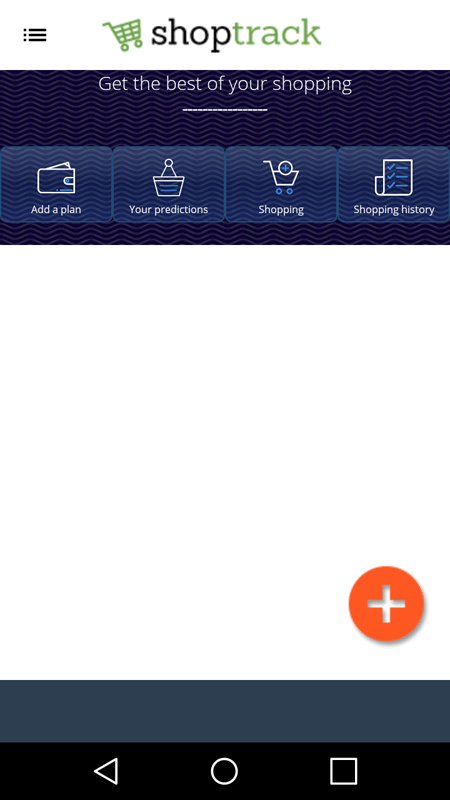 It looked pretty good—but we weren't sure how to get started. So we played around with it a little bit, and clicked the + sign button at the bottom right corner of the screen. This brought up a screen where we were prompted to enter a store type, the name of a shop, and a date.
We entered a sample store name, chose SUPERMARCHE for the category (this was the only option other than to create a new category, and seemed to stand for supermarket), and then selected the listing to register a product. Here are some screen shots that help to detail what this process looked like.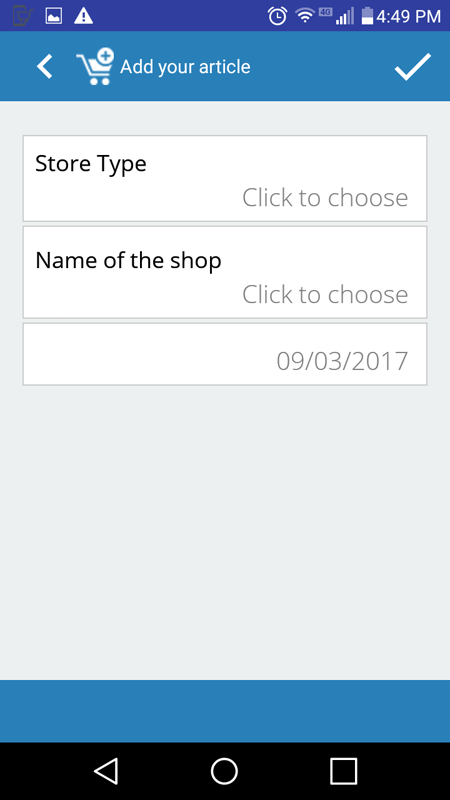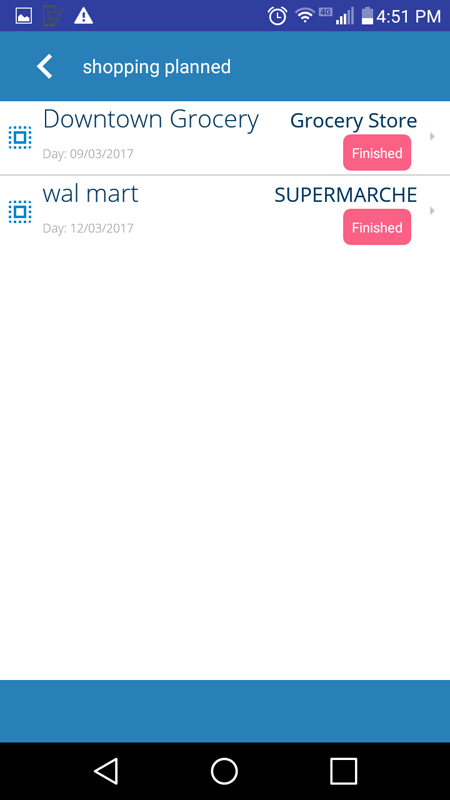 Next, we clicked on our Downtown Grocery option (which we also created by creating a new category of store). It said that we had no products registered, so we clicked on the little + sign at the top-right corner of the screen to register one.
This is the screen it brought up for us.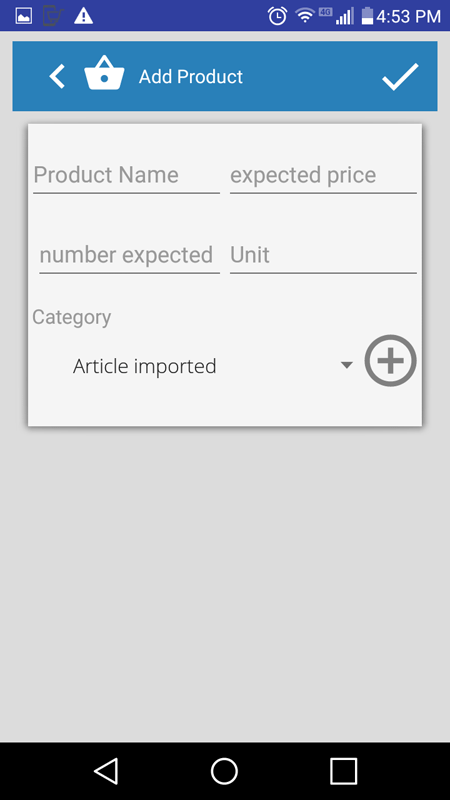 So, what we had here was a space where we could record a product name, an expected price, a 'number expected,' a number of units, and a product category. There was even a spot where you could click to take a photo of the product and store it.
Thus far, we were having a bit of trouble figuring out how this app could really help you. It pretty much allows you to make very detailed shopping lists for the future, and allows you to compare the items on these lists with each-other in an attempt to get the best price for your money.
There are also some tools to help you calculate discounts and the like—though they seem a bit clunky, and I actually doubt that they would be as helpful as the standard calculator app that's already installed on my phone.
We took another look at the Google Play Store app description, and found that there are several things that the app was designed to do.
It was designed to…
Help you compare prices
Save and manage your planned purchases
Share the results of your comparisons on Facebook
Add images to products that you want to buy within the app
Categorize products
Add product prices together and check the total purchase amount
Save your purchase history
Why Would Someone Want To Use The Shopping Tracker App?
So, as I was looking around within the app, I realized that it wasn't anything like what I had imagined it would be. I imagined it as an app that would perhaps allow me to scan barcodes and check prices, get rebates, etc… but what I found was something much different.
If you wish to put an item into this app, then you must do so manually. You input all of the information yourself, take a picture, and create a sort of 'registry' that you can then refer to later on.
This seemed like a strange idea to me at first, and I found myself wondering exactly why someone would want to use something like this. Why not just do a Google search and look up the prices for the products you want in different locations? Why not just write the prices down and compare them with a pencil and a sheet of paper?
Surely that would be simpler than inputting all of this seemingly nominal information (who needs to record units while they're shopping?) into lists, taking photos of the products, and then comparing them.
But then I started to realize a few things about the app. First of all, Shopping Tracker is pretty much totally offline. You don't scan barcodes to access registries online or anything like that—you literally seem to create your own by manually inputting information about the items that you're shopping for.
The information that you input is also weirdly specific. This doesn't seem like an app that you would use if you were shopping for shoes… it's more like an app that you would use while shopping for something more numbers-oriented—like different-sized bags of horse feed, construction supplies, or maybe even produce or bulk food items.
Obviously, you could use it to store any type of product information—but let's apply the system to a situation in which you need to shop for horse feed.
You might visit 5 different farm stores as you search for the best deal. These little businesses don't have websites, and they certainly don't have the resources to take or fill orders online—so you really can't use Google to help you.
Imagine that at every business, the bags are slightly different sizes. It might be hard to remember the details for every single one… which is where this app could come in handy.
You could register the store, log the product, fill out the information about it, including price, units, etc. Then, you could take a picture of the front of the bag just to remember what it looked like, and move on to the next store.
You could even calculate how much your entire purchase was going to be after it was all said and done.
At the end of the day, compiling the data and analyzing it with this app would be a piece of cake. You would have everything at your fingertips, and logging the information is really not all that difficult to begin with—so it's a win-win in this type of scenario.
Can You Make Any Money With The Shopping Tracker App?
This app was a bit different from the apps I usually use or review. It isn't the type of app that's going to make you money—but it could save you money, by giving you a tool that you can use to compare very similar products to determine exactly what the best deal is.
But I will also say that it seems to be limited in its usefulness. There are, in my opinion, not very many types of scenarios where this app would really come in handy, which is why I will likely not be leaving it installed on my phone.
If I tended to run into the types of scenarios where this app could help me more often, then I would certainly use it. It functions well. It looks pretty good, though the colors and designs are admittedly a bit on the strange side.
I was also struck by the limited number of categories offered in the store registry—but you can always make a new category, and doing so is quite simple—so really, that's not such a big deal.
This app has a limited sort of usefulness to it—and within its very narrow niche, it could certainly save you time and money. But I will also say that the vast majority of everyday shoppers will be hard-pressed to find a place for it in their day-to-day lives.
It is what it is. It's a shopping comparison app that requires you to manually fill in any data you might wish to access later on.
This is both the strong point and the weak point of the app, all at the same time. Strong because of the flexibility—weak because it's just not very useful in a wide range of typical shopping situations.
Personally, I just don't feel like the app would really help to save me any time or money. I can't speak for anyone else—but that's how I felt about it after giving it a try.
For people who want to save money with shopping, rebate apps (like Receipt Hog, CoinOut and Ibotta) are probably the best approach. You basically earn credits from shopping that you would do normally. Those credits can then be cashed out for real money (or gift cards).
Rebate apps aren't really a way to earn, as you need to spend money to get anywhere. You're not getting a large amount of cash back either. Still, they are useful in some situations, especially for purchases that you would be making regardless.
Our Final Thoughts On The Shopping Tracker App
Should you download it onto your phone?
The Shopping Tracker App Review
Honestly, there are tons of various apps that claim to help you "make money", but really there are two facts to consider. 1) Most of them don't actually work. 2) If you can make money, it's not going be very much. If I'm going to spend any amount of time working online, I want to be working for myself by building my own profitable website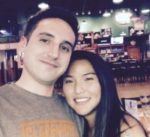 Nathaniell
What's up ladies and dudes! Great to finally meet you, and I hope you enjoyed this post. My name is Nathaniell and I'm the owner of One More Cup of Coffee. I started my first online business in 2010 promoting computer software and now I help newbies start their own businesses. Sign up for my #1 recommended training course and learn how to start your business for FREE!