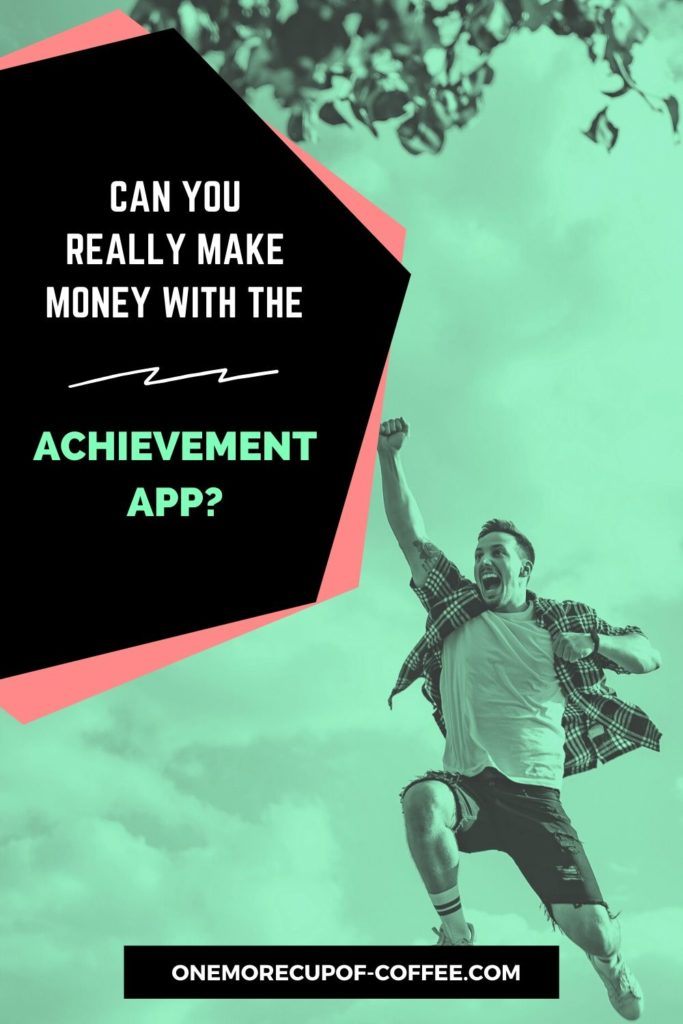 This app claims to help you be healthy, do good, and earn rewards. But can you really make money with the Achievement app? (Note: This app used to be called AchieveMint, but has since changed its name!)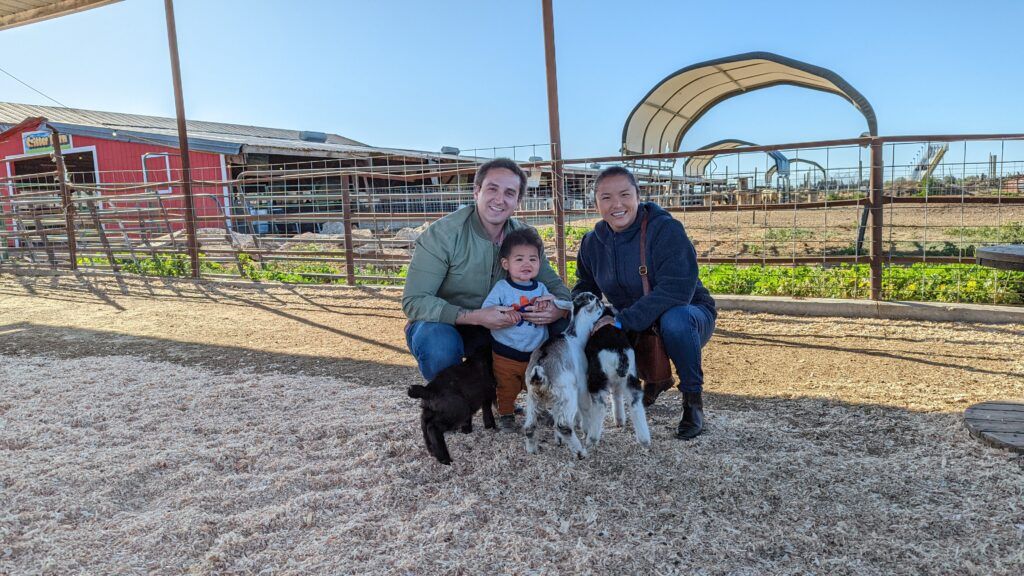 Are You Ready To Work Your Ass Off to Earn Your Lifestyle?
Are you tired of the daily grind? With a laptop and an internet connection I built a small website to generate income, and my life completely changed. Let me show you exactly how I've been doing it for more than 13 years.
We discovered this one not too long ago, and really liked the looks of it. Personally, it had been a little while since I had reviewed an app… so I was pretty pumped to get into this one.
A friend messaged me and told me about the Achievement app, and after looking at it, I realized that it seemed to be right up my alley.
Making Money With The Achievement App
Just to preface this review, let me explain why I do this. I am all about the side-hustle mentality… and I love the idea of using apps to earn extra money, because apps generally have a lot going for them. They are flexible, they are usually consistent, and they can be taken with you anywhere… because they can be used right from the convenience and comfort of your mobile device.
The downside? They often require a lot of effort for the amount of money that they can actually make you—and that, in itself, it quite a downside.
But I am always on the lookout for an app that can overcome this weakness… and am quite interested in giving Achievement a chance.
Here's what I discovered.
A Closer Look At The Achievement App
So, the first thing that I noticed about this app, right away, was the awesome landing page graphics. This app really looked good.
It also has 50 thousand downloads, a 4.0 Star Google Play Rating, and 679 reviews.
I also found this 'How It Works' section in the Read More part of the app listing. Here is what that had to say.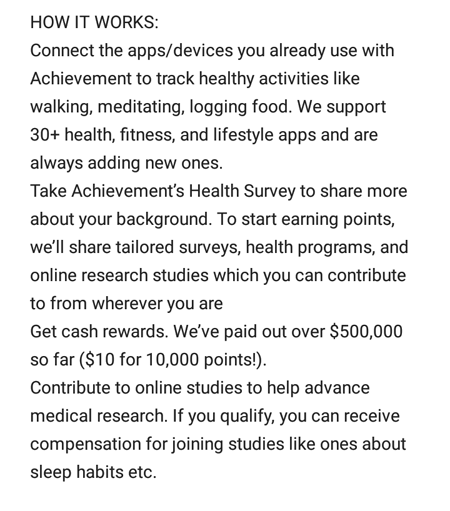 Ok, so the method that this app uses to earn you rewards is that they give you surveys, health programs, and online studies specifically tailored to you.
They discover which ones will work the best for you by giving you an introductory survey, and say right in this little how-it-works blurb that 10,000 points translates to $10 in real-world currency.
That is definitely a helpful thing to figure out early-on!
At any rate, it was time to download it and give it a try. Here is what we discovered when we did that.
Downloading The Achievement App And Getting Started
The first thing that I saw upon downloading the app was this screen.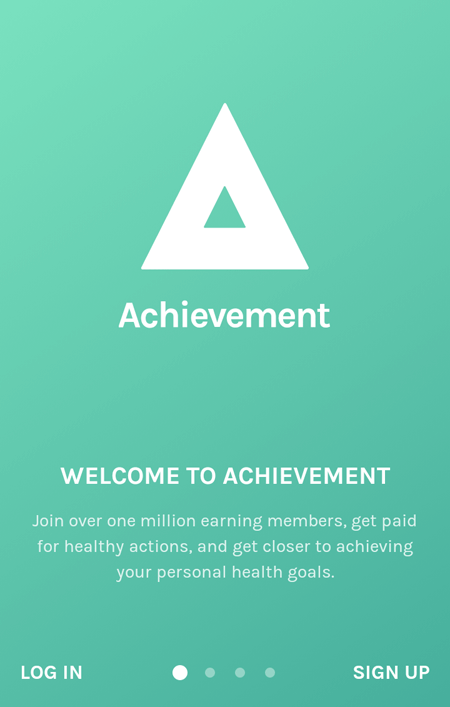 This was the first in a series of several screens that you could scroll through to learn more about the app and how it worked. Here is the basic summary of what I learned on these screens.
Get paid for healthy actions
Take a survey to get started
Earn points for performing tasks and taking part in activities
Track your progress and earn points for activities like biking, sleeping, walking, meditating, logging food, participating in surveys/research, and more
After this, it was time to sign up.
I went through the basic process of giving them my email, creating a password, and filling in my birth-date. After this, I needed to verify my email by clicking on a link. I got the email almost immediately and proceeded to complete this step.
A 'success' screen popped up next, followed by a screen that prompted me to sign back into the app.
Here is a picture of what I assumed to be my 'introductory landing screen.' It seemed to be prompting me to complete steps to complete my profile.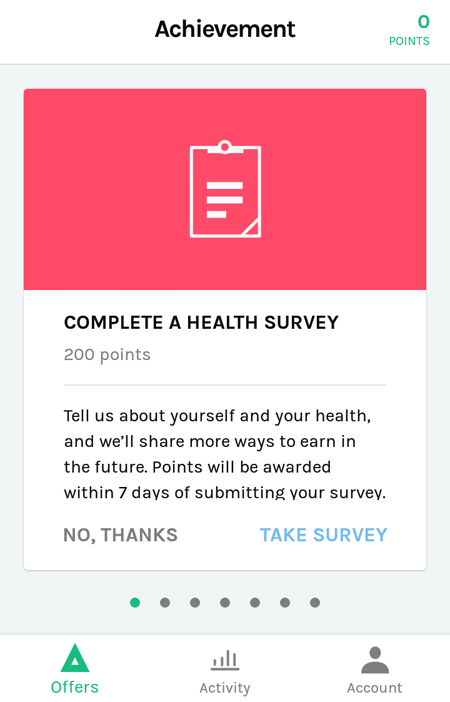 First off, I was offered 200 points to complete a health survey. I was also offered 50 points to connect my first health app, 250 points to refer a friend, 10 points to answer a one-click question about flu shots, 100 points to complete an employer survey, and 10 points for a 5 minute survey about my Thanksgiving habits.
I scrolled over from the 'Offers' page, which was the page where all of these 'offers' were advertised, and moved on to the 'Activity' page. Here, I could see my total number of points… but I also realized that I wasn't going to be able to log any activity until I linked some kind of app that could track something.
I clicked on the 'Connect An App' button, and was instantly taken to a screen full of apps to choose from.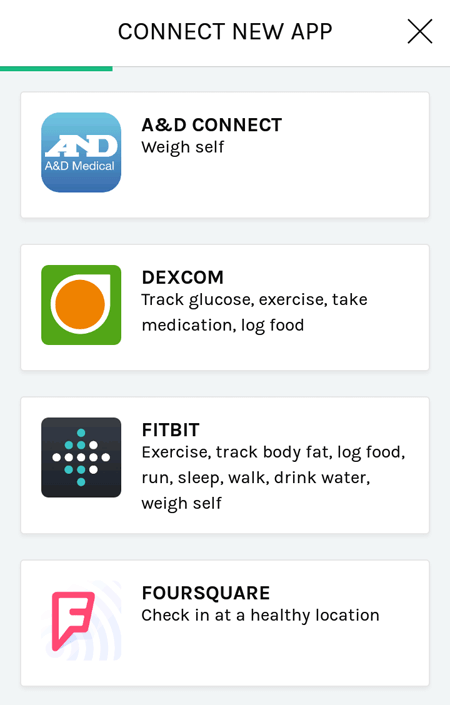 This page was really long, and contained a pretty extensive list of apps that could work in conjunction with this one to track my activity. There were also little descriptions next to each one of these apps telling me exactly what this app could do for me in the context of the Achievement App… and on that note, I was very impressed.
So far, Achievement was doing a pretty awesome job of making the app user-friendly and simple. I am not always a rocket-scientist when it comes to these things… but even I would have had a hard time messing this up!
Next, I backed out of this part of the app, and took a look at the 'Account' tab. This was a bit less interesting… but no less essential. This part of the app gave me access to app settings, my personal information, terms and policies, support, and other things like this.
Apparently, the best way to get started on this app was to download an app that I could use to track activity. Then, the next best step would be to visit the 'Offers' section to see what kinds of special offers I could take part in.
I had not really seen any open-ended offers yet, so I decided to take that health survey… just to see if it opened up more opportunities.
Here is how that went.
Taking My Health Survey On Achievement
So, I completed the survey. It took me about five minutes. It was, in general, a pretty easy survey to complete. But I did run into a problem with it towards the end. Take a look at this.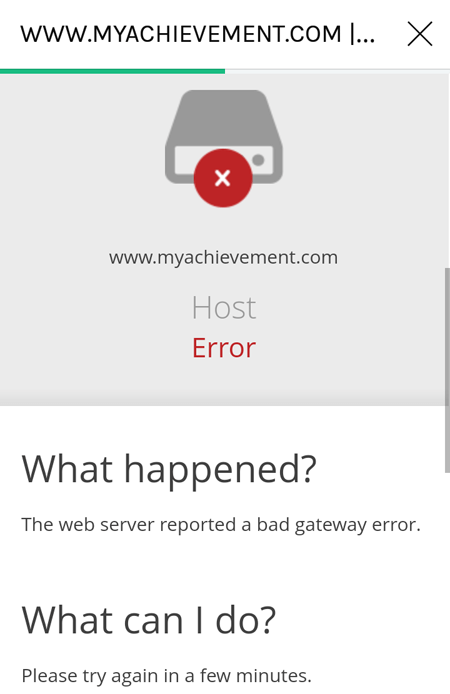 This is quite a glitch. I mean, how many times is this going to happen before the survey goes through?
One thing I will say is that Achievement is pretty cool for being so honest about the problem. They say it is their own error, and that users should just try again. So that is a good thing.
I just don't like glitches in my apps, because they can really slow things down and take the overall experience to a lower level for me.
At this point, I felt like I had learned all that I needed to about the Achievement App. Here were my personal feelings about it.
My Personal Feelings About The Achievement App
First of all, I really do like the idea of this app. I am not sure that you can actually earn enough money with it to qualify it as a side-hustle—but I like how it pays you for doing healthy things that you should probably be doing anyway.
With that being said, I think that this app would be good for people who are really looking to get into health and fitness—because I see it as the type of app that could really help to motivate you to do better in these areas.
I mean, we all want to make some extra money—and earning this kind of extra cash on Achievement would be pretty easy if you started to adopt some more healthy habits, and also went to the trouble of logging them.
The app also gets more positive reviews than Pact and Bitwalking, which suggests that the Achievement app does work well for some people. The process is also less involved than what you'll find with apps like HealthyWage and DietBet.
But does the app meet my personal needs for a side hustle?
I am afraid not. I would be interested in this app as a means for helping to motivate me to make better choices… but I am afraid that it just doesn't offer the kind of cash that would be required to make it a real side-hustle.
If you want a real side hustle that can generate you some serious extra income, then I am afraid that you are just going to have to go elsewhere to find it.
How Did It Perform Technically?
Technically speaking, the app performed rather well. It did have a few glitches that threatened to take away from the experience a little bit… but all in all, I was impressed with it. The survey that I took was pretty easy to take, though submitting it was another story.
Accessing your account information is easy, as is signing up for the app to start with. Navigating through the different tabs and sections of the app was also pretty easy.
Overall, I give it a solid rating in this department. I'm not sure if the survey problem was a regular problem or a fluke-thing, but it was inconvenient enough that it deflated my excitement just a little bit.
Our final Thoughts About The Achievement App
Should you download it and use it on your phone?
The Achievement App Review
Honestly, there are tons of various apps that claim to help you "make money", but really there are two facts to consider. 1) Most of them don't actually work. 2) If you can make money, it's not going be very much. If I'm going to spend any amount of time working online, I want to be working for myself by building my own profitable website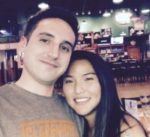 Nathaniell
What's up ladies and dudes! Great to finally meet you, and I hope you enjoyed this post. My name is Nathaniell and I'm the owner of One More Cup of Coffee. I started my first online business in 2010 promoting computer software and now I help newbies start their own businesses. Sign up for my #1 recommended training course and learn how to start your business for FREE!