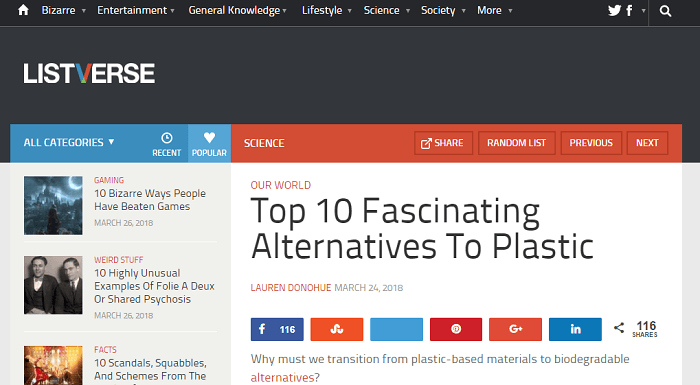 Introduction to Listverse
Listsverse is no content mill. The opening page of this established brand has esoteric, "Ripley's Believe It or Not"-ish lists of ten. They could be recipes for rutabaga, ten unsolved crimes, or ten controversial pardons made by presidents.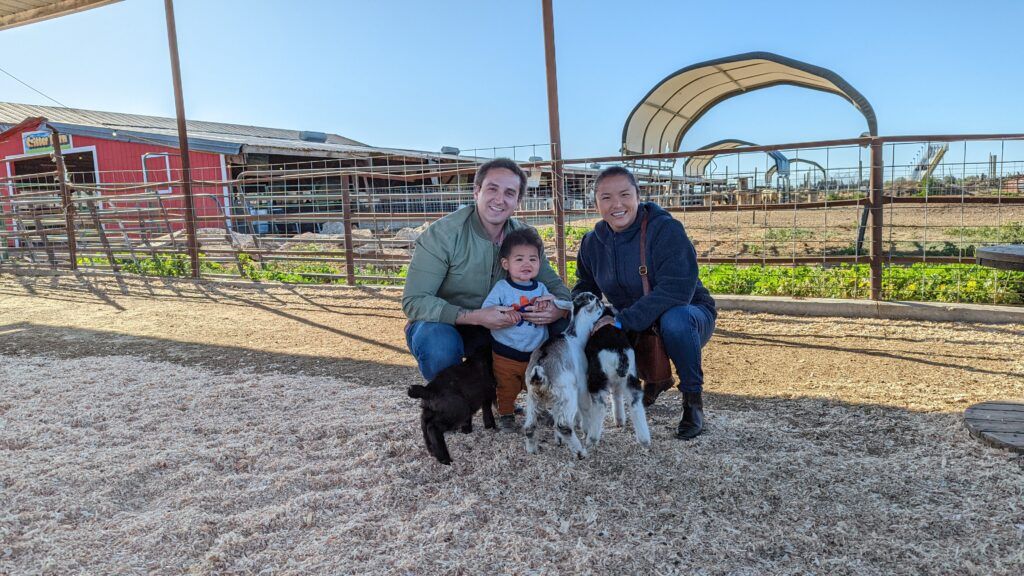 Are You Ready To Work Your Ass Off to Earn Your Lifestyle?
Are you tired of the daily grind? With a laptop and an internet connection I built a small website to generate income, and my life completely changed. Let me show you exactly how I've been doing it for more than 13 years.
It's not the kind of place you'd expect to get writing work, but you'd be wrong.
Anyone can submit a list. So, I can fairly say that I got a "job". The trouble is, they don't pay. I submitted four articles to the site and haven't been paid yet, as outlined in this post about the Listverse writing scam.
Getting Started with Listverse
Listverse works like an online magazine. You submit work and if it gets accepted, it gets published.
To get started, find the not-so-obvious menu item named "More." Prospective writers need to go there to find a subheading that says "Write & Get Paid." This brings you to a page that makes it sound relatively simple to get a $100 for your list of 10. All one needs is a PayPal account, a list, and you are good to go.
Selecting submissions brings writers to a "Submit A List" page where you can send in your golden content. The only real additional instructions says all lists must be sourced, of which there are guidelines. Also, this page says submissions can only be made by native English speakers.
Simple enough. But wait, there's more…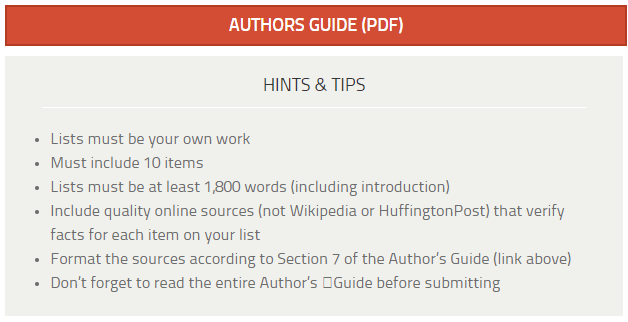 Additional information says the lists have to be 1,800 words long, including the introduction.
So I got to work on a list, researching what kinds of information may be of interest. The approach of my search? The esoteric. The guidance of my approach was taken from other titles on the site, including:
Top 10 Interesting Notes Found in Bottles
10 of the Most Gruesome Serial Killer Murders
10 Crazy Ways Past Human Cultures Sexuality
10 Bearded Ladies Who Defied Beauty Conventions
10 Dating Tips From History that Could Improve Your Love Life
10 Oldest Animals Alive
10 Horrifying Childcare Stories That Are a Parent's Worst Nightmare
10 Dark Moments in the History of Satanism
10 Democratic Leader Who Abused Their Power in Ridiculous Ways (The photo accompanying this article is of Republican Richard Nixon. I guess they mean small "d" democratic leader.)
10 Amazing Ancient Insults
That of out-of-the-box, entertaining content is at a premium here. This was a problem for me because my writing is not out of the box and, some might even say, not so interesting. SEO work doesn't have to be interesting. Viral posts though? They need some flare, so this would be a somewhat challenging project for me.
Still, I made my attempt because not everything on the site is geared toward the eccentric.
You miss 100% of the shots you don't take. – Michael Jordan or Wayne Gretzky I can't remember
Waiting, Reviews, and a Brief History of Listverse
After doing an hour of research and completing over 1800 words, I submitted my list. Now what? I was sent an email after submitting my list. The "Listverse Submissions Team" said it would let me know within four weeks whether what I wrote is accepted.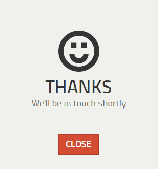 I checked out a couple of reviews in the meantime. Many were like the one I'm writing now, exploring how Listverse works and searching for clues of a scam.
The majority of reviews said the site was legit, but getting a list accepted was the impediment that made reviewers question Listverse's credibility. There were also some comments seen on an interview with the owner of Listverse, raising the specter of the site's possible demise.
Listverse used to pay the same day an article was accepted, said one reviewer. But now "payment would arrive 14 days later." This hinted at possible financial troubles for the site, in the reviewer's estimation. And they also said many other writers were in the same boat.
The following day, the same reviewer said they got paid from Listverse after a number of emails complaining.
The article about the man who started Listverse was intriguing. Jamie Frater, a resident of New Zealand, said the ten-themed brand started as a one-man-show blog. It has since grown into Listverse, an affiliate web site funded solely by advertising and gaining millions of views a month.
According to an article in New Zealand's StopPress, Frater started writing top ten lists based on obscure trivia to offer something different. This fresh approach was far from the top ten "twerking" videos that inhabited the web at the time.
In 2011, Frater's collection of list was picked as Time Magazine's top 25 blogs. The blog is still thrives today in the form of Listverse and has spawned three books with a fourth on the way.
Did I Get Paid From Listverse?
I am still waiting on an answer from Listverse. When I get one, I will update this post with information about how the online brand pays and how long it took. It's been a couple weeks so far, but not the full four promised. It seems like a long time to wait to possibly make money, but I can work on other projects in the meantime.
Pros, Cons, + Unique Aspects of Listverse
Making money can be done at Listverse, for sure. However, making an income is a different story With lists netting $100 a pop, you'd have to write at least a dozen a month to make enough to pay the average mortgage. Writing a dozen lists can be done in less than a week, but getting a dozen accepted probably isn't going to happen.
This is a unique site though, and might fit into your portfolio of writing gigs for some extra side cash. It allows freelance writers a chance to (and please forgive the expression) get their freak on and be creative. In an occupation that emphasizes a professional tenor, Listverse offers a chance to make use of more creative tools that may have been dormant since high school. You won't find regular work though, like is possible with the typical content farms.
They demand a pretty high level of writing skills, which is good because creativity works best when written well. The mix of professionalism with format, plus creative and weird makes for a great website, just maybe not a reliable source of income.
Pros
Simple instructions
A chance to get creative and write well
Only native English speaker need apply
Submitting lists is a simple process
You get your byline attached to the list
Cons
The 1800-word threshold can be daunting, especially with the possibility a list won't be accepted
There are no assignments, no guarantees of payment
Research levels necessary for a good piece are high
Need lots of time to write a list that hasn't been written before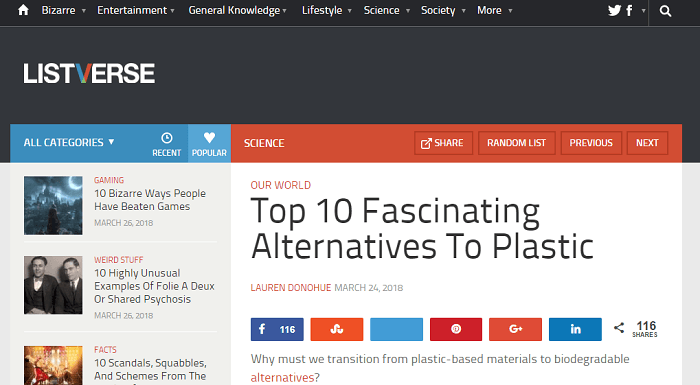 Would I recommend Listverse?
Listserve is not for everyone. I like that it forces writers to think outside the box. This is a good exercise.
But, if you freelance for the average client, you are probably exercising a part of your brain that is steadier, feet-on-the-ground normal that aims at professionalism – not creating a list about sex and the ancients. Most clients want something for their website based on a formula, either for ranking in Google, or for their business website that they don't have time to write for. Not many clients are asking for you to think outside the box.
I would recommend this site for a writer that wants to have fun with a project from time to time and get some extra money. If you're tired of writing articles like "Best Time to Change the AC's Filter" (the bread and butter for many freelancers), you might enjoy the challenge that Listverse offers.
All that considered, I probably wouldn't recommend Listverse to new freelancers. This site will just throw a distraction into the mix while you're learning how to find reliable clients that pay well. You need a job, not a hobby.
To answer the question in the title of this review, Listverse doesn't make my top 10 recommendations for writers getting paid. I also did reviews of Contently and iWriter recently, but wasn't that impressed with what they offered. So far, I haven't really found a great place for reliable writing gigs.
As a writer, you have an in-demand talent that can be used to earn you TONS of money online. You can earn money freelance writing, for sure, but it's still just trading dollars for hours. Personally, I recommend starting your own website! Information is the currency of the internet, so why not leverage your talents to build yourself a serious online income! Learn how to create your own blog-style website and make money through advertising.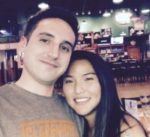 Nathaniell
What's up ladies and dudes! Great to finally meet you, and I hope you enjoyed this post. My name is Nathaniell and I'm the owner of One More Cup of Coffee. I started my first online business in 2010 promoting computer software and now I help newbies start their own businesses. Sign up for my #1 recommended training course and learn how to start your business for FREE!