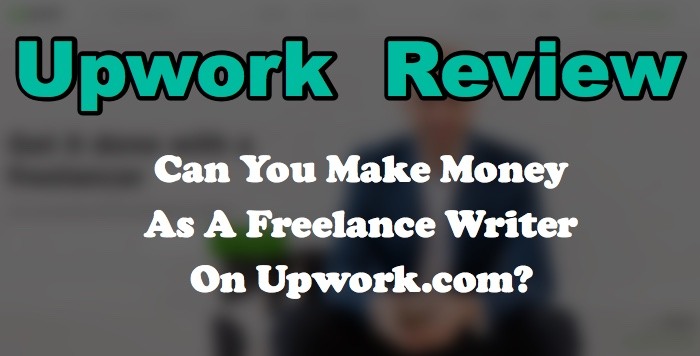 Message From The Editor:
One of the easiest ways to make money online is by writing. There are many ways to make money writing. Two perfect examples are that you can run an affiliate website like myself, earning money from the ads you place in your content, or you can get paid to write content for other people. Getting paid to write online is a fast-growing industry as more and more people consume content online. The types of content you can get paid for range from 140 charter tweets on Twitter to long-form content on professional websites. The possibilities are endless.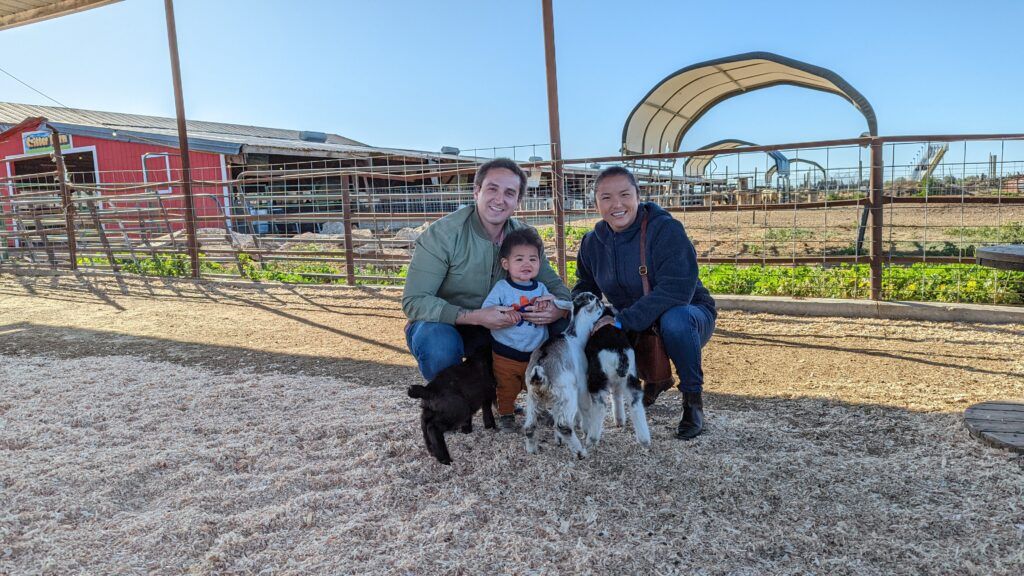 Are You Ready To Work Your Ass Off to Earn Your Lifestyle?
Are you tired of the daily grind? With a laptop and an internet connection I built a small website to generate income, and my life completely changed. Let me show you exactly how I've been doing it for more than 13 years.
Getting paid to write articles is one of the simplest ways to get started because the barrier to entry is very low. If you can write a comprehensive 1,000 word article on an assigned topic, you can make money writing.
The tough part of earning a living writing online is several-fold. For one, it's hard to know where to get started. Second, it's hard to land jobs with all the competition. Third, it's hard to find stable work. However, many writers burst past these challenges and are able to make a full time living, supporting themselves and their families with online income from their writing.
How does this related to my website?
Making a living through affiliate income takes a lot of patience. For many new online business owners, it can take 3-6 months to make your first sale, and more than a year to earn consistent income. However, many people that contact me or leave comments need money now. They want to make extra money for Christmas, or are short on the rent this month. Unfortunately, for those folks, starting an online business is not going to solve their problem.
For many others, they just like the traditional model of getting paid for X amount of work. My income can fluctuate from month to money and can be subject to the whims of search engines. Having stable income from freelance work can be an attractive alternative!
So, my #1 go-to recommendation for newbies looking to make money online quickly is freelance writing.
As I mentioned above, there's a very low barrier to entry. All you need is a basic education on how to put together a comprehensive article and you can start landing jobs. Even with a low barrier to entry, there's a huge income potential to look forward to for diligent writers.
But where are the best writing jobs?
Where can you make the most money?
Where's the most consistent work?
Below, you'll see an interview I did with a writer that was new to Upwork.com, a freelancer/client hub where you can post or get jobs. Upwork is where I hire writers, and I think it's a great platform to start with, as long as you're willing to put in the work and trudge through a couple low-paying jobs to build up your profile.
If Upwork isn't your thing, check out my other post on 8 ways to make money writing online, with some broad categories to get your started earning money, and links to more detailed online job opportunities.
---
Can You Make Money As A Freelance Writer On Upwork.com?
Yes, it's true, pretty much anyone can join Upwork as a writer…but also as a client. Be prepared to spend some serious time wading through this enormous platform with literally thousands of jobs available for novice to experienced writers to bid on. You WILL get work but it's essential to be patient and consistent and be willing to work for very low pay to get established.
GENERAL LOOK OF WEBSITE
The site is professional and slick. The home/landing page is geared towards employers not freelancers so you must select the 'Become a freelancer' button in the upper right corner. You can join Upwork and freelance as an individual or as an agency.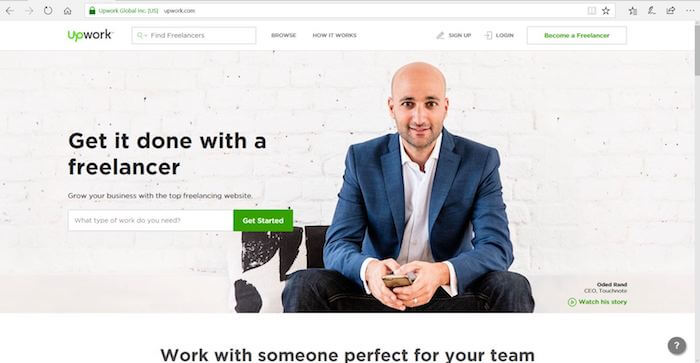 Were you Successful Landing a Job in your Trial Period (one month)?
Yes. I was offered a job three days after I submitted a proposal. The pay was low but it got me started on the platform and gave me the opportunity to start earning ratings which makes you more visible to other employers. It was also a boost to my confidence to be noticed.
How was the User Experience?
It was overwhelming initially as there are thousands of jobs and they are updated constantly. There are many very low paying jobs which can be discouraging. It takes a while and a bit of browsing around to get a feel for the site and how it works.
I recommend looking at the profiles of successful freelancers as well as newer and less-experienced writers. You can do this by logging out and choosing the 'Browse' tab. Check out how they've set up their profiles, their works samples and bios. Don't get discouraged…you're just looking for ideas!
After you set up an account and sign in, spend some time on the 'Help' page as they have excellent posts on getting started, improving your profile, getting work, submitting proposals and how to get paid. It's clear and well written.
How was the Mobile Platform?
The mobile platform is basic and functional. It offers messages, jobs (and saved searches), offers and invitations. You cannot edit your profile from the mobile platform. You can send feedback to Upwork and request help.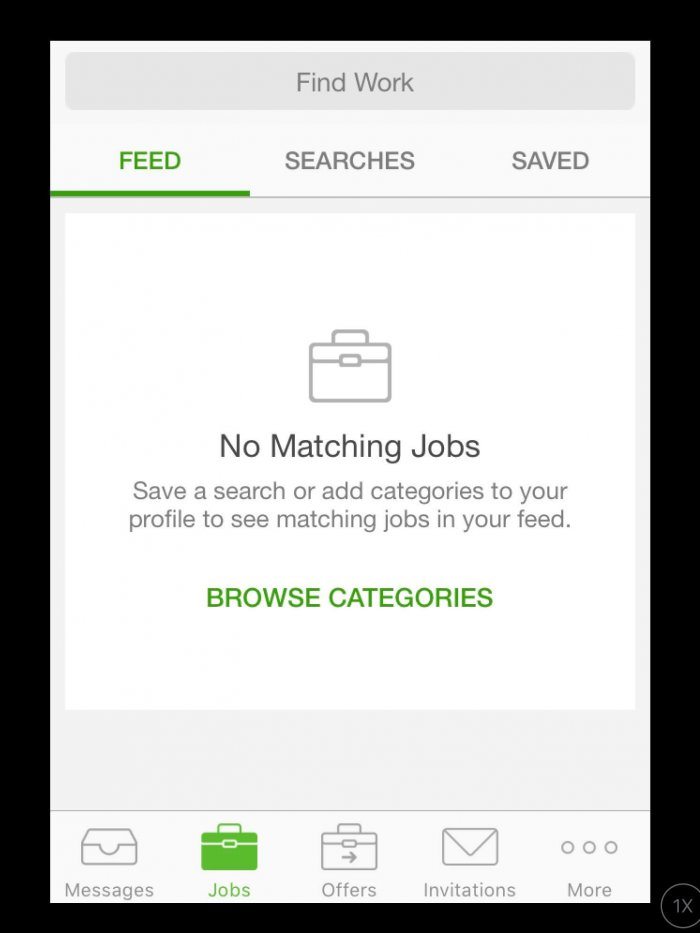 What Type of Verifications were Needed to Get Started?
There are two steps to signing up. The first part is described below. Once you have completed these steps, you submit your profile for review and acceptance.
Page One:
Name, password and email

Choose service (writing);

Choose four specialties (academic writing and research; article and blog writing; copywriting; creative writing; editing and proofreading; grant writing; resumes and cover letters; technical writing; web content; Other)


N.B. You are only allowed to choose four specialities.

What skills do you offer clients? (Choose 3- 10)

Experience Level: (beginner, intermediate, expert)
Page Two:
Add photo, title and bio (up to 5000 words)

Education: (add education details, dates and any degrees granted)

Employment History: (chronological job history)

English Proficiency: (native, fluent, conversational, basic)

Hourly Rate: You can choose the amount you want to charge and it will calculate what you would receive after the Upwork commission, so you can adjust based on what you'd like to take home.


At first I found the commission a bit onerous but when you consider that Upwork holds the money in escrow once the job is awarded; mediates any disputes; eliminates invoicing and waiting and the possibility of not being paid at all then it becomes simply a cost of doing business.

Choose Availability: (more that 30+ hours per week; less than 30 hours per week; open to offers)

Choose Project Length: (long terms 3 months plus; short term less than 3 months; both)

Location and address: (this will be kept private)
This completes the first part of signing up for Upwork. If your profile is accepted you can then takes steps to complete the process.
Add work samples (PDF or URL)

Take relevant Skills tests. You can choose to show the results and retake the tests if necessary. Be sure to only show exceptional results.

You can also add any professional certifications, awards

Social links (Facebook, Twitter, Google+, GitHub, StackOverflow, Behance, Dribble, DeviantArt)
How Long did it Take to Set Up a Profile?
Part One: 20 minutes

Part Two: 30-45 minutes + (The time needed to take tests depends on how many tests you take and how long each one is. You could easily spend 1-4 hours doing this.)
HINT: If you are submitting profiles to more than one freelancing site, have all your information, bio content and taglines in one document with links to your social media, any online blogs or portfolios as well as URLs for work samples (if applicable). Some sites may need specialist information but it's great to have a place to start and to keep things consistent.
What Types of Jobs were Available?
Writing, editing, copywriting, transcribing and more specifically: article writing for blogs, product reviews, web content creation, essay writing, proposal writing, e-book writing and editing….
Was there Competition? Regular Work?
There was a lot of competition and writers' skills range from ESL newbies to experienced skilled professional writers. I would say there is regular work, but you must be prepared to spend a significant amount of time bidding for work which includes submitting a proposal to the client for each job.
This can involve a simple cover letter (sometimes with a code word so they know you aren't copying and pasting) but can also require relevant work samples, answers to various questions included in the job description and/or your opinion, feedback or suggestions for the project which can take a fair amount of time.
In terms of regular work, you'd have to spend time building a relationship with a client that has ongoing work. Once you have proved to be reliable and competent, you become a valuable resource for the client and it is easier for them to hire you than to seek and review applications from unknown writers.
HINT: In my opinion, it would be strategic to wait until you are established and have a good Job Success Score before you attempt to get regular work for a couple of reasons: at first you will likely have to accept a lower rate of pay to get ratings so you would not want to secure regular work with a minimal rate and secondly, when you have a good Job Success Score, you will be able to access and bid on better paying jobs. This would be the time to start seeking regular work.
Clients can narrow the field of potential writers by setting parameters for the freelancers they'd like to hire (can be mandatory or desired):
Experience: Beginner, Intermediate, Expert

English Level: Native, fluent, conversational, basic

Hours Worked: Number of hours worked on Upwork for all clients to date

Location: Clients can specify a geographical location

Job Success Score: To get a Job Success Score you must have completed 5-8 projects with three different clients in a 24-month period. The score is a percentage based on client reviews of your work and some clients will only work with freelancers who have a certain score. Upwork does not reveal exactly how they calculate the score.
Include Rising Talent: New freelancers without a Job Success Score are eligible for Rising Talent status. Clients will often consider Rising Talent freelancers who may not meet other qualifications. You cannot apply; the status is granted when you complete the following:

Pass the Upwork Readiness test (10-minute test on how to use the platform)

Complete projects in a timely and professional manner

100% complete profile with accurate credentials and work samples

Availability status up to date

Regularly submit proposals for work that fits your skills and experience

Top-Rated: This is a status freelancers can earn on Upwork that makes you more visible to clients. Freelancers must have the following:

Current Job Success Score of 90%+ (QUALITY)

Your first hire was at least 90 days ago (LONGEVITY)

Maintained Rising Talent status OR 90% Job Success Score for 13 of the last 16 weeks (CONSISTENCY)

A 100% complete profile (PROFESSIONAL)

12-months earnings of $1000 (QUALITY WORK)

Up to date availability (ATTENTION TO DETAIL)

Account in good standing with no holds or disputes pending (RELIABLE)

Activity such as bidding or working in the last 90 days (KEEN TO WORK)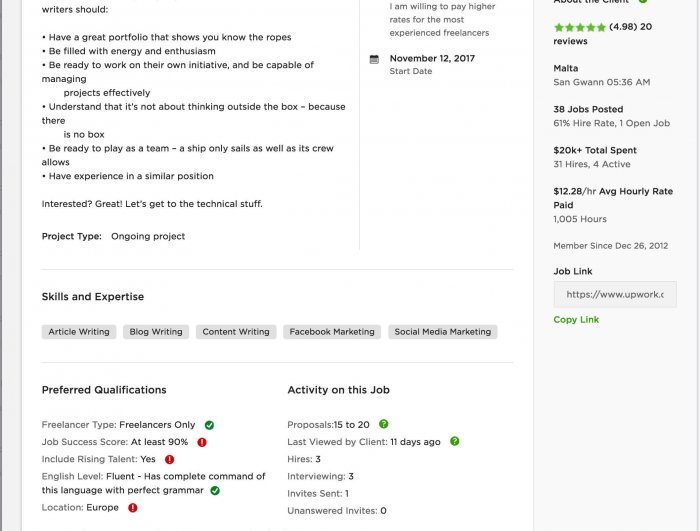 HINT: While you CAN submit a proposal for a job you don't qualify for; however, unless there is a pressing reason that would set you apart from the competition it might be better to use your connects on proposals you qualify for.
What was the Range of Job Rates Available?
From the sublime to the ridiculous; jobs can pay as little as $1USD for a short blog post (150-250 words) to $10 to a 500-word article to hundreds of dollars for experienced and professional writers. Freelance writers need to be prepared to spend time doing low-paying jobs to build a Job Success Score that makes them more visible and appealing to higher-paying clients, but do be prepared to spend up to six months or more.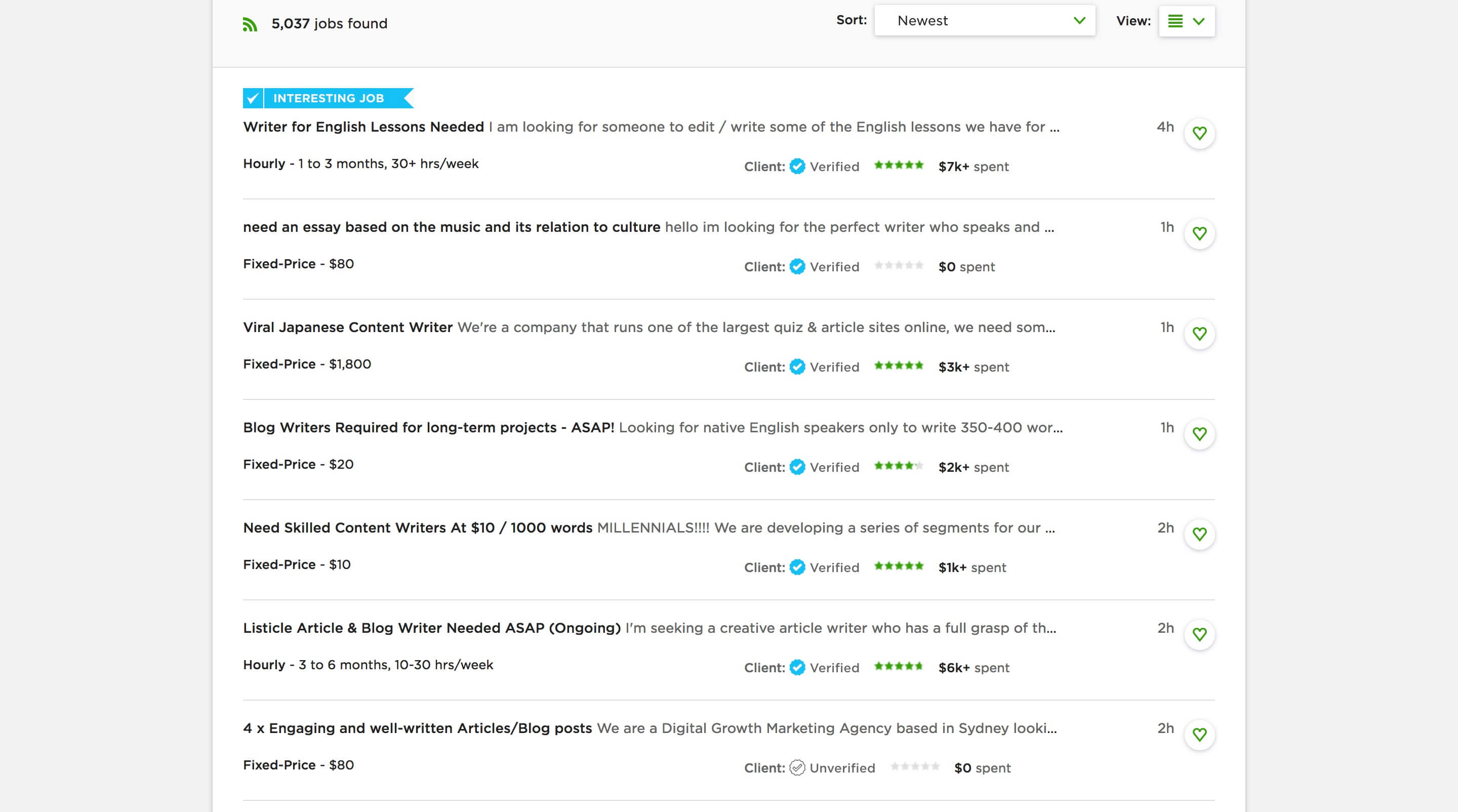 Some jobs will take bids as a fixed-price OR per hour but most specify one or the other. For hourly work there is a time tracking feature for both mobile and desktops that most clients expect you to download to track your time. It takes periodic screenshots of your work to record your progress for the client.
OVERALL COMMUNICATION & CLIENT EXPERIENCE
Were you Able to Find and Complete a Job in a Reasonable Amount of Time?
Proposal submitted on September 8th
Offer sent on September 11th
Work due September 15th
It took three days to win the proposal and one week to complete the job.
If So, Was The Price Per Hour Or Fixed Price Worth the Time/Money?
No, not as a long term solution for a living wage in North America. I earned $35 USD, less 20% so I received $28USD. The project took 3.5 hours because I wanted to do a good job (to get good feedback). It worked out to $10/hour before commission; however, you must be prepared to work at the lower-paying jobs long enough to get a good Job Success Score.
Commission Structure
Upwork charges freelancers a 20%, 10%, or 5% service fee depending on the total amount they've billed with a client. It is in your interest to seek ongoing work from the same client.
20% for the first $500 you bill your client

10% for total billings with the same client between $500.01 and $10,000

5% for total billings with the same client that exceed $10,000
Membership Options
The Freelancer Basic membership is free and includes 60 connects per month (1-5 connects needed to bid on jobs) and payment protection for hourly and fixed-price jobs once the job is offered and accepted. Note that the connects expire and do not rollover from month to month.
The Freelancers Plus membership is $10USD per month and includes 70 monthly connects (with 140 maximum rollover credits), the ability to buy extra connects for $1/credit, view competitors' high, low and average bids for each project, a customized URL for your profile and the ability to hide total earnings on your profile.
What Were The Payment Options?
Payment is in USD and must be set up in your Upwork account. You can change your payment method, but you cannot have more than one method on file at a time.
Direct Deposit / ACH: ACH means automated clearing house and is also known as direct deposit. This is FREE but only available to US banks. You must verify the account and then funds arrive in 3-5 business days.

Direct to Local Bank: For non-US accounts, this allows you to withdraw earnings to your local bank account

in your local currency

, i.e. a global version of direct deposit. This service costs $0.99USD per transfer.

Funds arrive in 3-4 days.
PayPal: A third-party service you must join. For US accounts, the transfer is free. For Canadians, funds can be transferred in USD or CAD and the fee is

XXXXX

. Funds are available in 1-2 days.

Wire Transfer: For non-US accounts using the SWIFT system. At $30USD per transfer (plus bank fees at your bank if applicable) this is the most expensive way to transfer your money. Funds arrive in 1-3 days.
Payoneer: A cross-border payment platform. Funds are transferred to your Payoneer for a 'small-fee' from Upwork but it costs $3USD to transfer to your

USD bank account

. It appears you cannot have funds deposited to a CAD funds account, though EUR and GBP are available. Funds are usually available in 2 days, but you can pay $2.50USD to have funds immediately available.

M-Pesa: A third-party platform available only for freelancers in Kenya.
Personal Experience: Did You Get Paid?
Yes, but I haven't transferred the money because, as a Canadian citizen and resident, it will cost me money to transfer so I'm waiting until I have a significant amount of money to move.
Could You Make a Full-Time Income with This Website?
Yes, with a caveat; there is a significant time commitment needed to get regular work from Upwork—time in the beginning to get noticed and, a potentially ongoing time commitment, unless you secure regular projects from the same client.
Some suggestions:
Set up a robust profile with relevant work samples.

Take skills tests to highlight your skills.

Submit proposals that are customized to the project. Many specify a code word that must be used in the proposal to identify freelancers who cut and paste a template-based proposal.

Work at lower-paying jobs to build a good Job Success Score to access better paying jobs and clients.
Would This Be Good for Part-Time Work?
Yes, if you are willing to put in the time to build your profile and your Job Success Score. See above.
PROS, CONS, + UNIQUE ASPECTS OF UPWORK
What Made This Website Unique?
Upwork offers both free and paid membership and the free option does actually give you a decent chance to give the platform a try and indeed, you could conceivably use only the free membership.

Upwork is probably one of the few sites that could be used by a freelancer to get experience AND build their writing skills because it is unrealistic to expect a skilled and experienced writer to work for $5 per blog post.

There are a wide variety of free skills tests. Freelancers can choose to make their results visible or not.

Upwork rates you and gives the most-highly rated freelancers greater visibility as well as offering visibility for new freelancers who are doing well.

You can post work samples both as a PDF and a URL.

You can post an introductory video.

Jobs can be fixed-price or hourly and sometimes clients give you the option of bidding using either method.
What Were the Good and Bad Points of This Platform?
GOOD
Payment is held in trust as soon as you accept the job and is released as soon as you complete the project in a satisfactory manner. If there is a dispute, Upwork does the mediating and makes the decision on payment. The payment is in USD.

The Freelancer Basic membership is free, but you only receive 60 'connects' per month to bid on jobs, typically 2 per proposal. You cannot buy more on the Freelancer Basic plan. The Freelancer Plus membership receives 70 connects per month and costs $10. You can rollover unused connects to a maximum of 140 and you can buy more for $1 per connect.

There are many jobs listed and they are updated in real time.

There are good paying jobs listed, though they are by far the minority.

Direct deposit is free for US bank accounts or $0.99 per transfer for international accounts.

Jobs can be fixed-price or hourly.

There is a downloadable Time Tracker app that screenshots your work and is submitted to the client which eliminates the need for you to manually track time and account for time spent.
BAD
With the free membership (Freelancer Basic) your ability to bid on jobs is limited to 60 connects as you cannot purchase more this plan.

There is no specific place on your profile to link to a personal blog and/or online portfolio.

The social media links do not include Instagram or Pinterest which may be relevant to some freelancers.

There is a significant time commitment necessary to sort through and review the large number of available jobs as well as submitting a thoughtful proposal to win the job.

The commission charges remain at 20% unless you bill over $500 for the same client when it drops to 10%.

The number of poorly paid jobs is overwhelming and can be discouraging to writers new to the platform.

With the Freelancer Basic plan, you cannot see the range of bids other freelancers are submitting which makes it difficult for those new to the platform to decide what to bid—whether it be a fixed-price bid or an hourly rate.

Some people do not like using the time tracker feature for privacy concerns.
WOULD I RECOMMEND THIS WEBSITE FOR FREELANCE WRITERS?
General Opinion Based On Your Experience
Upwork is an extensive and popular bidding platform with a large variety of writing and editing jobs with the majority being on the lower end of the pay scale. Overall, I would say Upwork is a decent site with good opportunities, but it is essential to remain positive and consistent to really give it a chance to work. If you stick with it, you could likely earn (optimistically) $20-30/hour which would be a decent living providing you were able to get ongoing work.
The biggest advantage to Upwork is that you will be able—if you are willing to work hard and for low pay to get a good Job Success Score—to bid on decent jobs in the future. Many other freelancing sites that have decent-paying jobs are not set up as bidding sites; you can post a profile and work samples, but the clients contact you if they are interested in having you bid for the job. With Upwork, you can be proactive and bid on jobs as opposed to posting a profile and waiting, often with no feedback or interaction.
Would You Recommend This Website? Why?
In my opinion, Upwork is the most accessible platform for freelancer writers looking to bid on jobs as opposed to a site where clients choose to contact you (or not) based on your profile and work samples. I would recommend Upwork for freelance writers who are willing to put in some serious effort for low pay to build a good profile and good ratings to gradually access better-paying projects. You have to be patient and consistent with your efforts.
What Type of Writer Is This Website Best Suited For?
Because Upwork is a bidding site with a lot of work at a variety of rates, it is a good starting point for novice to intermediate writers without a large body of prestigious work or, perhaps for experienced writers who do not have up-to-date work samples.
---
So what do you think? Have you tried Upwork before? Do you have a better recommendation? I'll update this review with links to alternatives as we complete our research and reviews of other online writing opportunities.
As a writer, you have an in-demand talent that can be used to earn you TONS of money online. You can earn money freelance writing, for sure, but it's still just trading dollars for hours. Personally, I recommend starting your own website! Information is the currency of the internet, so why not leverage your talents to build yourself a serious online income! Learn how to create your own blog-style website and make money through advertising.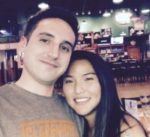 Nathaniell
What's up ladies and dudes! Great to finally meet you, and I hope you enjoyed this post. My name is Nathaniell and I'm the owner of One More Cup of Coffee. I started my first online business in 2010 promoting computer software and now I help newbies start their own businesses. Sign up for my #1 recommended training course and learn how to start your business for FREE!