Agoda.com is one of the fastest growing hotel booking platforms on the market today with it's main offices in Asia and a growing influence in Europe, Middle East, and the Americas. If you're looking for a great way to make passive income for helping people with their travel destinations, then the Agoda affiliate program is perfect for you.
Fully customizable ads
The Agoda affiliate program allows you to make extremely customizable ads and search boxes for your site to show off your favorite hotels and accommodations in each city. Once added to your website or blog, customers that book using your links will give you a percentage of the commission.
Agoda is by far one of the most popular affiliate programs on the market today and is a top-rated hotel booking site well known around the globe.
To apply for the Agoda affiliate program you need no qualifications except an email address. To apply, you can go to the affiliate website here: https://partners.agoda.com/index.html. Once approved, you are considered an Agoda Partner, getting you the official partner badge to add to your website.

Once you have an approved account you will receive our partner ID. This partner ID can be easily added to the end of any Agoda URL and will show up in the HTML code when inserting ads into your website. The ID is very important as it is what signals Agoda to pay you specifically.
What Type Of Products Are Featured
The Agoda Affiliate program features many different types of adds for hotel bookings. While it may seem a bit confusing at first to decide which type of ad is best for you, I'll break these down into different sections and discuss each ad type so you can determine which is best for you.

Text Links: Allows for the creation of links to specific hotels. This allows you to create hyperlinks to specific hotels. When creating a text link you'll need to have a hotel in mind already. While the text link shows the hotel you input, it will also show additional nearby hotels alongside that one when the customer clicks it.
Image Link: The image link tool allows you to search a specific hotel and view all the images in Agoda's hotel file. Upon selecting a photo, the Agoda Image Link tool will provide you with HTML code to add to your website. This will add the image to your site which, upon clicking on the image, will take you to that specific hotel's Agoda page.
(Add image)
Banners: These are the easiest to have on every page of your website/blog as the banners aren't customized to a specific hotel. This gives customers a general overview of Agoda and will take them to the main landing page of Agoda. These are perfect to add to your sidebar or footer of your website.

Search Box: The search box a great addition to the sidebar and footer of your pages as this gives a general search box that customers can type free-text into either a city, country, or specific hotel names. You can easily add these to sections where you talk about great places to stay in certain cities/locations. The search box is also fully customizable in terms if size and background image.
When selecting which of these is right for you, determine the location and size of the ad you need. Also determine what you are trying to target? Are you targeting a specific hotel, city, or country? If you are not targeting somewhere specific, stick to a search box or banner. If you are targeting a specific place, then use an image or text link instead.
What Is The Commission Rate
Agoda's commission rate will depend on the amount of sales each person does monthly. The starting commission is 4% on all bookings completed. The commission will raise depending on the sales you complete. You can see each of the buckets in the below image to determine how much commission you may expect. The highest commission being 7% if you complete over 1000 bookings a month.

New bonuses! (Added May 2018)
As an added new bonus to motivate you, they have now added gift cards for departed bookings. The first entry level is when you get a total of 10 departed bookings within a calendar year you'll get a $10 reward card. As you move up the ladder the rewards get higher but also the departed bookings requirement does too. Note, this is cumulative within a 1-year time frame.
Departed Bookings
Level
Reward
10

Agoda

Affiliate
$10 Gift Card
30

Agoda

Affiliate
$15 Gift Card
50
Silver Affiliate
$20 Gift Card
150
Silver Affiliate
$50 Gift Card
750
Gold Affiliate
$150 Gift Card
1,500
Gold Affiliate
$200 Gift Card
2,500
Gold Affiliate
$500 Gift Card
5,000
Platinum Affiliate
$1,000 Gift Card
Competitors commission rates
This commission rate runs standard to the competitors who offer around 5% as well per hotel booking. Most of the hotel affiliate programs no longer offer commissions per click, but rather per booking.
Cookies are no longer retained
Most of the hotel affiliate sites no longer keep cookies which means that if a customer closes the page from your Agoda affiliate link and then they conduct a new search on Agoda for a hotel, you will not get credit for it. In the past many of the hotel affiliate programs would keep your Agoda partner ID in the person's cookies so you would still receive credit up to 30+ days. Although this is unfortunate, it still does not rule out the possibility to make a lot of money!
Alternative Affiliate Programs
There are a few great competitor affiliate tools on the market including the following:
Each of these offer hotels similarly to Agoda, however, some of them offer more than just hotels including flights and trips. These all fall within the travel/hotel affiliate programs niche. while it is ok to have multiple of the same affiliate programs on a given website, I'd highly suggest to limit this to 2 max similar affiliate programs.
Some great ideas for additional affiliate programs you can partner with Agoda can be flights, tour packages, and travel gear. Each of these also have great affiliate programs online that you can check out.
Website Ideas
The Agoda Affiliate Program is a great partner to your websites and blogs to promote affordable hotels for families traveling on a budget, 5-star hotels if you're promoting luxury staycations in other countries, and even for those rugged backpackers touring the 7 continents.
Family vacations could be a cool website idea to promote Agoda.We all know booking hotels as a family is a real pain because you have to find kid friendly hotels for cheap, with big enough rooms everyone. Traveling is expensive already, so finding inexpensive hotels with appropriate accommodations is a MUST-do task. Agoda makes this process easy by allowing you to getting a great deal.
I would also highly suggest when discussing cities/countries and what activities are available, it's best to also tell people the best places to stay as well. Suggesting your favorite hotels with your own personal review of it is a great way to get someone excited about staying there.
Another great way to promote your hotel affiliate program is for business travelers. Most business travelers are looking for quiet hotels with great internet and areas to get work completed (meeting rooms, business center, etc). By suggesting certain hotels that are designed for business travelers saves those people the time and effort of searching for it on their own.
Can You Make Money With The Agoda Affiliate Program?
Everyone loves to travel which means there is so much potential in using the Agoda Affiliate program to make money. The key is to ensure you have great content along with the affiliate program which makes people want to stay in that hotel/location.
When you design your content, keep in mind that everyone is looking for both beauty and affordability. If you can showcase those two together, customers will be quick to click and book. Try creating complete guides that provides a visitor everything on one page to make their process of booking easy and convenient.
As an example: If you have 20 bookings in a month, that will bring you around $100 (if each hotel booking is around $100). This will depend of course on the amount the hotel is.
Here are two travel blogs which both utilize Agoda as a primary affiliate program:
Pros/Cons of Working With Agoda
Each affiliate program will have different benefits and disadvantages and it's worthwhile to understand both before signing up for an affiliate company.
Pros
The Agoda Affiliate tool is extremely comprehensive with so much customization available to you. You control the size, position, background photos, selection of specific hotels/cities/countries for each ad, etc. Another key benefit is that Agoda provides you a higher commissions as the amount of sales you complete increases which is a great reward for higher partnership.
Cons
There are two major drawbacks to the Agoda Affiliate program, the first being that there is no commission click rate. Meaning, you only get commission when the booking is complete and the person has left the hotel. The second drawback is that Agoda only offers hotels and does not offer flights and tours like some other affiliate programs do.
Additional:
Payouts from Agoda go directly to your bank account, but the bank account setup does take a few days to complete. Make sure you set this up well in advance so there are no hiccups once you start making money.
Easy Reporting

The Agoda Affiliate program also has an easy to use tracking program which shows you the amount of unique visitors and bookings along with your commissions. You can use their reporting tool to get specific details on each commission.
Hotel Data file
They also allow you to download a Hotel Data File which gives you a data dump of all hotels on record currently along with all of the relevant information about each. This is great if you want to incorporate this into your database for faster loading and usage.
WordPress Plugin
Agoda has integrated their affiliate tool into WordPress which makes it easy for you to install the plugin and quickly add text links and banners to each of your entries.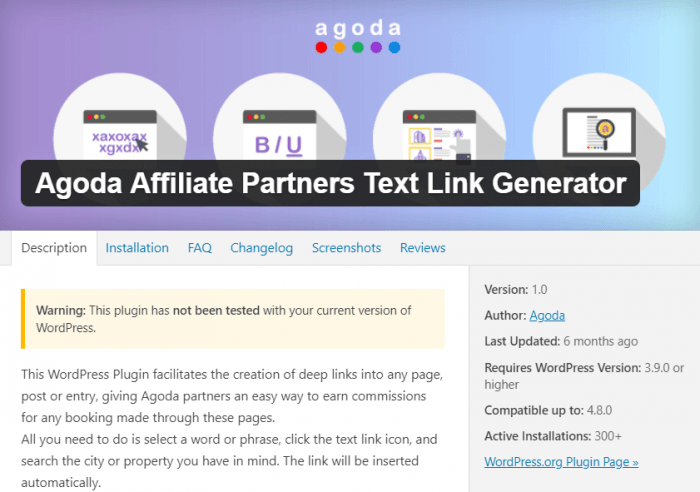 I hope you enjoy using the Agoda Affiliate program and if you have any favorite affiliate programs you use in the travel niche, feel free to comment here and share yours as well.
The Internet's #1 Affiliate Training
It sounds like you're pretty familiar with the basics of how affiliate marketing works. Awesome! But is your website profitable yet? Are you stuck spending hours wondering why you aren't seeing results yet?
You aren't alone. Most newbie affiliate marketers are a little lost, jumping from one "how to" guide to the next, hoping to learn the secret sauce of how to make money with affiliate marketing
I was able to turn my basic niche blog into a six-figure earner in 18 months following the training from this company. They focus on building a sustainable business that will earn for years, not just a website that will "game" search engines for temporary rankings. That's why 8 years later my websites are still earning and still growing.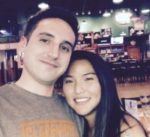 Nathaniell
What's up ladies and dudes! Great to finally meet you, and I hope you enjoyed this post. My name is Nathaniell and I'm the owner of One More Cup of Coffee. I started my first online business in 2010 promoting computer software and now I help newbies start their own businesses. Sign up for my #1 recommended training course and learn how to start your business for FREE!