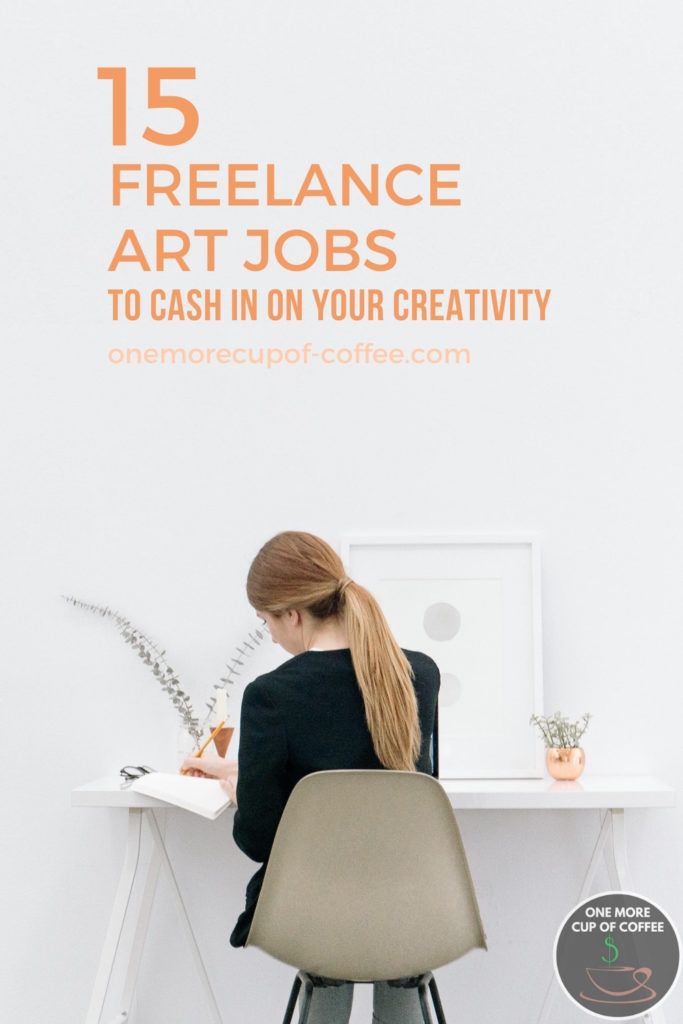 Arguably one of the dreamiest careers to have is that of a freelance artist. Not only do you get to follow your passion for creating in life, but you can also earn money while doing it! Despite being total goals, it's not the easiest role to step into. Finding freelance art jobs on a regular basis might prove difficult, especially if you aren't yet an established freelance artist in your field.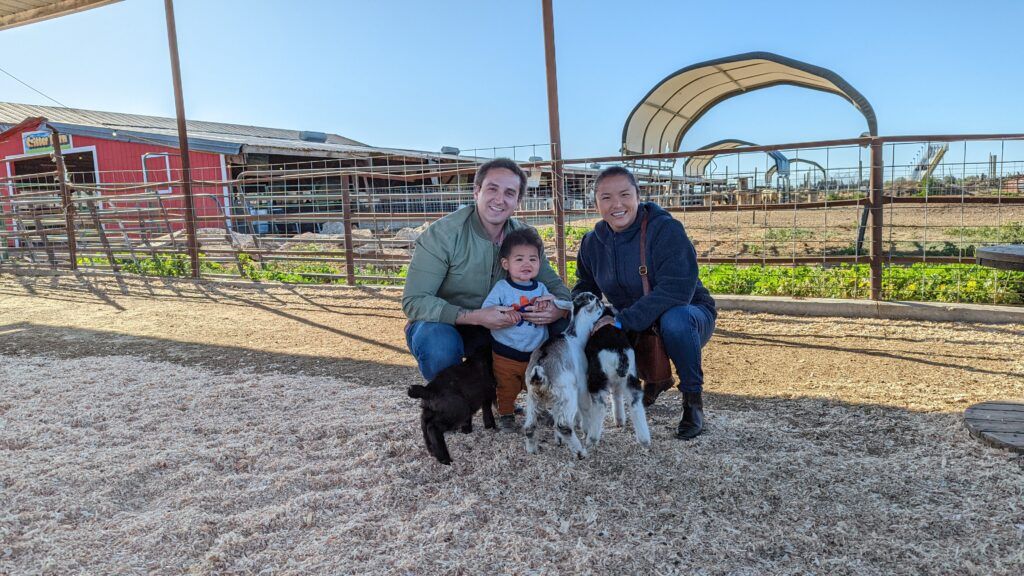 Are You Ready To Work Your Ass Off to Earn Your Lifestyle?
Are you tired of the daily grind? With a laptop and an internet connection I built a small website to generate income, and my life completely changed. Let me show you exactly how I've been doing it for more than 13 years.
So what types of freelance art jobs are there? For most, the term "freelance artist" extends to all forms of artistic work, including painting, graphic design, illustration, photography, animation, calligraphy, and more.
As a painter, when you're a commissioned artist or an artist tied to a studio, you don't have to do the grueling work of landing clients. But as a freelance artist, you do. The same applies to other freelance art jobs — you're all on your own. Sure, it can be scary. But as most freelance artists would agree, the job is much more fulfilling despite having its own challenges.
Below are fifteen freelance art jobs that you can do, plus where to find them, what it pays, and how to get started.
15 Freelance Art Jobs To Merge Passion With Profit
1. Freelance Painter
2. Photographer
3. Graphic Designer
4. Illustrator
5. Animation
6. Fashion Designer
7. Calligrapher
8. Art Director
9. Cake Decorator
10. Art Writer
11. Makeup Artist
12. Art Educator
13. Art Technician
14. Game Designer
15. Art Historian
1. Freelance Painter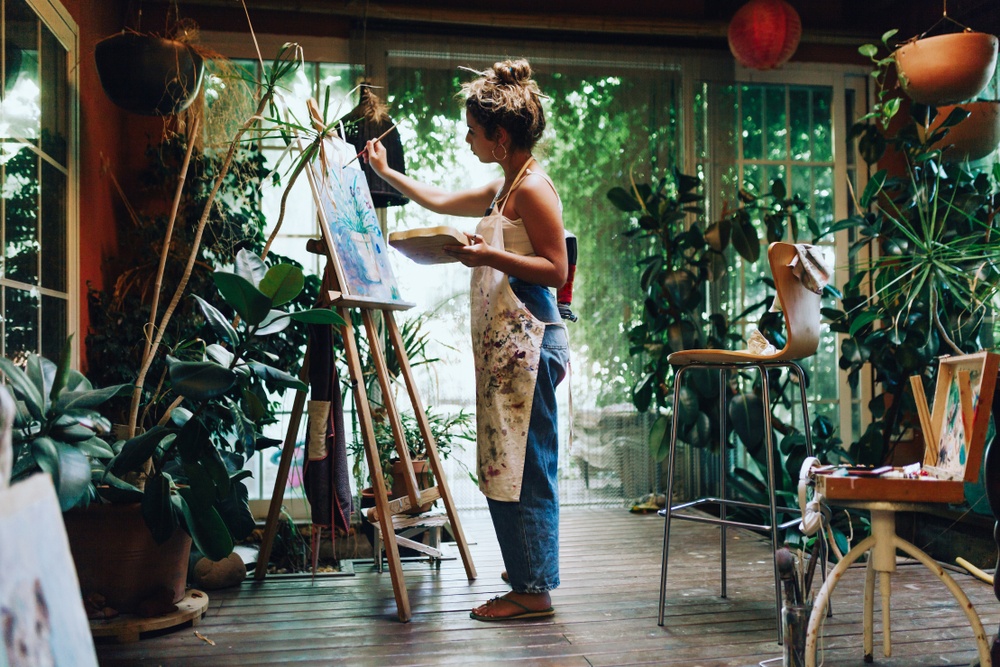 A freelancer painter, most often just referred to as a freelance artist, makes their own artwork and then markets it to potential customers. Unlike commissions, which are essentially pre-determined jobs with a set criterion (size, price, deadline, etc.), freelance artists have the freedom to create a piece in their own vision.
Finding work as a freelance artist will take time and lots of patience. Not only do you need to establish yourself in your niche (oils, acrylics, murals, etc.), but you also need to have a strong marketing strategy. Word-of-mouth is particularly powerful for finding new clients as a freelance artist. Make sure your work speaks for itself, is in-demand (make sure there's an audience), and is original.
Pays: Varies widely, but has an average pay across the United States of $26/hour
How to get started: Set your prices low when starting out! Network lots. Attend live galleries. Market your art on popular social platforms (Instagram, TikTok), and seek opportunities for local jobs within your community. Also, don't discount opportunities for commercial projects like seasonal window painting or design for local stores.
2. Photographer
Freelance photographers are self-independent photographers who typically do a variety of shoots in a particular niche. The most popular type of freelance photographer is perhaps freelance wedding photographers. Portraits, birthdays, and engagement shoots are also common for freelance photographers to take on. You could also become a professional freelance landscape, wildlife, or travel photographer, or even a freelance drone filmmaker, if that's where your passion lies. There's not really a limit to the type of content you can shoot as a freelance photographer.
Freelancing in this career is a great way to use the art of photography to your advantage.
Pay: Varies based on your level. Beginners and students $25-75/hour. Semi-pros and professionals $100-300/hour.
How to get started: Becoming a high-paid photographer will take time. Not only should you invest in quality gear, but you should also consider taking classes or online training to learn the technicalities. Then, photograph as much as you can! Ask friends or family to practice with first and then charge accordingly as your experience increases.
Plus, don't forget, you can always start a photography blog to try to earn some extra cash while you're getting started in your career.
3. Graphic Designer
Freelance graphic design is one of the top freelance art jobs out there. With many opportunities to create digital designs, such as logos, web design, branding, and more, you'll hardly ever run out of job opportunities. It's a highly-sought-after career because, not only does it pay very well, but it also is a creative and independent job to have online. Most graphic designers these days work for themselves, although you can join an agency if you like.
Finding freelance graphic design jobs is fairly easy with online freelancing platforms that connect you with clients looking for this type of work. Check out sites like Fiverr, Upwork, Dribble, and 99Designs to see current job listings.
Pays: Varies based on performance and skill. Entry-level – $25-50/hour, Advanced $100-300/hour, Expert $300+/hour
How to get started: Choose your own unique style of design. Find low-paying jobs on freelance sites to practice and build up your profile. Once you gain confidence and skill, you can charge accordingly.
4. Illustrator
A freelance illustrator creates a variety of still images and drawings aimed at communicating a message or story for brands, companies, and businesses both in print and digital. This includes creating art for web sites, books, magazines, advertisements, comic books, fashion design, and more. An illustrator is somewhat an umbrella term. For example, a comic book artist could be considered an illustrator, whereas an illustrator artist who doesn't dabble in comic art, wouldn't be considered a comic book artist.
Pays: Varies with a national average of around $30/hour.
How to get started: There are quite a few freelance illustrator jobs available on popular freelance sites such as Upwork. You could also get hired as an independent contractor by brands once you've established a name for yourself. Make sure to use visual social platforms, like Instagram, to showcase your work.
5. Animation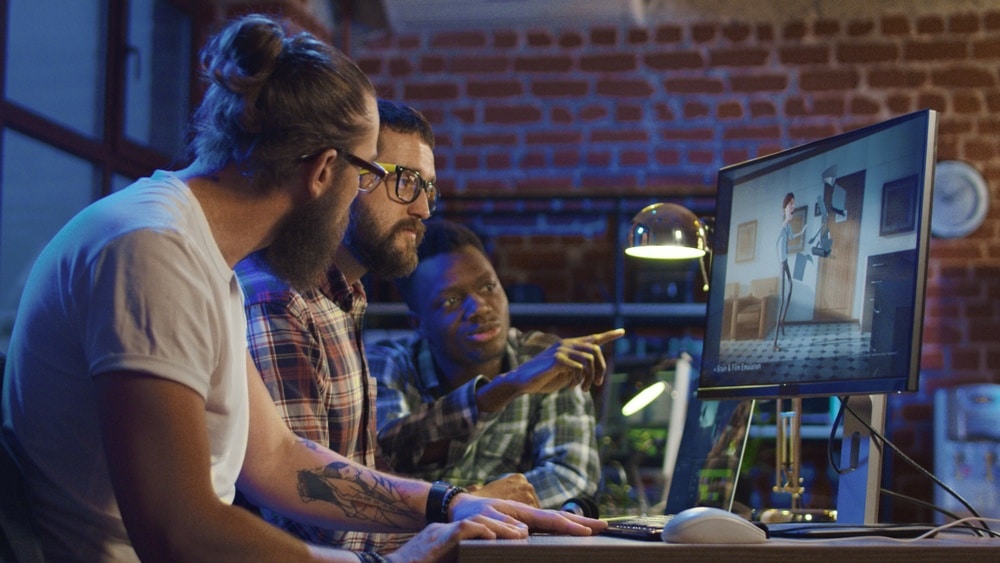 Freelance animators are tasked with creating films and sketches for companies, private brands, and of course, studios like Disney, Pixar, Dreamworks, Nickelodeon, Sony, etc. One of the greatest animators of our time is none other than Walt Disney! If you're an animator with a studio, you're likely going to have payment protection through the "Animation Guild."
Freelance animators likely won't have those benefits, but you could still get hired for short-term commissioned work by other big-name companies nonetheless and get put on "hold" for contracts. Above all, freelance animators have got to share their work with the world and establish a killer portfolio and demo reel.
Pays: $20-35/hour or more
How to get started: Search on freelance platforms for available offers. Build up an impressive social platform and network within the animation community.
Don't forget, you can do your own social media and get lots of eyeballs on your content for free these days. Find the right channel for your audience, and people will love your stuff!
6. Fashion Designer
Freelance fashion designers are responsible for creating and sketching the fashion piece and then seeking out raw materials to turn it into a realistic, practical (and wearable) design. To be a successful freelance fashion designer, you will need many years of practice and experience handling both the creative and technical aspects of fashion design. As a freelancer, you also have the added responsibility of marketing your work to other clients.
Pays: $20-40/hour or more for beginners, $50-200+ for professionals
How to get started: Create and update your social profiles and website. Use services such as LinkedIn to network and learn from other freelance designers. You can also start building a freelance profile on Upwork.
7. Calligrapher
Freelance calligraphers take the written word and turn it into eye-catchy messaging and visual storytelling. There are many freelance calligraphers who earn a living from this art form, and it's often in combination with other artistic talent and knowledge of graphic design. The types of artsy responsibilities of a freelance calligrapher are branding, developing graphic marketing materials, advertising, and more. If you're not sure if your calligraphy is marketable enough before pursuing it full-time, first try selling your calligraphy on Etsy.
Pays: $35-70/hour+
How to get started: Anyone can learn the art of calligraphy. Just look on YouTube and you can virtually start practicing today. Professional calligraphers will build up their skills from months or years of practice, will have a vast knowledge of calligraphy techniques, and can easily work on a variety of tools and media – both physical and digital.
8. Art Director
Freelance art directors are tasked with overseeing art programs and projects, from concept to creation, in a variety of industries such as film, music, fashion, hospitality, and more. In this role, you could work on media production, advertising campaigns, graphic design, and more. The main responsibility of an art director is to turn an artistic strategy into a palpable vision.
Pays: Freelancer art directors on Upwork charge anywhere from $40-$110 per hour.
How to get started: You will need at least a Bachelor's in graphic design and 3-5 years of experience working in this field. It is a freelance art job that takes some time to become an expert in.
9. Cake Decorator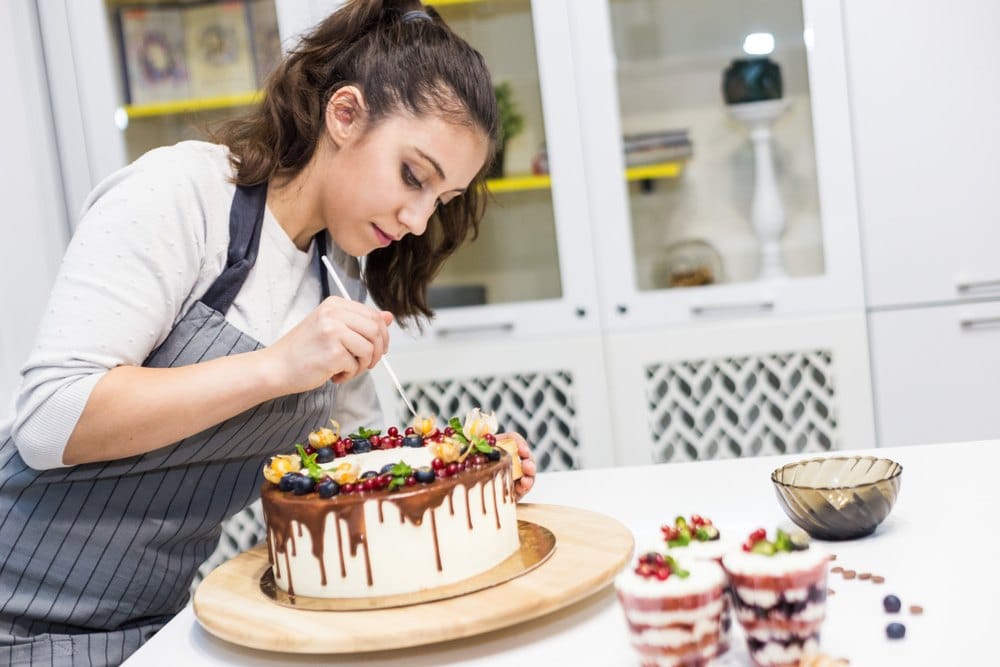 If you love food and having fun, this next freelance art job just might be for you! Being a freelance cake decorator is actually an in-demand job that pays well and one that allows you to express your artistic talent. A cake decorator is skilled in the art of pastry making, icing, and has the technical know-how to curate custom cake orders for weddings, birthdays, special events, and more.
Pays: Freelance rates vary and are based on commission, but you can expect to earn anywhere from $150-200 per cake or $250-500 if you're a pro cake decorator.
How to get started: You need to have some training or at least an associate's degree in pastry arts and a notable portfolio of your experiences in cake decoration. Once you build up experience, take advantage of word-of-mouth marketing and social media to launch your business.
10. Art Writer
A freelance art writer is a writer who is particularly knowledgable of the technical, theoretical, or historical aspects of art. You don't necessarily need to be good at art to write about art, as some writers study art rather than practicing it. For example, a freelance art writer could write blurbs and stories about art gallery events, famous artists, or compare tools and schools of art. You could also offer your writing services for art-related niche blogs as many blog owners look for professional writers with knowledge in the field to create their content.
Pays: Based on your rate and publisher's budget, although because of your in-depth knowledge in the field, you could charge a bit higher than average.
How to get started: The best way to get started is to seek freelance art writing jobs online through freelance platforms. You could also reach out to magazines, books, newspapers, or art-focused media for job and networking opportunities.
11. Makeup Artist
If you love cosmetology and beauty, then you could become a freelance makeup artist. Cosmetic artists who freelance will often travel for work. It's not the type of work you could do from home, but it's great if you don't mind commuting locally. As a makeup artist, you might also provide hairstyling or skincare services, products, and more. Many freelance makeup artists create their business and market it to soon-to-be brides who, more and more, are hiring freelancers to travel and do in-home appointments for their weddings.
Pays: Varies widely based on bookings and experience. You could make anywhere from $300-400 per day up to $3,000 a day!
How to get started: You will need to build up a strong portfolio, have at least a cosmetology degree, and utilize social media to showcase your artistic talent.
12. Art Educator
Freelance teachers, including art educators, are not usually a part of a school system, but rather find and give lessons to students in-person or online. The role of an art teacher is to educate and encourage students in developing their artistic capabilities. Other tasks of a remote art teacher could be developing the artistic curriculum for online art classes for non-English speaking children. As remote learning is especially popular in 2020 there's even more demand for your skills.
Pays: $30-50/hour
How to get started: Start searching for online art teaching jobs or freelance art jobs in educational settings in your local area (i.e. guest workshops, private lessons, etc).
13. Art Technician
An art technician is someone who is responsible for moving, packing, and installing/de-installing art items safely and swiftly without damaging them. You can most definitely offer your services as a skilled freelance art technician with past experience and hop from job to job. As this is a highly technical field, you must have knowledge of how to handle fragile art equipment, property, and artifacts.
Pays: $20-30/hour+
How to get started: Dabble in the art community in your area. Volunteer at a museum near you. Attend local galleries. Distribute your services via word-of-mouth and through business cards.
14. Game Designer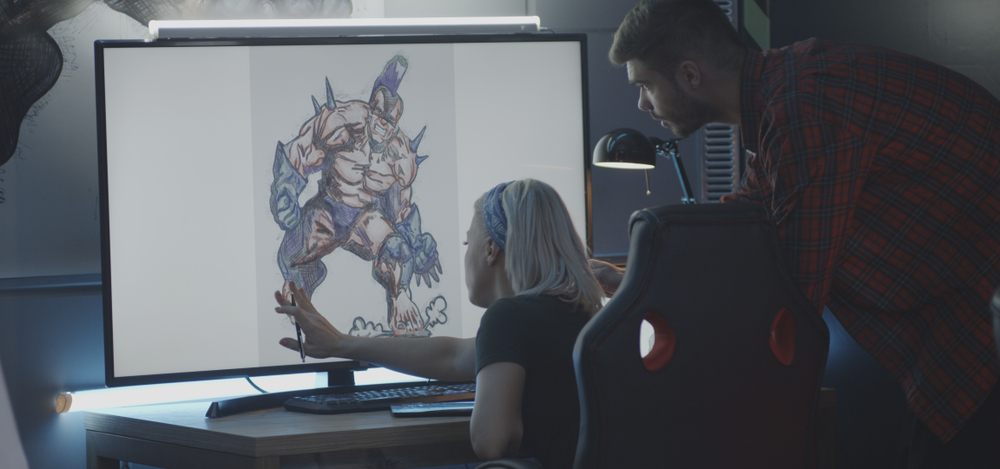 Freelance game designers is a big enough niche to stand on its own as the art of game design increases with the booming global popularity of video games. There are many types of game designers with expertise in all kinds of gaming sub-fields. There's Indie games, character artists, 3D rendering, gameplay design, and much more. If you have a little less artistic talent and a little more coding expertise, you could always transition into doing freelance game development.
Pays: $30-60+/hour
How to get started: Get heavily involved in industry meetups, take gaming design courses, and build up a reputable portfolio showcasing your personal and professional work.
15. Art Historian
Finally, if you love both art and history, you could look into becoming a freelance art historian and combine the best of both worlds. Art historians typically work in university settings, but more and more, non-traditional college grads are turning to self-employment opportunities. Enter freelance art historian jobs. You could do anything from writing about art history to advising history museums, becoming an antiquarian bookseller, artist's agent, antique dealer, or a consultant for organizational or hotel artwork.
Pays: Varies
How to get started: Most art historians graduate with a master's or doctorate-level degree. This isn't a path for newbies in art history, but for experts in the field who would like to transition to freelancing within the field.
As you can see, there are many freelance art jobs that enable you to merge your passions with profit. Which one of these freelance jobs speaks to your artistic ability the most?
One of the best job opportunities of the decade is working online. The online world is a "wild west" where anyone can start a business regardless of your age, race, education, or background.
The thing that matters most is that you are motivated and persistent. Even total newbies can earn money online by starting a simple website and putting some advertising on it.
I've been working online since 2010. You can learn how to do what I do in just a few weeks, and earning a full time income of over $10,000 per month is absolutely doable with consistent effort!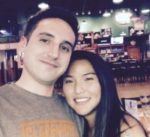 Nathaniell
What's up ladies and dudes! Great to finally meet you, and I hope you enjoyed this post. My name is Nathaniell and I'm the owner of One More Cup of Coffee. I started my first online business in 2010 promoting computer software and now I help newbies start their own businesses. Sign up for my #1 recommended training course and learn how to start your business for FREE!