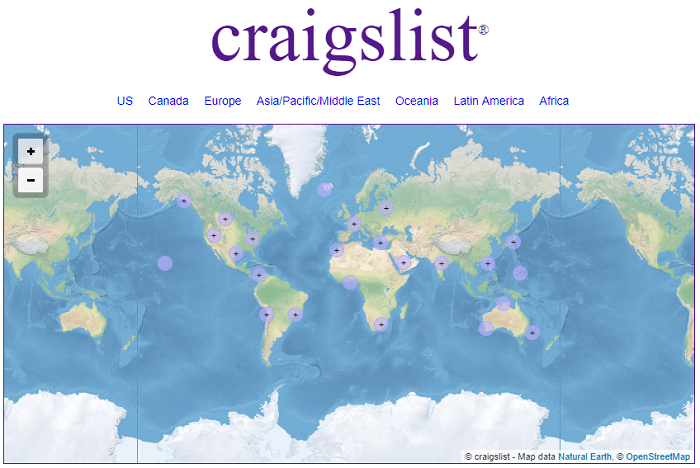 Craigslist: The original online garage sale site. Wouldn't it be great if they had an affiliate program?
Everyone knows about it, and we've all used it once or twice either to buy stuff or sell stuff. It's local, it works great, it's easy to use, and you can pretty much find anything here if you're willing to travel. The only downside is, there's no reason to help Craigslist succeed in the online market because there's no incentive for advertising it.
To many of us savvy in the online marketing world, these advertisement programs are called affiliate programs and we absolutely love and cherish them. It allows you to advertise products and services online for a company, and in return they will give you a commission it.
Craigslist does not have that kind of affiliate program, though. That's a bummer, because they totally could. Many websites do a revshare model, where you earn a commission from money generated by the referral. Plus, companies like eBay or Etsy will pay you a percentage of a sale price, even though the products are from a private party, similar to Craigslist.
However, Craigslist hasn't changed in 20 years, so I expect them to be pretty uninterested in growing the site. I don't expect a Craigslist affiliate program to come about any time soon, so I wanted to go through a bit of what Craigslist offers, and show you some alternatives to it which do have affiliate programs. This way you can offer similar products to Craigslist, but still  make it work for your online business. You can also browse my full list of affiliate program reviews, and top 10 affiliate programs organized by niche topic.
What can you find on Craigslist?
When you search on Craigslist, the first thing you do is look for the closest location to where you are because if you live in one state, you dont really want to travel to other states just to find something. So why not try local first?
The reason I call it like an online garage sale is because you can find just about everything here. While there are high-level categories, there are no limitations from what you can sell on Craigslist (baring anything inappropriate/illegal of course).
At a high-level, some of the most common things that Craigslist has includes many of the following:
Antiques
Appliances
Electronics
Rideshare
Children Toys
Jewelry
Vehicles
Furniture
Rooms for rent
Services (automotive, legal, etc)
Storage
Jobs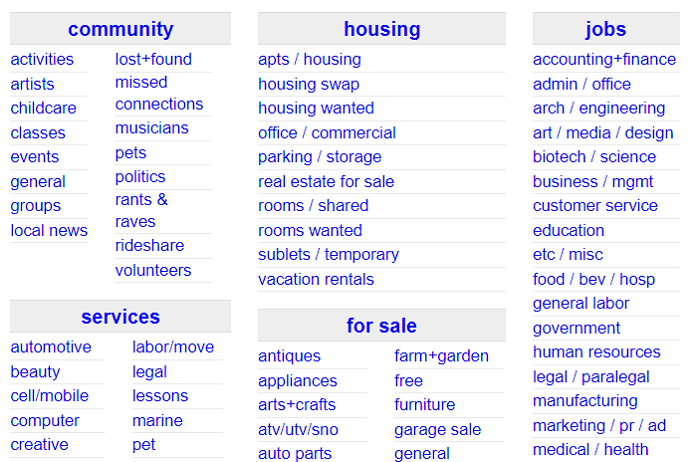 So since Craigslist doesn't have an affiliate program, how can you get involved in some of these very highly desired areas where people are both selling and looking to buy many of these items found on Craigslist?
There is no way for Craigslist to do it as transactions are not made via their platform, but there are so many great companies that have affiliate programs that you can get involved in.
Alternative Affiliate Programs
Here are some of the different things that you can find on Craigslist that have alternative affiliate programs you can use.
Housing/Accommodations Affiliate Programs
There are many different reasons why humans need housing and accommodations. They might be on a vacation and want to stay somewhere outside of the standard hotel setting. They might have just gone through a breakup and need a place to crash now. Or they might just be ready for a change.
Whether it's short term or long-term, there are some cool affiliate programs you can check out to help these people out.
Roomster: Roomster is an awesome program which allows you to either look for a room, a roommate, or to rent an entire place on your own. The affiliate program they have setup is really awesome! They pay either $1 per lead or 50% of a sale – the second if thats what happens after the lead. Thats awesome! It's not recurring so it's a one time thing only.
www.roomster.com
Airbnb: Everyone knows of Airbnb, and their affiliate program is getting alot of attention! While it may sound great to get involved with Airbnb, there's a catch – You must have at least 1 million visitors per month. If you're one of these lucky individuals, get right on it!
www.airbnb.com
Buying/Renting a Car Affiliate Programs
Now on to the car arena! Whether you just want a vehicle for an upcoming trip, or you want to buy a new or used car – Craigslist has those. But where else can you find these same things but earn commission from affiliate programs? Unfortunately they dont have everything all in one place, but there's a few great programs like these two:
Enterprise Rent-A-Car: If you're looking to promote daily/weekly rentals of cars, especially for those travel bloggers, then Enterprise is a globally well-known company to get involved with. They offer you a 2.5% commission on all successful referrals that make a rental car purchase.
www.enterprise.com
Edmund's: If you're looking for an affiliate program in which you can make referrals on both used and new cars, Edmund's site has many cars on it. Signing up gets you access to their banners and text links so you can advertise their vehicles. What do you get? You get $5 for Used Cars and $12 for Car Dealer's cars that are purchased from your referrals.
www.edmunds.com
Pets Affiliate Programs
I'll start right off the bat with saying – there are NO affiliate programs which give you a commission for the sale of pets. I also think there shouldn't be 🙂 Try to get your pet from a local shelter and rescue them if possible.
With that said, there are so many great affiliate programs for different pet supplies including food, toys, enclosures, treats, clothing, and much more. There are some of the best ones!
Pet Care Supplies: For some of the best pet supplies, you can get most of the best leading brands through Pet Care Supplies. Their affiliate program also has a long 60 day cookie duration and you get between 10-13% commission by promoting their products on your site!
www.petcaresupplies.com
Revival Animal: This pet supply store is really incredible because it's run by pet lovers and veterinarians who you can call for support on how to care for your pet. They have a large variety of pet care items including medications, supplements, and vaccines. Their affiliate program gives you a 10% commission on all products sold and the cookie duration is up to 45 days from when they click your affiliate links.
www.revivalanimal.com
Buying Used Items Affiliate Program
Most of the items on Craigslist are often not used, slightly used, mostly used, very used, overly used, and sometimes destroyed 🙂 But if you just turned 18 and you got your own first apartment – who cares!
Everyone is looking for something different online so if you want an affiliate program which also has used items, you can pick up these two great companies:
eBay: eBay has everything that Craigslist does but the only difference is you know the seller and their reputation before you buy the item. Also, you dont have to meet them up because they have an eCommerce platform that takes care of the payments automatically. As an affiliate partner, you get 50% of eBay's profits (not 50% of the total sale).
www.ebay.com
Amazon: Using Amazon is a really great marketplace and they allow normal humans to sell their items on their platform now too. The only catch, it has to be proven that it's legit/real because there are so many counterfeit/black market items on the web already that Amazon wont take that reputation risk. While sites like eBay is one of the best choices for truly "used" items, make sure to keep Amazon in your arsenal of eCommerce affiliate programs. They are offering affiliates between 1-10% commission depending on the product types.
www.amazon.com
Furniture Affiliate Programs
Every few years the dog tears up the couch and it needs replacement and many people turn to different sites like Craigslist, eBay, and others for used furniture. But others want some of that fresh out of the box leather smelling furniture. For those, you can turn to some of these great furniture affiliate programs.
Ashley Homestore: Ashley operates all around the world both in stores and in the online marketplace. Their furniture is some of the highest quality you can find with solid oak tables, polished leather recliners, and much more. Their affiliate program offers you 5% commission on all sales completed from recommending their products.
ashleyfurniturehomestore.com
Wholesale Furniture Brokers: This wholesale company is ran out of Canada, but operates in the US as well. They have a wide variety of home/office furniture and decorations. Through their affiliate program you can get a 5% commission on any sales made by using their affiliate banners and product links.
www.gowfb.com
Electronics Affiliate Programs
Every human needs their yearly dose of new electronics whether that be cell phones, tablets, laptops, or any other smart device. Thats why many people look to Craigslist to find some used products which you can still use affiliate programs like eBay for. If you want to focus on new products, however, here are just a couple of companies in the tech genre that have awesome affiliate programs.
Microsoft: For tech companies, Microsoft is one of the biggest leaders so getting involved with their affiliate program should be at the top of your list for tech companies. Especially after the launch of their Surface Pro tablet laptop which has grown globally as one of the leading portable computers. The affiliate program offers between 5-10% commission on products sold.
www.microsoft.com
Fitbit: Everyone knows Fitbit is one of the leaders in the world for wearable fitness technology which is helping everyone stay aware of their body and keep ahead of their fitness. Their affiliate program offers a 12% commission which is one of the highest commissions in the tech industry.
www.fitbit.com
Local Services
I'm wracking my brain thinking of more options here, so I'll just add them when I can think of them:
Craigslist – Wrap up
I could go on for days about all of the affiliate programs which match up to the different Craigslist products/services because there are so many awesome affiliate programs out there today. Honestly, the one thing I couldn't really find was service-related affiliate programs like house cleaning, car repair, or yard work. I'll keep searching, but in the meantime you can add your own suggestions below in the comment section!
If you need additional advice on what affiliate programs are best for your niche website, you can check our guide here:
The Internet's #1 Affiliate Training
It sounds like you're pretty familiar with the basics of how affiliate marketing works. Awesome! But is your website profitable yet? Are you stuck spending hours wondering why you aren't seeing results yet?
You aren't alone. Most newbie affiliate marketers are a little lost, jumping from one "how to" guide to the next, hoping to learn the secret sauce of how to make money with affiliate marketing
I was able to turn my basic niche blog into a six-figure earner in 18 months following the training from this company. They focus on building a sustainable business that will earn for years, not just a website that will "game" search engines for temporary rankings. That's why 8 years later my websites are still earning and still growing.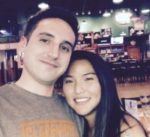 Nathaniell
What's up ladies and dudes! Great to finally meet you, and I hope you enjoyed this post. My name is Nathaniell and I'm the owner of One More Cup of Coffee. I started my first online business in 2010 promoting computer software and now I help newbies start their own businesses. Sign up for my #1 recommended training course and learn how to start your business for FREE!