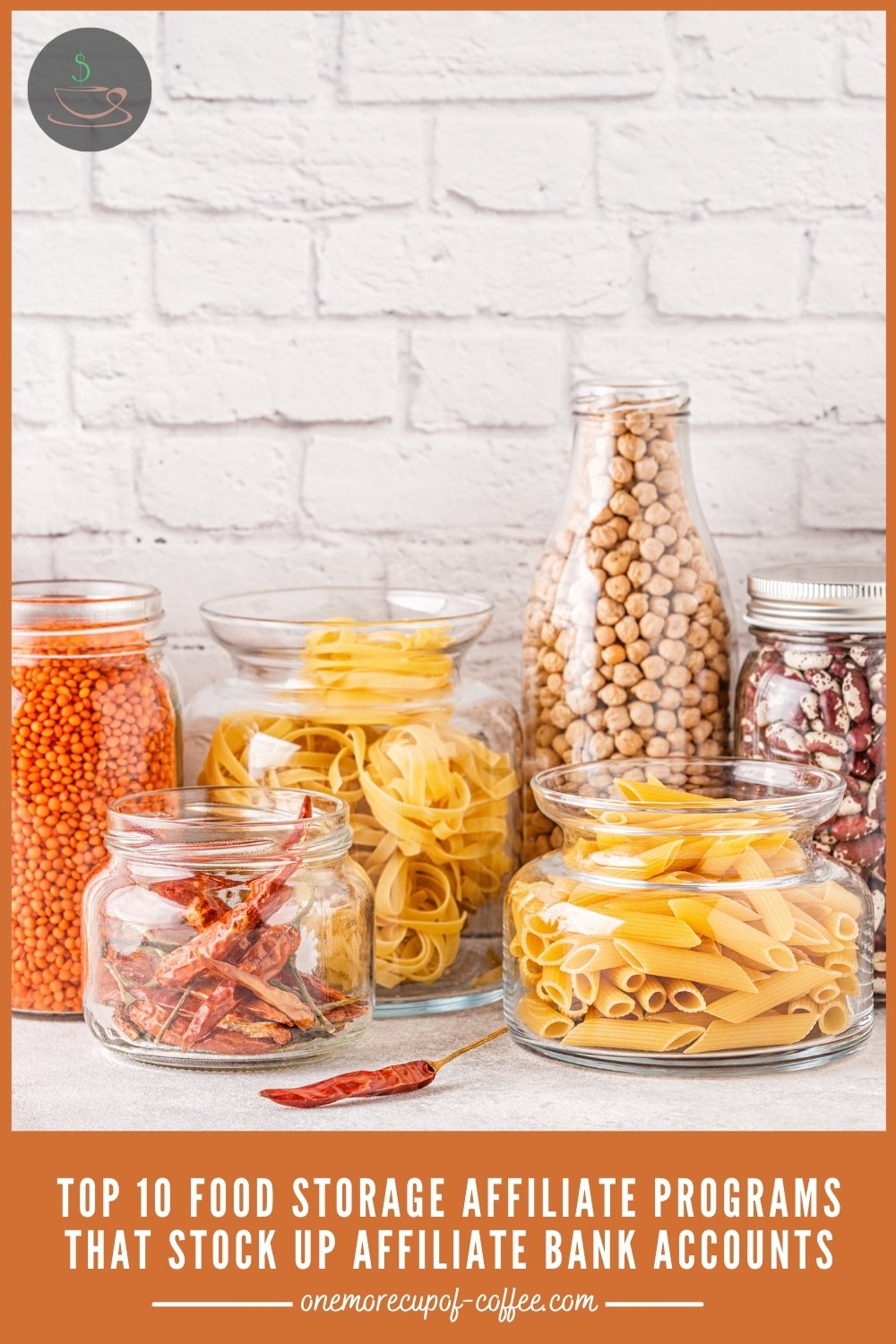 First, it was toilet paper and water bottles. As the COVID-19 coronavirus outbreak expanded, Americans started buying up hand sanitizers, disinfectant wipes, antibacterial soaps, and cleaning supplies containing bleach. The next wave hit the food aisles in the grocery stores, with items like rice, beans, sugar, and flour flying from the shelves as soon as they were stocked.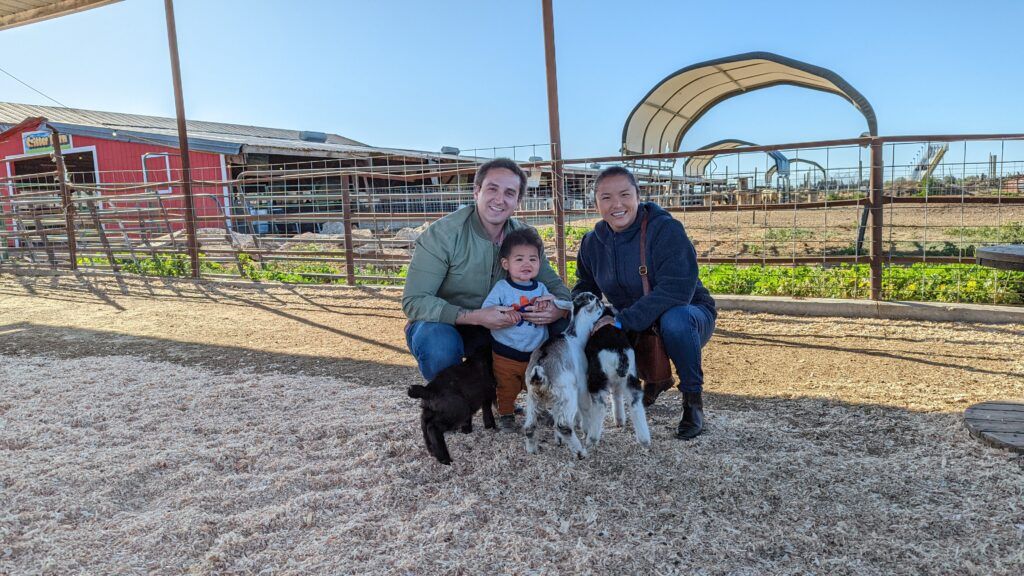 Are You Ready To Work Your Ass Off to Earn Your Lifestyle?
Are you tired of the daily grind? With a laptop and an internet connection I built a small website to generate income, and my life completely changed. Let me show you exactly how I've been doing it for more than 13 years.
As we push through the coronavirus pandemic, the empty food shelves cause feelings of insecurity among many shoppers. Long-term food storage options and fully-stocked pantries are quickly becoming an essential way of life.
There are a variety of different ways that consumers are trying to meet their needs, and many companies that can help them also have affiliate programs. The best food storage affiliate programs include emergency food rations and bulk commodities in #10 cans and large plastic buckets, but they can also include appliances such as freezers and food storage products like vacuum sealers, containers, dehydrators, and canning supplies.
If you're interested in tapping into this market for your food blog, read through this list of the top 10 food storage affiliate programs. At the end of this article, I'll share some ways that you can pull these programs into your affiliate websites.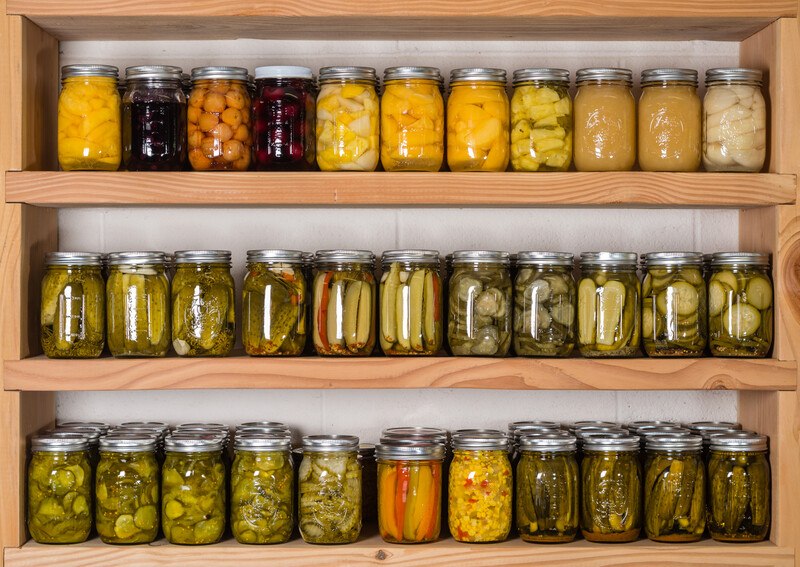 Food Storage Affiliate Programs
Mason Jars Marketplace
Wise Food Storage
Home Depot
Emergency Essentials
Excalibur Dehydrator
Mountain House
Lehman's
Augason Farms
Appliances Connection
Valley Food Storage
1. Mason Jars Marketplace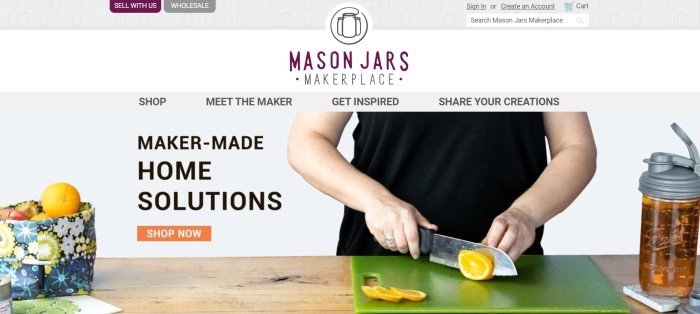 Mason Jars manufactures and sells glass jars, lids, rings, and other canning supplies. This company also carries storage jars and kitchen items such as trivets, serving trays, and flip-top lids that allow people to use Mason glass jars as water bottles.
The website contains a lot of anecdotes from customers who have found unique and creative ways to use glass jars. The company encourages customers to share what they create with mason jars to help fuel ideas from other people. There's also a shopping link in the online store for homesteaders, and customers can use the search bar to learn more about canning, using glass jars to grow herbs, and other food storage methods that use glass jars for storage.
Mason Jars administers its affiliate program through ShareASale.
Why You Should Promote Mason Jars Maker Place: Mason Jars is well-known for its canning supplies and is becoming more well-known for more creative food storage ideas that use glass jars, including growing herbs or fermenting some foods.
2. Wise Food Storage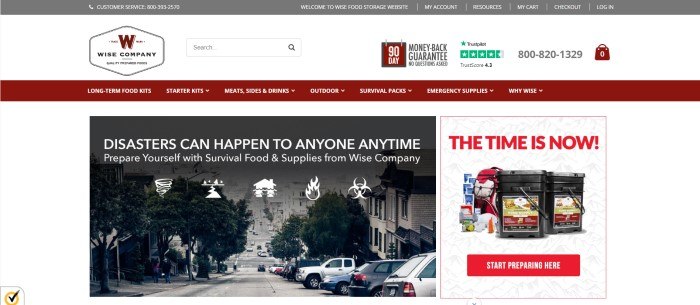 Wise Food Storage makes and sells gourmet freeze-dried foods that can be used for outdoor activities like backpacking or camping or for long-term food storage. Products range from emergency backpacks to individual pouches and buckets of freeze-dried foods. There are also starter kits and long-term food kits. One unique product that this company offers is an emergency pet kit.
This company administers its affiliate program through both AvantLink and Commission Junction.
Why You Should Promote Wise Food Storage: This company has a decent commission rate and one of the best cookie lengths I've seen for a food storage company. The emergency pet kit sets this company apart, too.
3. The Home Depot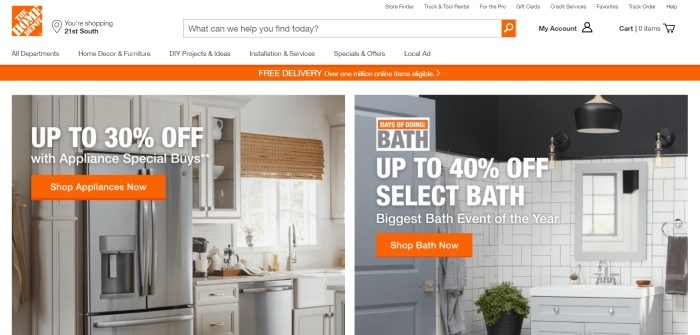 The Home Depot is a do-it-yourself store with both local stores and a large online store that carries more than 500,000 products. This company has several departments ranging from hardware and building materials to paint and outdoor living. The Home Depot could be helpful for food storage enthusiasts because it carries appliances like chest freezers and shelving that could be used to organize dried goods.
The affiliate commission varies by department. Some departments, such as home décor, bring in an affiliate income of 8%. For appliances such as freezers, affiliates can expect to earn a 2% commission. Most products have a commission rate of 3%, but affiliates aren't given commissions on custom products, special orders, gift cards, or in-store purchases.
The Home Depot runs its affiliate program through Impact. Affiliates are provided with a daily data feed of promotional materials.
Why You Should Promote Home Depot: Affiliates have access to a daily data feed of materials they can use to promote the store, but the cookie length is only one day long.
4. Emergency Essentials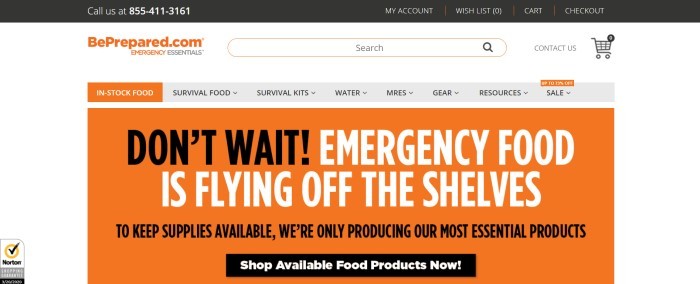 Emergency Essentials is a preparedness company that makes and sells food storage kits and individual items ranging from MREs to full year-long food and water storage kits.
Emergency Essentials food kits provide 1,800 calories and 40 grams of protein per person, per day. It's one of two food storage companies that meet these Quality Survival Standards.
One great thing about this company is that it has an auto-ship plan for customers who want to build long-term food storage by purchasing a certain amount every month for a year. Customers can also browse through categories to find items such as water storage, MREs, survival gear, and food kits. The website also has tabs for resources and sales.
This company has a conversion rate of more than 5% and an average order value of $246. The affiliate program is run through AvantLink.
Why You Should Promote Emergency Essentials: Affiliate marketers get a great commission rate, cookie length, conversion rate, and a high order value to work with.
5. Excalibur Dehydrator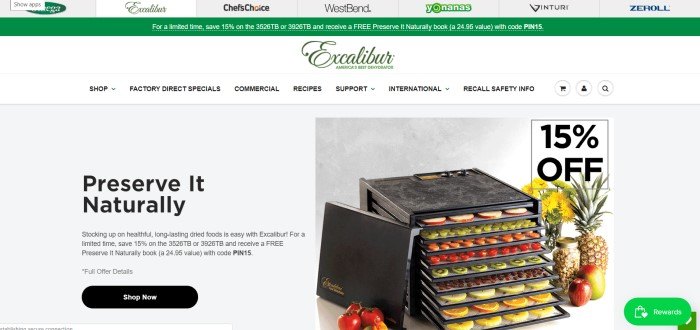 Excalibur Dehydrator is one of the best-known manufacturers of food dehydrators. The company also carries items like vacuum sealers, drying sheets, slicers, peelers, meat grinders, sausage stuffers, and fermentation pots.
The website has a shopping area for customers who want to browse through the products. There's also a section for people who want to buy commercial dehydrators and a section containing recipes, which could be helpful for newbies who are just getting started with their home food storage systems.
Why You Should Promote Excalibur Dehydrator: This company carries a nice selection of items that can help food storage enthusiasts. The commission rate is nice, too.
6. Mountain House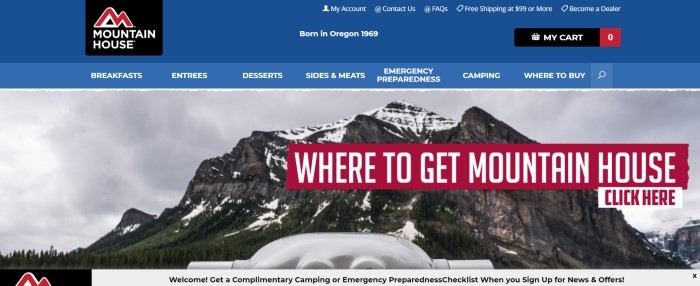 Mountain House carries freeze-dried meals that come in individual serving sizes, pouches, #10 cans, buckets, or kits. These meals account for around 70% of the backpacking meals sold in the United States, so they are lightweight and easy to store.
The meals include breakfasts, entrees, desserts, sides, and meats. Mountain House also sells full emergency food kits that can last from two days to twelve weeks. Customers in the United States can get free shipping on orders of $99 or more.
Mountain House runs its affiliate program through AvantLink. Because of tax laws, affiliates are only accepted from certain states.
Why You Should Promote Mountain House: The food is light-weight and stores well, and there's a nice selection to choose from. The commission rate and cookie length are nice too.
7. Lehman's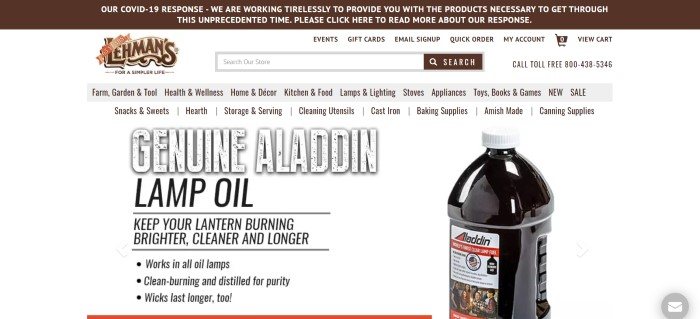 Lehman's focuses on simple farm-type lifestyles, and it sells items made by the Amish community as well as hand-powered machinery, gardening tools, canning supplies, farming equipment, and other items meant to help simplify and improve life.
Many of the items, including the farming and gardening supplies, can be used to help build food storage necessities. Customers can also find items such as apple cider presses, hand-turned wheat grinders, coffee grinders, steamers, juicers, cherry pitting machines, and butter churns. There are even some pantry items, including dried goods like soup mixes, jams, and even some freeze-dried food storage items.
Lehman's runs its affiliate program through Pepperjam.
Why You Should Promote Lehman's: Lehman's has a great selection of simple products for producing, preserving, and storing food.
8. Augason Farms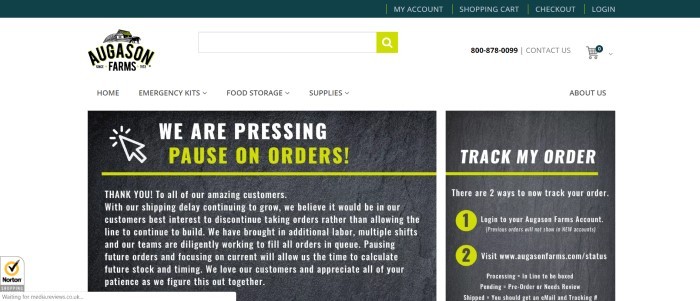 Augason Farms carries more than 300 emergency preparedness items, including food storage products with a shelf life of up to 30 years. The website includes categories such as emergency kits, emergency supplies, and food storage.
The products range from freeze-dried meats and vegetables to beans, rice, soups, and baking mixes. There is a selection of individual MRE-style entrees, too, and Augason Farms carries water storage solutions, as well. The food storage kits range from 72-hour packs to survival kits that can last a year. Many of the full-year food storage kits can cost thousands of dollars.
However, the average order value is$200, and the store takes payments.
Why You Should Promote Augason Farms: Augason Farms' high average order value is great. The store's ability to make monthly payments could also bump up shopping cart totals, and the kits contain everything customers need to eat well for a year even if they can't go shopping at a local grocery store.
9. Appliances Connection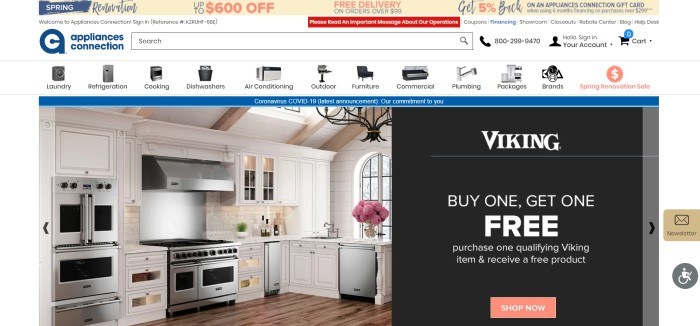 Appliances Connection is a high-end home goods and appliances store. Food storage enthusiasts could find this company most helpful because of its high-quality refrigerators, freezers, beverage centers, and ice-makers. This company sells commercial versions of its freezers and other appliances, too.
The average order value is $1,000. The affiliate program is run through CJ Affiliate.
Why You Should Promote Appliances Connection: The high average order value could mean decent affiliate earnings. Some customers could enjoy the option of buying commercial-grade freezers or food storage solutions, as well.
10. Valley Food Storage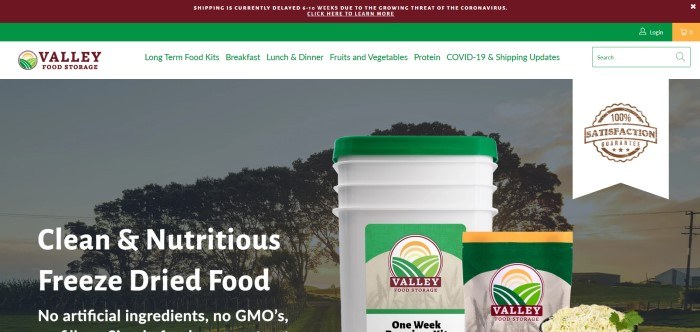 Valley Food Storage sells long-term food kits, as well as freeze-dried breakfasts, lunch and dinner entrees, protein, fruits, and vegetables. Customers within the United States can get free shipping on their orders.
The commission varies depending on whether you join the affiliate program through AvantLink. Affiliates with AvantLink get a 14% commission rate, while those with Commission Junction receive a 13% commission rate.
One nice thing about Valley Food Storage is that it has a customer referral program, which gives customers a chance to send $25 discounts to family and friends. If the codes they send are used, then the original customer gets a $25 discount as well.
Why You Should Promote Valley Food Storage: The commission rate is nice. The Family Table Rewards customer referral plan is unique and fun, too.
Affiliate Website Ideas
Now that you've read about the top 10 food storage affiliate programs, do you know how you're going to fold them into your affiliate marketing efforts? They can fit well with a variety of different website ideas.
For example, if you have a lifestyle nutrition website, you could promote any companies that have food related to the category of your lifestyle (e.g. vegan canning, keto meal prepping). You could also feature seeds and gardening equipment, dehydrators, canning supplies, and even diabetic medical supplies or nutrition tracking apps to help people keep their eating under control.
A second idea is a website focused on urban gardens. Besides basic gardening tools, a website like this could promote homesteading options like aquaponics, larger equipment such as compost turners, and growing containers.
A final idea is a website for hunters. Dehydrators, sausage-making kits, and canning supplies could be featured here, but you could also promote camping gear, hunting equipment such as guns or bows, and hiking boots.
Boost Your Affiliate Earnings
These 10 affiliate programs are just the beginning of what's possible. There are hundreds of ways to earn affiliate commissions with your website, including product reviews, top 10 lists, how-to guides, and more
But what about traffic and conversions? How do you make sure your affiliate links get clicked?
I used the affiliate training here to turn my brand new website into a six-figure income generator in less than two years. Build a business, not just a pocket-money side project!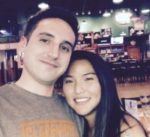 Nathaniell
What's up ladies and dudes! Great to finally meet you, and I hope you enjoyed this post. My name is Nathaniell and I'm the owner of One More Cup of Coffee. I started my first online business in 2010 promoting computer software and now I help newbies start their own businesses. Sign up for my #1 recommended training course and learn how to start your business for FREE!