The current COVID-19 coronavirus pandemic has turned our lives upside down. From some standpoints, it feels like the world is coming to an end. In many areas, schools and businesses have shut down. Consumers are buying up essential household items and groceries as soon as they're stocked. Other people won't go out in public at all. They order necessities online, but since so many people are buying essential items all at once, deliveries on orders take a lot longer than they used to.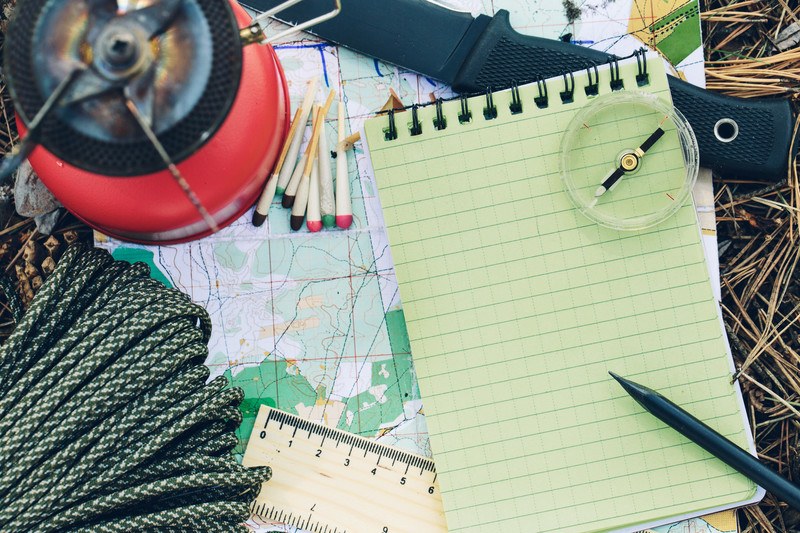 On some levels, it's understandable. The idea that we may have to fend for ourselves sometimes can be a terrifying idea to face, but there are several companies offering survival products to help people prepare for the worst. The best survivalist affiliate programs include everything from shelters and water purifiers to books that can teach about edible plants or herbal medicines.
The following list of the top 10 survivalist affiliate programs can give you an idea of some of the types of products that are being sold. As you read through this list, contemplate ways that you can use these programs with your affiliate websites. I'll share some ideas of my own, too, and you can use them to help you fine-tune your affiliate marketing strategies.
Survivalist Affiliate Programs
LifeStraw
StatGearTools
eSafety Supplies
1800Prepare.com
TackleDirect
Survival Frog
Tactical Distributors
More Prepared
Ancestral Plants
ShiftPod
1. LifeStraw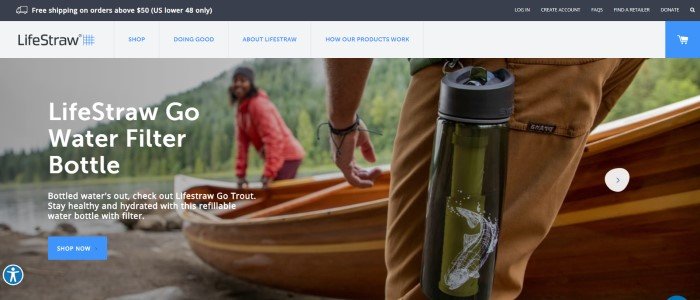 LifeStraw makes and sells award-winning water filters so consumers can decontaminate their drinking water and stay safe. The company carries a variety of products, including at-home options like pitchers and emergency options such as the LifeStraw personal water filter.
LifeStraw also carries a community water filter system that can hold 13 gallons of water at a time and can serve 100 people for three to five years. This system currently costs $375. The individual LifeStraw provides enough drinking water for one person for five years and costs $20.
This company donates to help provide clean drinking water around the world and is involved in other humanitarian efforts.
The affiliate program is run through Impact Radius and FlexOffers. Affiliates can promote the products through websites, social media, or mobile devices.
Why You Should Promote LifeStraw: Some of the products have a relatively high price tag, which could boost affiliate earnings. The ability to decontaminate water for up to five years could help save lives, and the humanitarian efforts are nice, too.
2. StatGearTools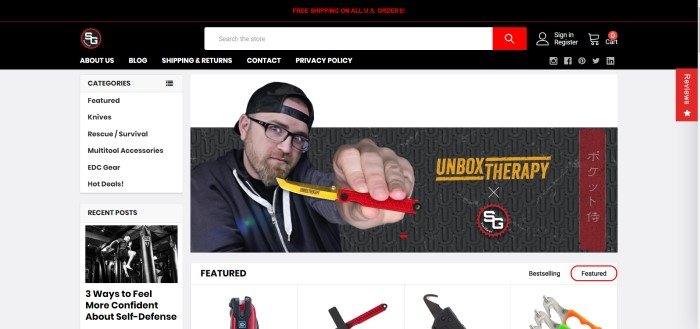 StatGearTools carries rescue and survival equipment such as knives, tactical pens, keychain flashlights, titanium tweezers, first aid kits, escape tools, and sheaths for many of the products. The products are reasonably priced, and there's a sales section for customers who like to browse through the deals.
Customers in the United States get free shipping on their orders. This company also has a hassle-free returns policy.
The affiliate program is run through ShareASale. Affiliate marketers have the opportunity to earn performance-based bonuses, and they're able to use high-converting landing pages and other marketing tools that StatGearTools provides.
Why You Should Promote StatGearTools: The commission rate and cookie length are decent. The reasonable prices, free shipping, and hassle-free returns could help convert shoppers.
3. eSafety Supplies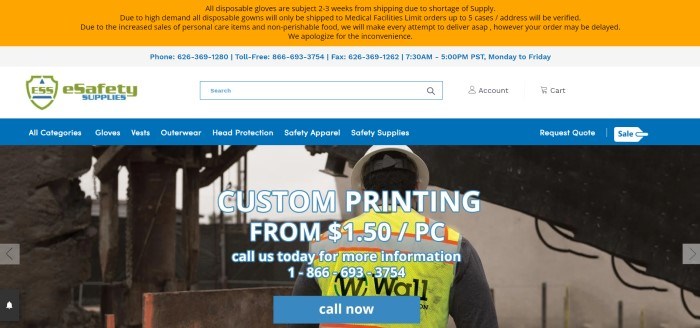 eSafety Supplies carries safety equipment such as outerwear, gloves, vests, head protection, shoe covers, masks, and safety glasses. Besides wearable items, this company also carries products like first aid kits and auto safety kits.
The products span a variety of needs ranging from welding to dealing with emergency injuries. Some products, such as the air-purifying respirators, cost between $170-$1,750 each. The average order value is $100. This company also has a 4.1% conversion rate, and 75% of the customers become repeat customers.
Why You Should promote eSafety Supplies: This company has a nice selection of safety products covering everything from fire protection to disposable surgical clothing.
4. 1800Prepare.com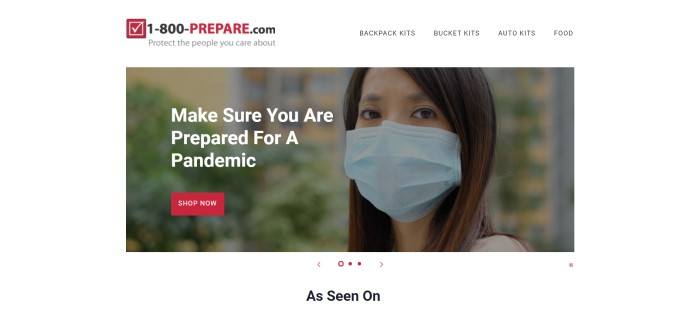 1800Prepare.com is a leading preparedness company selling items such as backpack kits, emergency food rations, classroom lockdown kits, earthquake survival kits, and automobile safety kits. Prices start at around $48 for a one-person 72-hour emergency kit. Some of the survival kits cost more than $250 each.
This company has been featured on Today, The New York Times, iVillage, and The Wall Street Journal. One nice thing about 1800Preparedness.com is that the website contains a preparedness checklist that provides a lot of survivalist information.
1800Prepare.com partnered with ShareASale to administer their affiliate program.
Why You Should Promote 1800Prepare.com: This company carries grab-and-go types of kits that consumers don't have to assemble or think too much about.
The prices are decent, and the cookie length is great.
5. TackleDirect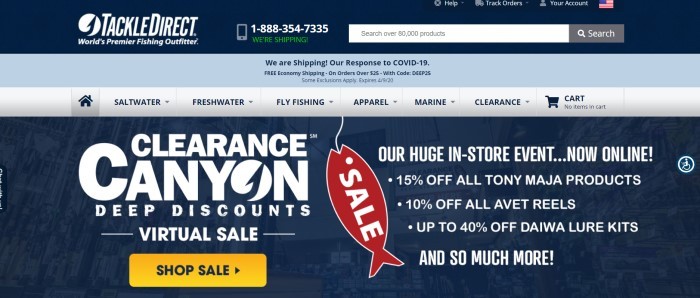 TackleDirect is a fishing gear company that carries more than 50,000 fishing products such as rods, reels lures, and fish finders, that could help survivalists catch food. The company carries top brand-name items for both saltwater fishing and freshwater fishing, as well as boat maintenance products and even fishing apparel.
The website includes a clearance section, as well as a video library and weekly specials. Tackle Direct ships products worldwide, and there are occasional promo codes for free shipping. This company also has a hassle-free returns policy.
The affiliate program is administered through LinkShare.
Why You Should Promote TackleDirect: The worldwide shipping option means affiliates can market these products globally. This company also has a wide selection, hassle-free returns, and a video library for people wanting to learn more about fishing.
6. Survival Frog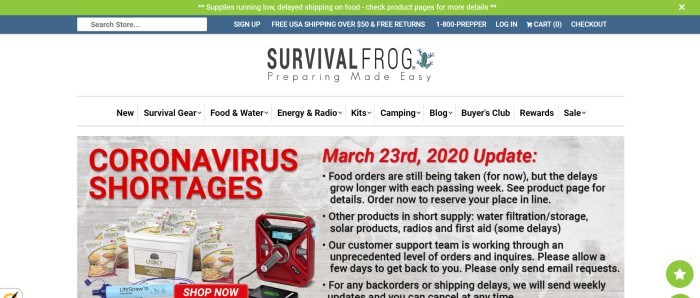 Survival Frog sells name-brand items such as survival gear and emergency kits. Products include radios, solar power, flashlights, shelter kits, water purification gear, water storage, knives, fire starters, and more. Customers in the USA get free shipping on all orders of more than $50, and the company has a six-month free return policy.
The affiliate program is administered through AvantLink. The average order value is $85, with a conversion rate of around 2%. Affiliates have access to exclusive promotions.
Survival Frog has a rewards program where customers can earn and redeem frog points. There's also a section where customers can get discounts on bulk orders.
Why You Should Promote Survival Frog: This company offers free shipping, free returns, a rewards program, and bulk discounts. The average order value is nice, too.
7. Tactical Distributors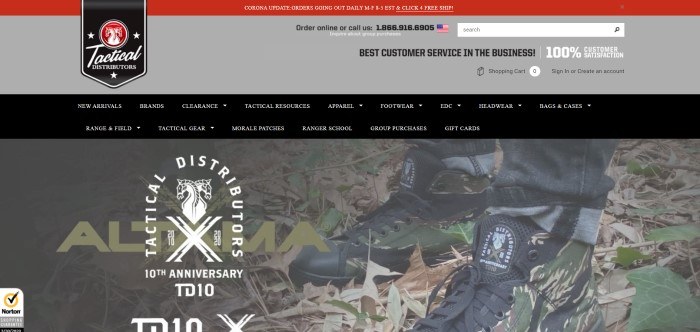 Tactical Distributors carries brand-name survival equipment including knives, tools, hiking boots, target training products, gloves, and backpacks. This company provides options for military and government group purchases, and it carries some specialized equipment for customers attending ranger schools.
Customers can browse through the categories to find the products they want, or they can use the search bar at the top of the page to find specific products. This company provides free shipping and a 100% customer satisfaction guarantee.
Tactical Distributors runs its affiliate program through AvantLink. The commission structure is tiered, with a base commission rate of 10%.
Why You Should Promote Tactical Distributors: The gear is high-quality and durable. The free shipping and satisfaction guarantee could help convert shoppers, too.
8. More Prepared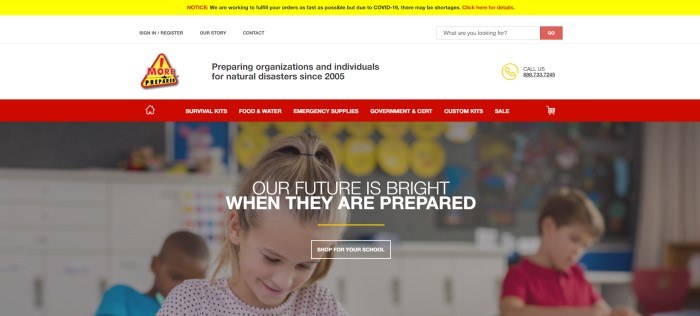 More Prepared is an online preparedness store with solutions for businesses, schools, government, and families. The website includes helpful tips for surviving natural disasters and school lockdowns, as well as preparedness assessment and consultation services.
Products include items like pallets full of drinking water, which currently sell for $2,650 each, and 50-person survival bins, which are priced at around $750. Family items include water storage systems, food storage, and backpack survival kits. This company can help create custom kits, as well.
Why You Should Promote More Prepared: More Prepared is one of the only survivalist companies I've seen that addresses the idea that disasters can happen at work or school as well as at home.
9. Ancestral Plants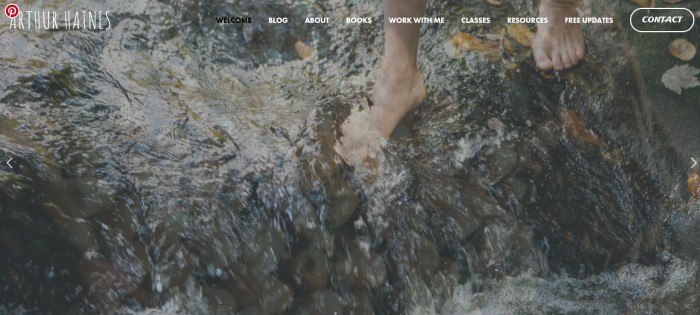 Ancestral Plants is a website devoted to helping people learn primitive living skills, including using wild foods and medicines and returning to a more natural way of life.
The affiliate program centers on the book 'Ancestral Plants, Volume 1,' by Arthur Haines, which is currently offered only as an e-book. This book informs readers about helpful herbs, particularly those found along the upper east coast of the United States. It includes a foraging calendar that readers can use to plan their foraging trips.
Besides the book, the website includes gardening and foraging classes, winter fishing trips with Arthur Haines, and the process of wildcrafting medicines.
Why You Should Promote Ancestral Plants: The website offers a lot of information on a variety of survivalist topics. The e-book can help teach people how to make their own medicines.
10. ShiftPod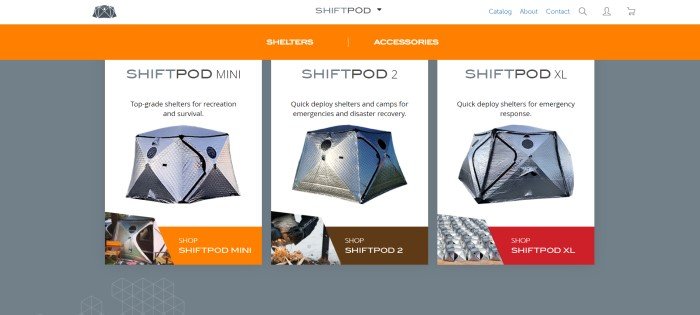 ShiftPod sells emergency shelters and accessories. The company carries three main lines of emergency shelters, each including a few different models, as well as tunnels to connect the shelters to each other. These are high-end items with price tags that range from around $180 for a tunnel system segment to $2,500 for a large shelter. This company also offers some emergency shelter options that require quotes.
One nice thing about this company is that it donates a ShiftPod shelter for every 20 shelters that are sold. This company also offers a 10% discount to military, veterans, and other public service heroes.
Why You Should Promote ShiftPod: The shelters are durable, and customers can use the tunnels to connect to a community of shelters. The price tags are relatively high, and the commission rate is generous.
Affiliate Website Ideas
Now that you've read through the list of the top 10 survivalist affiliate programs, it's time to take a look at how to use them with your affiliate websites. I have a few ideas to share that could help get you started.
First, a website that focuses on recreational outdoor adventures such as hiking or camping could utilize almost all of the programs listed above. This type of website could also feature simpler outdoor gear such as kayaks, tents, and Dutch ovens. RV sales, loans for RVs, and RV supplies could also be promoted here.
A second idea is a website for hobbyist hunters and fishers. TackleDirect could be featured on this type of website, along with programs like Survival Frog that include target practice options. Guns, bows, ammunition, game calls, coveralls, boots, and knives could all be promoted here.
A final idea is a website for worldwide humanitarian or ecological issues. Educational books and videos could be sold here, as well as courses teaching people how to start and run a nonprofit group. Programs that work toward causes like clean water, such as LifeStraw, could be promoted here. This type of website could also feature programs that use fair labor standards, donate to children's education, promote clean oceans, or get involved in reforestation efforts.
Boost Your Affiliate Earnings
These 10 affiliate programs are just the beginning of what's possible. There are hundreds of ways to earn affiliate commissions with your website, including product reviews, top 10 lists, how-to guides, and more
But what about traffic and conversions? How do you make sure your affiliate links get clicked?
I used the affiliate training here to turn my brand new website into a six-figure income generator in less than two years. Build a business, not just a pocket-money side project!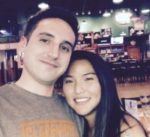 Nathaniell
What's up ladies and dudes! Great to finally meet you, and I hope you enjoyed this post. My name is Nathaniell and I'm the owner of One More Cup of Coffee. I started my first online business in 2010 promoting computer software and now I help newbies start their own businesses. Sign up for my #1 recommended training course and learn how to start your business for FREE!