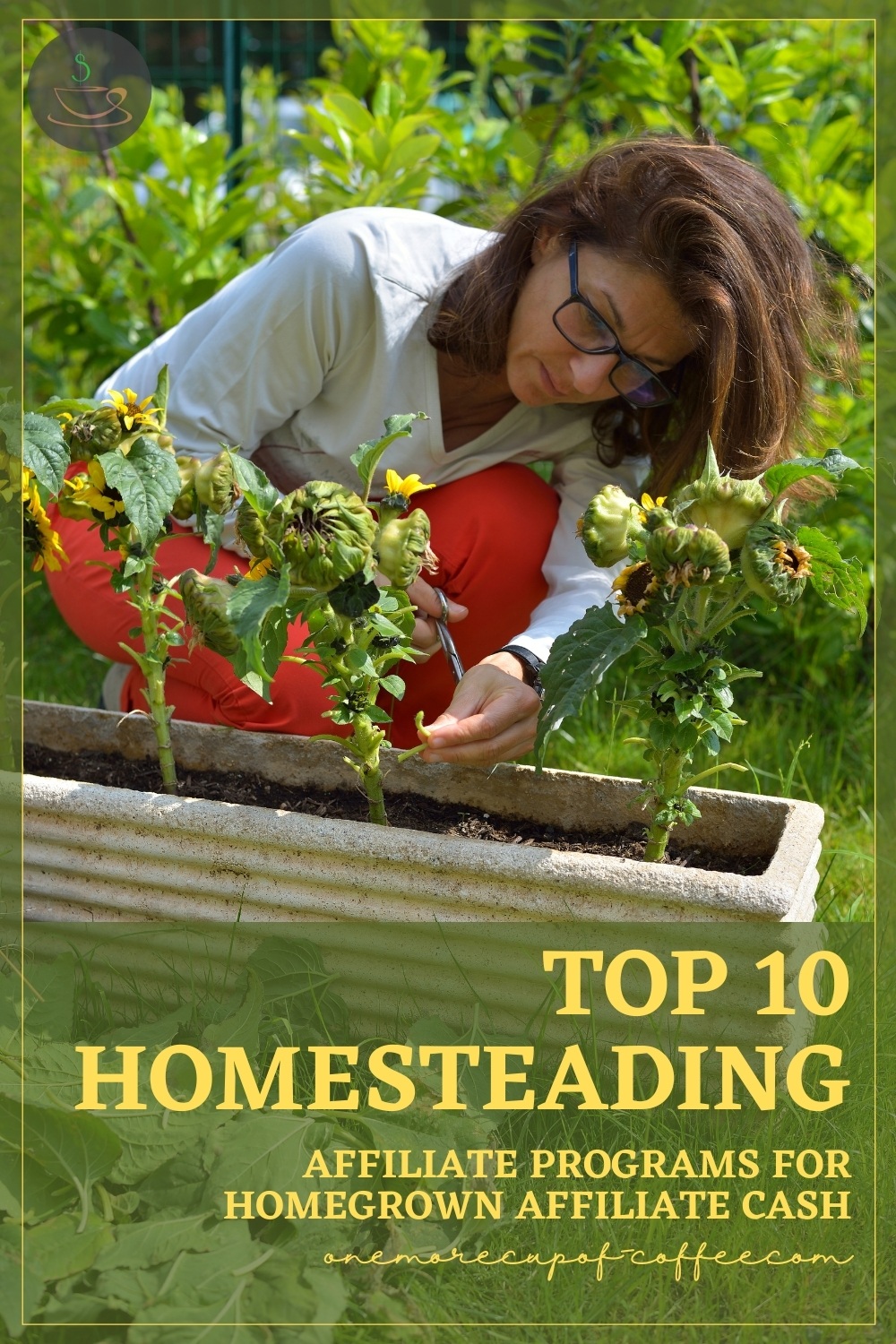 When you picture a homestead, do you automatically think about rolling prairies, log cabins, and fields with mules pulling plows while a farmer walks behind, guiding it?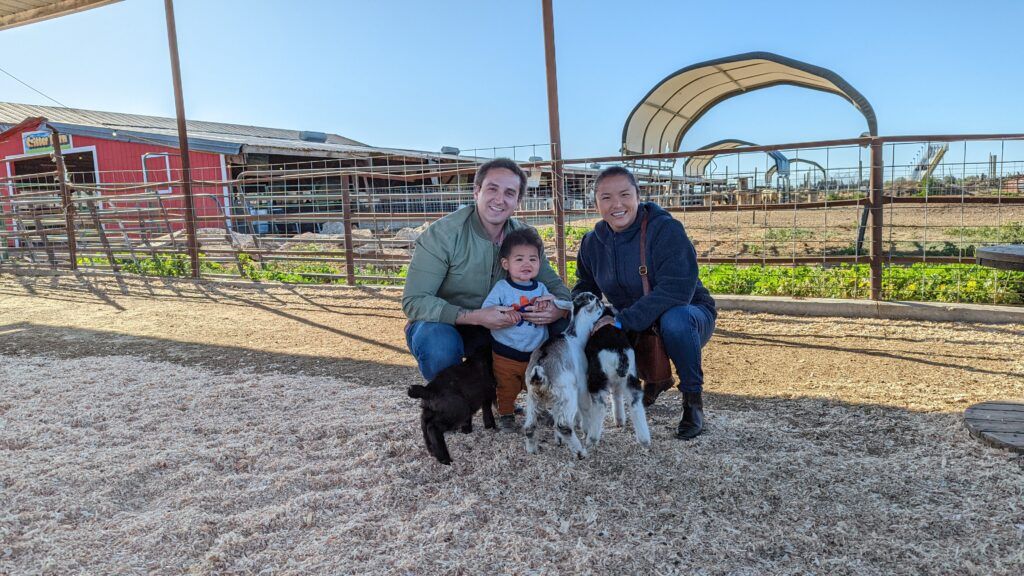 Are You Ready To Work Your Ass Off to Earn Your Lifestyle?
Are you tired of the daily grind? With a laptop and an internet connection I built a small website to generate income, and my life completely changed. Let me show you exactly how I've been doing it for more than 13 years.
Homesteading has come a long way since the Homestead Act of 1862. In those days, homesteads were typically 160 acres, and homesteaders could only own the land after they lived on it for five consecutive years. Today, homesteading can include everything from gardening and raising chickens in a small urban yard to a full farm on acres of land.
There's a commercial side to homesteading, too. Many modern homesteaders make and sell their own products, and some of them offer affiliate programs. They also need supplies, and there are affiliate programs to provide homesteaders with items such as canning equipment or farming tools.
If you're interested in the homesteading lifestyle, you might be a good fit for some of these companies as an affiliate marketer. Read through this list of the top 10 homesteading affiliate programs, and as you read, think about ways you could promote them. At the end of the article, I'll share some of my own ideas for using these programs for your affiliate websites.
Some related topics you can also look into for ideas could be individual subtopics like solar power, disaster prep, and homeschooling.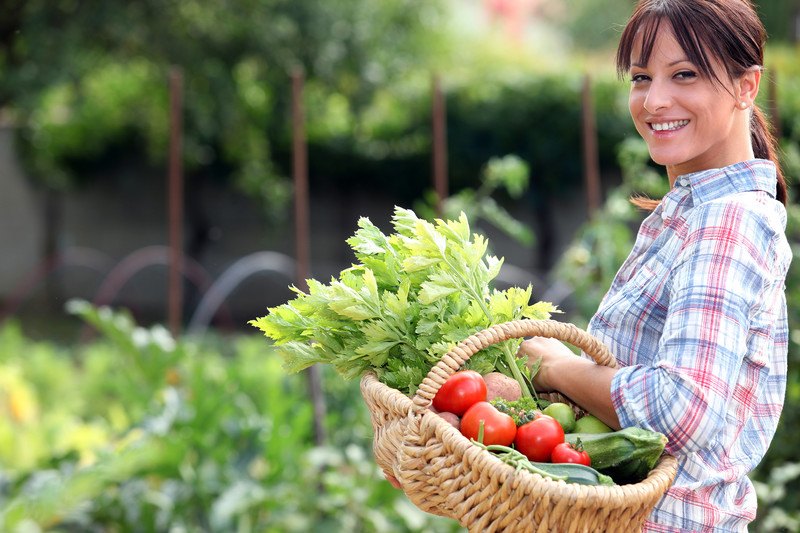 Homesteading Affiliate Programs
A Modern Homestead
Homestead Honey
Healing Harvest Homestead
Lehman's
Rich Soil
Hostile Hare Homesteading
Mason Jars Maker Place
Arthur Haines/Ancestral Plants
Grow Where You Sow
Urban Farm U
1. A Modern Homestead

A Modern Homestead is a website that features recipes, seasonal and handmade craft patterns, and information on homesteading. The online store includes video courses on canning and sourdough bread, as well as coffee mugs and ideas for making money online while homesteading.
The affiliate program provides a 40% commission on three different books. One contains money-saving worksheets. Another provides information on how to start making money from a blog, and a third is about planning a blog around a growing family. These books convert mostly at a rate of 2%, although the money-saving worksheets sometimes convert at rates as high as 10%.
Why You Should Promote A Modern Homestead: The focus on work-at-home blogging opportunities could be a converting factor, and the commission rate is nice, too.
2. Homestead Honey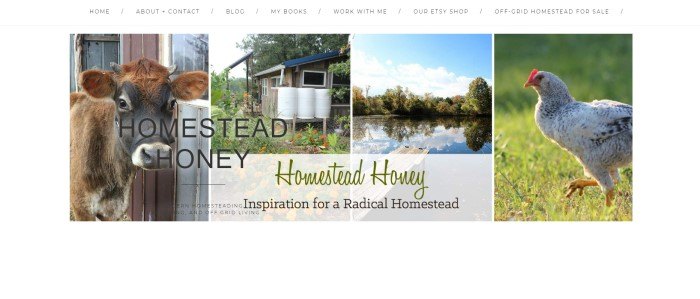 Homestead Honey provides books and e-courses for customers who want to learn more about homesteading. There is also an opportunity for one-on-one homestead coaching from experienced homesteaders who want to share their knowledge with newcomers.
The website includes a link to a handicraft store on Etsy and information on a 10-acre homesteading parcel that's for sale. The affiliate program focuses mostly on the books, which include titles like 'Family Homesteading', 'Fall Gardening,' and 'The Backyard Bread And Pizza Oven.'
Why You Should Promote Homestead Honey: The 40% commission rate is nice, and the ability to get one-on-one coaching makes this company stand out.
3. Healing Harvest Homestead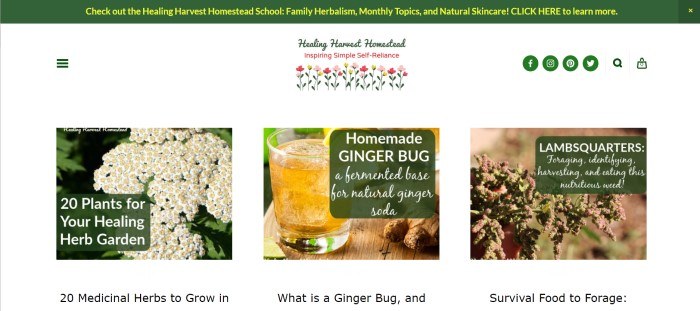 Healing Harvest Homestead promotes simple self-reliance through herbalism, natural skincare, and more. Information on the website centers heavily on foraging and making use of herbs, but there are also gift ideas, recipes, and remedies for seasonal illnesses like influenza.
The affiliate program focuses on sales of an e-book entitled 'Hot Process Soap Making: How to Create & Customize Your Own Natural Soaps.' This book sells for $10 per copy and focuses on teaching newbies how to make their own vegan soaps. There are three other books that affiliate marketers can also earn commissions for promoting.
Why You Should Promote Healing Harvest Homestead: 50% is a great commission rate, and the information on remedies and herbalism could attract some shoppers.
4. Lehman's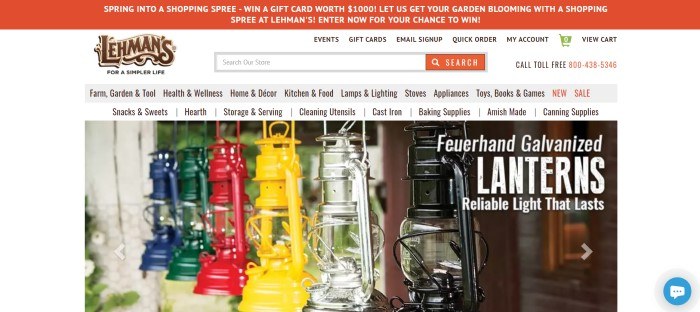 Lehman's is a homesteading supply store that carries everything from farm and garden tools to canning supplies and cast-iron pans. The company has been in business since 1955, with the goal of helping people live simpler, happier lives.
This company partners with Pepperjam for its affiliate program. Affiliate marketers can get support five days a week, as well as opportunities for exclusive offers that they can use to attract shoppers.
This company has a 90-day return policy, as well as a section for people who are looking for gifts and other items that are Amish-made.
Why You Should Promote Lehman's: This store has a wide range of necessities and other items for homesteaders, and it's a well-known name, which could help build trust.
5. Rich Soil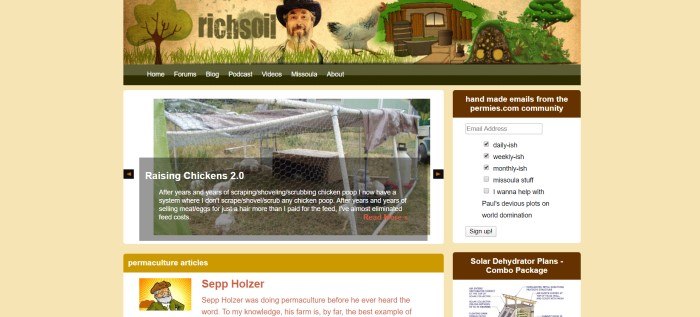 Rich Soil offers a 40% commission to affiliate marketers for the sales of video sets. The primary product is a set of three DVDs called 'World Domination Gardening.' There is also a video course on better wood heating.
The philosophy behind the book and the website is that people can enjoy life more when they work with nature instead of against it. The ideas of permaculture, including basing lifestyles, homes, and gardens on existing natural models, are heavily promoted on this website. This includes homesteading, DIY lifestyles, eco-friendly patterns of living, and living frugally.
Why You Should Promote Rich Soil: The goal of living responsible eco-friendly lives could appeal to many shoppers and could attract those who want to break away from technology-dependent society.
6. Hostile Hare Homesteading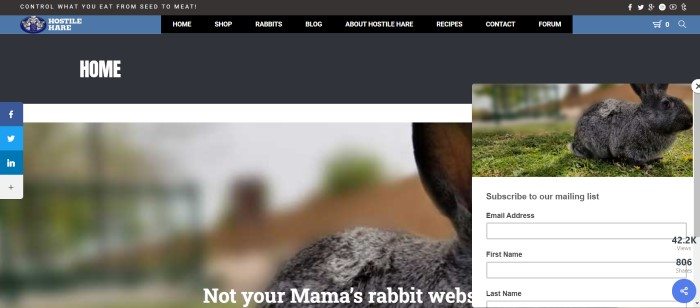 Hostile Hare Homesteading sells urban farming tools and equipment such as cages for quail, chickens, and rabbits. The website has a tab to provide information on growing rabbits, as well as links to a forum, recipes, and a podcast for homesteaders and urban farmers.
Affiliates can promote anything from the website, including podcasts and blog posts. If a customer comes through those links and buys anything, the affiliate marketer earns a commission. This company requires its affiliates to actively promote the website and products, and it will send reminders out if activity levels drop too low.
Why You Should Promote Hostile Hare Homesteading: This website focuses on urban homesteading, which could attract a unique crowd of shoppers. The commission rate isn't listed, though, and some affiliate marketers may find it difficult to promote the products actively and effectively.
7. Mason Jars Maker Place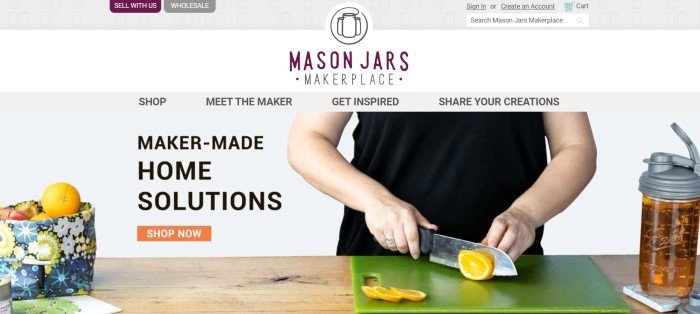 Mason Jars is best known for selling glass jars for canning foods and storing items. However, the company also sells kitchen and pantry items such as trivets, serving trays, and flip-top lids that can turn ordinary mason jars into water bottles.
The website has a significant focus on stories from people who use the jars in unique and creative ways. Customers are encouraged to share their creations online, and homesteaders have their own shopping links in the online store. Homesteading equipment includes supplies for tapping and making maple syrup, harvesting aprons, lunch boxes with mason jar containers, and mason jar kits for starting and growing sprouts.
The affiliate program is administered through ShareASale.
Why You Should Promote Mason Jars Maker Place: The affiliate program includes Makers, who are people with creative uses for Mason Jars, and that could fit well with several niche market strategies. Mason Jars is also a well-known name, and that could help convert some shoppers.
8. Arthur Haines/Ancestral Plants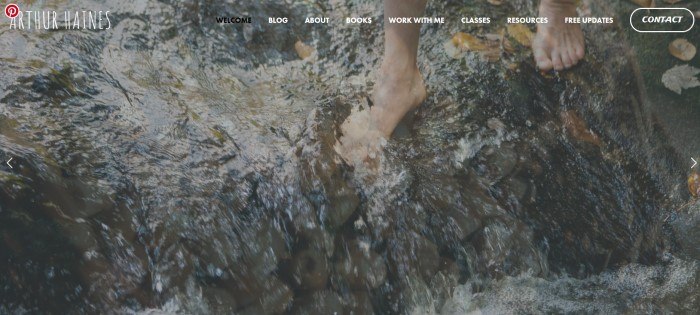 Ancestral Plants promote wild food and medicines, primitive living skills, and a return to a more natural way of life. The website is sponsored by author Arthur Haines and the Delta Institute of Natural History. The website offers gardening and foraging classes, winter fishing trips with Arthur Haines, and wildcrafting medicines.
The affiliate program centers on a book written by Arthur Haines, entitled 'Ancestral Plants, Volume 1.' It details helpful herbs that can be found on the upper east coast of the United States and into Canada. The book includes a foraging calendar to help readers plan successful foraging trips. This book is currently available only as an e-book.
Why You Should Promote Ancestral Plants: The focus on herbal remedies and wildcrafted medicines could appeal to a niche market. The commission rate is decent, too.
9. Grow Where You Sow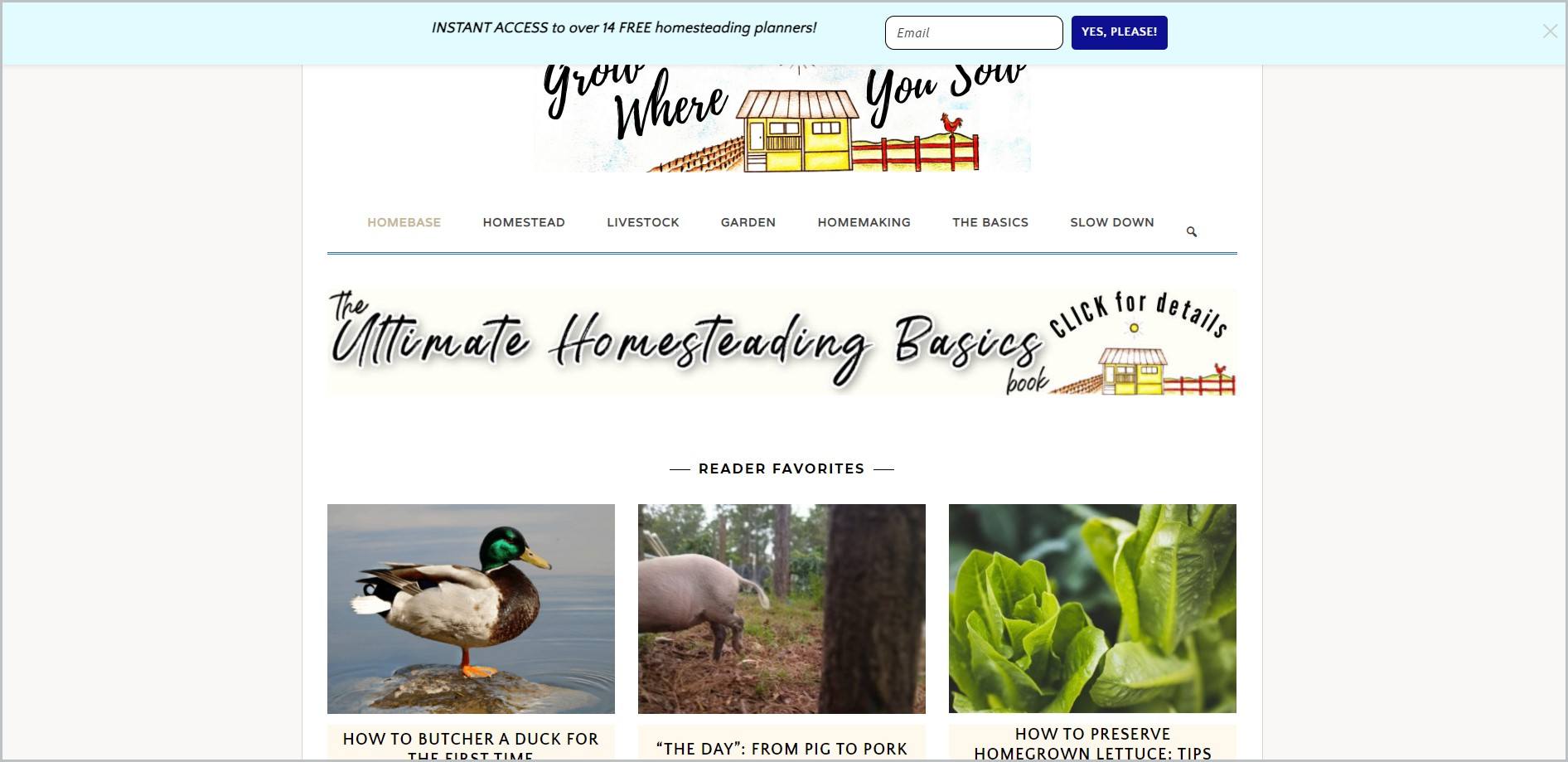 Grow Where You Sow, by Chelsea Wells-Barrett, offers readers information on how to learn how to incorporate homesteading skills in their modern world – from gardening tips to homesteading for beginners. The affiliate program involves promoting 'The Ultimate Homesteading Basics Book' priced at $6.99 where affiliates get a 50% commission.
Grow Where You Sow is all about helping others achieve a fulfilled, successful life while homesteading. Chelsea together with her husband, Emerson, is in their year 4 of their enlightening, and sometimes terrifying journey in homesteading. Theirs is made up of 1.25-acres where they raise rabbits, chickens, ducks, and pigs. They also grow gardens in raised beds and plant fruit trees.
Why Grow Where You Sow: The eBook will be perfect both for beginners and veteran homesteaders. It's a big plus that the ebook is so affordable. It even has a 10-day money-back guarantee.
10. Urban Farm U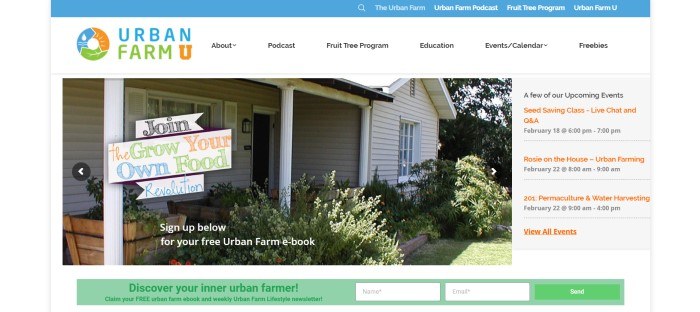 Urban Farm U is dedicated to helping people who live in urban areas begin their own homesteading practices. The company provides hands-on training for growing sustainable, inexpensive, and healthy foods at home using time-tested techniques for a variety of different growing circumstances.
This company provides a series of free webinars, as well as online courses ranging from setting up an urban homestead to aquaponics and raising chickens. Courses with 4-5 hours of instruction cost $97. A seven-module course on the basics of growing food costs $297, and customers get a 30-day money-back guarantee on the courses.
Why You Should Promote Urban Farm U: Courses cover a variety of topics that homesteaders could be interested in, and the prices for large courses are reasonable. However, without knowing the commission rate, it's difficult to get an idea of how much money you could actually make with this company.
Affiliate Website Ideas
Now that you've read through this list of the top 10 homesteading affiliate programs, what are the first steps you'll take to promote them with your niche market websites? There are several ways to do this.
For example, you could create a website that focuses on helping homesteaders find ways to sell their products. Many people that grow their own vegetables end up with a lot more than they can eat or store, and would like to make a profit selling the rest. Farmers' market is a great option, but there are also online solutions too! You could also teach people how to use POS systems like Square, or even how to build a website!
A website could also zero in on the survival side of homesteading, such as foraging or hunting. A foraging website could promote items such as harvesting aprons and hiking boots, while a hunting website could feature rifles, ammunition, archery equipment, and camping gear. Both types of websites could include equipment such as food dehydrators and outdoor kitchen equipment.
One final idea is a website that focuses on small animals, such as rabbits or chickens that are often raised for food on homesteads. A website like this one could include woodworking plans for building cages and coops, animal feeding troughs, how-to books and online courses, harvesting equipment, and even Dutch oven cooking.
Boost Your Affiliate Earnings
These 10 affiliate programs are just the beginning of what's possible. There are hundreds of ways to earn affiliate commissions with your website, including product reviews, top 10 lists, how-to guides, and more
But what about traffic and conversions? How do you make sure your affiliate links get clicked?
I used the affiliate training here to turn my brand new website into a six-figure income generator in less than two years. Build a business, not just a pocket-money side project!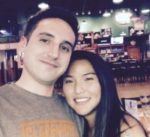 Nathaniell
What's up ladies and dudes! Great to finally meet you, and I hope you enjoyed this post. My name is Nathaniell and I'm the owner of One More Cup of Coffee. I started my first online business in 2010 promoting computer software and now I help newbies start their own businesses. Sign up for my #1 recommended training course and learn how to start your business for FREE!