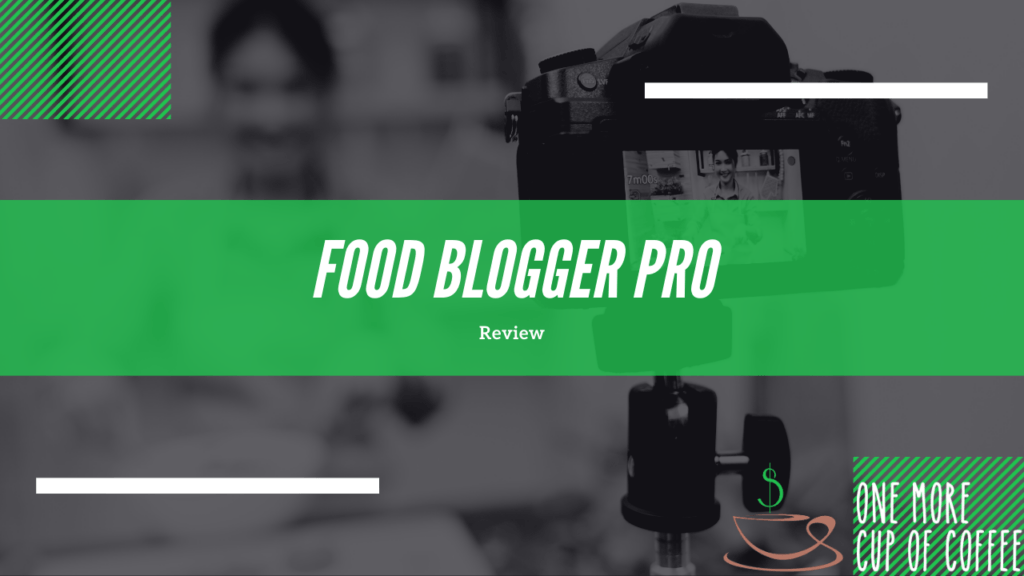 Food Blogger Pro is hands-down, one of the best blogging courses I've ever reviewed. It's a pity they focus on food blogs only, but if you want to be a recipe blogger, there's simply no better place to be. They cover the super basics of how to build a WordPress website, through all the advanced stuff like search engine optimization and social media marketing, and of course do deep dives into the specifics of getting your recipes shared, and then actually making money from your online business.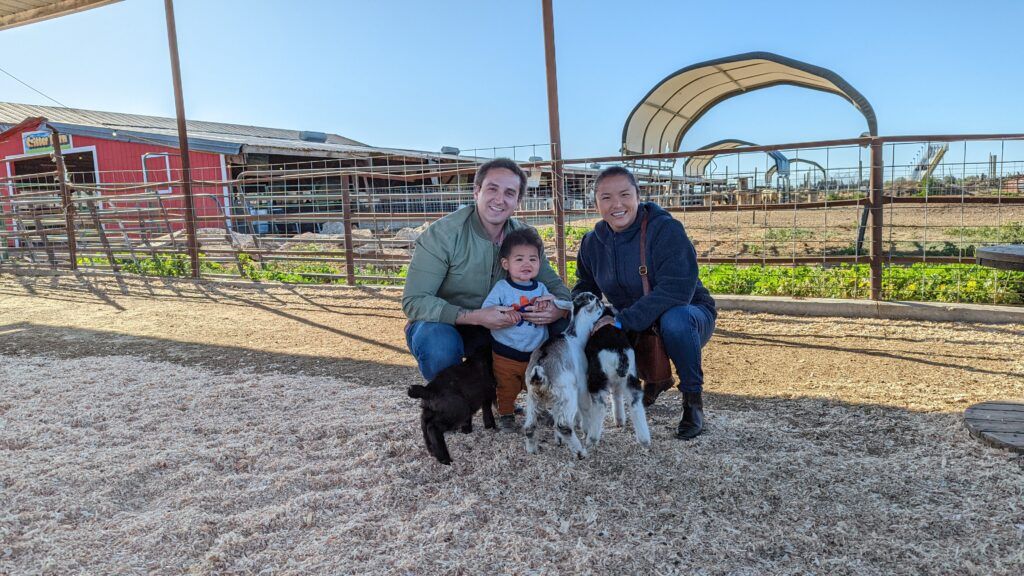 Are You Ready To Work Your Ass Off to Earn Your Lifestyle?
Are you tired of the daily grind? With a laptop and an internet connection I built a small website to generate income, and my life completely changed. Let me show you exactly how I've been doing it for more than 13 years.
For everyone else (not doing a food blog), here's what I recommend. But for recipe bloggers, Food Blogger Pro is actually a better choice since they cover much of the same material, but also have the addition of niche-specific content.
I'll cover exactly what's in the members area in detail below, but in general, Food Blogger Pro has all the main ingredients for an awesome product.
high quality, accurate content
video and written training
engaging owners
new value every month
thriving community
You can join Food Blogger Pro here, or keep reading for a look inside the training and community, plus my own comments the training, including what they cover, what I'd change, and what you can expect while building a food blog.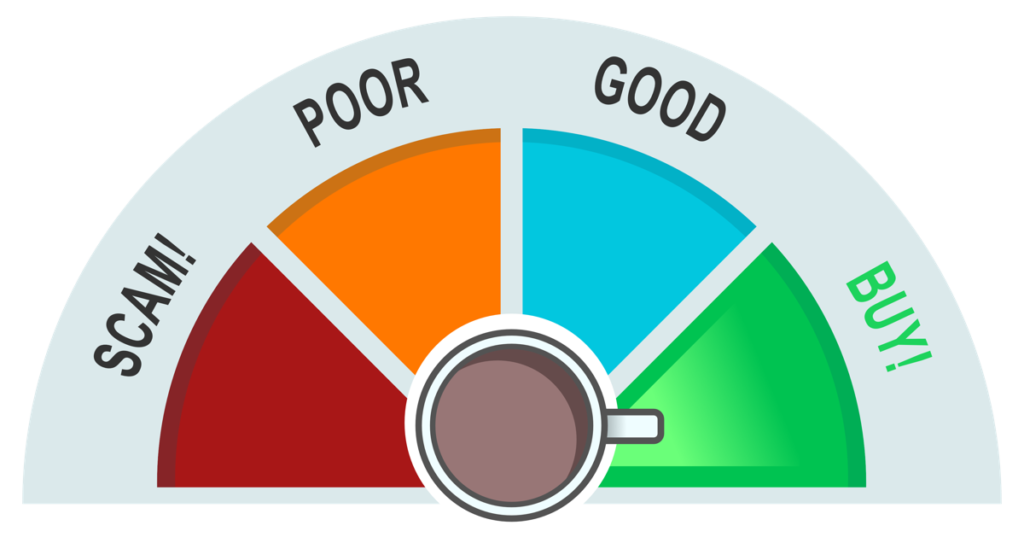 Food Blogger Pro Review
Food Blogger Pro is a massive course. An absolute beast. Since I'm not actively building a recipe website, I didn't go through lesson by lesson to break down everything they cover. That wouldn't be fun for you to read anyway. Plus, from my introduction above, you can already see that I have a very positive review of what they offer.
What I hope to accomplish in my review of Food Blogger Pro is to help you figure out if this is the right course for you.
First, let's take a look at exactly what's covered:
Getting Started

Setting Up Your Food Blog (11 Videos)
WordPress Deep Dive (33 Videos)
Branding Basics For Bloggers (14 Videos)
Setting Up Google Apps (10 Videos)
Time Management (11 Videos)

Building Traffic

Food Sharing Sites (4 Videos)
SEO For Food Blogs (9 Videos)
Quick & Easy Traffic Tips (8 Videos)

Food Photography

Using DSLR (5 Videos)
Natural Lighting For Food Photography (8 Videos)
Artificial Lighting For Food Photography (14 Videos)
Props for Food Photography (19 Videos)
Composition For Food Photograph (12 Videos)
Styling for Food Photography (13 Videos)
Putting It All Together (4 Videos)

Photo Editing

Editing In Lightroom (9 Videos)
Editing In Photoshop (18 Videos)

Food Video

Equipment & Settings (15 Videos)
Pre-Production (11 Videos)
Putting It All Together (10 Videos)
Editing In iMovie (12 Videos)
Editing In Adobe Premiere Pro (13 Videos)
Editing In Final Cut Pro X (14 Videos)

Social Media

Pinterest (15 Videos)
Instagram (9 Videos)
Facebook (4 Videos)
Snapchat (19 Videos)
Social Media Strategy (13 Videos)

Essential Tools

Google Search Console (17 Videos)
Google Analytics (17 Videos)
Google Alerts (8 Videos)
FTP (4 Videos)
URL Shorteners (8 Videos)
Giveaways (17 Videos)
Hotjar (16 Videos)
Mailchimp (16 Videos)
Asana (10 Videos)
ActiveCampaign (46 Videos)
HTML Basics (13 Videos)
CSS Basics (13 Videos)
CoSchedule (21 Videos)
Tailwind (15 Videos)

Essential Plugins

VaultPress (10 Videos)
WPRocket (16 Videos)
Recipe Plugins (10 Videos)
Akismet (8 Videos)
Yoast (13 Videos)

Generating Income

Blog Monetization 101 (19 Videos)
Blogging as a Business (12 Videos)
Understanding Ads (14 Videos)
Google Adsense (6 Videos)
Affiliate Marketing (10 Videos)
Sponsored Content (12 Videos)
Creating Media Kit (4 Videos)

Creating an Ebook

Planning Your eBook (4 Videos)
Designing Your eBook (21 Videos)
Writing Your eBook (4 Videos)
Selling Your eBook (13 Videos)
Gumroad (9 Videos)

Bootcamps

Recipe Video
Sponsored Content
How We Grew Our Instagram Following To 500k
SEO Bootcamp
Pinterest Bootcamp
Video
Growing Your Food Blog
Instagram Playbook

Mini Courses

Social Media
Creating Content
Organization and Productivity
Tools & Tech
Photography
Monetization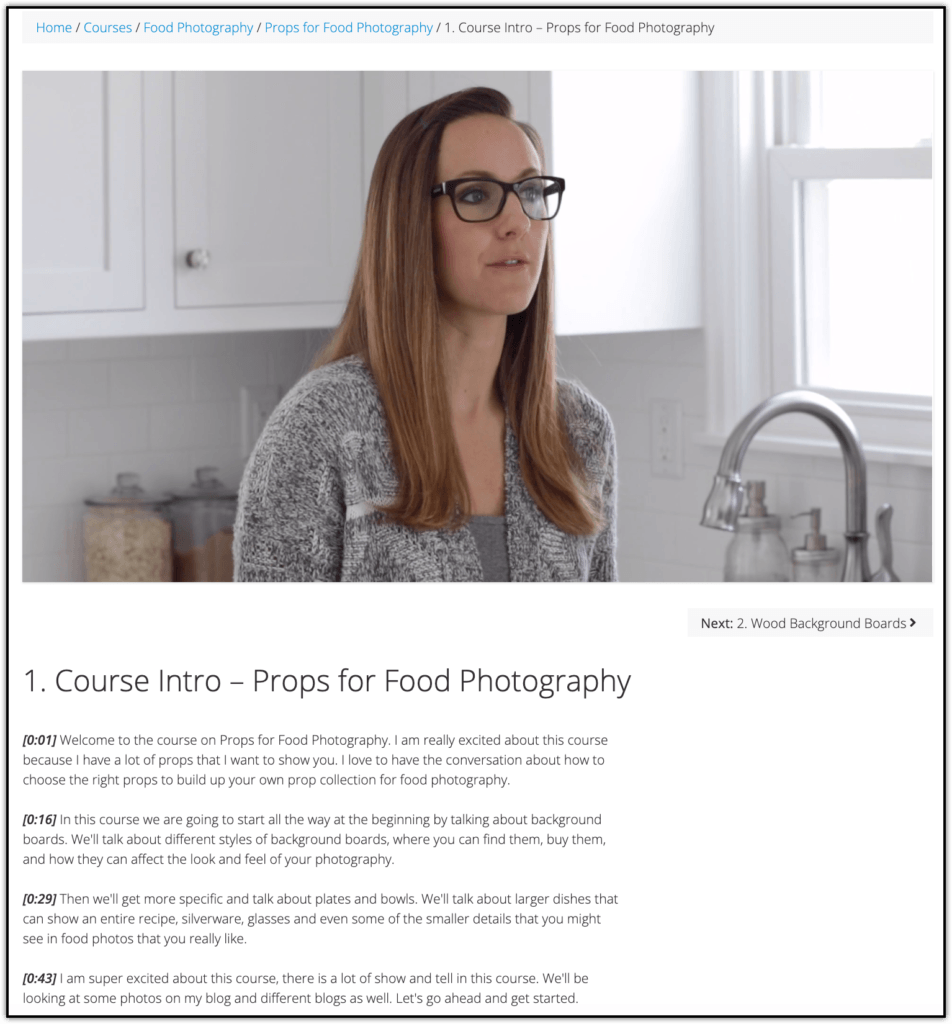 As you can see, this is not some tiny little home-made video course. It's an extensive, in-depth, step-by-step course on how to start a food blog. They cover everything from getting your basic website structure, hosting, and domain set up, to the finer points of photography, like composition and lighting, to promotional strategies and monetization options like sponsored posts, Adsense, and affiliate programs.
It's going to take a LONG time to get through this material, especially if you're a beginner at everything. For example, I know a lot about SEO and blogging, but once I started going through the photography videos, I was out of my element. It's a whole separate skill!
This is a good thing though.
Building an authority website in the world of recipe blogs is not easy. There's a lot of competition. But it's also fun, and freakin' unbelievably lucrative, so it's worth doing it right the first time.
Inside The Members Area
The members area is easy to navigate. The main attraction is, of course the training modules. The exact modules I've listed above, but here's what it'll look like. Everything is nicely organized, high quality, and up to date.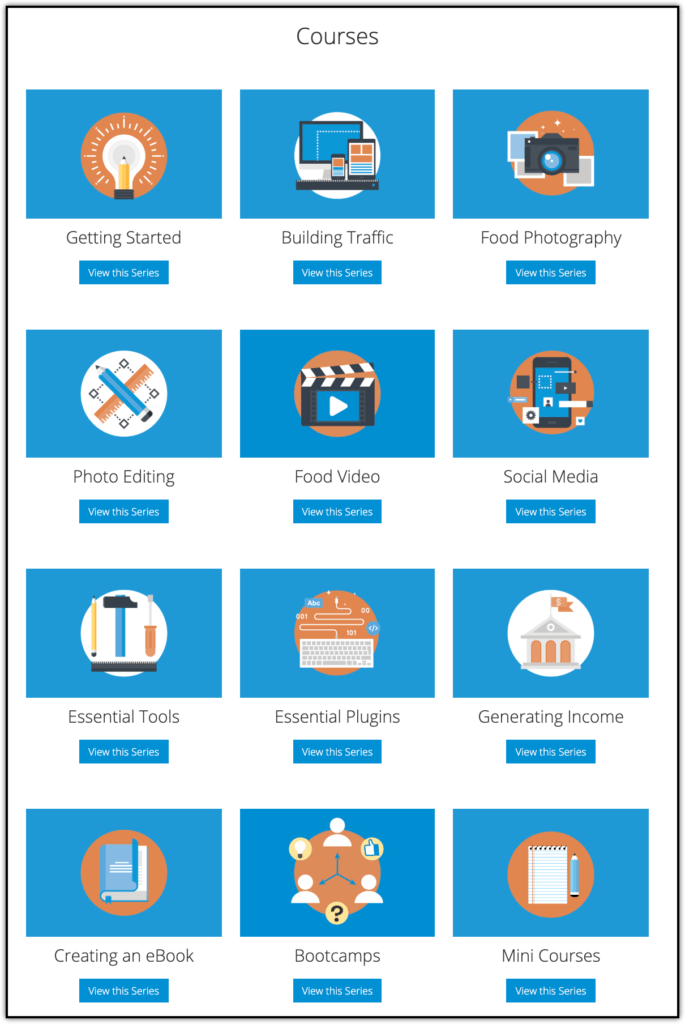 However, there's a lot more going on than just the core training! You also have access to two exclusive live webinars per month. One webinar is a general update, and is about 15 minutes long. The other is an hour-long live Q&A session. Live Q&As are great because you get to hear questions from other members, and maybe even get your own questions personally answered by the professionals.
Of course, they won't be able to personally coach you through all of your questions, but it's still nice to have that engagement, and if one specific thing is holding you back, you'll be able to knock that out and move forward.
What's Happening Now (15 min)
Live Q&A (1 hour +)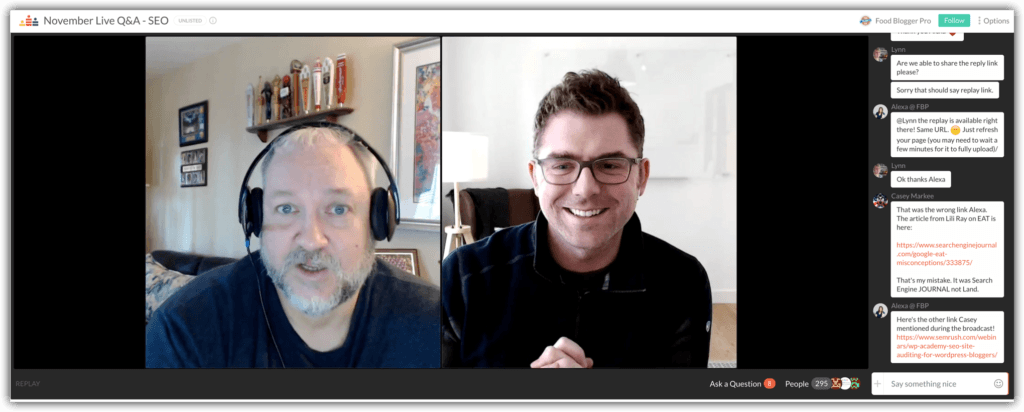 There's also a "Tools" area. You probably won't use this area too much in the beginning, with the exception of the course tracker. Not much to say here except that being able to check off boxes is probably motivating for most people. When you're six months into trying to figure out this whole food blog thing and feel frustrated, you'll be able to look back at all you've accomplished in the meantime, and have a clear plan laid out for your next steps.
Course Tracker
SEO Checklist
Social Media Checklist
Brand Email Template

I'll dig into the Community tab in more detail below, but this is one of my favorite spots in the members area. Having a support network was extremely valuable for my own success online, and the Food Blogger Pro community is active and positive.
There's also a Deals, Blog, and Podcast tab, but that content is available for free regardless. The FBP blog is actually worth checking out, since they do a "monthly trend" post each month, so you can get an idea of what type of content to create and share for the most impact.
My Comments About Food Blogger Pro Training
As I mentioned at the top, I didn't go through every single course in detail. I'm not building a recipe blog. However, there was a couple things I wanted to investigate for myself. Even as a so-called "expert", I'm still learning! If I'm not hitting a million a month in revenue, then there's still room to grow, right?
SEO For Food Photographers
SEO is important for ranking. SEO sounds complicated… and it can be… but for the most part, the basics are simple. The key (IMO) is to focus on optimizing your topic. Don't change it completely to satisfy some crazy search engine rules. Just focus on making sure you stay on topic.
If your recipe is keto friendly milkshakes for bodybuilders, don't go off on a tangent about keto friendly cooking oils or how to build muscle. Just talk about the recipe, and how milkshakes relate to bodybuilding. For example, you can mention that there's a 30 minute window where you want to consume your protein, so if you can't get home from the gym within 30 minutes, how can you keep the shake tasting good sitting in your gym bag for an hour?
Or since keto is pretty much sugar free, what are your sugar substitute options in case you can't get a hold of Swerve, or you don't like the taste of Monkfruit.
Anyway, Food Blogger Pro does a good job of explaining SEO (finally!). Lots of other SEO courses out there go out of their way to make SEO sound complicated, and the things they teach you don't work all the time. They come up with crazy linking strategies, or stupid rules about what text to place where. Dumb. Food Blogger Pro hits the main things that are easy to do:
fast site
mobile friendly
quality content
properly named photos & media
schema
keyword optimization
They also cover plenty of options for keyword research, including Google Autocomplete, SEMrush, Keywords Everwhere, and Answer The Public.
Props for Food Photography
I'm starting to do a little of my own photography for my websites, so I wanted to see what the food photography content was all about. Namely, I'm taking photos of beer, and want to make them look better. They talk a lot about backgrounds, color matching, and lighting. Super interesting stuff.
I just skimmed the content because I'll have to go back and actually learn the stuff. I was out of my element here!
It was super interesting to see how food photos are put together though. All those pictures you see on Pinterest and Instagram look pretty simple to put together with some basic natural lighting and simple backgrounds.
Of course, the true sign of an expert is making something complicated seem simple, so we'll see what happens when I actually try to implement their advice.
good to see examples of colors and materials on a live website. Behind the scenes and final shot
General Comments
Overall, I really like the training, and can tell a lot of thought went into creating this platform. The content is very video-focused, but everything is transcribed and timestamped. One thing that's annoying about video-only courses is that skimming for information is hard.
The videos were expertly done as well. You get multiple angles, even if the speaker is standing in one place, so you wont' get bored just watching someone drone on about apertures.
The WordPress setup videos are done in an "over the shoulder" style, so you can watch the person doing the thing you're trying to learn.
Just be warned! It might be a little overwhelming to see all the modules you have to get through. You're going to master blogging, WordPress, SEO, photography, photo editing, AND cooking original recipes? Yes. That's the idea. Step by step though. Don't get discouraged!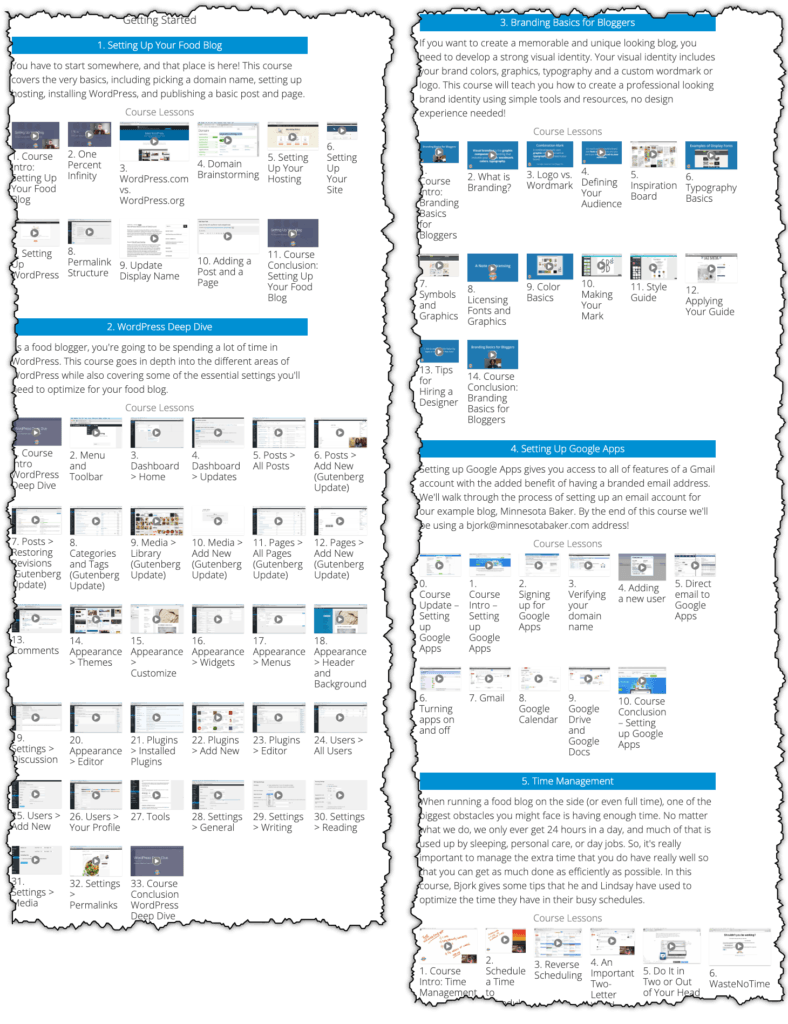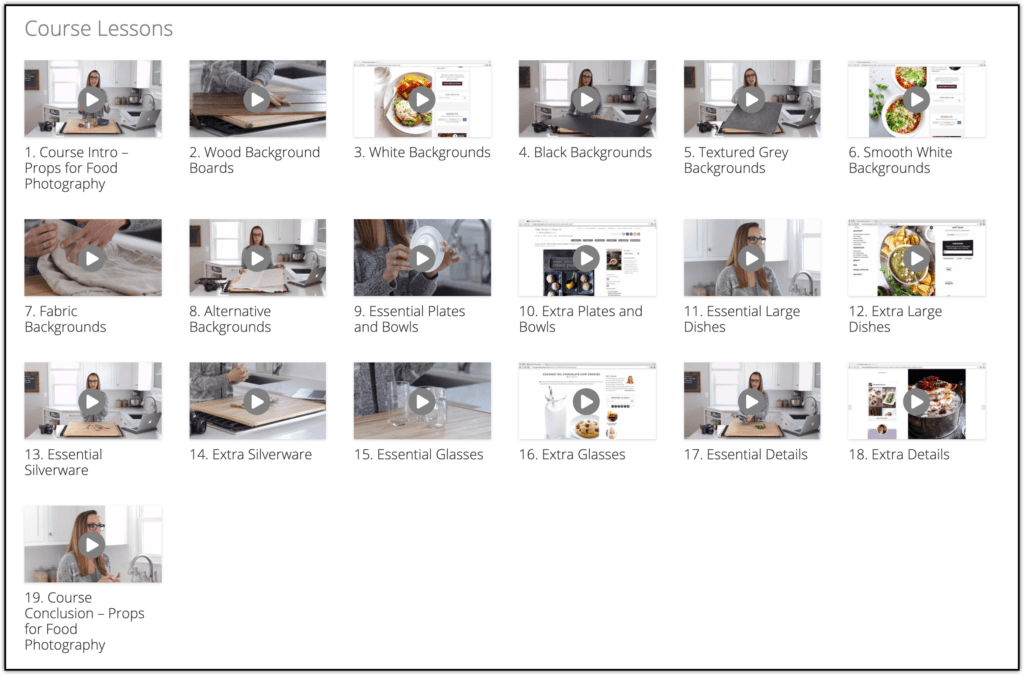 What About Support & Help?
When I started my first websites in 2010, it was a monthly event for me to question whether or not what I was doing was worth the time. It's likely that for most people, that doubt and frustration will be a part of your journey as well.
That's why having a community of likeminded people to chat with is super important.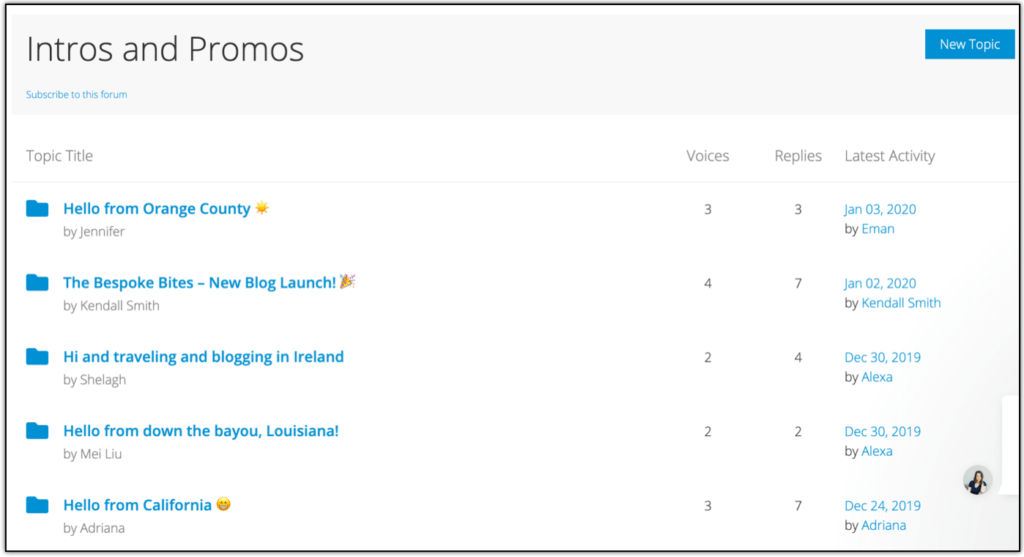 Not only are they there to answer your questions like, "why is Search Console verification not working", or "how do I get accepted to group boards on Pinterest", but more importantly (in my opinion), they are there to motivate and encourage you. Basically, they remind you that you're not crazy.
The fact is, most people in your life probably won't be very supportive of your online venture. Starting a food blog? No way that's going to make any money!
Little do they know, people are earning six figures posting recipes on Pinterest, but still, their negativity and doubt will creep in and make you wonder if you can actually do this. Thankfully, there's hundreds of people in the Food Blogger Pro forums who are also spending time, money, and mental energy doing the same thing you're doing.
You can see how far other members have come. You can see success stories, trade ideas, and share each other's recipes.
How incredibly motivating is it to see someone post a topic a few times a week for a year, then suddenly say they've had their first $100 day from Adsense?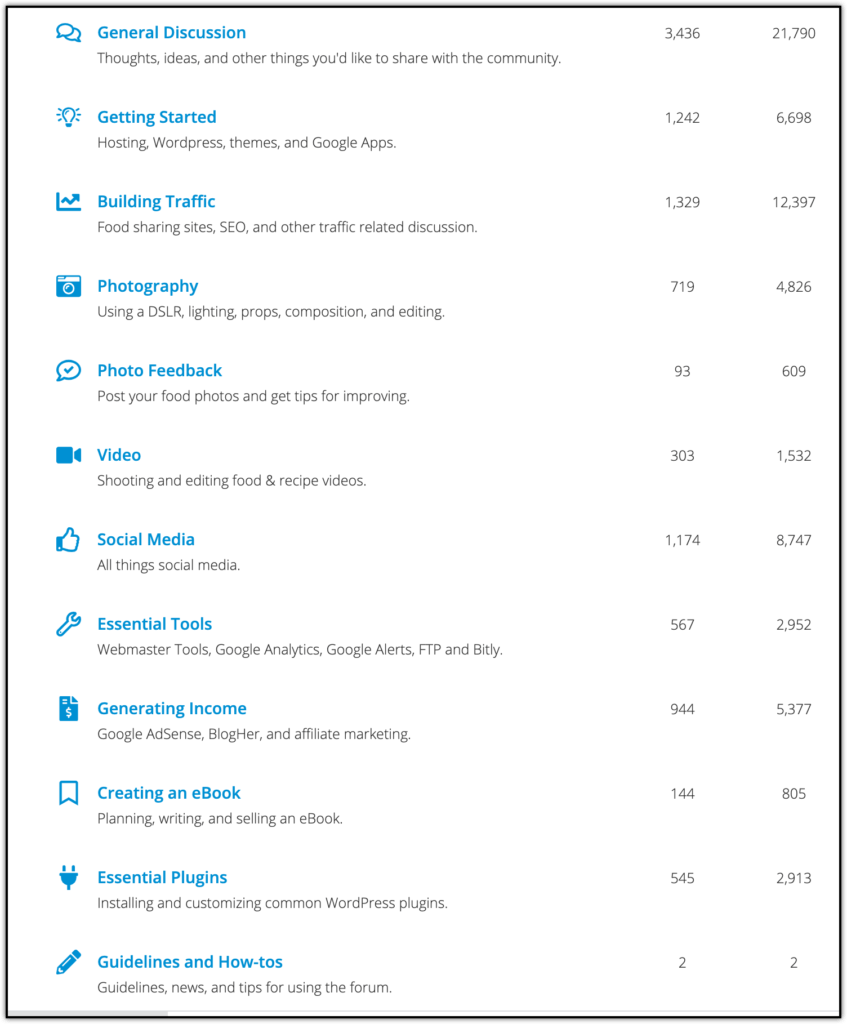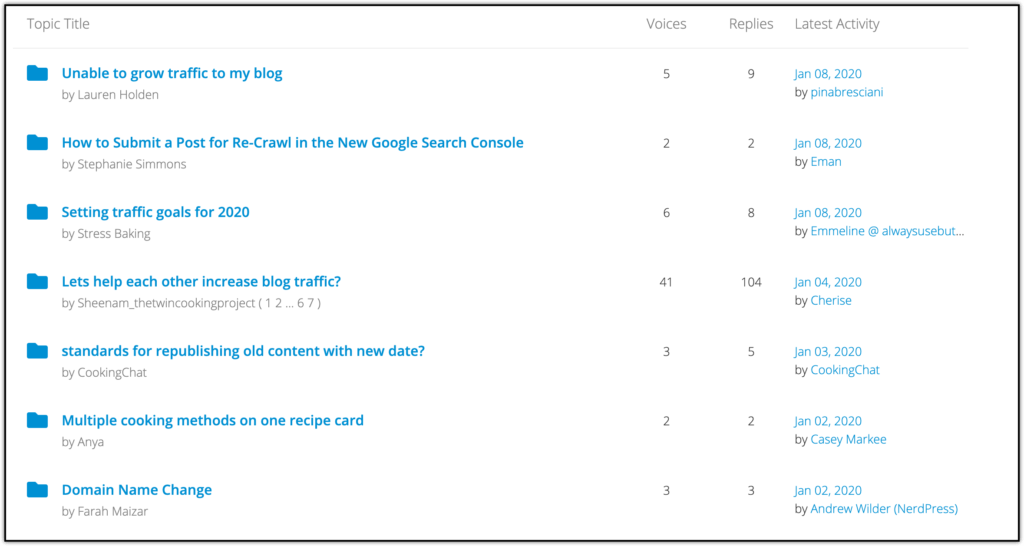 As you can see from the screenshots above, not only are there plenty of threads going on, there are also replies to every thread. That means people are engaging. Engagement on topics varies, but there was nothing left unanswered.
I was pleasantly surprised that they also have EXPERTS available in the forum. It's not just a free-for with spam and useless comments. There are real experts available for photography, SEO, and social media to answer your questions if someone else in the forum doesn't get there first!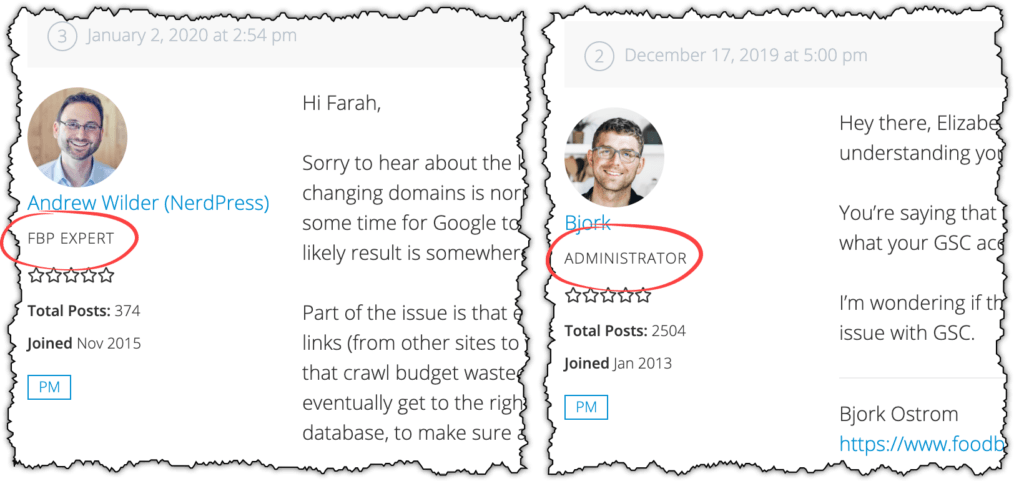 In general, from what I saw browsing around, people are very helpful and positive, and I think the FBP community will be extremely helpful in building out your food blog.
Are There Any Negatives?
Food Blogger Pro is pretty much, almost a perfect product. They claim to do something, then they do it, and it's a reasonable price for most people. I mean, if your goal is to earn a full time income from a food blog, then $35/month is nothing. Most people spend more than that on a Starbucks habit. That's one dinner out you can give up per month. Give up alcohol and you can easily siphon that money into your business training.
But is there anything negative to say about FBP? No, not really. But there are two areas where I think they could improve.
First, I think they could spend more time on keyword research. A food blog isn't always just about posting recipes and getting them shared on Pinterest. A site like The Kitchn gets a TON of traffic from informational posts, product reviews, and other types of traffic. For example, you can post your brown rice gluten free pasta with dairy free alfredo sauce recipe, but what about how to make homemade brown rice pasta? What about top 10 gluten free pasta alternatives, or dairy free Italian pasta sauces, or how to cook gluten free pasta al dente?
Those are all possible ways to drive traffic to your recipes without relying on your recipe ranking in Google, and without relying on your recipe getting shared on Pinterest.
Plus, affiliate revenue from product reviews can really skyrocket your earnings.
Another thing I noticed was missing, was information about recipe development. The course kind of assumes that you have some good recipes to make and you want to share them. But what if you just like cooking, have a couple of home recipes, and want to know how to start testing and creating your own recipes? What if you just love food blogs, but can't cook? I'm not sure what you should do in that case other than to start practicing on your own.
Of course, that's not a bad idea. You can learn a lot from YouTube for free, and with 365 days in a year, if you practice cooking every day for two years, you're going to be an expert. 100%.
Pros & Cons
Pros
rock-solid, accurate information
niche specific to food blogs
high quality videos
written content paired with video
live monthly updates
live Q&A with members
includes technical and artistic direction (SEO + photography)
engaging, thriving, supportive community
very reasonably priced for the value you get from the community
Cons
recurring monthly fee ($35)
no personal coaching available
could have more information about keyword research
no resources on recipe development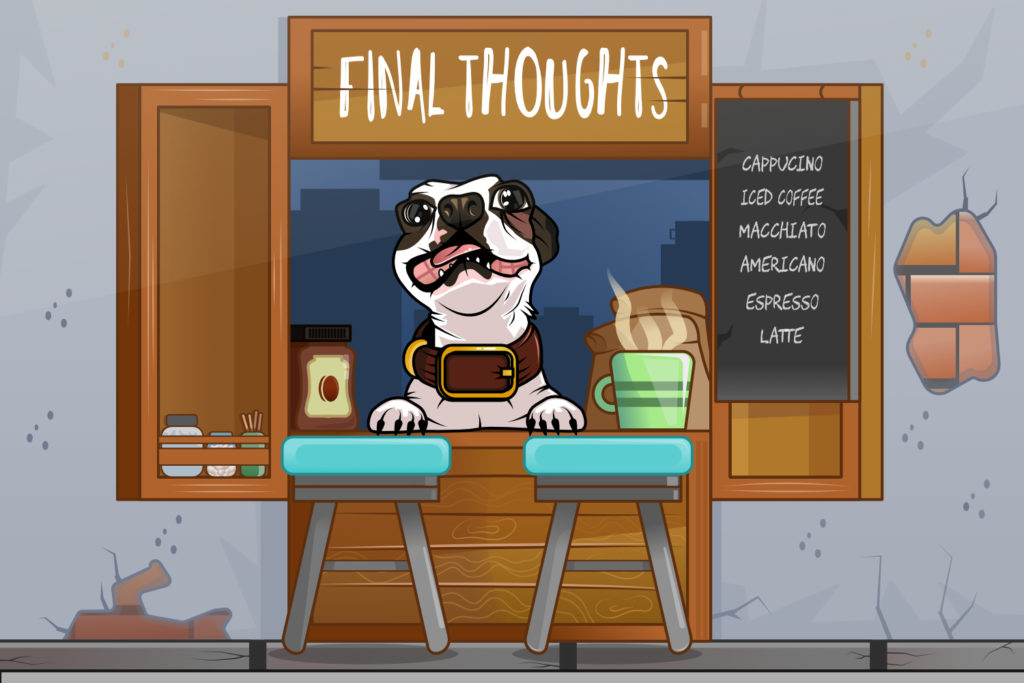 Should You Buy Food Blogger Pro?
Food Blogger Pro exceeded my expectations, and in my opinion, is worth way more than they're charging right now. For a year of membership you pay just over $300, and you can make A LOT of progress in 12 months time. I have no doubt that with enough effort, this course can pay for itself within that time frame if you put in the hours.
But should you buy this course?
If you want to start a food blog, specifically, a blog where you post original recipes, then yes, this is the only course I recommend. It knocks it out of the park from all aspects. Quality. Volume. Engagement. Value. All The Things.
If you want to do something more like a nutrition blog, advice blog, or something else related to food, then this is my recommended training. That's a more general look at building profitable websites, but they have and equally good platform, including expert training, and an even more engaging community. You can follow that course with essentially any niche you choose, food or otherwise.
However, if you want to make money as a food blogger, then there's no better place to join than Food Blogger Pro.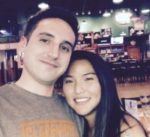 Nathaniell
What's up ladies and dudes! Great to finally meet you, and I hope you enjoyed this post. My name is Nathaniell and I'm the owner of One More Cup of Coffee. I started my first online business in 2010 promoting computer software and now I help newbies start their own businesses. Sign up for my #1 recommended training course and learn how to start your business for FREE!