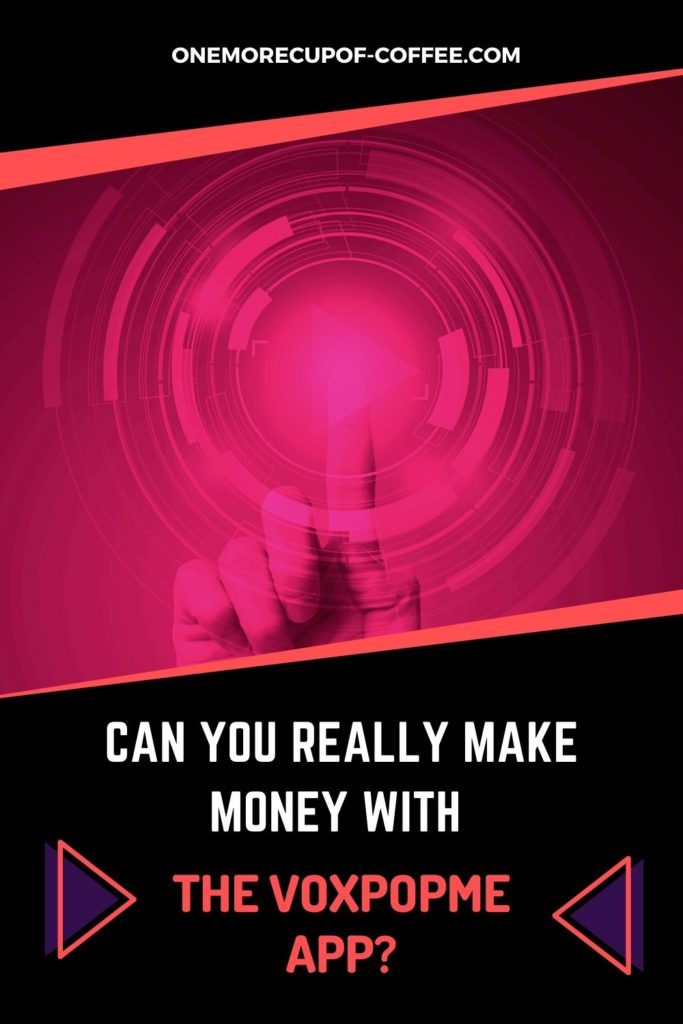 This is an app that promises to pay you for giving your opinions about brands through paid video surveys… but can you really make money with the Voxpopme app?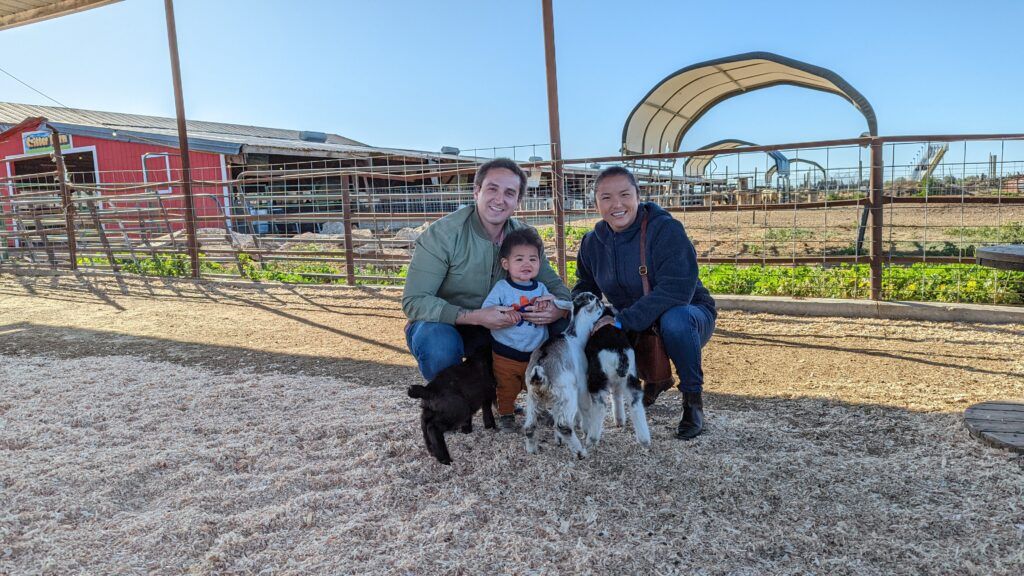 Are You Ready To Work Your Ass Off to Earn Your Lifestyle?
Are you tired of the daily grind? With a laptop and an internet connection I built a small website to generate income, and my life completely changed. Let me show you exactly how I've been doing it for more than 13 years.
The name is quite a mouthful—but will the app leave you with your pockets full?
This was obviously my first question. As you probably know, I love to look for apps that can help me to earn extra cash, and I will admit—I had my doubts about this one right from the beginning. Skimming the Google Play reviews didn't do much to quell my fears, but I never judge a book by its cover.
So I downloaded it and decided to try it for myself. Was Voxpopme going to score me some extra cash, or was it going to leave me sorely disappointed?
Making Money With The Voxpopme App
Here is what I found out as I downloaded and tried the app for myself.
Voxpopme: The Basics
So basically, this app is supposed to do exactly what the tagline says that it's supposed to do.
"Make money for giving your opinion to brands through paid video surveys."
Ok. This seemed simple enough.
I've inherently always had a bit of a problem with these types of apps—the ones that require you to watch videos and such to earn points—but I am also open minded, and was willing to give this one more than a fair shot.
Actually, I wasn't sure if I should expect more of a survey app or a video-viewing app, so this was a question that I had on my mind as I started to take a look around.
(Note: I realized later that you do not watch videos to earn money on this app… but I will get to that soon!)
But first, let's check out the basic Google Play information.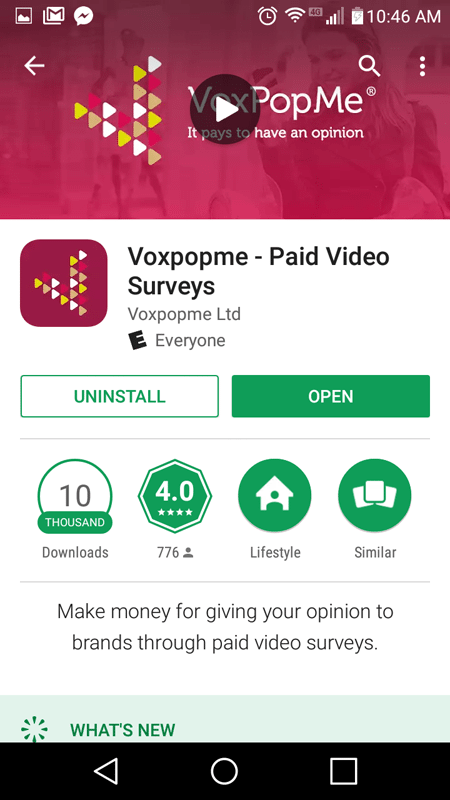 The app has over 10,000 downloads, and a rating of 4.0. This is pretty good really, to be honest. I've reviewed a lot of good apps with a rating of 4 stars or higher—but I've also reviewed some with even higher ratings that I wasn't a huge fan of, so you never know exactly what to think with apps like this based on the stars alone.
Opening up the app brought me to this screen first.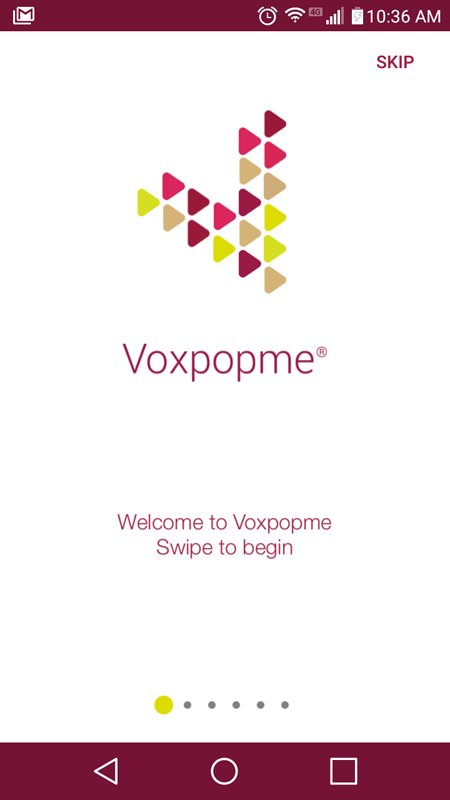 After moving past this screen, we reached the log in/sign up screen. I signed in with Facebook, which was pretty quick and painless. This led me to a screen where I needed to input the rest of my profile information.
Using my Facebook account auto-filled most of it, but I did need to fill out a few little bits of information.
Still, this only took a minute or two.
Next, I went through another introductory screen and arrived at what seemed to be the main hub of the app.
Voxpopme: A Look At The Inside Of The App
This is what I found when I actually got inside of the app.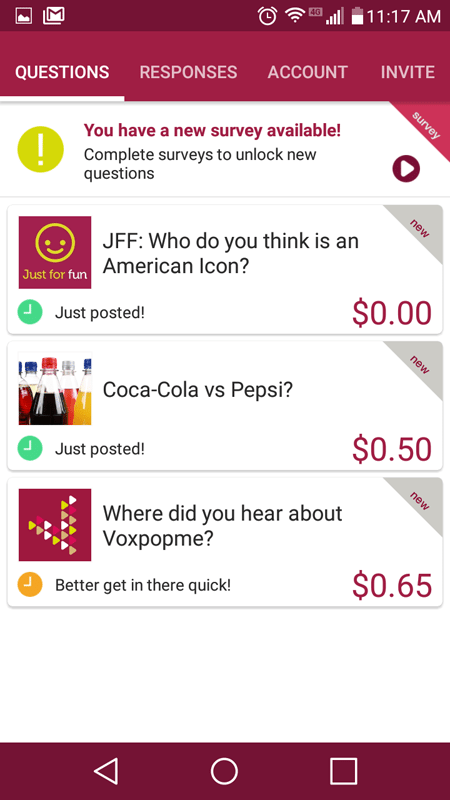 I was in the Questions tab, apparently—and had a few different surveys that I could take part in. I also noticed that these surveys were labeled with exactly how much they were worth in actual money—not points or some other sort of gimmick like that, which impressed me.
We all know what points are—they just make us feel like we are earning more than we really are, and they are sort of a pain.
Most apps use them, but I am always thankful when I come across one that doesn't!
There were other tabs as well that were accessible for me to view. These included options like Responses, Account, Invite, and Settings.
But the first thing I wanted to try was a survey… so I clicked on one and got started.
Here's how it went.
Taking A Survey On Voxpopme
When I clicked on the survey, this is the screen that I came to.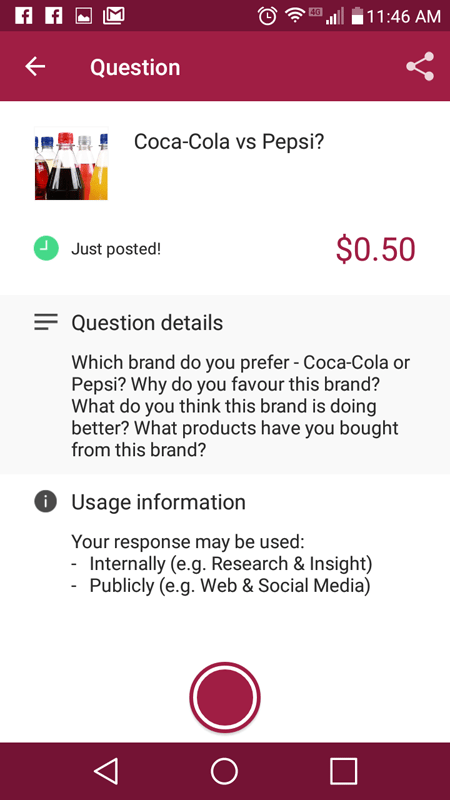 At first, I was confused. I wasn't sure where to go to actually start the survey. But then, I realized it… this was a video survey, and I had to record a video response to the question.
This blew my mind a little bit. I have never taken a survey like this before, so this definitely felt like new and interesting territory for me.
I clicked on the video circle button at the bottom. Here is what the camera looked like…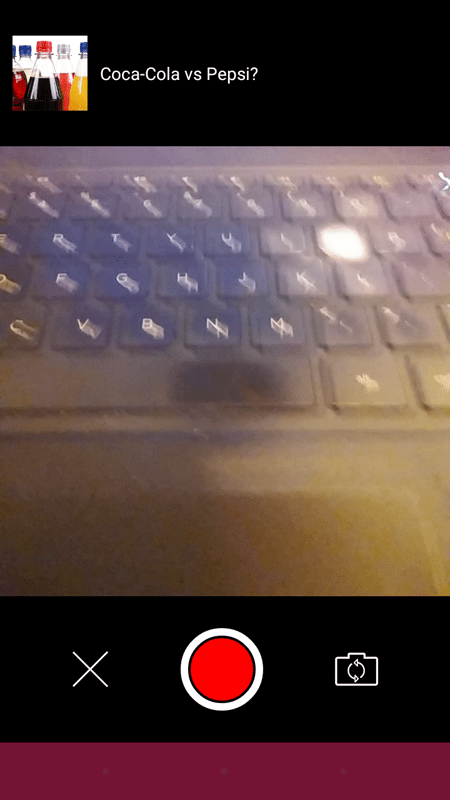 Obviously, you can use your forward or front-facing camera to record. I chose to use the front camera, and attempted to record it by holding down the red button at the bottom of the screen.
I recorded the video, which needed to be 1 minute long. You can watch it to make sure it looks ok, which I did… and then I clicked 'upload' to upload it to the site.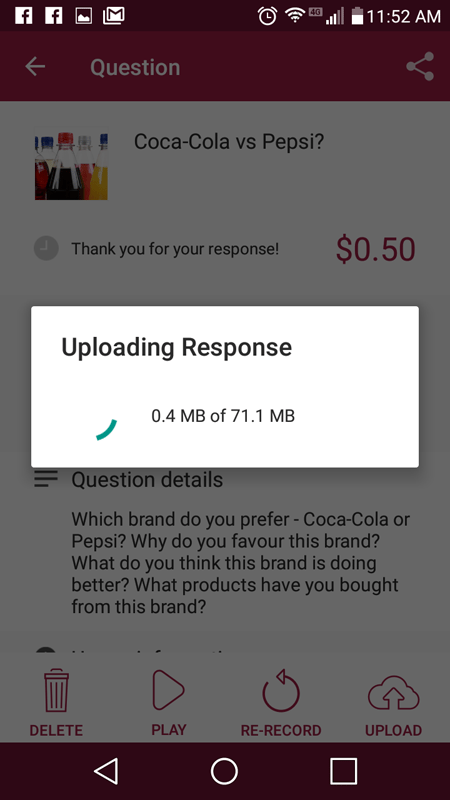 The upload actually took quite a while, and it was a little buggy. I even had to restart it once. I'm not sure if you have ever tried to upload a 1 minute video to Youtube on your phone or not, but this took about the same amount of time–if not a little slower.
All in all, I had to wait about 5-10 minutes or so for the entire thing to finish.
Once it was uploaded, I came to this screen.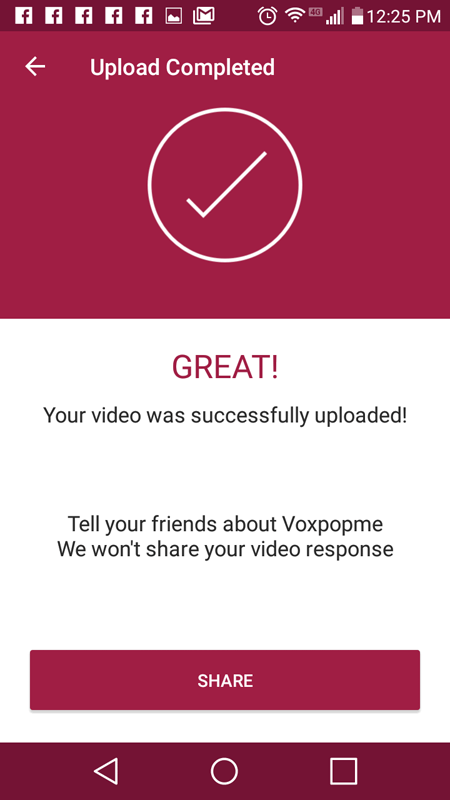 After uploading, I checked my balance… just to see if I had been paid yet for the survey answer. I didn't have any money in my account, but I figured that it could take a little while to get it reviewed.
I checked the responses tab though, and found that my video was awaiting review… so that made me feel more at ease about it.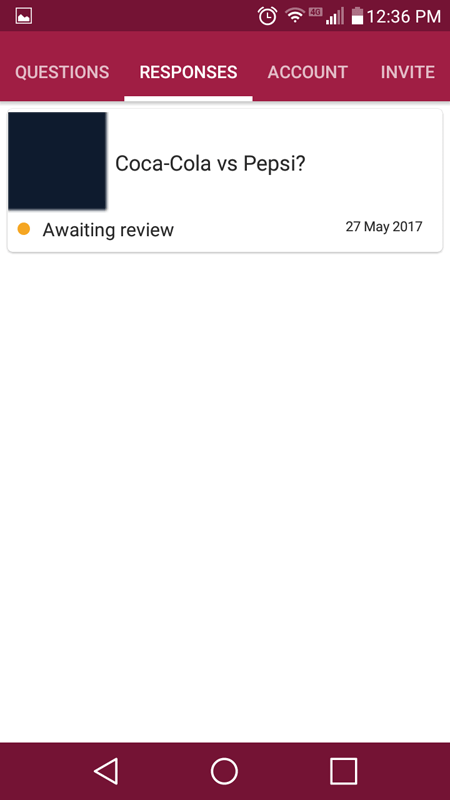 Next, I wanted to see what it would take to withdraw my money when I did get some, so that's what I began to look into after finishing my first survey.
Withdrawing Money From Voxpopme
I figured out that the email you provide is basically the email that the app is going to use to send your money to PayPal when you cash out—so MAKE SURE that the email you provide in the beginning is your PayPal email, otherwise you are going to have some back-tracking to do.
PayPal seems to be the only option for withdrawing funds, but that is not a bad thing. Nor is it unexpected.
Next, I wanted to take a look at the Google Play reviews. I had skimmed over them before… but I wanted to double check a few things.
So that's the next thing I did.
Checking Out The Google Play Reviews For Voxpopme
Ok, from checking out the Google Play Reviews, this is what I learned.
A lot of people actually like the app
One problem with it seems to be that there are not that many surveys available
You have to hurry up and complete the surveys when they are available, because they will disappear once enough people have given their opinion (this is how it seems to work, anyway)
Some Android devices just do not work with the app, which is unfortunate
Customer service on this app does not seem to be the best. The responses in the Google Play reviews were not super helpful
Still, good and bad points put together, I would give this app a pretty solid rating thus far. It seems to take people one to three months to cash out with $10 or so, depending on how hard they work, and that amount seems about right to me based on my experience with it.
The one survey that I completed took one minute to film, and about 5 minutes to upload… but it all worked fine for me, and I will have made $0.50 by doing it if it gets accepted (which it should, because I followed the guidelines provided on the app).
Is Voxpopme Worth The Time?
I actually liked this survey app. The fact that the surveys are video responses is pretty cool and different. I like to give my opinion about things… and obviously, I love to earn extra cash, and this app really allows me to do both without much of a problem.
I give it two thumbs up. The app, while perhaps a little bit glitchy when it comes to uploading videos, is still pretty functional as far as I can tell. I didn't really have any issues with it.
You can earn pretty decent cash with it, and it doesn't take much time at all. You can't get rich off of it, because there are only a certain number of surveys to take.
Also, you need to be quick about the surveys, because they disappear pretty fast… so this app might not be for you if you need plenty of time to actually get to the surveys.
But, all in all, I liked it. I think it deserves its rating, and feel that you could easily earn a few extra dollars per month with it, especially if you just add it to the list of cash-making apps that you already use.
You could also check out the site Mindswarms, which has a similar focus to Voxpopme.
Our Final Thoughts About The Voxpopme App
Should you download it and use it on your phone?
The Voxpopme App Review
Honestly, there are tons of various apps that claim to help you "make money", but really there are two facts to consider. 1) Most of them don't actually work. 2) If you can make money, it's not going be very much. If I'm going to spend any amount of time working online, I want to be working for myself by building my own profitable website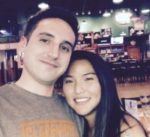 Nathaniell
What's up ladies and dudes! Great to finally meet you, and I hope you enjoyed this post. My name is Nathaniell and I'm the owner of One More Cup of Coffee. I started my first online business in 2010 promoting computer software and now I help newbies start their own businesses. Sign up for my #1 recommended training course and learn how to start your business for FREE!