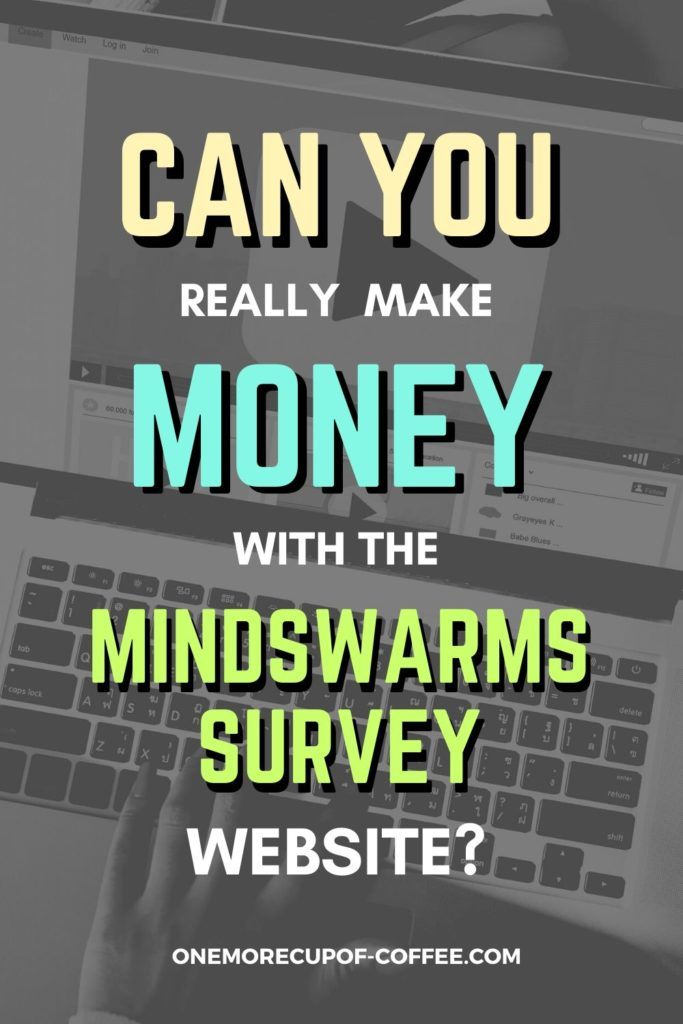 This survey website operates a bit differently than others we have reviewed in the past. But can you really make money with the Mindswarms Survey Website?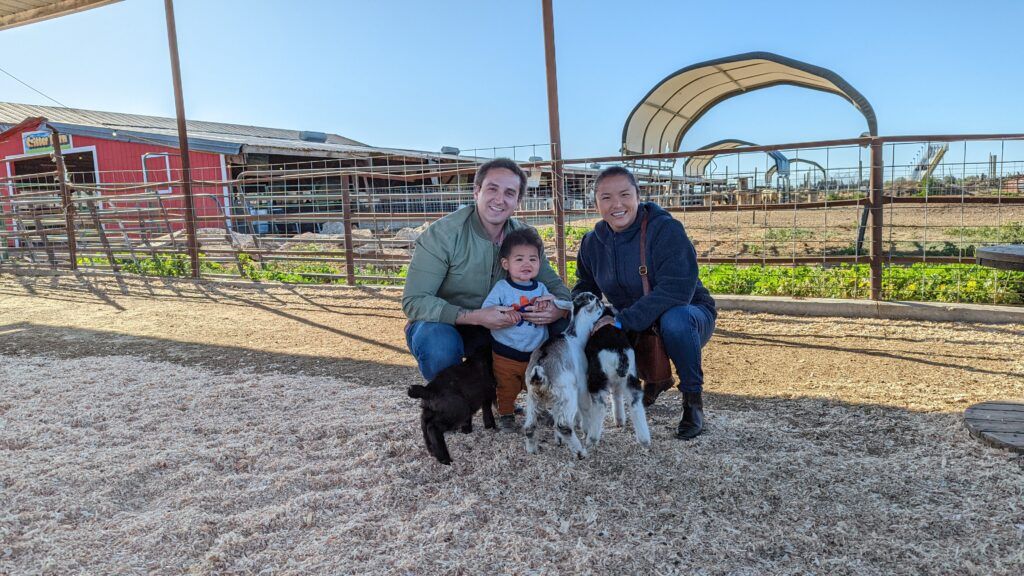 Are You Ready To Work Your Ass Off to Earn Your Lifestyle?
Are you tired of the daily grind? With a laptop and an internet connection I built a small website to generate income, and my life completely changed. Let me show you exactly how I've been doing it for more than 13 years.
I am always on the lookout for a good side-hustle. And lately, I have been looking into online survey sites as a means to achieve it. There is a lot of content online about how survey sites can earn you extra cash… and while there is some truth to this myth, it is actually more difficult to find than you might think.
The problem isn't with finding sites that pay. It is with finding sites that pay enough. If you don't care how much money you make for your time, then it is actually easy to make a few dollars here and there with survey sites. But the keys to a lasting side hustle are consistency, flexibility, and profitability.
In other words, you need to be able to forecast what you could make with it, with at least some sort of accuracy… and be able to do what you need to do within a reasonable timeframe.
And that is what led me to Mindswarms.com.
Mindswarms is a little bit different in the sense that they do not pay you for regular surveys. They actually pay you for video surveys.
So I decided to take a closer look at it, just to see what I could find out. Here is what you need to know.
Making Money With The Mindswarms Website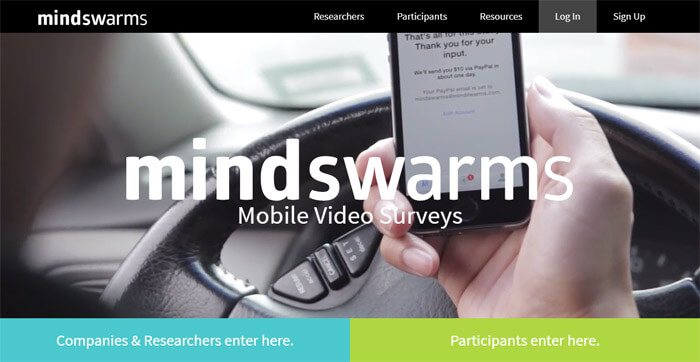 My first step was to look at Mindswarms itself and how the site works.
Getting A Closer Look: What Is Mindswarms?
On the home page of the website, I found it interesting that there were links for both researchers and participants. The researchers section is basically for businesses or companies who need reviews done… and the participants section is basically for people who want to get paid to conduct reviews.
I was more interested in the participants section than I was the other… so that is all I will cover in this review.
In the 'How It Works' section, I found some pretty good information about how to get started. Basically, this is the order of the process…
First, you create an account. This can either be done with a laptop/computer, or it can be done via the site's mobile app. They offer one for iOS or Android, so that's pretty cool.
You also have to record a video or two for you profile. This is an important part of the process, apparently, because this shows them that you have the capability to produce a quality video.
The video does not have to be 'professional,' though. A webcam or the camera on your phone should suffice quite nicely.
Next, you need to apply for surveys, which is done once you have access to your dashboard. You need to answer a few basic questions about yourself during the application process, but this will help the company to place you with surveys that may work well for you.
So once you are on the dashboard, you will only see studies that you actually qualify for.
Once you are approved for a survey, you will be asked to answer up to 7 questions about whatever the survey is about, and make a video of your response. These video responses are said to take less than 10 minutes to film, so you don't have to put a ton of work into them.
How Much Do You Get Paid For A Mindswarms Survey?
One of the most awesome things about this site is the payment. Most surveys from other survey websites pay out less than $2 per survey. There are a few really good sites that pay out even more than this… but as a general rule, these are the prices you will tend to see among survey sites.
But Mindswarms blows all of this out of the water by offering $50 per survey!
Now, with this being said, I found myself wondering what the catch was. So I visited the FAQ section of the website… and found this.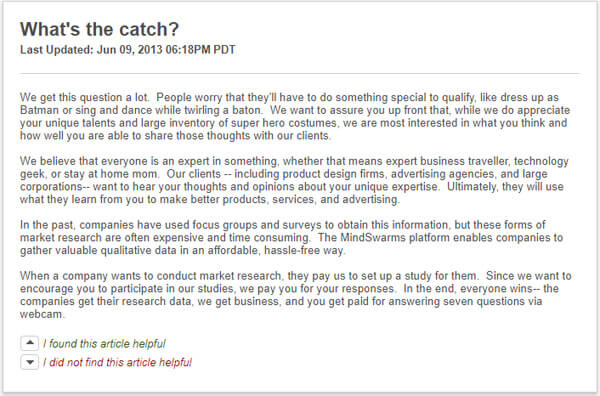 I also found out that you sort of have to compete with other reviewers to get accepted for surveys… which seems to be the real catch.
I will try to explain what I mean by this.
So basically, when a company needs research done, Mindswarms looks at everyone who qualifies (which is determined by how you answer the questions during your application) and chooses the applicants who are able to produce the best videos… which is determined by the video that you create for your profile during the application process.
They look not only at camera and audio quality, but also how you answer questions. They want quality details, and will look for participants who tend to give them the type of in-depth detail that they are looking for.
There is actually a 'Tip' section on the site as well, which you can use to help make your videos as good as they can be. You are also allowed to update your profile video to make it better later on… which can help you to increase your chances of scoring surveys.
So the system that Mindswarms has put together here is really good… but it is competitive. They have made it to where they are guaranteed the very best quality surveys for their clients, because they choose the best applicants to take part in the surveys.
But… the downside to this is that it pits the applicants against each other, which absolutely means that you could, in theory, join the site and never get to take part in a single survey, no matter how hard you work at applying.
The trick, therefore, is to try to make the quality of your videos as good as it can possibly be. The better the quality of your videos are, the better your odds of scoring more surveys when studies take place.
Some Other Additional Thoughts About Mindswarms
I am actually not sure how many surveys you can expect to get with this website, as I was unable to complete the application process quickly enough to report on it for this review… but I will say that it seems to be a thriving community.
I don't think that you can expect to make large, consistent amounts of money each week with it, but I do think that you can make some sweet extra cash if you are willing to invest some time into it.
But you really need to put effort into your profile video… because this seems to be the most important element in the entire process for applicants.
One cool thing that I found out is that anyone in the world can create a Mindswarms account. It is nice to know that membership is not restricted to just one geographic country or locale.
You do not even necessarily have to speak English as your first language to use the app, though most of the instructions for it are written in English, and a lot of the survey questions are also written just in English.
What Were My Personal Thoughts About Mindswarms
This is a different kind of website… and I really like it. This one is complex enough that it will take some time to really get situated. You need to apply, film your video, answer your profile questions, etc. So unlike a lot of survey sites, this one will require a bit of effort to get started with.
But, from what I can tell, it could pay off with a pretty big paycheck… at least every once in a while.
I love how much this site pays for video surveys. I also love how competitive the environment is, to be fair… because this gives you pretty direct control over how successful you can become on it.
Do I feel like this would make a quality side-hustle?
It might. It has its limitations. The number of surveys would be the biggest one. But for this kind of money, you could afford to log in once a day for a few moments and apply for some surveys.
If you don't get them, so what? If you do, well, you could earn yourself a quick $50 in just 10 minutes… and that is more than most survey websites will pay you for 10 to 20 hours' worth of surveys!
This isn't going to be a website (or a side hustle) that will get you rich, and it does have its limitations… but I also feel like it's not a bad site to try out. It may not be your thing, but you won't know for sure until you give it a try.
If you need a good side-hustle to rely on long-term, this survey site probably won't be what you are looking for… but it is way better than most and worth a little time if you have some to spare. You could also check out the site Voxpopme if you like the idea of Mindswarms, as there are some similarities between the two.
Our Final Thoughts About The Mindswarms Survey Website
Should you sign up and use it to make some extra money?
The Mindswarms Survey Website Review
To be completely honest, doing online surveys will never earn more than minimum wage. In fact, most people rarely earn more than $1-$3 per hour, if they are lucky enough to get a payout.
If you want to legit make money online you need to invest time into building a website. Earn passive income through affiliate links & advertising revenue. Rather than spend an hour trying to answer boring questions, build a real web property that you can earn monthly income from.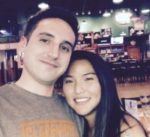 Nathaniell
What's up ladies and dudes! Great to finally meet you, and I hope you enjoyed this post. My name is Nathaniell and I'm the owner of One More Cup of Coffee. I started my first online business in 2010 promoting computer software and now I help newbies start their own businesses. Sign up for my #1 recommended training course and learn how to start your business for FREE!