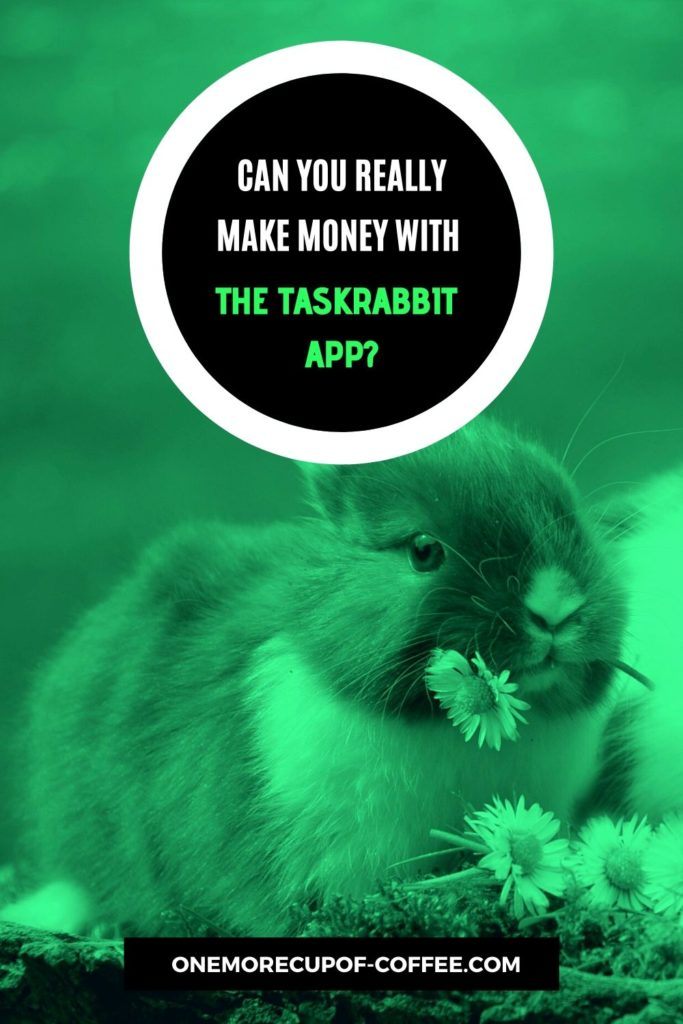 We were pretty intrigued with this interesting concept of an app—but at the same time, I wasn't sure if it was going to amount to much. This is a bit different from the types of apps that I usually look at, but I still had to ask the question… can you really make money with the TaskRabbit App?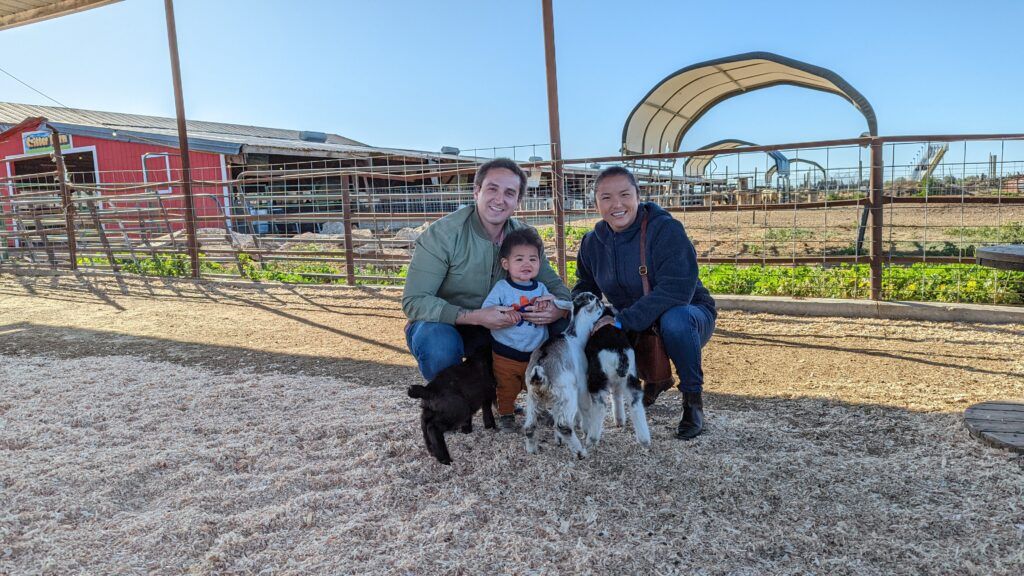 Are You Ready To Work Your Ass Off to Earn Your Lifestyle?
Are you tired of the daily grind? With a laptop and an internet connection I built a small website to generate income, and my life completely changed. Let me show you exactly how I've been doing it for more than 13 years.
Getting right into the stats, I found out that it had been downloaded over 100 thousand times on the Google Play Store. I also saw that it had a 3.8 star rating, which isn't awesome, but not altogether terrible either.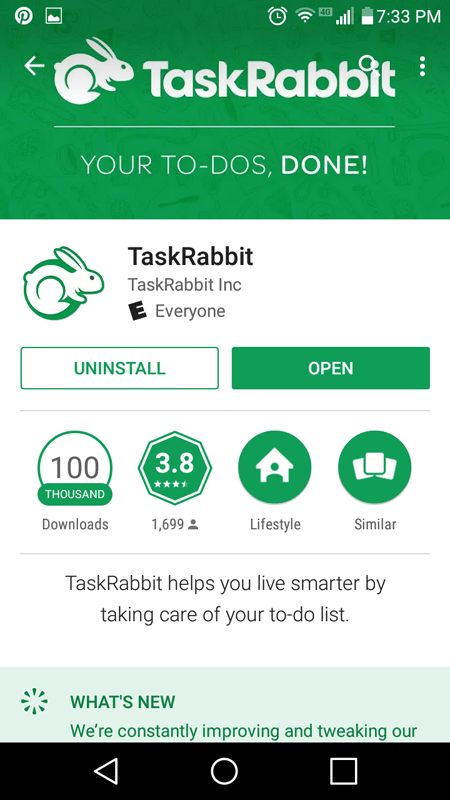 Making Money With The TaskRabbit App
The first thing we need to talk about should be obvious, what does the TaskRabbit app actually do? And, how can you make money from it?
What Does TaskRabbit Do?
The tag-line for the app on the Google Play store said this…
"TaskRabbit helps you live smarter by taking care of your to-do list."
Under the Read More section, I also found this…
"We believe that life shouldn't be a chore, so TaskRabbit finds you safe and reliable help in your neighborhood."
Ok… right away, I could see where this was going. TaskRabbit is basically an app that you can use to find 'TaskRabbits' who will help you do stuff—pretty much whatever you need done.
So, the money making opportunity on the app exists in being the TaskRabbit. Or at least, that's how it seemed to me from reading about it thus far.
I was intrigued. The app didn't have that many downloads, and I live in a small town in the Midwestern United States. Could I possibly find TaskRabbit opportunities around me? If not, then how close are the nearest ones? Is anyone using the app? Does it have a thriving community?
These are all questions that I had on my mind as I started delving into it. Here's what you need to know.
Getting Into TaskRabbit
When I opened TaskRabbit, I was taken to this screen first…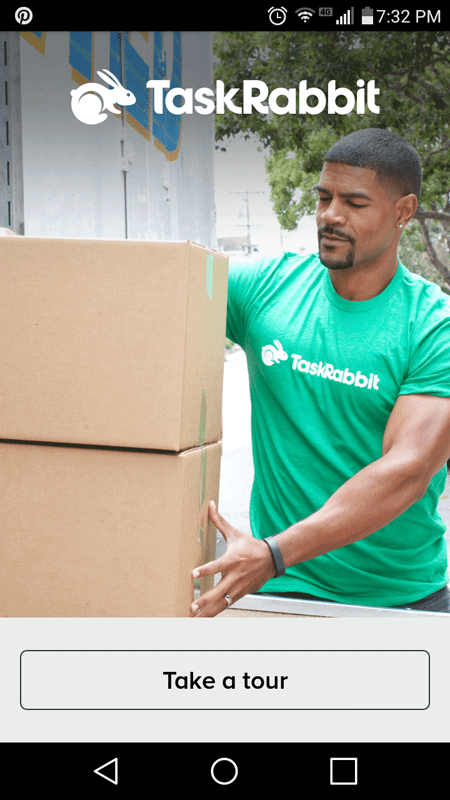 When I clicked the 'Tour' button, I was taken to a series of screens that basically told me what the app did. Here are the basics of what these screens told me…
Describe Your Task: Tell us what you need help with and when it should be completed
Choose Someone To Help: Select the right person for the job from a group of qualified people
Coordinate Details: Discuss timing, special requests, and other details with your Tasker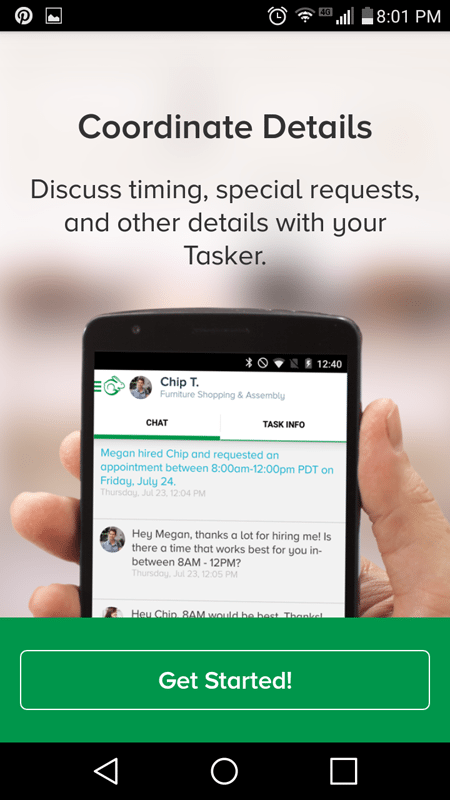 After going through these screens, I pushed the 'Get Started' button. Here's what happened.
Getting Started With TaskRabbit
Alright, it was at this point that I realized that this app might not actually work for me… and I will tell you why. The first thing that came up was a page titled 'Where do you need help?' This page basically provided a list of available cities where TaskRabbit is available.
In other words, it is not available everywhere. This was a bit of a discouragement to me, but it also made some sense. You would need a fairly large population base to make an app like this work, to be honest—because it is extremely localized. So breaking it up into major cities would help to get everyone wanting to use the app in the same place, which seems like a good idea.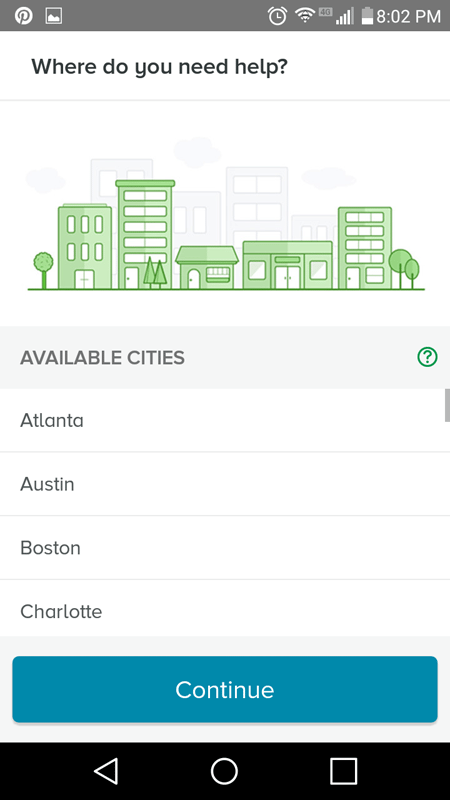 So, I decided to choose a city at random, since none of these were really close enough to me to really be worth my time or effort. I chose Atlanta, and was promptly taken to this page…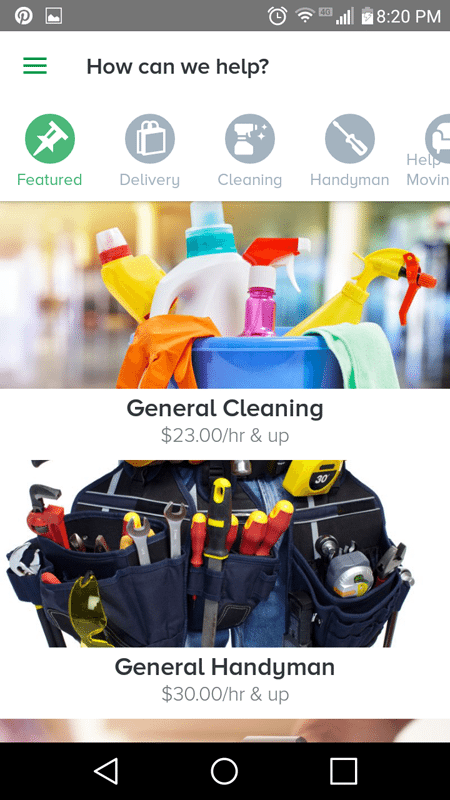 It seemed that I had arrived at the main 'hub' of the app here. I saw what seemed to be some menu options, or categories, along the top of the app, a drop-down menu in the upper-left-hand-corner, and some options that I could scroll down through.
I was pretty surprised at the range of options for tasks offered on the app. Here were the categories that I saw right from the get-go: General Cleaning, General Handyman, Help Moving/Hauling, Honest Home Cleaning, Assemble Furniture, Delivery Service, Wait In Line, Heavy Lifting, Yard Work and Removal, Personal Assistant, Research, Organize Closet, and Office Administration.
I was already pretty impressed. If I lived in Atlanta and needed something done around the house, I feel like I could find the help I needed without much of a problem right here on TaskRabbit.
But, I was curious as to what I would find when I opened one of these menus.
I chose Wait In Line as a category to open. When I opened it, I was greeted with this page, which seemed to be the page that I use to post a task or find a Tasker.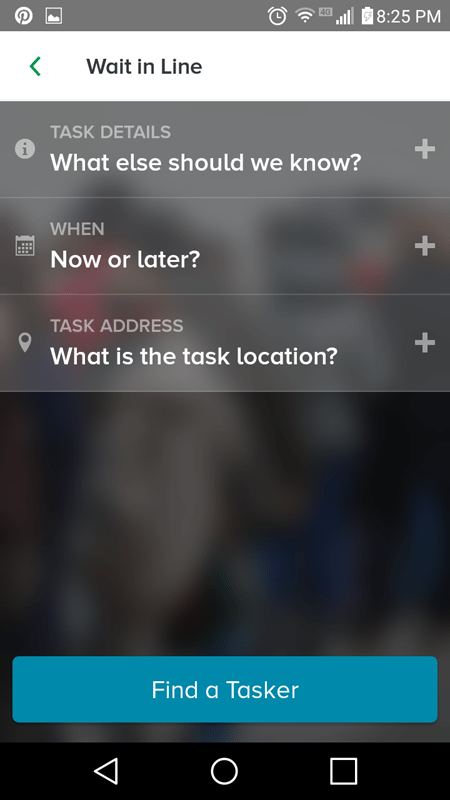 This seemed straightforward enough.
Finding someone to complete a task for you seemed to be a piece of cake thus-far. But what about doing tasks? If I wanted to make money doing things for other people, then I would need to be able to figure out how to sign up as a Tasker—so that's what I looked into next.
How To Complete Tasks To Earn Cash On TaskRabbit
To start with, I opened up the drop-down menu, and found out that there was a FAQ section at the bottom of it… which I clicked on.
One of the first questions in the FAQ was 'Become A Tasker.' I clicked on this, which took me to this screen…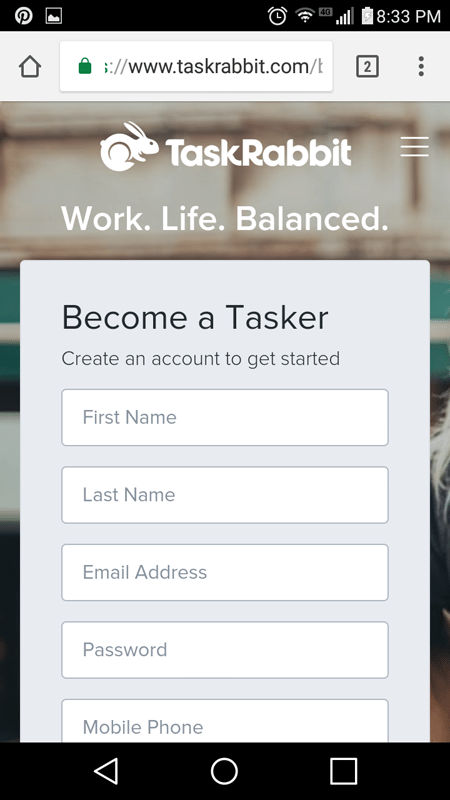 This screen opened on my browser and gave me a spot where I could literally sign up to become a Tasker.
I scrolled down and found this screen as well—which gave me some more information about how to become a Tasker.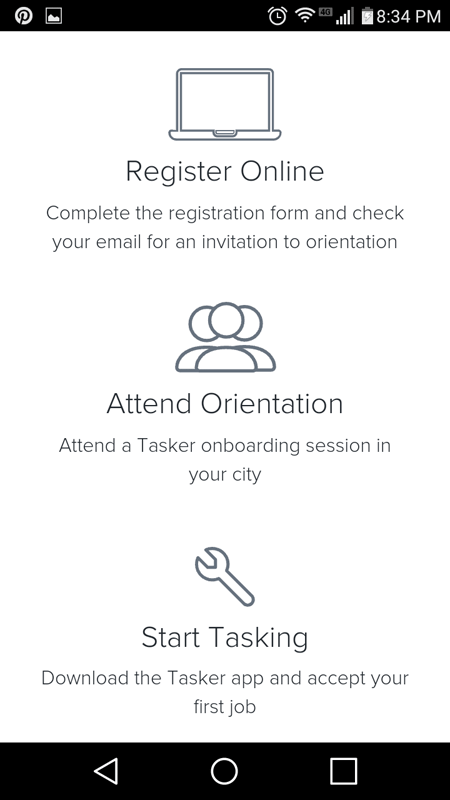 The process seems fairly complicated, to be honest—but I was sort of expecting that. I mean, the app itself says that their help is background-checked—which must mean that you're going to have to provide at least enough information to make that possible. You will also need to attend one of their training meetings—which is not such a big deal, really, but it is time-consuming.
But—with that being said, a lot of the jobs on TaskRabbit pay quite a bit more than you might think. Most of them start out at $20/hour, at least—and many pay more than that.
What Do The Google Play Reviews Say?
I took some time to review the Google Play reviews, just because I was curious about other people's experiences.
I read that this is an awesome app for handymen and cleaners. I also read that it costs $20 to get the background check done, though I will admit that I didn't get into the process of making my own account, because I don't have a city nearby me where I could possibly schedule a meetup—but this is what I read in the reviews.
People in larger cities seem to do really well on this app, actually. A lot of the people who used the app to hire other people said that it worked without a problem. There were some complaints that Taskers weren't able to find enough work to make it worth it… but some seemed to indicate that they were able to find all they wanted.
The results seem very situational, to be honest. It seems that there are definitely people out there using this app, though, and there are definitely people making money on it.
Exactly how much you can make with it seems to be situational, based on what you are doing, and dependent a bit upon what city you live in. Obviously, larger cities will give you a bigger advantage—but all in all, the app seems to do its job quite well.
Is TaskRabbit Really Worth The Time?
Yes, it is actually… especially if you live in one of the larger available cities. I can imagine that it might take some time to start getting used to the app, and it will take time to get everything set up. But once you get it all done and start doing tasks, it seems that you may have a lot of opportunity to earn cash by doing odd jobs.
I'm not sure if this type of app could keep a person busy full-time, but it certainly seems like a viable way to fill in the gaps, and it seems that you can make upwards of $20/hour or more doing tasks that are, actually, pretty easy. Plus, you can choose your own categories, which is awesome.
I wish they offered it in my city. That would be super cool!
Our Final Thoughts About The TaskRabbit App
Should you download it and use it on your phone?
The TaskRabbit App Review
Honestly, there are tons of various apps that claim to help you "make money", but really there are two facts to consider. 1) Most of them don't actually work. 2) If you can make money, it's not going be very much. If I'm going to spend any amount of time working online, I want to be working for myself by building my own profitable website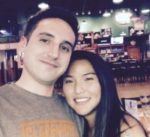 Nathaniell
What's up ladies and dudes! Great to finally meet you, and I hope you enjoyed this post. My name is Nathaniell and I'm the owner of One More Cup of Coffee. I started my first online business in 2010 promoting computer software and now I help newbies start their own businesses. Sign up for my #1 recommended training course and learn how to start your business for FREE!