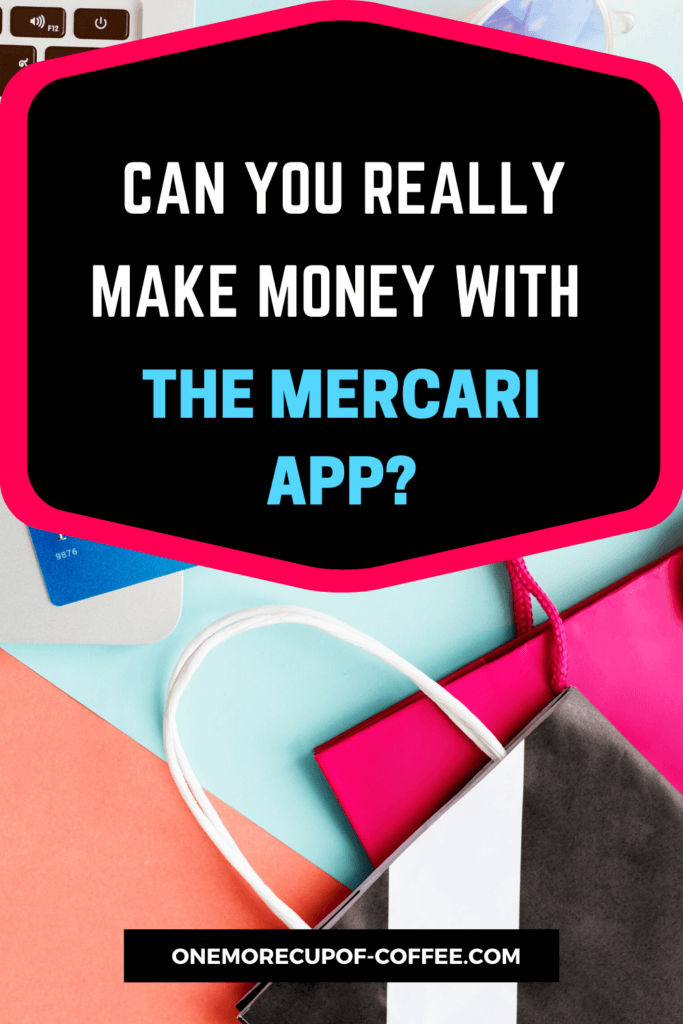 This app is said to be an app that gives you a 'hassle-free way to buy and sell items from your phone.' But can you really make money with the Mercari app?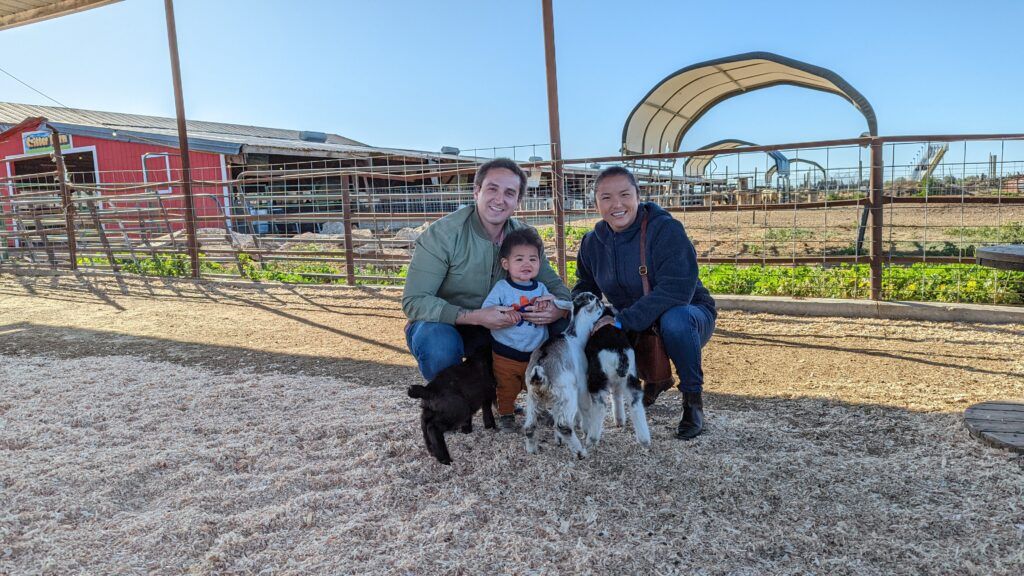 Are You Ready To Work Your Ass Off to Earn Your Lifestyle?
Are you tired of the daily grind? With a laptop and an internet connection I built a small website to generate income, and my life completely changed. Let me show you exactly how I've been doing it for more than 13 years.
We decided to download it and give it a try, because we wanted to find out if we could. As you likely know, we are all about making some extra cash… and minimalizing by selling some extra, unwanted stuff doesn't sound like a bad idea either!
But will the app really help to get the job done?
Here's what we learned over the course of our research.
Making Money With The Mercari App
Let's start right at the beginning, with the way that the Mercari app works.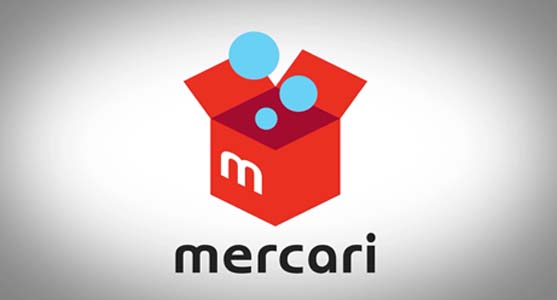 What Exactly Does The Mercari App Do?
Mercari is basically an app that you can use to sell stuff on. You snap pictures of the items you wish to sell, create a listing, and then people can shop on Mercari and buy the stuff that you've listed.
If they do, the monetary transaction is actually handled through Mercari, and the money is held by the app until the party who receives the item is satisfied with the purchase… which makes it safer and raises customer confidence.
The app has been downloaded over 5 million times, and has a 4.4 star Rating in the Google Play store… which is really, really good. It has also been reviewed by over 70,000 users, which provides plenty of research material to see what other customers thought of it.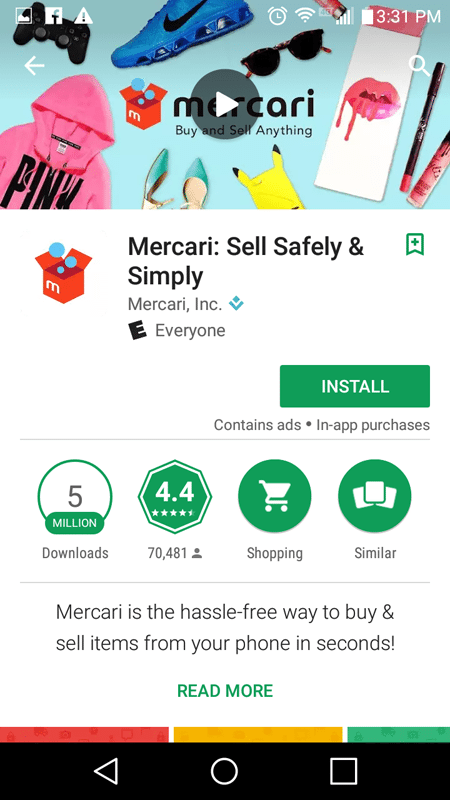 But, this was all information that we learned just by reading about the app and watching a video about it. So next, we downloaded it so that we could open it up and take a look for ourselves.
Here's what we found.
Getting Started With Mercari
When we first opened up the app, we were presented with three pages that did a pretty good job of outlining the basic functions and features of the app. Here were the main points of these pages…
1… Easily buy and sell new or used items
2… Find what you've been looking for: Get the best deals delivered straight to your door
3… Clean out your closet: list your items and make extra cash
This pretty much confirmed what we already knew.
We clicked the 'get started' button located on the bottom of the page, and were taken here: to the sign up, sign in screen.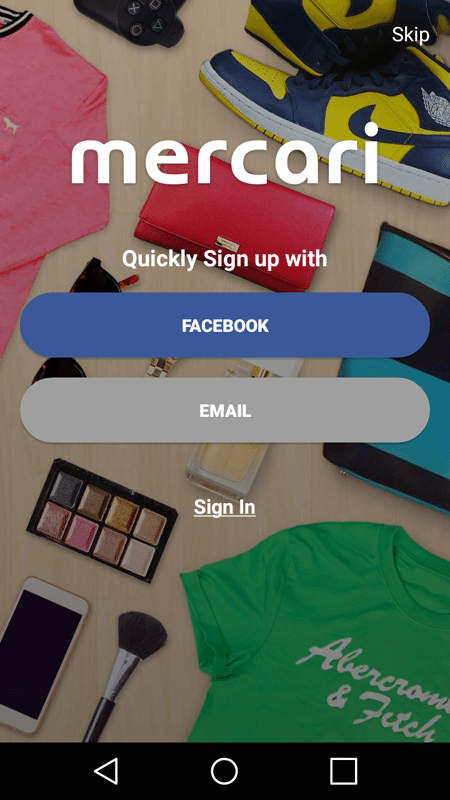 We saw that there was a Skip button at the top-right corner of the screen, which was pretty nice, really. I mean, if you don't want to make a profile and you just want to skim through the app, this would be an excellent option to use.
We were pretty interested in getting to experience the full-range of what the app had to offer, however, so we went ahead and logged in with Facebook.
Next, I found myself on this page.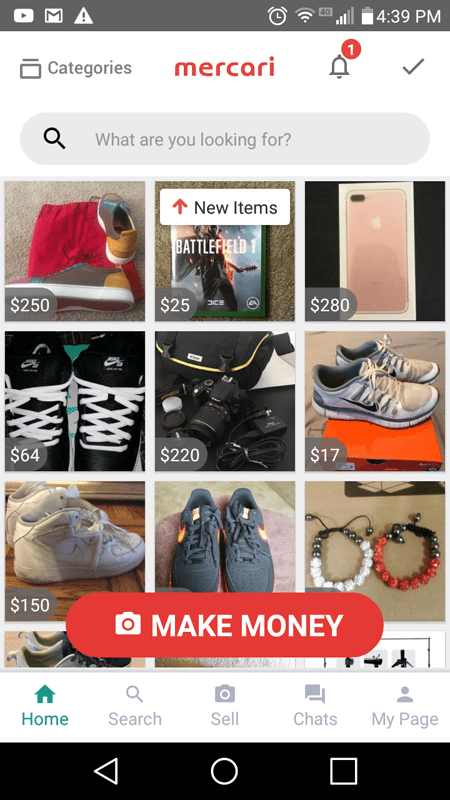 This seemed to be the main hub, or 'home screen' of the app. It seemed that I was looking at the newest items to be posted, had the option to 'make money' via the camera button at the bottom of the screen, or could do a number of other different things, like search, sell, chat, look at my page, or browse items by category.
What I Thought Of Mercari From A Buyer's Perspective
Mercari seems like a cool app from a buyer's perspective. I can browse products by category, search for them by name, or just look through the most recently posted items. If I like an item and want to take a closer look, I can click on it and view the listing, as well as profile information about the user selling it.
In this sense, the app works a lot like eBay, except that it isn't an auction house. It's just like an online storefront.
Here's a screenshot of a listing that I clicked on for an XBOX ONE game.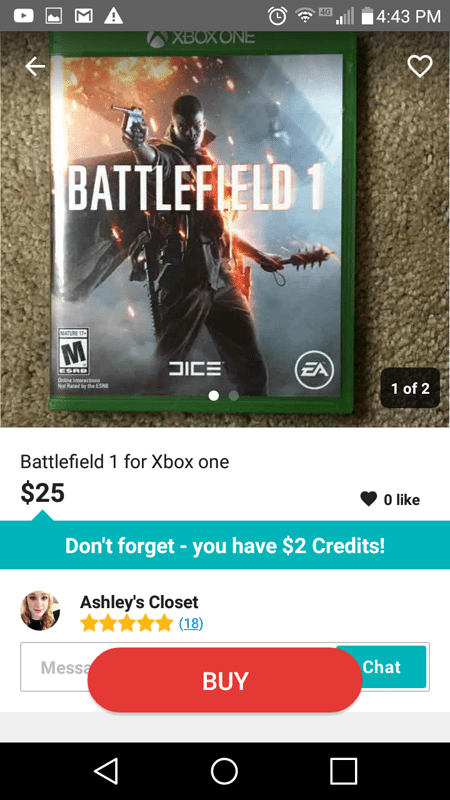 As you can see, the seller's reputation seemed good. She had 5 stars and 18 reviews. I really like that there is feedback on the app, as that could certainly help to weed out people who aren't going to conduct sound business (There's nothing worse than sketchy business online and through the mail!).
If you scroll down a bit, you can see even more information about the listing… like the condition of the item, what category it's in, the shipping fee, where it will be shipping from, how soon it will ship, and a more detailed description of the item itself.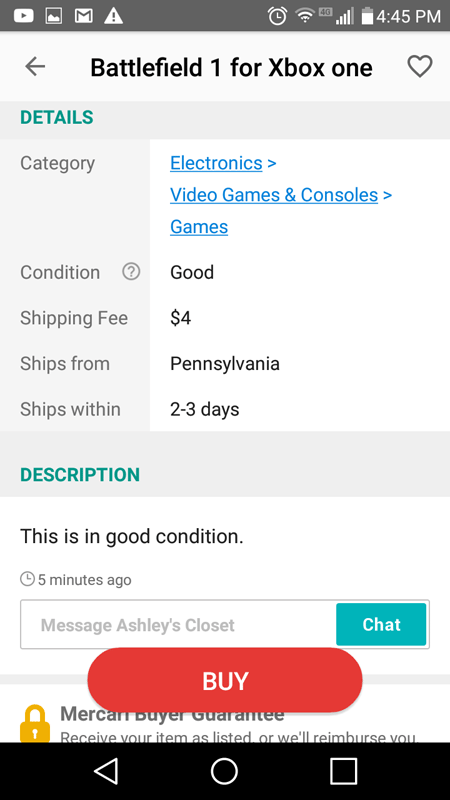 There are also links where you can comment on the listing, share it, or report the item.
This particular item was protected with the Mercari Buyer Guarantee, which basically means that you will receive your item, as listed, or be reimbursed with your money if it wasn't as described, never shipped, never arrived, arrived damaged, etc. This also brought me a lot of peace of mind, and made me feel better about the app.
Selling Items On Mercari
Obviously, the real question that I want to answer is this.
"Can I really make money with the Mercari app?"
So next, it was time to take a look at how easy/difficult it was to actually list items on the site.
To figure this out, I clicked on the 'Make Money' link at the bottom of the home screen (the big red button with a camera icon on it).
This took me to a listing page. Here, the first thing I had to do was take a picture of the item, or choose an existing photo from my phone. So I took a quick photo, just to experiment with the app camera.
This is what the camera looked like.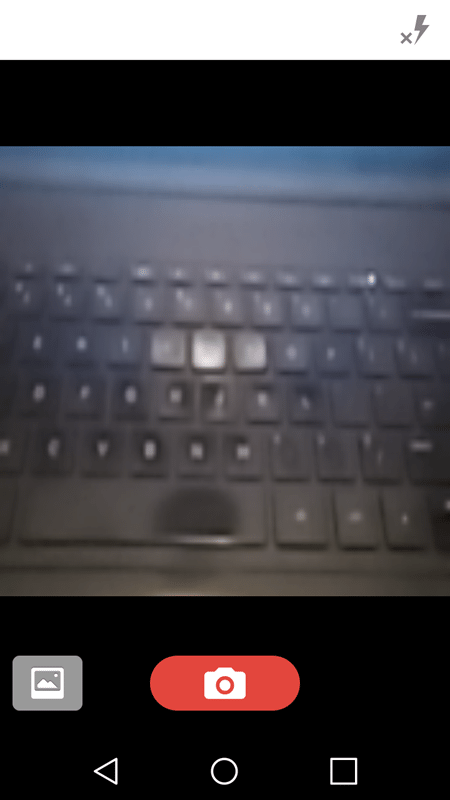 It was pretty easy to use, to be honest.
Next, I needed to fill out the item name, an item description, and all of the other relevant information that I would need to complete the listing. I also found out that there is a selling fee of 10% when you sell items on Mercari, which honestly isn't too bad.
So if I listed an item for $10, I would need to calculate shipping, put that as the shipping amount, pay $1 to the app for the fee, and pocket $9. There is no fee for placing ads on the app. You only have to pay if you actually sell the item. So even if you place an item and never sell it, it's not going to cost you anything.
There is also a list of prohibited items that you can't sell (pretty common sense stuff, really), as well as an option to save a draft of your posting before you actually post it—which could be nice in some certain situations.
All in all, posting things on this app isn't that difficult. It takes mere minutes. The app is also super-intuitive, and works well. You would be hard-pressed to find issues with it.
But I was also curious about how you actually get paid with Mercari, so that's what I looked into next.
Getting Paid On Mercari
Figuring out how users actually get paid on Mercari was as easy as visiting the help and support section of the app. Obviously, this was a pretty popular question, so we found it on the opening page of the help question options.
Here's a screenshot of the answer to the question, which pleased us quite a bit.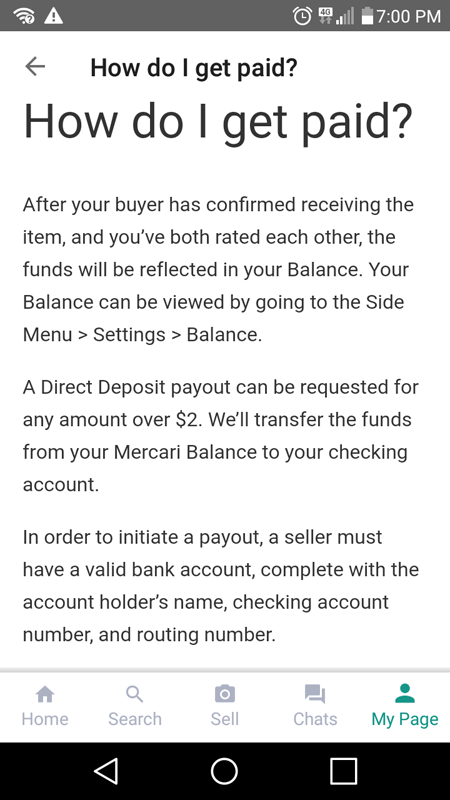 So, direct deposit is how Mercari gets you your money, which sounded great to me.
All in all, I like this app. I have reviewed similar apps in the past that were more like local shopping apps, where you arrange meetups and stuff like that… but I have never seen an app that will allow you to ship things and post listings like this, all in one place.
Plus, payment is handled right through Mercari—which is awesome!
The app works well. It's really easy to get started, and posting stuff to sell takes less than 5 minutes in most cases.
If you have extra stuff around your house that you need to get rid of, then this app is definitely a tool that you'll be able to use to help you. There are quite a few users on it, from what I can tell—which means that moving your stuff for extra cash shouldn't be a problem.
Plus, it won't cost you anything but a 10% fee, and that is only if the item actually sells.
Now, I will say that the 10% fee is sort of hefty. On a big-ticket item, that could really cut into your profits… but that's really the only downside I see to Mercari. I would probably increase the selling price a little bit if I were going to use the app, in an attempt to split the difference with the buyer.
So, maybe I would try to increase the price enough to make it so that the buyer is actually paying a bit more, to cover like half of the fee. That would make things a bit easier on me as a seller, and seems like a legit way to handle the fee.
But yeah, this is a solid app, and I will likely be using it in the future to earn some sweet extra cash selling stuff I don't need anymore. You can't go wrong with that!
If you don't like the fees on Mercari, you could check out other apps for selling items, like Carousell and Close5. There are also multiple options that focus on clothing, like Tradesy, Vinted and Poshmark.
Our Final Thoughts About The Mercari App
Should you download this app onto your phone?
The Mercari App Review
Honestly, there are tons of various apps that claim to help you "make money", but really there are two facts to consider. 1) Most of them don't actually work. 2) If you can make money, it's not going be very much. If I'm going to spend any amount of time working online, I want to be working for myself by building my own profitable website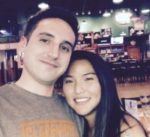 Nathaniell
What's up ladies and dudes! Great to finally meet you, and I hope you enjoyed this post. My name is Nathaniell and I'm the owner of One More Cup of Coffee. I started my first online business in 2010 promoting computer software and now I help newbies start their own businesses. Sign up for my #1 recommended training course and learn how to start your business for FREE!