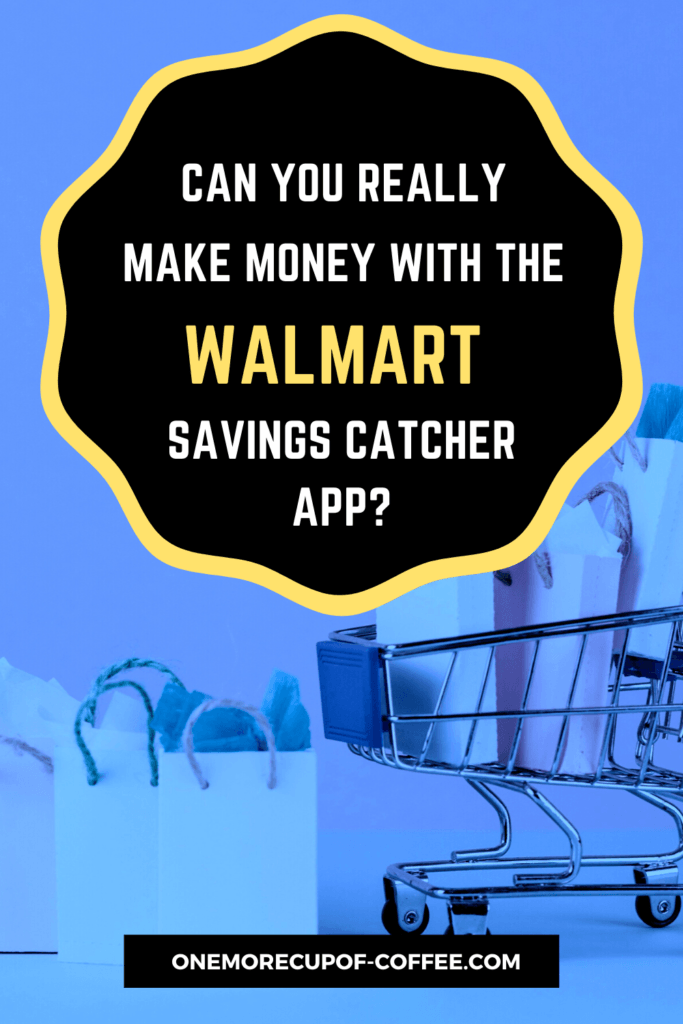 App Review: Walmart Savings Catcher
Description: An app to help you save money when you shop at Walmart
Written by: Nathaniell
Rating: 3/5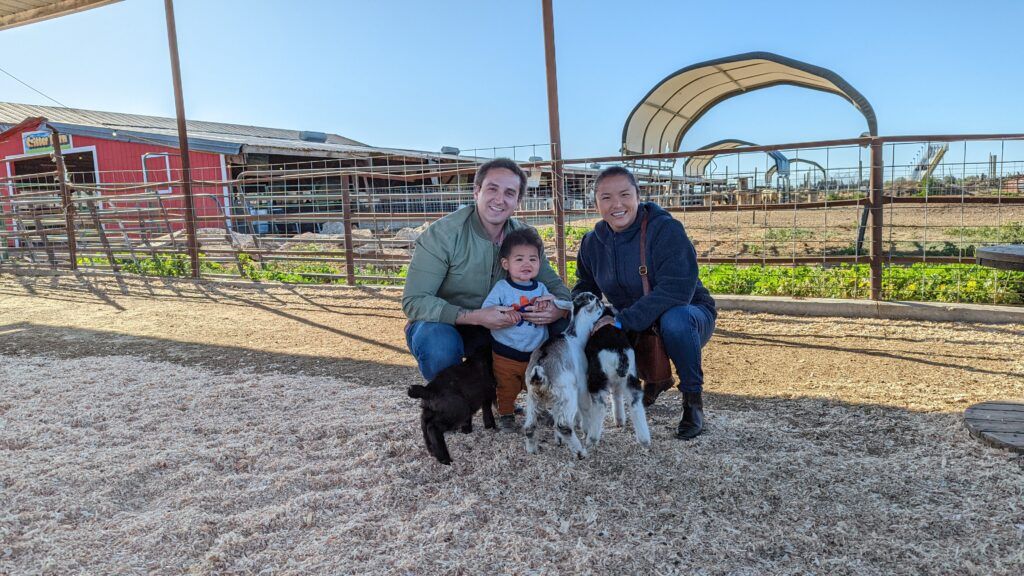 Are You Ready To Work Your Ass Off to Earn Your Lifestyle?
Are you tired of the daily grind? With a laptop and an internet connection I built a small website to generate income, and my life completely changed. Let me show you exactly how I've been doing it for more than 13 years.
Everybody loves Walmart, but can you really make money with the Walmart Savings Catcher app?
I downloaded it in an attempt to find out. I've heard about this app several times, from several people. And while I haven't heard anything 'amazing' about it, I haven't heard many bad complaints, either.
It looks like an app that could help you to save some money while shopping at Walmart—which is sort of like making extra money, as money saved is pretty much money earned.
But is it worth a download? And is it worth putting on your phone?
Here's what we found out.
2020 Update: Walmart Savings Catcher has now been discontinued. Walmart claims that the change is because they already offer the lowest prices in most situations. Of course, some customers disagree, especially those who were earning from the app.
Making Money With The Walmart Savings Catcher
The first step is always to take a look at the app itself and what it has to offer.
Walmart Savings Catcher: What Does It Do?
Savings Catcher has been downloaded more than 10 million times. It has been reviewed by over 402 thousand users and has a 4.4 star rating on the Google Play store.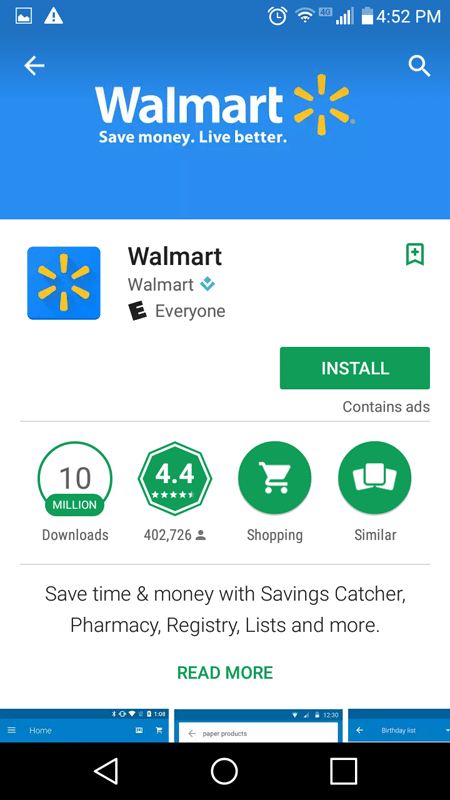 So far, it was off to a pretty good start. But we wanted to see what it looked like in-use—so we ventured onward and got started.
When we opened it up, we arrived at what seemed to be the home screen.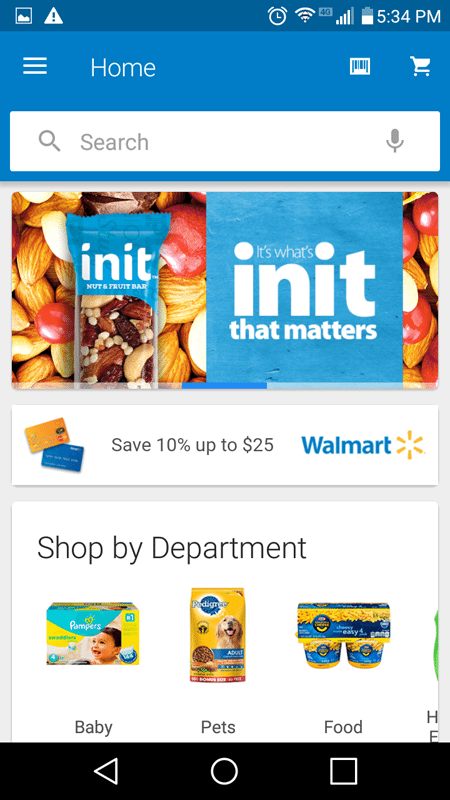 Right away, we were greeted with a search bar, a drop-down menu at the top left, some advertisements/banners sliding across the screen, and a category option down below. Not exactly sure where to go next, I clicked on the 'food' option down below to see if I could find any good deals.
I was taken to a more specific category list here that had close to a dozen different 'food' department options listed on it. Examples of the types of options I had within this menu included categories like 'Meal Solutions, Grains, and Pasta,' and 'Snacks, Cookies, and Chip…' etc.
I clicked on 'Meal Solutions, Grains, and Pasta,' and was taken to another, even more specific list of category options. I chose 'Boxed Meals,' from this list, and was taken to a page where I could literally browse products that you can find in the store.
It was at this point that I realized that I hadn't yet seen any real savings to be had. So I accessed the drop-down menu at the top-left corner of the screen, and realized that I was actually just shopping… not using the Savings Catcher (my bad… I had never used the Walmart app before, so I can't blame that one on them).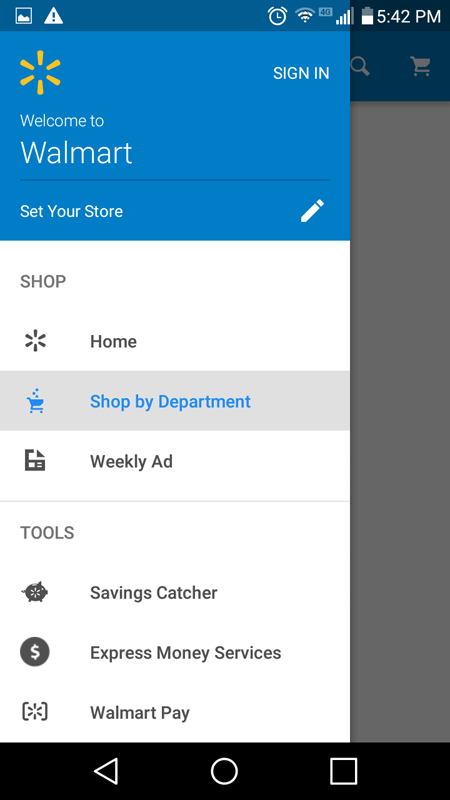 So I selected Savings Catcher as the next option and was taken to this screen.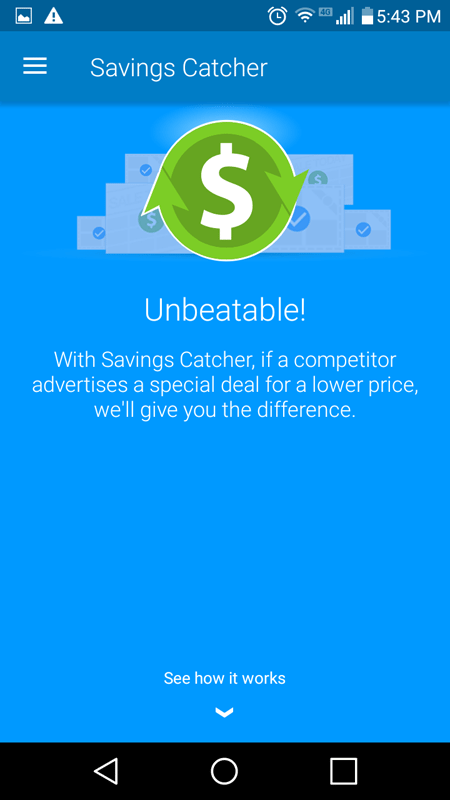 I had finally found it—the tool that would (supposedly) save me money at Walmart.
Here's what I thought about it.
Getting Started With Walmart Savings Catcher
At first, the verbiage within Savings Catcher seemed to suggest that the app was intended to help you compare prices. I was a little disappointed by this, because you can already price-match at Walmart if you have the advertisements from other stores.
So yeah… it seemed like a waste to me.
But then I kept reading, and realized that Savings Catcher was actually designed to help you make use of all of the sales and coupons located in your general area.
So this was basically giving me the power to save money on the stuff I buy at Walmart based on lower advertisements from competitors (price-matching, in other words), but to a more substantial degree than I could really achieve otherwise—unless I spent a lot of time looking at competitor coupons and the like.
Here's a graphic that shows you exactly what the app is supposed to do…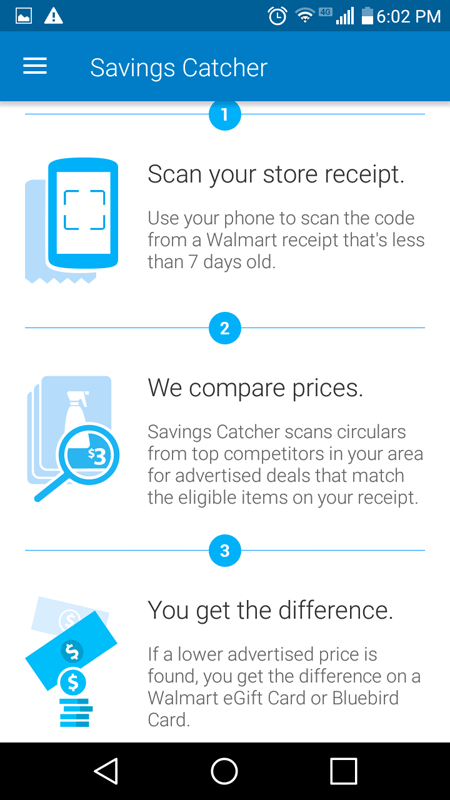 Some Good And Bad Things I Noticed About The Walmart Savings Catcher App
So, first off, the good. You don't have to bother with the app while shopping if you don't want, because you're supposed to scan your receipt to find out your savings after-the-fact. This seemed like an upside, to me, because it meant that I wouldn't necessarily have to scan items individually or present coupons at the register, etc… all of which take up a lot of time.
Scanning a receipt, on the other hand, can be done almost anytime. You can do it in the car after you get back from the store. You can do it at home after you've put the groceries away. You can do it on the way home as your spouse drives, etc.
The convenience of this feature was another attractive incentive for me.
But, this also meant that I wouldn't necessarily know what items were going to save me money. This makes the app a bit less 'strategic' to use, and does more to turn it into an app that you just use on your normal purchases to, hopefully, incidentally, save yourself money by getting lucky enough to snag lower prices from competing businesses in the local area.
I decided to try it, however, on a purchase that I had made the evening before.
I had spent a little over $47 on that particular trip to Walmart—buying a dozen basic household items and snacks/food stuff.
I used the onboard scanner to scan the barcode on my receipt (you can also type in the QR code, though, if your camera isn't working for some reason). The scan happened very quickly, and right before my eyes, my entire purchase was displayed on my screen, along with the products, their prices, and the exact date/amount of the purchase.
It was at this point that I saw this message displayed above my order.
I was going to need to wait for a bit to let the Savings Catcher compare prices to other listed prices in my area, which was a bit of a pain… but not a deal-breaker. I also had access to a literal photo of my receipt (a photo that I didn't even take). This was pretty awesome, and a rather positive testament to Walmart's technical prowess in dealing with this type of thing.
So at this point, I had tried the app—and it had performed pretty flawlessly. As for the savings? Well, I didn't get to see the results right then, but the app was so easy to use that, even if I only save a little bit here and there, it would be worth it.
Also, when you save money, you actually get to transfer it to either a Bluebird card or a Walmart eGift card… both of which are pretty awesome options, when you factor in how well this system works within Walmart.
I was quite impressed with this part of the app.
I didn't have any 'Reward Dollars' yet…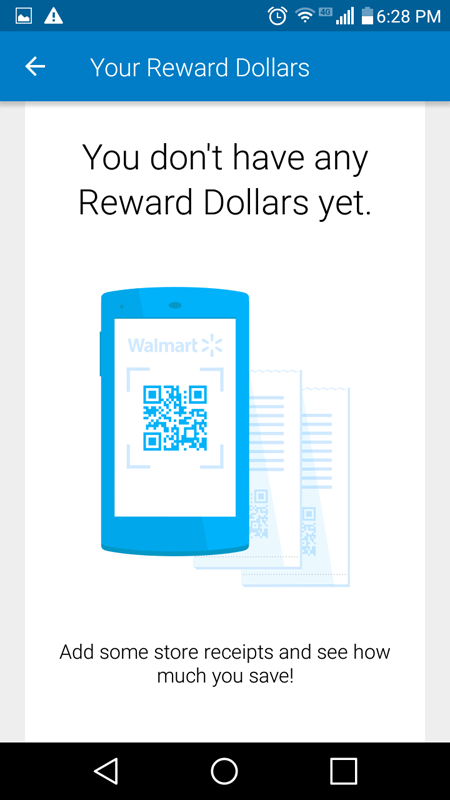 But that didn't mean that I wasn't going to get any. If there are sales in my area, then the app will give me the difference. I could then transfer this difference to a Walmart gift card (after saving it up for a bit, of course), and spend it on whatever I wanted.
This, to me, seemed like an excellent idea… especially when I considered how much I shop at Walmart on a weekly basis. (I'm not proud of it… but I live in a small town. There really isn't much of an option for another place to shop!)
Can You Make Enough Money With The Walmart Savings Catcher To Make It Worth Your Time?
This is obviously the biggest question—and my answer is, undeniably, a yes.
I shop at Wal-Mart quite a bit. I don't usually price match, because it is so time consuming. But this app would give me the savings without requiring me to do the work, which is awesome. Granted, this is money I have to spend at Walmart, for the most part—especially since I would be using a gift card to spend my balance.
But it seems like a worthwhile tradeoff. I mean, I seriously doubt that I will ever truly stop shopping at Walmart (despite the fact that I would really, really like to sometimes).
Plus, scanning the receipt into the app was easy. Seriously. This was the best app scanner that I, to date, had ever seen. It literally took less than two seconds for the app to recognize that I was scanning in a receipt, and it logged it in without a hiccup.
Yes, I needed to wait a while to find out if I actually saved anything… and if so, to figure out how much… but that's fine with me. It doesn't seem like a big deal.
All in all, I love this app. With as much as I shop at Walmart, it will certainly be worthwhile to use it on a more regular basis. I could certainly see myself saving up receipts, and then sitting down to scan them in two or three nights a week when I'm bored.
I give it two thumbs up. It works great, it saves money, and it makes getting your rewards super, super easy. You really can't beat a range of positives like that!
Our Final Thoughts On The Walmart Savings Catcher App
Should you download this app on your phone?
The Walmart Savings Catcher App Review
Honestly, there are tons of various apps that claim to help you "make money", but really there are two facts to consider. 1) Most of them don't actually work. 2) If you can make money, it's not going be very much. If I'm going to spend any amount of time working online, I want to be working for myself by building my own profitable website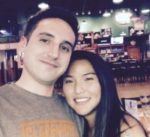 Nathaniell
What's up ladies and dudes! Great to finally meet you, and I hope you enjoyed this post. My name is Nathaniell and I'm the owner of One More Cup of Coffee. I started my first online business in 2010 promoting computer software and now I help newbies start their own businesses. Sign up for my #1 recommended training course and learn how to start your business for FREE!