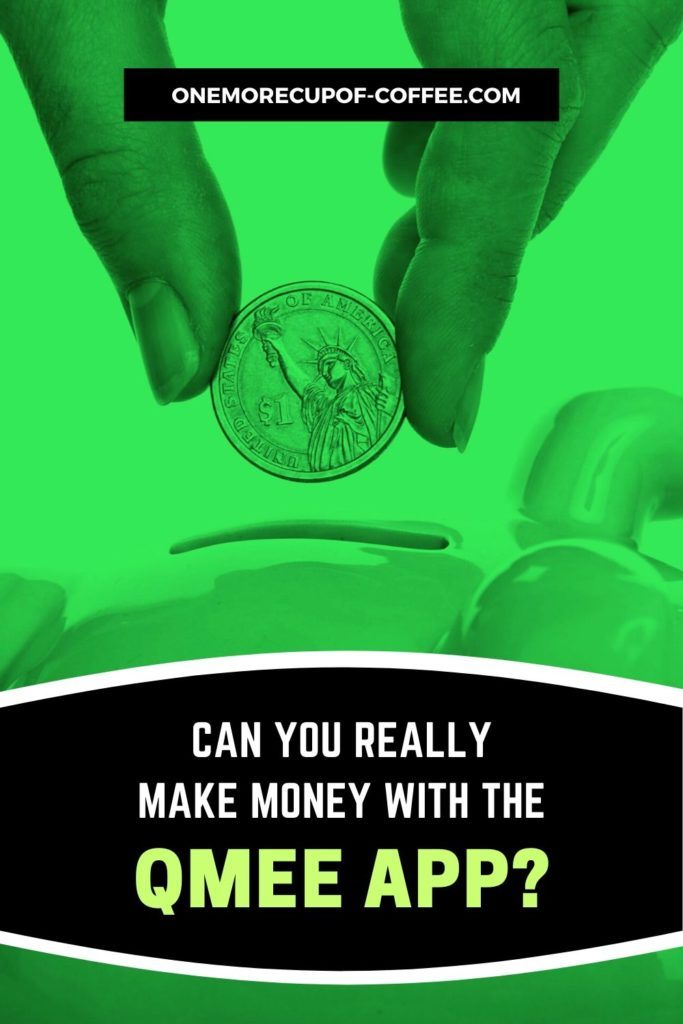 I found this gem while I was looking for new and better ways to earn cash with Android apps. But can you really make money with the Qmee app?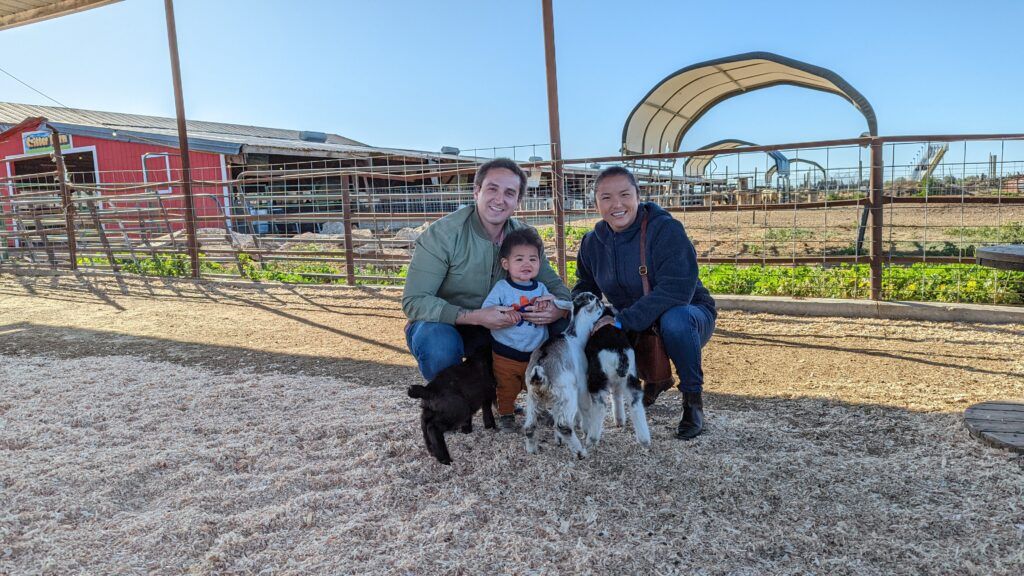 Are You Ready To Work Your Ass Off to Earn Your Lifestyle?
Are you tired of the daily grind? With a laptop and an internet connection I built a small website to generate income, and my life completely changed. Let me show you exactly how I've been doing it for more than 13 years.
Making Money With The Qmee App
The first thing that we need to think about is the Qmee app itself. The app is available as a free download in the Google Play Store, and I will admit that it had some decent stats. It had plenty of downloads, and had gotten some pretty good reviews, which is a good sign.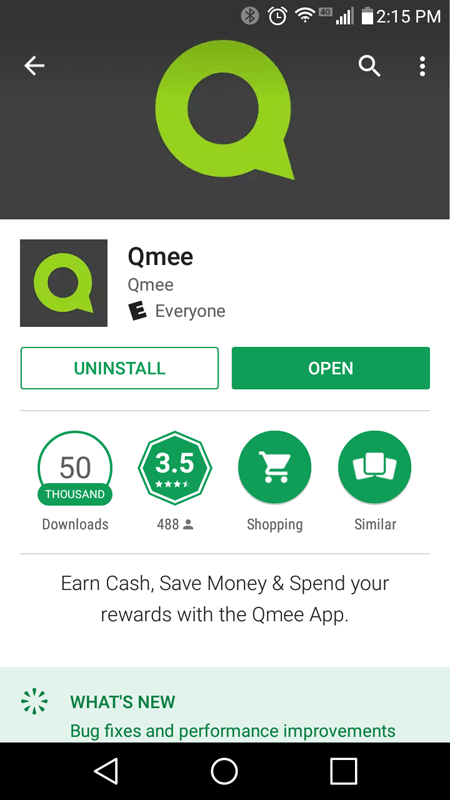 With 50,000 downloads and a 3.5 star rating, I felt that this one had some potential. The tagline description for it also read as follows…
"Earn cash, save money and spend your rewards with Qmee app."
I pretty much liked the sound of this, so I decided to download it and give it a try for myself. One thing that I really like about the idea of earning extra cash with apps is that they are mobile.
So, in theory, you could take them anywhere to earn extra money—and that is certainly an attractive idea to me, especially since I always have my phone on me.
The idea of being able to earn extra cash while I'm standing in line, riding along on a long car ride, or waiting for someone is an attractive one to me. So that's what I'm after with apps like this.
After downloading the app, I was taken to a few introductory screens, the first of which looked like this…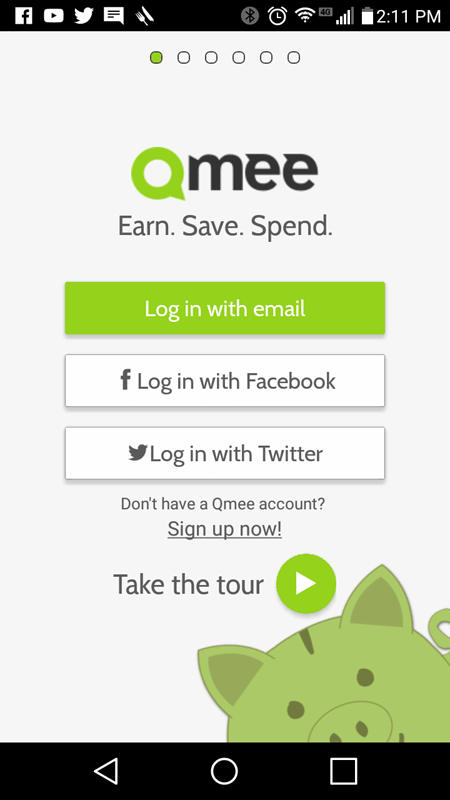 Here is the basic summary of the information that I found on these pages…
Answer surveys, get cash rewards, and get access to the best coupons and deals on the go
Spend your cash rewards via Paypal or with Gift Cards
So far so good!
After this, I signed up for the app, which pretty much just consisted of me filling in my email and creating a password. After doing this, I was promptly allowed into the 'main hub' of the app, which looked like this.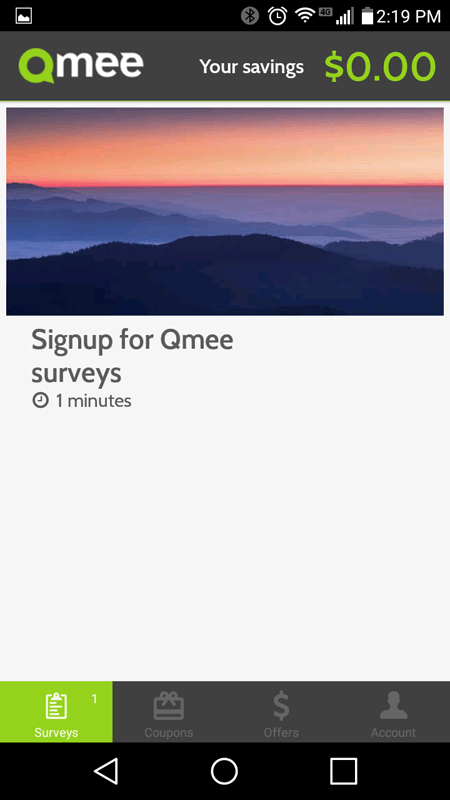 I also received a welcome Email from the Qmee team, which looked like this.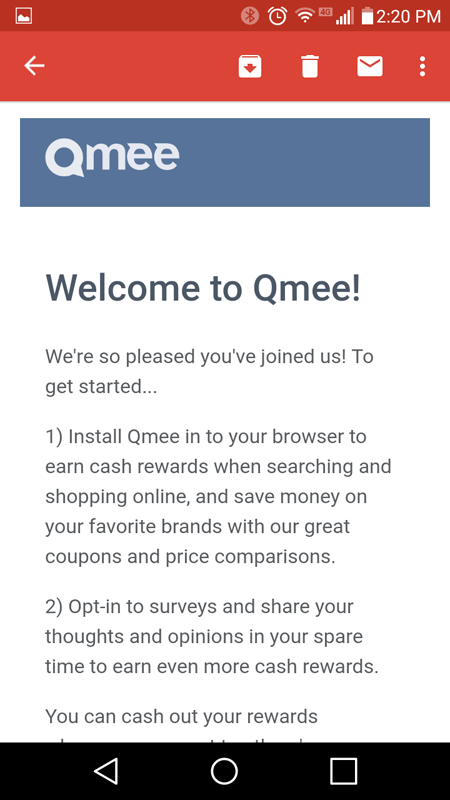 The email was rather insightful, and a nice touch. But I was pretty excited to get into the app and see how it worked. So that's what I did next.
Getting Started With The Qmee App
The first thing I worked on was the survey that was offered in the main hub. From the looks of it, I had to get this done before I would get any other surveys offered to me.
It was called 'Signup for Qmee surveys,' and was supposed to take no more than one minute. Here is a small screenshot of what the first page of the survey looked like…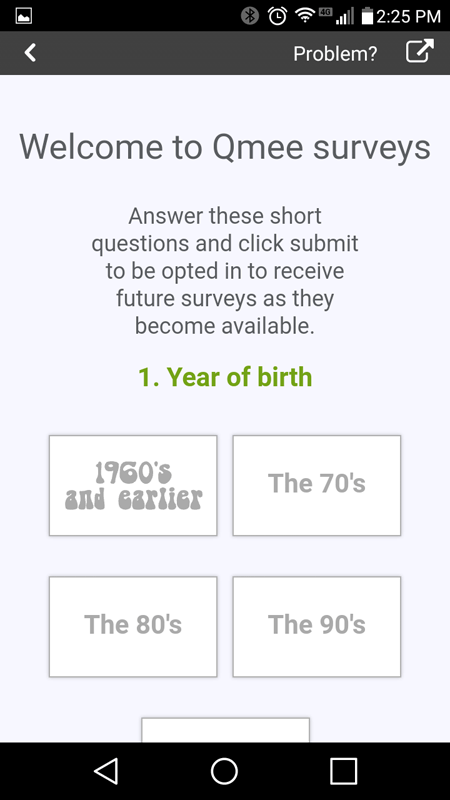 The survey was brief, and pretty much asked me basic information about myself. Once I submitted it, I realized that I was now eligible for 6 different surveys… all of which paid out specific amounts of money, ranging from 5 cents for a 1 minute survey, to 52 cents for a 20 minute survey.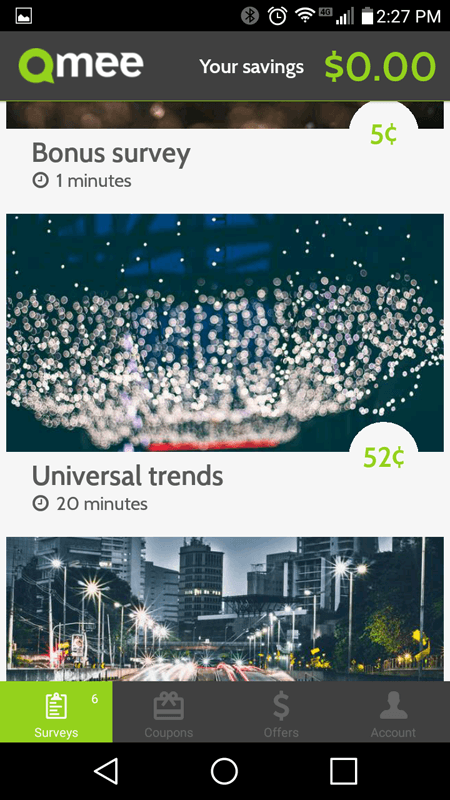 Right away, I could see that filling out surveys was definitely going to be an option for me that would earn me money with Qmee, but I also saw that they didn't pay out very much… so I decided to start looking around the app in the other tabs, to see what other kinds of deals I could find.
I clicked on the 'Coupons' tab, located at the bottom of the app, and was taken to this page… which actually had some pretty awesome coupons on it.
Basically, this section provided discount codes that you could use for a number of different retailers—which was pretty awesome really. I found several different stores here that I may be interested in ordering stuff from… but it is also fair to say that coupons are not necessarily going to 'make' you a lot of extra money.
Yes, they can save you money—but you are going to need to spend more money to make it… so that is also a bit of a downside.
Next, I took a look at the 'offers' tab.
This section was actually quite similar to the coupons tab, except that it literally showed me 'offers' instead of coupons with coupon codes. Again, this could provide me with a way to save money or to get great deals on things, but it would not necessarily give me the ability to earn a bunch of extra money for myself.
Looking Around A Little Deeper Inside Of The Qmee App
Determined to see everything the app had to offer, I also took a look at the 'Account' tab, which was the only one thus-far that I had not checked out. This was where you cash out your money after you earn it… and from the looks of it, it looked like this process was actually pretty easy.
You could cash out with gift cards or PayPal, which was pretty cool.
You could also donate money to charity.
The only other thing to look at within the app, really, was the drop down menu. This was located in the upper-right corner of the app, and had the following pages available underneath it…
FAQ
Terms of Service
Privacy Policy
Contact Us
Log Out
At this point, I felt that I had seen about everything there was to see within the Qmee app. I also felt like I had come to a point where I was ready to talk about my official opinion. Here is what I came up with.
Will The Qmee App Help You To Make Extra Money?
Yes, it will. And based on my experience, it really seemed like the app was going to do a good job of it too.
It is technically well-built, offers plenty of surveys and offers, and is, in general, a seemingly well-put-together app (of course, the app is far from unique in this area, there are plenty of others with similar options, like CashPirate, CashKarma and Apper Wall).
But, the question of 'how much money can Qmee help you to earn?' was a bit less optimistic for me. While this app can certainly help you to earn money, it cannot help you to earn that much. Yes, there are some dynamite deals—but is it worth keeping this app on your phone for them?
What are the odds that you are going to be able to cash in on deals that you were going to be making use of anyway?
You see, one of the (almost) negative aspects of apps like this is that they can actually end up costing you more money than you would have spent otherwise, and here is why.
When you see deals like those offered in the app, you might think to yourself that such deals are almost too good to pass up, so you make a purchase. But is it a purchase that you really need? Is it one that you would have made otherwise?
Yes, you may be saving money or earning cash back on the products through the app… but how much further ahead would you have been had you just saved your money?
Also, the surveys don't really pay out that much, which was a bit disappointing. I actually really liked how the survey system was set up on Qmee. It worked well, was non-glitchy, and seemed to be easy to figure out.
But at just over fifty cents for 20 minutes of survey work, I am afraid that I can find better uses of my time.
Granted, you can make use of these surveys anywhere, but there is just not enough money to be made here to warrant keeping the app on my phone, in my opinion.
You can absolutely earn some cash with Qmee, but I don't think that I could earn enough to make it worthwhile for me. That is my biggest criticism, and probably the deal-breaker with this app as far as I am concerned.
I have also read in the Google Play reviews that surveys tend to get denied quite often.
I know that this is something that is perhaps unavoidable to a degree, because companies need certain types of data… and to be completely fair, I do not fault Qmee alone for this, because this is something that I have run into with almost every survey app that I've ever looked at.
But… it is another negative that gives me pause. If I am going to commit my time to an app to try to earn extra cash, I want it to be the best one that I could possibly gain access to.
One good thing that I noticed was that customer support seems to be pretty good. If you leave a negative comment on Google Play, customer support will likely respond to you with an email address that you can use to try to fix the problem… so that's a good thing.
But yeah. All in all, I didn't really feel it with this app, and I feel that there are better options out there.
Our Final Thoughts About The Qmee App
Should you download it and use it on your phone?
The Qmee App Review
Honestly, there are tons of various apps that claim to help you "make money", but really there are two facts to consider. 1) Most of them don't actually work. 2) If you can make money, it's not going be very much. If I'm going to spend any amount of time working online, I want to be working for myself by building my own profitable website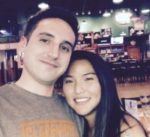 Nathaniell
What's up ladies and dudes! Great to finally meet you, and I hope you enjoyed this post. My name is Nathaniell and I'm the owner of One More Cup of Coffee. I started my first online business in 2010 promoting computer software and now I help newbies start their own businesses. Sign up for my #1 recommended training course and learn how to start your business for FREE!