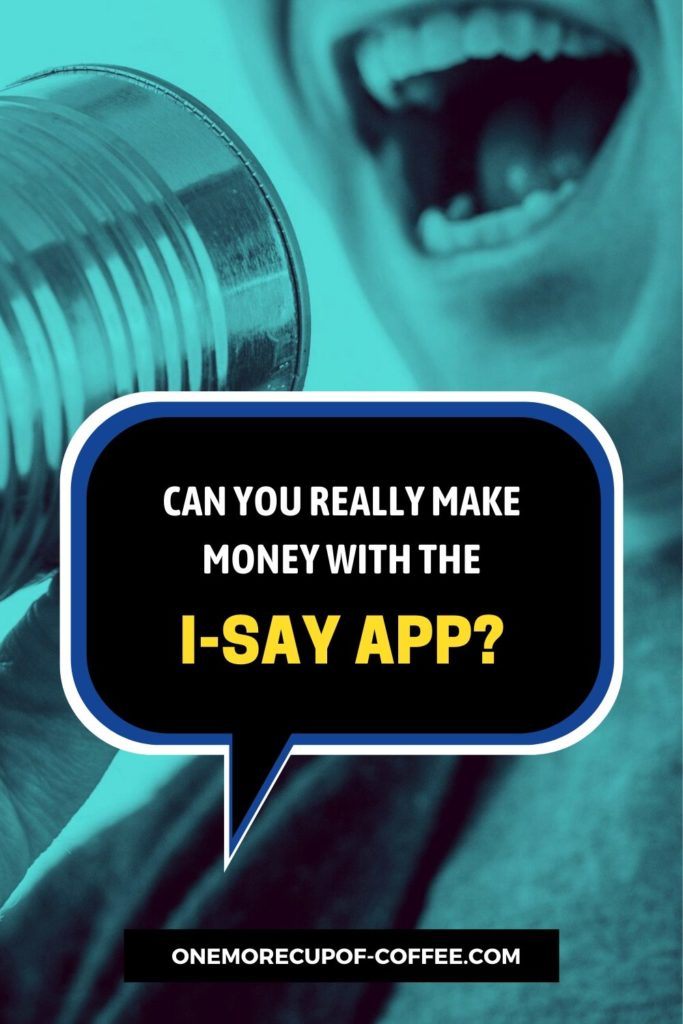 This app claims to reward you for giving your opinion. But can you really make money with the i-Say app (at least, enough to make it worth your while)?
It's available as a free download on Google Play, and boasts some pretty good stats. It has over 100,000 downloads, as well as 4.0 stars in the Google Play Reviews.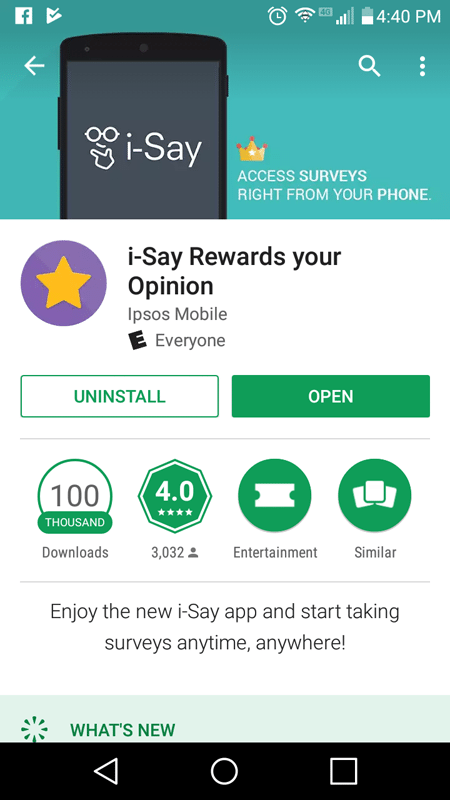 But I was definitely interested in how it performed from the inside-out. So I downloaded it and decided to give it a try. From what I could tell, this looked like a survey app… and I have had some mixed experiences with these. Some survey apps are ok, while others have some issues.
But I'm always on the lookout for good opportunities to make some side cash, and I was certainly excited at the prospect of doing so with this one.
Making Money With The I-Say App
So, without further delay, let's talk about what I found.
Here's what you need to know.
Opening Up The I-Say App For The First Time
Opening up the app for the very first time revealed a screen that asked me what country I was from. After selecting that, I was also asked to select a language. After that, I was taken to this rather attractive-looking intro screen.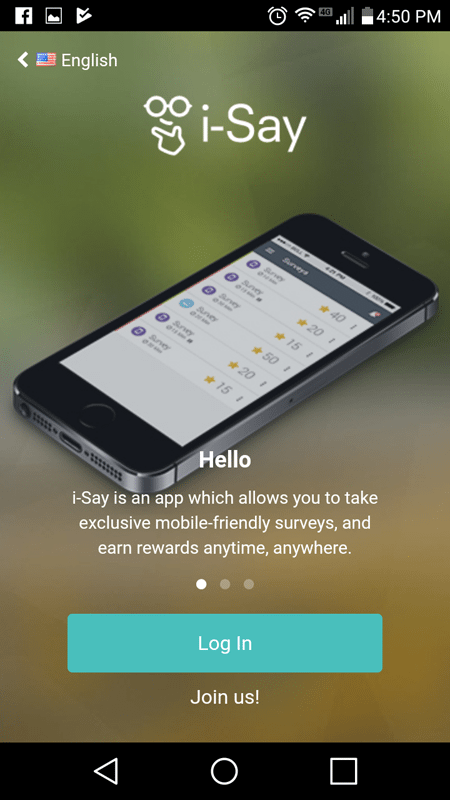 This was the first in a series of several screens that gave me some information about how the app worked. I flipped through all of them and compiled these basic points from them.
I-Say is an app which allows you to take exclusive mobile-friendly surveys, and earn rewards anytime, anywhere.
Voice your opinion on products, entertainment, advertising, and more.
Earn i-Say points for answering surveys and redeem them for rewards of your choice.
This gave me quite a bit of information, actually, and definitely cemented my guess that this was a survey app. But, I was still quite interested in it, and was excited to give it a try.
For the next step, I clicked the 'Join Us' button, and was taken to a page where it asked me if I wanted to use my Facebook login to start my account. I did… but it wasn't 'super easy' like it usually is! This took me to a page where I needed to input my login information, which was a bit out of the ordinary, but whatever.
Then, it kicked me back to the sign in page again. I tried to sign in, but it didn't work. I did the process again, and the same thing happened.
For a minute, I was afraid that the app wasn't going to work. But then I went ahead and just tried to join the app the old-fashioned way, by filling out all of my info… and this ended up working.
But… part of this process involved filling out this long and pretty detailed survey about myself. And when I say long and detailed, I don't mean just a 'little' detailed. This was one of those frustrating ones, where you are asked to include each child's birthdate, your marital status, your household income, etc.
I mean, I understand why they ask all of these questions. I feel like they ask them to place me with surveys that will be relevant to me and that I will qualify for.
But… man oh man, it just takes a while to get through it!
At any rate, I finished the survey, and was promptly greeted by this screen, which was a welcomed site!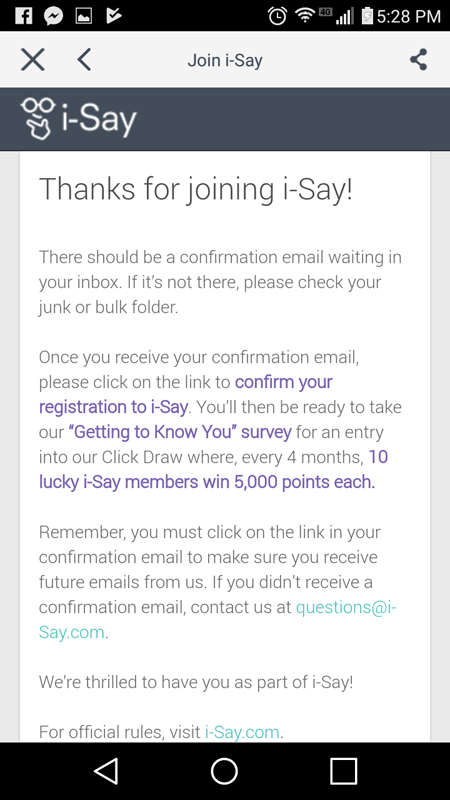 At this point, I needed to put down my phone for a little while to do something else. And when I came back, I realized that the app had signed me out.
No problem (or so I thought). I would just sign back in, right?
Thus began the most infuriating several minutes that I have endured in a long, long time.
Trying To Sign Back Into The I-Say App
So, I clicked 'log in,' at the intro screen, and proceeded to input my email and password. Ok, no problem. Since I literally just created my account just a little bit ago, I easily remembered what it was. I even remembered that I was required to make one of the letters a capital letter. So yeah, this should have been easy.
I filled these two bits of information out, and was then asked to prove that I was not a robot. The app uses these weird captia-type tests for this… and I am not sure if these are what is messing me up or not, but I could not, for the life of me, get signed back into this app!
Look at this. Look at this.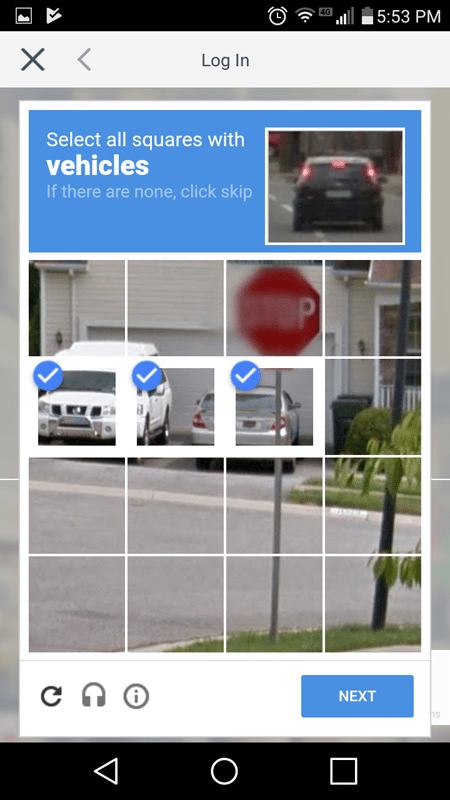 You can see the instructions. You can see that I have selected what seem to be the obvious squares, right? Well, what about the squares with the tires in them? Do I select these as well, or just the squares with 'car' in them? I tried it every single way I could think of. I tried just selecting the cars. I tried selecting all of the squares that had any car parts in them… etc.
But this wasn't the only one. There were all kinds of these little tests, and every time I tried to sign in it seemed like I would get a different one.
And then, I would get this message.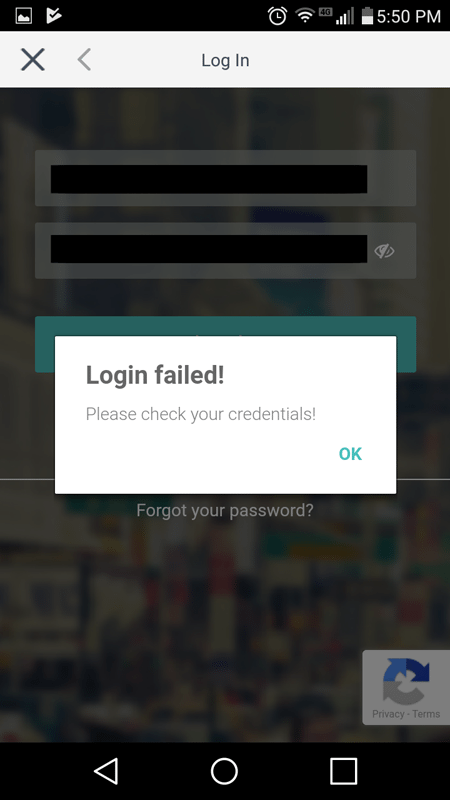 This was so frustrating. This was the most frustrated that I had been with an app in a long, long time.
Why couldn't the Facebook login have just worked in the first place? I even tried that again, just to set the record straight. I tried to log in indirectly with my Facebook login information too. Nada. Zip. Didn't work.
At this point, just to make sure that I wasn't crazy and just messing everything up, I decided to take a look at the Google Play Reviews.
What Did The Google Play Reviews Have To Say About The I-Say App?
So, I did see a couple of complaints about people not being able to log back in. But honestly, not as many as I would have expected. The number one complaint that I did see, however, had to do with the surveys themselves.
A lot of people liked the app, but a number of users seemed dissatisfied with the fact that many of the surveys, it would seem, cannot actually be taken on a mobile device.
From what I read, some of them actually require you to sign in with a computer—which would certainly be a downside for me, even if I could make it to that point!
With all of this being said, though, it does seem like the app garners quite a few 5 star reviews for itself. As far as how much money can be made, it seems that there are also some complaints about how long it takes to earn a $5 gift card. But there are also reviews where people are happy with how much money they are able to make.
So yeah. Mixed results here, but I certainly learned enough to solidify my already probably obvious decision in regards to whether or not I was going to keep the app on my phone.
Will I Be Keeping The I-Say App Installed On My Phone?
The short answer to this question is a no.
And the short explanation to this probably seems obvious at this point.
I CANNOT LOG BACK INTO IT!
But… even if it weren't for this problem, it sounds like there are some complaints coming through the pipe about the app that would still be difficult for me to get around. Namely, that some of the surveys require the use of a computer.
Part of the great thing about apps is that they are mobile. But if you take away the mobile nature of the content that can earn you extra cash, and make it a requirement to use some other, less 'mobile' device, then you have, in my book anyway, effectively taken away one of the biggest advantages that this type of app boasts in the first place.
Plus, the app acted pretty glitchy for me, even in the beginning with the Facebook login. And I really can't deal with that sort of thing for the kind of money we are talking about here. If (as some users reported in the Google Play Reviews) the cash-earning process is slow-going with this app anyway, then I certainly don't want to have to deal with glitches.
Sorry, but I am afraid that I-Say just didn't quite do it for me. I am not usually crazy about these types of apps to begin with, and I am afraid that my first impression of this one certainly wasn't the best.
Honestly, if you are interested in an offer-style app or site, there are plenty of others to consider, like AppKarma, FeaturePoints or CashPirate.
Our Final Thoughts About The I-Say App
Should you download it and use it on your phone?
The I-Say App Review
Honestly, there are tons of various apps that claim to help you "make money", but really there are two facts to consider. 1) Most of them don't actually work. 2) If you can make money, it's not going be very much. If I'm going to spend any amount of time working online, I want to be working for myself by building my own profitable website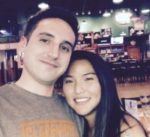 Nathaniell
What's up ladies and dudes! Great to finally meet you, and I hope you enjoyed this post. My name is Nathaniell and I'm the owner of One More Cup of Coffee. I started my first online business in 2010 promoting computer software and now I help newbies start their own businesses. Sign up for my #1 recommended training course and learn how to start your business for FREE!