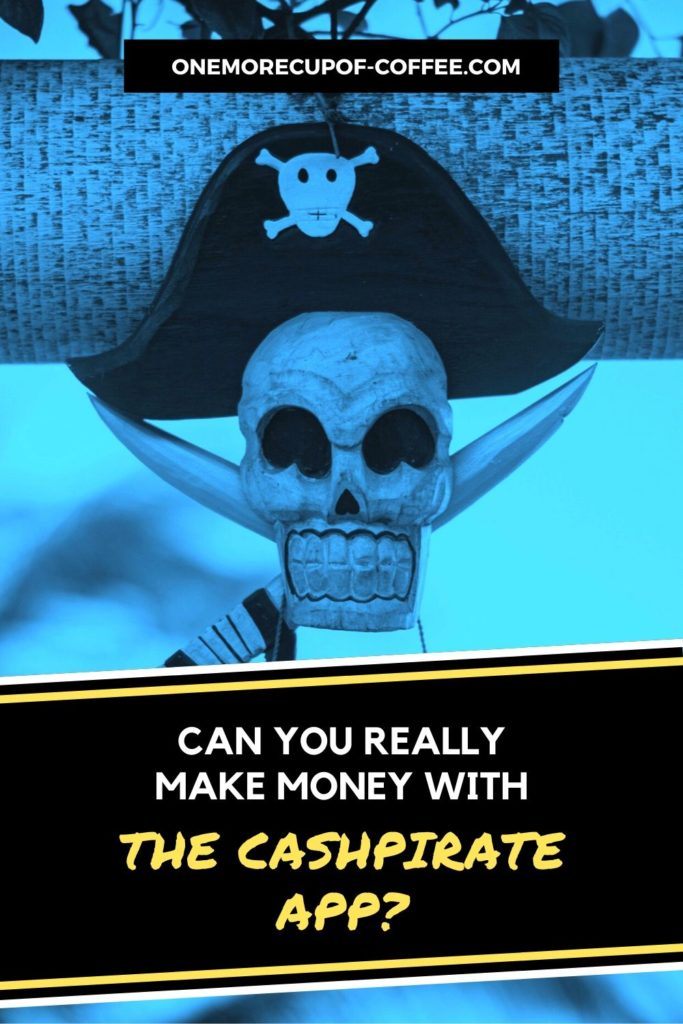 I set aside a certain amount of time each week to look for new apps that could possibly help me to earn extra money from home… and this one is the result of some of this research. But can you really make money with the CashPirate App?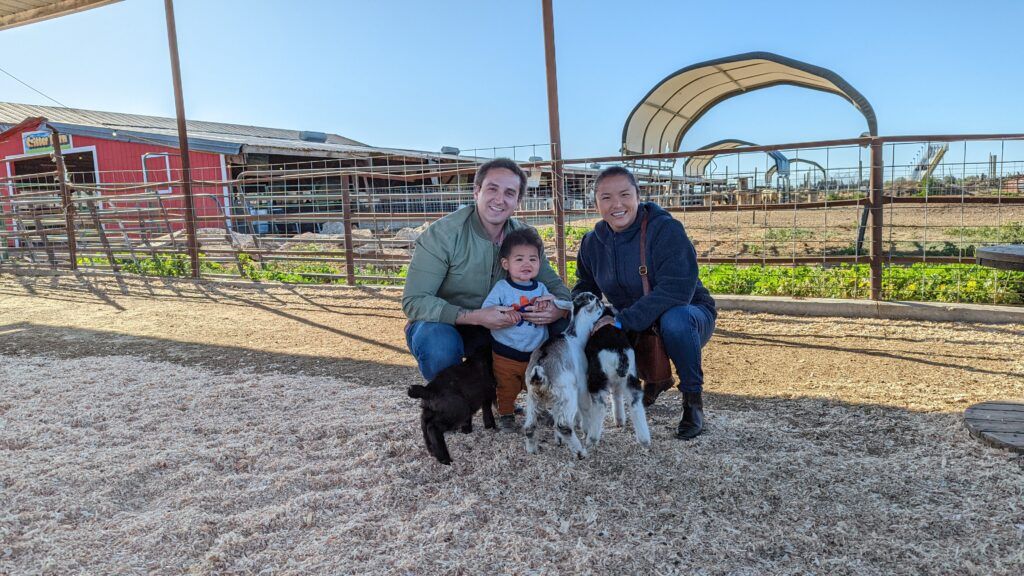 Are You Ready To Work Your Ass Off to Earn Your Lifestyle?
Are you tired of the daily grind? With a laptop and an internet connection I built a small website to generate income, and my life completely changed. Let me show you exactly how I've been doing it for more than 13 years.
This was my question. So I decided to download it and try it out, as I usually do with apps like this.
Making Money With CashPirate
I find a lot of apps that offer to help you make extra cash, but there is never really a way to know if they really work or not without trying them out. So, that's what I do… and i always record my results here, so that all of you fine people will be able to access what I learned!
Right away, I was pretty pleased with the Google Play stats.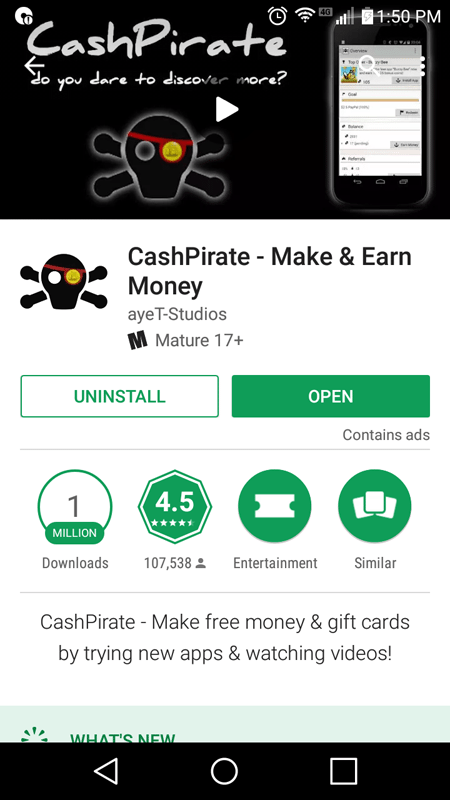 The app has had over 1 million downloads, and has a 4.5 star rating on Google Play. Thus far, it seems to have established itself as an app that provides a positive experience for users… so, so far so good! (Note: I also kind of liked the pirate theme. Who doesn't like pirates!?)
But I never judge an app (good or bad) based on just what I read in the Google Play Store. So to decide for myself whether or not CashPirate was worth the time, I opened it up and tried it out.
Testing apps like this can sometimes be a bit redundant… but I will admit that there is always a bit of excitement to it! I'm always hopeful that I will stumble onto the perfect extra-cash app for me, and that keeps me pretty optimistic!
Here is what I found.
Trying Out CashPirate: Getting Started
The first thing I saw after opening the app was a sign in/register screen. All that I had to do here was input an email address and make a password. I was then taken to a loading screen, and was then quickly ushered into what seemed to be the main 'hub' of the app. But I won't lie—it looked quite strange to me.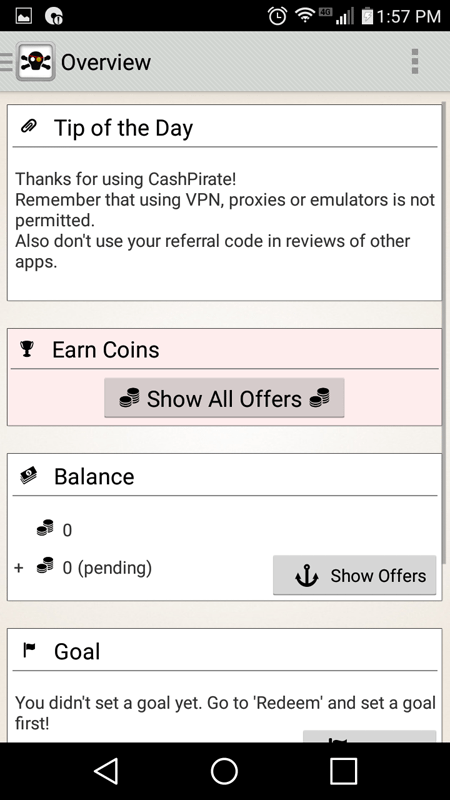 Just to make sure that my phone wasn't acting up or something, I closed out of the app and restarted it. But no—this is what it looks like.
It's not bad. It's just really, really plain. Like, almost too plain. No graphics or animations or anything.
But, that was just the aesthetics, which is easy enough to overlook. I feel like maybe the app is designed this way to make it faster… because it did feel really fast to me as I was using it. I am not sure if that is the case or not, that is just how it felt to me.
Anyway, I decided to take a look around. I saw that there was a 'Tip of the day' section, an 'Earn Coins' section, a 'Balance' section, and also a 'Goal' section here at the top of the home page. I wanted to see if I could earn some coins, obviously, so that's where I went first.
I clicked on the 'Show all offers' button, and was taken to this screen.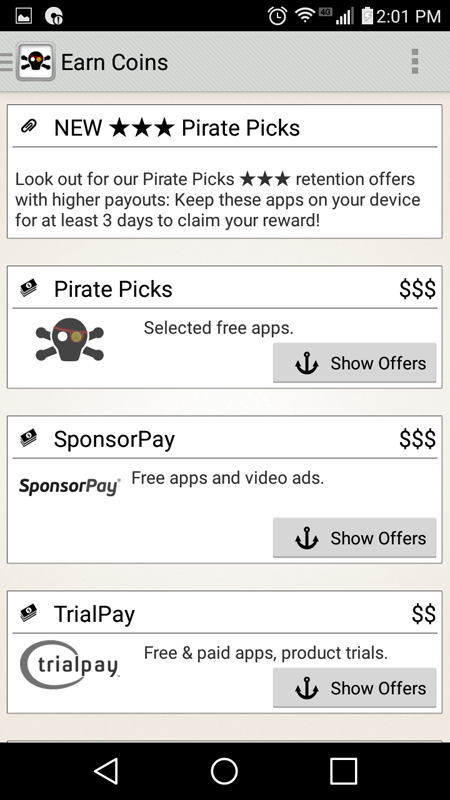 Ok, now we were getting somewhere. First off, this part of the app seemed to make it quite plain that you earn coins by either downloading and trying apps, watching videos, viewing ads, or signing up for product trials.
So, essentially, this is what I call an 'offer app.' It rewards you with money or gift cards for completing offers.
This is a really popular category of app right now, but I don't always like them. They tend to pay out too little to make using them worth the time, but I was not yet sure if this app suffered from the same type of problem or not.
Anyway, once you visit the offers screen, you get quite a range of different categories and types of other offer pages that you can visit. I clicked on one, and here is where it took me…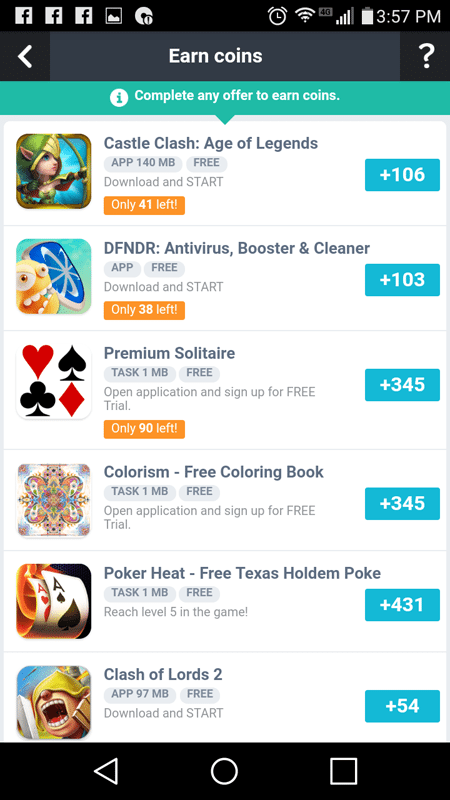 As you can see, most of the offers here focus on downloading apps. To be more accurate, you're generally downloading games and then doing certain things within them. Sometimes you just need to complete a tutorial or simply start playing, other times you need to hit a certain level, which could take a while.
You're generally not earning much money for your time, but you're basically getting paid to play games, so it's not all bad. Other similar apps include AppNana, MintCoins and GrabPoints.
These types of offer pages are, once again, quite common in these types of apps. Here, I could earn anywhere from around 50 to 430 coins by completing one of the many displayed offers… depending on which one I chose.
This gave me a pretty good idea about how many coins I could expect to earn, and I calculated that I could pretty easily make, on average, 200 to 300 coins per day on this app, if I used it in my spare time and put some effort into it.
But, this doesn't tell me what kind of real-world money this could add up to, so that is what I looked into next.
How Much Actual Money Can You Make With The CashPirate App?
To figure this out, I went to the top left corner of the app screen and used the drop-down menu option. Here is what I found when I opened it.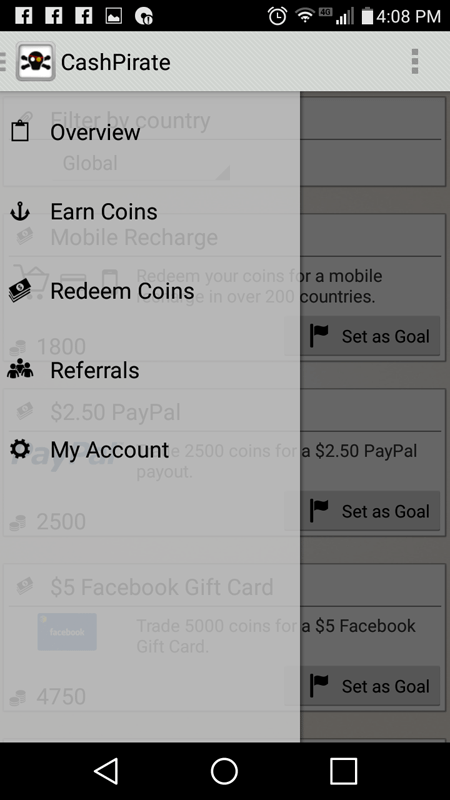 Once there, I clicked on 'Redeem Coins.' Here is what I found when I did that.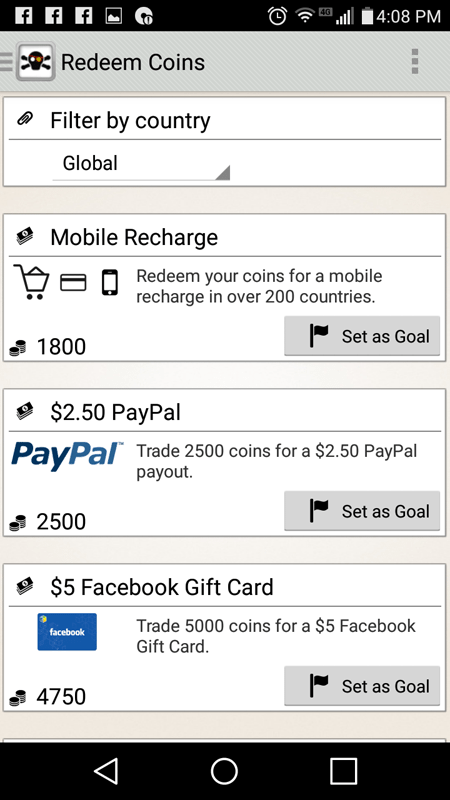 Pretty much, I figured out that 1,000 coins basically equals $1. So for 2500 coins, I could get a $2.50 PayPal cash out. You can also get online Visa cards, Facebook money, and other types of rewards… but PayPal is usually my favorite, for obvious reasons.
One thing I did notice, however, was that you can actually get a $5 Prepaid Virtual Visa Reward for just 4,750 coins… so that is actually cheaper than PayPal, which is kind of awesome.
Anyway, now that I knew this, I could figure up how long it would take me to earn real money using this app. When I multiply 300 points a day by 7 days of the week, I end up with 2,100 coins, which basically adds up to just over $2.
That isn't a lot of money for spending so much time (probably 20 to 30 minutes) on an app every day.
Granted, this is money that you can earn anywhere and at any time, because the app doesn't require you to really go anywhere or do anything that is really time-specific (survey apps can sometimes be bad about this). That is an upside to these types of apps. But, the low per-hour monetary return is the downside.
Did I Like This App Enough To Leave It Installed On My Phone?
There were some good and some bad things about this app.
On the good side, CashPirate was an extremely fast app that did exactly what it claimed to do. There is no doubt that you can earn extra cash with it… and for that reason, it deserves the positive rating that it has received on Google Play.
It also gives you plenty of options for earning points, so it doesn't look like you would run out of options any time soon. This is actually more rare than you may think, so that's a definite upside.
Another good thing about these types of apps is that you can use them anywhere… and that is really important to me.
I like to be in control of my destiny, and am not usually very fond of the idea of being required to be at a certain place at a certain time, especially when using an app. When an app requires me to go to a certain store or something like that, I instantly become a bit wary of it.
I also liked that you get several different options for redeeming points through CashPirate. You can do PayPal, you can get an electronic prepaid gift card, you can get gift cards for Facebook, etc.
But there were also downsides to the app that I could not ignore. First and foremost was the low hourly return for your time. You just don't earn that much money with apps like this, and CashPirate was no exception. This app also didn't necessarily bring anything new to the table either. I've seen many apps that were, basically, exactly like this one.
It is almost like a cookie cutter template that everyone is copying, albeit with very small, slight differences.
Of course, if I wanted to earn cash with the app, I could, but that isn't really the issue. My time is very valuable to me, and I would much rather be able to earn more money in less time. That is what everyone wants though, right? And it is more difficult to find than you might think.
That is what I am searching for though, and I'm afraid that this app simply didn't deliver.
I have definitely seen worse. It has a good reputation, it loads quickly, it looks different, and it gives you awesome payout options. But in the end, the payouts just weren't high enough for me. Sorry CashPirate.
Our Final Thoughts About The CashPirate App
Should you download it and use it on your phone?
The CashPirate App Review
Honestly, there are tons of various apps that claim to help you "make money", but really there are two facts to consider. 1) Most of them don't actually work. 2) If you can make money, it's not going be very much. If I'm going to spend any amount of time working online, I want to be working for myself by building my own profitable website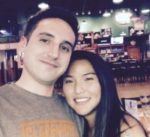 Nathaniell
What's up ladies and dudes! Great to finally meet you, and I hope you enjoyed this post. My name is Nathaniell and I'm the owner of One More Cup of Coffee. I started my first online business in 2010 promoting computer software and now I help newbies start their own businesses. Sign up for my #1 recommended training course and learn how to start your business for FREE!