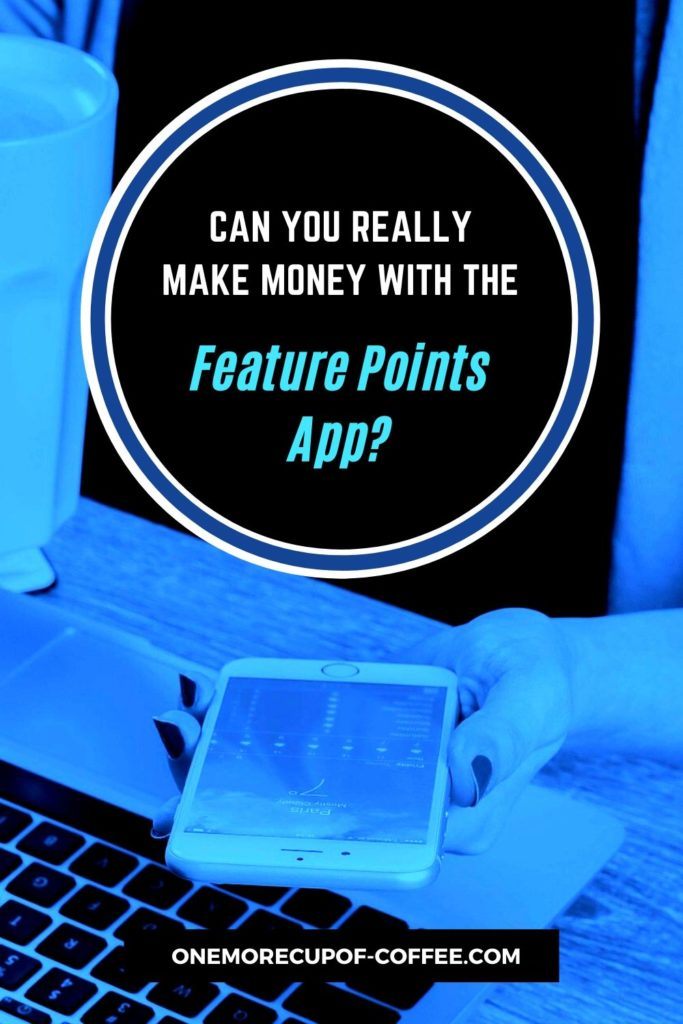 I found this app while researching newer, better ways to make extra cash online. But can you really make money with the FeaturePoints app, or is it more of a gimmick?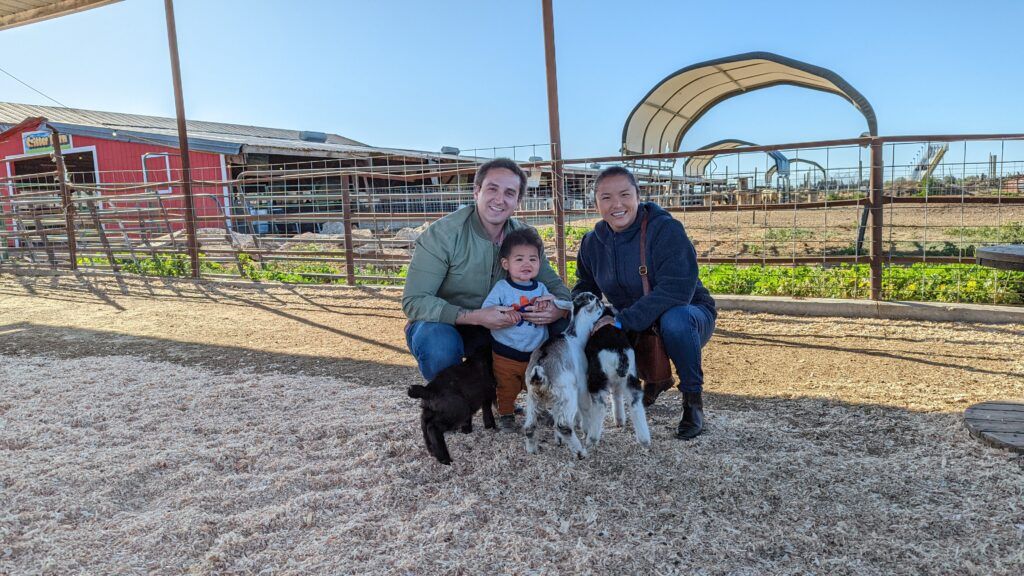 Are You Ready To Work Your Ass Off to Earn Your Lifestyle?
Are you tired of the daily grind? With a laptop and an internet connection I built a small website to generate income, and my life completely changed. Let me show you exactly how I've been doing it for more than 13 years.
If you follow us here very often, you probably know that we do a lot of app reviews. We always strive to be fair and balanced, and our goal is always the same…
We just want to make some extra cash without spending an incredibly unreasonable amount of time doing so.
That's pretty much it. That's all we ask for.
But it is surprisingly difficult to find apps that meet or exceed this basic requirement! A lot of apps just don't give you the kind of money for your time that would make them feasible. But… we are always on the lookout for exceptions!
Making Money With The FeaturePoints App
As far as basic information goes, the FeaturePoints app looks pretty awesome on paper – and this is always the first thing that we look at. It has over 5 million downloads, boasts a pretty good 3.9 star rating, and has been reviewed by over 113,000 users.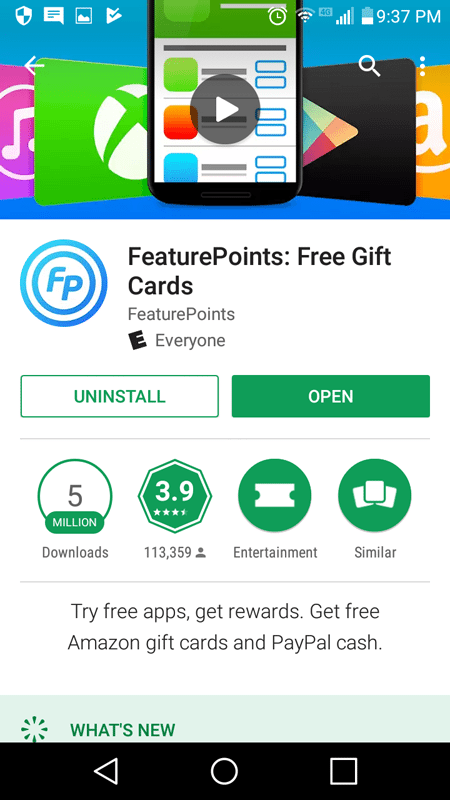 But… I have seen a lot of apps with even better stats that didn't measure up.
Will FeaturePoints be one of them? To figure that out, we downloaded it and decided to give it a try.
Getting Started With FeaturePoints
When I first opened FeaturePoints, here is what I found.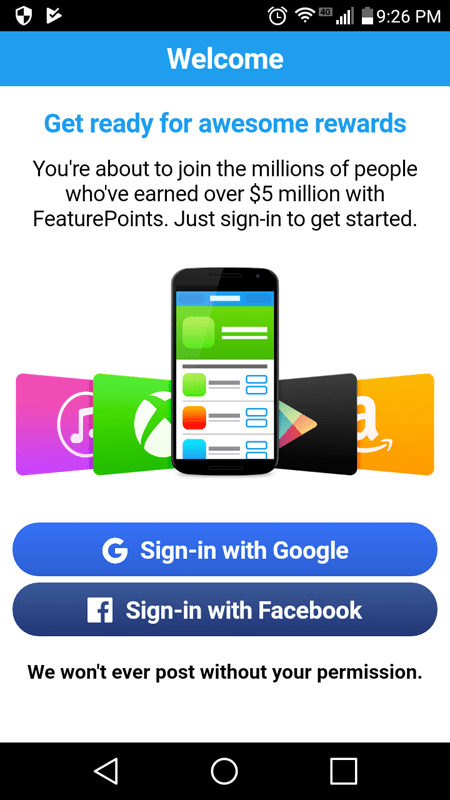 So far, so good. The app looked fun and exciting. I used Facebook to log in, and after going through another screen or two, I arrived at what seemed to be the 'main hub' of the app.
Right away, I saw two things that were quite noticeable.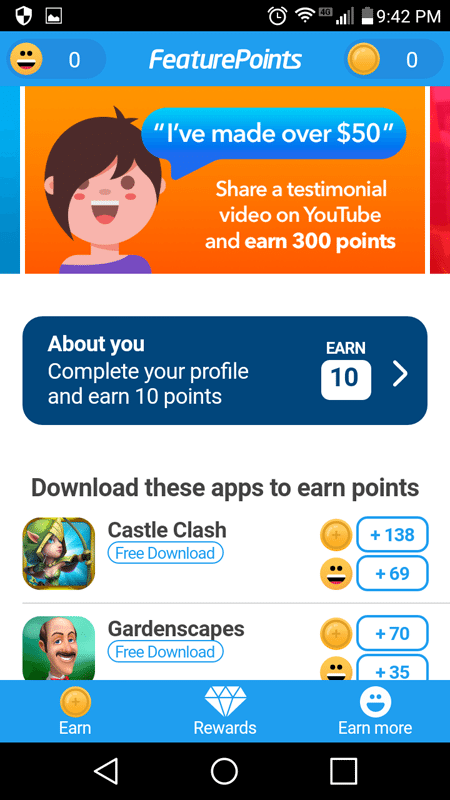 Do you see that little smiley face in the upper-left hand corner? It looks weird. It's almost happy-creepy, like a clown or something. The eyes are too close together or something. And… it looks like it has a milk mustache. It literally looks like an old guy with a milk mustache!!!!
(Ok, now back to serious business.)
The second thing I noticed was that I could download apps to earn points. I've used quite a few of these types of apps before, and as a general rule they don't tend to impress me, usually because they require too much effort for the money you make (other examples include App Bounty, AppNana and Cash for Apps).
But… they also tend to have an advantage over some other types of apps in the sense that they are really easy to use from wherever you are. Generally, you don't have to be in any certain place to make use of them, which is probably their best upside.
At any rate, here is what we found when we took a closer look at the app.
Taking A Closer Look At FeaturePoints
So, the next thing I took a look at with FeaturePoints was how much I could earn. But, I started to notice something right away that got my attention.
Every app had two points values… a points value with a coin next to it, and one with that creepy smiling face next to it. I wasn't sure what this meant, so that was my next task… figuring out what these different point values represented.
After taking a look at the app and reading about a few things, I came to this conclusion.
That the points are the coin emblem
That the smiley face points seem to be something else… but I am not sure exactly what
The coins, though, are what you spend to get prizes.
So, having figured this out, let's take a closer look at the way the app is laid out. There are three basic sections within the app. The Earn section, the Rewards section, and the Earn More section.
The Earn section, obviously, is where the app defaults to. This is where you earn coins for downloading apps and things like that. If you scroll over to the Rewards section, you will find all of the prizes and rewards that you can trade points in for. We will talk more about this section later!
And finally, the Earn More section gives you a link and a code that you can share. If you share them and your friends use them, then you, supposedly, can earn %50 of what they make… which is pretty awesome.
Other than that, you can click on the coin emblem at the top right of the screen to view your point history/account activity. But aside from that, there isn't much else to the app, really.
But now, I wanted to calculate how many points I thought I could earn in the average week using this app, so that's what I worked on next.
How Many Points Could I Earn In A Week With FeaturePoints?
The 'average points per app' that the app gives you seems to be around 50 or so. So if I downloaded and tried one app per day, I could earn about 50 points per day, or around 350 per week.
Obviously, you could download and try more than this… though I am actually not sure if there are enough apps available on FeaturePoints to allow you to double-up; so that could be a problem.
I'm not sure how often the app refreshes the apps that you can download for cash, but it kind of seems like there aren't very many available at one time, which is a bit of a downside.
At any rate, I wanted to see how much money 350 points were worth… so that's what I took a look at next. To figure this out, I went to the rewards section of the app, and clicked on the PayPal button, as this would be my favorite way to withdraw my money from the app.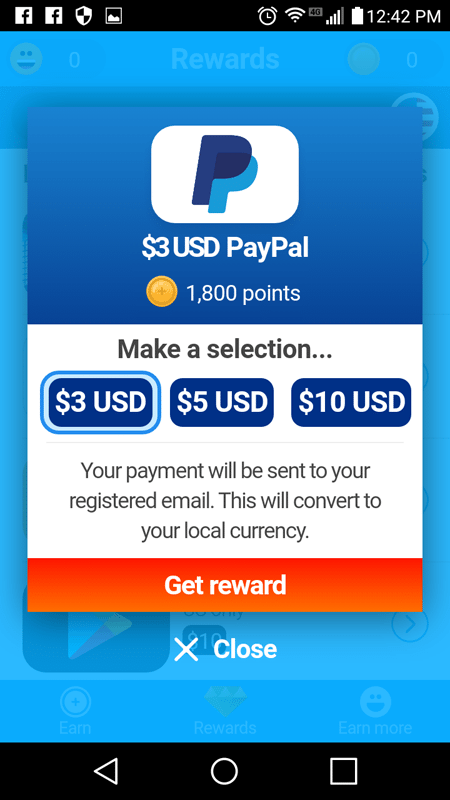 As it turns out, you need 1800 points to earn $3 in PayPal. That is basically 600 points per dollar. So, by this logic, I could expect to make about $1-$5 extra per every two weeks, depending upon how hard I worked at it. How many apps were available to download would also play a part.
You can take surveys on FeaturePoints to supplement your earnings, but as you probably well know, based on our other reviews, this is a hit-or-miss kind of strategy.
At this point, I felt that I had learned enough about the app to figure out if it was going to be right for me. Here is what I decided.
My Personal Thoughts About The FeaturePoints App
First, let's start with the good. The app worked quite well. It also looked good. It has a rather good Google Play rating, and I dare say that it deserves it, because it does do exactly what it claims.
I also like these types of apps in the sense that they will allow you to earn extra money from anywhere, at any time, on your terms. This sort of flexibility is really important to me, and this app (like many others in the same category) does a good job of giving that to its users.
But… with that being said, this app also suffered from the usual types of problems that these apps tend to present. The first and foremost of which is the amount of money you can actually earn for your time investment.
If I were to go out and get a minimum wage job, I would be required to show up at a certain time every day… but I would at least be earning somewhere around $9 an hour, depending on which state I was in.
But with this app, I am barely going to be making $1-$2 an hour!
Not only that, but it would seem that my income potential is limited with FeaturePoints, as there are not an unlimited number of apps to download. Actually, there seemed to be about 2 dozen. I am not sure how quickly the app refreshes this list, so what happens if I run out?
This could really hinder my attempts to earn extra cash through the app.
In the end, consistency is almost as important to me as flexibility. I need to know that I can expect to at least be working toward earning a decent amount of money for my time, and I need to be able to work when I want, where I want, and to have some reasonable sort of idea about how much money I'm going to be bringing in.
I don't even mind investing my time for a little bit of cash if it is going to pay off better down the road. But I'm afraid that this app just doesn't give me that kind of opportunity.
So, personally, I will not be leaving FeaturePoints installed on my phone. I wish I could justify it, because the app is quite nice to look at, and it behaves decently… but alas, the point is to earn extra cash. And I am just afraid that this app doesn't quite cut it in that department for me.
Our Final Thoughts About The FeaturePoints App
Should you download it and use it on your phone?
The FeaturePoints App Review
Honestly, there are tons of various apps that claim to help you "make money", but really there are two facts to consider. 1) Most of them don't actually work. 2) If you can make money, it's not going be very much. If I'm going to spend any amount of time working online, I want to be working for myself by building my own profitable website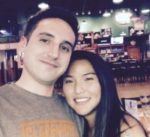 Nathaniell
What's up ladies and dudes! Great to finally meet you, and I hope you enjoyed this post. My name is Nathaniell and I'm the owner of One More Cup of Coffee. I started my first online business in 2010 promoting computer software and now I help newbies start their own businesses. Sign up for my #1 recommended training course and learn how to start your business for FREE!