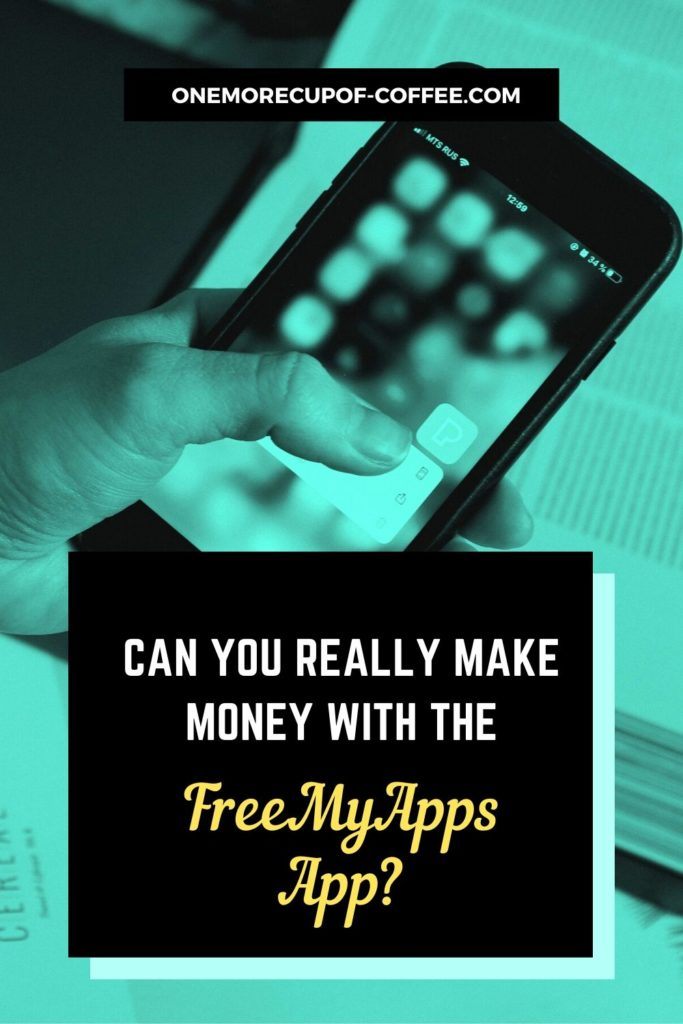 I'm always on the lookout for apps that will help me to earn some extra cash here and there, and found this app as I was looking for a new one. But can you really make money with the FreeMyApps App?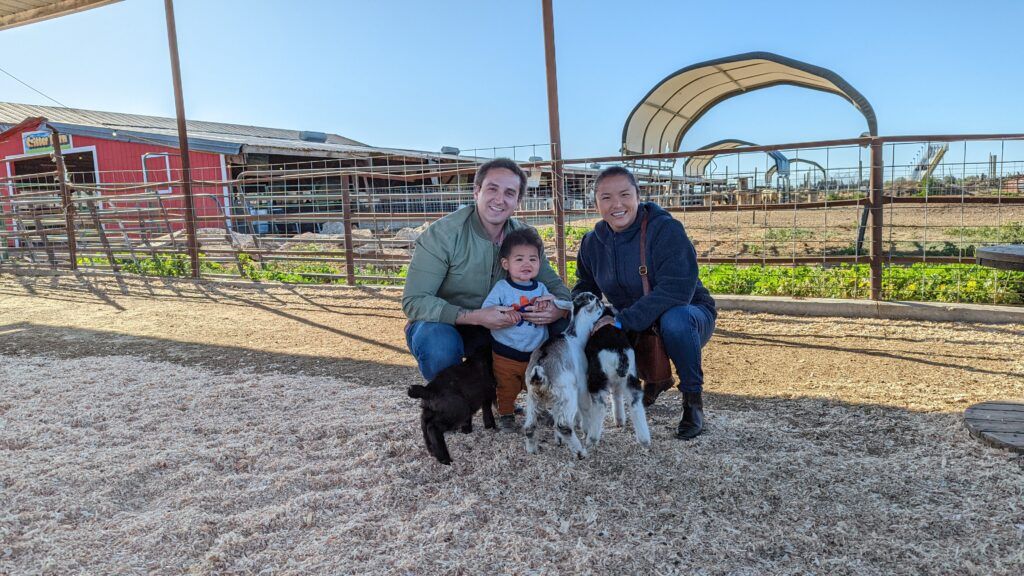 Are You Ready To Work Your Ass Off to Earn Your Lifestyle?
Are you tired of the daily grind? With a laptop and an internet connection I built a small website to generate income, and my life completely changed. Let me show you exactly how I've been doing it for more than 13 years.
The Google Play stats aren't too bad.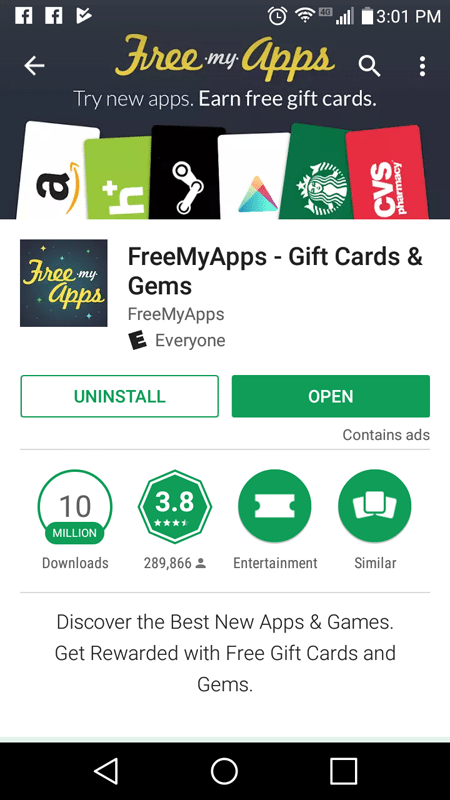 With a massive 10 million downloads, and a pretty good Google Play rating of 3.8 stars, this app had most of the makings of a good experience from the get-go. The tagline for it even read as follows…
"Discover the Best New Apps & Games. Get Rewarded with Free Gift Cards and Gems."
I definitely enjoy earning rewards! I do like trying out new apps too—though I will admit that earning extra cash takes priority for me over the 'fun' part.
Making Money With The FreeMyApps App
So, needless to say, I was ready to get down to business with FreeMyApps. The name definitely says a lot… but will the app live up to the hype?
Here is what I found out.
Trying Out FreeMyApps For Myself
If you read many of our app reviews, you likely know that we try all of these apps out for ourselves. I don't like to rely on what other people have to say about apps like this in most cases, because they are either trying to promote them for monetary gain or haven't actually tried them.
It's amazing how many people publish reviews of apps without actually using them! I don't like it at all, which is why I downloaded FreeMyApps and decided to try it for myself.
And hopefully, my experience with it can help you to gauge whether or not it will work for you as well.
At any rate, I found this introductory page upon opening up the app for the first time. It was pretty cool, in a quirky sort of way.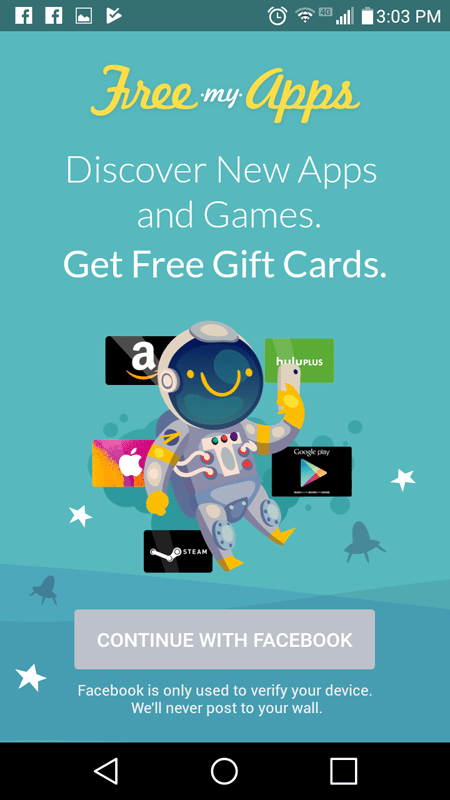 I signed in using my Facebook, and quickly arrived at what appeared to be the 'main hub' of the app.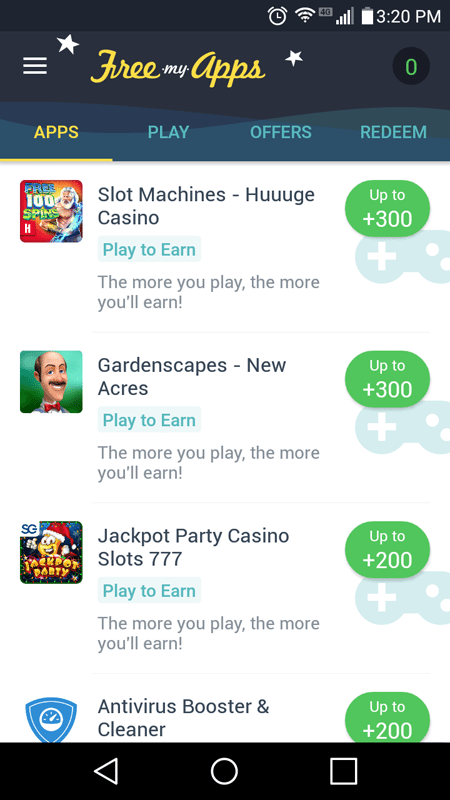 I immediately saw that I was in the App section of the main screen, though there also appeared to be sections labeled as follows: Play, Offers, and Redeem.
I saw that there were quite a few apps here in the App section, and that most of them said 'Play To Earn' underneath. They also said that you could earn 'up to such-and-such' points on them, which leads me to believe that the amount that you can earn with each app is flexible, based upon how much you actually do.
I clicked on one to see if my theory was correct. And yes, as it turns out, it was.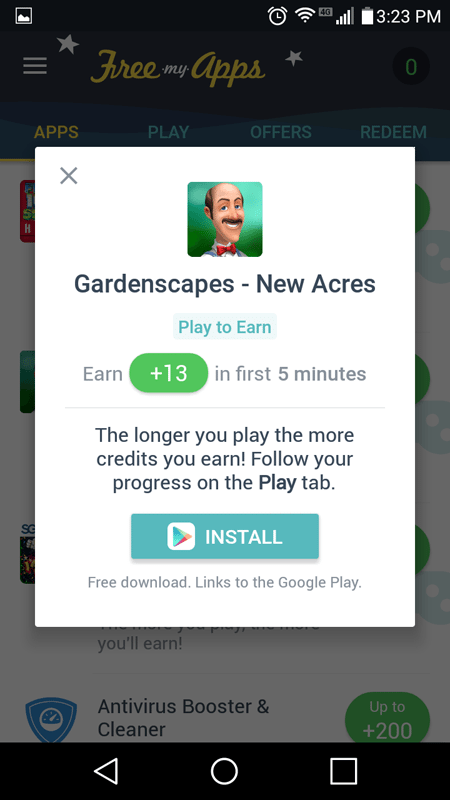 So, in the first 5 minutes, I could earn up to 13 points. But… if I kept at it long enough, I could earn up to 300.
I checked out some other apps to see if they were worded the same way when I clicked on them. As it turns out, this varied. Some said 9 points. Some said 7 points. One said that if you got to level 5, you would earn 228 points, etc.
But, at this point, I was curious to figure out exactly how much I could expect to earn while using the app. Now that I knew what kind of points you could earn for doing things, I did some math to try to come up with a number.
Figuring Out How Much I Could Actually Earn With The FreeMyApps App
After some educated guestimating, I came to a figure that I felt was pretty realistic. I felt that, if I spent 15 minutes a day on this app, that I could earn, on average, about 50 points, give or take.
Obviously, I might be able to earn more than that some days, and maybe less than that on others. But, that is spending just about 2 hours per week on the app (actually 1 hour and forty-five minutes, but pretty close!).
That comes out to roughly 350 points per week, if I played on the app for about 15 minutes every day for seven days.
But now, I was curious about how much actual money this was worth. So I did a bit of looking around in the Redeem section of the app, and found that I could get a number of different types of gift cards. I decided to base my figures on a $10 Visa Prepaid Card, as that would allow me to spend the money about anywhere, and would offer the same value as a gift card to a store.
Here is what the app told me when I clicked on this option.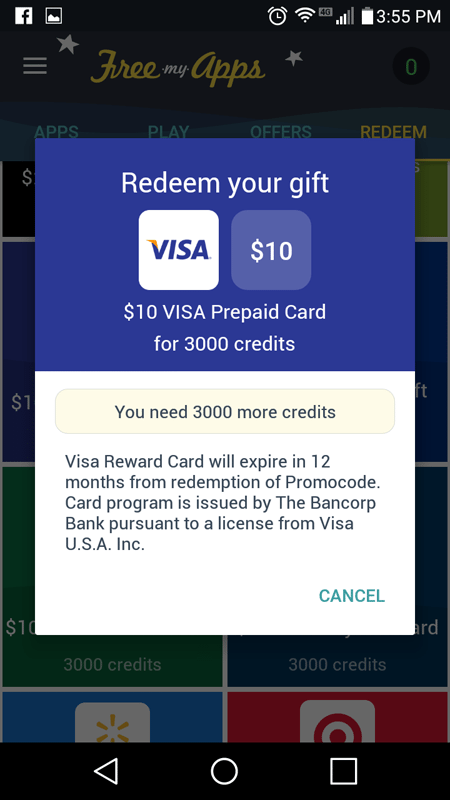 So here, I figured out that a $10 prepaid card can be redeemed for trading in 3,000 points. This makes every 300 points worth about a dollar, which means that I could earn about $1 for a week's worth of work on the app.
That brings the hourly rate to about $1-$3 an hour, give or take.
That isn't an incredibly high number… but, on the flipside, we also need to keep in mind that this is money that you can earn pretty much whenever you want. You could do it while riding in a car, while riding the subway, while waiting in line, etc.
And therein lies the best thing about apps like this. They don't require you to be anywhere special at any certain time. This is what I like about this type of app.
At any rate, I decided to take a quick look at the Google Play reviews as well, just to see what other users were saying about the app.
Taking A Look At The Google Play Reviews For FreeMyApps
So, right away, I found a lot of the typical types of reviews that you could expect. A lot of people sharing their referral code. A lot of people saying that they felt like the app was 'glitchy.' A few people said that they had points deleted—which is definitely not cool.
One person said that the longer they used it, the more problems they had with it. A lot of people also said that they had problems with the app not giving them the coins that they had earned.
Actually, the more I read, the more I realized that a LOT of the written reviews were negative. I began to wonder if all (or most) of the positive reviews were just people trying to share their referral code? Obviously this is quite a leap since there is no way that I could read through every single review.
But, it is something to think about.
After reading through quite a few of the most popular reviews, I have come to realize that this app just doesn't seem to have a very good reputation. In fact, I'm surprised that it has the good rating it has, based on what I was reading in the Google Play reviews.
Before investing much time into this app (if you are planning to), I would certainly recommend that you read through the reviews yourself… just to get a better idea of what I'm talking about. But at this point, I had pretty much decided what I was going to do.
Am I Going To Put Any More Time Into The FreeMyApps App?
At this point, I had definitely decided the answer to this question… and it was a very definite 'no.'
Here is my reasoning.
First off, there are some good things about this app. It looks nice. It seemed to work well for me (despite lots of complaints about glitches and the like in the Google Play reviews). It pays out relatively well for what it is, despite apps in this category being notorious for paying out super-small amounts of money.
Also, let's not forget that apps like this do give you the opportunity and the means to earn money wherever you are, whenever you want. As long as you have Wi-Fi or cell service, you can make use of it.
But, there were also a lot of problems. Firstly, it just didn't offer enough money for the time to make it worthwhile for me. Secondly, the reports of glitchy-ness didn't sit well with me. I do not want to invest my time into an app that has technical problems. Granted, I didn't experience any for myself—but there were so many of them in the reviews that I couldn't help but to take notice.
To summarize all of this, I would just say that I feel like there are better, more sure-fire ways of making extra cash. Granted, there were some upsides to this app, but not enough to sell me on it. It isn't the worst that I've used, but I have also used better.
That being said, this type of app does appeal to some people. The chance to earn money by playing games is pretty cool if you enjoy messing around with apps.
There are other apps that work in a similar way too, such as CashPirate, App Bounty and WHAFF Rewards.
Our Final Thoughts About The FreeMyApps App
Should I download it and use it on my phone?
The FreeMyApps App Review
Honestly, there are tons of various apps that claim to help you "make money", but really there are two facts to consider. 1) Most of them don't actually work. 2) If you can make money, it's not going be very much. If I'm going to spend any amount of time working online, I want to be working for myself by building my own profitable website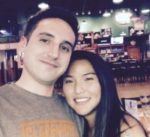 Nathaniell
What's up ladies and dudes! Great to finally meet you, and I hope you enjoyed this post. My name is Nathaniell and I'm the owner of One More Cup of Coffee. I started my first online business in 2010 promoting computer software and now I help newbies start their own businesses. Sign up for my #1 recommended training course and learn how to start your business for FREE!