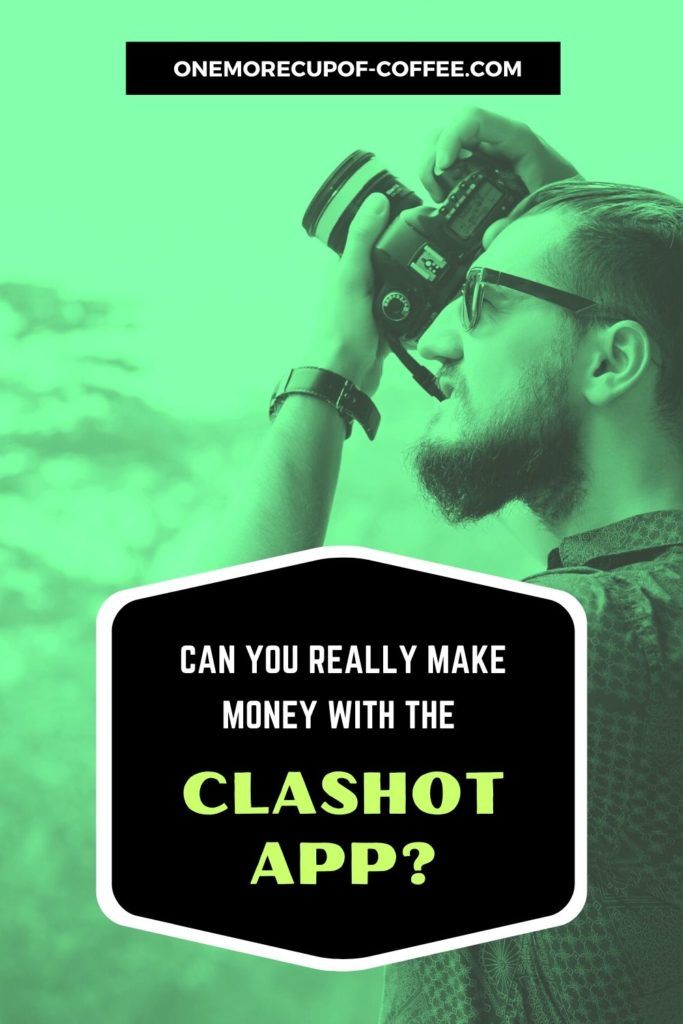 This is another app that you can use to sell your photos online… but can you really make money with the Clashot App?
I found this app as I was, yet again, searching for ways to make extra money online.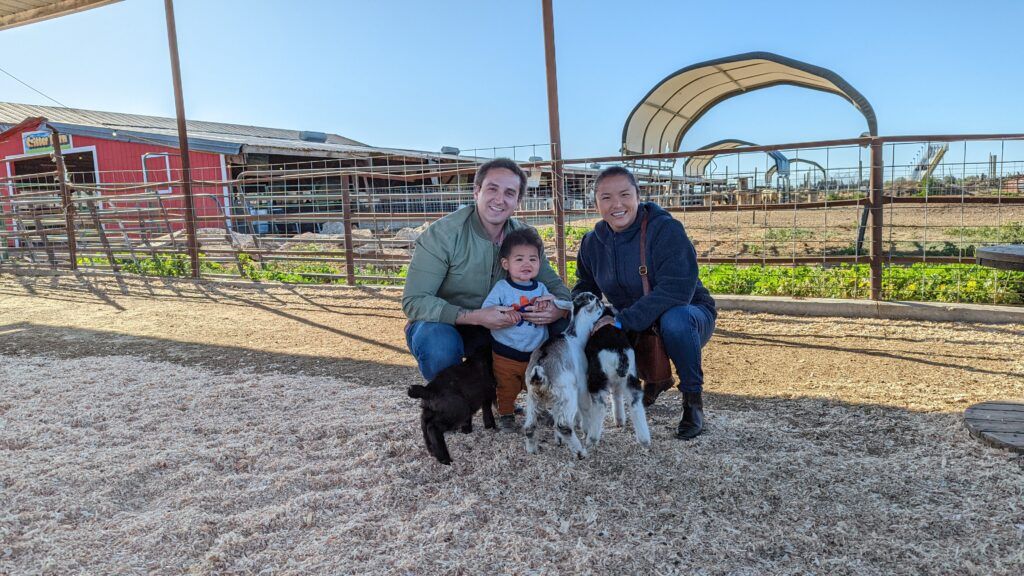 Are You Ready To Work Your Ass Off to Earn Your Lifestyle?
Are you tired of the daily grind? With a laptop and an internet connection I built a small website to generate income, and my life completely changed. Let me show you exactly how I've been doing it for more than 13 years.
Making Money With The Clashot App – Why I'm Interested
I'm not a professional photographer, but I do consider myself a creative person. I also own a camera, some photo/video editing software, and a computer to edit my pictures on. I have a few amateur photography gigs that I take part in every week.
They are sort of like side-hustles that I'm interested in perhaps monetizing in the future… but apps like this could, in theory, give me what I need to start making at least a bit of money off of my camera in the here and now.
But is Clashot good enough to make the cut?
Here's what I found out over the course of my research.
Getting Started: What Is Clashot?
Clashot, according to the Google Play description, is an app that allows you to sell photos to earn money. Here's a little snippet from the expanded description in the Read More section…
"Do you take lots of interesting and high-quality photos? Start earning money from them! The free Clashot app helps you to take, publish, and sell your photos."
Sure, it sounds simple enough—but I was interested in learning more. So I downloaded the app and decided to give it a try.
But first, let's take a look at some of the basic stats.
The app has been downloaded over 500 thousand times, has a 4.2-star rating on Google Play, and has been reviewed by close to 17,000 people.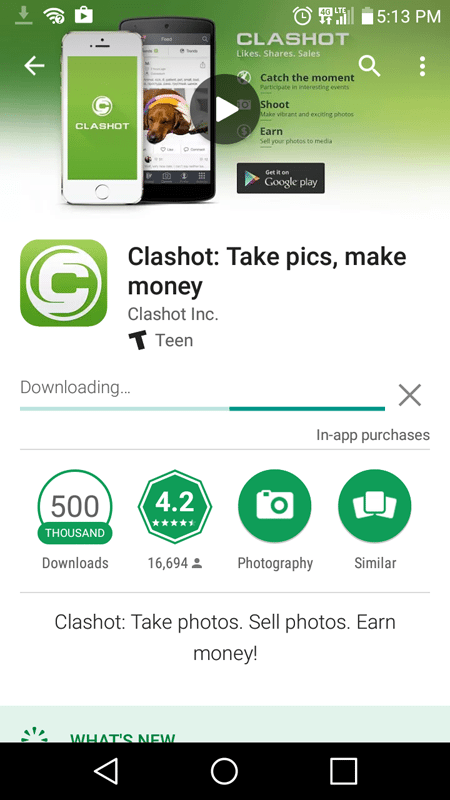 There's also a video posted on the Google Play listing, that did a pretty good job of helping me to understand exactly what the app did.
I'll be honest—I've reviewed a few different apps like this in the past. Some of them I liked, and others I wasn't too crazy about. Examples include Foap, EzyShot, and Iconzoomer.
Obviously, one of the biggest factors with apps like this is that you are sort of in control of your own destiny when it comes to how much you can actually earn—and to do well, you need to put in some real work. You can't just take photos and expect to make money.
You need to really refine your craft. You might take 100 pictures and never earn a dime—or, you might make bank on a picture that you never expected would do so well.
So keep in mind that, when it comes to artistic, creative opportunities like this, you will always need to focus on your craft first. The app is just an infrastructure for giving you the tools you need to monetize it.
But, with that being said, I was excited to see what it had to offer.
Here's what you need to know about Clashot and how well it works for amateur or professional photographers alike.
Opening Up Clashot For The First Time
Here's what I found when I opened up Clashot for the very first time.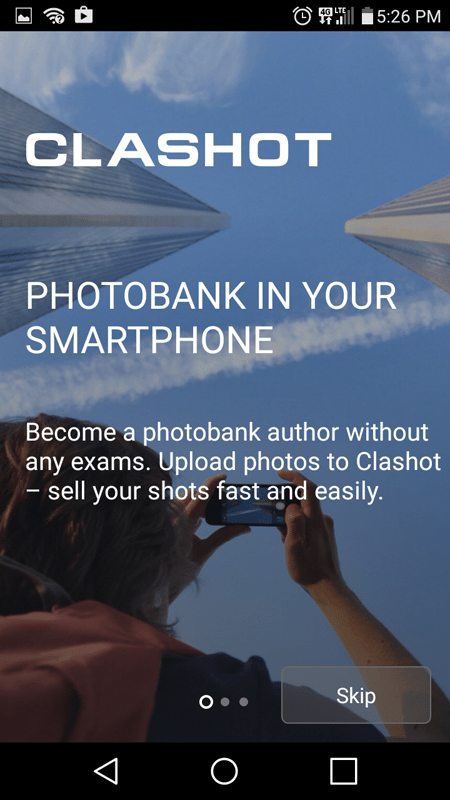 This was the first in a series of 3 photos that seemed to do a pretty good job of showing me exactly what the app did. Here were the main points that these pages communicated.
1… Photobank in your smartphone
2… Customers on every continent in the world
3… Earn alongside the leading photographers
I clicked the 'start' button once I had gotten through these introductory pages, and was taken to this page… which seemed to be the 'hub' of the app.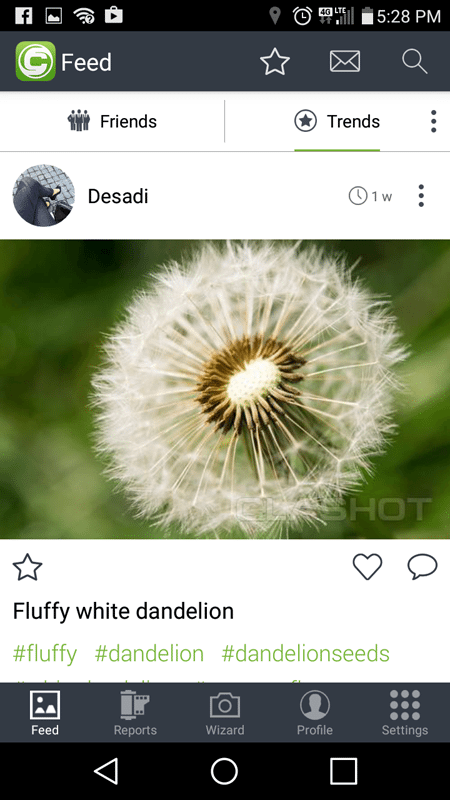 Here, I found a 'Friends' and a 'Trends' section at the top of the app. There was also a 'Feed,' a place for ratings, a place for messages, and a search bar. I found myself in a bit of a feed-like page where I could scroll down and view images that had been taken by other people. I had the option to 'heart' these images, leave a comment, or rate them.
When I tried to rate one, though, I was prompted to log in… which I promptly tried to do, with Facebook (as usual).
Once I signed in using my Facebook information, I was taken to this screen.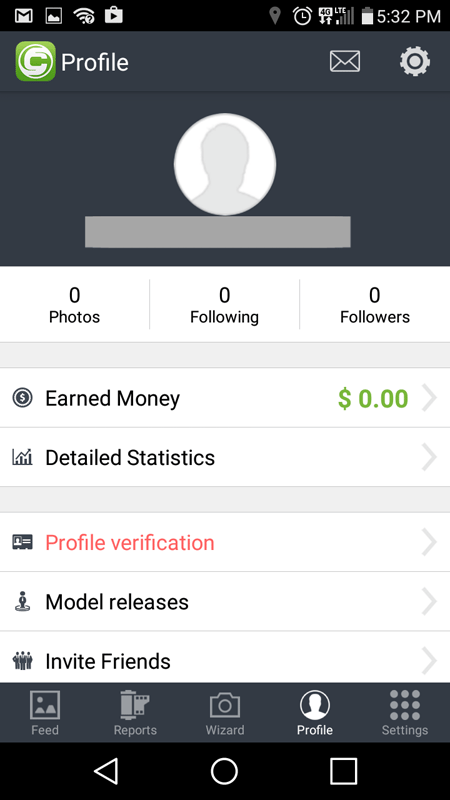 This seemed to be my personal profile.
But now I was interested in finding out exactly how to earn extra cash on Clashot—so that's what I'll talk about next.
Earning Cash On Clashot
To get started earning cash on Clashot, you obviously need to upload photos—which I did. Using the 'Wizard' button at the bottom of the page, I took a photo of my keyboard and uploaded it, just to see how it worked.
It asked me a few questions and asked me if I wanted to set my location—both of which were easy to figure out. Now, when I went to my profile and clicked on 'photos,' I had one photo that I could view.
So uploading photos is pretty easy. You can either upload them from your phone's memory, or you can take them and put them directly onto the site.
When you upload photos on Clashot, you have the option to place them for sale on Depositphotos. This is another app that is used to sell stock photos, vectors, and videos. But in order to do this, you have to be a verified user.
Without this, Clashot is really just like a social media page. If you aren't a verified user, you really just browse the feed, follow people, and appreciate their photography. Depositphotos is one of the largest photobanks in the world, so being able to have your photos listed on it by uploading them to Clashot is pretty cool.
When you sell photos, you earn commissions on them. Each photo can be sold an unlimited number of times, so you can make a lot of money for even just one picture—as long as it sells.
The prices for photos are dependent on Depositphotos' prices, but Clashot does send out 'challenges' sometimes, asking for photos in a particular genre or on a particular subject. These are often opportunities to earn a lot more than usual on Clashot… but they are situational, and not necessarily the most important feature of the app.
As for exactly how much you can make, here is a quote from the FAQ section of the Depositphotos website, which helps to explain the prices involved in selling photos on the site.
"The commission amount depends on the license type under which the image has been uploaded and the resolution in which it has been purchased. It is also influenced by your author level and status on the website."
To be completely honest, it's really difficult (impossible is more the word for it) to figure out exactly how much you can make on commissions on Depositphotos without using it, because you really have to get into it (as an entirely different app), upload photos, get prices, and figure all of that out before you ever even see how much you could be making.
I don't even have a profile on Depositphotos, but it is a very popular and professional site, and I'm sure that they do a good job of offering quality commissions on their images.
Granted, this route might not be the 'big time' photography gig that every photographer dreams of, but it's a way to get started selling stock images, a way to make some sweet extra cash and a method that anyone can use to get started with photography in-general while also earning a bit of money on the side.
Will I Be Using Clashot?
Here's what I learned about Clashot, in a nutshell.
First of all, it's a great app. It's free, it provides you with an awesome social-media like atmosphere for photography, gives you access to an outstanding audience that could really help to get you some increased visibility for your craft, and gives you the opportunity to post your pictures on Depositphotos quickly, easily, and with minimal hassle.
Clashot alone is not a money maker. It is the ability to sell your photos on Depositphotos that gives you the ability to earn revenue from your photography on Clashot.
Would I use this app?
That's a good question. If I were a more serious photographer, and I really enjoyed shooting and selling stock photos, then yes—I would definitely use Clashot. I can't be sure what I would be making in terms of commissions, but Depositphotos seems to be a really professional site.
I also feel that Clashot could really help a photography career as well, because of the thriving social-media type atmosphere on it.
I will also say that I feel that this site is more for experienced photographers than complete novices. It's easy to use—but you are going to need to know a few things about resolution and professional photography to make it work the best for you.
And if you don't know these things, you can learn them—but it isn't necessarily a 'fun' photography site that you just use for snapshots. It seems like the people who do the best on Clashot are the people who take their photography pretty seriously.
But, having said that, the app is fun to use, and worth your time if you love photography and want to supplement your income as you get the business part of it off of the ground.
Our Final Thoughts About The Clashot App
Should you download it and use it on your phone?
The Clashot App Review
Honestly, there are tons of various apps that claim to help you "make money", but really there are two facts to consider. 1) Most of them don't actually work. 2) If you can make money, it's not going be very much. If I'm going to spend any amount of time working online, I want to be working for myself by building my own profitable website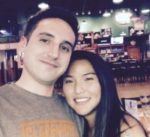 Nathaniell
What's up ladies and dudes! Great to finally meet you, and I hope you enjoyed this post. My name is Nathaniell and I'm the owner of One More Cup of Coffee. I started my first online business in 2010 promoting computer software and now I help newbies start their own businesses. Sign up for my #1 recommended training course and learn how to start your business for FREE!