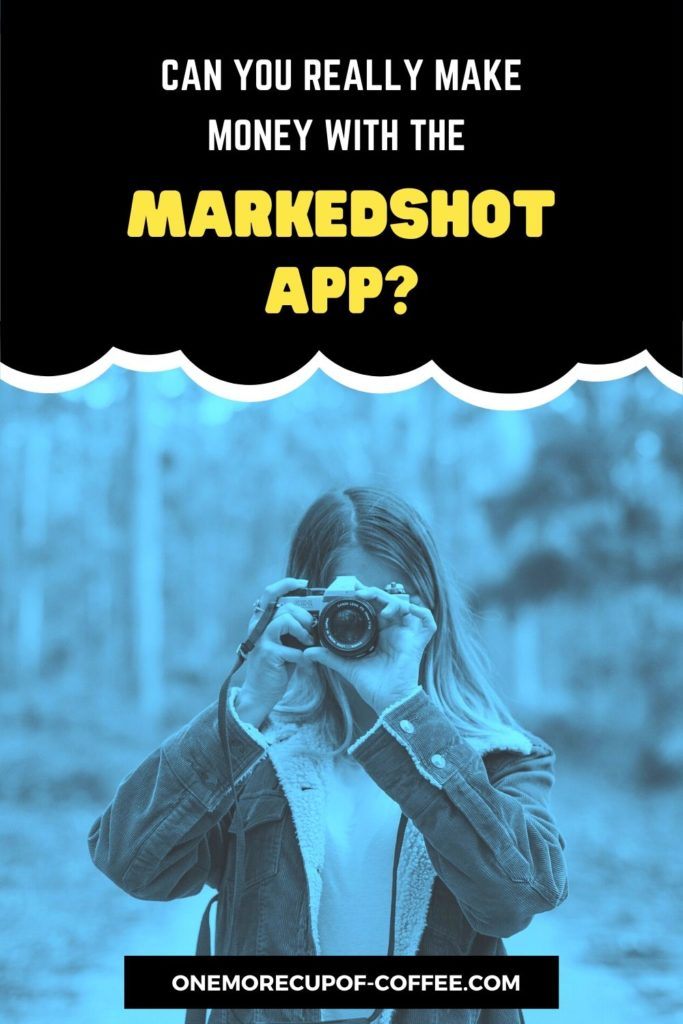 If you've read many of my app reviews, you've probably heard me mention that I'm an amateur photographer. I love to take pictures, and I love to show those pictures to other people.
But if I could sell them… that would be even better! That is what MarkedShot offers to help you do… but can you really make money with the MarkedShot App?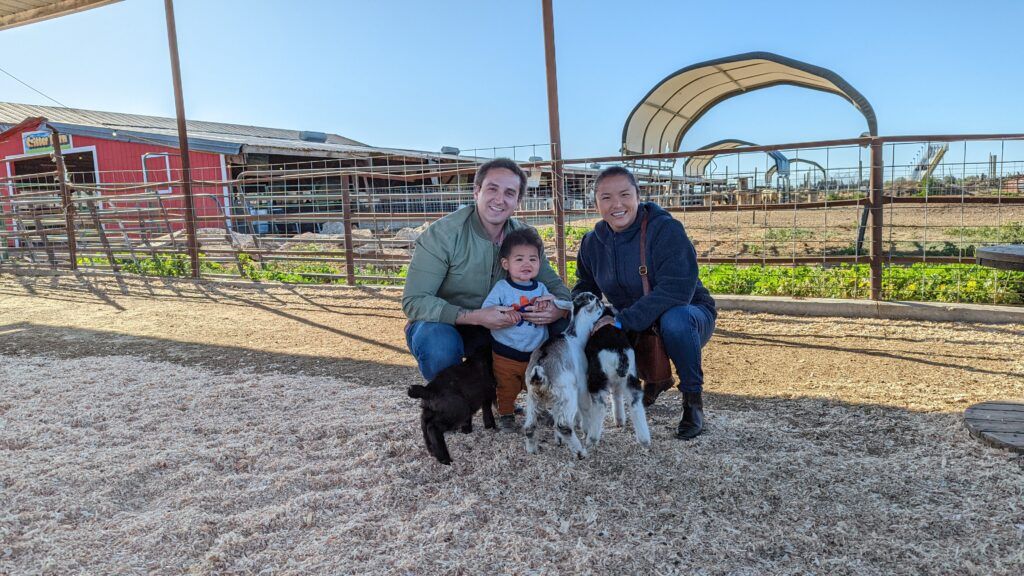 Are You Ready To Work Your Ass Off to Earn Your Lifestyle?
Are you tired of the daily grind? With a laptop and an internet connection I built a small website to generate income, and my life completely changed. Let me show you exactly how I've been doing it for more than 13 years.
Making Money With The MarkedShot App
When evaluating an app, I often start with what other people think. Opinions are just opinions, of course, but the balance of perspectives can reveal some interesting things about an app.
I took a look at the basic stats and Read More description for the app on the Google Play Store… and was pretty surprised at what I found.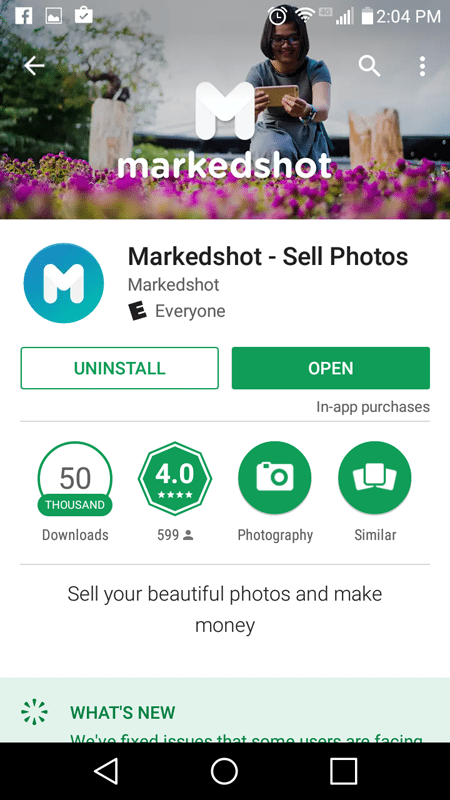 The app has been installed over 50,000 times, and has a rating of 4.0 stars… which is pretty good.
But this isn't the part that surprised me. The part that surprised me was this…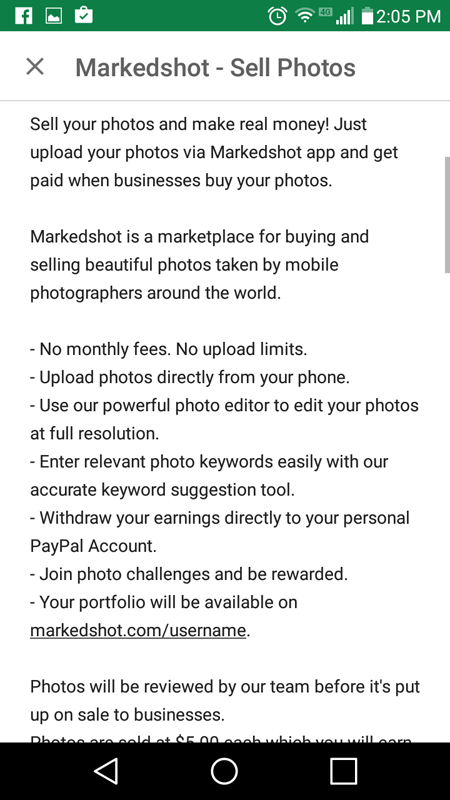 The app has a photo editor built-in, which is actually pretty awesome. It also lets you withdraw your earnings with PayPal, which is very cool.
But, I was only going to learn so much about the app without actually getting into it, so that is what I decided to do next. I downloaded it and opened it up, and this is what happened.
Opening MarkedShot For The First Time
The first time I opened MarkedShot, I came to this screen.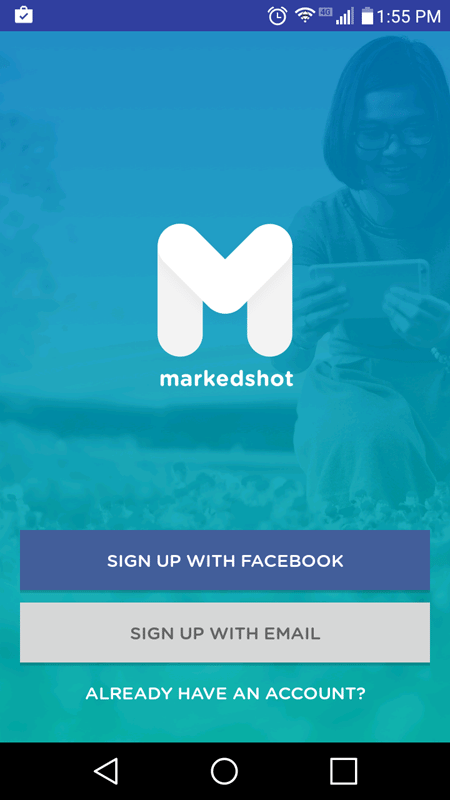 I logged in with Facebook, which was pretty easy. This auto-filled most of the spaces I needed to fill out on the next page, which was the registration page—though I did need to choose a username for the profile.
Once I did this, I was taken to what appeared to be the main hub of the app. Here is what it looked like…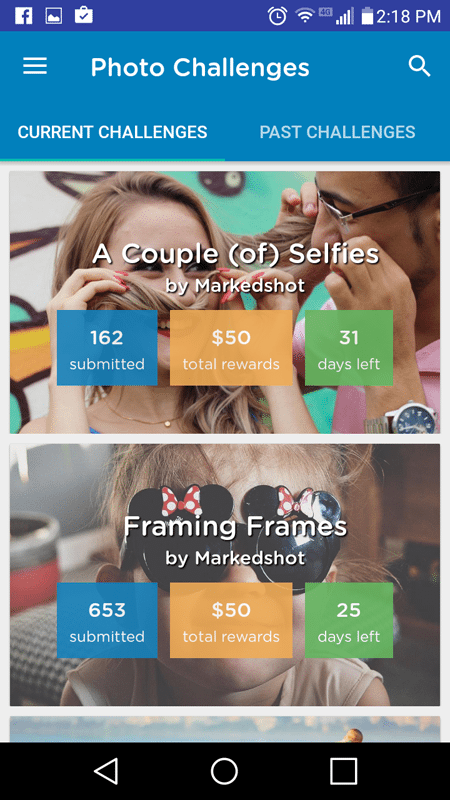 I saw right away that the app seems to hold photo challenges, so this was the first thing that I wanted to look at. I opened up one of the four challenges available, which was called 'A Couple Of Selfies.'
When I clicked on it, this was the screen I was taken to.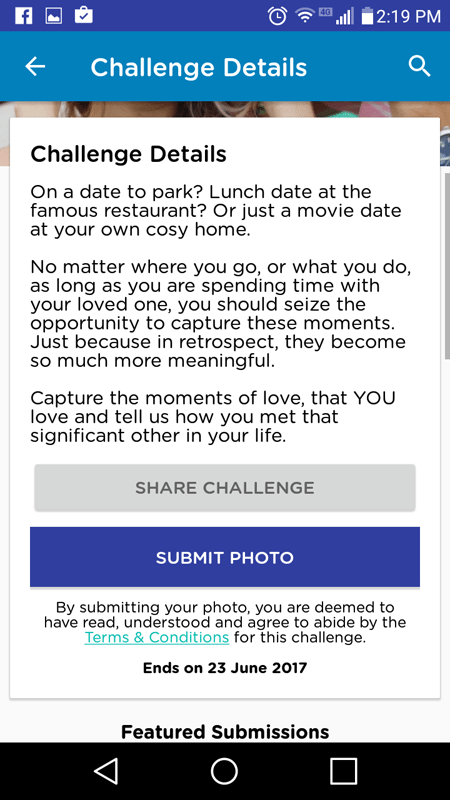 Ok, so this was a pretty simple challenge. They basically wanted users to take meaningful pictures of their loved ones and upload them—which seems simple enough. Having photo challenges is not necessarily a new concept for this app (the app Foap does something similar), though I did like how simple they were on MarkedShot.
I took a look at some of the featured submissions, and the quality seems to be pretty good. Thus far, there had been 162 photos submitted, with $50 in total rewards, and 5 winners. This made me think that winning photos were bought for $10 each… but as of yet, I could not find specific information about how these payments worked.
I did check out the dropdown menu located at the top left corner of the screen and started to take a look at the different options here, to see if they might tell me something about the payout structure.
I clicked on 'Photo Challenges,' but this just took me back to the main hub. Then I clicked on 'Featured Shots,' and found a bunch of photos (and ways to search for specific photos), but nothing about how to buy them, sell them, or what the prices were (that I could find, anyway).
This was beginning to make me feel like there must be more to the app. So I took a closer look around and realized that MarkedShot seems to have a website at www.markedshot.com.
I fired up my mobile browser and typed in the address… and this is what popped up.
Visiting The Official MarkedShot Website
Ok, upon visiting the official website, I realized a few things.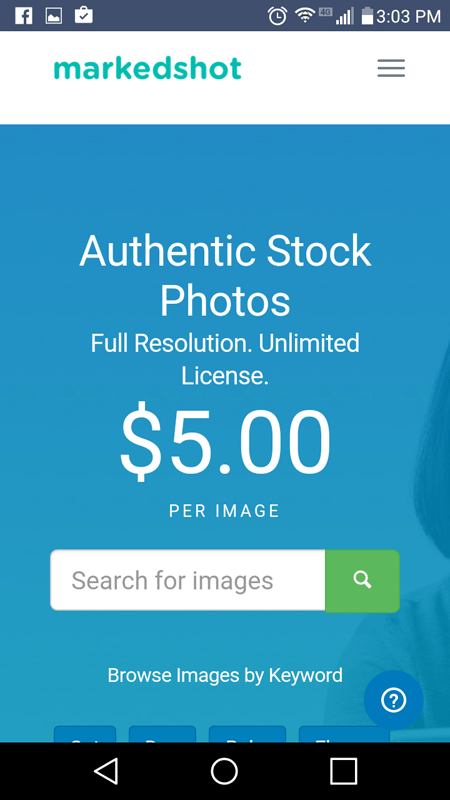 First of all, I noticed that there was a really good FAQ section that did a lot to help me answer all of my questions. Photos on this site basically sell for $5 each… but the photographer gets half of it, and the website gets the other half.
So, basically, the person who uploads the photo gets 50% of the profits. This seems kind of expensive for the photographer, in some ways—but at the same time, the website/app is doing a lot of work for the photographer.
They're pulling in web traffic, giving the photographer a functional storefront, providing a means to display their work, etc. So, with these things being said, it seems to make (at least a bit of) sense that the site would keep half of the earnings.
Another thing that I realized is that the app is really just for photographers. At least, that is how it looks to me. The website seems to be what customers would use if they wanted to buy photography because the website had a lot more tools for this than the app did.
In fact, I tried to figure out how to buy photos on the app, and never really figured out a way to make it work… so either I just didn't find it, or it isn't possible. I actually don't think that it's possible.
Is MarkedShot Worth The Time?
There are two very important questions that I ask about every app that I review…
How much money can I make with it?
Is it worth the time?
So obviously, it makes sense that I would ask these questions about MarkedShot, and here are my answers.
First of all, the amount of money that you can make is really based completely on how well you are able to take quality pictures and sell them. There is no guarantee that you will make any money with MarkedShot, but you will find that using it is easy and that it can earn you a profit if you can sell photos.
You can help yourself with this task by taking better pictures, editing them a little bit, and uploading as many quality photos as you can. The more you work on it, the higher your chances will be of making money.
I have reviewed other photo-selling apps like this in the past. MarkedShot is certainly not the only one (Snapwire is another example, along with Clashot). But, MarkedShot seems to be a good one and offers a lot of strengths.
Is it worth the time? That depends on how well you do, to be honest. If you don't have any time to spend on your photography, then this app isn't likely to generate much extra cash for you.
But if you are constantly working on your photography and desire to pursue it to at least some sort of serious degree, then apps like MarkedShot can give you a pretty serious leg-up by giving you the means to make some extra cash while you build your business. If you take a lot of photos and end up with some you aren't going to use, you can just upload them here instead of letting them sit.
That will give you the opportunity to earn extra cash, and will also give your photos a medium through which to be noticed and looked at—which is always a good thing.
I will say that I wished I saw more opportunities for photographers on MarkedShot—but I also know that it's a simple concept—and in a way, its simplicity is a strength. I also like how the app and the website kind of work together. It makes the app a lot simpler and more user-friendly for the photographers, which is pretty awesome.
What Did The Google Reviews Say About MarkedShot?
I noticed right away that a lot of users didn't like the video verification that you need to do to join the site. Apparently, you need to go to the settings menu and verify that you are you and not a robot before you can really submit any photos… and after checking it out, I realized that this was true.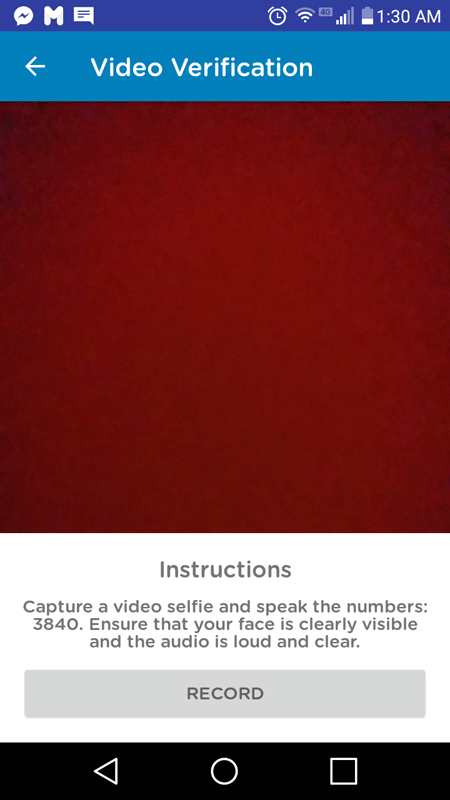 It doesn't seem like a really difficult thing to do, but apparently a lot of people have trouble with it. But, the app also seems to have pretty good customer service.
I even saw one instance where someone was having so much trouble with it that the customer service people told him/her to email it instead… which I thought was pretty cool. At least they are helping and giving users options for problematic features.
Aside from this, people had pretty minor complaints. Most users seemed to like MarkedShot, and it had far more 5-star reviews than it did bad reviews.
I give this app two thumbs up. I haven't been taking as many photos recently, so I probably won't be using it any time soon. But if I start doing a lot of photography again, I would absolutely download and use MarkedShot.
It's a quality app and it seems to do what it was designed to do very well.
Our Final Thoughts About The MarkedShot App
Should you download it and use it on your phone?
The MarkedShot App Review
Honestly, there are tons of various apps that claim to help you "make money", but really there are two facts to consider. 1) Most of them don't actually work. 2) If you can make money, it's not going be very much. If I'm going to spend any amount of time working online, I want to be working for myself by building my own profitable website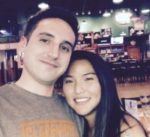 Nathaniell
What's up ladies and dudes! Great to finally meet you, and I hope you enjoyed this post. My name is Nathaniell and I'm the owner of One More Cup of Coffee. I started my first online business in 2010 promoting computer software and now I help newbies start their own businesses. Sign up for my #1 recommended training course and learn how to start your business for FREE!