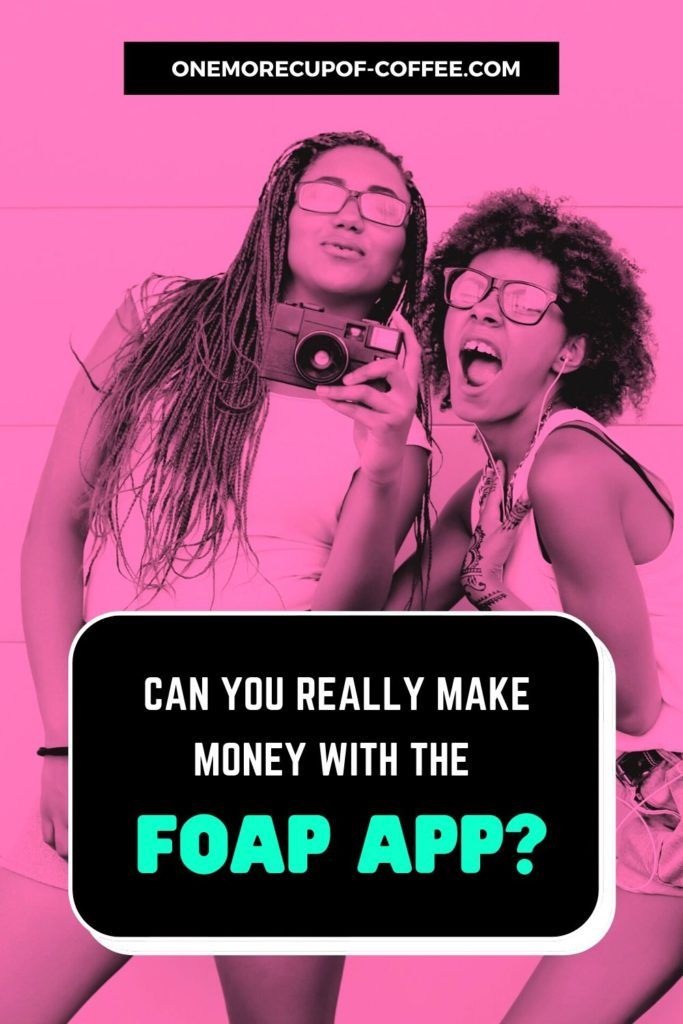 This android Google Play Store offering has been downloaded over 500 thousand times. But can you really make money with the Foap app?
We decided to give it a try, so we downloaded it for ourselves and did some in-depth research.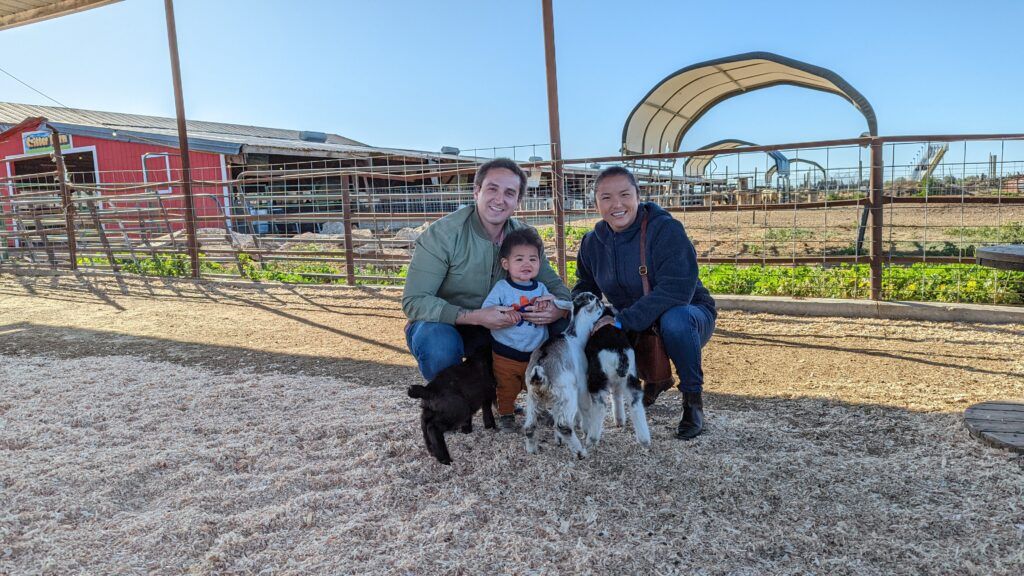 Are You Ready To Work Your Ass Off to Earn Your Lifestyle?
Are you tired of the daily grind? With a laptop and an internet connection I built a small website to generate income, and my life completely changed. Let me show you exactly how I've been doing it for more than 13 years.
Here's what we found out.
Why Try To Make Money With The Foap App?
First things first, why even consider Foap? For one thing, we're all about side hustles over here, so it's always worth seeing whether an app lives up to its claims.
Besides, Foap offers an interesting angle on the idea of making money from photos.
The Basics: What Is Foap?
Foap operates with the mantra 'Turn your photos into dollars.' It has been reviewed close to 16,000 times and has a 3.7 Star rating in the Google Play Store.
It's basically a photography app that you can use to sell your photos for cash…but can you really generate legitimate income with it?
Or is it more of a gimmick?
This is what we set out to discover as we opened it up and tried it out for ourselves.
Getting Started With Foap
When I first opened Foap, I was greeted with a sign-up, sign-in screen.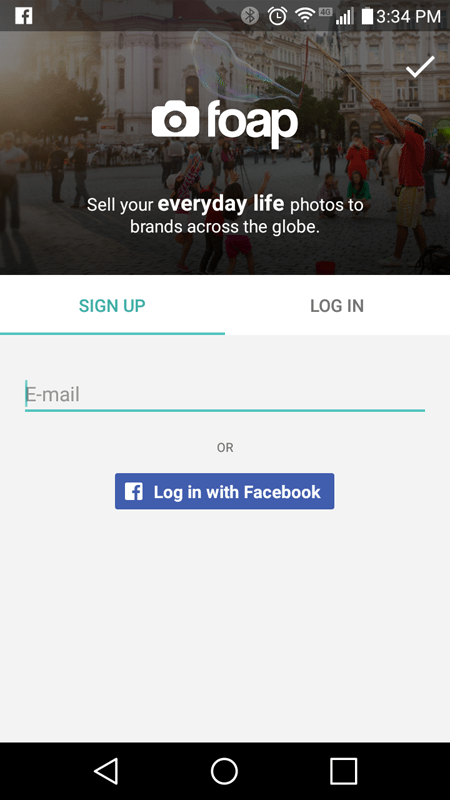 I chose to log in with Facebook, which was pretty simple. The app told me that it would receive my public profile, friends list, and email address. But I approved it, as this is pretty normal when you sign in with Facebook.
I then had to confirm my email address and my username, and type in my date of birth and country.
I was then taken to a screen that seemed to be like a 'hub,' or home screen for my Foap account.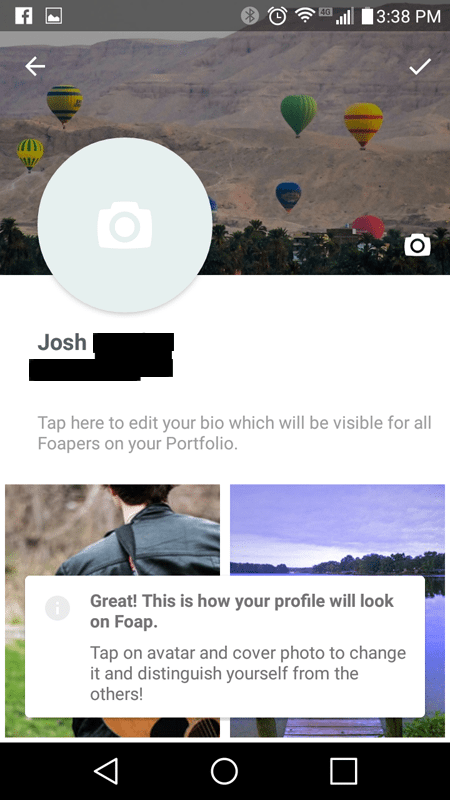 Setting Up My Foap Profile
To get started, I typed in a short bio and took a photo to be my avatar. I also needed to upload a cover photo. Once I clicked on the little checkmark that indicated I was 'done' on the top right part of the screen, I was taken to a screen that looked like this.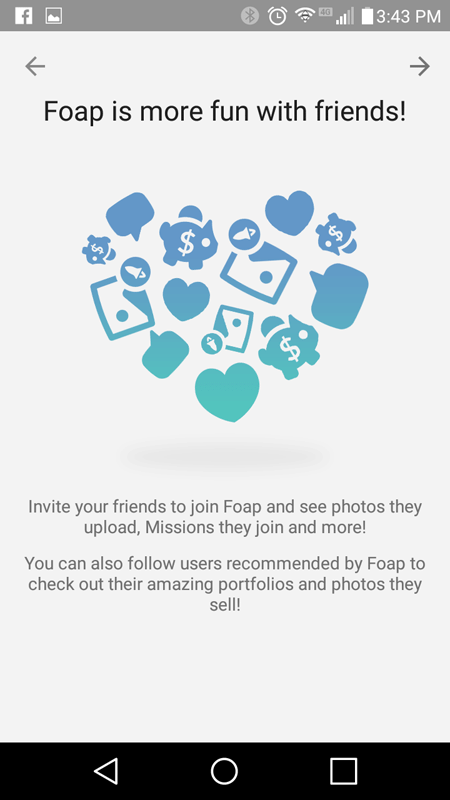 Clicking through this page brought me to a different page where I could either follow Facebook friends who already had Foap accounts or invite Facebook friends to join. I only had 1 friend who was already on Foap—but it looked like inviting more friends would be pretty simple and straightforward.
I could also follow popular Foap members on this page, which was pretty cool.
From here, I clicked through and was taken to this page!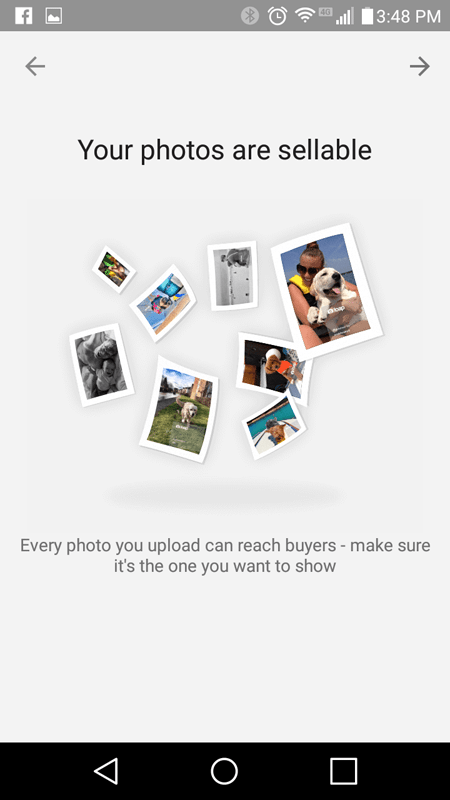 At this point, it seemed that I could upload photos to reach buyers and make money! So I decided to try uploading one or two to see how it worked!
Uploading Photos On Foap
After clicking through the last screen, I went through a couple of tip screens to help me choose the best photos—and ended up here.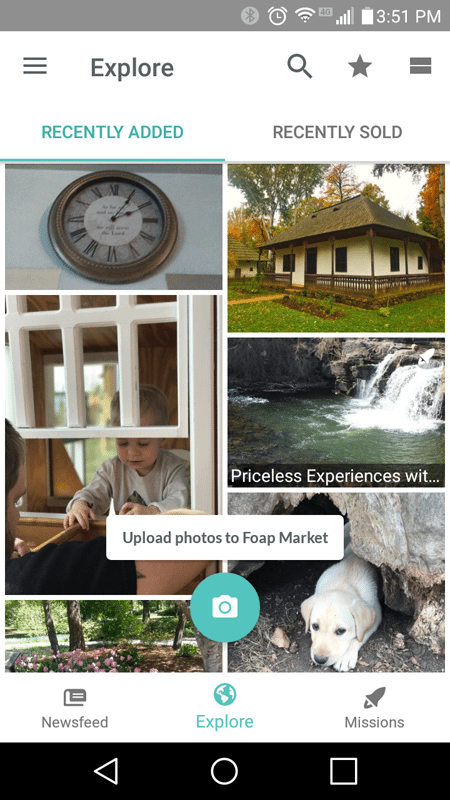 This seemed to be like a home-type page where I could view photos uploaded by other users, view which photos had been recently sold, and upload my own photos as well.
There were also some sliding tabs along the bottom. There was a Newsfeed tab, an Explore tab (which was the page that I was currently on), and a Missions tab.
I will talk a bit more about missions later on—but for now, I will discuss the photo uploading process.
I clicked on the 'Upload Photos to Foap Market' button in the bottom-center part of the screen. This basically took me to a place where I could access my photos and files. It also gave me the option to just turn on my camera and take a picture… which is what I chose to do.
I took this photo, of some trees in my back yard.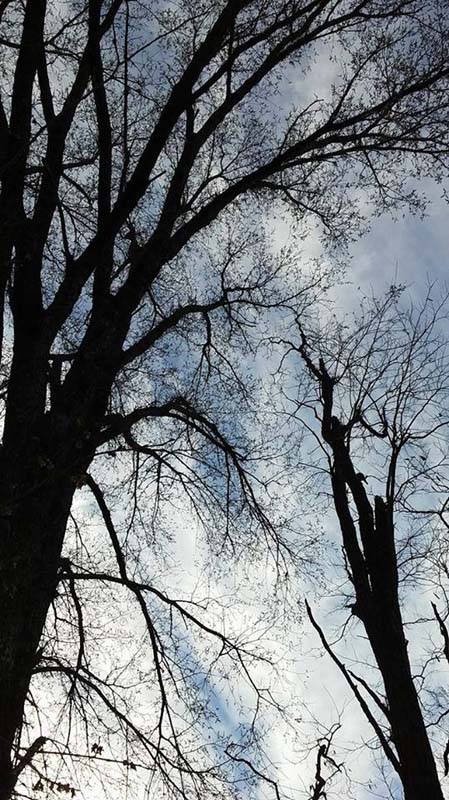 After this, I uploaded the photo by selecting it and pressing the little checkmark at the top right of the screen.
At this point, this screen popped up… which basically told me that I had to own any photos that I uploaded… which was obviously reasonable. An app like this just wouldn't work if everyone tried to upload photos that didn't belong to them.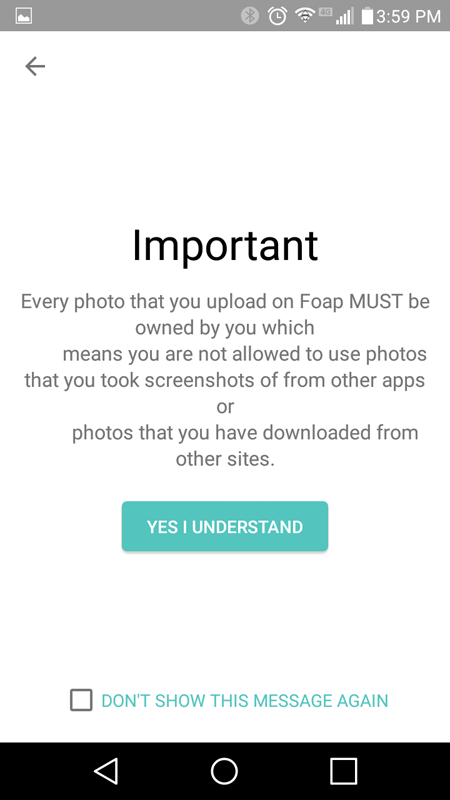 Next, I was taken to a page where I could add a caption or tags to my photo. There was also a ranking meter on this page, which showed me how high or low my photo's rankings were on Foap. It was 'very low' until I added a caption, which turned it to just 'low.'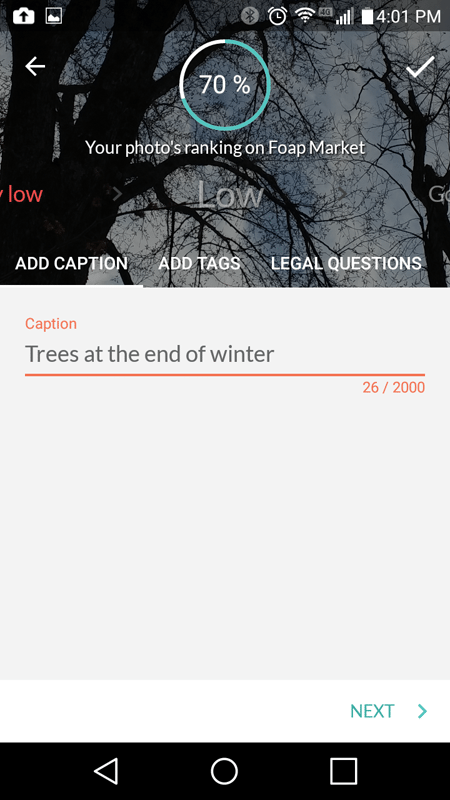 Managing My Photos
At this point, I wanted to check and make sure that my photo had made it online—so I clicked on the drag-down menu icon at the top left of the screen, and scrolled down to the 'manage photos' tab. I clicked on it, and was taken to a screen that said the following…
"Verify yourself to increase ranking of your EXCELLENT photos to TOP RANKED."
I then scrolled through a few pages that told me that verifying my PayPal would increase the rankings of my photos, yada yada. It was pretty straightforward stuff, to be honest.
But I still hadn't answered the initial question. Can you really make money with the Foap App?
So that's what I looked at next.
Making Money With Foap
There are basically two ways to make money on Foap.
Firstly, you can upload your photos to your account—add a caption and tags to help people find them (adding the right caption and tags would be very important)—and then leave them and wait for someone to purchase them.
Obviously, the more photos you upload and the better those photos are, the better your chances of making a sale.
Photos all sell for $10. When a photo sells, Foap gets half of the money and the photographer gets half. So you can plan on making $5 for each photo sale.
The other way to make money on Foap is to go on a 'Mission.' Companies will post missions on Foap that pay much bigger dividends (for example, I was looking at a mission that paid out $200). These missions pretty much give you some instructions and ask you to upload photos that fit the given criteria. The winning photos are chosen when the mission ends, and the winner (or winners) gets the payout.
Here are some screenshots from one of the missions, just to give you an idea of what the missions look like and what sort of criteria they use.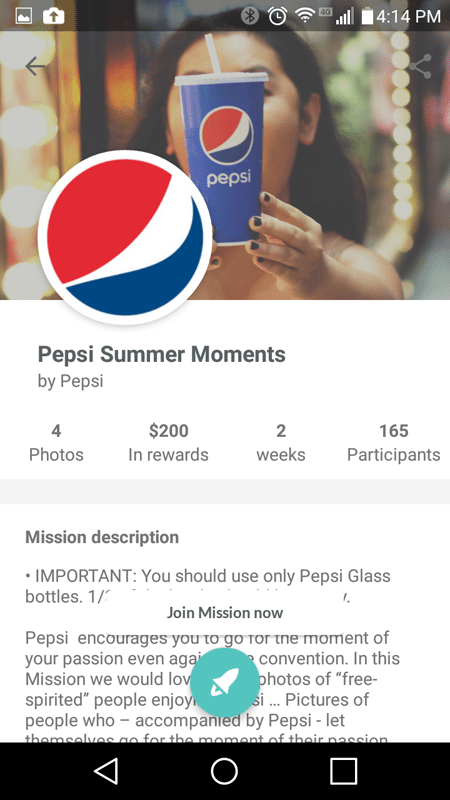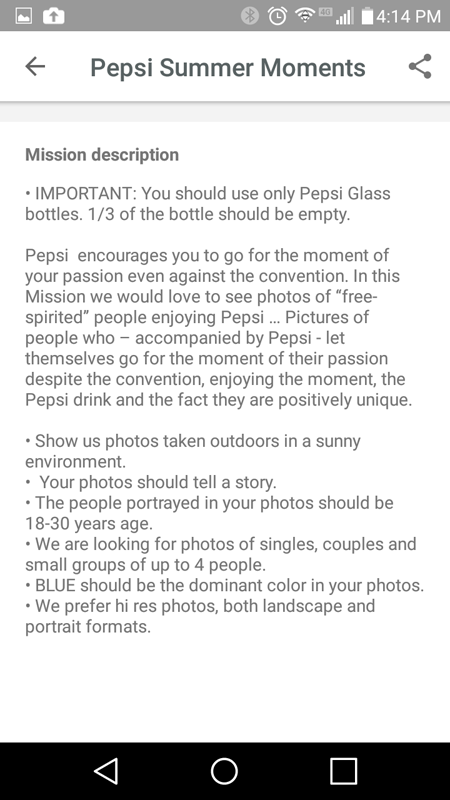 I did some research online and found that the income generated by this app for its users tends to vary greatly. A lot of people don't earn anything on it. Some people earn $5-$10 per month.
I heard of one user who made just under $4,000 in one year on Foap! Another photographer said that, to date, she had made about $300 on Foap after having been a part of it for close to a year.
So the results vary greatly—but it definitely seems that there are a few consistent trends.
If You Want To Make Money On Foap, Then You Should Do These Things
First of all, you need to take photos. Lots of photos. The more photos you take, the better your odds are of making money. You should also participate in missions—as many missions as you can. You also need to add good tags and captions to your photos.
Secondly, you should try to make your pictures as good as possible. Reading up on some basic photography tips and techniques would no doubt help you to make the most of your time spent on Foap.
Thirdly, download a simple photo editing software and touch up your photos a bit. Just adding a filter, changing the hue/saturation, or even tinting them can sometimes really make the photos 'pop' with professionalism.
And lastly, remember that the amount of time you put into Foap will probably correlate closely to how much money you end up earning.
It is a competitive marketplace, but there is money to be made on it.
Is Foap Worth It?
Foap isn't a bad app. In fact, as far as a medium for selling photographic artwork goes, it's quite brilliant. Some people have labeled it as a scam, saying that you can't make money on it—but this isn't true at all.
Is it difficult to earn money on Foap? Yes.
Is it impossible? Definitely not. I found that it was easier to use the Swagbucks website to earn money browsing the web, doing surveys, and watching ads. The tasks were not as fun, for sure! But the income was more consistent and the tasks were more accessible to the average person.
The Foap app itself functions very well. There are a ton of users on it, and the interface is quite intuitive. Uploading photos literally takes seconds—and the fact that you can upload as many as you want is pretty awesome.
I feel that amateur, professional, or even budding/beginner photographers who love to take photos would probably stand to gain the most from this app, as these are the types of people who would tend to take the greatest number of pictures anyway.
In other words—if you are a photographer who happens to love to take pictures, and you just happen to use Foap to sell photos that you take, then you might be in the best position to make money with this app.
It's not guaranteed money, though. You will likely start to sell if you try hard enough—but there are no guarantees with this one, which is maybe why it should be approached with an attitude of 'passion for the art' with the possibility of monetary gain stashed on the back-burner, as opposed to a money-maker that you can access from your mobile device just by taking photos.
For people who are serious about photography, a photography business would have much more long-term potential.
Our Final Thoughts on Foap
Should you download it onto your phone?
The Foap App Review
Honestly, there are tons of various apps that claim to help you "make money", but really there are two facts to consider. 1) Most of them don't actually work. 2) If you can make money, it's not going be very much. If I'm going to spend any amount of time working online, I want to be working for myself by building my own profitable website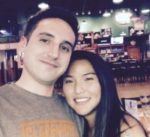 Nathaniell
What's up ladies and dudes! Great to finally meet you, and I hope you enjoyed this post. My name is Nathaniell and I'm the owner of One More Cup of Coffee. I started my first online business in 2010 promoting computer software and now I help newbies start their own businesses. Sign up for my #1 recommended training course and learn how to start your business for FREE!