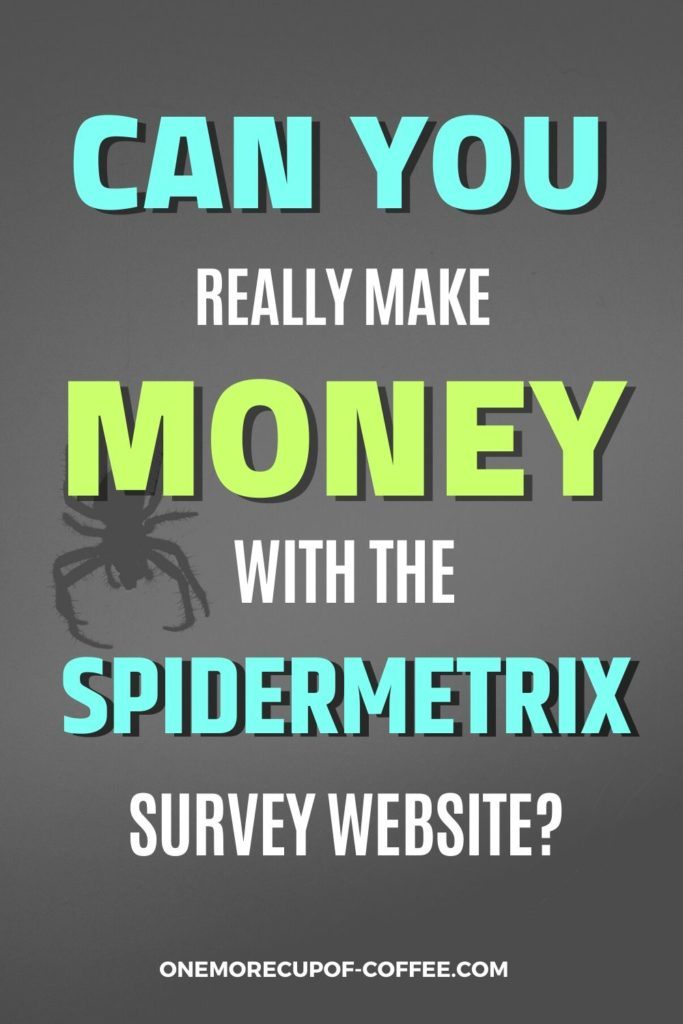 I heard about this site online, and decided to try it out. Supposedly, you can use it to take surveys and earn rewards, in the form of points, that you can cash in for real cash or Amazon.com vouchers. But can you really make money with the SpiderMetrix survey website?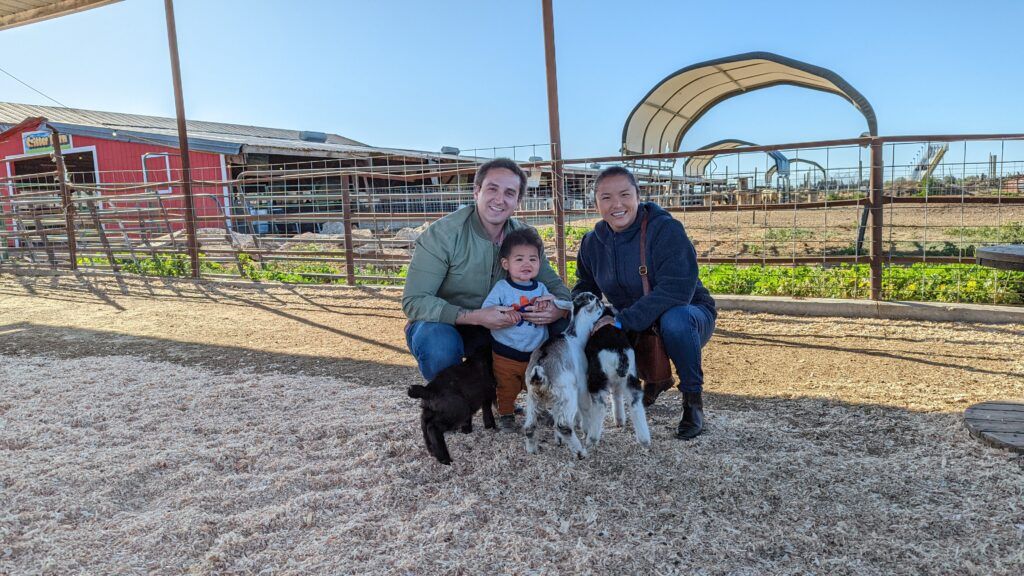 Are You Ready To Work Your Ass Off to Earn Your Lifestyle?
Are you tired of the daily grind? With a laptop and an internet connection I built a small website to generate income, and my life completely changed. Let me show you exactly how I've been doing it for more than 13 years.
Making Money With The SpiderMetrix Survey Website
SpiderMetrix (found at SpiderMetrix.com) is a site that I found while perusing some online forums, looking for new survey sites that pay.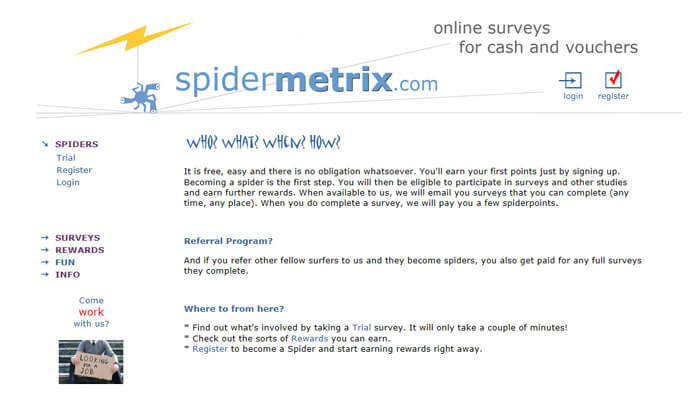 And I am not going to sugar-coat it, folks… this site looks sketchy.
I mean, one look at the landing page and you will likely see what I mean.
The graphics are… strange. The entire layout is really chaotic. It's almost like a throwback to the 90s, except that it looks like it has been re-done a few times since then.
In a really weird way, the design of this site almost makes me think of Myspace. Do you remember when you could design your Myspace page using an editor?
But the editor was always really sketchy, and everything was just a little bit off? And you had to make do with the least-crappy versions of everything you could find? There was never anything quite 'awesome' about any of it?
That is how I feel about the design of the landing page on this site.
I don't want to be mean. Please don't think that I am just trying to poke fun at it. I am just calling it as I see it. To be super honest, I took one look at this site and really didn't want to even try it.
But… I decided to review it anyway, because I do believe that it deserves a chance. I was also super curious, and wanted our readers to know what to expect if they ever came across it.
We are all about the side-hustles here, and survey sites, in theory, offer a great opportunity to earn some extra cash.
The only downside to them is that that sometimes they don't make the mark. But, you never know until you try!
So, with crossed fingers (and plenty of holy water to protect myself with), I stepped beyond the threshold. Here is what I found.
Signing Up For SpiderMetrix
The sign-up screen for SpiderMetrix was pretty 'typical' of most survey sites that I have seen. They asked for basic information, which included a name, an email address, a zip code, etc.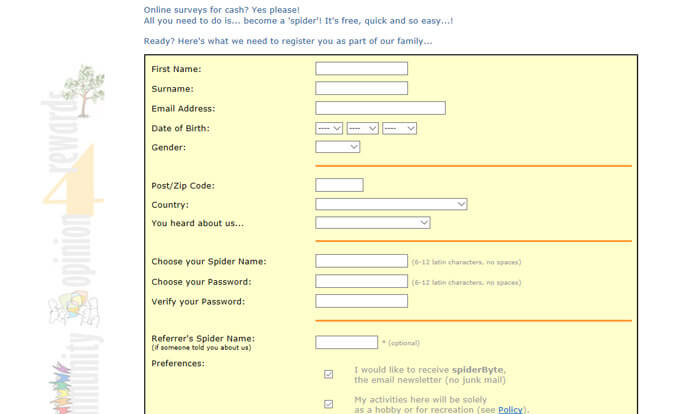 Once I filled this out, I was kicked back to a 'Congratulations' page where I was able to view my username and some other simple information about my profile. I was also told that I was awarded 1 Spider point, and told that I already had a survey invitation sent to my email address.
This was pretty exciting! So I decided to check my email.
Sure enough, there was a survey invite waiting for me. This was for a survey that would ask me details about me, to place me for more surveys in the future. This is a pretty common thing for survey sites, so it was certainly not unexpected that this would be my first survey.
The approximate time to complete the survey was 8 minutes… and the reward for it would be 8 points.
So I decided to give it a try. Here is how it went.
Taking My First Survey On SpiderMetrix
I took the survey. It didn't take quite 8 minutes. I would say it took 4 or 5. It mostly just asked me questions about me. I was asked about my income, paid TV services, my car, my job, whether or not I had any kids, whether or not I was married, my education level, etc.
All of the usual stuff.
At one point I was kind of asked the same question twice. It was a little bit different though—so I am not sure if they were just checking for frauds, or if the very similar questions were both relevant in their own way—but it was something to note.
At any rate, at the end of the survey, I ended up with 8 more points in my account, which was pretty cool!
This page also contained a link where I could go back to the home screen, where I could see if I had any more surveys waiting for me. So that's what I decided to do next.
But, I will also mention something about the technical side of the site. Though the site looked a bit jankety, I do have to say that it worked quite well!
Taking A Look At The SpiderMetrix Main Hub
At every point, I am still taken aback by how different (and admittedly, weird) this site is. The main hub is a perfect example of this.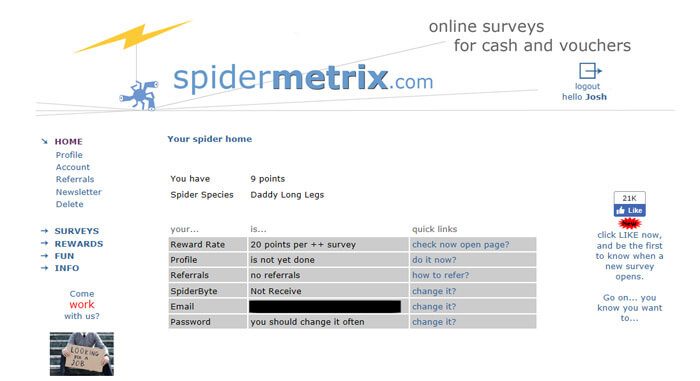 As you can see, there is a box of quick links located near the bottom. This is really different. I have never seen anything quite like this in a survey site before. There are also links along the left-hand side to take you to different pages on the site.
This is where the Survey tab was located, so I clicked on that next.
Surprisingly, when I clicked on the 'Now Open' tab in the survey section, I was taken to a table that showed me all of the open surveys… and I was pleasantly surprised to see that there were more than a dozen available!
But… I was a bit let down to realize that pretty much all of them only paid out 1 point each. They were each rated at 1 minute long—but still, just 1 point each.
There was a 10-minute survey on this page worth 10 points… but that was pretty much the only exception.
I still didn't know how much points were worth, though… so that was the next thing that I needed to figure out.
I clicked on the 'Rewards' tab, and then chose the 'points' sub-tab, where I was quickly taken to a page that told me that a point was worth roughly 17 cents of an Australian Dollar.
So yeah… that actually isn't too bad. You can either cash out via PayPal, spend points on prizes at the auction, or purchase a voucher.
The prizes in the auction are usually gift cards, from the looks of it—so it seems cool that you could maybe win gift cards for fewer points than they are worth.
I am not usually a fan of auctions, but the thing about this site is that you don't have to take part in the auctions. You can also cash out with PayPal, which is really cool.
At any rate, at this point, I felt like I had enough information about this site to give my full opinion of it.
Will I Be Using SpiderMetrix At Any Point In The Future?
This site actually surprised me a little bit. It was not completely bad, like I imagined it might be. The site design was very weird, but actually, it technically worked pretty well.
The point system was simple enough. And instead of being worth something really nominal, like only a penny each, eat point was worth closer to 17 cents. So that is a really good thing.
I also liked that there were a lot of surveys to take part in, and that you could choose one of several options for payouts. There was a PayPal option, as well as options for vouchers, and even an auction.
Again, auctions are not my thing—but it was cool that you got more than one payout option with this site.
But there were also downsides. And unfortunately, they were downsides that I couldn't ignore.
For one, the total amount of money that I could feasibly make on such a site was pretty nominal. I mean, at 17 cents per survey for most of these surveys, I am just not looking at a possibility that is going to make me much cash.
So, as a side-hustle, this probably isn't the best option.
But SpiderMetrix isn't the only survey site that falls short in this sense. Most survey sites simply do not pay enough to make it worth the time… and therein lies the most common downside of survey sites in-general (other examples include Main Street Shares, PanelPolls and VIP Voice).
This site is actually not a bad choice if you like survey sites and want to take some surveys and earn some extra cash.
But… if what you are looking for is a serious side-hustle, and if you need some serious cash for your time-investment, then you may want to focus your efforts elsewhere.
SpiderMetrix ended up being better than I thought it would be… but it was still not quite side-hustle level.
Our Final Thoughts About The SpiderMetrix Survey Website
Should you sign up for it and use it to earn some extra money?
The SpiderMetrix Survey Website Review
To be completely honest, doing online surveys will never earn more than minimum wage. In fact, most people rarely earn more than $1-$3 per hour, if they are lucky enough to get a payout.
If you want to legit make money online you need to invest time into building a website. Earn passive income through affiliate links & advertising revenue. Rather than spend an hour trying to answer boring questions, build a real web property that you can earn monthly income from.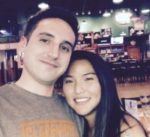 Nathaniell
What's up ladies and dudes! Great to finally meet you, and I hope you enjoyed this post. My name is Nathaniell and I'm the owner of One More Cup of Coffee. I started my first online business in 2010 promoting computer software and now I help newbies start their own businesses. Sign up for my #1 recommended training course and learn how to start your business for FREE!