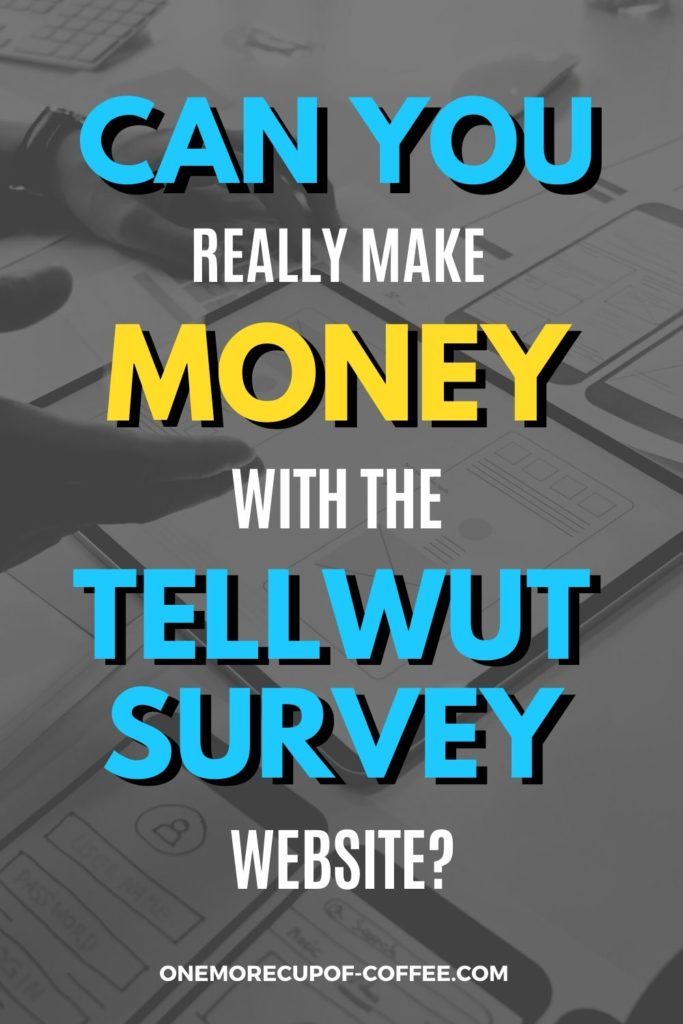 This survey site claims to give you rewards for 'telling what you think.' But can you really make money with the Tellwut survey website?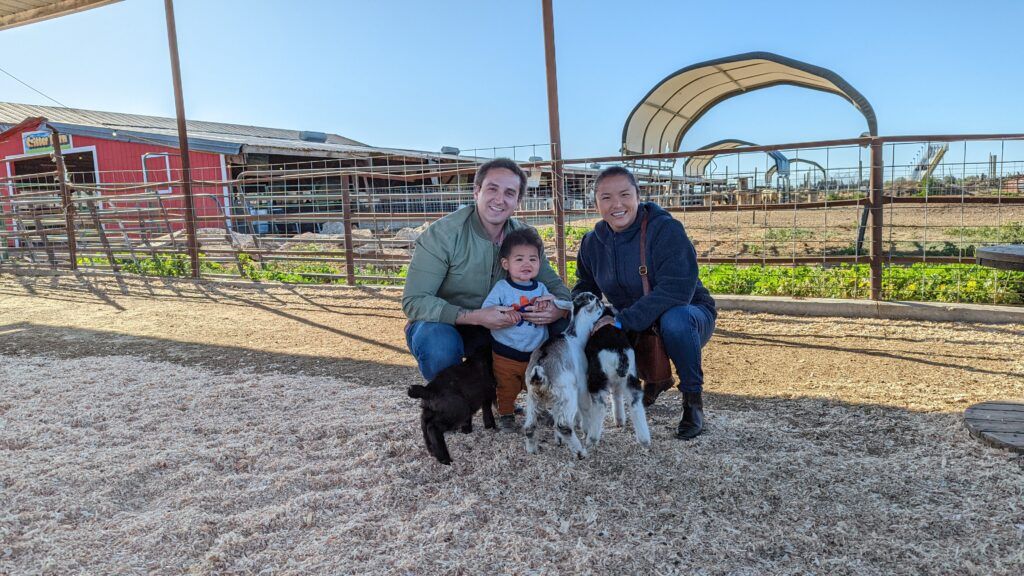 Are You Ready To Work Your Ass Off to Earn Your Lifestyle?
Are you tired of the daily grind? With a laptop and an internet connection I built a small website to generate income, and my life completely changed. Let me show you exactly how I've been doing it for more than 13 years.
My initial reaction to the landing page was… not the best. It looked a bit like a cluttered mess… and it even looked like there were advertisements and banner ads on it.
I am not knocking banner ads (hey, I am all about the side-hustle—and I have been known to use a banner ad or two), but I was just a little bit surprised to see them here.
It has always seemed weird to me that a survey website would use ads to try to sell products to the people who take surveys for them… but whatever.
At any rate, these were my main inquiries.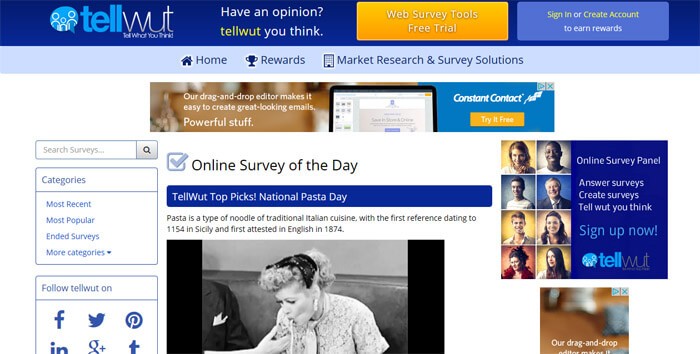 First off, could you really make money with Tellwut (located at tellwut.com)?
And secondly… could you make enough to make the website a viable side hustle opportunity?
These were the 'burning' questions on my mind… so I didn't waste time. I got right down to business, and decided to try to learn more about the site.
Making Money With The Tellwut Survey Website
So before I joined it, I took a closer look. Here is what I found.
Keep in mind that I actually do try every website that I review. I hate it when websites publish reviews of sites that they have never actually used, because that isn't going to help anyone.
So I always try to get 'down and dirty,' and give the site a legitimate try (at least the best try that I can manage) before rendering judgment of any kind. And that is precisely what I did with this one.
Taking A Closer Look At The Tellwut Survey Website
Alright. At first glance, you can see what the name means. Tellwut is a play on the words 'tell what,' as in 'tell what you think.'
Sigh.
Yeah, it is kind of clever. I'll give them that.
On the main landing page, there are a few different tabs along the top of the page. There is a Home tab, a Rewards tab, and a Market Research & Survey Solutions tab.
There are also buttons along the top of the page that say 'Web Survey Tools Free Trial,' and 'Sign In or Create Account to earn rewards.'
There was also a side bar of categories, and a social media box with links to all of the site's social media pages.
When I scrolled down, I found a list of what was called 'Most Popular Online Surveys.' These were listed with point reward totals, so I assumed that these were some of the types of surveys that you could find on this site.
Here are some examples of the types of titles that I found…
"Will you vote for Trump when it's presidential election time?"
"Oh fashion, really?"
"Do you think Trump is being controlled by Putin?"
"Should soft-drink makers be held liable for the health risks of sugar?"
And the list went on. The point totals for these types of surveys ranged from 5 points to 75 points per survey… with most of them falling in the '10 or under' margin.
But I didn't even know what points were worth on this site. So I figured that this was worth a look at the Rewards section to find out. So that's where I went next.
Checking Out The Rewards Section Of The Tellwut Survey Website
I clicked on the Rewards tab and was quickly taken to a page that did a good job of describing the Reward process. But as I was doing this, I got a popup ad! I haven't seen a popup ad on a survey site in a long, long time!
Again, I am not knocking it—but still, this is kind of a pain. If I am on this site to do surveys and make money, should they really be trying to sell me products?
It seems a bit counter-intuitive to me.
But anyway, here is a screenshot of the Rewards page.
As you can see, it will cost you 10,000 points to get a $25 Walmart gift card. But there are also other prizes available. You can get a $10 Amazon gift card, for example, for 4,000 points… or a Motoroal Xoom Tablet for 200,000 points, etc.
So, now that we have an idea of how many points you need, and of how many points you tend to get per survey—it is time to figure out how much the average survey pays out.
I did the math, and here is what I discovered.
How Much Does The Average Survey Pay On Tellwut?
It seems that most of the surveys on this site pay 10 points. I am not sure how long these surveys take to complete… but this actually doesn't seem to be a super important fact… because at this rate, you would need to complete 1,000 surveys to get a $25 WalMart gift card!
I don't care how short these surveys are… I can already tell you that the time investment is just not worth it to me.
If you want to take part in a survey site that will pay you to take surveys, and that will give you the enjoyment of taking interesting surveys that might even be a little bit entertaining and crazy—then Tellwut is actually a pretty cool site.
But if you want a true side-hustle that will actually earn you some cash, then this site is probably not for you.
How The Site Performed Technically
From a technical standpoint, this site wasn't bad—but there were some downsides. One of the worst was the presence of popup ads, which slowed down response time and make it cumbersome. The banner ads and the graphics along the sides of the screens do not help either.
The site really doesn't look that good, and the design does not seem efficient—but this only impacts the usability of Tellwut to a small degree.
For the most part, it worked pretty well. If you are into surveys, and would like to actually get paid (albeit a small amount) for some pretty interesting ones… then this may be the site for you.
The site has a decent reputation online… but it doesn't seem to be something to write home about for most people. Signing up is a relatively simple endeavor. You need to supply your email address and verify your account. You also get 250 points for completing the entire account-creation process.
The only problem is that this is about the most points you will ever make. Most surveys only earn you about 10 points… and that is simply not enough, in my opinion, to make it worth it.
There seem to be plenty of surveys… but they just do not pay out enough.
At this point, I felt like I had gathered enough information to make my official decision.
Will I Personally Be Using Tellwut To Make Extra Money?
I feel like this one is pretty self-explanatory—and the answer, unfortunately, is a no.
The main reason is the money. With how much points are worth on this site, and with how many points you actually get paid to complete surveys, I just cannot see how I could turn this into a profitable side hustle for myself.
Granted, you can make money… but you can also make money by collecting aluminum cans, or by picking up change from a parking lot.
But is it going to be enough to make it worth it?
That is the big question. And the answer, for this site, seems to be a no.
The good points about this site are as follows. It works relatively well, it does provide you with a way to earn some extra money, and the point system is simple enough. They also offer plenty of surveys to keep you busy, from the looks of it.
But this is where the good points begin to take a bit of a nose-dive. Truth be told, it would be very difficult to even earn enough in points to get the $10 Amazon gift card… much less the $25 Walmart gift card, or any of the other prizes (honestly, many other survey sites pay better, such as Global Survey Group, iSurveyWorld and OneOpinion).
I foresee that most people on this site would likely get started, work strong in the beginning, realize the futility of their efforts, and then never cash in any points because it would take forever to get enough.
This probably doesn't describe every single person's experience on the site—but I could easily see how it could be a thing.
So no, I do not believe that I will be using Tellwut. I have seen worse… but from a monetary standpoint, this one is truly not even near the top of the ladder.
Our Final Thoughts About The Tellwut Survey Website
Should you join and try to earn some extra money?
The Tellwut Survey Website Review
To be completely honest, doing online surveys will never earn more than minimum wage. In fact, most people rarely earn more than $1-$3 per hour, if they are lucky enough to get a payout.
If you want to legit make money online you need to invest time into building a website. Earn passive income through affiliate links & advertising revenue. Rather than spend an hour trying to answer boring questions, build a real web property that you can earn monthly income from.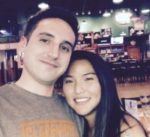 Nathaniell
What's up ladies and dudes! Great to finally meet you, and I hope you enjoyed this post. My name is Nathaniell and I'm the owner of One More Cup of Coffee. I started my first online business in 2010 promoting computer software and now I help newbies start their own businesses. Sign up for my #1 recommended training course and learn how to start your business for FREE!