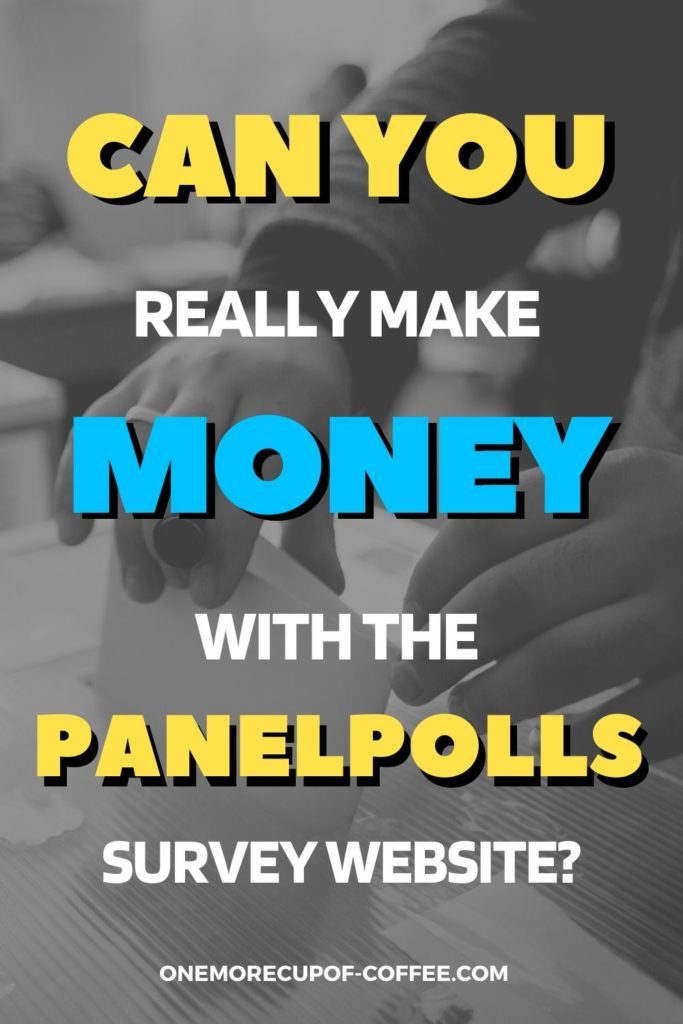 I started looking into this website when I found out that they pay you for surveys. They claim to be a site for 'families, teens, and young adults,' and offer to pay you for your opinion on topics ranging from sports, to fashion, to toys, to parenting, etc.
But can you really make money with the PanelPolls survey website, or is it more of a gimmick?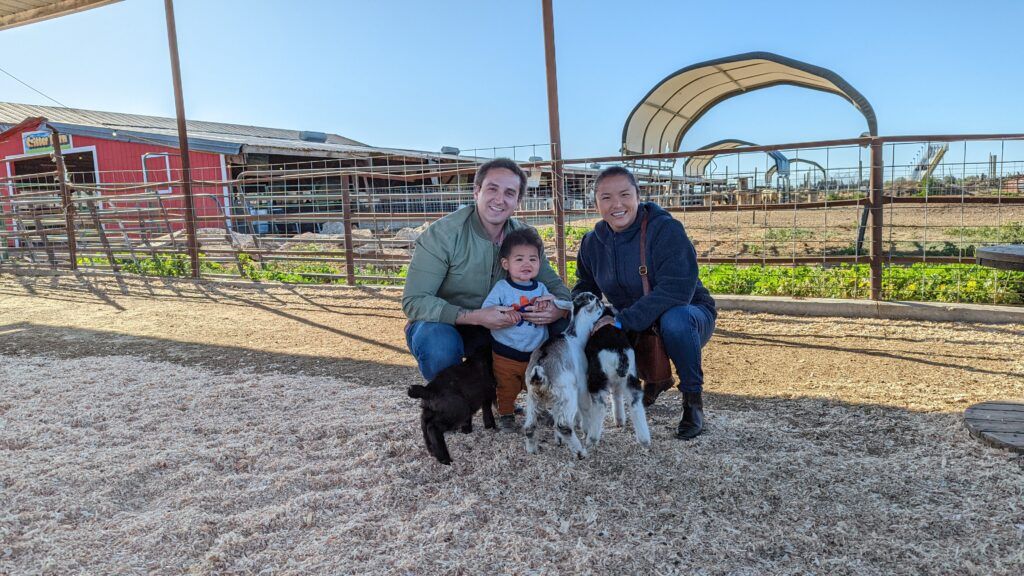 Are You Ready To Work Your Ass Off to Earn Your Lifestyle?
Are you tired of the daily grind? With a laptop and an internet connection I built a small website to generate income, and my life completely changed. Let me show you exactly how I've been doing it for more than 13 years.
I've used a lot of survey sites over the past few months. Admittedly, I have been on a search for the perfect survey website, because I have a theory about them. Survey sites give you the ability to earn money from anywhere, at any time, right?
As long as there are surveys available, and as long as the site will pay you to share your opinion, you should be able to fill in your odd hours with surveys and rake in some pretty serious extra cash in the process.
This would make a pretty awesome side-hustle, as long as it all worked right.
This is the theory, anyway.
The only problem, however, is that survey sites tend not to pay out as well as they would need to in order for them to be worth the time. So every time I look at a new paid survey site, this is the question I seek to ask and have answered.
Does this survey site pay out enough to make it worth my time?
This is the golden question, and today, I was looking for the 'golden answer' as it pertained to the PanelPolls website.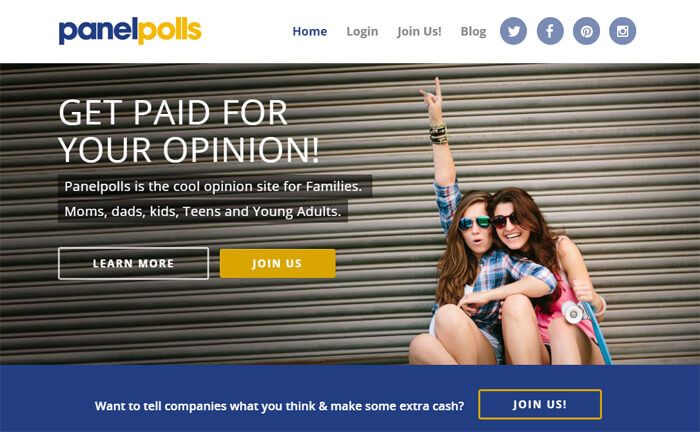 Making Money With The PanelPolls Survey Website
Of course, it is also important to find out if the website in question is going to be consistent enough. In fact, consistency is just about as important as profitability when it comes to a good side hustle.
Here is what I found.
My First Impression Of The PanelPolls Survey Website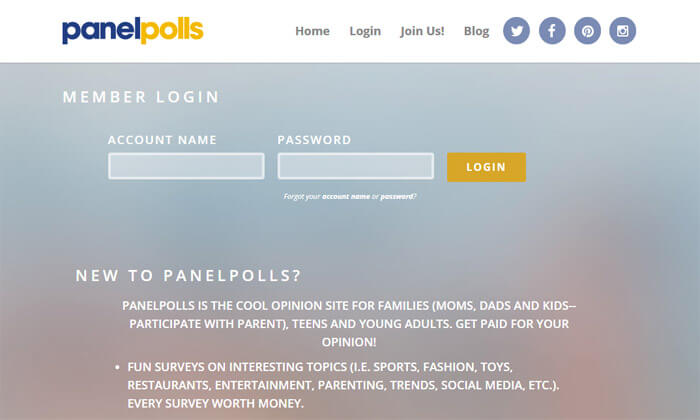 My first impression of this site (found at www.panelpolls.com) wasn't bad. The colors of the background on the landing/info page were a little strange. It was like a gradient of some kind… but it wasn't terrible.
I really liked the home age… but this info page did look a bit strange to me.
Even the text was formatted a bit strangely for my taste. But, it got the point across and did what it was intended to do… so that's a good thing. I try not to be too hard on the aesthetics of any site I'm looking at… but it is kind of an important feature, right? So it's worth a mention.
There is a lot to learn on the landing/info page of this site if you are at all interested in learning about the site and what it does. Here are the basic points that I learned while perusing it…
It is a site for all ages
You can take part in fun surveys on a wide variety of different topics
You can check out new TV shows, movies, online games, and such and such
You can get bonus payments as high as $5-$10
There are online communities and projects that pay out bonus payments as high as $10 every month
You can test mobile apps and games and can get bonus payments for these as well
There are also online focus groups and game testing groups that you can take part in… and bonuses for these groups could be as high as $55!
Plus more
Yes, this was a very informative landing page—and I liked that. I also liked all of the 'bonus cash' they were talking about. But I also took a look around to see if I could find a FAQ page. I scrolled down the page a bit until I reached the footer menu. And sure enough… I found the FAQ page.
Another thing that I will say about this site is that I love how informative it is. Also, I loved the design of the FAQ page.
The weird gradient background was not present here, and it was replaced by a very clean-cut layout with nice buttons, banners, and text. Here is a screenshot. (I was wrong. The gradient continued. I just didn't see it at first, lol!!!)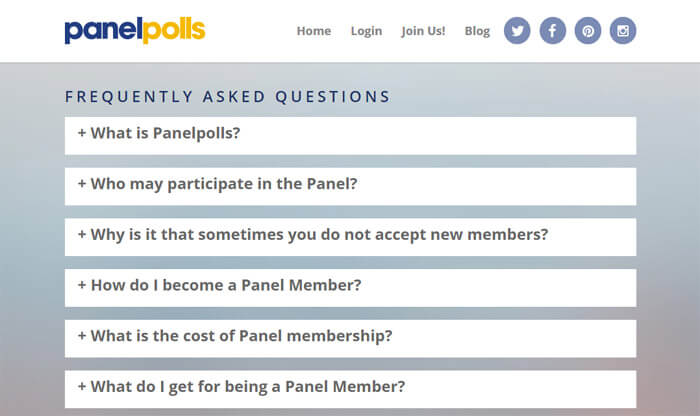 Here is what I learned on this page.
What I Learned On The PanelPolls FAQ Page
The first thing I learned was that, sometimes, membership on this site is restricted to keep the panel size smaller. This makes it a more rewarding experience for existing members.
And even though this might be a pain for someone who wants to join the site, I actually applaud this idea. I feel like this is an excellent way to keep the panel rewarding enough for existing members to make it worth the time. So Kudos to PanelPolls for this.
Next, I learned that you win points by completing surveys. When these points accumulate to 10,000, you can request a payout of $10 in the form of either a check or an Amazon Gift Card.
I also learned that this site lets members know about surveys via email, which I also liked. I like this because it keeps members from being forced to visit the site every day to find out if there are surveys to take.
I wanted to find out how often members get chances to participate in surveys… but the FAQ was vague about this. They simply said that they will 'send you an invitation whenever there is a survey, game test, website evaluation, forum, or discussion, or other panel activity available.'
What I did find out, however, was how much most activities paid out. On the Rewards page, they said that almost every activity pays out at least $1, while many are worth $5, or even $10 or more.
I was also surprised to find that parents can allow their children to join PanelPolls. Kids can take surveys and take part in activities as well, which is kind of neat.
Oh, and I take back what I said about the gradient. It was still present on the FAQ page… I just didn't see it until I scrolled down more! Oh well… no big deal!
The History Of The Company
According to the official company website, PanelPolls has been paying out cash rewards to customers since 1999. It is a youth-oriented site that basically pays people for their opinions. It has been around for a while, and it shows in how well the site seems to function.
Granted, I was not super-pumped about some of the design and lettering choices on the site… but it looked better than a lot of survey sites that I've tried. It also proved to function much better than most as well!
Signing Up With PanelPoll
Signing up with this site is pretty easy.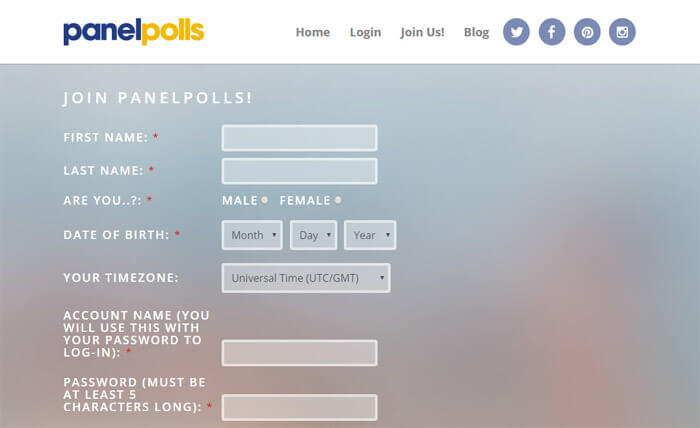 You need to give some basic information about yourself and create a password to start with. Then, you are taking to a page where they ask you a few basic questions about yourself. This, I guess, is what determines if they have a place for you on their panel.
I answered the questions. They were mostly just basic demographic questions about my education, my financial status, my relationship status, etc.
After that, I just had to activate my account by verifying my email address.
After performing this step, I was taken to what seemed to be the main hub of the site and told that within a week, I would start getting invites to surveys.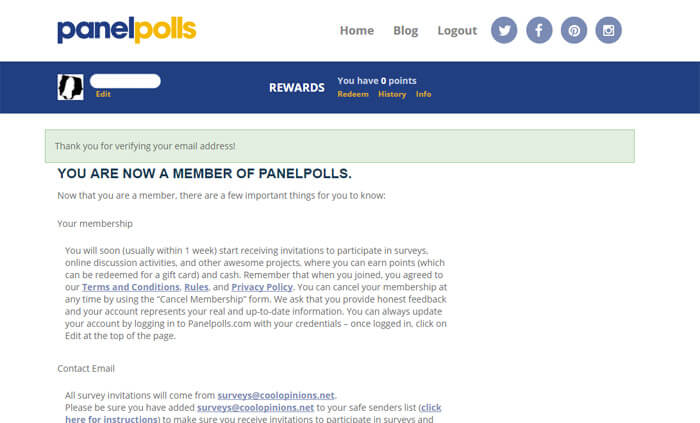 At this point, I had learned just about everything I felt like I needed to know about PanelPolls. Here is the conclusion that I came to at the end of my research.
My Personal Feelings About The PanelPolls Survey Website
Personally, I liked this website. But did it qualify as the kind of side-hustle opportunity I've been looking for in a survey panel?
To be super honest, yes… it is possible that I could get some higher-end surveys out of it, but I find it doubtful that it would prove to be as consistent as I would need it to be.
Survey sites like this are really cool for people who enjoy sharing their opinions on current topics/trends/issues. Plus, it pays you for sharing your opinion. And with everything they do to keep the site valuable to users, they do a much better job at being profitable than most survey websites.
But in the end, I still found myself doubting that this site could keep me as busy (and making as much money) as I would need to be to really invest my time, attention, and energy into it.
It could be a very awesome site for kids, and could be very valuable as a means for younger people to earn some extra money… and it would be a good choice if you like to join survey sites just for the fun of it, because it actually doesn't pay out too badly if the point is just to have fun (actually, I think that PanelPolls is better than options like IOCS, Nicequest, and ProOpinion).
It seems like a very cool website… but as far as a serious, money-making side hustle goes, I think that I will have to look elsewhere.
Our Final Thoughts About The PanelPolls Survey Website
Should you join it and use it to earn some extra money?
The PanelPolls Survey Website Review
To be completely honest, doing online surveys will never earn more than minimum wage. In fact, most people rarely earn more than $1-$3 per hour, if they are lucky enough to get a payout.
If you want to legit make money online you need to invest time into building a website. Earn passive income through affiliate links & advertising revenue. Rather than spend an hour trying to answer boring questions, build a real web property that you can earn monthly income from.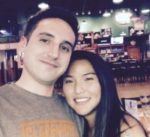 Nathaniell
What's up ladies and dudes! Great to finally meet you, and I hope you enjoyed this post. My name is Nathaniell and I'm the owner of One More Cup of Coffee. I started my first online business in 2010 promoting computer software and now I help newbies start their own businesses. Sign up for my #1 recommended training course and learn how to start your business for FREE!