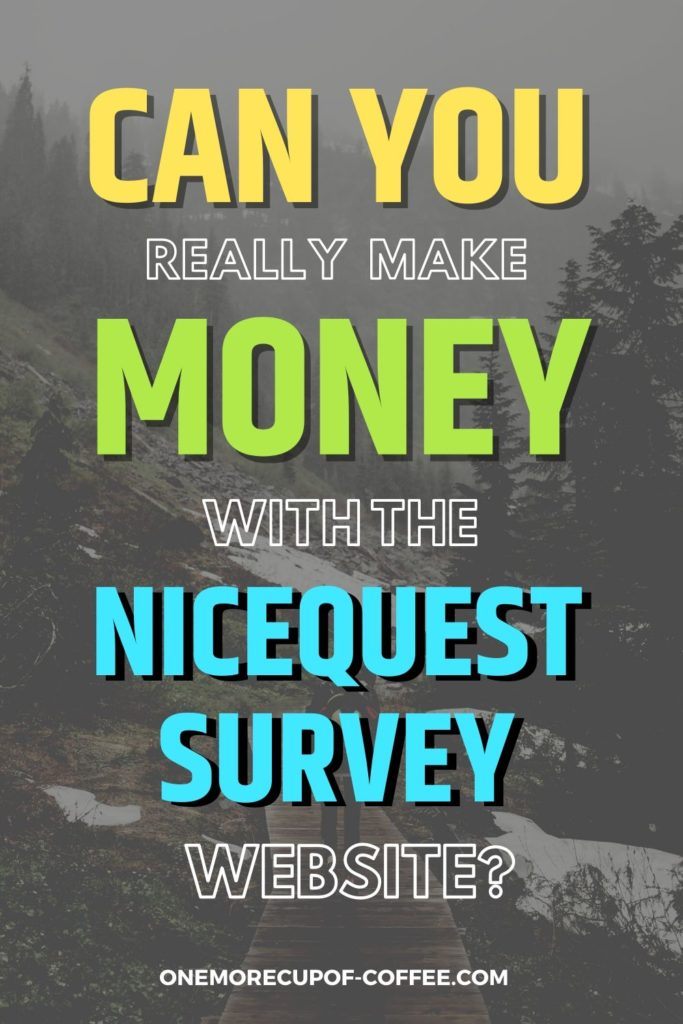 I found this website as I was researching new and different ways to earn cash online. This site seems to promise to give you free rewards in exchange for you sharing your opinion in online polls… but can you really make money with the Nicequest survey website?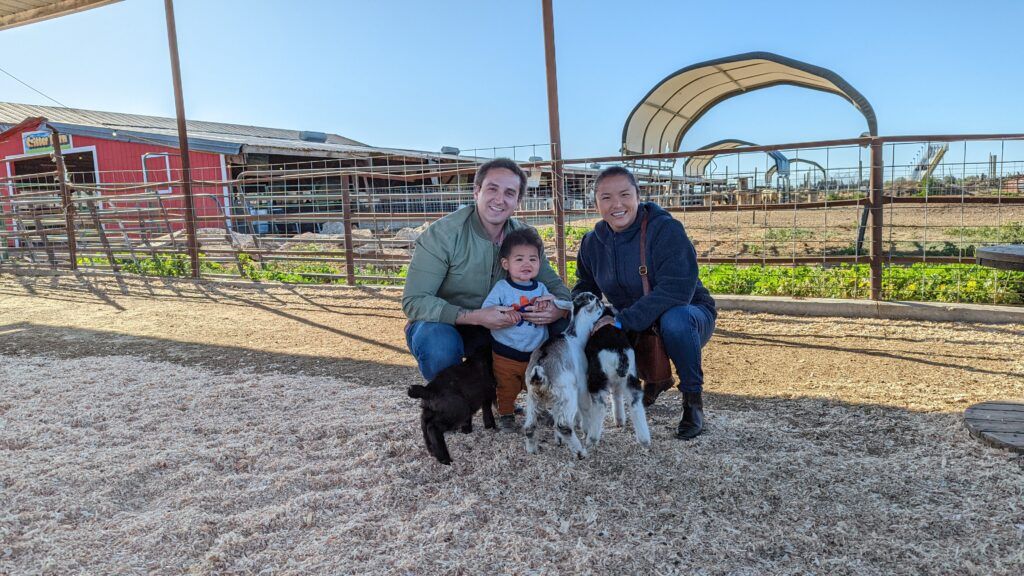 Are You Ready To Work Your Ass Off to Earn Your Lifestyle?
Are you tired of the daily grind? With a laptop and an internet connection I built a small website to generate income, and my life completely changed. Let me show you exactly how I've been doing it for more than 13 years.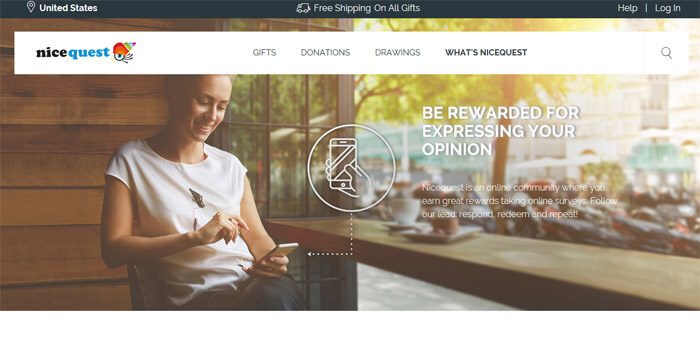 This site seems unique in the sense that you can get not just gift cards, but also gifts in exchange for the points you earn. This was an interesting angle on it, so I was excited to check it out.
Making Money With The Nicequest Survey Website
Here is what I learned about Nicequest over the course of my research.
Getting Started With Nicequest
The home page of the website describes Nicequest like this.
"Be rewarded for expressing your opinion. Nicequest is an online community where you earn great rewards for taking online surveys. Follow our lead: respond, redeem, and repeat!"
This sounded pretty awesome so far. I didn't see a 'join now' button or anything right off the bat, but I did see a log-in button. So I clicked it, and was taken to a screen where there was a 'Discover how to join Nicequest' button at the bottom. I clicked on this button, but was kicked back to the home screen.
Puzzled, I scrolled down a bit… and found this.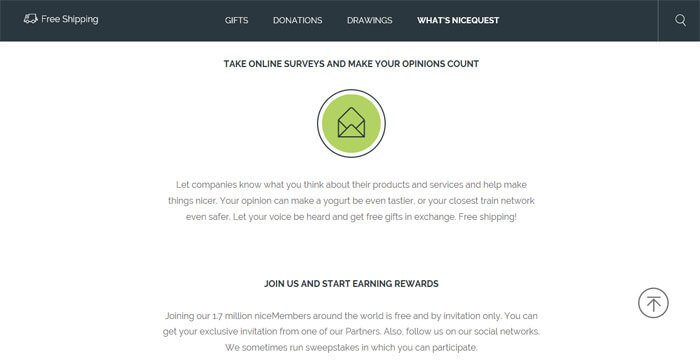 Now this was something that I have never encountered with a survey site before. There is, apparently, no open-enrollment for membership on this site! You need to be invited to participate, which was quite interesting. There didn't even seem to be a place where you could sign up with an email address!
Puzzled, I continued to look around the site, just to make sure that I didn't miss anything.
Finally, on the Nicequest blog, I found what I was looking for.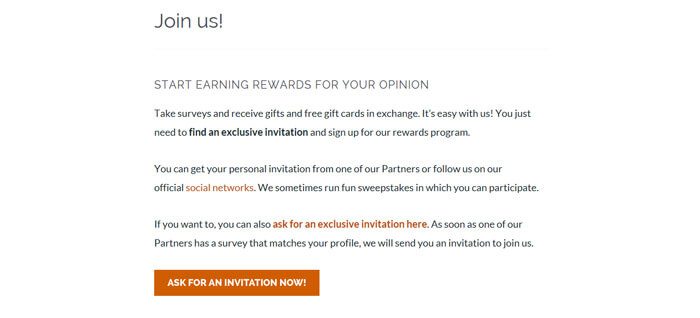 On the Nicequest blog, under the 'join us' tab, you can find a page where you can 'Ask for an invitation.' I was pretty pumped to have found this, though it did take a little work!
I will admit that this whole dynamic was a bit strange to me… but I also wondered if this helped to limit the pool of users to just those who were serious about the surveys. This could filter out people just interested in a 'quick dollar or two,' and would leave the site more open to a better quality of experience to everyone.
So yeah. Thus far, I was still pretty optimistic about it!
I clicked on this button, and was quickly taken to a page where I was told that joining Nicequest is free, but that it is by invitation only.
But on this page, if you scrolled down, you could find a place to leave your contact information. They say that 'as soon as you meet the profile' that one of their clients need, they will 'send you an invitation.'
I filled out the information, and was told that I would receive an email verification… which I would need to click on if I wanted to complete the process.
I did receive the email. It came pretty much instantly. Here is what it looked like.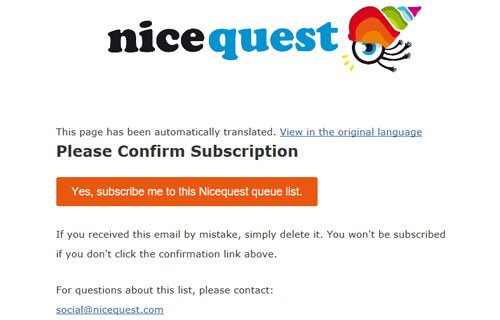 After clicking on the link, I was taken back to a page on the Nicequest site. And that was that. At this point, I really didn't have much to do but to sit and wait… so I decided to take a look at some other reviews online, in an attempt to try and figure out what other people thought of Nicequest. Here is what I found.
Did Other Survey Takers Like The Nicequest Site?
One thing that I quickly learned was that Nicequest does have a mobile app… which is pretty cool. The app is just called 'Nicequest,' and is available for free on the Google Play Store for Android. It can also be obtained for iOS. The app has a pretty good user-rating, and seems to be well-reviewed.
However, after reading some reviews of the website itself, I noticed a few negative reports. Some people complained that there were problems redeeming their points, which is a pretty huge problem! I mean, if you can't redeem your points, what is even the point of taking the surveys to begin with?
Granted, there are always a few reports like this when you look into a new site, and a lot of it can be chalked up to user error. But you never know… and reports like this are reports that I do take pretty seriously.
I also found some good reviews. People said that the surveys were interesting and that the rewards they offer are really good. I was actually pretty interested in taking a look at the rewards available on Nicequest, so that is what I did next.
Nicequest Rewards
Here is a screenshot where you can see all of the different categories of rewards (or gifts) that you can redeem with your points on Nicequest. This includes categories like Children, Culture, Electronics, Fashion & Beauty, Gift Cards, Home Appliances, Leisure, etc.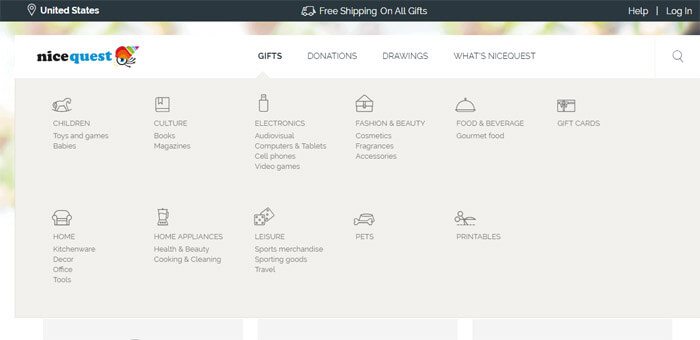 You can get a lot of different stuff on this site, which is pretty awesome. Unfortunately, since I didn't receive an invite before I needed to have this review completed, I was unable to actually do any surveys… so I was unable to figure out what kind of money you can make on the site.
One of the big questions about any survey app is whether or not it is worth the time. But since I was not able to really try this site out completely, I was unable to give a completely satisfactory answer to this question.
I will say that I was intrigued by it. I will also say that I wasn't completely sure what to think about the invitation-only policy on membership. Some of the other review sites that I visited labeled this as a downside—but it is also true that this process could have the potential to make the service a lot better.
So it is kind of a give-and-take at this point for me in that sense that balances itself out.
At any rate, I was now ready to give my specific, personal opinion about Nicequest. Here is how I felt about it.
My Personal Opinion About The Nicequest Survey Website
First of all, there were a lot of things that I liked about this site. I love how many different types of rewards you have to choose from, how well the site seems to work, and how simple/concise everything is.
I also like how it seems to have mostly positive feedback.
Where it started to get a little bit strange for me was in the sense that you don't automatically get to join the survey site. I can understand the reasoning behind this, and while it has the potential to make the website better—it also is possible that it could take away from it.
For me, I didn't even get a real chance to use the site, because I was waiting for an invite. I waited a good 5 hours before completing this review, just to see if I might get one sent to me… but no bananas, unfortunately!
I am also a bit disappointed at the fact that there are some negative reviews floating around out there about redeeming points. This is a really terrible category to get bad reviews in, because you really need the incentive part of the process to work well.
Granted, there were a 'minimal' number of these reviews floating around out there… so I feel like it would be fair to just chalk them up to user error. But still… it is unsettling to hear those things!
Personally, I would recommend that anyone interested in surveys go ahead and request an invite… and then see what happens.
I have a feeling that it may not be worth the time for everyone, based on what I have heard and seen over the course of my research—but I also cannot say that for sure, because I have not actually gotten the chance to take any surveys with the company as of yet.
Hopefully I will get an invite and get to try it out further. But I will also say that I am quite a stickler for the payoff being worth the time… and a lot of survey websites that I try fall flat in this area.
Where making extra cash is concerned, I am pretty stingy with my extra time… so a survey site really needs to go above and beyond to get my attention.
I love the idea of survey websites… but in practice, they are often a bit lacking in terms of a payoff. The sites Hagen/Sinclair, My Opinion Now, SurveyMini and TellWut are all examples of that pattern.
Our Final Thoughts About The Nicequest Survey Website
Should you request an invitation and use it to make extra money?
The Nicequest Survey Website Review
To be completely honest, doing online surveys will never earn more than minimum wage. In fact, most people rarely earn more than $1-$3 per hour, if they are lucky enough to get a payout.
If you want to legit make money online you need to invest time into building a website. Earn passive income through affiliate links & advertising revenue. Rather than spend an hour trying to answer boring questions, build a real web property that you can earn monthly income from.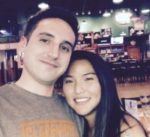 Nathaniell
What's up ladies and dudes! Great to finally meet you, and I hope you enjoyed this post. My name is Nathaniell and I'm the owner of One More Cup of Coffee. I started my first online business in 2010 promoting computer software and now I help newbies start their own businesses. Sign up for my #1 recommended training course and learn how to start your business for FREE!