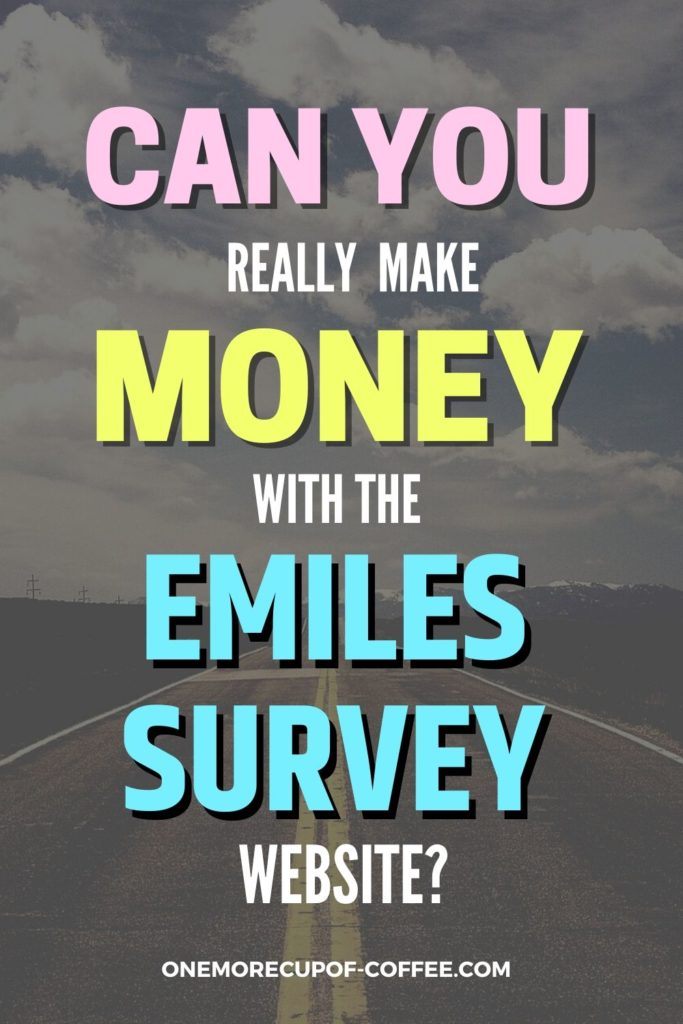 I love to travel. In fact, I have already taken two trips this year… and plan to take at least one more before it's over! And this survey site may be able to help. But can you really make money with the eMiles survey website?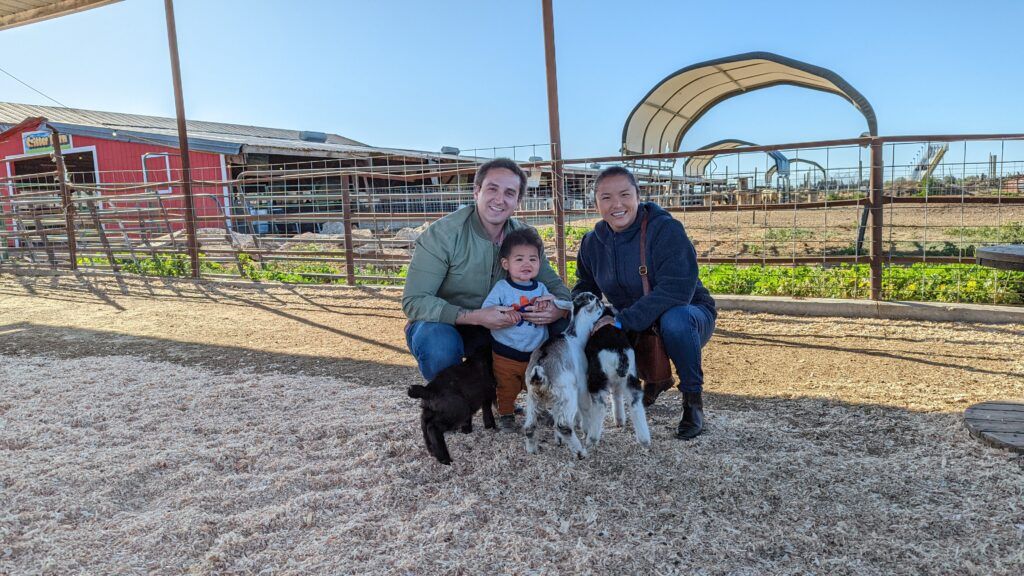 Are You Ready To Work Your Ass Off to Earn Your Lifestyle?
Are you tired of the daily grind? With a laptop and an internet connection I built a small website to generate income, and my life completely changed. Let me show you exactly how I've been doing it for more than 13 years.
This is what I was determined to find out.
I heard about eMiles.com as I was doing some reading about how to earn extra cash on survey websites. I have been kind of into this idea lately, because survey websites could offer anyone the opportunity to earn cash from anywhere, at any time—and that is a super-attractive idea to me!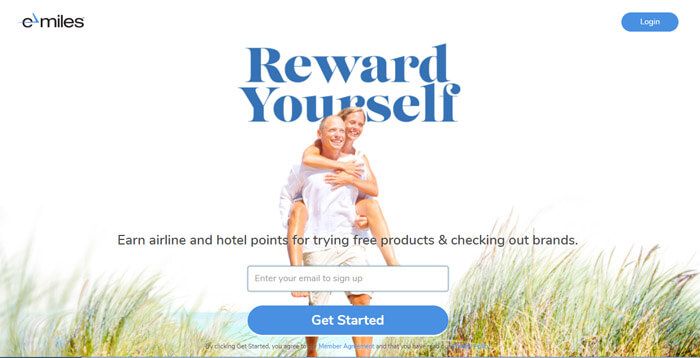 This site seems to offer rewards that can help you to travel in exchange for your opinions on polls. I heard that they basically give you rebates and/or discounts on airline flights, hotels, etc.
But is the time investment worth the money? Can you actually earn enough to make using eMiles worthwhile? And does the site even work well? These are the types of things that I was determined to figure out.
Here is what I discovered.
Making Money With The eMiles Survey Website
To begin with, I took a look at the sign up process.
Signing Up For eMiles
So, the first thing I had to do to get started was to sign up. To do this, I had to enter my email address and verify it by clicking on a link in the verification email that I received.
The email came very quickly! Almost instantly, in fact. Next, I was kicked back to the website, and arrived at this page.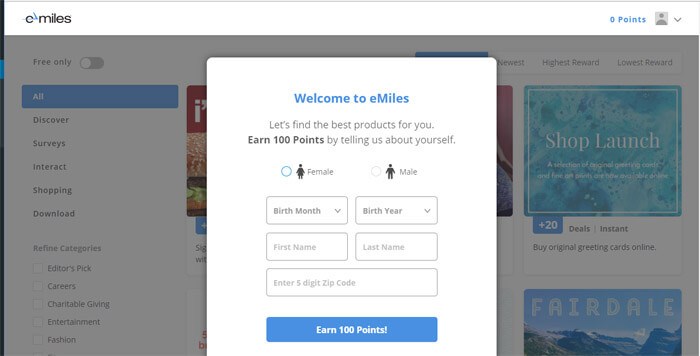 As usual with websites like this, I was being asked to fill out an introductory survey to help the company place me with surveys that I would qualify for. But unlike a lot of other websites, eMiles was actually offering to pay me (100 points) for this part! So, I was pretty excited about that.
This little survey literally took me 10 seconds or less. It was super-fast and easy to take. I just had to supply my gender, name, and zip code. Next I had to set up a password for my account. Then, I found myself in the main hub of the eMiles website! Let's talk about that next.
The Main Hub Of The eMiles Website
So, upon arriving at the main hub, I was greeted with several things that got my attention.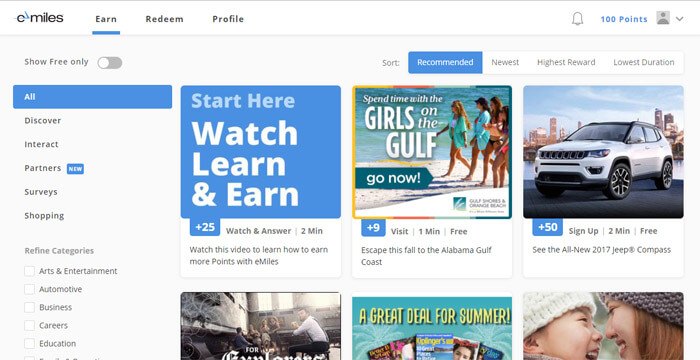 First of all, I noticed that there were a lot of different surveys and offers available for me to take part in. The point values for these offers ranged from 9 points to 1,000 points… though, as would be expected, the higher the point total, the more trouble you would need to go to if you wanted to redeem the reward (this style can be found with other sites too, like InboxDollars, I-Say and Instant Rewards).
For example, one really high-point offer wanted me to pay a small fee to sign up for this trial offer for a product, etc.
So, it is a give or take on some of these things. You just have to know what you are interested in doing and stick with the offers that meet your criteria.
But… I will say that I was happy to see that there were actually A LOT of offers available. There were sooo many, and I cannot stress enough how good of a thing this is.
Lately, it seems like a lot of the survey sites that I have been looking at have just not been able to supply enough work to make them viable.
But this certainly does not seem to be the case with eMiles!
There seemed to be 'deals for days' on this site.
But now I wanted to see what it was like to complete an offer. Would I earn the points right away? Would it be glitchy? These were the types of things that I was now interested in figuring out.
Taking A Survey On eMiles.com
I clicked on the 'surveys' tab on the left side of the main hub screen and was quickly taken to the survey page—where I was told that I needed to unlock it before I could take surveys. To unlock it, I needed to complete my profile.
This took about 2 minutes, give or take… and basically consisted of questions about the normal stuff. I was asked about my job, my income, how many kids I had, whether I rented or owned my home, what kind of cell phone I used, etc.
After that, I was taken to a page where it seemed like I was already being injected right into a survey?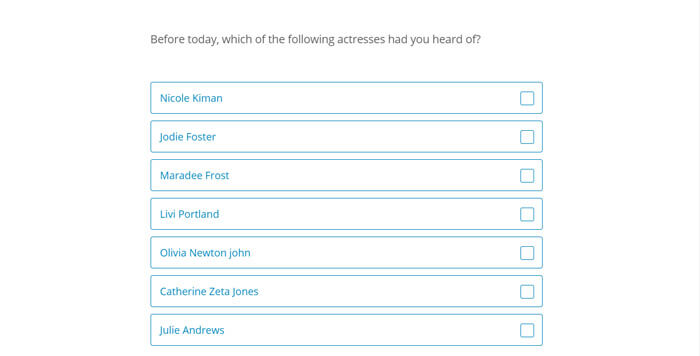 This confused me a bit, but I went with it.
I answered the question, and was promptly shown a message saying 'sorry, but this survey was not a match.'
Ok. That was kind of weird, but it happens. I just went back to the eMiles survey page and decided to go from there.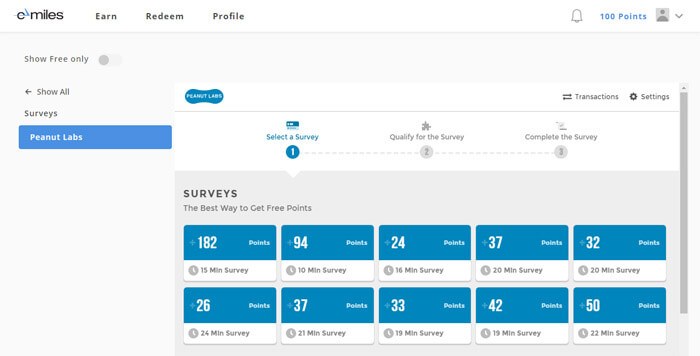 Here, I was now greeted with quite a list of survey opportunities that I could take part in. These ranged in point value from around 24 to 182, and all of them had estimated time frames on them as well. I picked the shortest, smallest, easiest-looking survey, and went for it.
I tried… but then I was sent to this page that told me there were too many requests, and they asked me to try to reload. I did, several times, but the problem persisted.
No problem. I went back and tried a different survey. This time, they said they could not connect me to the host.
Ok. Two options down. I tried a third. I went through a pre-screening survey, and spent quite a bit of time on it. Finally, after getting it all done, I came to a screen that told me that I didn't qualify! Here is what it looked like.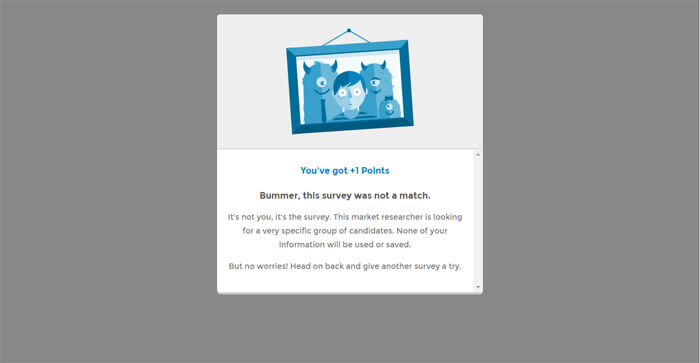 At this point, I was starting to get a little bit frustrated. I had tried three surveys already, and none of them had panned out to make me any money (other than the 1 point I made from the survey I didn't qualify for).
Between the technical glitches and not being able to qualify, this was quickly turning into a waste of time. But, I still wanted to see how much the points were worth, so that's what I looked into next.
How Much Are The Points Worth On eMiles?
When I went to the Redeem section of the website, I found that you can redeem points for a number of different rewards, all related to travel. You can redeem for rewards from companies like United Airlines, Frontier Airlines, Spaweek, Restaurant.com, IHG Rewards Club, Hilton, Etc.
Now, I figured that you would probably get gift cards or something for your points… but you actually get reward points, which is kind of interesting. Here is an example.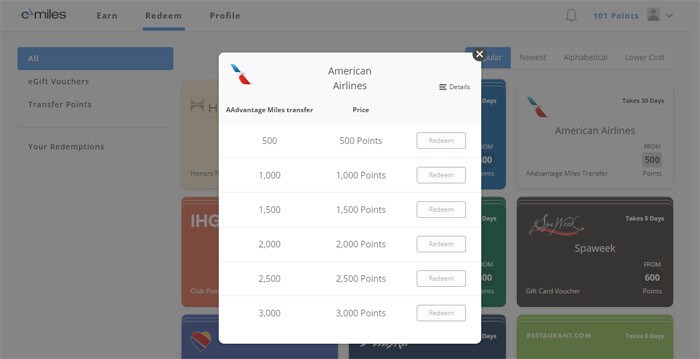 I feel like the conversion rate is pretty good. At this point, I was ready to give my official opinion about the survey site… so here is what I came up with.
My Personal Opinion Of The eMiles Survey Website
First of all, I will talk about what I did like. I really like that there are so many offer opportunities on this site. The survey section was, admittedly, a bit lackluster—but the offers, in general, were pretty awesome.
I also like how you can get reward points for your effort. Getting airline points and points for hotels is pretty cool. It gives you some flexibility in how you can spend your rewards, and I like how many different reward options you get, in terms of the companies represented.
Overall, I like the idea of this website. They really can help you to make traveling cheaper if you dedicate the time… but that leads me to kind of the downside as well.
Personally, I felt like the time investment might not have been worth it. I mean, you can make points… but I encountered quite a few glitches in my short experience with it. I literally couldn't get even one survey to work!
The offers may be better than the surveys… but still, I feel like it could have been better done.
If I were planning to take a trip, I may use the site to try to get some easy savings on an airline ticket or hotel room… but as far as making it a long-term, money-making opportunity, I just don't feel like it offers that kind of a benefit.
I have seen worse, but I can't seriously get behind eMiles as a monetary, cash-generating opportunity. It can save you some cash on your traveling expenses, for sure… but I have a feeling that most people will probably realize that, in the end, the effort may not really add up to enough of a benefit to make it worth the time.
Our Final Thoughts About The eMiles Survey Website
Should you register and use it to earn rewards and make extra money?
The eMiles Survey Website Review
To be completely honest, doing online surveys will never earn more than minimum wage. In fact, most people rarely earn more than $1-$3 per hour, if they are lucky enough to get a payout.
If you want to legit make money online you need to invest time into building a website. Earn passive income through affiliate links & advertising revenue. Rather than spend an hour trying to answer boring questions, build a real web property that you can earn monthly income from.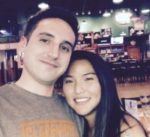 Nathaniell
What's up ladies and dudes! Great to finally meet you, and I hope you enjoyed this post. My name is Nathaniell and I'm the owner of One More Cup of Coffee. I started my first online business in 2010 promoting computer software and now I help newbies start their own businesses. Sign up for my #1 recommended training course and learn how to start your business for FREE!