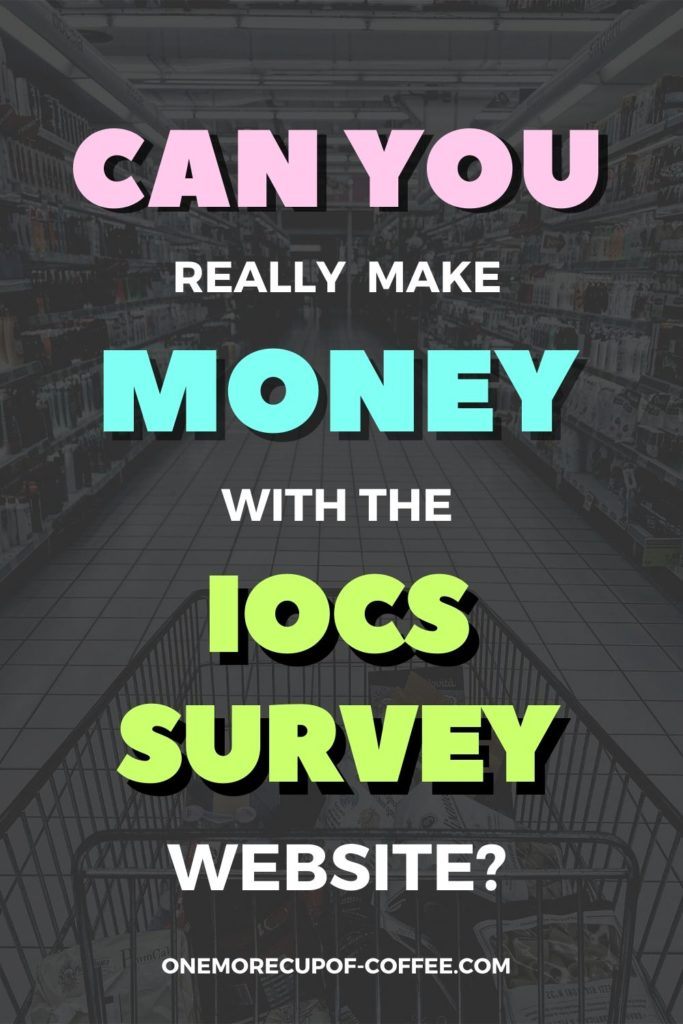 IOCS (found at iocs.org) stands for 'Institute for Online Consumer Studies. This is a not-for-profit research organization that 'studies various aspects of shopping-related behavior.' But can you really make money on the IOCS website?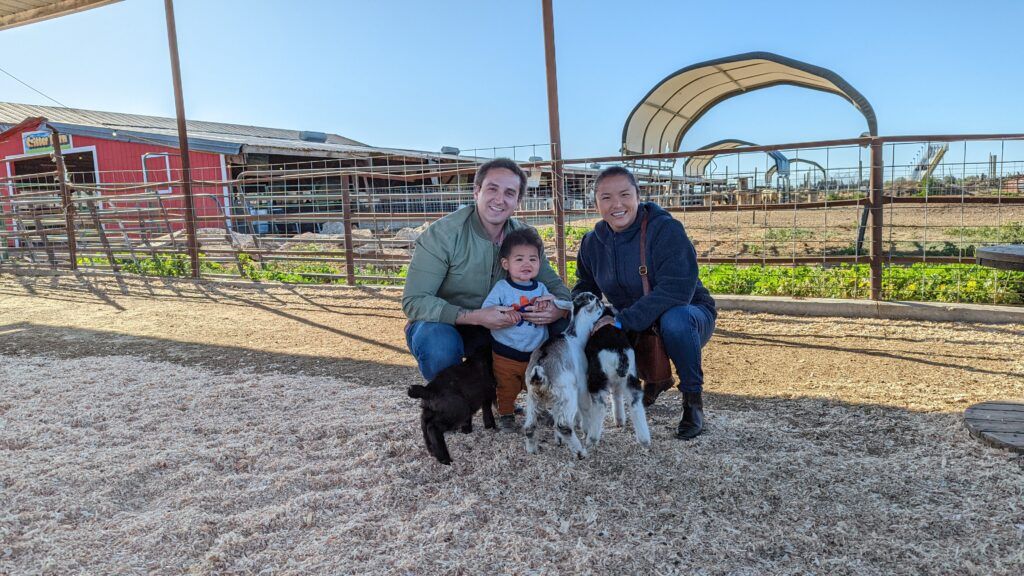 Are You Ready To Work Your Ass Off to Earn Your Lifestyle?
Are you tired of the daily grind? With a laptop and an internet connection I built a small website to generate income, and my life completely changed. Let me show you exactly how I've been doing it for more than 13 years.
This is what I was determined to find out… so I decided to join and look into it.
Survey websites hold a special sort of 'appeal' to me. As someone who is always interested in a side-hustle, I try to keep my eyes open for new money-making opportunities—and this site seemed to offer this.
I like the idea of survey sites because, in theory, they offer me the chance to make money on my own terms, on my own schedule, when I want to. This makes them an ideal side hustle, because they could be done around the other items in my daily schedule. So, in other words, they are flexible.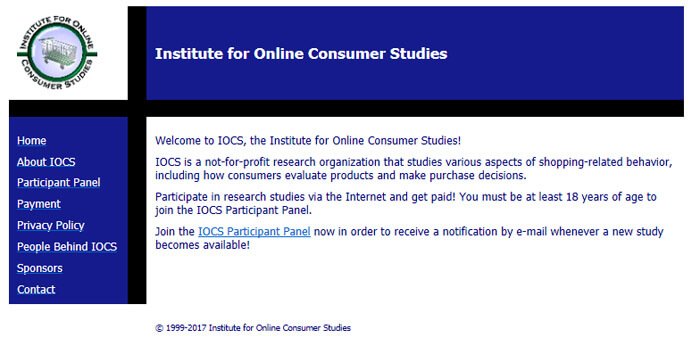 But survey sites also tend to suffer from some basic downsides as well… most notable of which is their failure to pay out enough to make them worth the time.
I have reviewed a few sites that paid out decently. But for the most part, survey sites just don't pay out enough to make them worthwhile.
But would I discover that IOCS was different?
Here is what you need to know.
Making Money With The IOCS Survey Website
My first step was to take a look at the site itself and see how it works.
Getting Started With The IOCS Survey Website
There is a link right on the home page that takes you to the signup sheet. It looks pretty straightforward.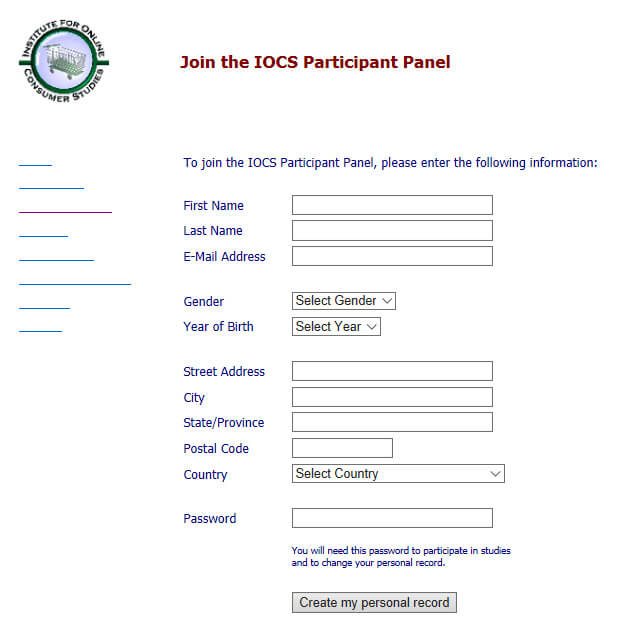 You've got to share quite a bit of information—but nothing more serious than you would expect. Being required to share this type of information is pretty common on sites like this. The survey sites use it to place you for surveys.
When companies buy data like this from the survey site, they need information from specific groups of people. This is called a 'demographic.' So, they need to select people from certain demographics to take part in different surveys, based on what the company needs.
After I finished filling this out, I was taken to a page where I was told that an email would be sent to me containing a record of all of my vital information. I was also told that I could now start taking surveys and winning prizes… but I was a bit surprised at what it said about this. Take a look.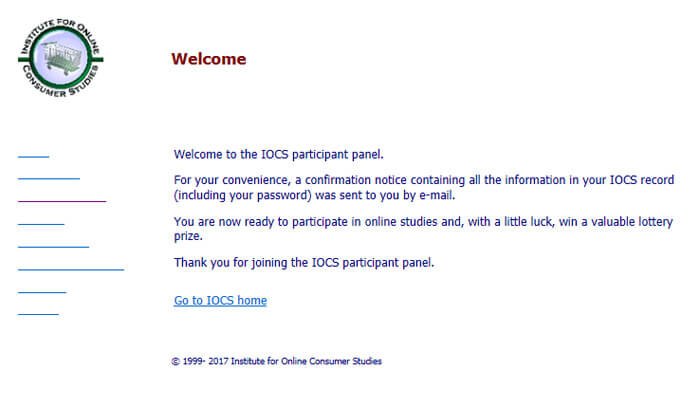 Here is the quote that concerned me a bit.
"You are now ready to participate in online studies and, with a little luck, win a valuable lottery prize."
So, this certainly did not sit well with me. If I am going to take part in online surveys as a means to earn some extra cash, then I certainly do not want my compensation to be messed with. I value knowing what I am going to be making if I am going to invest the time into it.
I understand that starting a side business might seem no different. I mean, just because you started a business doesn't mean that you are going to make money.
But the difference is that, with a small business, you can control your destiny by trying to advertise, gain customers, put more effort into it, etc.
And you will be at least assured that your business will scale to some small degree… and that you will be able to find some sort of consistency in it.
Then, you can determine whether or not it is actually worth the time.
So sites like this, that pay with some kind of entry into a sweepstakes or lottery, generally don't stay on my radar for very long. But… I decided to keep looking into it. So here is what the main hub looked like.
The Main Hub Of The IOCS Survey Website
The main hub was essentially the same as the landing page. Along the left side of the page were a series of tabs that you could use to visit the different parts of the site. These were listed as such…
Home
About IOCS
Participant Panel
Payment
Privacy Policy
People Behind IOCS
Sponsors
Contact
At this point, I was mostly interested in finding out what the surveys were like. I was also interested in trying to figure out if there were always surveys available, and was interested in finding out how much they paid. Did the surveys pay something other than an entry into some kind of lottery?
If so, that would be awesome.
To figure this out, I visited the Participant Panel tab.
But when I clicked on this, I came to a site that basically told me that panel members would be notified by email whenever a survey becomes available.
Thus far, I had only been a member of the site for about an hour and a half… so it was not surprising that I had not yet received any survey invites.
So next, I decided to visit the Payment page, just to see what I would find there.
I found a very limited amount of information. This is a quote that basically sums up everything there was to see here.
"Members of the IOCS Participant Panel are paid for taking part in a research study. To participate in a research study you must be registered as a member of the IOCS Participant Panel. Payments are made in cash. When payments are cash they are settled through a PayPal account."
So, this seemed pretty straightforward. I still didn't know how much each survey was supposed to pay out in cash. This detail still eluded me. But I also felt like I knew more than enough, at this point, to know what I thought of the IOCS Survey website.
Will I Be Using The IOCS Survey Website In The Future?
First, I will talk about the things that I liked about the site. I liked that the site functioned well, and that I experienced no glitches of any kind. I also liked the simple, straightforward design.
On the flipside, I will also say that the design was almost too simplistic at times. It was nearly a throwback to those sites that you used to see in the 90s, before we had the capability to program more sophisticated graphics.
And the copyright info along the bottom of the screen even said 1999-2017… so this design might still be a 90s-esque design that just hasn't been changed!
I also like that joining the site was simple and straightforward. Plus, in the payment section, it even said that the site pays in cash. It didn't even mention the lottery or anything like that here… which was pretty awesome, because my interest in taking part in surveys for entry into some kind of a contest is pretty much zero.
So, I guess this all kind of cancels itself out. In the end, it was sort of impossible to say, for sure, what I thought about the site completely, because I didn't get to do a survey. I had not gotten an invite to one yet, which was understandable (and not too unusual, I've seen similar patterns from Engage Studies, Survey Savvy and MySurvey).
Personally, I feel like I will probably keep an eye out for a survey from this one, and then see how I feel about it. I am still interested in figuring out how much I can get paid per survey. But I will also say that I do not have super high hopes for it.
The site just doesn't strike me as the type of site that you can make a lot of money on. And while I do not like to judge a book by its cover, I have come to understand that you can kind of 'know what to expect' in some cases.
My plan of action with this particular site is to wait and see what happens when I do get a survey invite… and if you like to take surveys and feel like doing so is how you might like to spend some of your time, then it is very possible that this site may give you some awesome rewards for your time.
But is it side-hustle worthy? At this point, I would have to say no—and it would take quite a bit to convince me to change my mind. I would have to get a lot of surveys that paid a lot—and the money would need to be consistent. And I just do not see any sign of being able to expect that.
I feel that IOCS is a great survey site with a proven track record. It has a pretty good reputation online, and it can certainly help you to make a bit of extra spending cash.
But is it worth the time to invest in it as a side-hustle? I am afraid that you may be disappointed if that is what you are looking for.
Our Final Thoughts About The IOCS Survey Website
Should you sign up and use it to make some extra money?
The IOCS Survey Website Review
To be completely honest, doing online surveys will never earn more than minimum wage. In fact, most people rarely earn more than $1-$3 per hour, if they are lucky enough to get a payout.
If you want to legit make money online you need to invest time into building a website. Earn passive income through affiliate links & advertising revenue. Rather than spend an hour trying to answer boring questions, build a real web property that you can earn monthly income from.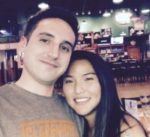 Nathaniell
What's up ladies and dudes! Great to finally meet you, and I hope you enjoyed this post. My name is Nathaniell and I'm the owner of One More Cup of Coffee. I started my first online business in 2010 promoting computer software and now I help newbies start their own businesses. Sign up for my #1 recommended training course and learn how to start your business for FREE!