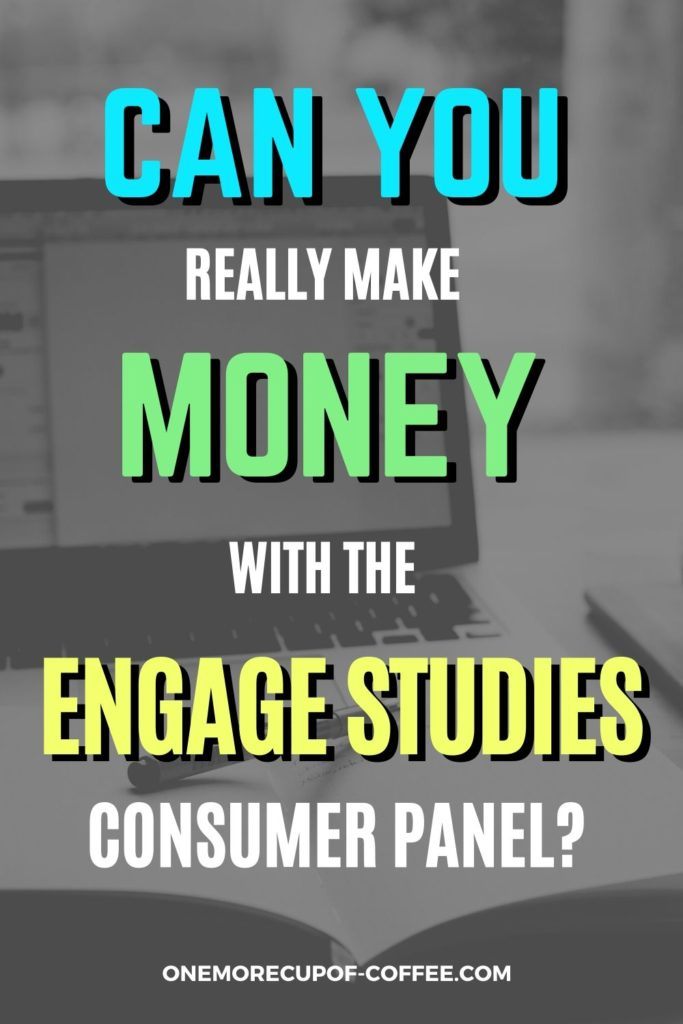 I found this site while I was looking for survey sites that I have never used before. At this point, I have used a lot of them… and many of them have come up depressingly lacking. But can you really make money with the Engage Studies Consumer Panel?
I will admit that at first glance, this site looked pretty typical. But you never know with survey sites… especially before you really get into them. You would be surprised by how many 'typical' sites I've tried that turned out to be really different.
So naturally, in such cases, I tend not to judge a book by the cover. With that in mind, let's look at what the Engage Studies Consumer Panel had to offer.
Make Money With The Engage Studies Consumer Panel
The landing page for this site (found at https://engagestudies.com/participate/) was pretty informative. They say that they are always looking for respondents to take part in paid market research projects… and are pretty much out to recruit individuals for focus groups, studies, and online discussions.
There were two basic directions that I could choose at this point. I could click on the link for their Healthcare Panel, or on the link for their Consumer Panel.
Both of these sounded pretty awesome… but since I am not a member of the medical/healthcare community, I was left to choose the Consumer Panel option—which was designed for general consumers and professionals.
So here is what happened when I actually got started.
Getting Deeper Into The Engage Studies Survey Website
Upon clicking the link to go to the consumer panel, I was taken to a screen where I was asked to sign up. I had to give them my name, my email address, and a bunch of other information consisting mostly of demographic info, information about my employment status, and even information about my consumer habits.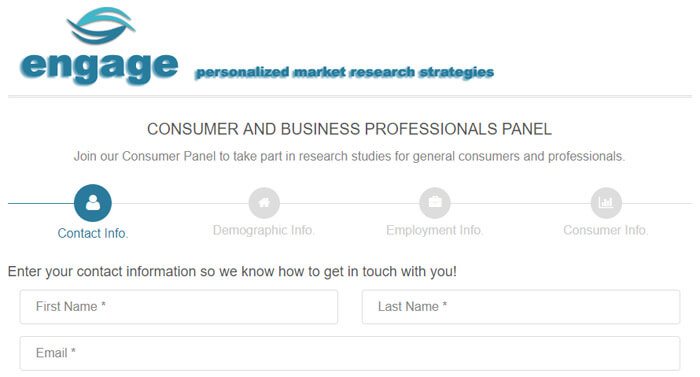 This was actually a rather laborsome process, all things considered. It took me quite a while to get everything all filled in and completed. But once I finally got it done, I was told that I would be sent a confirmation email, and that I could now log-in to my account.
So that's what I did next.
Logging Into My Engage Studies Account
One thing that I quickly figured out was that I had to access the verification email to log in—because they actually send you a custom password to get started with, rather than asking you to create your own. So after I retrieved the password and logged in, I was brought to what seemed to be the main hub of the site.
But this was actually really underwhelming. I had access to all of my personal information, could view the different tabs on the site, log out, or join the Healthcare Panel… and those were just about my only options.
I wasn't quite sure how to get started here, so I decided to do some looking around.
I clicked on the 'Participate In Research' tab, but this only took me to the same page that had served as a landing page on my first visit.
Next, I clicked on the 'About Us' tab, to see if I could get any more information here.
I learned a few different things on this page. To start with, I learned that this company is based out of the Washington DC area. I also learned that the company specializes in 'recruiting hard to get respondents for market research and usability studies.'
But beyond this, I didn't really learn much about the site that helped me to figure out how to get started. Most of these sites email you when there are surveys or studies to be done, so that is how I imagine I would be contacted from this site as well. But as of yet, I was not quite sure if this was true or not.
So I decided to take a break from this one for a bit, to see if anything changed.
(The Next Day)
About 24 hours later, I logged back in. I also checked my email. As of yet, I had not received any additional email from Engage Studies. I also checked the main hub of the site, and was a bit disappointed to find that nothing had changed.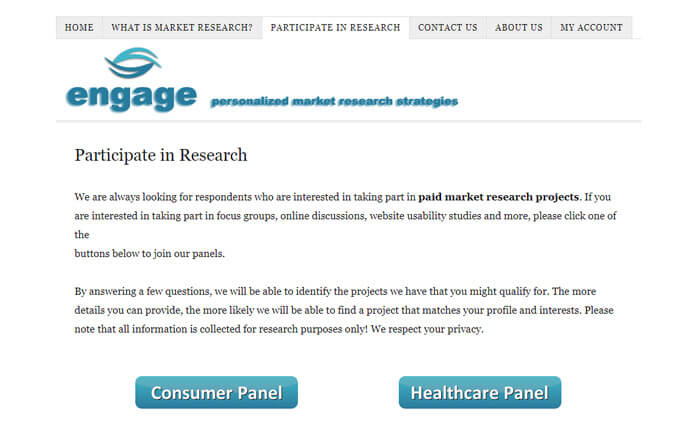 I took one more look around, just in case I was missing something… but alas, I had literally no idea what to do next to move forward.
I guess I was just waiting for them to email me with a study that fit into my demographic… so there was really nothing more to do at this point. I couldn't necessarily say, for sure, how much money I could expect to make… but from the way it looked, this site wasn't going to be able to put me right to work, either!
On the home page, they say that projects pay anywhere from $50 to $250 per project, often for less than an hour's worth of time. That is pretty good!
But then again… how often do you get the opportunity for it? This makes it sound like Engage Studies could be an awesome way to make some extra money… but if it isn't consistent, then it would not qualify as a side hustle.
Did Engage Studies Perform Well On A Technical Level?
From a technical standpoint, I didn't really have any problem with the site. The design was simple, but attractive and effective. I was able to navigate the pages and fill in forms without much of a problem.
One thing that I wished that this site would have offered was some kind of a step-by-step explanation of how things worked. I mean, from what I've read, it seems to be pretty obvious that they will just email me when they are ready for me to take part in a study… but I wish this process was more 'spelled out' on the site.
I also wish that there were more studies available. But this is also a give and take, because if there were more studies, the amount that they pay out per-study might go down as well… so it is a bit of a double-edged sword.
The lack of surveys isn't that unusual either, I've seen many sites that only send out a few surveys per month, like Panel Payday and My Opinion Now.
My Personal Feelings About The Engage Studies Consumer Panel Website
Personally, I liked what I was able to experience on this survey site… but I do not believe that it qualifies as a side hustle. If you like to take surveys, don't mind keeping an eye on your email box for them, and wish to take them whenever they do come up—and get paid rather well for them—well, then this site could probably do you a lot of good.
I believe that Engage Studies is a pretty good choice for that… and the Healthcare side of the site is probably also really good for that.
In fact, I will probably be keeping this site around and checking my email for surveys… just because each one is worth so much more than average.
I do wish that I could have either tried one, or figured out what they were like more before completing this review… but I just didn't have the opportunity to take one.
With that being said, there are two basic reasons why this site does not qualify as a 'side hustle' for me. For one, I did not see it as being profitable enough in the long run. Granted, you do get really good money per study. But can the site supply you with multiple studies per day at this rate?
The answer to this question is actually 'unknown' to be technically correct—but I feel that the odds of this happening with Engage Studies are pretty low.
Now, with that being said, I will also say that this site offers a lot of flexibility—which is another important thing that every side hustle should deliver. But on the flipside, it also seems to lack consistency. I mean, I signed up 24 hours ago, and I have still not gotten a survey. Granted, this may not be the normal process—but it is what it is.
There is really no reason for me, at this point, to believe that I am going to get a ton of surveys with this site.
Is it an awesome survey site? Yes. If you want to participate in studies and earn some pretty serious cash, then this website is going to have more to offer than most. Engage offers some pretty serious cash for the studies that they do provide, and if you enjoy surveys and studies, then this site is going to be a great fit for you.
Just don't expect to get rich using it, and don't expect it to add up to something that will become a side-hustle for you… because you just won't make enough from it to count at that level.
Our Final Thoughts About The Engage Studies Consumer Panel
Should you join and use it to earn some extra money?
Engage Studies Consumer Panel Review
To be completely honest, doing online surveys will never earn more than minimum wage. In fact, most people rarely earn more than $1-$3 per hour, if they are lucky enough to get a payout.
If you want to legit make money online you need to invest time into building a website. Earn passive income through affiliate links & advertising revenue. Rather than spend an hour trying to answer boring questions, build a real web property that you can earn monthly income from.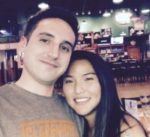 Nathaniell
What's up ladies and dudes! Great to finally meet you, and I hope you enjoyed this post. My name is Nathaniell and I'm the owner of One More Cup of Coffee. I started my first online business in 2010 promoting computer software and now I help newbies start their own businesses. Sign up for my #1 recommended training course and learn how to start your business for FREE!