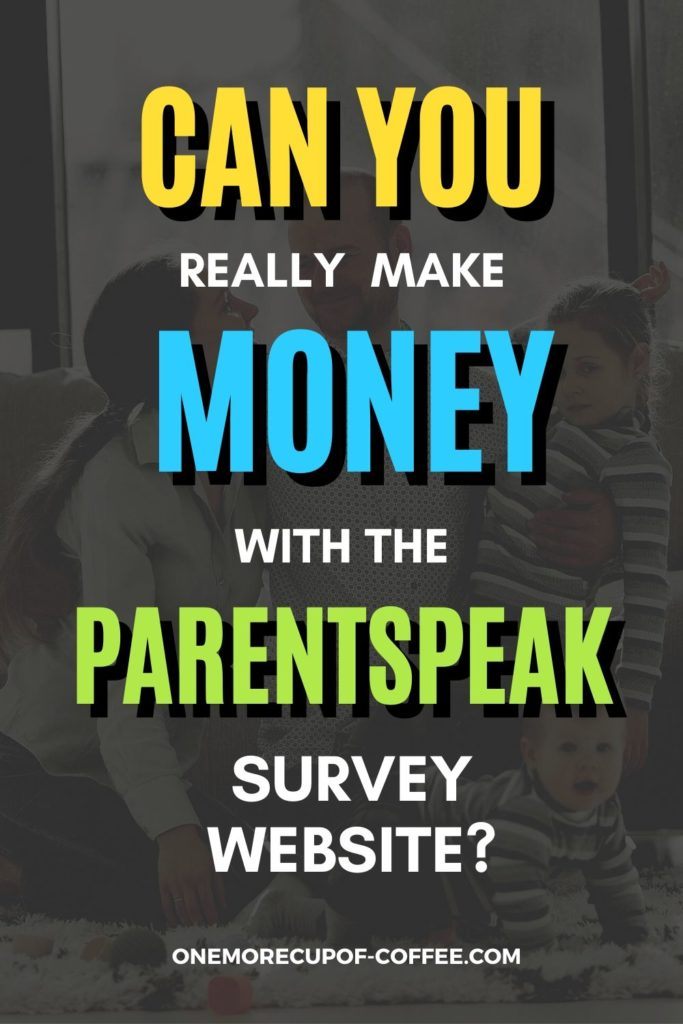 As someone who is interested in business + entrepreneurship + side hustles, I am constantly on the lookout for ways to earn more cash. But can you really make money with the ParentSpeak survey website?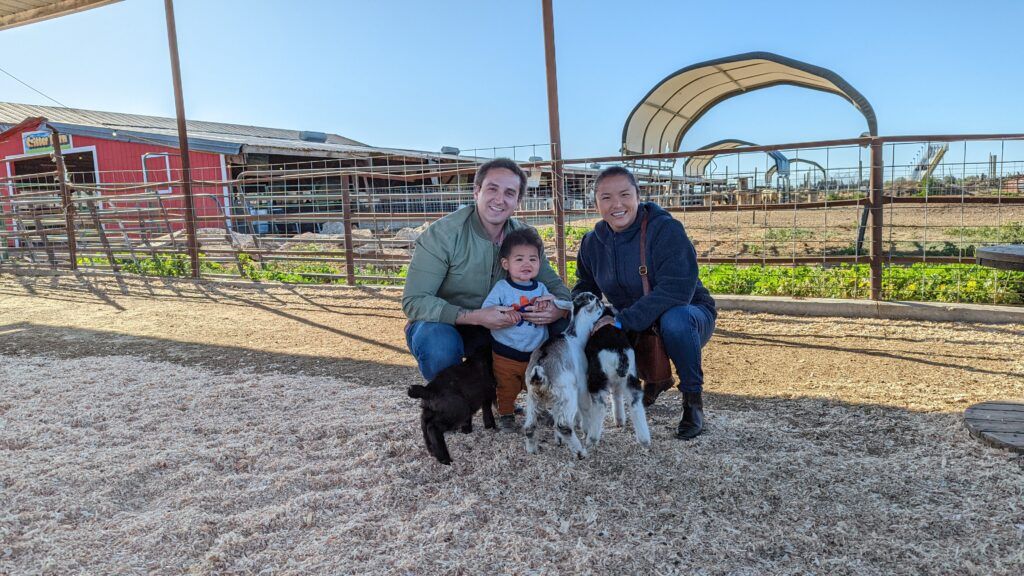 Are You Ready To Work Your Ass Off to Earn Your Lifestyle?
Are you tired of the daily grind? With a laptop and an internet connection I built a small website to generate income, and my life completely changed. Let me show you exactly how I've been doing it for more than 13 years.
The short answer is no, not really. Not enough to make a difference anyway. The amount of time required to complete tasks versus the amount of money you actually cash out means that it's pretty much not worth your time.
Instead, if you're going to be working hard online, you should be building your own online assets, namely, a blog-style website, then monetize the content. Do work that will actually result in long term income, not just pocket change.
Making Money With The ParentSpeak Survey Website
To begin with, let's talk about the site. This website (parentspeak.com) is a survey website that basically doubles as an online community for parents.
It was crafted by C+R Research, which is a marketing research company, and is a place where parents can come together to talk about pretty much anything having to do with parenthood (there are two related sites called TeensEyes and KidzEyes).
But ParentSpeak is also more than just an online community. They also offer opportunities to share your experiences through polls and surveys, and reward you for doing so.
But is ParentSpeak a legitimate side-hustle-level source of extra cash? Or is it going to leave us disappointed in this regard?
Here is what I found out over the course of my research.
Getting Started: Signing Up For ParentSpeak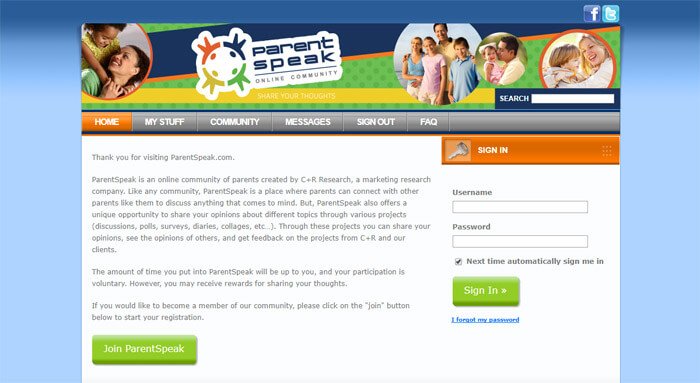 Getting started was a simple matter. I just had to click the 'Join' button, and was quickly taken to a page where it told me that any information that I gave the company was safe and would not be sold or shared with anyone else.
I was pretty sure that it was getting ready to give me an introductory survey, which is actually a pretty normal part of joining these types of survey sites. The company has to place you for surveys, and they do so by asking you questions. Using this data, they can then place you for surveys that you may qualify for.
I was right. The survey was pretty simple and self-explanatory.
I had to answer questions about myself, and about my children. The entire point of site seems to be that it is for parents… so if you are not a parent, I find it doubtful that you would even be able to create an account.
You also need to tell the site the number of children you have, as well as their birthdays and what type of school they attend.
You also need to provide two email addresses… which is really different. I have never been asked to provide a primary and secondary email address… but I did.
When I got done with this introductory survey, I was kicked back to a screen where it wanted me to go ahead and login using my newly created username and password.
It also wanted me to verify my email address. I checked my email, and was happy to see that the verification email had come very quickly.
After verifying my email, I decided that it was time to try to log into the site as a user. I entered my username and password, and was taken to this page… which seemed to be the 'main hub' of the ParentSpeak website.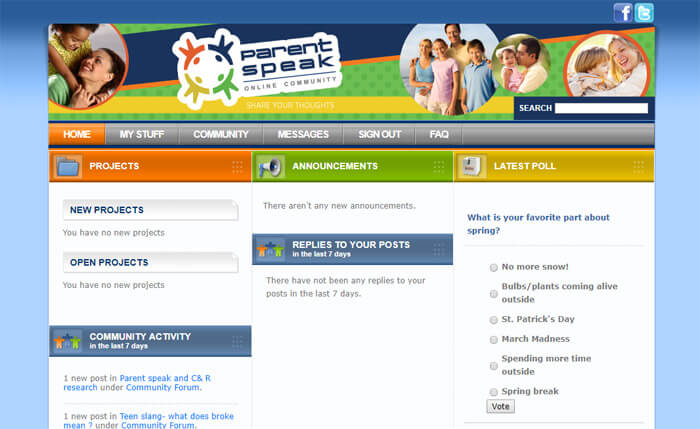 So let's take a closer look at this.
ParentSpeak Main Hub
So, under the main hub, I found quite a few things to look at. There was a 'Projects' section, a 'Community Activity' section, tabs for several different pages, including 'My Stuff,' 'Community,' 'Messages,' 'Sign Out,' and 'FAQ,' as well as a spot for something called an 'Announcement' section.
So at this point, I was actually unable to find a spot for surveys. I had no idea how to go about the process of finding surveys to take, and even less of an idea for how to make money taking them. So I decided to take some time to look around and see what I could find.
I realized that the Community section was like a forum, where parents could post questions for other parents in an attempt to discuss relevant issues and get feedback. There was also a small spot where you could take a poll, but this was not the 'paid survey' part, which is what I was looking for.
I visited the FAQ, and found a question that was basically asking what was happening if users haven't received any survey invitations lately… and the answer was that this probably meant that the invitation emails were getting filtered out by the spam folder.
So, this told me a few different things. It told me that I would get invited to surveys via email, and that surveys must come out at least relatively frequently.
I mean, if there is a question out in the FAQ about this, and the FAQ is telling us that surveys must come out so frequently that they could get buried in our spam email folders, then that must mean that surveys come out at a pretty regular rate.
So, as of this point, I had probably just not been a member of the site for long enough to warrant an invitation to a project. It seemed that if I gave it time, it would happen.
On a related note, I also checked out the 'Redeem' section of the site, and found that I could not really learn anything from this without enough 'money' in my account to cash out.
But I did do some reading online, and learned that the site usually pays via check, that they have a $10 minimum to cash out, and that they tend to pay somewhere around $1 per survey. Obviously, it was impossible to say, at this point, how long it took to complete their surveys… but I still felt like this told me enough.
Keep in mind that I am looking for a side-hustle… not just to make a few extra dollars. And for me, in order for an opportunity to qualify as a 'side hustle,' it has to meet at least a certain amount of basic criteria. Most importantly, it needs to be able to generate enough cash to make it worth the effort.
Ideally, a good side hustle will enable you to generate more cash over time as well—though with a lot of survey sites, that may simply not be possible, and that is ok.
The most important thing is that they need to make the payoff worth the effort… and at this point, I really just wasn't feeling it with ParentSpeak on this level.
Will I Be Using ParentSpeak In The Future?
I did like some things about this site. It functioned well, was well-laid-out, and gave me some pretty good options for accessing the community and the features related to it.
Ironically, the entire premise of the site seemed more social-media-like than a survey-for-pay site, so I found myself feeling like this was, perhaps, not a true survey-for-pay site in every spirit of the word.
Do they offer surveys that you can take to earn rewards with? Yes, definitely.
But will you be able to generate a serious side-income by using the site like this?
I find this doubtful. I didn't even receive a survey invitation while on the site, though I was not a member for a super-long-time before writing this review, either.
But then again… I don't really feel like this should matter. If a survey site is going to give you the opportunity to earn a genuine, profitable side-income through their site and services, then you should really be able to do it pretty quickly.
But therein lies one of the biggest problems with survey sites in-general. If a survey site offers to pay a certain amount for surveys, then they will get gobs of people signing up to take them.
So, since the demand for survey work is so high, they gain the ability to lower prices without hurting their deadlines or results… which makes them less profitable for survey-takers.
Besides… not every survey site can offer as many surveys as a person might need to qualify the site as a true 'side-hustle' opportunity anyway, so that is a bit of a downside as well.
At the end of the day, I did not feel like I could rely on ParentSpeak to provide me with enough of an income to make it worth my time.
I do feel that you could earn some great money on it, and as long as you are a parent, you can obviously make use of the community and its resources in a lot of meaningful and positive ways… but I almost feel like this one has yet to reach its full potential.
To me, it almost feels like a community that has not quite reached its peak. Maybe in a few months, or a year, etc., it will be ready and will have a bit more to offer. But as of right now, I will probably not be using ParentSpeak for my side-hustle, cash-generating needs.
Our Final Thoughts About The ParentSpeak Survey Website
Should you sign up and use it to try to generate some extra money?
The ParentSpeak Survey Website Review
To be completely honest, doing online surveys will never earn more than minimum wage. In fact, most people rarely earn more than $1-$3 per hour, if they are lucky enough to get a payout.
If you want to legit make money online you need to invest time into building a website. Earn passive income through affiliate links & advertising revenue. Rather than spend an hour trying to answer boring questions, build a real web property that you can earn monthly income from.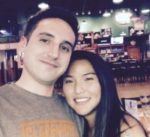 Nathaniell
What's up ladies and dudes! Great to finally meet you, and I hope you enjoyed this post. My name is Nathaniell and I'm the owner of One More Cup of Coffee. I started my first online business in 2010 promoting computer software and now I help newbies start their own businesses. Sign up for my #1 recommended training course and learn how to start your business for FREE!