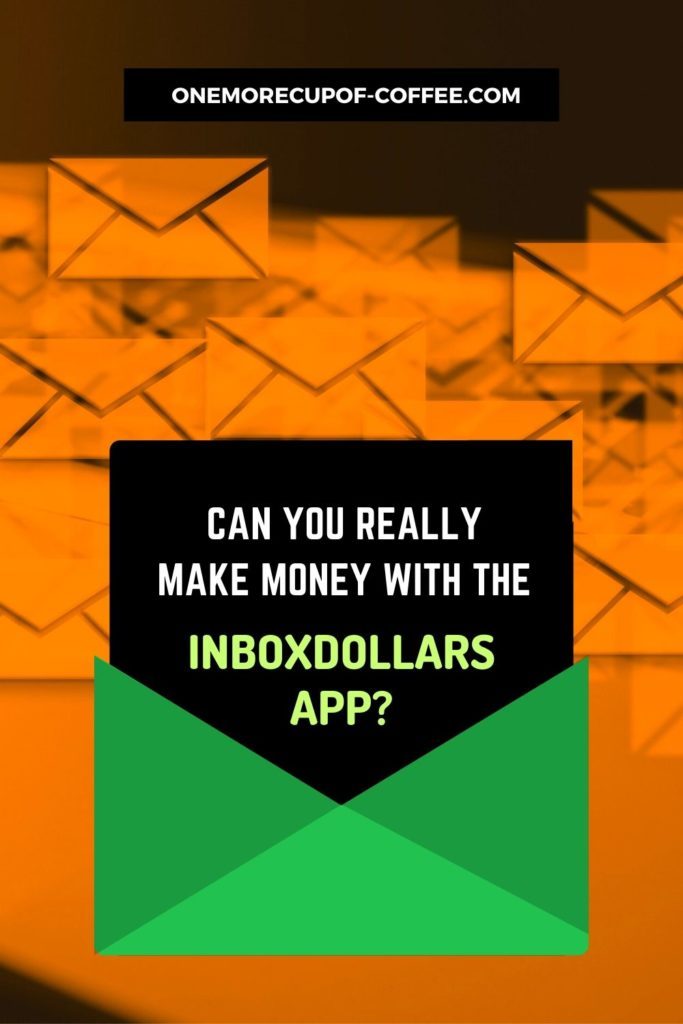 As you likely know, I spend a lot of time looking for apps that will help me to earn extra cash on the side. And that, in fact, is how I came to find InboxDollars. But can you really make money with the InboxDollars app?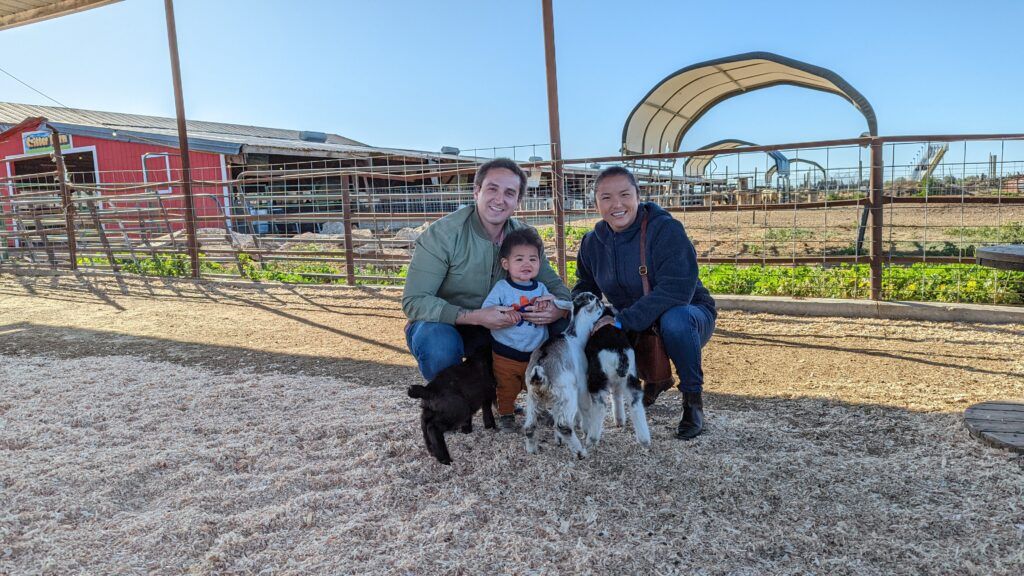 Are You Ready To Work Your Ass Off to Earn Your Lifestyle?
Are you tired of the daily grind? With a laptop and an internet connection I built a small website to generate income, and my life completely changed. Let me show you exactly how I've been doing it for more than 13 years.
This is the question that is definitely the most important to me, as I put a lot of thought into my side-hustles. Nowadays, you really need to work hard to get by—and making some extra cash never hurts.
I love the idea of earning extra money through apps, because pretty much everyone has a phone that they can make use of—but the problem is finding apps that are good enough to be worth the time.
A lot of extra cash apps are a joke… but, there are some exceptions.
Making Money With InboxDollars
I found InboxDollars as I was searching for apps to use to make extra money. It caught my eye for two reasons. First of all, because of the tagline…
"InboxDollars is the mobile and online loyalty club that pays members real cash!"
And secondly, because of its Google Play rating. The app has been downloaded over 1 million times, and has a rating of 4.3 stars—which is pretty awesome. Oh, and I've already reviewed the desktop version of Inbox Dollars.
I tend to find that apps with a rating of 3.5 stars or more are much more likely to get my attention. I also find that apps with more than 250,000 downloads are far more likely to strike my fancy than apps with fewer downloads… so on both of these requirements, InboxDollars was ahead of the game.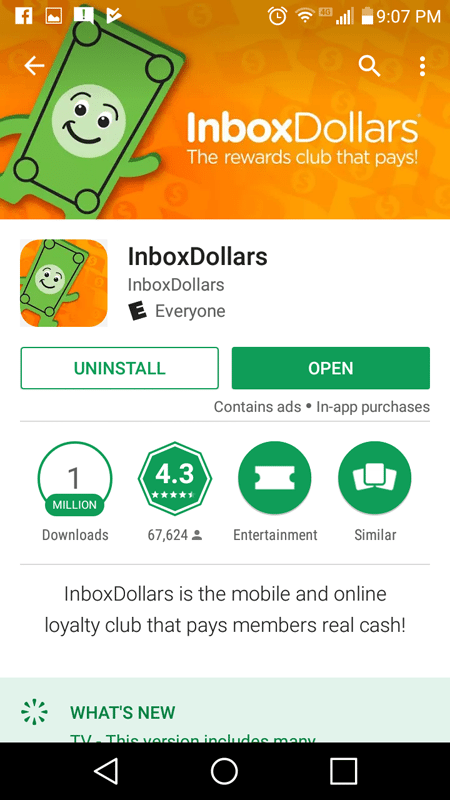 But this only told me so much, so I decided to download it and try it for myself. Here's what I found.
How Exactly Does InboxDollars Work?
The first thing that I wanted to figure out was how the app is supposed to help you make extra money. So I visited the Read More section, and found this.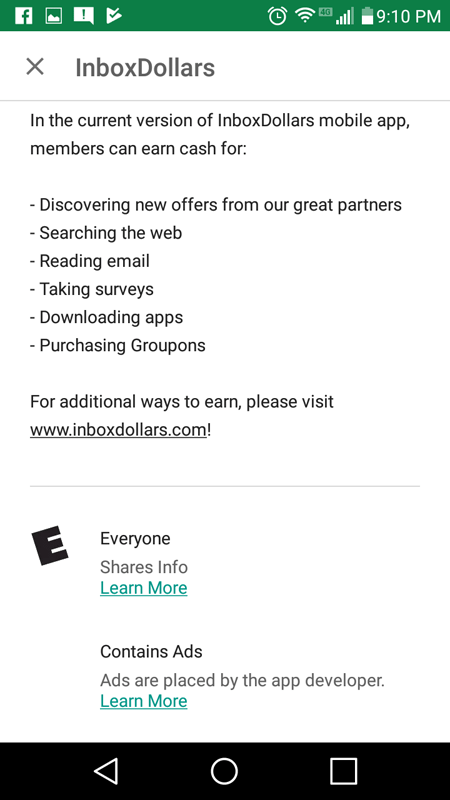 This pretty much told me everything I needed to know about what type of app this was. This type of app is what I call an 'Offers App,' or an app that rewards you for completing offers. From the sound of it, this app provides a number of different types of offers to its users.
But now, it was time to give it a try.
Trying Out InboxDollars Myself
The first page I came to after opening up the app (after a brief wait at a rather cute loading page) was this introductory page…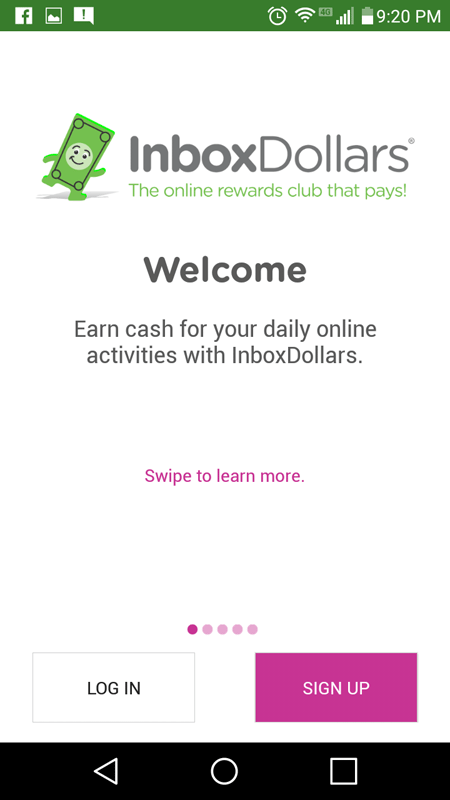 This was the beginning of a series of scrolling pages that basically told me about how the app functioned. Here is what I gleaned from scrolling through these pages…
Earn cash for your daily online activities with InboxDollars
Give your opinion and earn cash when you take surveys and answer short polls
Earn cash for watching a wide variety of TV channels
Get paid to try new products & services from national brands like Netflix, Walmart, and Groupon
Get started for free
After this, I clicked the 'Sign Up' button to get started.
I was asked to enter an email address and to create a password—which I did. This ended up bringing me to what seemed to be the 'main hub' of the app. Here is what it looked like.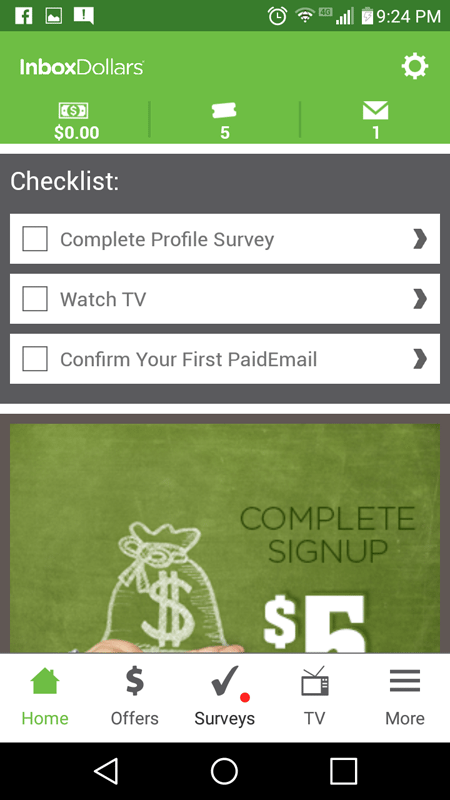 Scrolling down, I immediately saw a lot of different offers that I could click on to take advantage of. These ranged in value from $0.15 to $5… depending on what they were and what was required to complete them. There were product trials, surveys, shopping cash-back deals, etc.
Across the bottom of the screen were categories that you could click on. There was a Home button, as well as buttons for Surveys, Offers, TV, and More.
Under the More section there were plenty of other things to look at as well. Here is a screenshot of most of the options in that menu.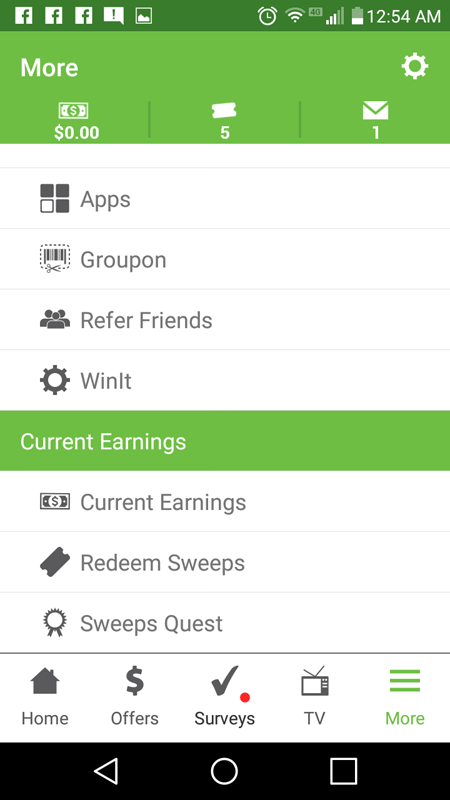 So far, the app had been pretty easy and straightforward to use. It responded well, loaded quickly, and performed pretty much as I expected it to.
I was also happy to see that the app used real dollar amounts, instead of points that you would have to convert later. A lot of apps use points, I think because they make you feel like you are accomplishing and making more than you really are.
So, call me weird—but when an app uses real dollar denominations, it just seems more genuine to me.
But, at this point, I wanted to find out how easy it was to earn money. So I decided to find the easiest offer that I could find, and complete it.
Completing An Offer In The InboxDollars App
Ok. As it turns out, completing an offer in InboxDollars wasn't necessarily a foolproof plan. First, I tried to take a survey.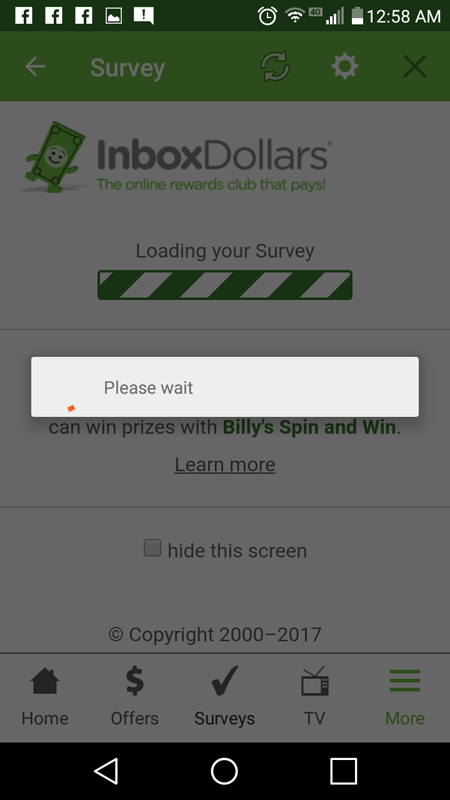 The survey asked me to answer a few basic questions about myself before I got started, which I did… but then, the app just booted me back to the previous screen, exiting out of the survey. I tried three times to load it, and each time I just got booted out—with no explanation of any kind.
After this, I went to the TV section, thinking that I would, instead, watch a video to earn some money.
I watched one segment of one of the 'TV' channels that they host on the app, which took about a minute or so. In doing so, I earned 5 'sweeps,' which turned out to be these point type things that you need to enter the various types of sweepstakes offered on the app.
You basically spend these to enter lottery-type games for cash, which seems a bit gimmicky to me.
After the video was complete, I watched the same 20 second video ad four times in a row… and never got anything for it, which felt a bit unfair.
I don't know… I wasn't very impressed with all of this up to this point. Watching videos for money never tends to work well anyway. Sites like Watch & Earn and Perk TV try this approach too and I wasn't impressed with either of them.
How Do You Withdraw Your Cash From InboxDollars?
This was the next question that I wanted to answer… not because I had amassed any money yet that I needed to withdraw, but because this is certainly an important question to answer.
To answer this question, I went to the More menu, and clicked on Current Earnings. It said here that I needed to have $30 to cash out, but it also gave me a list of options that I could make use of when the time did come to cash out.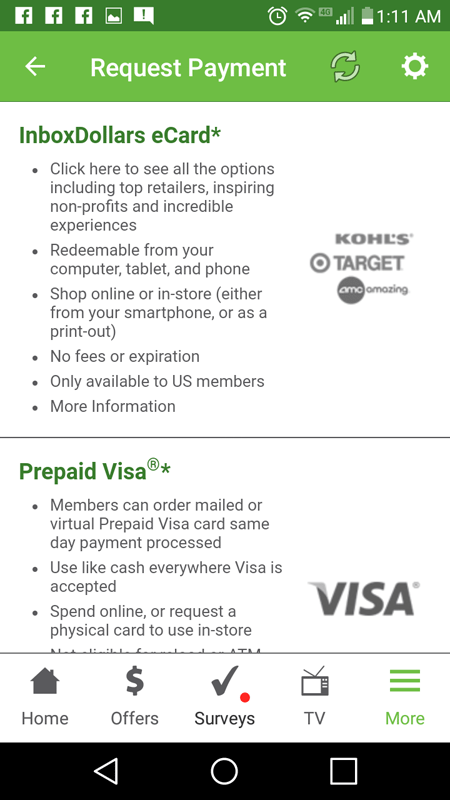 I could get a prepaid Visa card, a regular paper check (this was a bit old-fashioned… but hey, I'm not complaining), or an InboxDollars eCard.
There were plenty of offers to earn cash with—but I will also say that most of them were of pretty little monetary value. There were a lot that were either $1 or a little more. This seemed to be the average, with plenty of other options that were less than a dollar.
With all of this being said, I felt like I had figured out enough about the app at this point to make my final decision.
Was The InboxDollars App Worth It To Me?
I usually have a difficult time getting on-board with apps like this, for one major reason. They just don't usually give you enough money to make your time investment seem worth it.
InboxDollars did do some things right, but I felt the same way about it as I do most other offer apps, to be super honest. It works fine. It does help you to earn cash, and you can certainly get payouts (the app is a little bit glitchy, but not overly-so).
But for me, making enough to make it worth the effort is super important. I feel like it could take me up to a month or more to reach the $30 payout with this app, which isn't too bad in theory—but when you factor in how much time I would need to spend on it in order to get that done, it just seems like too much.
I do like how the app looks. It's pretty fun to use, for the most part—but maybe not fun enough that I would choose to use it over earning cash some other way.
People who really like to fiddle on their phones might like it, because it can introduce you to a lot of new apps and show you some videos… some of which are cool, and some not so much.
But yeah, I feel like I can find better ways to earn cash than with InboxDollars. It does work—but just not fast enough or well enough for my taste.
Our Final Thoughts About The InboxDollars App
Should you download it and use it on your phone?
The InboxDollars App Review
Honestly, there are tons of various apps that claim to help you "make money", but really there are two facts to consider. 1) Most of them don't actually work. 2) If you can make money, it's not going be very much. If I'm going to spend any amount of time working online, I want to be working for myself by building my own profitable website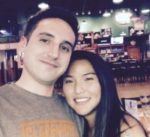 Nathaniell
What's up ladies and dudes! Great to finally meet you, and I hope you enjoyed this post. My name is Nathaniell and I'm the owner of One More Cup of Coffee. I started my first online business in 2010 promoting computer software and now I help newbies start their own businesses. Sign up for my #1 recommended training course and learn how to start your business for FREE!