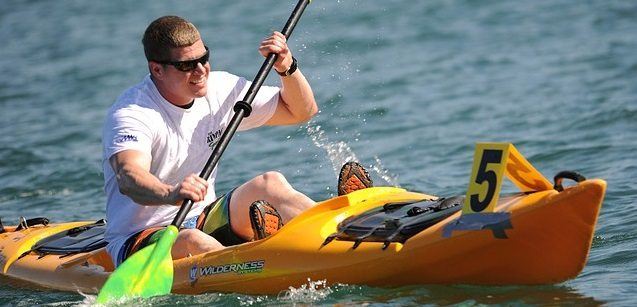 Affiliate Programs, Keyword Lists, and Niche Research for Sporting Goods
Getting into a very diverse niche with more sub niches than you can swing a golf club at, sporting goods can be very profitable for you. This niche spans so many areas that I will not be able to cover them all here, but I will give you some great ideas that can help you get started at making money.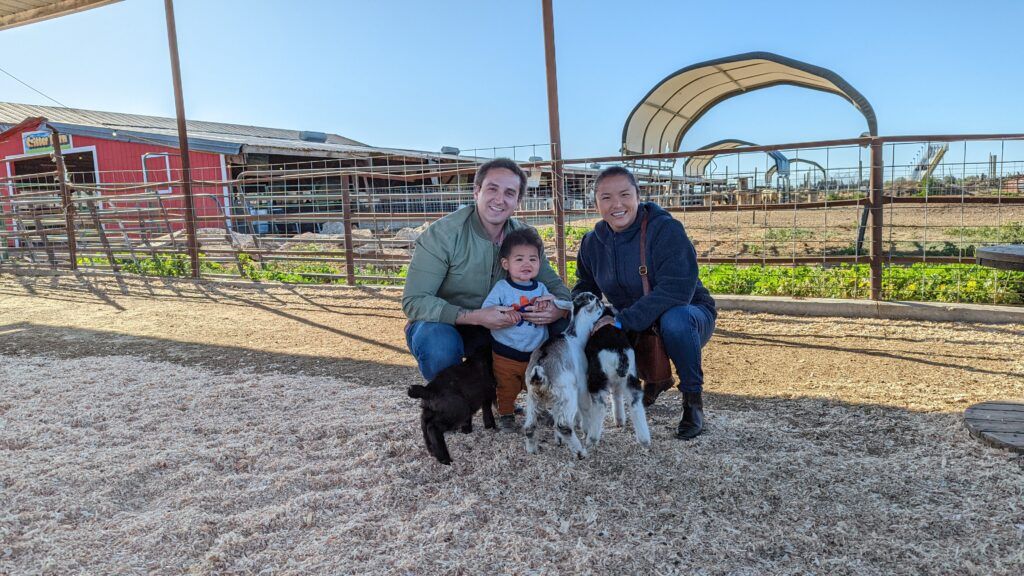 Are You Ready To Work Your Ass Off to Earn Your Lifestyle?
Are you tired of the daily grind? With a laptop and an internet connection I built a small website to generate income, and my life completely changed. Let me show you exactly how I've been doing it for more than 13 years.
One thing you should not have a problem coming up with will be keywords. The high traffic keywords are not hard to find and the low competition keywords are just as easy. All you have to do most times is introduce gender, brand and/or color and that can change the results favorably.
When it comes to sporting goods retail stores, there are no shortage of them, some of them I have listed below. One might wonder, how can there be so many of them yet they survive and thrive? That is because sporting goods are not just about sports and things related to sports.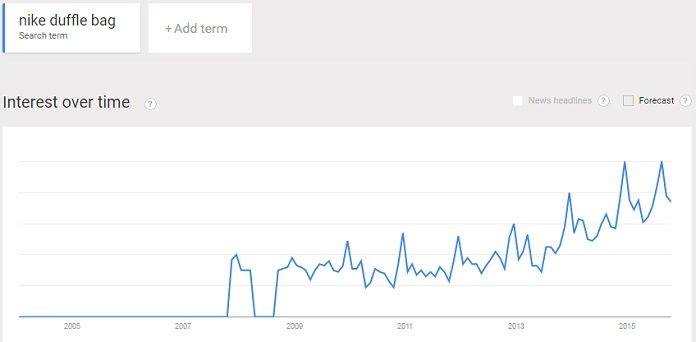 For instance, the Nike duffle bag represented in the graph above has become very popular with not just athletes but everybody who exercises, goes camping, and travels. When it comes to sporting equipment, Nike is pretty much #1 in the world, so many of their products are popular.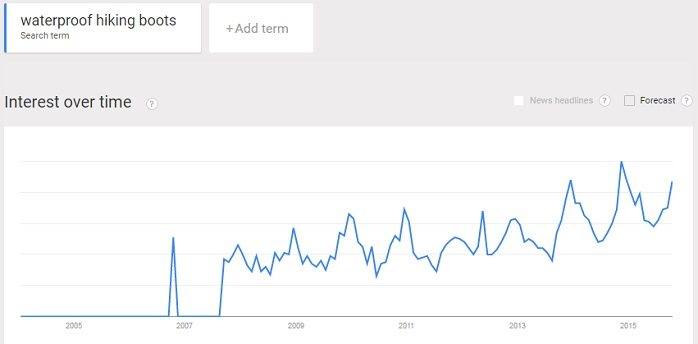 One may not think of hiking as something associated with sporting goods but it is and waterproof hiking boots do not have to be worn for just hiking. I wear mine whenever it rains.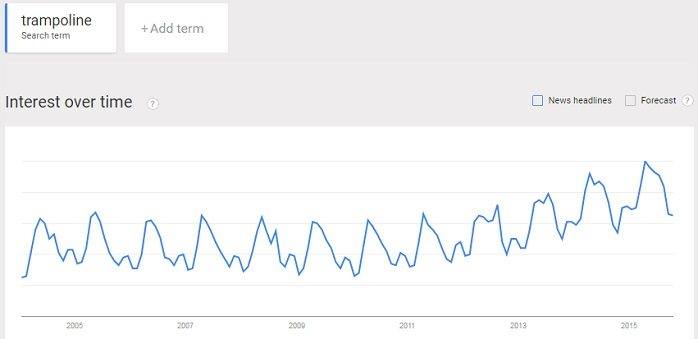 Then we have items like trampolines. Again one might not think of a trampoline as belonging in this niche. Sporting goods covers almost all things that have to do with outdoor fun and recreation, as well as fitness and other lifestyle pleasures. This presents some great sub niches for you to profit on and here are only a small amount of them to get your ideas flowing.
Bicycles
Kayaks and gear
Tailgating canopies
Inline skating
Swimming
Snowboarding
Notice none of the above are a traditional sport, yet they all fall under the sporting goods niche umbrella. I can go on and on with sub niches but there are just too many. Plus I also want to take one of the above and show you how to break it down further. I am going to choose the sub niche of bicycles.
• Bicycles > Kids Bicycles > Kids Bicycles BMX > Kids Bicycle BMX Helmet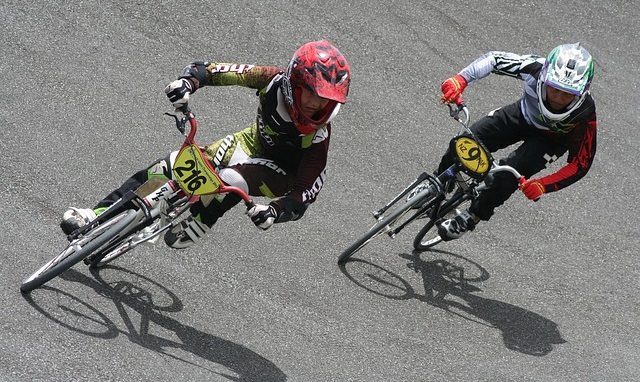 Always look at your sub niche and see how you can break it down to an as specific a sub niche as possible. Start out your niche website narrow and focused and you can always grow broader further down the road. Now let me provide you with some great affiliate programs.
When you get ready to start your website, check out these sports blog name ideas first!
Top 3 Affiliate Programs
My Thoughts
Doing the research for this sporting goods niche I found that the majority of big sporting goods chain stores like Sports Authority and Dick's, just did not offer great benefits as far as affiliate commissions and duration of cookies. Yes they have a great selection of products and some have great websites, but what they offer to the affiliate marketer did not excite me.
This is not to say that all of them didn't make my list below, but what I am saying is that just because a sporting goods chain is big and nation-wide, does not mean they are as popular or great when it comes to their affiliate programs. This is why research is important in any niche.
What I did find were many affiliate programs from lesser known companies that offer a great selection of products, and some that are specific to certain sub niches of the immensely popular and profitable sporting goods niche. So let me get started with my top three choices where number one is a well-recognized company in sporting goods.
Adidas
Comments: Out of every affiliate program I researched, including Nike which is the largest sporting goods maker and didn't even make my top 10 list, only Adidas stood out from them all. Though they are #2 in the world behind #1 Nike in the niche of sporting goods manufacturer, I chose Adidas for my number one pick because of their history and what they offer the affiliate marketer.
I could not find any other sporting goods manufacturer or store that gave a commission percentage as high as their 17% and still offer so many products. That's pretty high for big chain stores, which can offer as low as 4% sometimes. They give you a 30-day cookie, an award-winning customer and affiliate service department, and a product line unmatched by practically everyone. And I just learned from this research that Adidas now owns Reebok.
ActivewearUSA
Signup URL: activewearusa.com
Focus: A wide variety of footwear, apparel, accessories mainly for women relating to yoga, swimming, Zumba, running, dance, fitness training
Commissions: 10%
Comments: I chose this as my number 2 pick because it is geared mainly toward the sub niche of women sporting goods and apparel. Whereas many other stores and companies have a smaller selection for women, the opposite is true here. Plus they also offer guidance on healthy diets and a community website where you can interact with other women trying to stay fit.
In addition to their 10% commission, ActivewearUSA also has the longest tracking cookie of any other program I could find set at 60-days. Their website was very well laid out, easy to navigate and it wasn't too flashy or overloaded with too much information too soon. This program will be perfect for those who want to approach the female aspect of sporting goods.
Backcountry
Signup URL: backcountry.com
Focus: Wide selection of sporting goods for the outdoor enthusiast like cycling, hiking, fishing, hunting, all kinds of winter sports, all kinds of water sports
Commissions: 4% to 12% depending on the size of order
Comments: Just as the above affiliate program caters to a specific sub niche of sporting goods, my number three pick here does the same but in a more-broader way. Backcountry is all about outdoor sports and fitness that does not fall into the same category as the types we watch on TV. Their name pretty much says it all in describing the sporting activities they promote.
Their website was a pleasure to browse and is visually attractive. It actually made me want to get up from this computer and get outside to do some hiking. They offer a nice selection of quality products, an up to 12% commission, and a 30-day cookie with a great customer service department for both customers and affiliates.
Other Affiliate Programs
Revgear
10%
All kinds of gear and apparel for boxing, kickboxing, jiu jitsu, wrestling, weight and resistance training, cardio kits
eSportsOnline
esportsonline.com
5% to 10% depending on the size of order
Apparel, gear, accessories for all professional, college and recreational sports, as well as fitness and training equipment
New Balance
7% to 9% depending on the size of order
All kinds of footwear for men, women and children, along with apparel and accessories like gloves, socks, hats, bags, sunglasses, headbands, wristbands
Champs Sports
6%
Apparel, footwear, accessories for every major sport, fitness training, and outdoor indoor recreation activities
Champion USA
6%
Footwear, apparel, accessories for every kind of sport and recreational activity for men, women and kids
Gander Mountain
5%
Apparel, equipment and gear exclusively for all kinds of outdoor sports such as fishing, kayaking, hunting, archery, camping, hiking, rock climbing
Sports Authority
3% to 7% depending on the size of order
Every kind of footwear, apparel, gear, accessory for every kind of sport, fitness training, and recreational activities
Sporting Goods Keywords Breakdown
Top 10 Low Competition Keywords (Searches/QSR)
new york yankees black white 59 fifty fitted cap – 181/7
baseball glove for the left hand – 112/10
adidas jogging suits for women – 132/12
what is a self balancing scooter – 4115/21
women air jordan basketball shoes – 96/27
best slow pitch softball bats – 303/42
under armour youth football cleats – 167/43
lebron james kids jersey – 160/51
coleman hooligan 4 person tent – 5465/93
What's QSR
Top 10 High Traffic Keywords (Searches/QSR)
electric scooter – 37723/266
men jogging suits – 8385/99
nike lunarglide – 5909/196
yoga pants for women – 5777/228
custom football jerseys – 5137/125
under armour football cleats – 4259/115
self balancing scooter – 4115/244
speedo swimsuits – 3923/226
taylormade golf balls – 3746/277
nike soccer ball – 3592/156
Why Is This Different From Google's Number?
Though Google's Keyword Tool has improved in recent years, it still gives inflated (inaccurate) traffic numbers. The keyword tool I use takes data from a variety of search engines, not just Google. Remember that Bing + Yahoo own 30% of the search market.
Other Great Keywords (high traffic, low competition)
2 wheel self balancing scooter – 3809/179
swimsuits for plus size women – 3682/132
baseball bats for sale – 3122/112
taylormade golf clubs – 2855/224
tony hawk skateboards – 974/248
college football jerseys – 941/117
cheap hockey jerseys – 931/104
composite bats vs aluminum bats- 142/43
taylormade used golf clubs – 425/55
coleman evanston 4 person tent – 144/82
jogging suits for women – 872/90
nike air jordan basketball shoes – 167/98
Affiliate Marketing Action Plan For Sporting Goods
The Sporting Goods niche offers a great potential to earn a huge amount of money once you narrow down your niche. With the vast varieties of sub niches, you will not have a shortage of niches to choose from. Just remember to narrow them down as much as possible like I did with my explanation for Bicycle above.
When doing your keyword research remember to also be as specific as possible, as this can greatly affect the outcome of the results. Just to give you an example of what I mean, consider the following keyword where all I did was add the word "youth" and got a better result.
under armour football cleats – 4259/115
Now look what happens when I become more specific and add the word "youth"
under armour youth football cleats – 167/43
Though the first keyword would be great to use because of its high searches, narrowing down that niche to the sub niche of youth gives you a keyword with a low QSR that will rank higher and faster. Now let me give you an example of a sporting goods niche I would select if I were to do his niche now and why.
Though you should choose a niche you feel most comfortable with, the sporting goods niche that I would choose to promote right now is very popular! In the above list of low competition keywords I have one that I would definitely target and it is, what is a self balancing scooter – 4115/21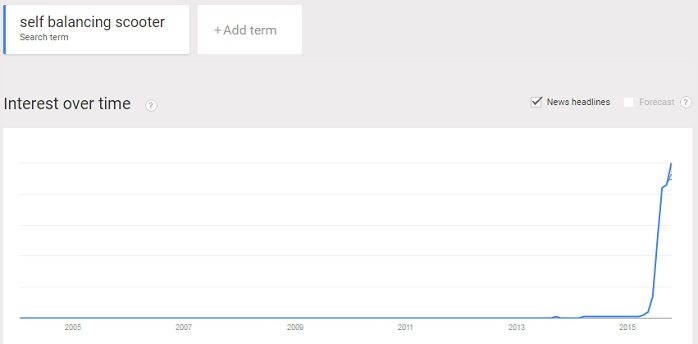 This sub niche is a HOT selling item right now and as the graph shows interest in it is super high. It just recently came on the market and many are purchasing them for a variety of reasons. This should be a great money maker if an affiliate program with a high commission has these, because the prices run from $200 to $800.
There is no official name for these yet but some call them "self-balancing" others "smart-balancing" scooters. Whatever they are officially called these scooters are a high-selling product and the video below gives you a brief review. I know I WANT one! I guess they aren't really "sports" (yet), but I have seen some guys on YouTube challenging each other to scooter duels, so perhaps death match scooter rallies are in our future.
Another hot niche right now is activewear, which is becoming more common as a fashion statement rather than actual workout clothes. Who knows how long the self balancing scooter trend will last, but sports cloths (especially for women) will never go out of style.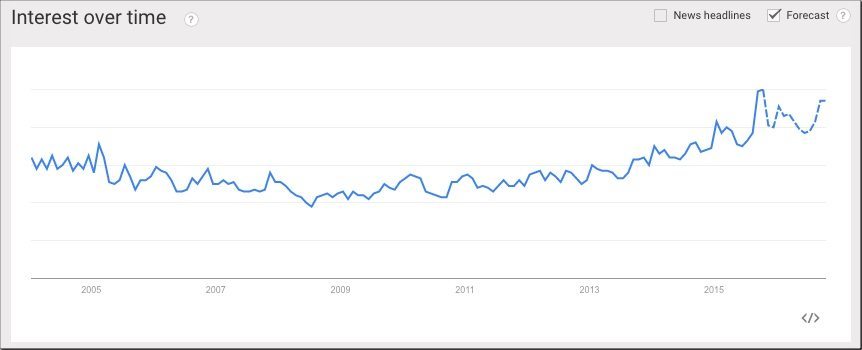 Need Extra Help?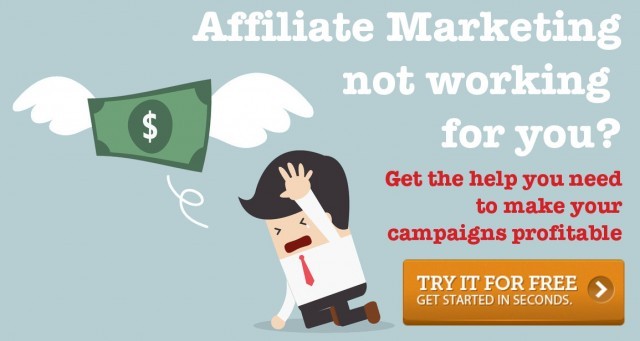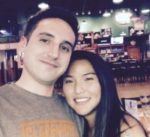 Nathaniell
What's up ladies and dudes! Great to finally meet you, and I hope you enjoyed this post. My name is Nathaniell and I'm the owner of One More Cup of Coffee. I started my first online business in 2010 promoting computer software and now I help newbies start their own businesses. Sign up for my #1 recommended training course and learn how to start your business for FREE!