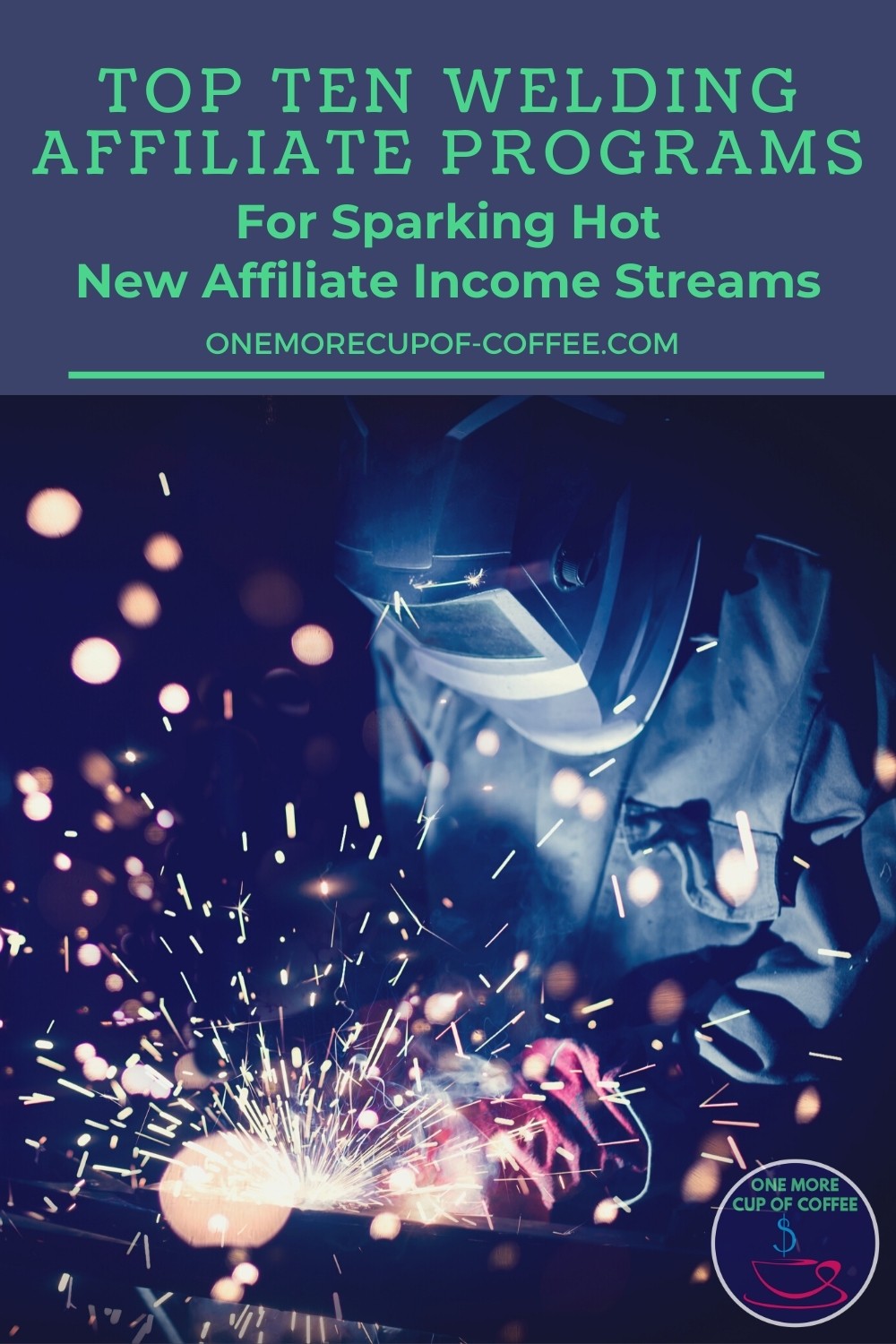 In October of 2008, the Memorial Bridge in Bismarck, North Dakota was demolished. It was an amazing spectacle that included 198 separate charges and drew a crowd of onlookers. The bridge was replaced that same year.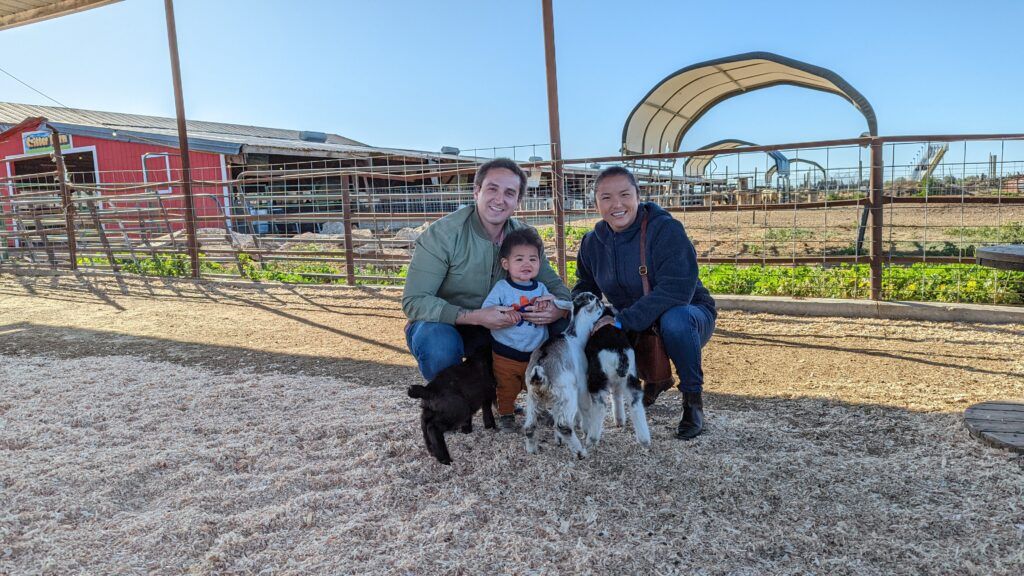 Are You Ready To Work Your Ass Off to Earn Your Lifestyle?
Are you tired of the daily grind? With a laptop and an internet connection I built a small website to generate income, and my life completely changed. Let me show you exactly how I've been doing it for more than 13 years.
According to the Bureau of Labor and Statistics, there are many aging bridges like this across the country that need to be replaced. This could require the expertise of welders, and although the growth in the welding industry is currently less than the average for most industries, replacing damaged infrastructure could increase the need for welders.
As this happens, more people could be looking into welding for careers, and they will need to know where to look for supplies and equipment to help them. The best welding affiliate programs include welding equipment and supplies, as well as safety gear, welded industrial products, and even online welding courses.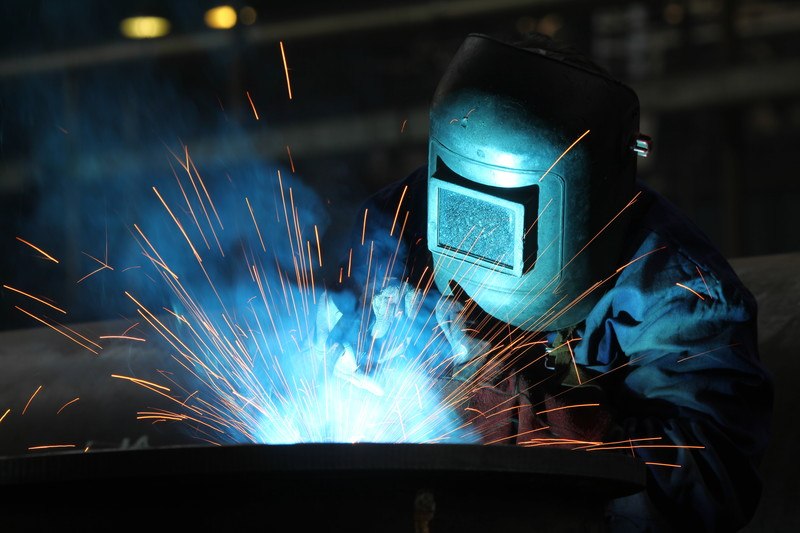 If you're interested, read through this list of the top ten welding affiliate programs. At the end of this article, I'll share some ideas I have for ways you can start to use these programs with your affiliate websites.
Welding Affiliate Programs
Weld Metals Online
Northern Tool
Amico Power
Elite Metal Tools
Everyday Welding Supplies
Safety Work Wear
Global Industrial
Tractor Supply
Ace Hardware
Udemy
1. Weld Metals Online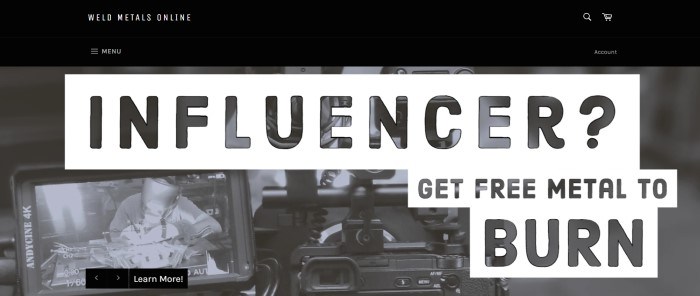 Weld Metals Online sells a variety of welding materials, including metals such as aluminum, carbon steel, stainless steel, and titanium. These come in different sizes and shapes, such as flat rectangular pieces called coupons, tubes, weave trainers, and filler wire. Weld Metals Online also carries welding kits for beginners.
This company is actively seeking influencers with a tie to welding to help promote these products. The affiliate program is run in-house, with a minimum payout amount of $25.
Until affiliates clear $1,000 in referred sales, the payout is only paid as store credit. However, once they have reached the $1,000 minimum amount, they can contact the company and set up cash payments through PayPal or by check.
Why You Should Promote Weld Metals Online: This company has a nice variety of metals to choose from. Affiliates get store credit at first but can opt for PayPal payments once they reach a $1,000 minimum in referred sales.
2. Northern Tool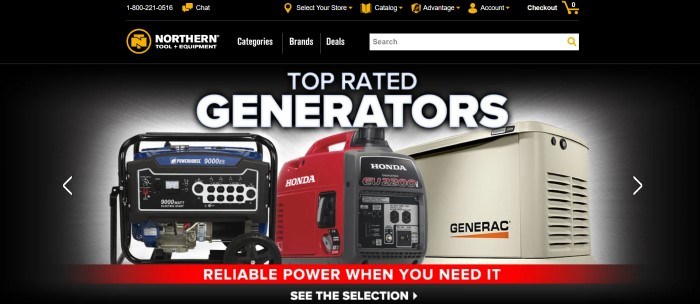 Northern Tool is a tool and equipment store that carries more than 40,000 items in its online store. More than 2,000 of those items are eligible for free shipping, as well. There are more than 40 categories in the online store that customers can browse through, or they can search directly for what they want using the search bar.
There are currently 833 welding items in the online shop. These range from welding machines and tables to protective gear and safety equipment.
The affiliate program is run through CJ, and the average order value is more than $235. Affiliates can use the links, ads, and other visual promotional materials provided by the company to market the products.
Why You Should Promote Northern Tool: This company carries a large selection of welding equipment, as well as a significant number of other items that could help bump up the shopping cart total. There are free shipping options for some items, as well.
3. Amico Power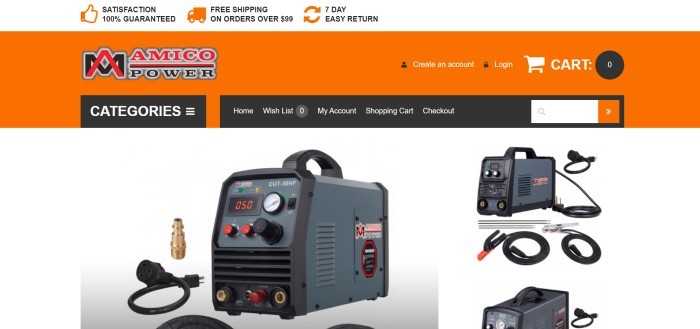 Amico Power carries welding equipment such as TIG welders, MIG welders, stick welders, plasma cutters, combo welders, accessories, and ventilation fans. The company offers free shipping on all orders of more than $99, easy seven-day returns, and a 100% satisfaction guarantee.
Besides welding supplies, Amico Power also sells car jump starters and gasoline generators.
This company runs its own affiliate program. Payments are made by check, PayPal, or bank transfer. Most of the basic welding machines cost more than $100, too, so the commission rate can result in some decent earnings.
Why You Should Promote Amico Power. The commission rate and product prices are both great for affiliate earning potential. The free shipping, easy return policy, and satisfaction guarantee could help convert customers, too.
4. Elite Metal Tools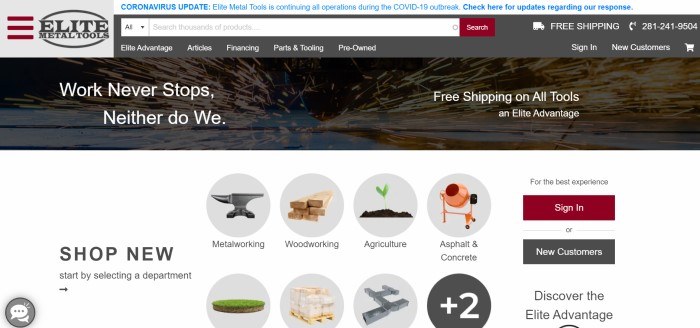 Elite Metal Tools is one of the most reputable online retailers for metal tools, with more than 7,000 items in stock. This company offers free shipping to commercial properties on every machine sold. This store carries around 235 welding items, including tables, positioners, welders, clamps, and more.
The affiliate program is run in house. Affiliates have access to a product catalog that is updated daily, with the ability to deep-link to any product the store carries. They're also provided with text links and banner ads.
Why You Should Promote Elite Metal Tools: The welding machines, tables, and other welding equipment are high-ticket items that can result in some nice affiliate commissions. The selection is great, and commercial properties can get their welding equipment delivered for free.
5. Everyday Welding Supplies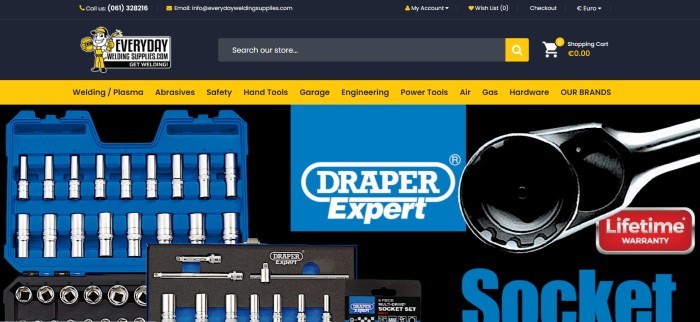 Everyday Welding Supplies, which is based in Ireland, is an online welding store with more than 40,000 available products. This company carries more than 500 items related to welding, but it also stocks power tools, hand tools, garage necessities, air tools, gas tools, and more.
The affiliate program is run by the company itself. Affiliate marketers are provided with links, and they can link to either the storefront or to products this company carries.
Why You Should Promote Everyday Welding Supplies: The products are high-ticket items, and the commission rate is decent. Customers have a lot of choices to browse through, and the store carries other items besides welding equipment.
6. Safety Work Wear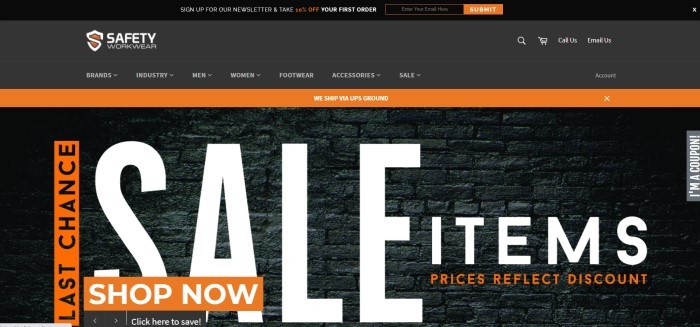 Safety Work Wear provides high-quality, affordable safety gear for a variety of industries. The products range from reflective clothing and enduring footwear to flame-resistant gear. The welding gear itself includes umbrellas, aprons, headgear, and gloves.
This company runs its own affiliate program, and the average order value is more than $110. This company provides exclusive offers for affiliate marketers, as well as banners and links. Ongoing offers that affiliates can use to promote the company include $10 discounts off first orders and $5 flat-rate shipping on all orders.
Why You Should Promote Safety Work Wear: The product prices are affordable, and there's a lot to choose from.
7. Global Industrial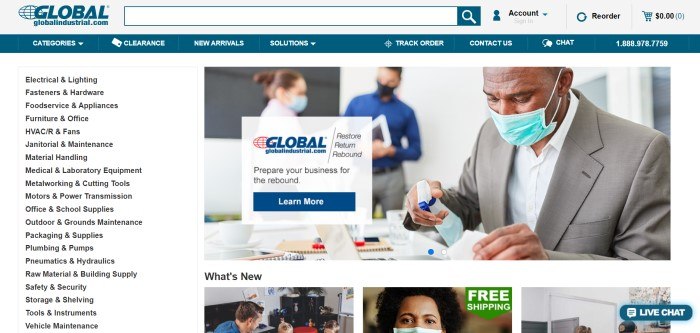 Global Industrial is an industrial supply company that has been in business for more than 70 years and stocks more than 900,000 ready-to-ship items.
While this store doesn't carry as many welding supplies as some other stores do, it does stock several pieces of industrial equipment that have been welded for strength. These include heavy-duty metal shelving, storage lockers, service carts, and more. This company also carries a few welding supplies, such as replacement welding tips.
The affiliate program is administered through CJ, and affiliates are offered incentive promotions every quarter. The average order value is around $300. One nice thing about this company is that affiliates get residual earnings on three additional orders per customer beyond the first sale they refer.
Why You Should Promote Global Industrial: This company has an enormous selection of welded industrial equipment and a few welding supplies. The commission rate, cookie length, and average order value are nice, too.
8. Tractor Supply Affiliate Program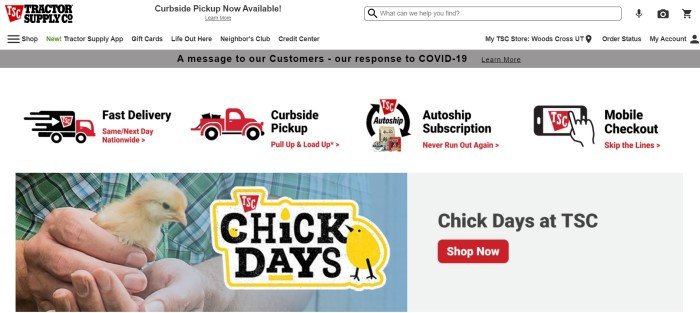 Tractor Supply carries around 85 welding-related products ranging from welding cable priced at around $6 per foot to a welder generator that is priced at around $3,099. Besides welding supplies, this store also carries items like gun safes, lawn and garden items, pet care products, outdoor power equipment, clothing, and footwear.
This company partners with E-Bay Enterprise and Avantlink for its affiliate program. Affiliates are provided with monthly newsletters, tracking and reporting technologies, marketing strategies, banner ads, and text links.
Why You Should Promote Tractor Supply: This company carries both equipments such as welders and supplies like welding cable, which could be convenient for some customers. However, this company doesn't disclose its commission rate, so it's difficult to tell how much you could make with this company.
9. Ace Hardware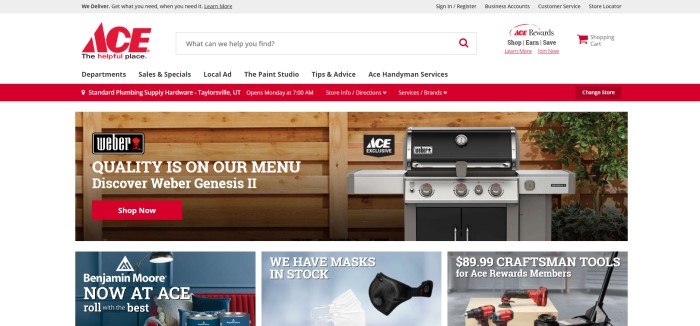 Ace Hardware carries more than 1,100 welding-related products in its online store, including welders, torch kits, and wires. This company also sells products in a variety of other categories ranging from plumbing and hardware to home décor, lighting, and garden supplies.
The website has a sales section and a tab for people who want to access Ace Hardware's handyman services. There's also a customer rewards program that provides 2% cashback on most purchases, instant savings, money-saving coupons, and free delivery on qualifying orders of $50 or more.
This company runs its affiliate program through Impact. Affiliates are provided with banners, product links, the Ace Hardware logo, and reporting tools. Affiliates are paid by check 45 days after the close of every month.
Why You Should Promote Ace Hardware: There are plenty of welding-related items in the store and other products that could increase the shopping cart total. The rewards program could help convert some shoppers, too. However, this company doesn't list its commission rate, and the cookie length is relatively short.
10. Udemy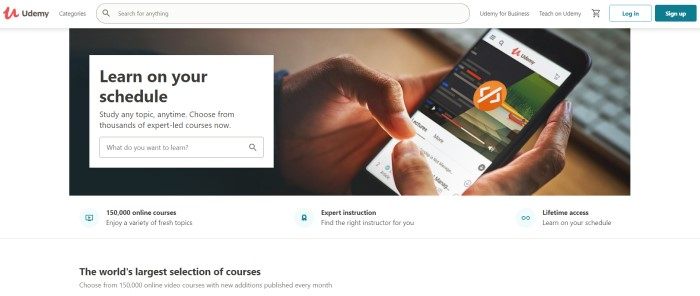 Udemy is an online learning platform featuring classes and courses in an enormous range of subjects. Where welding is concerned, Udemy offers more than 200 courses featuring topics such as essential training, basic math for welding, simple welded connections for beginners, and courses on how to become a welding inspector.
The affiliate program is run through Linkshare. Affiliates have access to exclusive discounts and coupons, and they can decide which programs they want to promote on their websites. Most applications are reviewed within three to four business days.
Why You Should Promote Udemy: Although the commission rate isn't listed, this company provides thousands of courses in a variety of categories that affiliates can promote.
Affiliate Website Ideas
Now that you've read through this list of the top ten welding affiliate programs, what are your ideas for integrating them into your affiliate websites? There are actually quite a few ways you can use these programs, and some of them might surprise you.
For example, what if you have a website dedicated to unique things to see, do, and appreciate about Europe and the UK? You could feature affiliate programs for tours like Walks of Italy, Fab 4 Taxi Tours, and Eating Europe, but you could also promote local companies such as Ireland's Everyday Welding Supplies or Jolie Beauty makeup in the UK.
Another idea is a website dedicated to garden supplies and homesteading. Welding equipment and supplies could be featured as a way to keep up with maintenance. Outdoor power tools, lawn and garden equipment, and organic pesticides could all be promoted here. Both Ace Hardware and Tractor Supply from the list above could be good fits for websites like this.
A final idea is a website for people who want to start small welding businesses as a side hustle to help earn extra money. A website like this could include any of the programs from the list above, and it could also feature small business loans, accounting software, laptops, or desktops to help keep the business organized, and items like shelving and carts.
Boost Your Affiliate Earnings
These 10 affiliate programs are just the beginning of what's possible. There are hundreds of ways to earn affiliate commissions with your website, including product reviews, top 10 lists, how-to guides, and more
But what about traffic and conversions? How do you make sure your affiliate links get clicked?
I used the affiliate training here to turn my brand new website into a six-figure income generator in less than two years. Build a business, not just a pocket-money side project!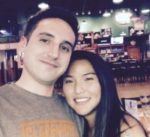 Nathaniell
What's up ladies and dudes! Great to finally meet you, and I hope you enjoyed this post. My name is Nathaniell and I'm the owner of One More Cup of Coffee. I started my first online business in 2010 promoting computer software and now I help newbies start their own businesses. Sign up for my #1 recommended training course and learn how to start your business for FREE!