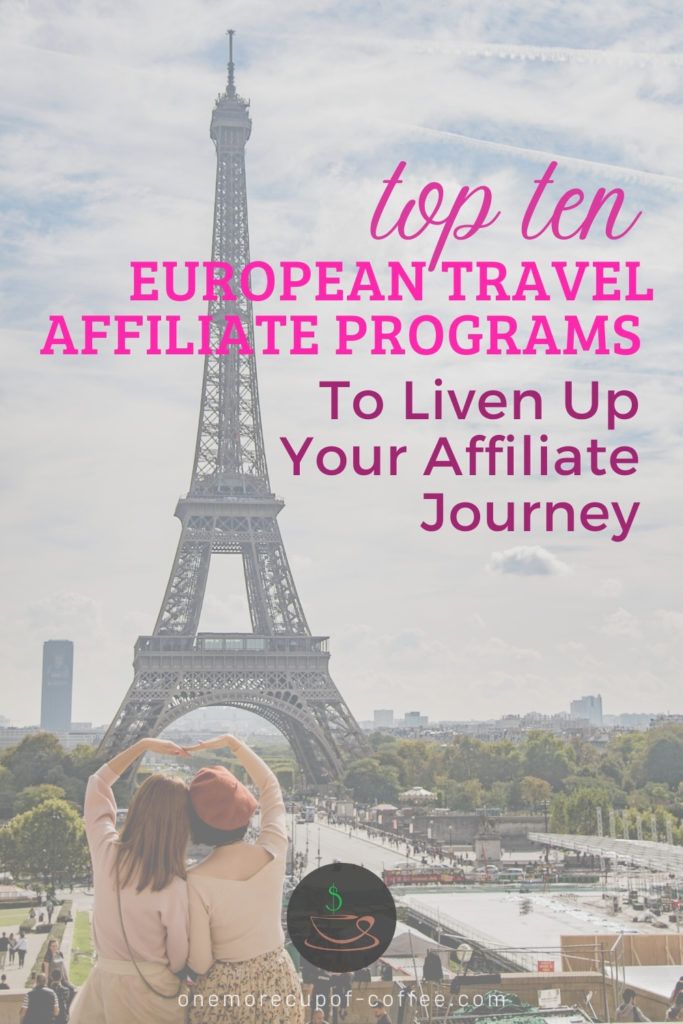 The best European travel affiliate programs include booking platforms, tour companies, and ground travel. Even though coronavirus is fluctuating or rising in some areas, the pullback from lockdown seems to have unleashed the urge to travel again. Companies like World Nomads, which temporarily stopped selling its travel insurance, are getting back to normal, and wanderlust is hitting the Millennial population.
Affiliate marketers can help with the return to a new normal in travel by connecting customers with the best European travel affiliate programs. These programs range from insurance providers to car rental companies, booking companies, ground transportation, and tourism opportunities.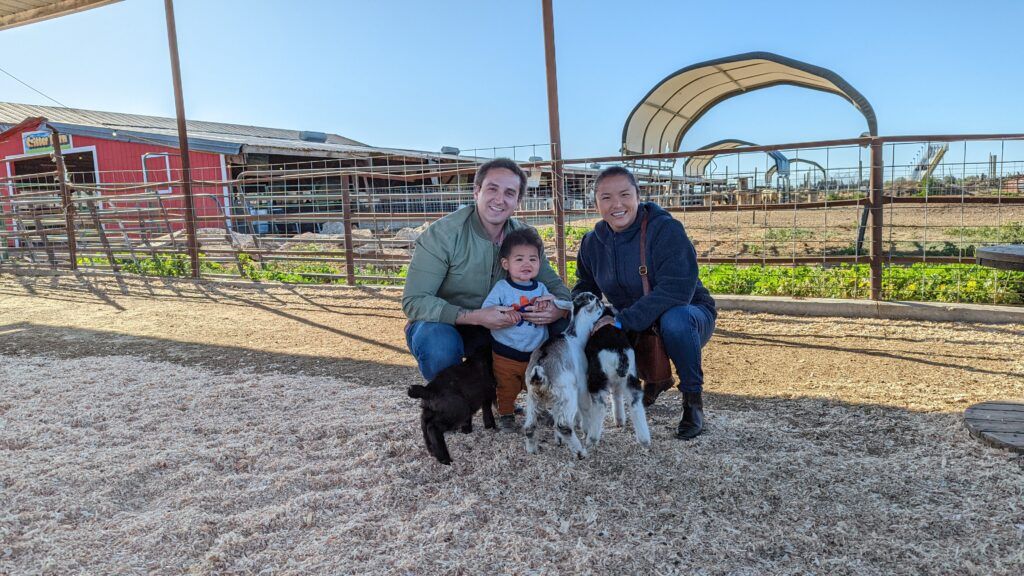 Are You Ready To Work Your Ass Off to Earn Your Lifestyle?
Are you tired of the daily grind? With a laptop and an internet connection I built a small website to generate income, and my life completely changed. Let me show you exactly how I've been doing it for more than 13 years.
If you're interested, read through this list of the top ten European travel affiliate programs. At the end of this article, I'll share some ideas with you for ways you can start to promote some of these programs on your affiliate websites.
European Travel Affiliate Programs
Eating Europe
Select Italy
World Nomads
STA Travel
Lonely Planet
RailEurope
Contiki
Tours4Fun
Eurail
Auto Europe
1. Eating Europe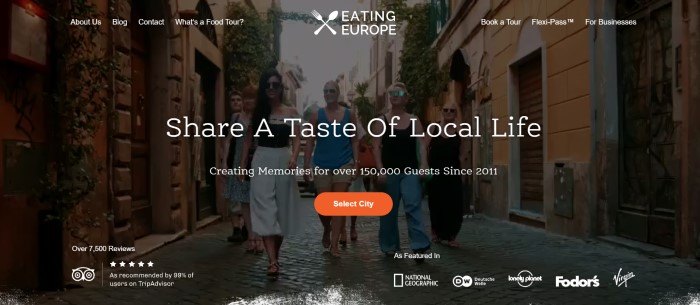 For folks who have always wanted to try different types of European food, Eating Europe may be the way to go. This company partners with local restaurants in undiscovered neighborhoods to provide travelers with the best non-touristy food tours available.
This company currently offers 25 different food tours and nine cooking classes. Destinations include Rome, Florence, Prague, Amsterdam, and London.
Eating Europe has more than 7,000 five-star reviews on TripAdvisor and has served more than 50,000 people since its beginning in 2011. Both individuals and corporate groups are encouraged to enjoy Eating Europe.
The affiliate program is run through ShareASale, and affiliates have access to custom creatives, dedicated in-house program management, and ongoing contests and promotions.
Why You Should Promote Eating Europe: The unique nature of Eating Europe could attract and convert shoppers, and this company's stellar reputation is nice, too.
2. Select Italy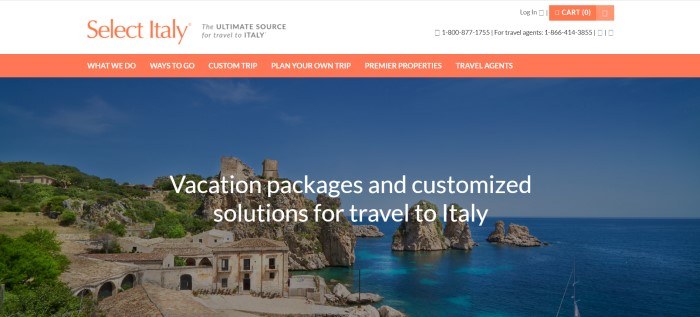 Select Italy is a travel company that focuses solely on travel to and within Italy. This company offers accommodations, transportation, sightseeing tours, museums, theaters, food experiences, and wine. The website database includes more than 3,000 places that customers can visit, and accommodations include family-friendly options as well as wellness spas, beach holidays, villas, and luxury hotels.
The Select Italy website includes a tab for travel agents, customized travel plans, and a plan-your-own-trip section. Gift certificates are available, too. This company specializes in local culture and in sightseeing at places like the Colosseum, Boboli Gardens, and the Tower of San Niccolo.
The affiliate program is run in-house. Affiliate marketers have access to search forms, text links, and banner ads to help promote the company.
Why You Should Promote Select Italy: This company has a plan-your-own-trip option and some a-la-carte options, which could result in some relatively high order values. The commission and cookie length are decent, too.
3. World Nomads

World Nomads is a travel insurance provider covering residents from 140 countries. The insurance policies address topics such as medical issues, travel accidents, terrorism, missing baggage, trip cancellations, stolen credit cards or passports, and even death. Besides the insurance policies, the website includes travel tips, safety alerts, destination information, and articles to help make world travel easy and fun.
One nice thing about this company is that it offers customers a chance to make a charitable microdonation when they purchase a policy. So far, more than $3 million in microdonations has bee raised to help fund charitable projects around the world.
The affiliate program is run in house, and affiliate marketers are provided with marketing tools and content.
Why You Should Promote World Nomads: The travel insurance this company provides can make travelling easier and less stressful for some customers. This company has been in business since 2000, so it's got a great customer base and a good reputation, too.
4. STA Travel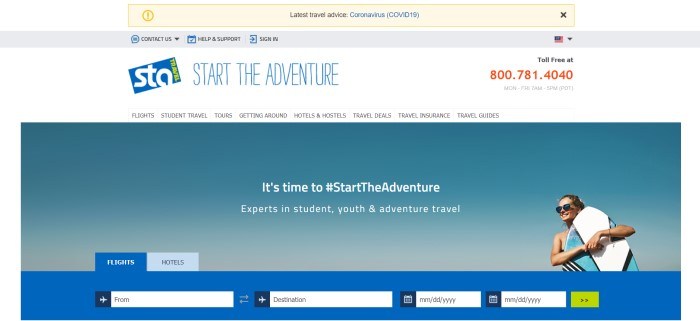 STA Travel is dedicated to providing the best travel experiences to travelers between the ages of 18 and 35. The website includes the ability to book flights, tours, rail and bus passes, and hostels or hotels. There are also options for purchasing travel insurance or getting travel deals, especially for travelers who are also students.
The affiliate program is administered through Commission Junction. STA travel is specifically looking for affiliates with websites that cater to markets in China, South Korea, and India, but there are plenty of destinations in Europe and other areas of the world to visit.
Why You Should Promote STA Travel: This company focuses on a specific demographic, which could make it a good fit with some niche market websites.
5. Lonely Planet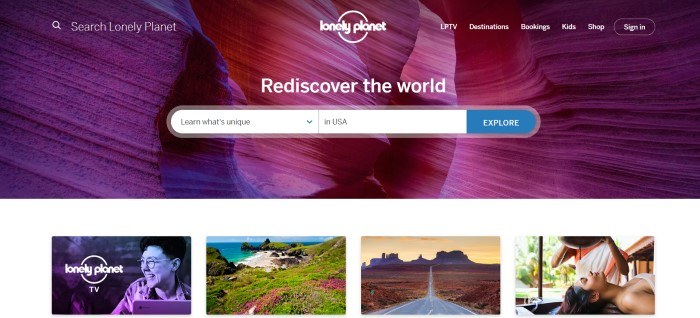 Lonely Planet sells books and e-books meant for world travelers. These guidebooks cover wide areas such as Central or Western Europe, while some get into specific locations such as Amsterdam or Bhutan.
This company also offers bookings for adventure tours sightseeing tours, flights, car rentals, and more. The affiliate program doesn't currently support booking sales, but the affiliate page indicates commissions for leads and travel services could be coming sometime in the future.
The affiliate program is supported by Commission Junction, buy.at, and Awin. Affiliates have access to marketing materials, promotions, and shopping incentives. The average conversion for travel guides is 12%.
Why You Should Promote Lonely Planet: The affiliate commission rate for guidebooks is decent, and the affiliate program appears to be expanding to include bookings and travel leads, as well.
6. RailEurope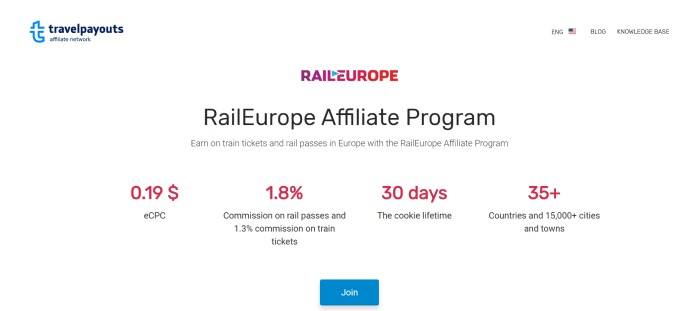 RailEurope is a search platform for railways and bus systems traveling through Europe. This program covers 35 countries and more than 15,000 cities and towns with companies such as Eurostar, TGV, Italo, and Le Frecce.
The affiliate program is part of the TravelPayouts affiliate network. Commission rates run at 1.3% for train tickets and 1.8% for rail passes. Affiliate marketers can access text links and banner ads right from the affiliate information page.
Why You Should Promote RailEurope: RailEurope aims to help travelers see more of the gorgeous European landscapes by traveling by bus or by rail rather than by air.
7. Contiki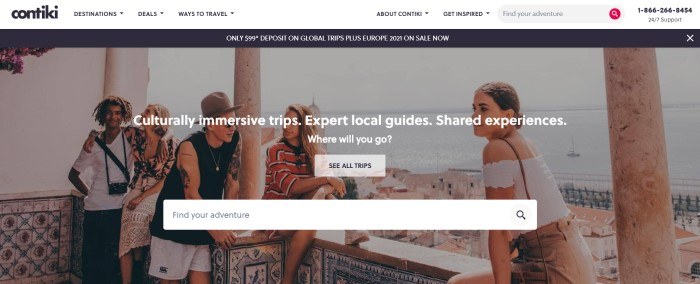 Contiki is a trip booking platform for travelers between the ages of 18 and 35. This company focuses on providing culture and tourism experiences in more than 40 countries across six continents. Contiki also provides several different ways to travel, ranging from adventure tours, safaris, and island hopping to volunteer travel opportunities and cultural discovery tours.
One nice thing about Contiki is that it offers trip options for one week or two weeks, and customers can build their own small groups so they can travel together.
The affiliate program is administered through CJ. Affiliates have access to banner ads, text links, and skyscraper ads to help promote the service. The most lucrative affiliate marketers can get higher than normal commission rates.
Why You Should Promote Contiki: Contiki offers a wide range of specialized travel experiences for young travelers. The commission rate and cookie length are nice, too.
8. Tours4Fun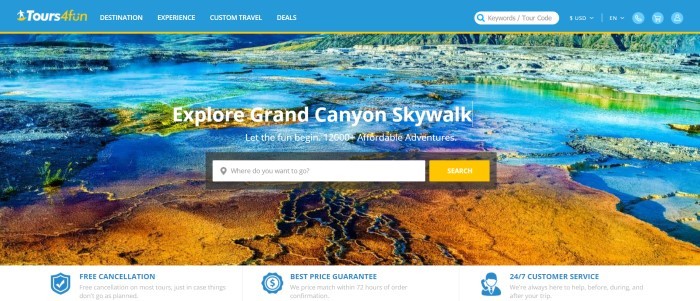 Tours4Fun is an online booking platform with several ultimate vacation destinations available. Customers can begin their search by selecting a continent, such as Europe or North America, and then browse through the categories and offerings listed there.
There's also a search bar at the top of the website for customers who already know what they're looking for, as well as tabs for deals and custom travel packages.
The affiliate program for Tours4Fun is run through both ShareASale and Commission Junction. Affiliate marketers have access to all of the marketing materials they need to promote the services. One great thing about this company is that the average order value is more than $650.
Why You Should Promote Tours4Fun: This company has a high average order value and special incentives for affiliate marketers.
9. Eurail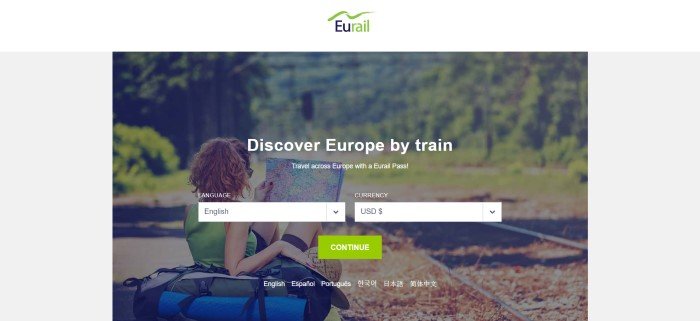 Eurail is dedicated to helping non-European train travelers enjoy traveling through the European countryside as they move from destination to destination.
This company sells around 100,000 passes per year, with youth groups making up the second-largest class of customers. The largest class of customers are adults traveling together. Travelers can purchase first or second class passes.
The affiliate program is administered through Awin. Affiliate marketers can request special creatives and marketing materials by contacting the company. The average order value is more than $713.
Why You Should Promote Eurail: Eurail sells a lot of passes every year and has a high order value, which could mean that affiliate marketers have some great money-making opportunities with this company. The commission rate is decent, too.
10. Auto Europe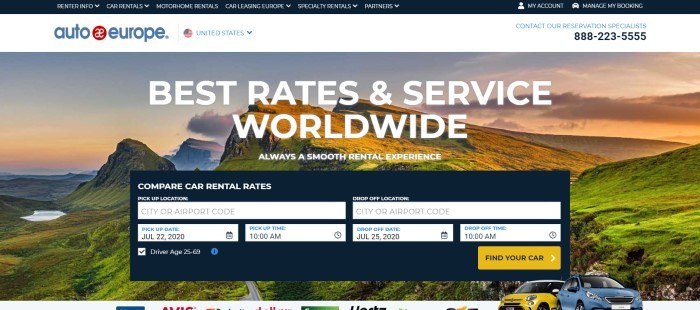 Auto Europe offers car rentals and leases in Europe, as well as motorhome rentals and specialty rentals such as one-way car rentals or long-term car rentals. Customers can rent cars for all of Europe or for specific countries, such as in France, Germany, the UK, or Ireland.
The affiliate program is run in house, and affiliate marketers must email a company representative to join the program. However, once they're accepted, they have access to several types of marketing materials, including deep links, direct links, data feeds, banner ads, and white-label-appearing booking engines.
This company stands out because it focuses solely on highway and road travel.
Why You Should Promote Auto Europe: Although the commission rate isn't listed, affiliate marketers have a lot of marketing options, and that could help convert shoppers and increase sales. The focus on highway and paved road travel are somewhat unique.
Affiliate Website Ideas
Now that you've read through this list of the top ten European travel affiliate programs, do you have any ideas about how you'd like to apply them to your affiliate websites? I have a few ideas to share that can get you up and running.
For example, if you have a website about old cars and highway travel, you could feature programs like Auto Europe that focus solely on driving to and from destinations. A website like this one could also feature car parts stores, custom machine shops, antique maps and atlases, and how-to guides for fixing up or collecting vintage cars, as well as tour guides for places in Europe that you can only get to by paved road.
A second idea is a website catering to outdoor adventurers. Travel programs like STA Travel or Contiki could be featured here because they target young travelers who might like hiking and other adventurous excursions. Camping gear, rock climbing equipment, kayaks, and other outdoor fun options could also be promoted on a website like this one.
A final idea is a website for family traveling. This type of website could promote programs like Select Italy, which have family-friendly travel options. Disney Cruises, small electronic games or tablets, photography equipment, and language-learning programs could all be featured here, as well.
Boost Your Affiliate Earnings
These 10 affiliate programs are just the beginning of what's possible. There are hundreds of ways to earn affiliate commissions with your website, including product reviews, top 10 lists, how-to guides, and more
But what about traffic and conversions? How do you make sure your affiliate links get clicked?
I used the affiliate training here to turn my brand new website into a six-figure income generator in less than two years. Build a business, not just a pocket-money side project!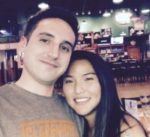 Nathaniell
What's up ladies and dudes! Great to finally meet you, and I hope you enjoyed this post. My name is Nathaniell and I'm the owner of One More Cup of Coffee. I started my first online business in 2010 promoting computer software and now I help newbies start their own businesses. Sign up for my #1 recommended training course and learn how to start your business for FREE!