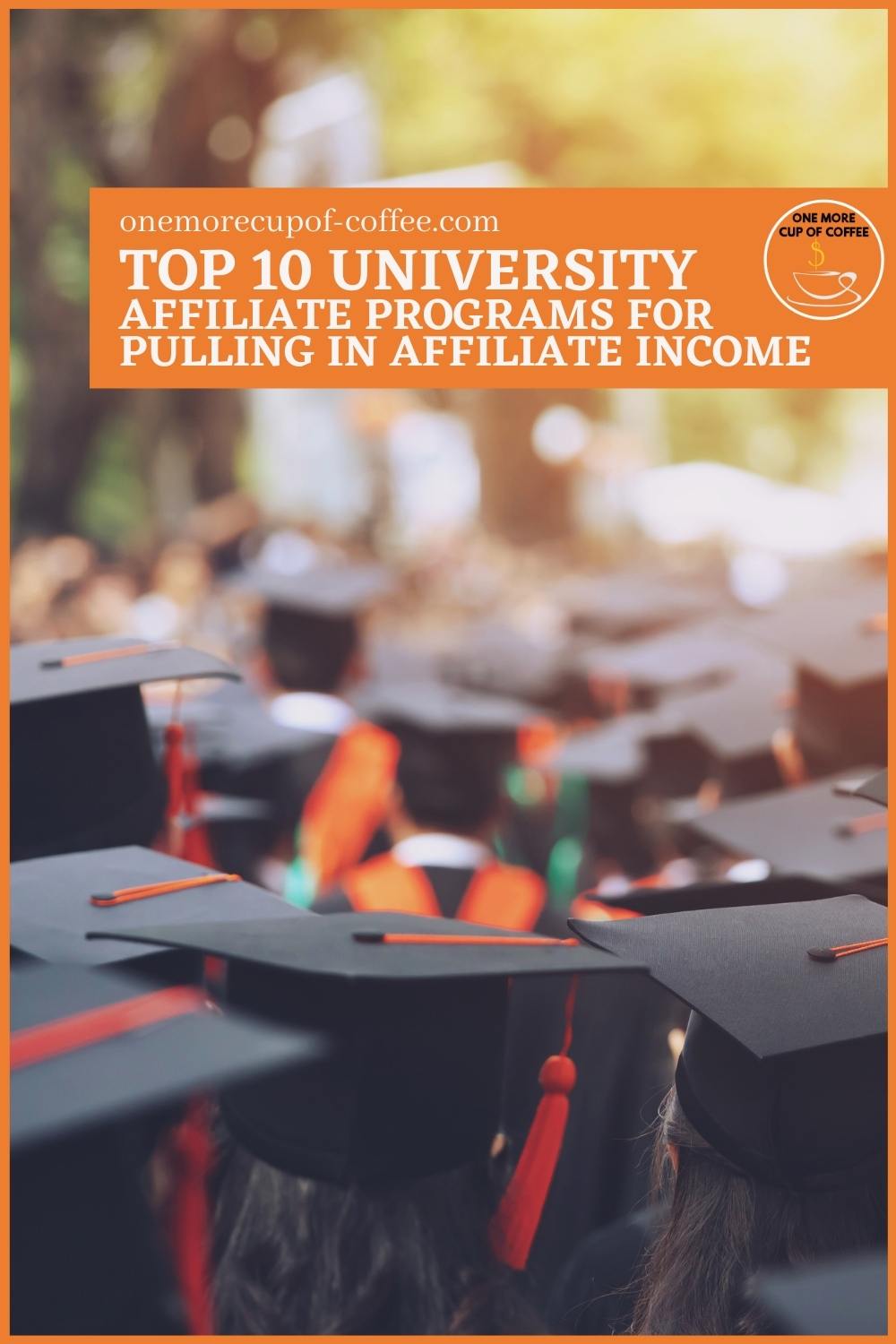 Stocking up on pens, pencils, notebooks, and binders isn't just for elementary and high school students. As the summer draws to a close, universities and colleges around the country start gearing up for their fall semesters.
It's a big business. In 2018, the yearly cost for attending a university was more than $31,800, with an average cost for room and board of more than $10,000.
There are more than 4,000 colleges and universities in the United States. In 2018, 22.2 million people were attending institutes of higher education, and more than 51 million people in the country had attained a bachelor's degree.
That's a lot of people investing a lot of money in higher education, and it could pay off for affiliate marketers. The best university affiliate programs can connect students with online learning platforms, dorm room supplies, software, and textbooks.
Read on to find out more about the top 10 university affiliate programs and how to use them in niche marketing efforts.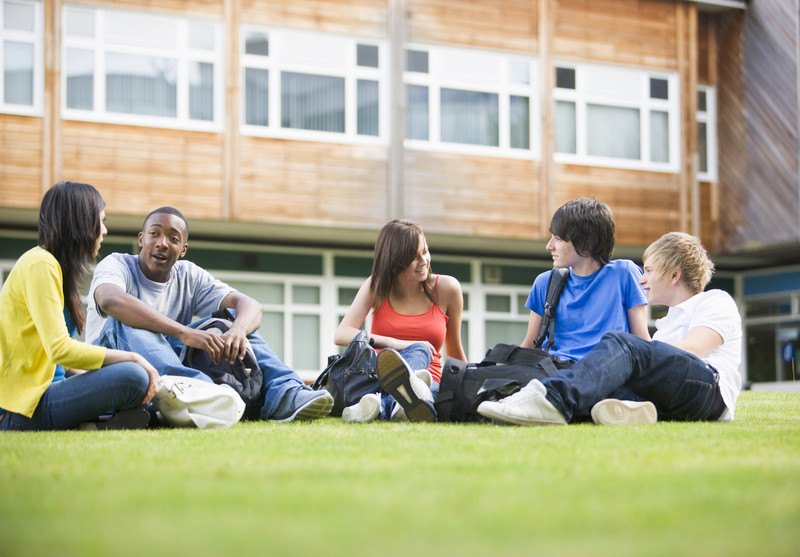 University Affiliate Programs
Coursera
Campus Book Rentals
Georgia Southwestern State University
California State University – Long Beach, Fortyniners Shop
Journey ED
The Princeton Review
eCampus
College Degrees
Our Campus Market
Dormify
1. Coursera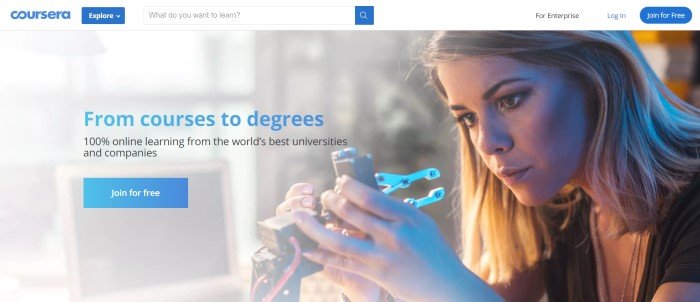 Coursera is an online learning platform featuring classes taught by teachers from universities and colleges across the United States. There are now around 35 million learners and more than 150 university partners.
With around 250 specializations in fields such as data science, business foundations, and digital marketing, Coursera is a great way for people to add credentials or even get a degree. Specialization certificates can be shared on LinkedIn or other social media sites and on resumes. It takes 4-6 weeks to earn a specialization, and the cost is around $39-79 per month.
Coursera administers its affiliate program through Rakuten Linkshare. Affiliate commissions can be earned on more than 1,000 of its 2,700-plus courses and specializations.
Why You Should Promote Coursera: This company works with experts at top universities and colleges, so the information taught in the courses is solid. This could convert some shoppers, and it could also be a good fit for niche marketing efforts targeted at people who are seeking more credentials. The commission rate is nice, too.
2. Campus Book Rentals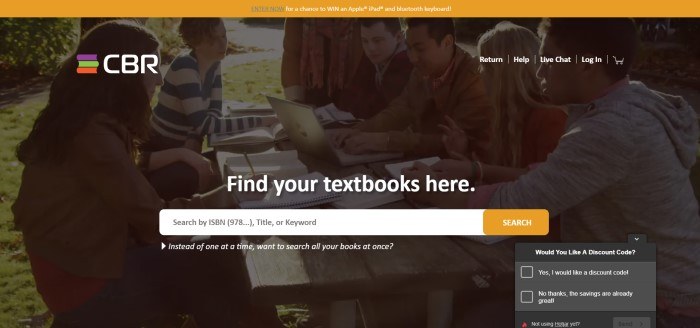 Campus Book Rentals is a textbook rental company for students in colleges and universities. Rather than buying expensive textbooks, students can rent them for a semester at a time, or for other rental periods that work well for them. The books can be highlighted.
This company works with more than 5,781 campuses across the United States, and the conversion rate is around 9%. So far, the company has saved students more than $116 billion in textbook costs.
The affiliate program for Campus Book Rentals is run through CJ Affiliate.
Why You Should Promote Campus Book Rentals: The conversion rate is relatively high, and the cookie is a decent length. This company has a strong presence in American colleges, so customers searching for textbooks may have heard of it before.
3. Georgia Southwestern State University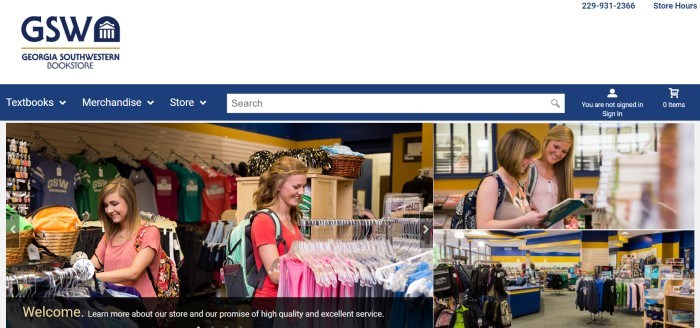 The affiliate program for Georgia Southwestern State University provides commissions for sales at the GSW bookstore. The commission rates and applicable purchases aren't listed.
However, the store has a spot for buying, renting, and selling textbooks, as well as GSW merchandise. There's also a special link to books published by the Rosalyn Carter Institute, which have a series forward written by former First Lady Rosalyn Carter. General merchandise ranges from GSW tee shirts and novelty items to calculators and trade books.
Why You Should Promote Georgia Southwestern State University: Loyalty to this university or interest in the Rosalyn Carter Institute could be converting factors for some shoppers. However, there's no information about which items affiliates can receive commissions on or what the commission rate would be.
4. California State University – Long Beach, Fortyniners Shop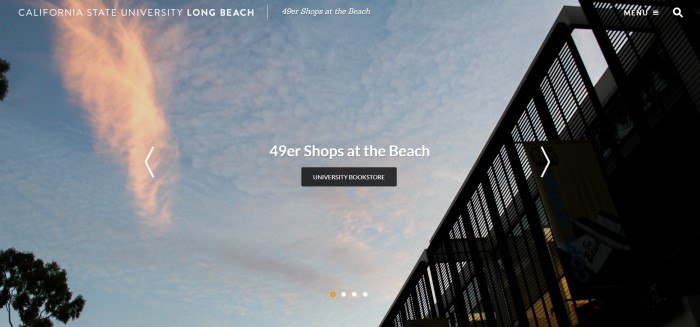 The California State University Long Beach Fortyniner's shop is another university bookstore with an affiliate program that can be accessed through Flex Offers. This bookstore sells textbooks, goods, and student services. It also helps fund scholarships, internships, and other student programs.
The general merchandise sold at this bookstore includes art supplies, lab supplies, and yoga mats. There's a link for shopping for rings, caps, and gowns, portraits, and other graduation-related items, as well as electronics like iPads or athletic and fan-based gear and clothing.
Why You Should Promote California State University – Long Beach Fortyniner's Shop: As with other university bookstores, this will appeal to shoppers with Fortyniner loyalties and to students who are attending the university. However, there's no information about the commission rate, applicable products, or cookie length, so it's difficult to tell how much an affiliate could make with this company.
5. Journey ED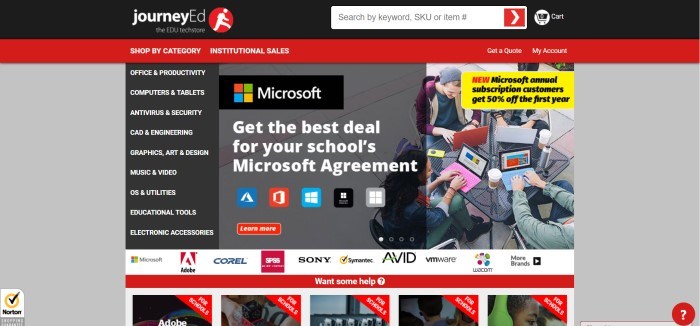 Journey ED provides discounted software to students and teachers across the nation. It carries software from major software publishers, including Microsoft, Adobe, Wacom, and Corel. Some software packages can be purchased for up to 85% off.
This company also sells items like Chromebooks, headphones, charging stations, and 3D printers. It's not clear whether affiliates could earn commission on products beyond the software.
The affiliate program is run through FlexOffers.
Why You Should Promote JourneyED: A 2% commission on an item that's already heavily discounted might not amount to much, but the lower prices might bring in more customers. Perhaps affiliates could make up for lower commissions with a higher sales volume because great software at a great price is always a necessity for university students.
6. The Princeton Review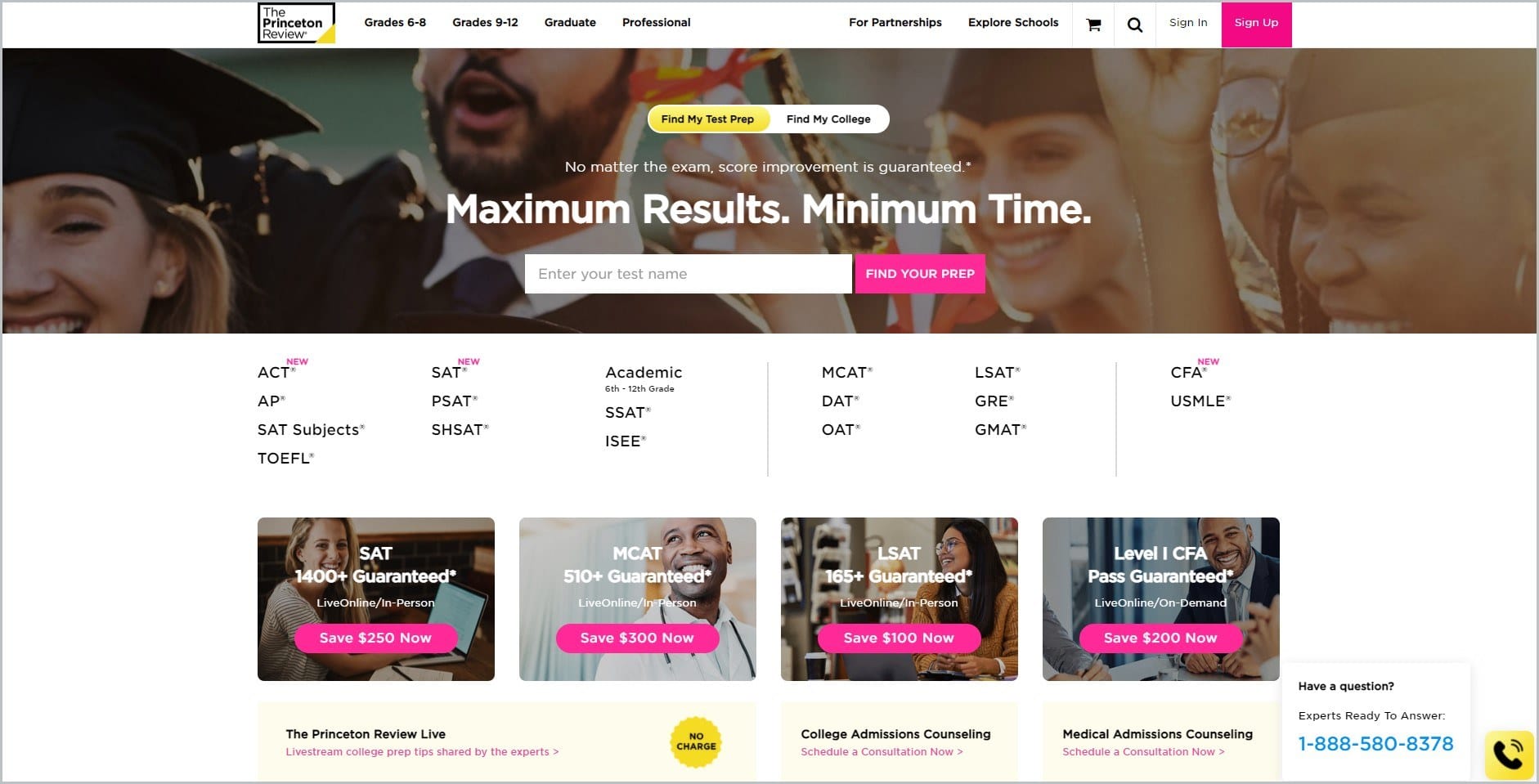 The Princeton Review is the leading tutoring, test preparation, and college admission services company that helps students get into their dream schools. They have been in the business for more than 35 years now and have help students succeed in high school or college by giving them the resources needed to get better grades, and stronger applications.
Their services include test prep courses (ACT, SAT, GRE, MCAT, GMAT, LSAT, and more) as well as tutoring to help students improve their scores on their admissions tests. They even have admissions counseling to help them identify their target colleges and grad schools. Their admission counselors work with the students to develop and execute strategic application plans.
The Princeton Review's affiliate program is administered by Awin. Affiliates get an 8% commission with an average order value of $990.
Why You Should Promote The Princeton Review: They provide innovative and personalized private tutoring for test preparation or admission. They're also constantly innovating to deliver the most effective tools available across multiple platforms.
7. eCampus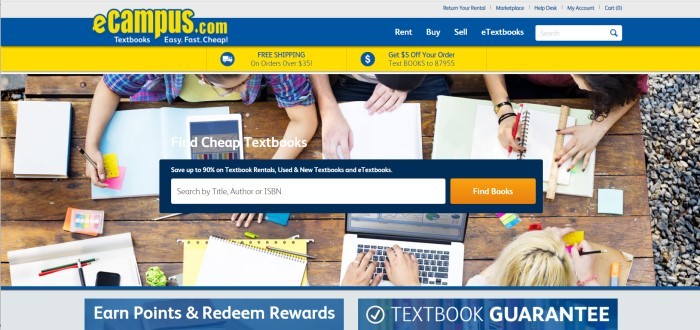 eCampus is another book rental program, but the commission structure is a little more complicated than with Campus Book Rentals. With eCampus, affiliates get a 5% commission on new books or ebooks, 6% commission on used books, and 8% commission on book rentals. There's also a commission of $3 per lead.
This company provides free shipping on orders of $35 or more. Affiliates can sign up through either ShareASale or CJ Affiliate.
eCampus serves as the virtual bookstore for more than 150 schools.
Why You Should Promote eCampus: eCampus has an eWards loyalty points program, where student members can earn points by purchasing, renting, or selling textbooks. The points can be redeemed for gift cards toward future purchases.
8. College Degrees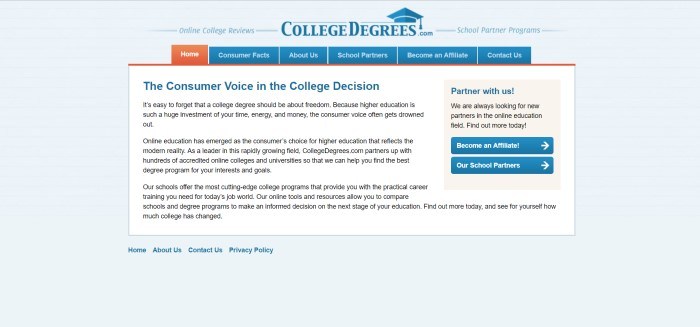 College Degrees is a lead generation company that partners with hundreds of colleges and universities to find and keep high-quality leads in their sales funnels. Potential students are guided toward programs that meet their needs, are accredited, and relatively affordable.
This company only works with online universities and colleges with good reputations. College Degrees tries to steer leads away from diploma mills so they get the best online education they can without being scammed.
Why You Should Promote College Degrees: Online education is trending, so there could be a lot of interest in a service like this. However, without knowing the commission rate, it's difficult to get a feel for how much you could make as an affiliate partner with this program.
9. Our Campus Market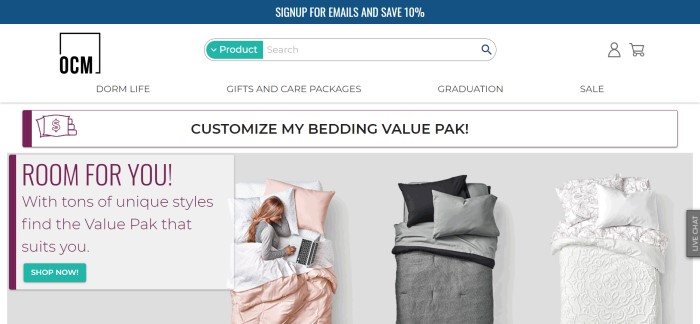 Our Campus Market is an online shopping center dedicated to helping students who will be attending universities on-site get the supplies that they need. For example, some dorm room beds require specific sizes of sheets that aren't sold in easily-accessible department stores.
This company carries bedding and bath sets, under-the-bed storage trunks, shower bundles, dorm room décor, and items like coffee makers, fans, and lamps. Package deals, such as the Complete Campus Pak, can run around $200 each. There's also an option for parents and other loved ones to buy care packages through this company and have them sent to their students.
Our Campus Market runs its affiliate program through Pepperjam.
Why You Should Promote Our Campus Market: Because of the unique living conditions in dorms and college apartments, specially-sized products like the ones provided by Our Campus Market can be easily folded into a niche marketing strategy.
10. Dormify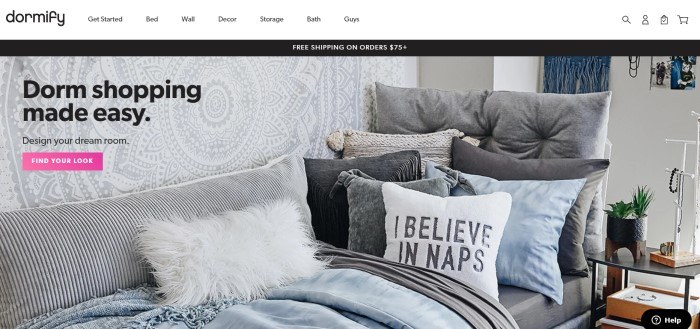 Dormify is another company that sells dorm-living goods to incoming university and college students. Besides bedding, bath, storage, and décor options, this company has a section where students can shop for kitchen items like mugs, cutting boards, and spoon rests. Customers can also find interesting items like bed risers and lamps that include charging stations.
There's also a self-care section with items like reading pillows and head massagers, and there's a section specifically for guy shoppers. This company also provides free shipping for orders of $75 or more.
The affiliate program for Dormify is administered by Pepperjam.
Why You Should Promote Dormify: This company carries items that are unique to dorm living, so it already fits well in a niche market.
Affiliate Website Ideas
These top 10 university affiliate programs are a great place to start, but how will you use them in your niche marketing efforts? I have a few ideas that you can use as springboards for your own endeavors.
For starters, you could create a website specifically for millennial males who are seeking higher education. You could promote websites Dormify or Our Campus Market, but you could also feature relaxation gear such as hiking equipment, gaming computers, and music subscriptions. Even online dating sites could be advertised on a website like this one.
You could also create a niche website to help Gen Xers up-level their career options. Online learning platforms like Coursera or HOW Design University could be promoted, and you could branch out to job boards and resume services, too.
What about a website that focuses specifically on education-related software? A niche market like this could cover preschool learning games, homeschool science packs, and full suites for Microsoft or Adobe products. You could also feature videos, courses, and tutorials for how to use these products, as well as the hardware, upgrades, and equipment needed to make them work smoothly.
Boost Your Affiliate Earnings
These 10 affiliate programs are just the beginning of what's possible. There are hundreds of ways to earn affiliate commissions with your website, including product reviews, top 10 lists, how-to guides, and more
But what about traffic and conversions? How do you make sure your affiliate links get clicked?
I used the affiliate training here to turn my brand new website into a six-figure income generator in less than two years. Build a business, not just a pocket-money side project!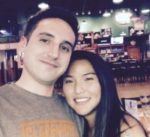 Nathaniell
What's up ladies and dudes! Great to finally meet you, and I hope you enjoyed this post. My name is Nathaniell and I'm the owner of One More Cup of Coffee. I started my first online business in 2010 promoting computer software and now I help newbies start their own businesses. Sign up for my #1 recommended training course and learn how to start your business for FREE!
Reader Interactions