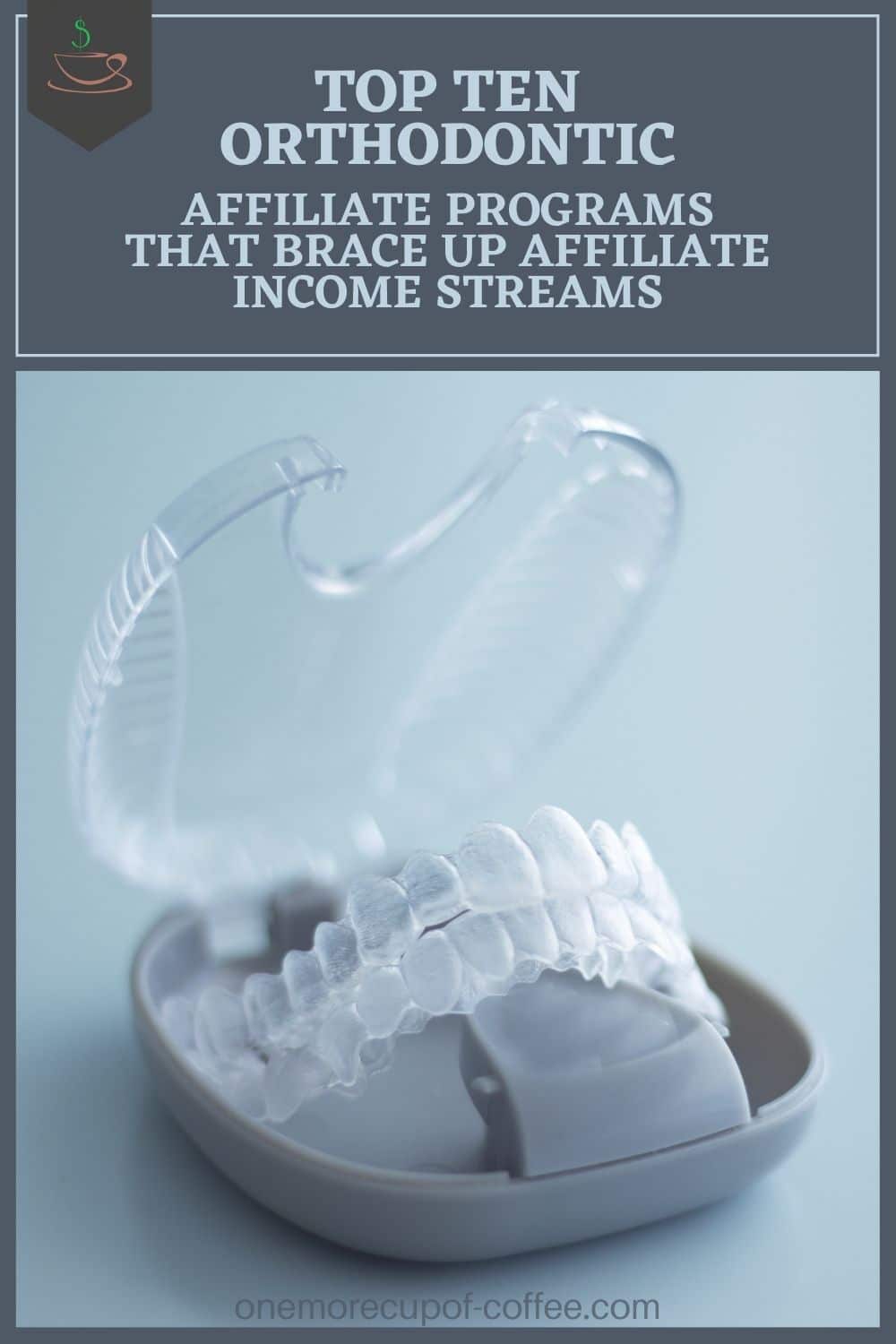 Orthodontics used to mean silvery metal contraptions that fit uncomfortably into the mouths of teenagers, but times have changed. Many adults wear braces now for issues ranging from aesthetics to correcting their bites. Children who are still losing baby teeth now can have spacers put in to help their teeth come in correctly, and wearing braces can begin as early as eight years of age.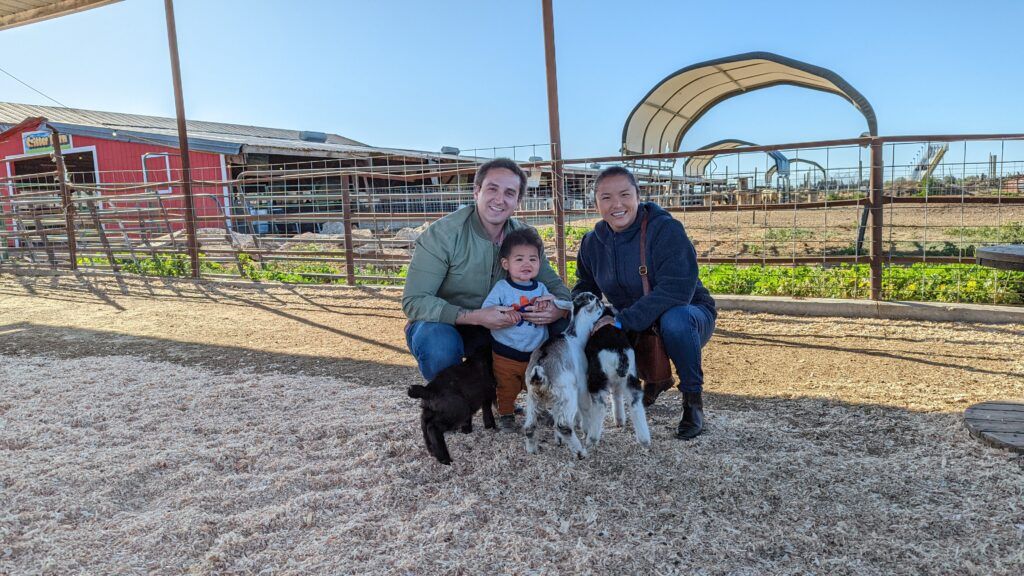 Are You Ready To Work Your Ass Off to Earn Your Lifestyle?
Are you tired of the daily grind? With a laptop and an internet connection I built a small website to generate income, and my life completely changed. Let me show you exactly how I've been doing it for more than 13 years.
The appearance of orthodontics has changed, too. Some braces are now clear or come with fashion colors, while some orthodontic options avoid braces altogether with the use of clear aligner treatments.
Affiliate marketers can help both customers and orthodontic practices by promoting the best orthodontic affiliate programs, which range from orthodontic software programs to clear aligners and dental insurance.
The following list of the top ten orthodontic affiliate programs can help affiliate marketers get started. As you read through the list, think of ways you can use them with your affiliate websites. I'll share a few ideas of my own at the end of this article. As you read the list, consider that these products and services don't need to be part of a "orthodontic" website. Any niche site with an audience that wants to have a beautiful, healthy smile could promote these products. I think they could be useful on a beauty blog, a men's health related topic, a self help related website, or even a weight loss website depending on the specific niche.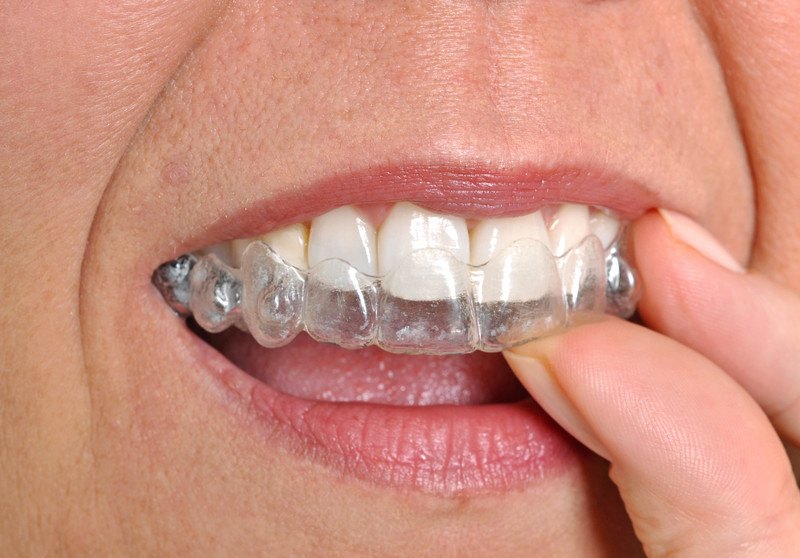 Orthodontic Affiliate Programs
DentalSave
Spirit Dental And Vision
Dovetail
BoomCloud
OrthoExtent
Startaloo
Candid
Dental Departures
Smilelove
OraWellness
1. DentalSave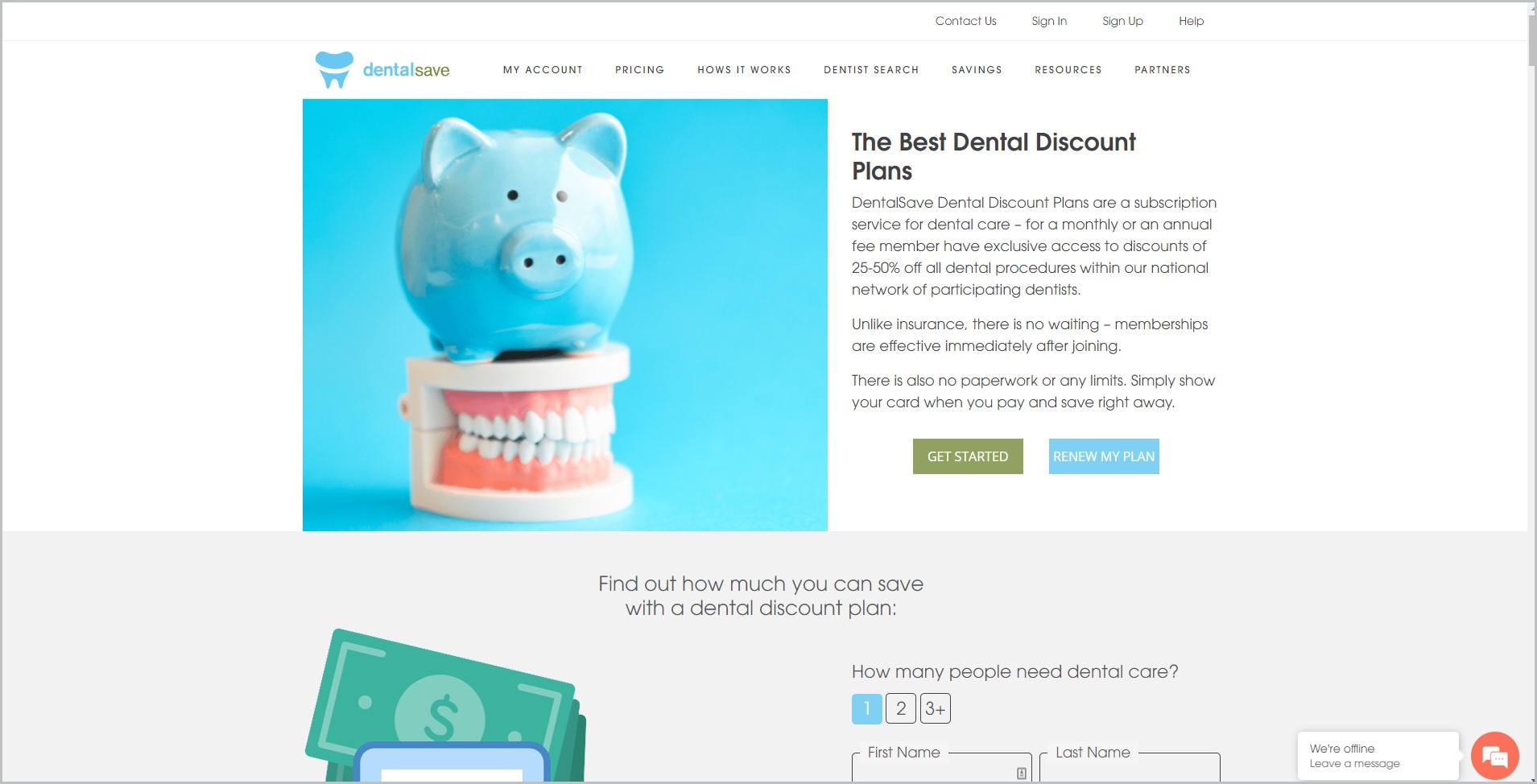 DentalSave is one of the largest dental plan providers who have helped members save 20 to 50 percent on the cost of their dental care while providing the best dentist choices, quality treatment, and superior customer service.
Today, DentalSave has grown to more than 40,000 dental providers and expanded across the United States. They offer high-quality services provided by their network of dentists and health care professionals.
They offer plans to fit specific needs starting from $9.99 a month. Their network includes more than 100,000 access points across the US ensuring more access to great local dental care. One can simply present their membership card and get immediate savings with no limits on use and no forms to fill out.
Why You Should Promote DentalSave: Discounts are offered on all routine dental services including exams, x-rays, cleanings, dentures, crowns, and fillings. They also provide significant discounts for specialized dental care such as Orthodontics, Periodontics, Endodontics, Oral Surgery, Prosthodontics, and Cosmetic Dentistry.
2. Spirit Dental And Vision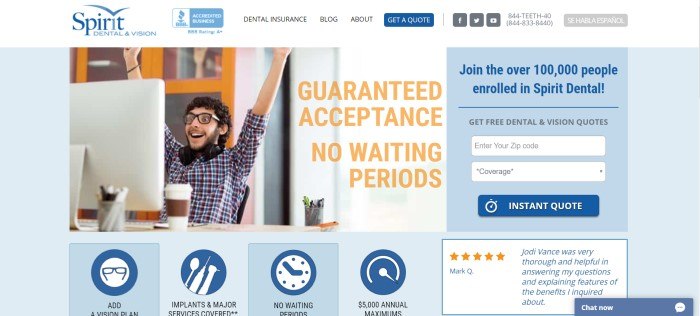 Spirit Dental And Vision is a dental and vision insurance plan that covers both major dental expenses and children's orthodontic services. There are no waiting periods for customers to be able to use the service.
There isn't much information on the website for potential affiliate marketers.
The website does have a 'Get a Quote' landing page with a section for potential affiliate marketers. This information is specifically geared toward dentists, so it appears that Spirit Dental and Vision is only actively seeking affiliate marketers who are already involved in the dental and vision industries.
The website page includes a link to an invitation to join the Ameritas network of dental work providers, a product flyer, and contact information for joining the affiliate program. Interested affiliate marketers can sign up via FlexOffers.
Why You Should Promote Spirit Dental And Vision: Spirit Dental And Vision is interested in affiliate marketers who are dentists, so they may not be open to other types of affiliate marketers.
3. Dovetail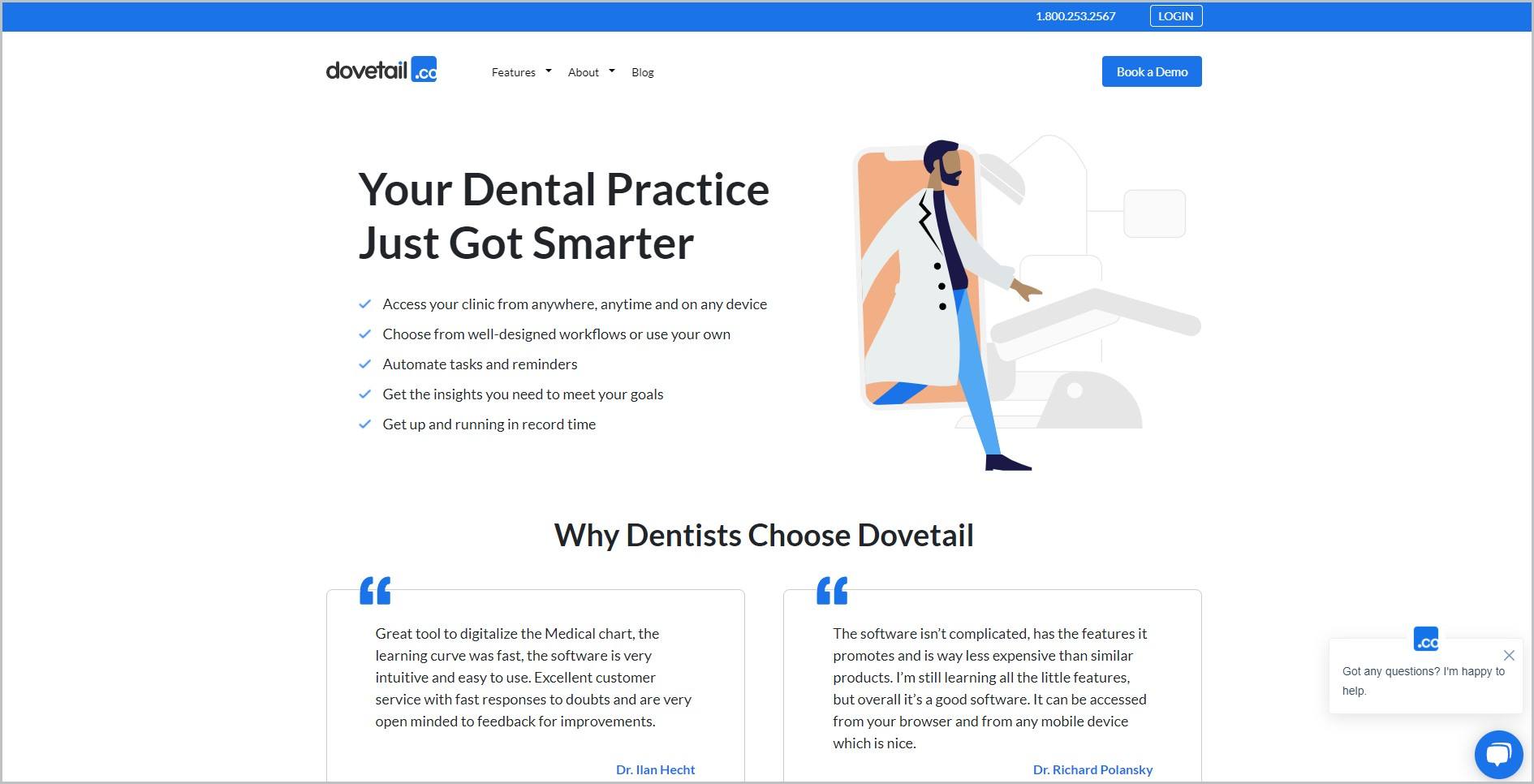 Dovetail provides dental professionals with intuitive software solutions to streamline their practices while they provide the best possible care to their patients. Dovetail is a cloud-based Electronic Health Record or EHR and practice management solution that was designed specifically by dentists for dentists.
Dovetail subscriptions include everything except some third-party services such as e-claims, e-prescribe, and SMS confirmations because these services are optional and are billed separately. The Dovetail platform does not require a specific type of computer or device nor any wiring to install or servers to set up. All that is needed is a Windows or OS computer or an iPad with an Internet connection.
All data is securely stored on the Amazon Web Services (AWS) cloud. Files are backed up daily to preserve an audit trail of change. They also deploy a log-monitoring and intrusion-detection system (IDS) to actively alert staff of any suspicious activity.
Why You Should Promote Dovetail: They are 100% HIPAA compliant. With Dovetail you can also enjoy generous rewards through a guaranteed commission structure, launch new services without added overhead, and have access to tools, resources, and financial incentives.
4. BoomCloud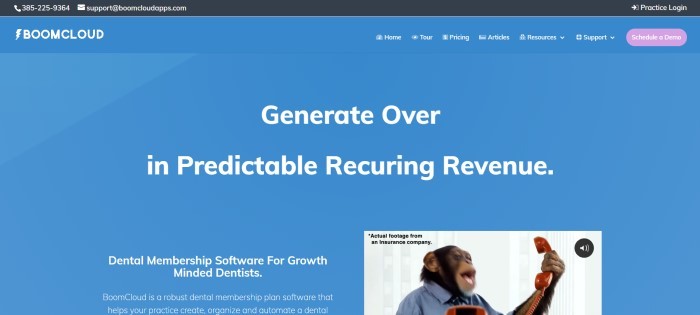 BoomCloud sells a software solutions package to help dentists and orthodontists create a database of uninsured patients. The process helps dental workers reduce their dependence on dental insurance. Many customers who use BoomCloud offer specific plans that include orthodontic treatments such as discounts on invisible aligners.
The product itself is a membership-based software plan. Dental professionals can use the software to create, organize, and automate their own patient dental plans. This allows them to attract and retain uninsured dental patients who need the services and couldn't otherwise afford them.
Because of the specialized nature of the industry, most affiliates with BoomCloud are dental business consultants or other dental industry workers who are already providing services that positively impact dentists, orthodontists, and their patients. People who are interested in the software or in promoting it can request prices through the website or schedule a demo.
Why You Should Promote BoomCloud: The commission rate is generous. However, the tight niche might make it hard for general affiliate marketers to sign up with this company.
5. OrthoExtent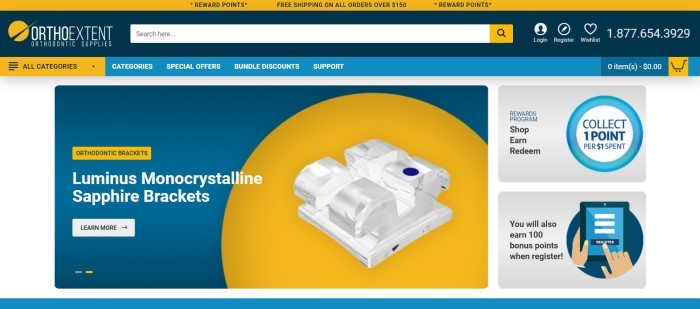 OrthoExtent is an orthodontics supply company that sells everything from orthodontic impression trays and instruments to brackets and bands. Customers can browse through twelve different categories to find what they're looking for or use the search bar at the top of the page if they're looking for something specific. The website has tabs for special offers and bundle discounts, too.
Customers can get free shipping on orders of more than $150, and OrthoExtent has a rewards program, too.
Why You Should Promote OrthoExtent: This company has a great selection of orthodontic equipment that can be promoted to orthodontists. The prices are reasonable, customers can get free shipping, and there's a rewards program.
6. Startaloo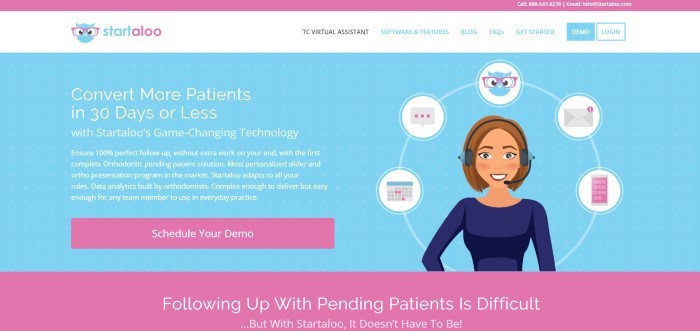 Startaloo is a patient conversion system for orthodontists. The solution helps orthodontic practices that are too busy to track pending patients on a spreadsheet by giving them an easy way to follow up with new or potential patients.
The solution uses both human interactions with patients and well-designed software to pull in new patients and to re-engage past patients who decided against treatment. The website includes a demo section that can help orthodontists see exactly how the service could benefit their practices.
This company was initiated by orthodontists who wanted to find a way to scale their practices. Affiliate marketers are generally those who already provide marketing consultation services to orthodontists and can add this patient conversion solution to what they already provide.
Why You Should Promote Startaloo: Although the commission rate isn't listed, the service was inspired by orthodontists who saw a need for it, and that could indicate a high conversion rate.
7. Candid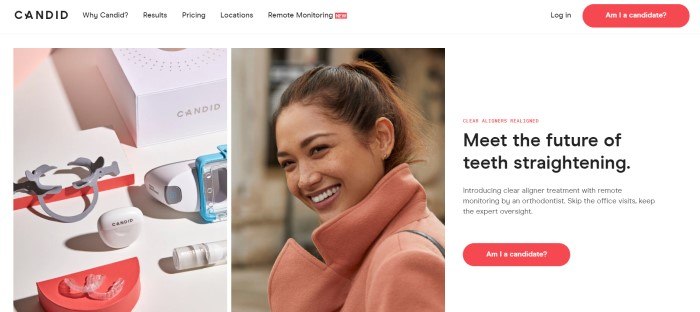 Candid is an invisible orthodontic aligner company that provides treatments typically lasting around six months. Customers can start by ordering an at-home starter kit, and follow up with licensed orthodontists during treatment by sharing scans they take at home with their phones.
The orthodontic treatment package costs around $2,400. Candid also offers free shipping and a 100% satisfaction guarantee.
Affiliate marketers are paid up to $100 per booked appointment, up to $20 per starter kit, and up to $5 for every email submission lead. Candid runs its affiliate program through ShareASale.
Why You Should Promote Candid: Although it's still a high-ticket item, Candid orthodontic treatments are less expensive than many other orthodontic options, and that could convert some shoppers. The affiliate commission rate is generous, too.
8. Dental Departures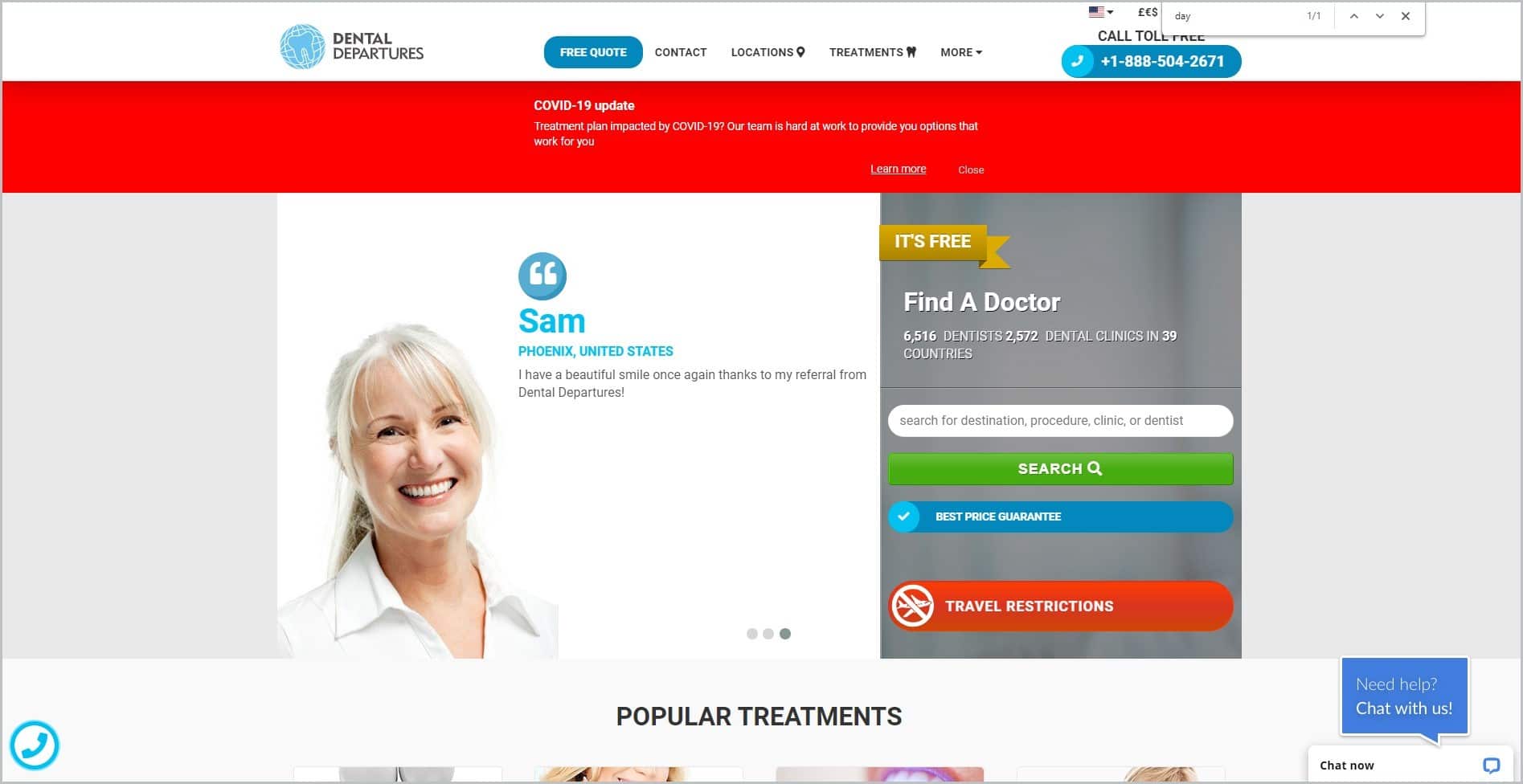 Dental Departures is a global dental marketplace that brings customers together with high-quality global dental providers at a reasonable price. They have an excellent selection of over 2000 dental clinics and hospitals in different countries around the world. They offer free booking, 24/7 customer support, and savings of up to 70%.
With Dental Departures, one can easily compare clinics and review all the details including doctor's education and experience, price list, high-resolution photos of the clinic and staff, years the clinic has been in business, payment methods accepted, hours of operation, dental clinic certifications, and dental extras.
Why You Should Promote Dental Departures: They pre-screens its clinics for quality dental care and gathers real reviews from real patients. Dental Departures also offers the best price guarantee.
9. Smilelove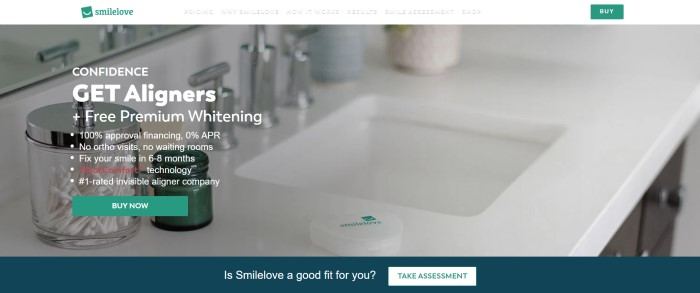 Smilelove provides clear aligner orthodontic treatments, beginning with an at-home impression kit. This company offers a payment plan with a $250 down payment and monthly installments of $79 for two years. Customers can also make a one-time payment to get their full treatment for less than $2,000.
Like many other clear aligner programs, Smilelove can help people straighten their teeth within about six months. Each aligner is worn for about two weeks before a new aligner arrives. The treatment programs with Smilelove include teeth whitening, as well.
The affiliate program provides a dedicated account manager, competitive commission rates, and bonuses for high-performing affiliates.
Why You Should Promote Smilelove: Smilelove orthodontic treatments are one of the most affordable options for clear aligners, and the company accepts monthly payments. However, the commission rate and cookie length aren't listed, so it's difficult to tell how much you could make as an affiliate marketer with this company.
10. OraWellness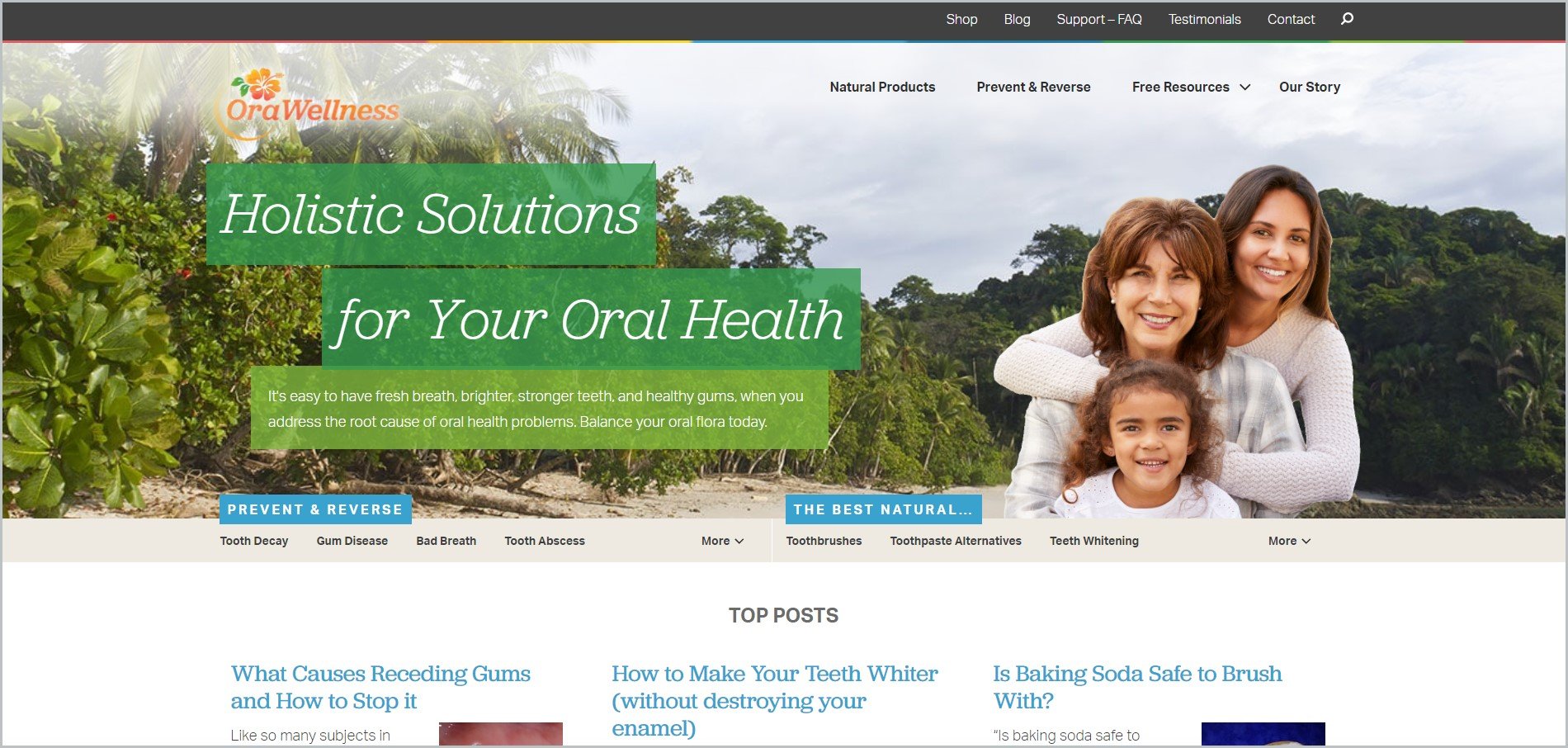 OraWellness provides simple and natural solutions to painful and discouraging oral problems. They offer toothbrushes, toothpaste alternatives, natural whitening, and a complete oral health system package.
They aim to bring the organic healing power of nature to more people every day and also offer helpful articles, free e-book guide book downloads, free video tutorials, and free expert interviews.
OraWellness's affiliate program grants a 15% commission for active bloggers and thought leaders and an 8% commission for coupon sites.
Why You Should Promote OraWellness: Products would appeal to eco-conscious consumers. Their HealThy Mouth Blend was formulated using 100% certified organic plant essences. It aims to restore the natural balance of microbes.
Affiliate Website Ideas
Now that you've read through the list of the top ten orthodontic affiliate programs, how will you put them to use with your affiliate websites?
A website about children's health could promote clear aligners and family dental savings plans. Nutritional supplements, online child development courses, safety-conscious kid's furniture, other parenting products, and even organic snack foods could be featured here, too.
Another idea is a website dedicated to beauty and fashion. Clear aligners could be featured here, as well as skincare regimens, makeup, hair styling tools, shoe storage options, and apparel.
One final idea is a website for orthodontic practices, dental practices, and vision practices. Dental and vision savings plans could be promoted here, as well as patient management software, marketing services, office feng shui consultants, and small business loans.
Boost Your Affiliate Earnings
These 10 affiliate programs are just the beginning of what's possible. There are hundreds of ways to earn affiliate commissions with your website, including product reviews, top 10 lists, how-to guides, and more
But what about traffic and conversions? How do you make sure your affiliate links get clicked?
I used the affiliate training here to turn my brand new website into a six-figure income generator in less than two years. Build a business, not just a pocket-money side project!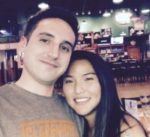 Nathaniell
What's up ladies and dudes! Great to finally meet you, and I hope you enjoyed this post. My name is Nathaniell and I'm the owner of One More Cup of Coffee. I started my first online business in 2010 promoting computer software and now I help newbies start their own businesses. Sign up for my #1 recommended training course and learn how to start your business for FREE!