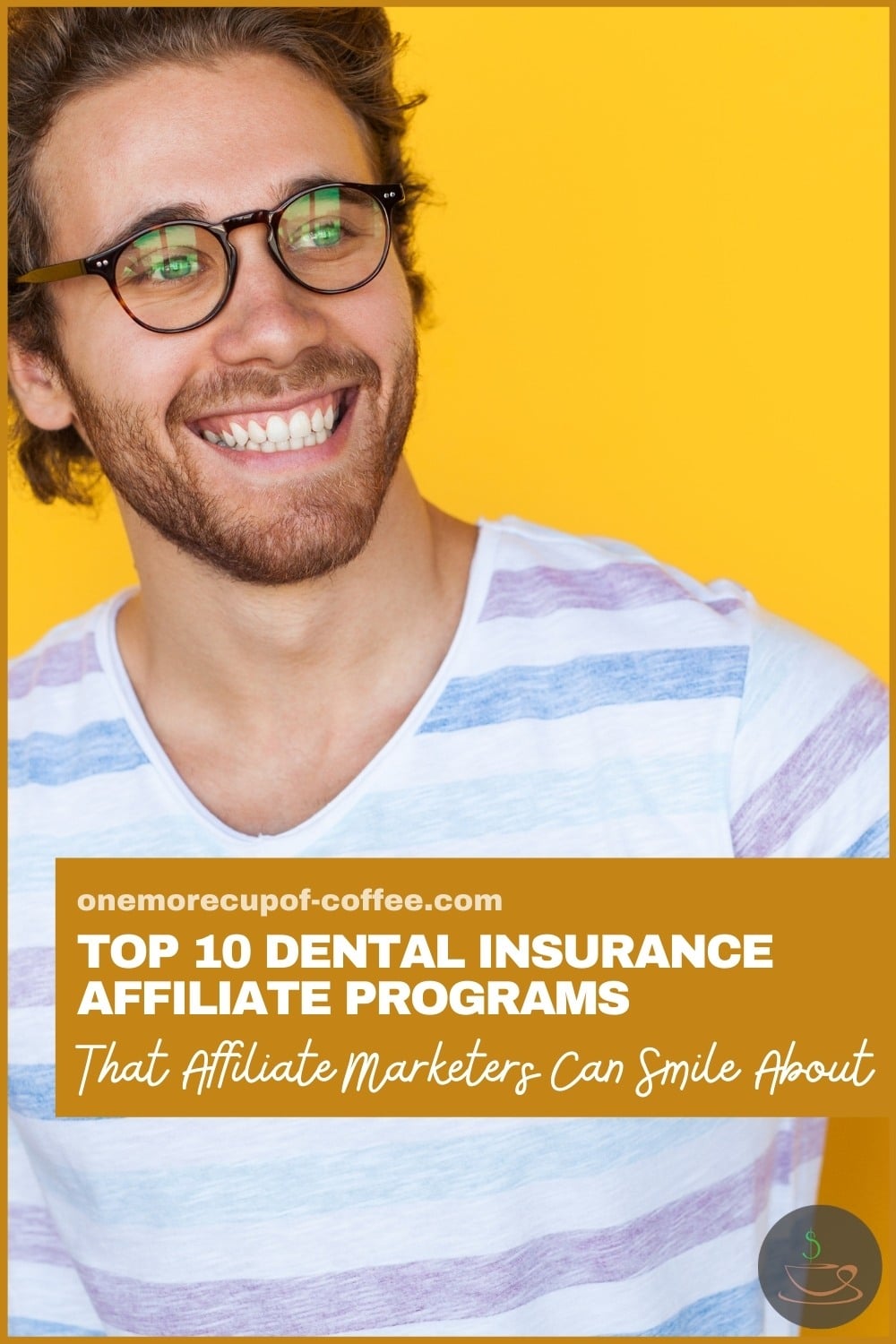 Getting into the dentist isn't always fun. According to one estimate, nearly 75% of American adults experience some sort of fear regarding visiting a dentist. The sounds of the drill, the aching jaws, and getting over those numbing shots can all be uncomfortable.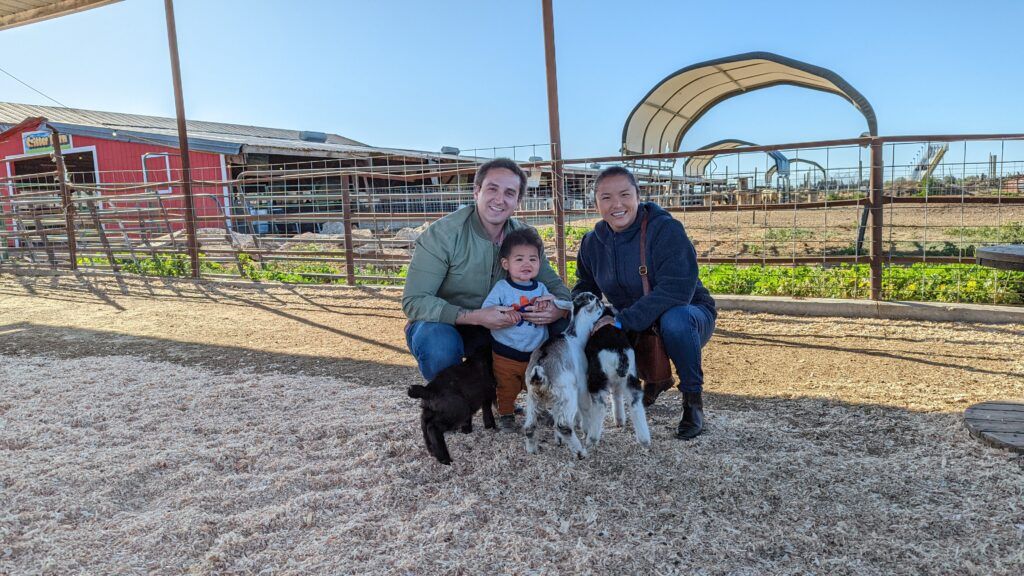 Are You Ready To Work Your Ass Off to Earn Your Lifestyle?
Are you tired of the daily grind? With a laptop and an internet connection I built a small website to generate income, and my life completely changed. Let me show you exactly how I've been doing it for more than 13 years.
It can be painful for consumer's wallets, too. Depending on the type, a filling ranges in cost from $50-$4,500. Tooth extractions can cost up to $650 each, and the cost for crowns can reach as high as $820 each.
Sometimes dental insurance and dental savings plans can help. Many dental insurance programs completely cover the cost of annual checkups and provide 50-80% coverage on other dental issues. Dental savings plans work much the same way by allowing customers to get discounted dental work while paying a monthly membership fee instead of a premium.
Many of these companies offer affiliate programs. If you're interested in promoting affordable dental experiences, read through this list of the top 10 dental insurance affiliate programs. I've included some dental savings plans in this list, as well, because they work the same way for consumers. At the end of this article, I'll share some ideas for affiliate marketing that could help get you started.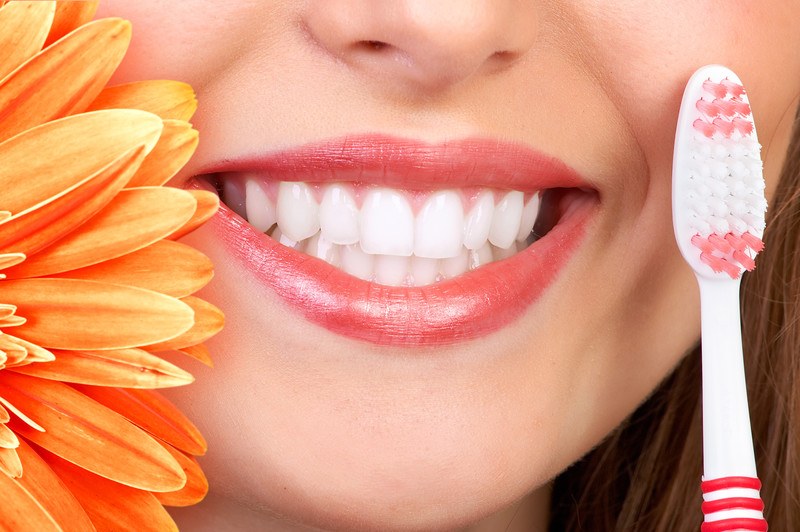 Dental Insurance Affiliate Programs
DentalSave
DentalPlans.com
Avia Dental Plan
eHealth Insurance
BoomCloud
HealthPlan One
Dental Departures
Careington
Spirit Dental And Vision
DentalInsurance.com
1. DentalSave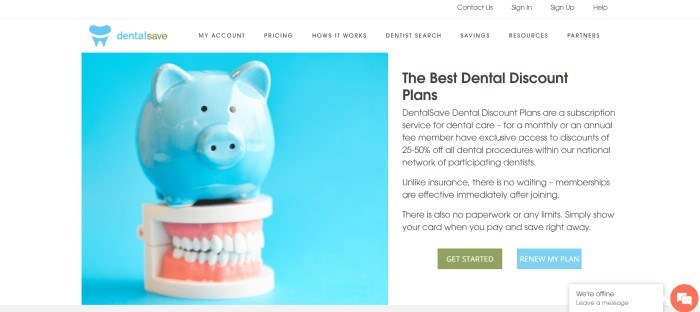 DentalSave is a dental savings plan with subscription options for individuals, couples, and families. Prices range from $99 per year for an individual plan to $199 per year for a family plan. The savings plan includes 20-50% savings on dental work, as well as discounts on prescription medications, vision savings, and hearing savings.
This plan works with around 10,000 DentalSave dentists and around 40,000 Careington dentists nationwide. There are no activation fees for this program, and customers can use their cards to start saving right away.
The website includes a search bar for finding local dentists who participate in the program, as well as pricing information on discounts for items like hearing aids, new glasses, and prescription drugs.
Why You Should Promote DentalSave: Besides offering discounts on dental work, this program offers significant savings to customers for hearing, vision, and prescription costs. Customers can cancel for a full refund within 30 days, so it can be a risk-free alternative to dental insurance or a great addition to it.
2. DentalPlans.com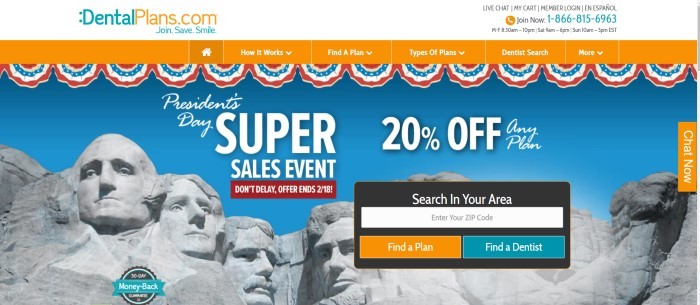 DentalPlans.com offers customers around 30 different dental savings plans to try, as well as information to help shoppers compare dental savings plans to dental insurance. Customers can search for participating dentists by state, and there's a link for businesses that want to offer a dental savings plan in addition to or in lieu of dental insurance.
This company can save customers 10-60% on their dental work through well-known companies such as Aetna, Careington, and Cigna. More than 100,000 dentists across the country accept savings plans from DentalPlans.com.
Why You Should Promote DentalPlans.com: The high number of participating dentists could help convert some shoppers. However, this company doesn't list its affiliate commission rate, so figuring out how much you could make with this company could be a little bit challenging.
3. Avia Dental Plan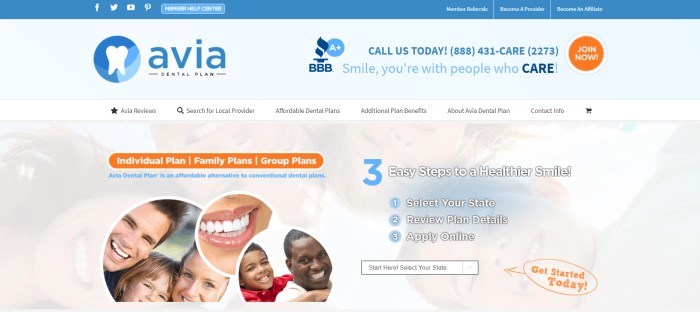 Avia Dental Plan offers dental savings plans in lieu of dental insurance. The company provides individual, family, and group plans, as well as special plans for seniors. Additional benefits for vision care and prescription medications are also available for Avia Dental Plan customers with no extra charge.
The company website has a landing page that allows customers to compare how much money dental patients can save with Avia Dental Plan on dental work such as oral exams, x-rays, fillings, crowns, and root canals. The plans are also affordable, with some plans priced as low as $8.25 per month.
Why You Should Promote Avia Dental Plan: The affordable cost per month could attract shoppers. The ability to see savings by procedures could ease the burden of budgeting dental work, which could also be a converting factor.
4. eHealth Insurance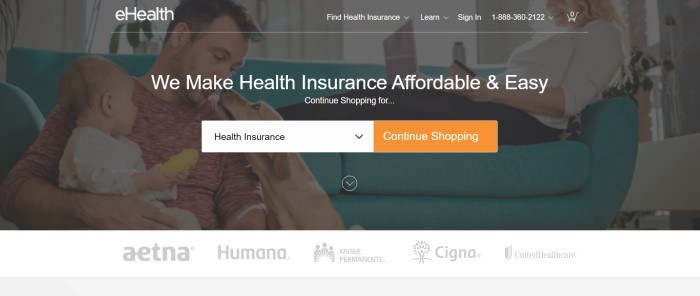 eHealth Insurance is a leading online provider of health insurance. Products include plans for families, individuals, short-term policies, group insurance, maternity plans, and Medicare. This company offers vision and dental insurance plans for both groups and family or individual plans, as well.
The insurance packages are provided through eHealth Insurance by large insurance businesses such as Cigna, Humana, Aetna, and Blue Cross Blue Shield. The affiliate program is administered by Commission Junction.
Why You Should Promote eHealth Insurance: Although the commission rate isn't listed on the affiliate landing page, there is an email contact for affiliate marketers who want to learn more. The ability to provide insurance plans from a variety of different insurance providers could be a selling point.
5. BoomCloud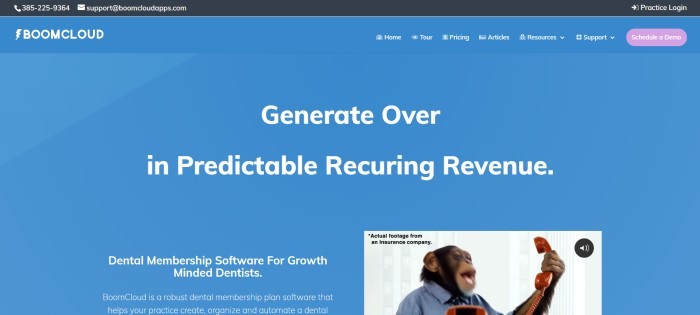 BoomCloud is an intriguing software solutions company designed to help dentists create a database of uninsured patients and reduce their dependence on dental insurance. Affiliates with this company are generally dental business consultants or other people who offer services that can positively impact the dental industry.
The product is a membership plan software to help dentists create, organize, and automize their patient's dental plans, with the goal of attracting and retaining uninsured dental patients. Dentists who are interested in scaling their practices this way can schedule a demo or request prices through the website.
Why You Should Promote BoomCloud: The high commission rate is wonderful, and this system is very specific, so it could fit well with some niche markets.
6. HealthPlan One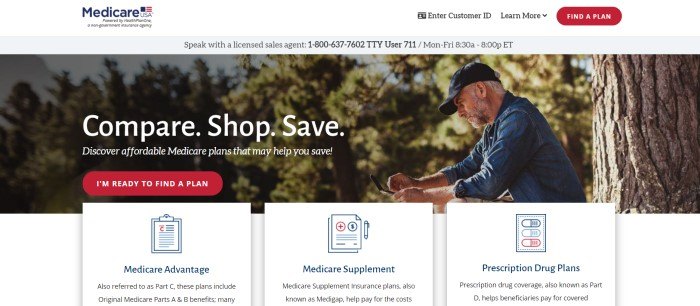 HealthPlan One offers health insurance products, Medicare, and dental insurance plans through large insurance companies such as Aetna, Cigna, Humana, Blue Cross Blue Shield, and United HealthOne. The plan costs are affordable with high approval ratings.
The affiliate website page doesn't include much information, but interested affiliate marketers are encouraged to get in touch with the company by email.
Why You Should Promote HealthPlan one: The wide range of insurance providers, affordable plans, and the ability to purchase other health insurance products in one spot could all be converting factors. However, without knowing a commission rate right away, it's difficult to get a feel for how much you could make with this company.
7. Dental Departures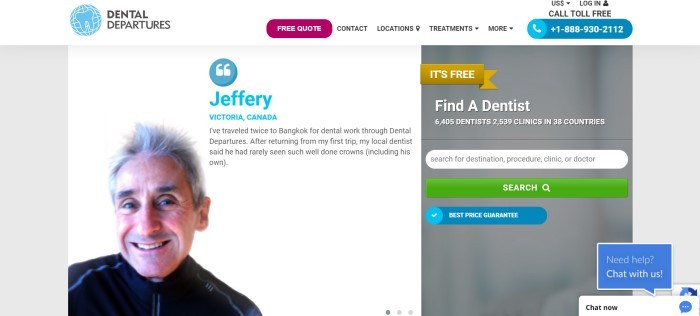 Dental Departures specializes in dental work that takes place in other countries. This company works with clinics in 37 different nations and saves patients up to 70% on their dental care.
Along with the dental services, Dental Departures offers a dental insurance plan to help make sure everything goes according to plan. This is a unique insurance plan that covers unforeseen events such as hospital stays, additional medical consultations and expenses, trip and accommodation expenses, and more.
Why You Should Promote Dental Departures: The insurance is designed to support dental work that happens outside of the United States, so it includes more than just dental coverage.
8. Careington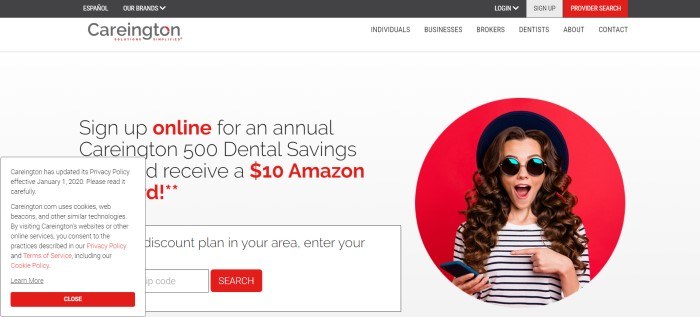 Careington is one of the largest providers in the nation for savings plans that cover issues such as dental work, vision, health, and lifestyle. The savings plans can be used for discounts on services and can augment or replace dental insurance policies.
Careington uses Commission Junction to administer its affiliate program. Affiliates are provided with banner ads, optimized website templates, and more.
Why You Should Promote Careington: This company offers quite a few different plans that affiliates can work with and market. However, affiliates have to contact the company to ask about the commission rate.
9. Spirit Dental And Vision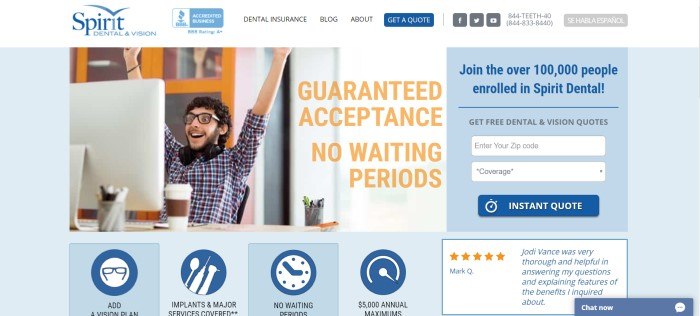 Spirit Dental And Vision provides affordable dental and vision insurance with no waiting periods. The plans cover everything from children's orthodontics to major dental care needs.
Information on the affiliate program is sparse. At the end of the 'Get a Quote' landing page, there is a section specifically for dentists who might also like to be affiliate marketers with Spirit Dental and Vision.
This information includes a link to a product flyer as well as an invitation to join the Ameritas network of dental work providers and contact information for joining the affiliate program. Clicking on the link to the affiliate program pulls up a contact form that interested affiliates can use to ask questions and initiate the conversation.
Why You Should Promote Spirit Dental And Vision: This company focuses on obtaining affiliate marketers who are also dentists or own dental practices, so it may be difficult to get started.
10. DentalInsurance.com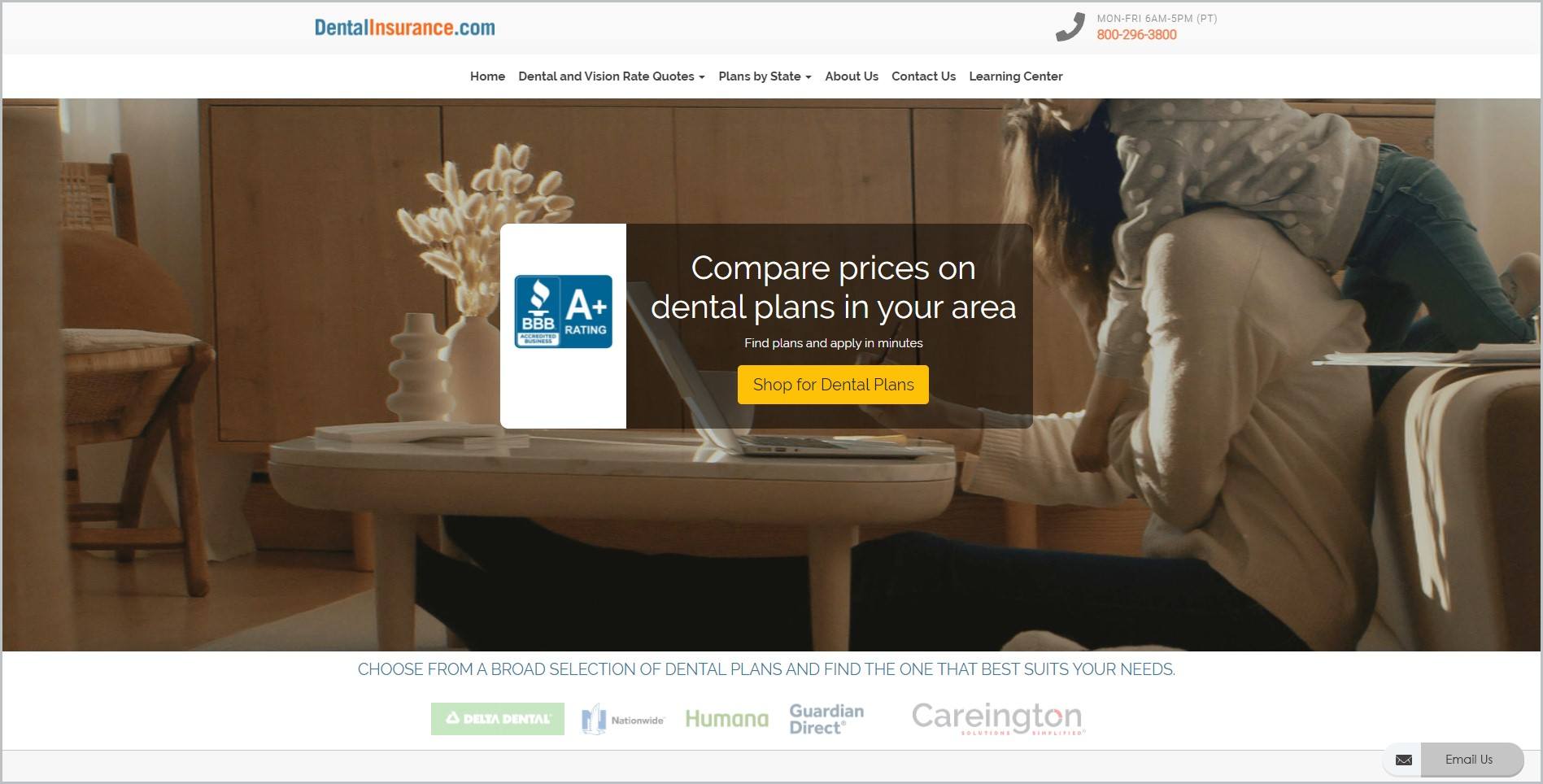 DentalInsurance.com offers families, individuals, as well as business owners, the easiest way to compare and purchase affordable, quality dental insurance and discount dental plans. Their goal is to provide the broadest selection of options, the most complete consumer information, and the highest quality customer service.
DentalInsurance.com was the first to enable individuals to both comparison-shop and apply for dental insurance and discount dental plans directly online via the Internet. They are a wholly-owned subsidiary of Kelsey National Corporation.
Why You Should Promote DentalInsurance.com: They compare dental insurance plans from leading insurance carriers around the country. They will help in establishing new dental coverage or enhancing existing benefits.
Affiliate Website Ideas
Now that you've read about the top 10 dental insurance affiliate programs, do you know how you'll use them in your entrepreneurial efforts? I have some ideas to share with you that you can use as springboards for your own website-building strategies.
One idea is a website that focuses on helping children develop good habits. A website like this one could promote dental insurance and savings plans to help children with their dental hygiene as well as programs for kids' savings accounts. Child-friendly habit mobile apps (and the tablets or other devices to run them), reading programs, and outdoor sports equipment for families could also be featured here.
Though it might seem too narrow at first, you could also build a website just about teeth whitening specifically. It's a super narrow topic, but I think keeping teeth white or whitening them after years of coffee and wine stains could provide lots of opportunity for engaging content. Plus, this would work well with visual social media platforms like Instagram or Pinterest.
Another idea is a website directed at Human Resource professionals and company executives, with the angle of giving them as many benefit options as possible for their employees. The dental insurance and savings plans could be promoted here, as well as health insurance, vision insurance, and accident insurance. A website like this one could get really creative and promote ideas like fitness rooms, salad bar equipment for daily salad bar lunches, company-branded apparel, and movie tickets for employees and their families.
Boost Your Affiliate Earnings
These 10 affiliate programs are just the beginning of what's possible. There are hundreds of ways to earn affiliate commissions with your website, including product reviews, top 10 lists, how-to guides, and more
But what about traffic and conversions? How do you make sure your affiliate links get clicked?
I used the affiliate training here to turn my brand new website into a six-figure income generator in less than two years. Build a business, not just a pocket-money side project!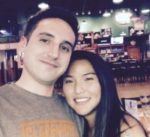 Nathaniell
What's up ladies and dudes! Great to finally meet you, and I hope you enjoyed this post. My name is Nathaniell and I'm the owner of One More Cup of Coffee. I started my first online business in 2010 promoting computer software and now I help newbies start their own businesses. Sign up for my #1 recommended training course and learn how to start your business for FREE!