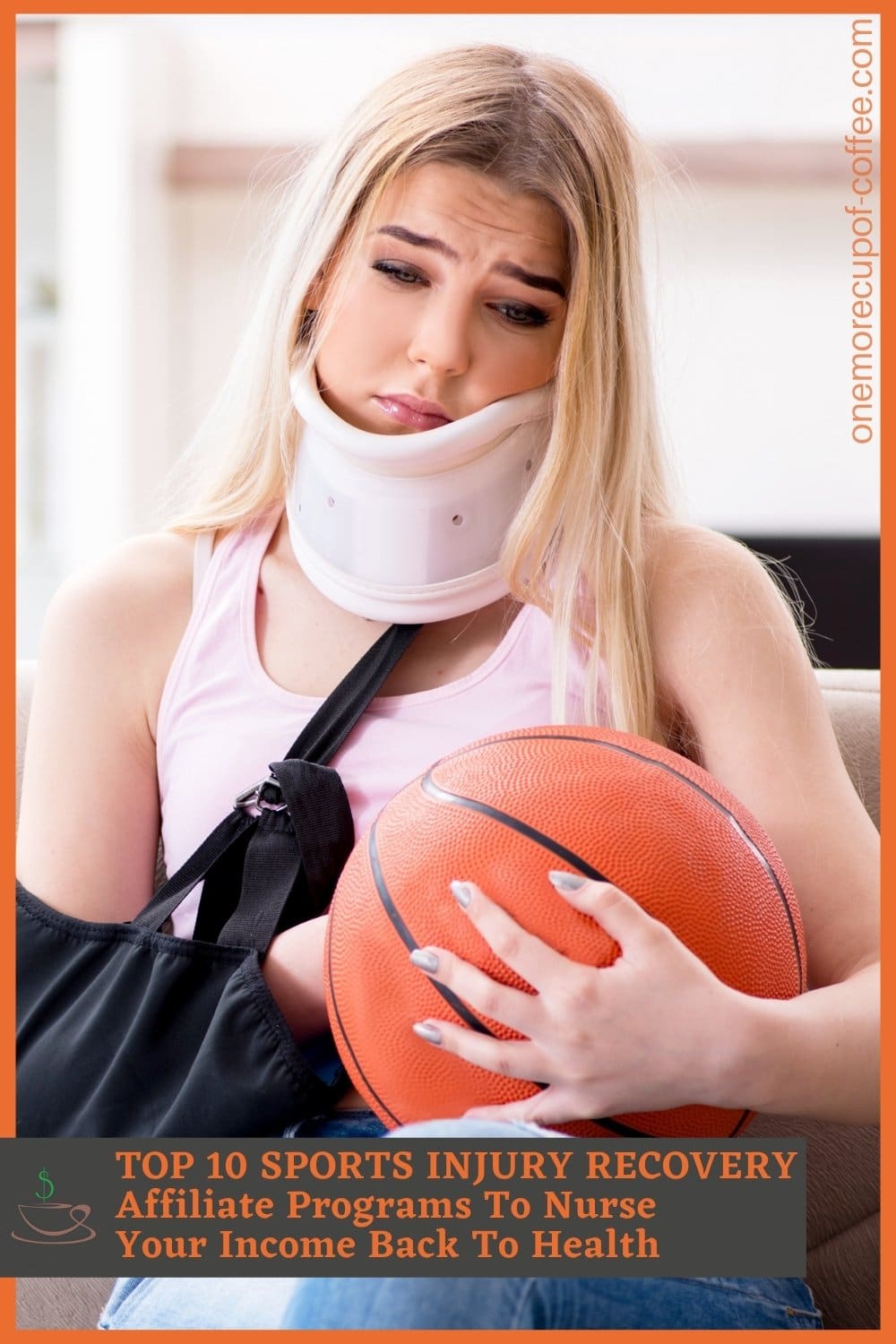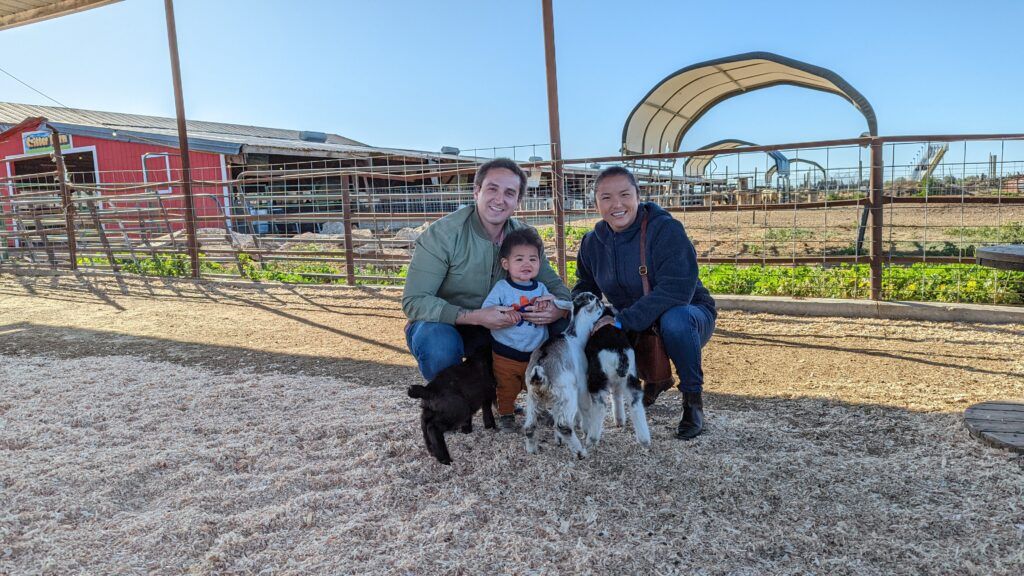 Are You Ready To Work Your Ass Off to Earn Your Lifestyle?
Are you tired of the daily grind? With a laptop and an internet connection I built a small website to generate income, and my life completely changed. Let me show you exactly how I've been doing it for more than 13 years.
A few years ago, I was playing soccer with some friends when I accidentally stepped on the ball instead of kicking it. My foot rolled. Something in my ankle popped audibly as I fell, and my foot twisted all the way under me. This resulted in a terrible sprain that took me months to recover from. My rehabilitation included hot pads, cold packs, crutches, and a solid ankle brace while I healed.
There are around 8.6 million sports-related and recreation-related injuries in the United States every year. Customers who have never experienced a sports injury before may not know where to look for items like ankle braces or bandages. Affiliate marketers can connect them with companies that can meet their needs. The best sports injury recovery affiliate programs include everything from physical therapy tools and medical supplies to gentle exercise options that can rebuild strength, balance, and flexibility.
If you're interested in this market, read through the following list of the top 10 sports injury recovery affiliate programs. At the end of this article, I'll share some ways you can use these programs on a sports blog to make money.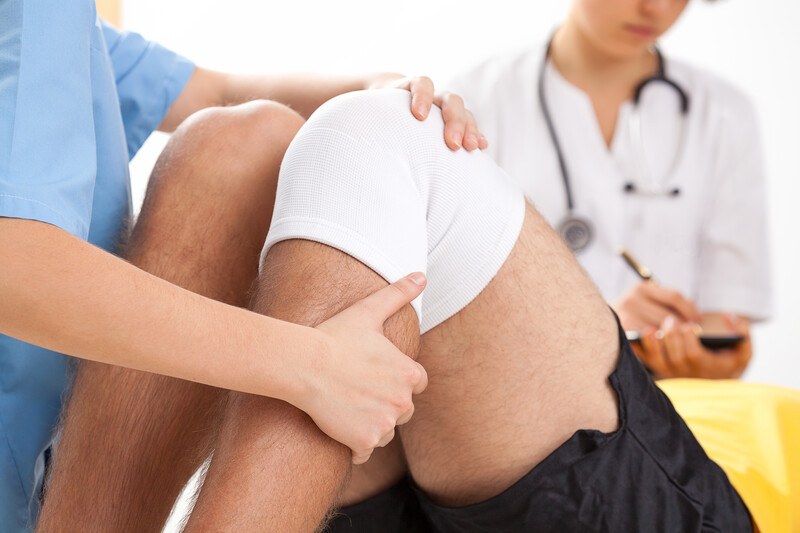 Sports Injury Recovery Affiliate Programs
Recovery for Athletes
Health Products For You
PlayMakar
AvaCare Medical
Denver Myofascial Release
Vivomed
Home Health Physical Therapy
Simple Mobility Tools
Perform Better
Medical Supply Depot
1. Recovery for Athletes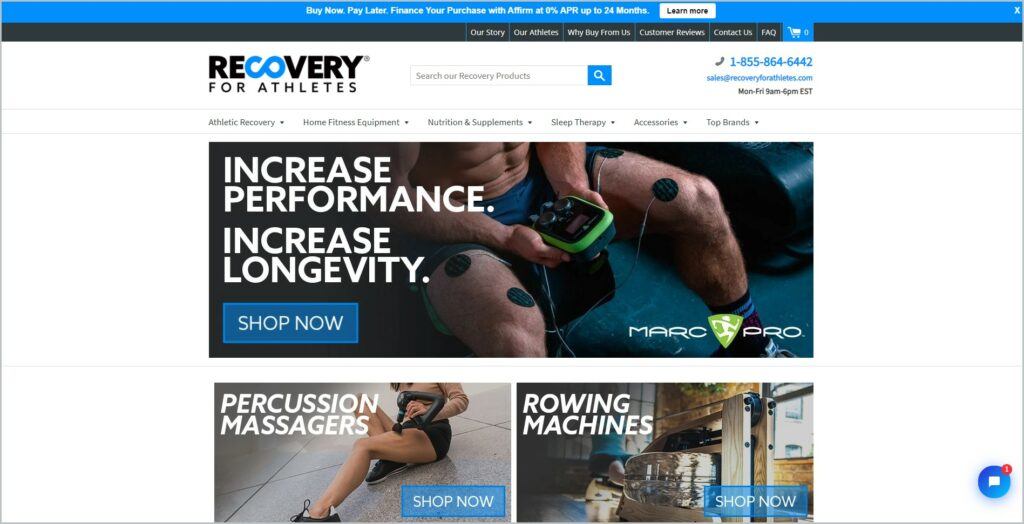 Recovery for Athletes offers products that are tried and tested by their professional athletes to ensure customers are getting products that they can vouch for. Their athletic recovery tools include blood flow restriction tools, cold compression therapy, ice therapy, muscle stimulators, myofascial tools, and more. Aside from these recovery tools, they also carry home fitness equipment, nutrition and supplements, sleep therapy, and accessories.
Recovery for Athletes have relationships with the best brands in the recovery industry that's why they are able to provide a unique range of high-end products that cannot be found anywhere else. This is also why they can offer the best prices anywhere on the market. They also offer a Price Match Guarantee – if you found a cheaper price, just let them know and they will refund the difference.
Why You Should Promote Recovery for Athletes: Every product is covered under the manufacturer's warranty. There is also a 30-day return policy on almost all products. They pride themselves on putting the customer first and providing world-class customer support.
2. Health Products For You

Health Products For You is an online health product store that carries items ranging from respiratory care to special needs. People who have sports injuries can browse through the wound care section (or even the wheelchair section) for products to support their healing. They can also use the 'Shop by need' tab to find products related to sports injury prevention, knee pain, back pain, athlete's foot, and more.
This company runs its affiliate program through ShareASale. The base commission rate is 5%, but it can go as high as 10%. The average order value is more than $100, and affiliates are provided with a full product data feed and regular promotions.
Why You Should Promote Healthy Products For You: This store has a great selection of sports injury recovery resources, sports injury prevention products, and other healthcare items. The commission rate is decent, too.
3. PlayMakar

PlayMakar sells muscle stimulators and accessories to help athletes and athletes recovering from sports injuries to tone their muscles. It can be particularly helpful for customers who need to strengthen muscles following a period of immobilization and rest due to an injury. Products come with a two-year warranty, and customers can get free shipping.
The commission rate is interesting because it's split up over time and pays affiliate marketers for repeat customers. During the first 90 days, affiliates make 15% commissions for sales made by new referrals. If those referrals purchase more products within 180 days, affiliates earn a 10% repeat-customer commission. PlayMakar offers affiliate achievement awards and bonuses, too.
Why You Should Promote PlayMakar: The commission rate and cookie length are great, and affiliates can make some money on repeat customer purchases. The free shipping and two-year warranty are great perks for customers.
4. AvaCare Medical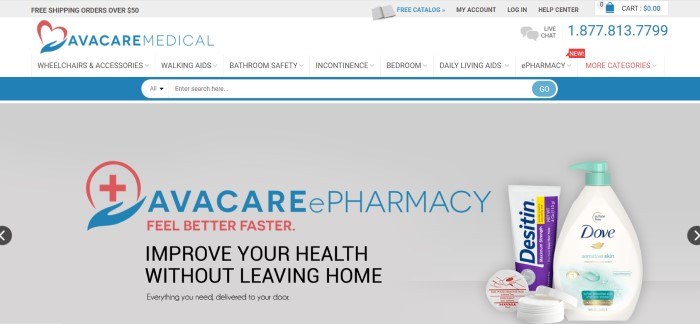 AvaCare Medical carries professional medical supplies for use at home. While the target demographic is seniors, their families, caregivers, and the medical profession, many of the products sold here can be useful for customers who are recovering from sports injuries.
For example, the ePharmacy section carries braces and supports, first aid kits, and sports nutrition supplements. The website also has a section for wheelchairs and for walking aids like crutches, and there's a small section for wound care.
The store carries a total of 20,000 products, and affiliate marketers can make money from every order, no matter which products referrals purchase. Affiliates have access to frequent promo deals and discounts that they can share. The affiliate program is administered by CJ.
Why You Should promote AvaCare Medical: AvaCare Medical has a huge inventory of products that can help customers with sports injuries take care of themselves.
5. Denver Myofascial Release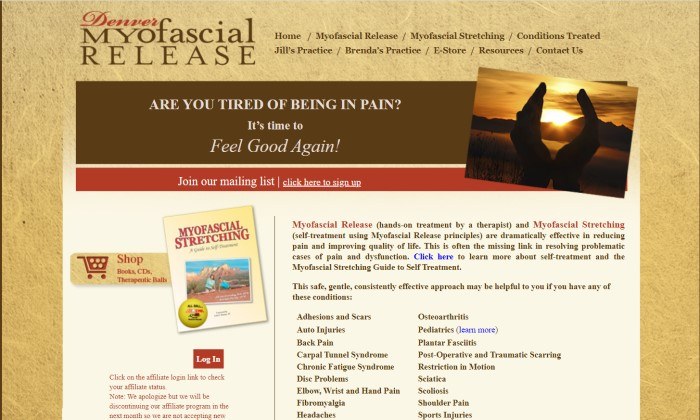 Denver Myofascial Release is a company based on helping people avoid injuries or re-injuring themselves by stretching the myofascial connective tissue that helps bodies absorb impact. Sports injuries and work injuries are just a few of the conditions that can be treated with myofascial release.
The website contains a resources section, an e-store, information about some of the practitioners, and information about how myofascial release works.
The company also offers an e-book on myofascial stretching, and this is the primary product that affiliate marketers can promote to earn commissions. They can also promote therapy balls that are used in the myofascial release process. The 20% commission rate works out to be $6 for the book.
Why You Should Promote Denver Myofascial Release: Denver Myofascial Release provides helpful information about myofascial stretching, as well as practical applications that can relieve pain and help customers heal in a gentle, non-invasive way.
6. Vivomed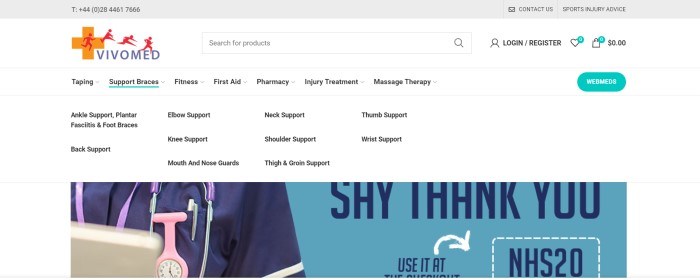 Vivomed is the largest sports medicine store in the United Kingdom and Ireland. The company primarily sells items like braces, first aid supplies, and kinesiology tape. This company has sold more than 50,000 rolls of Levotape kinesiology tape in the UK alone.
Customers in the UK and Ireland can get free shipping on orders of more than £60.
The affiliate program is administered through AWIN. Vivomed provides affiliate marketers with banners and text links that they can use to promote the products.
Why You Should Promote Vivomed: This company is great for affiliates living in the UK or Ireland or those who market in those areas. Free shipping could be a converting factor.
7. Home Health Physical Therapy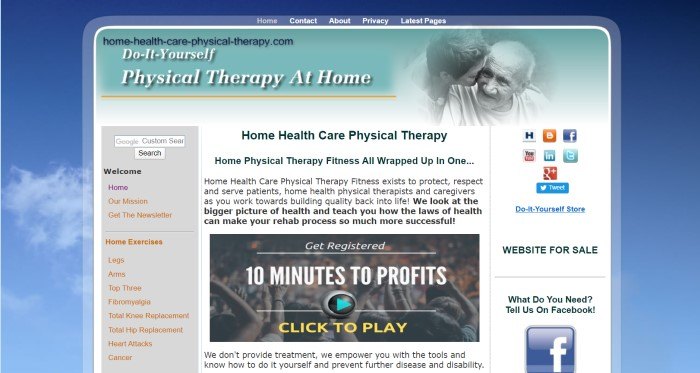 Home Health Physical Therapy provides information on how physical therapy at home can work. The company was started by a physical therapist and includes several eBooks with titles such as 'Wheelchair Freedom', 'Straight Leg Raises: The Key To Your Rehab Success', and 'Expect it! Ten Things To Expect From Your Home Health Physical Therapist.'
While the information could be helpful for seniors, it can also be applicable for athletes with severe injuries that they need physical therapy for.
The affiliate program is administered by eJunkie. The 50% affiliate commission works out to be $3.50-$15 for each eBook sold.
Why You Should Promote Home Health Physical Therapy: This company was started by a physical therapist performing physical therapy to customers at home, so the information is accurate. The 50% commission rate is great, too.
8. Simple Mobility Tools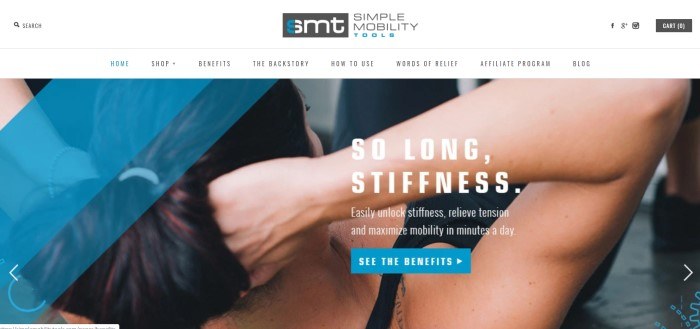 Simple Mobility Tools sells a line of products called Mobilizers that are designed to help people expand their range of motion, specifically in their thoracic spine. People with a good range of motion are able to avoid sports injuries in the neck, lower back, and other joints such as the knees.
The Mobilizer was designed by an avid athlete who suffered from pain and stiffness in his back. The founder of this company shared his prototypes with others and discovered that the Mobilizer works to isolate and loosen muscles in every part of the body.
Simple Mobility Tools runs its affiliate program through Leaddyno.
Why You Should Promote Simple Mobility Tools: The Mobilizer tools are effective at releasing pain, including muscle tightness from sports injuries, and extending the range of motion to help customers prevent new sports injuries.
9. Perform Better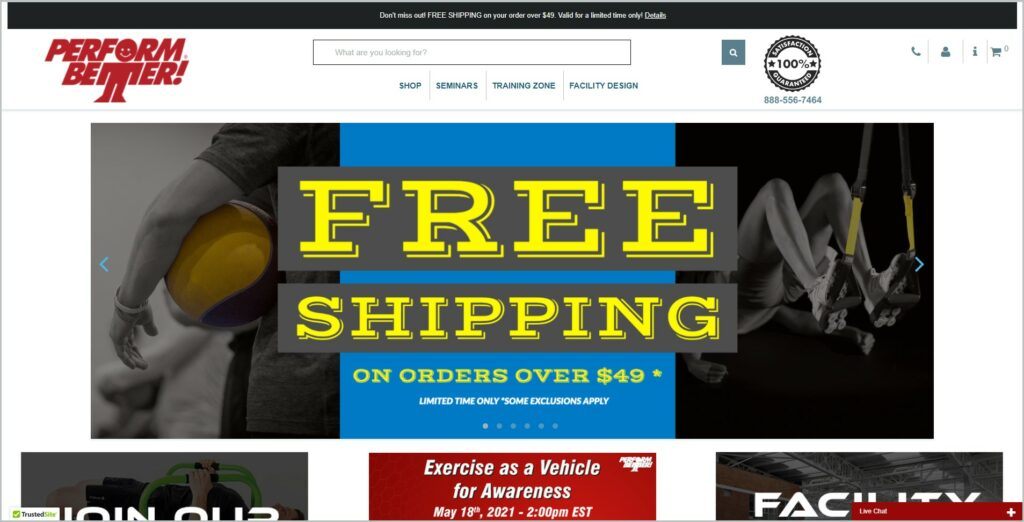 Perform Better is the expert in functional training and rehabilitations, they offer functional training equipment, training info, as well as seminars. They specialize in high-quality gym and fitness equipment, as well as the best flexibility, stretching, and recovery equipment
Their recovery equipment includes an extensive selection of foam rollers for stretching and myofascial release, a variety of massage tools, stretching helpers, and range of motion equipment.
Perform Better has partnered with CJ Affiliates to administer their affiliate programs. Affiliates can earn a 10% commission on sales made within 60 days of the customer's initial contact.
Why You Should Promote Perform Better: They continuously seek the best and most recent rehabilitation and recovery information and equipment to update professionals, athletes, and fitness enthusiasts.
10. Medical Supply Depot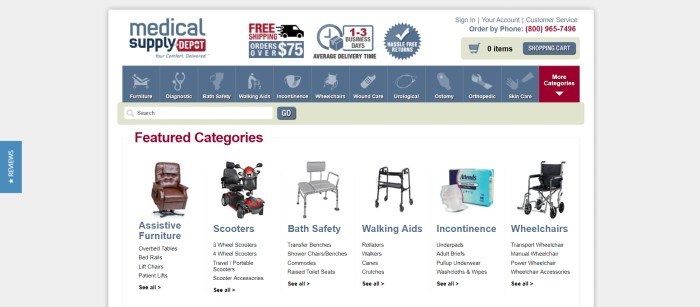 Medical Supply Depot is a healthcare supply company that carries products for pain management, respiratory care, walking aids, and a wide variety of other home medical needs. This company seeks to provide a large selection of medical supplies as affordably as possible.
As far as sports injury recovery is concerned, this company provides orthopedic supplies such as arm slings, specialized pillows, shoe inserts, and physiotherapy tools. Customers can also browse through categories such as wound care to find other helpful items.
The base commission rate starts at 7.5% for affiliate marketers who refer up to $2,500 in sales in a month. Affiliates who refer sales between $2,501-$7,499 earn a commission of 8.5%. The 9.5% commission rate is reserved for affiliate marketers who bring in $7,500 or more in sales each month.
Why You Should Promote Medical Supply Depot: The tiered commission rate is nice, and the wide selection of medical supplies could increase shopping cart totals.
Affiliate Website Ideas
Now that you've read through this list of the top ten sports injury recovery affiliate programs, it's time to look at how to put them to work for you. Although the programs are varied, they can fit surprisingly well with a variety of websites.
For example, a website centered on children's soccer could promote braces, bandages, and medical supplies. Team apparel, cleats, duffle bags, and even soccer-related video games (and the game systems needed to play them) can be featured here, too.
Another idea is a website about beginning exercise programs for the overweight or for people who have been sidelined from their favorite sports because of injuries. Physical therapy tools and tips can be promoted here. This is also a good website for featuring items like at-home gyms, video workouts, and online nutrition clubs.
A final idea is a website for martial arts. Besides sports injury recovery products, a website like this one could promote sparring gear, kicking targets, and uniforms.
Boost Your Affiliate Earnings
These 10 affiliate programs are just the beginning of what's possible. There are hundreds of ways to earn affiliate commissions with your website, including product reviews, top 10 lists, how-to guides, and more
But what about traffic and conversions? How do you make sure your affiliate links get clicked?
I used the affiliate training here to turn my brand new website into a six-figure income generator in less than two years. Build a business, not just a pocket-money side project!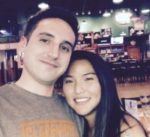 Nathaniell
What's up ladies and dudes! Great to finally meet you, and I hope you enjoyed this post. My name is Nathaniell and I'm the owner of One More Cup of Coffee. I started my first online business in 2010 promoting computer software and now I help newbies start their own businesses. Sign up for my #1 recommended training course and learn how to start your business for FREE!