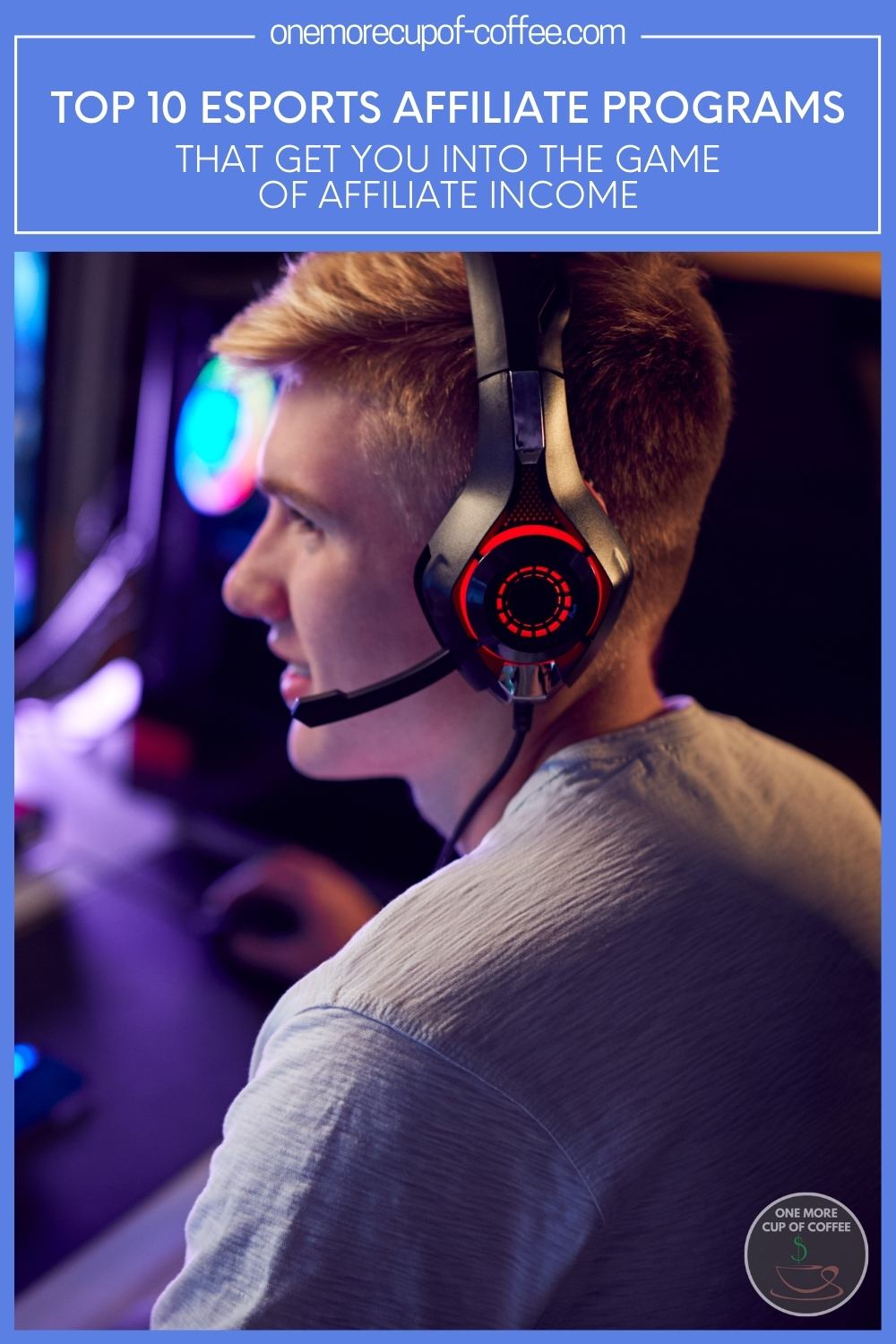 If you played soccer as a kid, or if you were on a swim team, or participated in high school football or basketball, you probably understand the thrill of team sports. A good competition can be exhilarating, and winning—especially when it's a tough challenge—provides an endorphin boost like no other.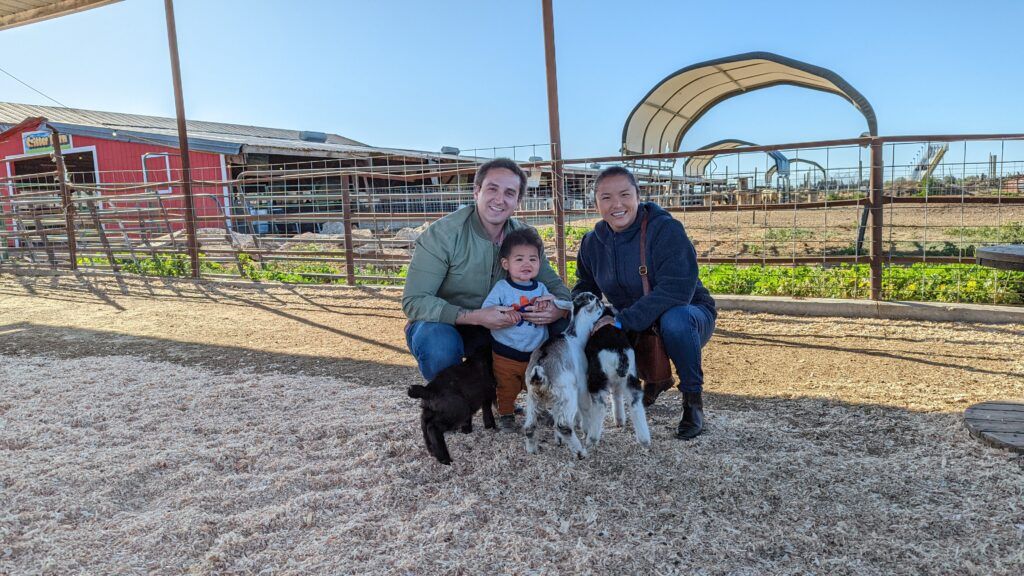 Are You Ready To Work Your Ass Off to Earn Your Lifestyle?
Are you tired of the daily grind? With a laptop and an internet connection I built a small website to generate income, and my life completely changed. Let me show you exactly how I've been doing it for more than 13 years.
Esports is just a modern version of that. Although esports is played behind a screen rather than out on a field, they can provide feel-good boosts, a sense of common purpose, and in some cases, a way to make a living. Esports is predicted to grow to 454 million viewers and bring in revenues of more than $1 billion.
It's certainly possible to make money as professional gamers, but you can cash in on this trend without being an elite player. Affiliate marketers can make money, too, as they connect esports enthusiasts with gaming outlets, organizations, and supplies that customers need and want.
If it sounds interesting, read through the following list of the top 10 esports affiliate programs. The would be great for monetizing a sports blog or a gaming blog.
Esports Affiliate Programs
GameStop
Epulze
DX Racer
ULT Esports
Rivalry
Humble Bundle
Go2Games
Razer
NVIDIA
Microsoft
1. GameStop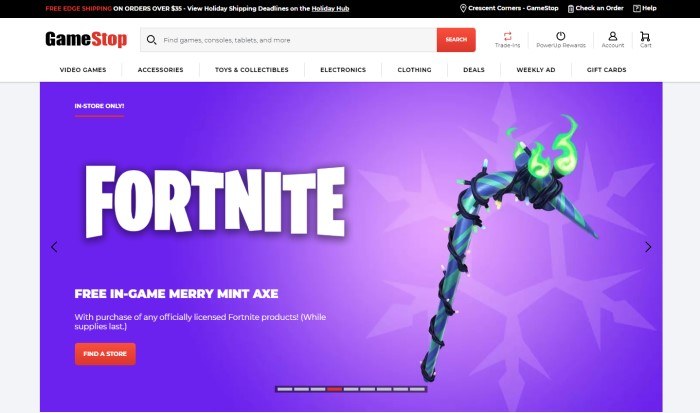 GameStop is a well-known gaming store that sells video games, electronics, accessories, toys, collectibles, and fan-based clothing. There are more than 4,000 brick-and-mortar stores, and the company has a strong online presence.
Affiliate marketers have a lot of choices about which items to link to. Affiliates can promote individual games, gaming systems, and accessories as well as bestseller lists, bargain bins, and gaming platforms.
Why You Should Promote GameStop: This company's great reputation as a leading game store could attract customers and bump up shopping cart totals. However, the commission rate and cookie length aren't listed, so affiliate marketers have to do some digging to see whether GameStop really is a good fit for their marketing strategies.
2. Epulze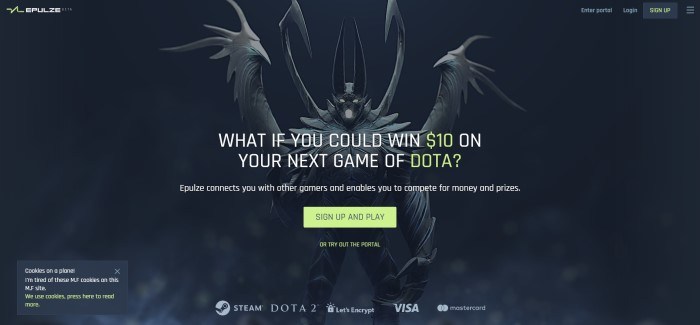 'Epulze' is an online gaming platform specifically for esports that connects players and allows them to compete for money. Customers can try out the portal before they commit to the platform, or sign up right away. Games include quick matches, challenges, tournaments, and leagues, so there are a lot of playing options, and players from all over the world can connect here. This company has a specific focus on the battle arena game Dota 2.
Epulze accounts are free to set up. The company charges a 10% service fee for playing a game on the platform.
One nice thing about Epulze (besides the fact that it's dedicated to esports) is that it allows players to compete with digital emeralds until they're comfortable playing with real money.
Why You Should Promote Epulze: For some people, gaming is more fun when competing with real money, but it's also nice that the company allows customers to try the games out with fake currency. The base commission rate for affiliate marketers is nice, too.
3. DX Racer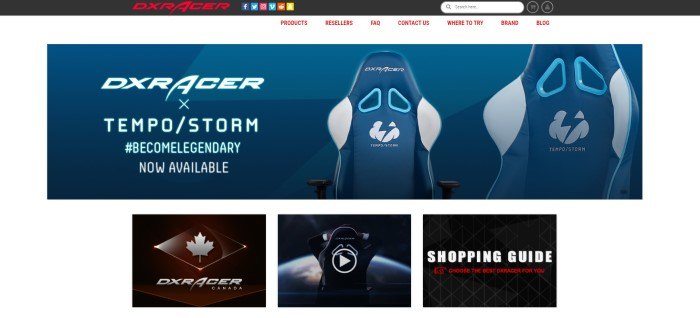 DX Racer specializes in gaming chairs, computer desks, footrests, gear, and other accessories that make professional gaming easier and more fun. For the sale of gaming chairs, affiliate marketers can earn commissions of up to 12%.
The affiliate structure is a little bit tight, though. Affiliates can only be from the United States or Canada, and each applicant is considered on a case-by-case basis. It can take 2-4 weeks to hear back from the company to see if you will be accepted as an affiliate marketer. Most affiliates have 100,000 or more subscribers on their YouTube Channels, 8,000 plus followers on Instagram, and a significant number of followers on other social media sites, as well.
Why You Should Promote DX Racer: The gaming chairs can cost $250 or more (one is priced close to $600), and that could bump up affiliate earnings. However, the requirements for becoming an affiliate marketer with this company could be too strict for many people to be able to participate.
4. ULT Esports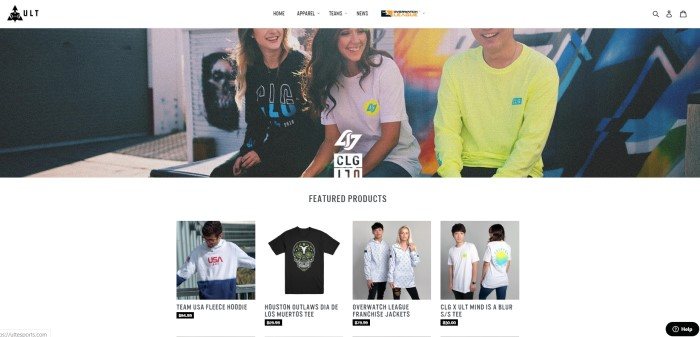 Ult is an apparel shop that features esports teams and leagues from across the world. Customers can shop by Atlantic or Pacific division, by specific teams, or by the types of products they want to wear.
This company carries a wide range of apparel, including hats, jackets, hoodies, tank tops, long and short-sleeved tees, leggings, and socks. The price per item is a little on the spendy side, which can work well for an affiliate marketer's income potential. For example, and Enunited ball cap costs $25, while a Seoul Dynasty hooded fleece pullover is priced at around $70.
Affiliate rewards start at $75 in store credit for $500 of sales. There are eight levels of rewards that affiliates can earn.
Why You Should Promote ULT Esports: Because these products are so specialized, they could fit well with niche marketing efforts. The commission rate is good and the slightly higher item prices could bump up shopping cart totals, as well.
5. Rivalry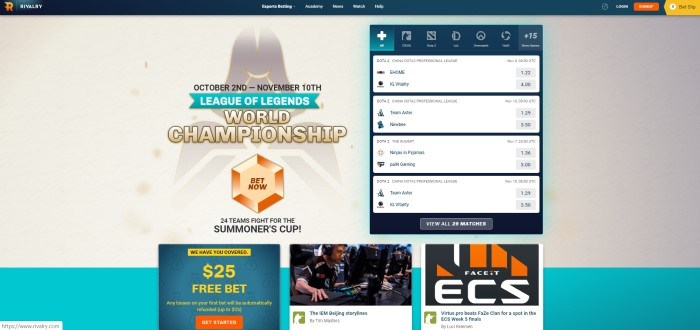 'Rivalry' is an esports betting platform that allows people to play for money in matches and tournaments. The games include Dota 2, Street Fighter, NBA 2K, WoW, Halo, FIFA, Rocket League, and other well-known games. Customers place bets on the games with different odds, and they can watch the game's progress live through the website links.
New affiliates are generally approved within 2-3 business days. They earn commissions on real-money bets that their referrals place on the games.
Why You Should Promote Rivalry: This company has plenty of games going on that customers can choose to bet on and watch. The 30% commission rate is great, too.
6. Humble Bundle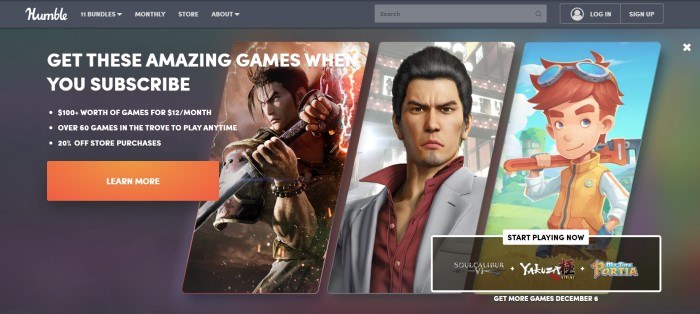 Humble Bundle is an online storefront for digital games. These games can be purchased in bundles, with portions of the cost going to the company, to the game developers, and to charities.
The company also offers a Humble Choice monthly subscription plan, which allows gamers to see what games are available each month and keep the ones they like best. Humble Choice has a subscription level that costs around $5 per month, a basic subscription that costs $15 per month, and a premium subscription that costs around $20 per month.
Humble Bundle has a large selection of games to choose from, including esports items such as Sportsparty, Sportsfriends, and Total Esports Action Manager.
Why You Should Promote Humble Bundle: This company donates to charity and supports indie developers, which could convert some shoppers. The nice selection of games could be a selling point, too, and the ability for affiliate marketers to earn commissions on both new subscribers and on game sales is great.
7. Go2Games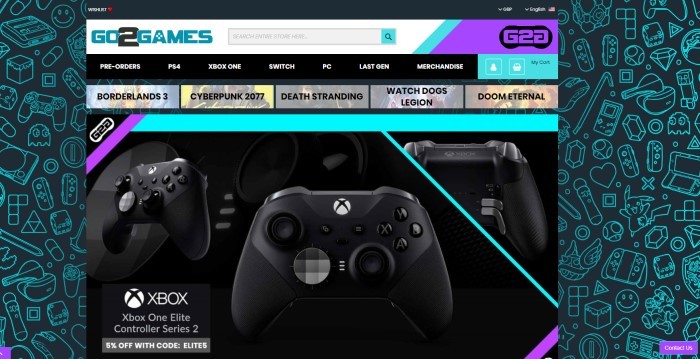 Go2Games sells games, consoles, and other gaming equipment. Customers can browse through sections specifically for the Nintendo Switch, Xbox One, PS4, and PC, as well as last generation models such as PS3, Xbox 360, Wii, and WiiU.
This store also sells clothing, electronics, and toys, and customers can pre-order new games and equipment. All games are shipped for free in the UK, and 99% of the orders are shipped on the same day they're ordered.
The affiliate commission is split up by product type. Affiliates can earn a 1% commission on hardware and accessories, 3% on software, and 5% on pre-owned or fully-refurbished goods.
Why You Should Promote Go2Games: This store is a nice all-in-one shop for a variety of different gaming platforms, which could bump up shopping cart totals from customers who play esports games on more than one system.
8. Razer

Razer sells gaming hardware, software, and systems, and it also has an Esports section. Products range from laptops and mice to game boosters.
The esports information can be found under the community section of the website. Razer has its own esports team, but customers can also find out about Seoul Dynasty, Alliance, Mouse Sports, Panda Cute, LA Valiant, and other esports teams on the website.
Razer's affiliate program is being administered by FlexOffers.
Why You Should promote Razer: The products are made for professional gamers, and their price tags reflect that. The higher prices, along with the nice 20% commission rate, could mean higher earnings for some affiliate marketers.
9. NVIDIA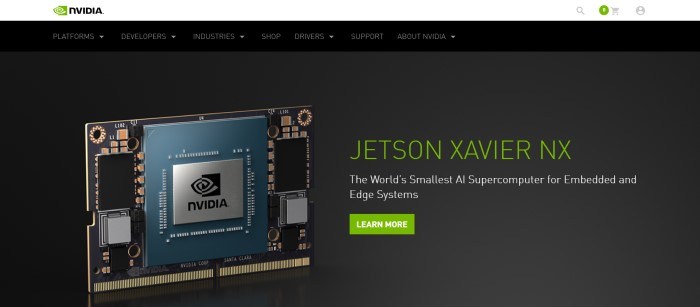 NVIDIA is a technology company that created Graphics Processing Units, or GPUs. In esports and other gaming, GPUs speed up the creation of images, which can give gamers an edge over competitors with slower equipment. This technology is also used in self-driving cars, design and visualization, and high-performance computing.
The NVIDIA store carries graphics cards, media streamers, and similar products, as well as NVIDIA apparel for fans. Many of the items are expensive, with some of the graphics cards priced at more than $1,000.
Why You Should Promote NVIDIA: The relatively steep price of the products in the NVIDIA store could mean higher affiliate earnings. However, the commission rate isn't listed, so potential affiliate marketers have to contact the company to find out how much they could actually make with this company.
10. Microsoft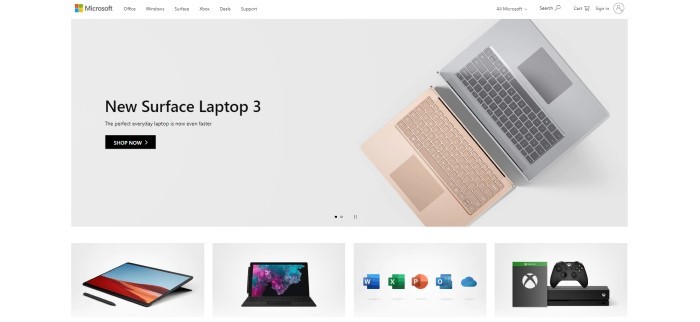 Microsoft is a well-known technology company that hosts esports tournaments through its partner, Cloud 9. While the gaming takes place on the Cloud9 platform, Microsoft is behind the scenes creating software patches, mining data, and doing other high-technology work that makes competitive gaming better for users.
The affiliate program is currently based on products sold in Microsoft or Windows stores. Affiliate marketers can link to specific products, including Office, Surface, Xbox, and PCs. The commission system is separated by product category. Most Microsoft products have a 1-2% commission rate. Affiliate marketers can earn a 7% commission on Xbox games, movies, and TV products.
For more information about Microsoft's affiliate program, you can check out my review and see how you can make money with this well-known company.
Why You Should Promote Microsoft: Microsoft's great reputation could convert some shoppers. Where esports are concerned, the partnership with Cloud9 is still fairly new, and it will be interesting to see where it goes.
Affiliate Website Ideas
Now that you've read about the top 10 esports affiliate programs, it's time to start thinking about how to apply some of them in your niche marketing efforts. Do you know where to start? I'll share some ideas here that you can use to generate more of your own ideas.
For example, a website that focuses on earning money playing video games at home could feature esports, specific game guides, gaming equipment and hardware, and team apparel. It could also include gambling websites, loans for small home-based businesses, and marketing software.
What about a website that zeroes in on connecting with other people online? Besides esports gaming platforms, a website like this could include electronic invitation companies like Evite, dating websites, and subscription-based websites such as LinkedIn Learning that allow members to share information about specific topics with each other. It could also carry hardware such as laptops or mobile devices.
If you plan on doing esports or something video game-related, I've got a whole page breaking down some potential video game niche website ideas and ways to monetize it.
Boost Your Affiliate Earnings
These 10 affiliate programs are just the beginning of what's possible. There are hundreds of ways to earn affiliate commissions with your website, including product reviews, top 10 lists, how-to guides, and more
But what about traffic and conversions? How do you make sure your affiliate links get clicked?
I used the affiliate training here to turn my brand new website into a six-figure income generator in less than two years. Build a business, not just a pocket-money side project!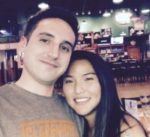 Nathaniell
What's up ladies and dudes! Great to finally meet you, and I hope you enjoyed this post. My name is Nathaniell and I'm the owner of One More Cup of Coffee. I started my first online business in 2010 promoting computer software and now I help newbies start their own businesses. Sign up for my #1 recommended training course and learn how to start your business for FREE!