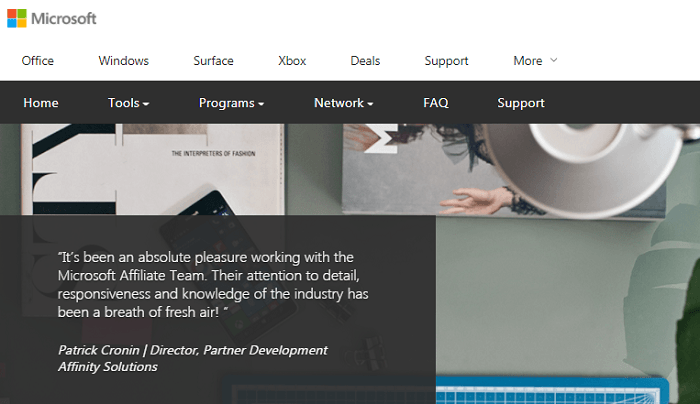 When it comes to a well respected technology company, Microsoft is at the top of that list. So when I started looking for great tech affiliate programs I went right to the Windows platform and started reviewing if Microsoft had a viable platform to make money using their affiliate program.
If you're new to affiliate programs, i'll explain a little about how they work. While companies have their own advertising campaigns, many of them rely on "freelance advertisers" to help them advertise their products and services.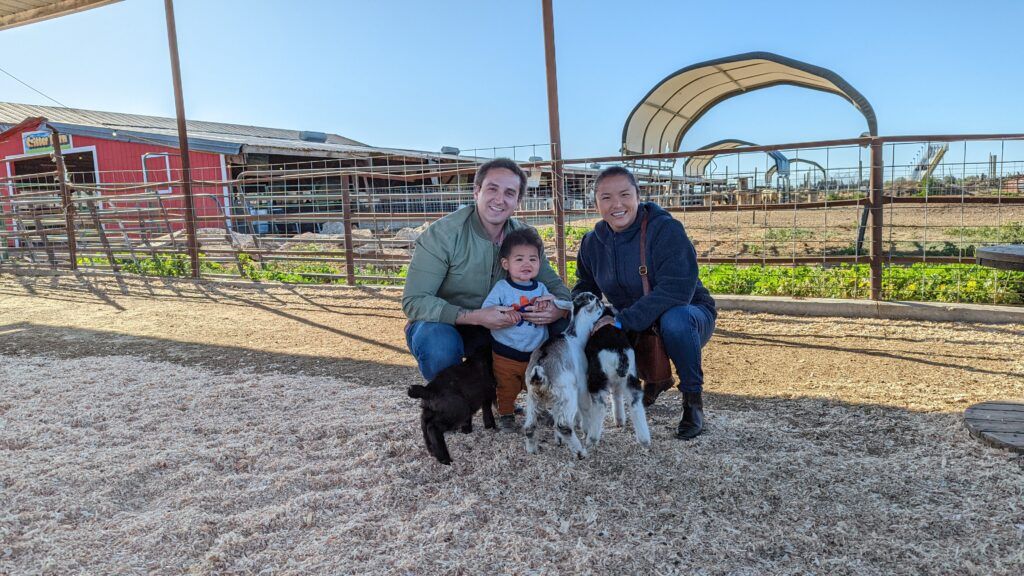 Are You Ready To Work Your Ass Off to Earn Your Lifestyle?
Are you tired of the daily grind? With a laptop and an internet connection I built a small website to generate income, and my life completely changed. Let me show you exactly how I've been doing it for more than 13 years.
Whats in it for you? If you advertise their products and services they will provide you either a set amount or a percentage commission on each sale that is made. I'll take the rest of this article to go over what Microsoft's specific affiliate is and why you should sign up for it.
To get started with Microsoft's affiliate program you need to first sign up here. You will need to specify the exact countries you plan to promote their products in and they will only approve you for those countries. Each country needs a specific approval.
You can check out our full list of affiliate program reviews, top 10 affiliate programs by niche, or affiliate niche research series.
What Type Of Products Are Featured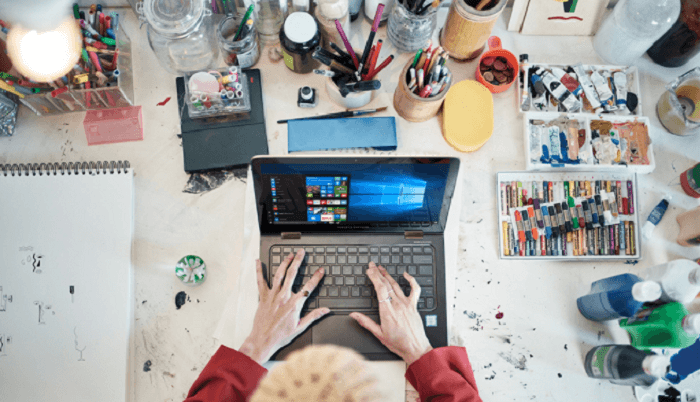 Microsoft has many different products and software choices for you to advertise on your affiliate network. Below is a very high-level overview of the different products and software available to you to advertise:
Physical Products:
Microsoft Surface Pro
Xbox Console
Physical Games and Digital Games
Phones
Accessories
PC Hardware
Software/Digital Choices:
Office 365 Annual or Monthly Subscription
Office Software (Non Subscription)
Windows Software
Other Software
Apps and Game Purchases
In-App Purchases
Movies
TV Shows
eBooks
Xbox Live
Knowing what to advertise is dependent on what your site is. I'll give you a few examples of ways you can make money with Microsoft below.
What Is The Commission Rate
Earning commission is the most important part of this process and it's important to understand what the baseline commissions are before signing up. While Microsoft offers a fairly high commission on some products, others can seem low and lacks behind the competition. This is a defining factor for you if you're looking to advertise with them.
Software/App Commission
For Software purchases like Office, Windows and other software, Microsoft offers a 5% baseline commission on these purchases. Five percent isn't bad, but it's not great when other software companies offer 50%-75%. For a big company like Microsoft, this isn't unexpected though. Best Buy starts their commissions at 1%. Wow!
If you're purchasing digital goods like Apps, Games, In-App Purchases, Movies, TV Shows, and eBooks they offer a 7% commission. This is a higher percentage rate, but these cheaper products may not be a great way to make money. It just depends on what you promote and how much traffic you have.
Overall the software commission available from Microsoft is considerable and meets with the competition fairly well.
Product Commission
On the flip side when it comes to product purchase commission this is where it falls behind. For all product sales including Surface, Xbox, Console, Physical Games, Digital Games, Phones, and Accessories the commission rate is only 2% of the sale. For all PC Hardware products sold, the commission is just 1%.
I felt in this instance that Microsoft fell way behind the competition in terms of their commission. Their site claims that you can make up to 10% commission, however, I felt it must be for a very select few products which are rare to achieve.
The product sales through Microsoft are high-dollar which means if you do make a sale and get 2% commission you will still earn a substantial amount of money from it.
I will make a comparison for Microsoft to Apple as they are the closest related competition to products and services that has an affiliate program. For all software related purchases you will receive a 7% commission this includes Apps, iTunes Music, Movies, TV, and iBooks – same as Microsoft. On the flip side, for products, if we look at HP they offer a flat 5% commission on products to their affiliate customers which is a lot more than 1-2% from Microsoft.
Alternative Affiliate Programs
Microsoft runs their affiliate program through Impact, a well-established affiliate network. Link & video review coming soon!
There are many alternatives to Microsoft's program which include companies like Apple, HP, Amazon and others. While these are great alternatives the companies are all very different and definitely cater to a specific niche crowd of followers. You have to determine what crowd you are focusing towards and own that market to be successful with affiliate programs.
If you are going to go with Microsoft I feel Amazon is a great alternative to look at to choose because they have many different accessories, furniture, decorations, and gadgets that would compliment Microsoft greatly. Using Amazon's broad range of product choices you can do things like promote the Surface Pro computer and then partner it with your favorite Mouse, Mouse pad, Laptop Bag, and laptop cover.
Remember that affiliate programs usually don't mind if you promote their competitors as long as you are fair. You can have Amazon, Apple, and Microsoft affiliate links right on the same page.
Website Ideas
Lets talk about what kind of sites you can create to utilize the Microsoft Affiliate Program with. For starters, the app market is huge and in-app purchases is one of the largest growing technology areas. One really fun and easy way to get into a new niche area is to startup a blog or social media account in which you promote both new and top played games and apps across the app stores.
You will need to personally use and test these apps to be able to write proper reviews, but it will be a fun thing to do every day. Once you've played around with the app then write the review of how it works, what you liked, what you didn't like, and some great alternative apps. This is similar to the review that I'm doing for you now.
In that review you'll include links to the apps you reference by using Microsoft link builder tools. If they click those links and download the app you'll get commission on both the app and the in-app purchases.
On the flip side if you're looking to go towards more of the products route, the Microsoft Surface Pro is an amazing computer. Creating great content for their computer is really easy if you have a tech type blog. It's much better if you have your own so you can demonstrate ways to do things on the Surface Pro and to take photos and video easier but it's also not 100% necessary.
Promoting the Surface Pro would be paired well with a "work on the go" style website, like mobile entrepreneurship or student productivity tips.
If you plan to promote something related to Xbox, then a gaming website would be perfect. People love to read independent gaming websites, and although there's already a ton of people doing something like this, gaming is a multi-billion dollar industry with lots of niche-interests that you could capitalize on.
Can You Make Money With The Microsoft Affiliate Program?
The simple answer is yes. There is always potential to earn money if you have the right content. Earlier I talked heavily about the commission rates through Microsoft and while I did say that their product commission is quite low, don't cut it out of your radar yet because Microsoft has many other ways you can also earn money for one-time purchases on top of their other commissions above that we discussed.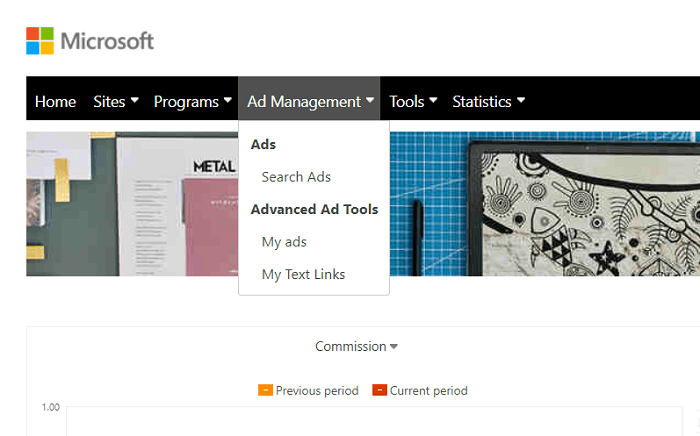 There are many tools available to you in the Microsoft affiliate program to use on your websites and social media platforms:
Banners: These are some of the most useful and fun tools to use, especially with Microsoft as they have designed banners for every product and software they own. These banners help to advertise microsoft's products and customers who click them are registered under you so you receive the credit after purchase.
Text Links: Alongside the same banners are text links which you can utilize when advertising products and services. Usually you shouldn't post or send these long URLs out but rather embed them in images, use them in hyperlinks, or create shorter links using different URL shortening tools.

Ideas for Earning Money
Some great ways to earn money by referring customers to sign up for one of Microsoft's subscription services. these include both the Xbox Live account and the Office 365 subscriptions. When you refer customers using your affiliate links and they sign up for one of these subscription services you'll receive one-time payments which depend on which country and region you're located in.
As an example, if your customer is in the US and they sign up for a 1-year Office 365 subscription, you'll receive a one-time payment of $10 USD. This can add up especially if you can get in with a certain niche market like with college kids who need to set up their computer with Microsoft office. Just attract 10 college kids per day to sign up (there are millions and millions of them), and you could be earning $100 per day promoting computer software.
There are so many examples that I could go through with you but the key in all of these is to think outside the box, write original content that is true and unique to your personal, and be consistent with posting your content so your readers stay engaged and remember you.
Pros/Cons of Working With Microsoft
The biggest pro that comes to mind when dealing with Microsoft as an affiliate program is the fact that they are a well known and well respected brand. When using the Microsoft affiliate program, the customer doesn't care that you earn a commission and they go right to Microsoft's site to they trust the brand and products you promote.
On the downside, I've mentioned it before and I will again – the product commission is dreadfully low which makes promoting them less enticing. Look at your dollar amount you earn, and focus on products that earn a good amount per sale, regardless of what the commission rate is. 1% on a $1000 item is only $10, so imagine what 1% on a $20 item would be!
The Internet's #1 Affiliate Training
It sounds like you're pretty familiar with the basics of how affiliate marketing works. Awesome! But is your website profitable yet? Are you stuck spending hours wondering why you aren't seeing results yet?
You aren't alone. Most newbie affiliate marketers are a little lost, jumping from one "how to" guide to the next, hoping to learn the secret sauce of how to make money with affiliate marketing
I was able to turn my basic niche blog into a six-figure earner in 18 months following the training from this company. They focus on building a sustainable business that will earn for years, not just a website that will "game" search engines for temporary rankings. That's why 8 years later my websites are still earning and still growing.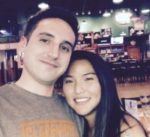 Nathaniell
What's up ladies and dudes! Great to finally meet you, and I hope you enjoyed this post. My name is Nathaniell and I'm the owner of One More Cup of Coffee. I started my first online business in 2010 promoting computer software and now I help newbies start their own businesses. Sign up for my #1 recommended training course and learn how to start your business for FREE!