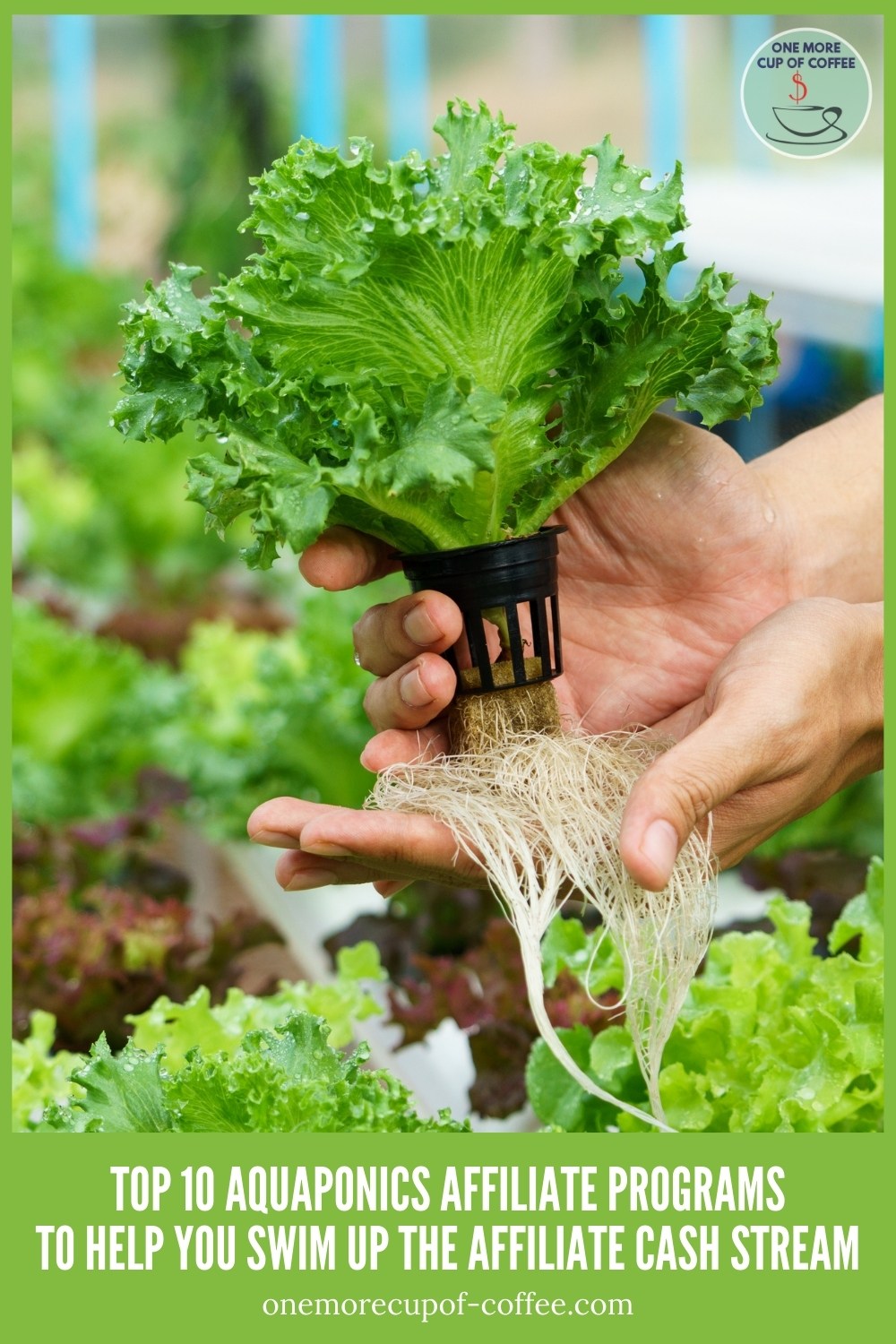 One year, one of my friends gave me a betta fish for my birthday. This fish lived in a glass vase below a lily, which grew out of the top of the vase and blossomed about once a year. It was easy to take care of, easy to feed, and it was a beautiful addition to my home.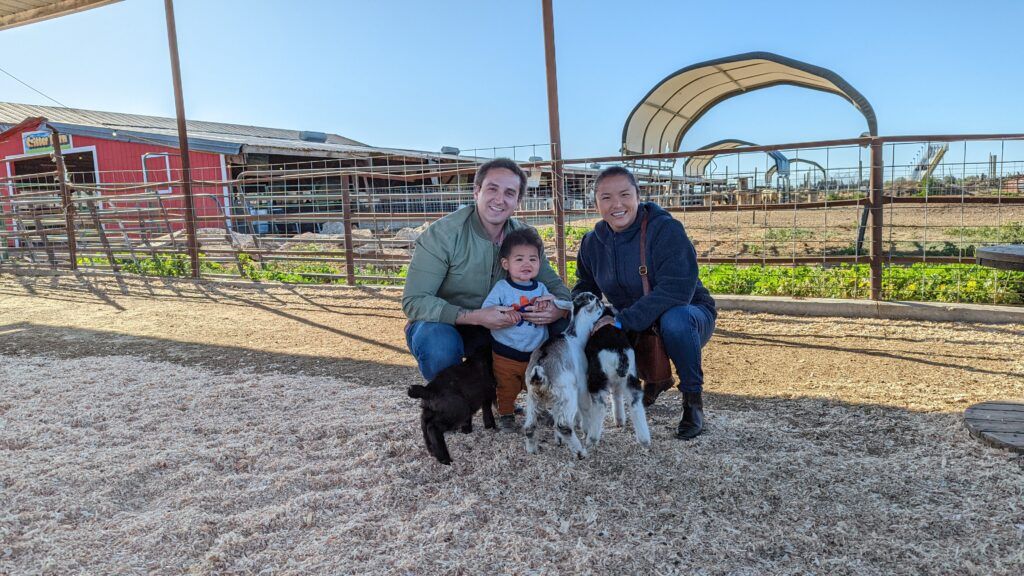 Are You Ready To Work Your Ass Off to Earn Your Lifestyle?
Are you tired of the daily grind? With a laptop and an internet connection I built a small website to generate income, and my life completely changed. Let me show you exactly how I've been doing it for more than 13 years.
It was also my first introduction to aquaponics—the combination of raising fish and raising plants.
My betta fish setup was purely decorative. Since then, the aquaponics market has expanded into an industry that combines growing fish with growing vegetables. It's perfect for urban living because it's easy on space, conserves water, and grows an abundance of food. Some aquaponics systems can grow eight to 10 times the amount of food that a normal garden could in the same amount of space.
By 2022, the market for aquaponics and hydroponic systems is expected to reach $1.98 billion. It's also a fairly new industry, so its potential for growth is terrific. If it's something you'd like to look into for affiliate marketing efforts, read this list of the top 10 aquaponics programs. This should give you a feel for how you can put programs like this to work for you.
Depending on the nature of your blog, promoting aquaponics systems as a way to grow healthy, organic food could be as a fun hobby, or as a serious way to sustain yourself in a homesteading setup.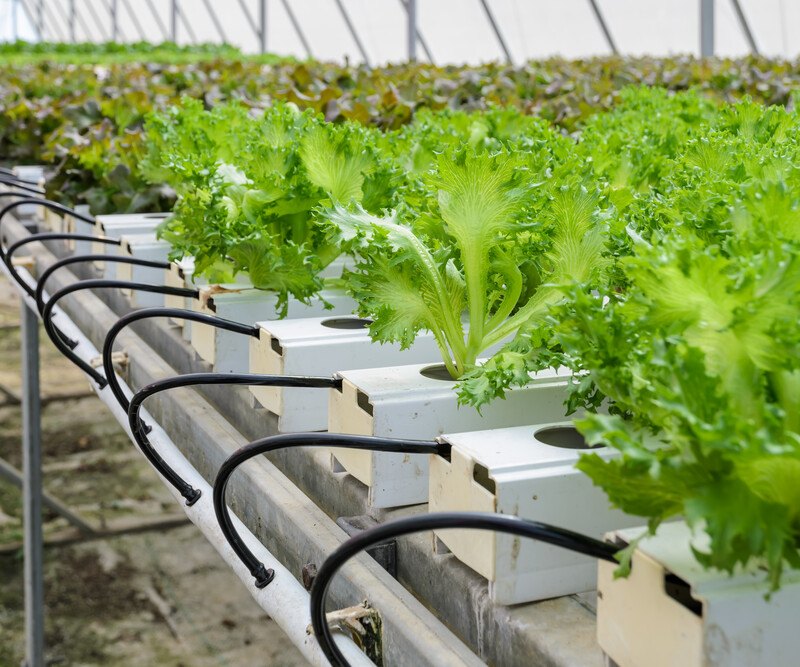 Aquaponics Affiliate Programs
Endless Food Systems
Easy! DIY Aquaponics
Aquaponics System How-To
Aquaponics 4 You
Urban Farm U
Eco Films Australia
Canadian Aquaponics
ASC Magazine
Living Mandala
ZipGrow
1. Endless Food Systems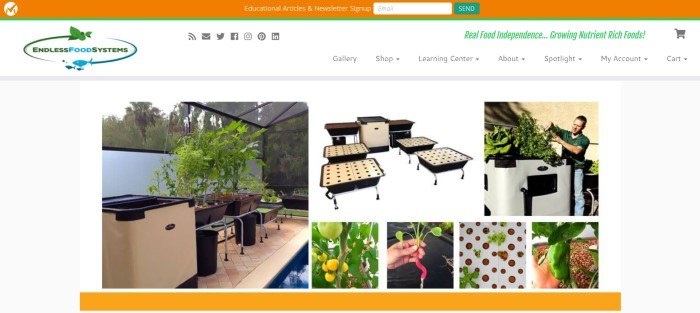 Commission: Unlisted
Cookie: Unknown
Endless Food Systems is an information website and online store that carries supplies and equipment for hydroponics, aquaponics, gardening, organics, non-GMO foods, and other eco-friendly gardening practices. The aquaponics kits are the top products.
The shop carries full aquaponics systems, greenhouses, lighting, pumps and accessories, and training materials.
The aquaponics systems are high-ticket items. Some of the full systems are priced at $7,295.
Why You Should Promote Endless Food Systems: The high-ticket prices could be appealing for affiliate marketers. However, the company doesn't disclose its commission rate, so it's hard to tell exactly how much you could make as an affiliate marketer with this company.
2. Easy! DIY Aquaponics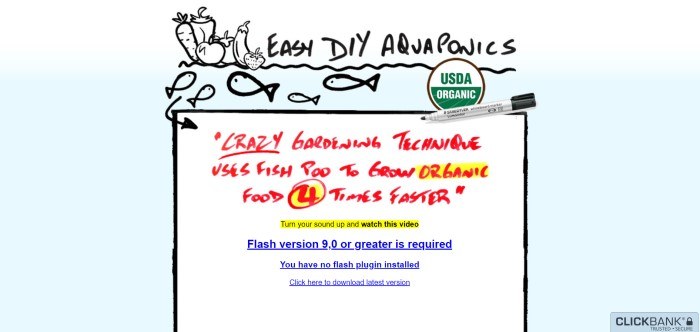 Commission: 75%
Cookie: Unknown
The Easy! DIY Aquaponics system is designed to walk newbies through the ins and outs of starting their own aquaponics gardening system. The conversion ratio is about one person for every 30 people who visit the website.
The system costs $37 and has a $47 upsell. The website gives affiliate marketers some interesting information to start with, including the best demographics to market to (less-affluent middle-aged men who are college graduates with no children in the household). Graphics and promotional materials are included with the affiliate sign-up screen, so they're easy to grab and set up.
Why You Should Promote Easy! DIY Aquaponics: This company has a tiered bonus program for affiliate marketers. Affiliates who refer 200-399 sales per month get an extra $2 per sale. If they refer 400-749 sales, they get an extra $3 per sale, and they get an extra $6 per sale if they can bring in 750 or more sales per month.
3. Aquaponics System How-To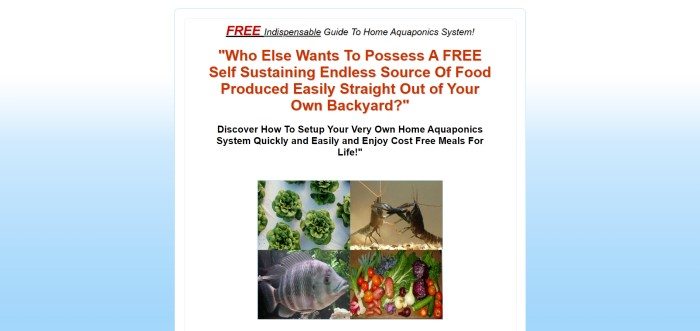 URL:
Commission: 60%
Cookie: Unknown
Aquaponics System How-To has one main product, which is an e-book entitled The Ultimate Guide To Home Aquaponics System. Affiliate marketers can make a 60% commission on this book, which sells for $26.77. The book comes with a 60-day 100% money-back guarantee.
The book investigates topics such as how large an aquaponics garden you need to build to grow food for your family, what you should build your tanks with and how to build them, and the types of vegetables and fish to grow.
The website also has a free 10-lesson mini e-course covering aquaponics topics and a few helpful articles. Aquaponics System How-To runs its affiliate marketing program through Clickbank.
Why You Should Promote Aquaponics System How-To: The 60% commission rate is great for affiliate marketers.
4. Aquaponics 4 You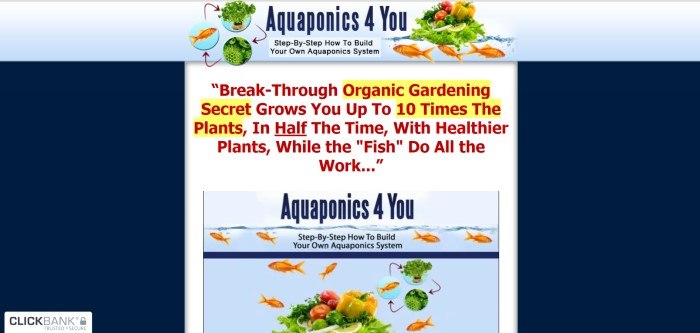 Commission: 75%
Cookie: 180 days
Aquaponics 4 You is a system to help people who are interested in aquaponics get set up and going. The system includes step-by-step videos and an e-book with diagrams, instructions, and explanations. The entire system costs $37.
The sales funnel lists several books as bonuses. The bonus books cover topics like growing herbs, flower gardening, organic gardening and cooking, healthy eating, and even worm farming.
Why You Should Promote Aquaponics 4 U: The system is relatively low-priced, and the bonuses are listed at a $300 value. Besides these converting factors, the high commission rate and long cookie length are great perks for affiliate marketers.
5. Urban Farm U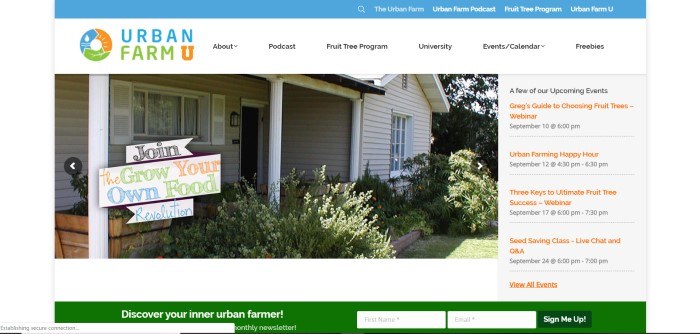 Commission: Unlisted
Cookie: Unknown
Urban Farm U is dedicated to helping people learn to grow their own food, especially in urban areas. One way this company fulfills its mission is by sharing information on a variety of urban farming topics through free webinars that last 45-75 minutes long.
This company also provides online courses for customers who want to learn more. There are currently five courses about raising food in an urban environment. One of them focuses solely on aquaponics.
The aquaponics course covers seven weeks and includes bonus webinars, access to a Facebook group, and other goodies. The course is currently priced at $97. There's a 30-day money-back guarantee, too.
Why You Should Promote Urban Farm U: The courses are reasonably priced, which could draw in some shoppers. The 30-day money-back guarantee could be another converting factor. However, without knowing the commission rate, there's no way to tell how much you could make as an affiliate marketer with this company.
6. Eco Films Australia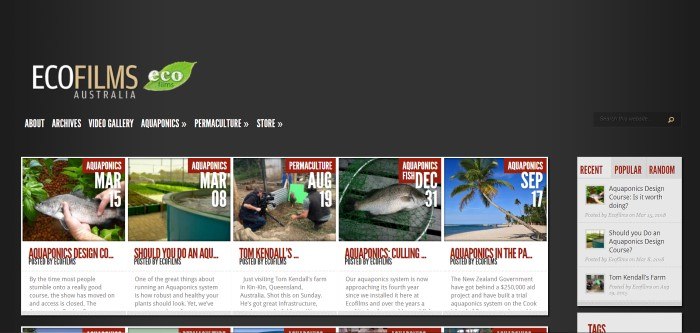 URL:
Commission: Unlisted
Cookie: Unknown
Eco Films is an Australian-based educational film company that zeroes in on eco-friendly topics such as aquaculture, kitchen gardens, permaculture, and compost. Besides the films, the company posts information addressing issues such as whether it's worth it to take an aquaponics design course.
The store sells DVDs for around $40 each. Two of the four prominent DVDs are about aquaponics. Those are the main products that affiliate marketers can make money from, but there is a lot of information on how to set up a system, grow plants, the types of fish to grow, and more.
Why You Should Promote Eco Films: Eco Films offers a lot of information to potential customers. However, there isn't any commission rate listed, so it's difficult to tell how much an affiliate marketer could make with this company.
7. Canadian Aquaponics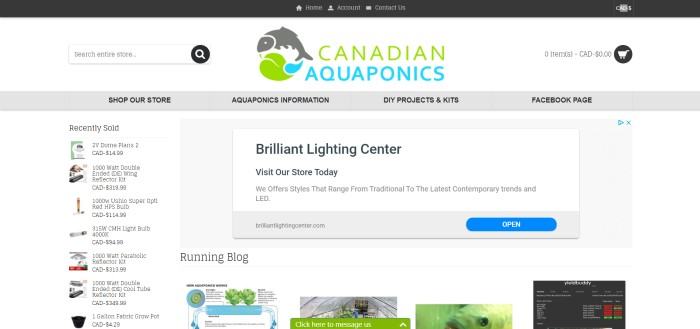 The website for Canadian Aquaponics has a section for aquaponics information that describes what it is, methods that are used, and the types of fish that thrive in aquaponic environments. There are also plans for 2V Geodesic domes and a Raspberry Pi greenhouse.
For affiliate marketing, the store section is the most important. This is where customers who are interested in starting their own aquaponics farms can purchase growing pots, hydroponic systems, nutrients, environmental control equipment, and even fish and fingerlings.
Some of the products, such as the Atlas 4 CAD monitoring system, can cost as much as $799. Other products like the fabric growing pots are only priced at a few dollars each. The amount of money that an affiliate marketer can make can vary quite a bit depending on what a new customer puts in the shopping cart.
Why You Should Promote Canadian Aquaponics: The nice variety with some high-ticket items could mean larger sales totals and more affiliate earnings.
8. ASC Magazine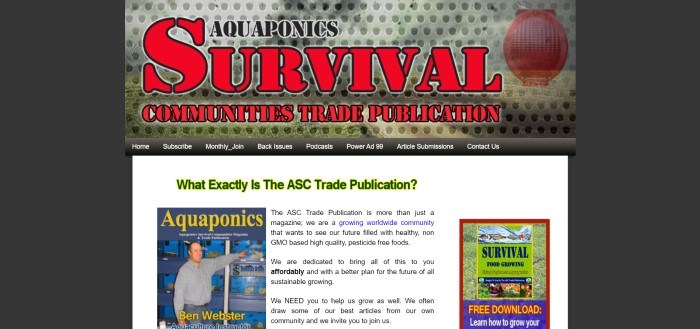 Commission: 50%
Cookie: Unknown
Aquaponics Survival Communities Trade Publication, or the ASC magazine, is an electronic magazine dedicated to promoting non-GMO, sustainable, pesticide-free, high-quality foods through aquaponics. Subscriptions cost just under $40 for a one-time package deal.
Customers can also pay a monthly $2.97 subscription fee. Back issues can be purchased individually for $2.97 each, or in a bundle that includes more than 60 back issues for $127. There's also a podcast page for customers who want to know more about aquaponics, a page for customers who might also want to advertise their company with the magazine, and a page requesting article submissions that can be featured in the magazine.
Why You Should Promote ASC Magazine: The big perk for this company is the 50% commission rate.
9.Living Mandala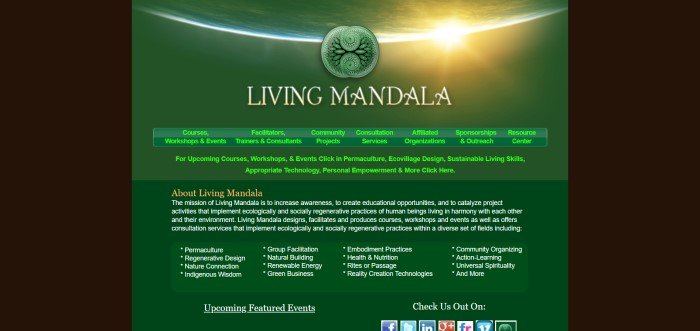 Commission: 10%
Cookie: Unknown
Living Mandala has an affiliate program to help promote its Commercial Aquaponics Training course. The standard tuition is $1250 for early-bird sign-ups and $1,500 for full-price signups. The commission is 10%, so affiliate marketers can make over $100 for each person they refer who signs up for the course.
The website describes some of the benefits of aquaponics, including the fact that it only uses about 2% of the water resources that traditional farming uses. It also produces eight to ten times the amount of vegetable production.
Why You Should Promote Living Mandala's Commercial Aquaponics Training Course: The course is a high-ticket item that could result in significant affiliate earnings. However, the course date on the event link for affiliates is dated 2011. Interested affiliate marketers should contact them to see about recurring courses.
10. ZipGrow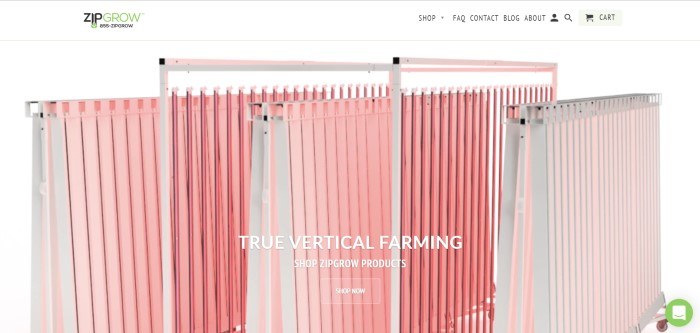 Commission: 10%
Cookie: Unknown
ZipGrow focuses on indoor and urban farming using vertical grow towers. The grow towers can be placed on walls or fences to maximize the amount of food that can be grown in a small amount of space.
One of the key products is the ZipGrow Vertical Farming Tower that can be used for aquaponics and hydroponics. ZipGrow towers are priced starting at $79.99. The company also sells accessories, including water pumps and supplies for growing the plants. The company's Matrix Media is ideal for growing plants in an aquaponics system.
This company uses ShareASale to administer its affiliate program.
Why You Should Promote ZipGrow: Besides the 10% commission on sales coming through their own websites, affiliates also make a 10% commission on referrals that come through the websites of other affiliates they've brought on board.
Affiliate Website Ideas
Now that you've read about the top 10 aquaponics affiliate programs, what ideas come to mind for ways to use them to grow your affiliate portfolio? I have a few thoughts to share.
One great niche website could focus on new technology in sustainable agriculture. Aquaponics could be featured here, as well as grow lamps and stand-alone vertical planters. GIS systems, robotic and self-driving farm equipment, and modified soils could also be discussed and promoted. You could also promote hydroponics affiliate programs on this type of site.
A website focused on starting a small business from an urban farm could be a hit, too. Aquaponics would be a top choice for promotion here, but you could also feature courses to help small businesses learn to market their fish and produce, small business loans, and small business management software.
Going back to my beta fish, a website focusing on the decorative aspects of aquaponics could be fun, too. Specialty aquaponics accessories, plants, and even decorative fish could be promoted on a website like this one.
Boost Your Affiliate Earnings
These 10 affiliate programs are just the beginning of what's possible. There are hundreds of ways to earn affiliate commissions with your website, including product reviews, top 10 lists, how-to guides, and more
But what about traffic and conversions? How do you make sure your affiliate links get clicked?
I used the affiliate training here to turn my brand new website into a six-figure income generator in less than two years. Build a business, not just a pocket-money side project!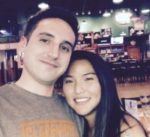 Nathaniell
What's up ladies and dudes! Great to finally meet you, and I hope you enjoyed this post. My name is Nathaniell and I'm the owner of One More Cup of Coffee. I started my first online business in 2010 promoting computer software and now I help newbies start their own businesses. Sign up for my #1 recommended training course and learn how to start your business for FREE!