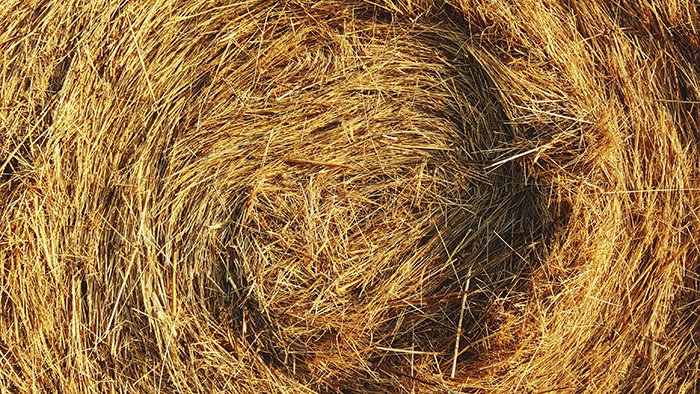 One of the most important ways to improve your rank on the SERPs (search engine results pages) is by selecting and optimizing for the right keywords. Ranking is difficult though! There's a lot of competition, and much of SEO is what I call SEO Voodoo, meaning there are rituals people perform that don't always produce results.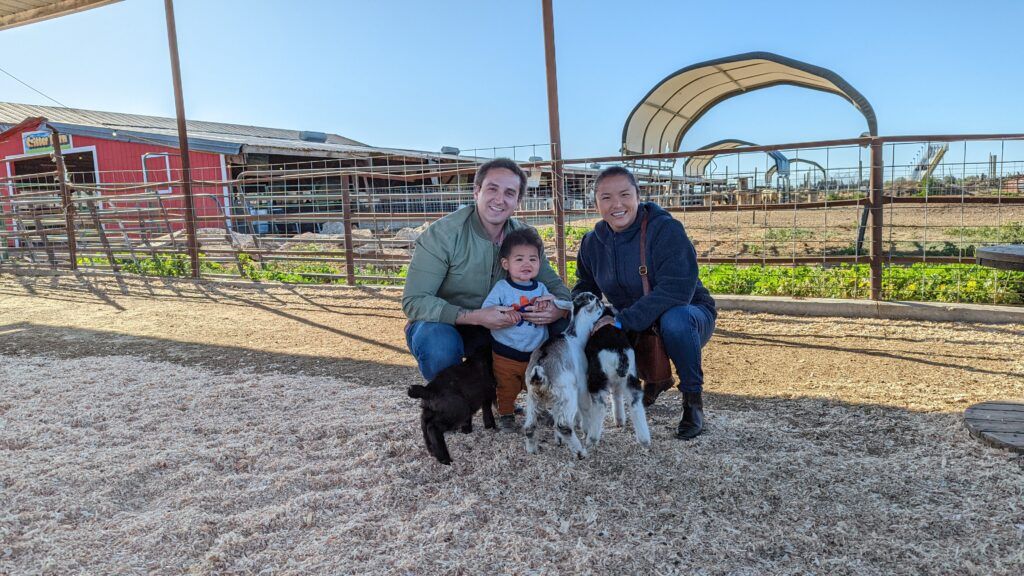 Are You Ready To Work Your Ass Off to Earn Your Lifestyle?
Are you tired of the daily grind? With a laptop and an internet connection I built a small website to generate income, and my life completely changed. Let me show you exactly how I've been doing it for more than 13 years.
How do you know you're doing things right then? You're getting traffic, but how do you find what keywords your site is ranking for? This article will show you how to find out and why you have to.
Answer: Install Tracking Tools, Then Learn How To Use Them
Though this isn't the easy answer of do Step 1-2-3, in a nutshell, you have to install traffic tracking software and then investigate. There are basically two major recommendations in this arena, though there are many other options out there as well.
The two main options are Google Search Console (formerly Webmaster Tools), and Google Analytics
Find The Keywords That Your Site Is Ranking For Using GSC
The easiest way is to use GSC (or Webmaster tools) and it's free. Use the following instructions to get started.
Login to Webmaster tools and select your domain name from the drop-down list located on the left navigation bar. Then select 'Performance' from the navigation menu.
You'll find a list of all your keywords plus incoming clicks if you scroll down a little. Select the 'Pages' column.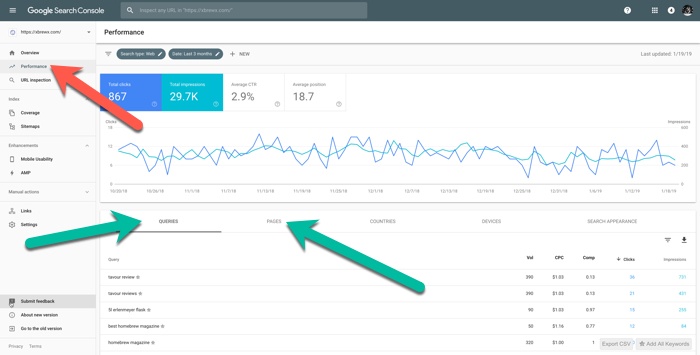 Then select the web page URL that you wish to check from the new list and GSC will take you to the dedicated performance stats for that page. Scroll down like before and you'll find all the keywords your web page is ranking for. This includes clicks and impressions metrics.
A single page can be relevant to hundreds of queries. So your focus needs to be on the ones that are sending you the most web traffic. These are the keywords that you'll need to improve or reduce on-page optimization/link building for.

One incredible tactic to increase your traffic is the "double down" method.
Check out GSC to see what pages are getting the most clicks. See what keywords Google already ranks you for. Then write content based on those topics. I can see that my homebrewing website already ranks for a number of terms related to homebrewing magazines, and that page is getting lots of clicks. It means I not only rank, but I also have real people clicking the link and taking an interest in my page.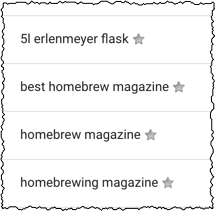 Next, you can continue to investigate on-site metrics through Google Analytics, including time on page, bounce rate, mobile vs desktop visitors, and maybe even more relevant queries.
Find Keywords You're Already Ranking For Using Google Analytics
Another free, and high quality, extremely useful tool is Google Analytics. This is basically the most widely used and developed analytics tool on the market right now. Google owns the search engine, so they probably have some pretty damn good insight into what you're ranking for, right?
How to find what terms you're ranking for exactly is a bit less clear using GA than with GSC. Google keeps searches private unless the user is logged out of their personal account. That's good for users, because it means they are 100% sure their private data is not being abused. It's pretty annoying as a website owner though, because I can't see exactly what I'm ranked for most of the time!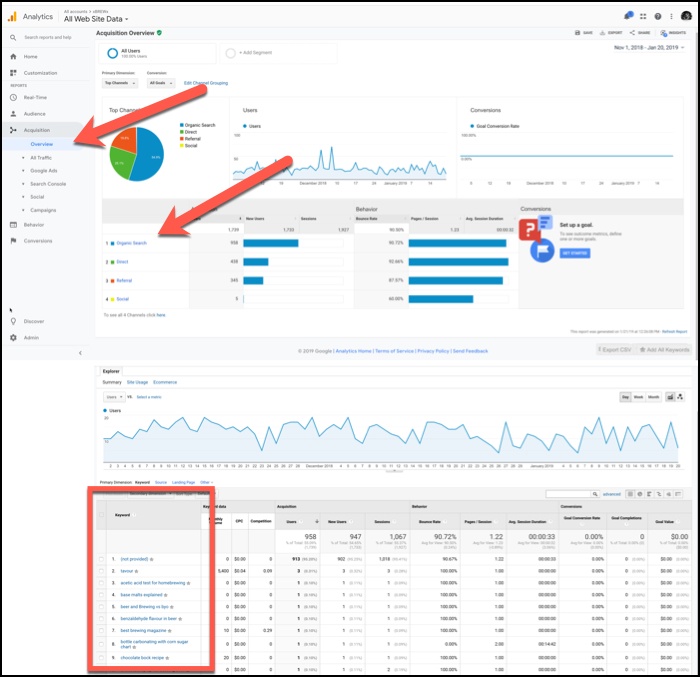 Go to Acquisition > Overview > Organic Search to find what keywords Analytics does list for you. The screenshot of my exact ranked phrases is blurry due to resizing, but many of them are basically the same as what's listed in Search Console. There are some new ones worth looking at, but not so many that I'd say its' super helpful.
However, GA still has a lot of useful ways to discover things that can help you emphasize what you currently rank for, or discover new opportunities. Here's a great video titled Breaking Through The Keyword (Not Provided) Barrier. Click the image to go to the video, but you do need a Premium membership to view the content.
One such method is to go to Acquisition > Source/Medium then add a secondary dimension of Destination Page to see which pages rank in which search engines. That may give you insight into what terms you're ranking for in places like Bing, Yahoo, and Duck Duck Go. You may rank for different keywords in those search engines, so they may be worth the extra effort to rank in Google.
Here's how to get GA set up on your website. Plus, don't forget to link GA and GSC for more useful data!
Why You May Want to Use a Paid Tool
You can also find the keywords your site is ranking for by using paid tools such as Ahrefs or SEMrush (I prefer SEMRush)
Paid software presents some advantages that you won't get in GSC or Google Analytics. Not only are they great for finding the keywords your pages rank for but most of them provide the competition level and average CPC (cost-per-click) of keywords too.
These data sets aren't available in Search Console or Analytics. Additionally, many paid tools can provide reports based on your geographic location (i.e. the ranking position in Ireland).
Once you connect these tools to your Analytics Account, you'll have much more insight, but even as standalone tools, they can give you more (different) insight into what keywords you're ranking for and how they affect your traffic. For example, investigating in SEMRush shows that I'm ranked on page 2 for a number of other keywords.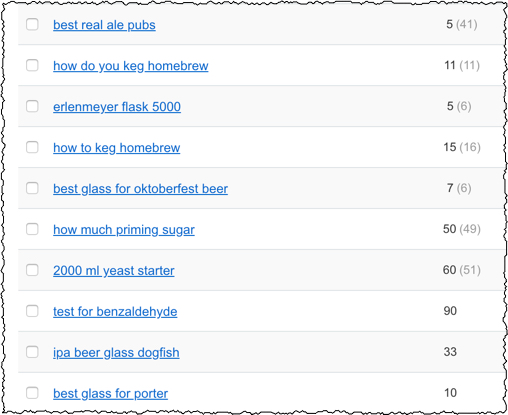 Some of these terms did not turn up in GSC, possibly because they get so few clicks and searches. However, it is good to know that I do rank for them, and this info could serve as a jumping off point for more content ideas or new traffic building strategies.
There are many other options out there like Keyword Hero or Crazy Egg. I haven't used those before, so can't vouch for them personally. I just want to make the point that you have options.
Digging Deeper: The Importance of Searcher Intent
Once you find out what you're ranked for, what are you supposed to do about it? Brag to your friends? Nope.
Our goal is to make money, so if those keywords aren't making you money yet, we need to figure out how to profit. One such method is identifying searcher intent.
Searcher intent refers to the reason why someone searches for a particular keyword. Seek to understand the 'why' behind search queries rather than focusing on search volume alone and you'll create amazing content that converts.
Does the searcher need to answer a question?
Are they looking to buy something?
Do they want a tutorial or a product to buy?
Where are they in the customer purchase lifecycle?
These are important questions to think about. For example, in GSC I ranked my beer site for top beer magazines. But what exactly does that mean? Is someone searching that term a homebrewer? A beer drinker? Are the looking for tips on how to make beer? How to run a brewery? Find cool beers to try?
That ambiguity is why I would then break down potential target audiences, and create content specific to each of those audiences. This particular term was pretty vague, so I'd need to separate audiences to create appropriate content for them. A keyword you find may have a more obvious intent to it, making your job easier.
Search engine algorithms are always trying to rank web pages based on searcher intent. That's why low CTR (click-through rate) always tanks a web page.
1. Informational intent
A lot of Internet searches are informational in nature such as weather, education, health and so on. With these kinds of searches, people want more information about a specific topic or they're looking to answer a question.
Informational keywords are great targets when you want to attract attention to your website. While they occasionally lead to sales, they often don't and are best suited for brand awareness strategies. You can monetize these posts with display ads, or use them to funnel visitors to relevant money pages.
2. Navigational intent
These are queries that pertain to specific websites or business. When someone searches for 'Facebook', they're clearly trying to get to their home website. Much like when someone uses branded terms to find a location nearby (i.e. Starbucks coffee near me).
When people search for "one more cup of coffee", which receive around 1000 searches a month, the Bob Dylan musical video ranks #1 as a SERP feature. This is fine by me even though this blog carries the same name. Scroll down to the regular organic search results and you'll see that I'm position #6.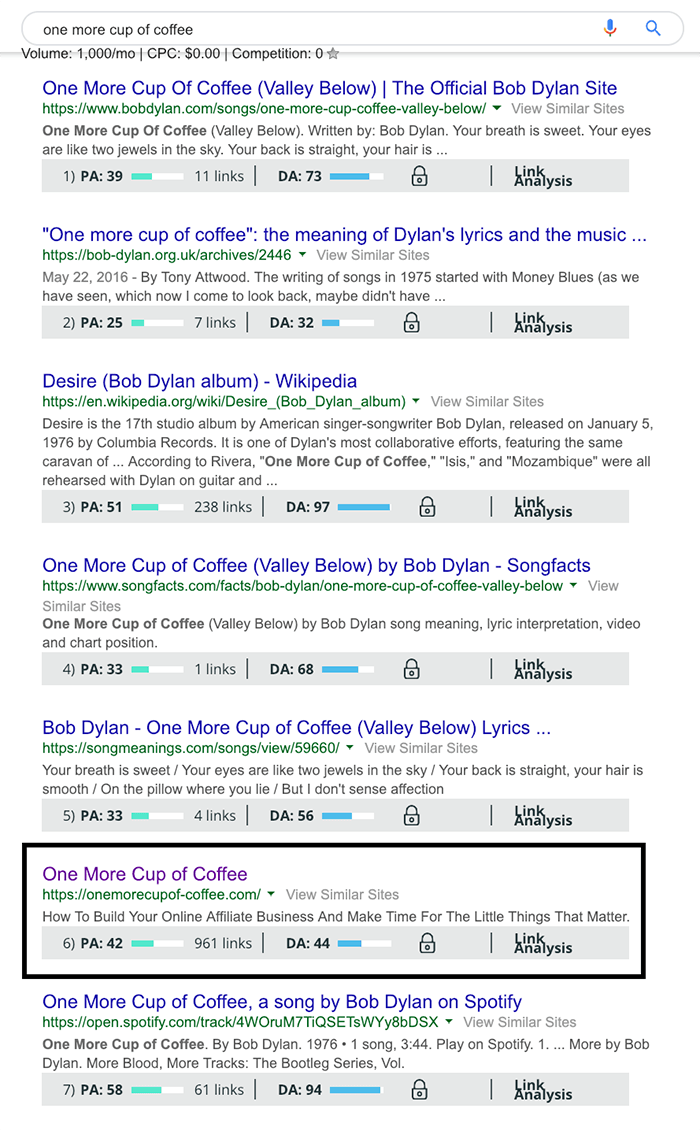 Google's algorithms have determined that people who search for that term are looking for the Bod Dylan music video or anything else related to him, as evident on the above screenshot. I won't receive much traffic even if I were to miraculously outrank Mr. Dylan. Users would just skip my site to find his videos, biography, news etc.
In this case, ranking for navigational intent doesn't help me out much. It's a completely unrelated topic. However, this stuff can work in your favor too. People searching for brands are curious about competitors, history, and news. You could potentially gain relevant traffic by creating content like:
website 1 vs website 2
local business location review
website X troubleshooting
In other words, don't discount navigational intent as a lost cause for relevant traffic, sales, and earnings for your online business!
3. Transactional (Commercial) Intent
If you guessed that this was about the intent to buy or completing a transaction, you're correct. People who use transactional queries want something. If you can rank for these types of keywords, you'll be made in the shade homie. Ranking for buyer keywords is an easy way to make money online.
Keywords like 'best paid SEO plugin' or 'list of good winter shoes' are commercial investigational queries. Like transactional terms, targeting these keywords will often lead to a sale and are great for marketing affiliate products.
Final Thoughts On Keyword Rankings
Keywords are the cornerstone of search marketing. That's why it's totally necessary that you know how to find what keywords your site is ranking for. GSC and Google Analytics are great to start, and could work as your sole access to keyword data. Paid tools like SEMRush can take you to the next level though, providing more data than you'll know what to do with.
Finally, make sure that you know the intent behind your keyword targets. This will make your overall SEO efforts more effective and productive because you'll be focussed on the right things.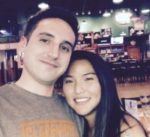 Nathaniell
What's up ladies and dudes! Great to finally meet you, and I hope you enjoyed this post. My name is Nathaniell and I'm the owner of One More Cup of Coffee. I started my first online business in 2010 promoting computer software and now I help newbies start their own businesses. Sign up for my #1 recommended training course and learn how to start your business for FREE!