Someone in my neighborhood served on the local city council for years. Recently, he ran for mayor. He came by my house with a flyer, and I began wondering what goes into something like a political campaign. Besides the money and the time, there could be events to organize, staff to oversee, and phone call after phone call.
Political viewpoints are also something that people get very passionate about, and that can make them perfect affiliate programs. Many of the best political affiliate programs focus on marketing companies that can help candidates reach their target audiences. These include SMS texting programs and social media marketing programs. Some political affiliate programs offer organizational help, including software, for campaigns and for running organizations.
If you're interested, read through this list of the top ten political affiliate programs. At the end of this article, I'll share some ideas of ways you can pull these programs into your affiliate websites and put them to work for you.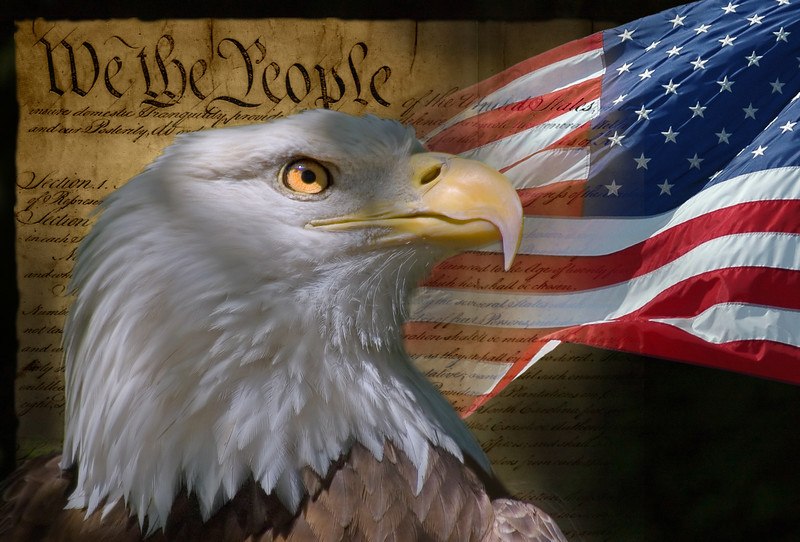 Political Affiliate Programs
Candidate Boot Camp
Civic Brain
Donorbox
Banners On The Cheap
TextMagic
Eventzilla
NationBuilder
BlueUtopia
CMDI
Social Pilot
1. Candidate Boot Camp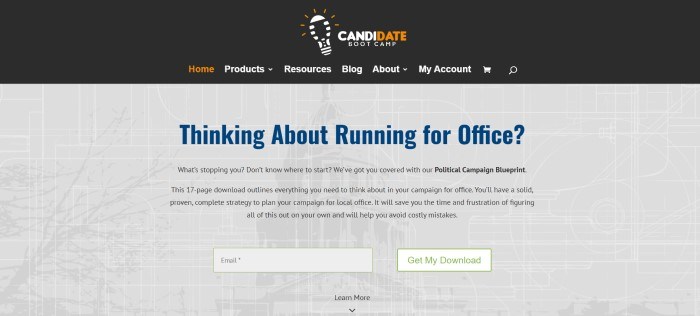 Candidate Boot Camp helps people who want to run for a political office by showing them where to start and how to run a successful campaign. The premier product is a Political Campaign Blueprint, which is a 17-page downloadable document that outlines everything a political candidate has to think about.
It's geared toward saving both time and money for people considering running for local political offices. Other products include on-demand online training programs and e-books. The website also has a resources section and a blog where customers can get more information on campaign strategies.
Candidate Boot Camp runs its own affiliate program, and affiliates can sign up right from the affiliate webpage. Affiliates have access to a library of content and affiliate marketing tools, and they can create links to any page on the Candidate Boot Camp website.
Why You Should Promote Candidate Boot Camp: Candidate Boot Camp can help save time and money for people running for local offices. This company offers a downloadable campaign outline, online training, and e-books. The commission rate is great, too.
2. Civic Brain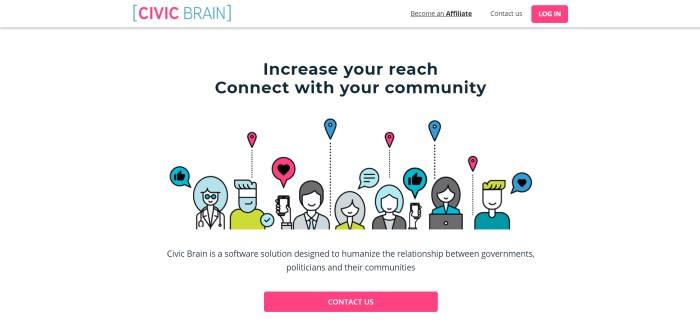 Civic Brain is a software program designed to help candidates with all aspects of their campaigns. The software is a mesh of geographical data and data analysis that helps boost the ability for candidates to expand their contact lists in their target audiences.
The tools in this package help candidates to collect, organize, filter, and create audiences. They can also target audiences on Facebook, MailChimp, and other media outlets. The website also offers access to Civic Brain University, a training program to help customers get the most out of the Civic Brain software.
This company is based in San Francisco, but it has an office in Santiago, Chile, and its support spans several languages and cultures.
Why You Should Promote Civic Brain: Civic Brain is designed to help political candidates expand their contact lists. It's high-tech, the company offers software training, and it can be used across several cultures and languages. However, the commission rate isn't listed, so it's difficult to say how much you could make with this company.
3. Donorbox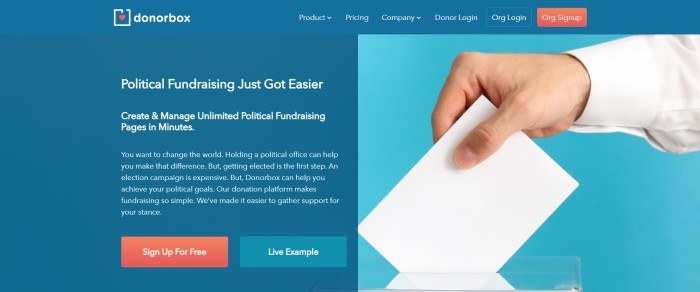 Donorbox specializes in fundraising for a variety of purposes, including political campaigns. It's used by more than 35,000 organizations, in over 40 countries, and with more than 135 different types of currencies. Features include ways to increase donations, including the easy setup of recurring donations and company gift matching.
Affiliates earn 15% of the fees from their referrals for three years. It only takes 15 minutes to create an account and set up a Donorbox donation form. This software can also be integrated with other software applications through Zappier.
The affiliate program is run through Tapfiliate. There's a minimum payment threshold of $50, and affiliates are paid through PayPal. Typical affiliates include fundraising consultants, nonprofit organizations, web design agencies, and sales force consultants.
Why You Should Promote Donorbox: Donorbox can be used for all types of fundraising needs, including political campaigns, and this could draw in a wide variety of customers.
4. Banners On The Cheap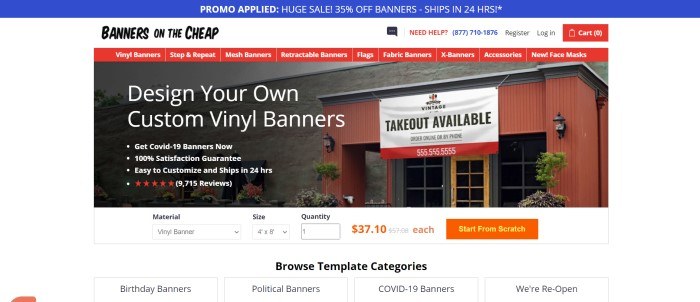 Banners On The Cheap sells a variety of banners, including mesh, vinyl, and fabric banners that can be used for political campaigns and other events. Some of the banners are retractable. This store also carries flags, face masks, signs, magnets, and other promotional items.
The affiliate program is run through Commission Junction. The average order value is $92, and the conversion rate is around 8%. Affiliates get weekly notifications of promotions and seasonal sales, as well as banner ads and text links to help market the products.
Why You Should Promote Banners On The Cheap: This company provides quality products for political candidates and organizations on a budget. Both the conversion rate and the average order value are nice.
5. TextMagic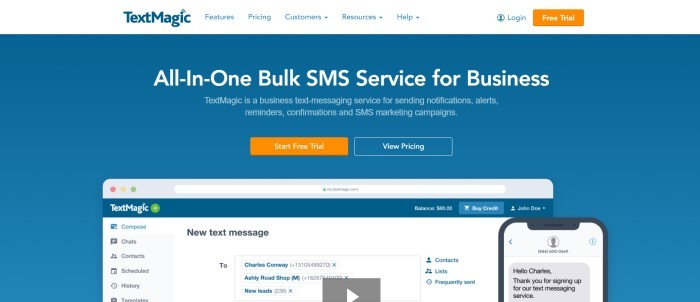 TextMagic is a text message marketing system that political candidates can use to reach out to their target audiences. Features include the ability to send texts online, convert email messages to SMS messages, have a two-way SMS chat, and more. The software is able to be integrated into other programs through Zappier. This program also allows users to get feedback on their messages.
Pricing starts at $0.04 per text, but there's a free 30-day trial period for new users. The free trial period includes all of the features of a premium plan. Customers who purchase TextMagic only pay for outgoing text messages and all incoming messages are free.
The affiliate program is run through ShareASale. The average order value is $64, with most customers ordering 9-10 times. Affiliates get paid on every referral sale, including sales for repeat customers.
Why You Should Promote TextMagic: TextMagic only charges for outbound SMS messages, and there's a 30-day free trial. This company offers a lot of text marketing features that could be useful for political candidates.
6. Eventzilla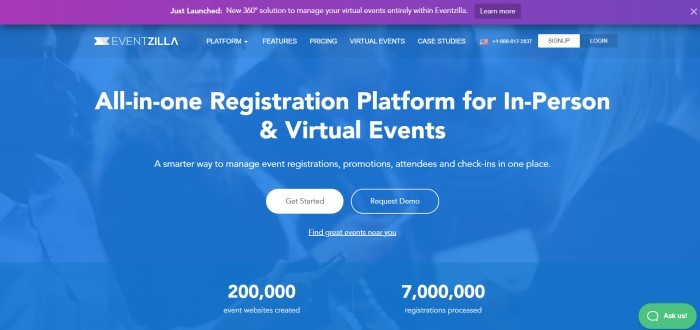 Eventzilla is an event registration company that allows political candidates and other event sponsors to easily organize events. The software has been used by companies such as TedX, Honda, MGM Resorts, and Subway. So far, the company has had over 200,000 event websites created and more than 7 million processed registrations.
One nice thing about Eventzilla is that it allows users to host virtual events as well as live ones. It also offers a mobile app for event attendees.
Eventzilla runs its affiliate program through Tapfiliate. Affiliates are paid a base commission of 30%, but once they refer to a sale of $2,000 or more, the commission rate jumps to 40%. The commission is not capped, and affiliates are paid monthly through PayPal.
Why You Should Promote Eventzilla: Eventzilla helps political candidates, nonprofit organizations, and other entities with events such as fundraisers or conferences. Event attendees can get a mobile app for their events.
7. NationBuilder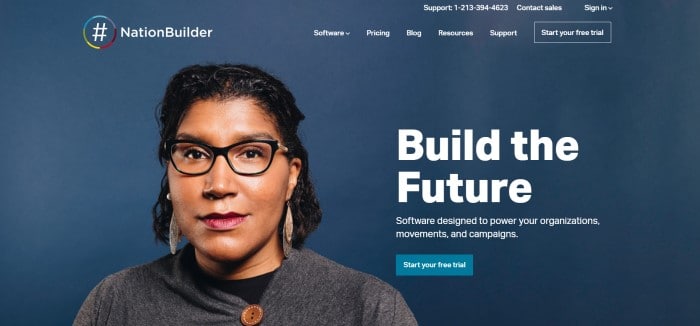 NationBuilder is a software program designed to help nonprofit and advocacy organizations develop their infrastructure and get the staff support they need. Features include networks, reaching target audiences, and mobilizing volunteers to get the work done. Pricing starts at around $29 per month, and there's a 14-day free trial period for new users.
This company has a resellers option as well as an affiliate option. The website also has a blog and a resources tab.
NationBuilder runs its own affiliate program, and affiliates can sign up using the contact form on the affiliate webpage.
Why You Should Promote NationBuilder: NationBuilder can be used to help run political campaigns, advocacy groups, and nonprofit organizations. There's a free trial period and a resources section, as well.
8. BlueUtopia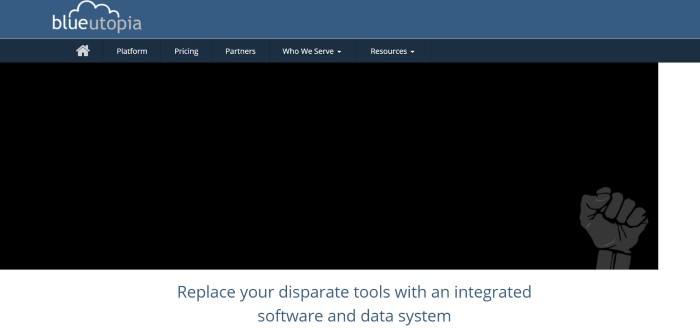 BlueUtopia is an integrated software program designed to support Democratic and Progressive organizations. The software features include fundraising, broadcast email, advocacy and forms, data and analytical tools, and more.
This company offers scaled pricing, so it's affordable for small organizations as well as large ones.
The referral program is run through BlueUtopia itself, and there are some affiliate requirements. Besides the referral program, this company also offers an integration partner program and a strategic partner program.
Why You Should Promote BlueUtopia: BlueUtopia is specifically for Democratic and Progressive organizations, and it offers scaled pricing.
9. CMDI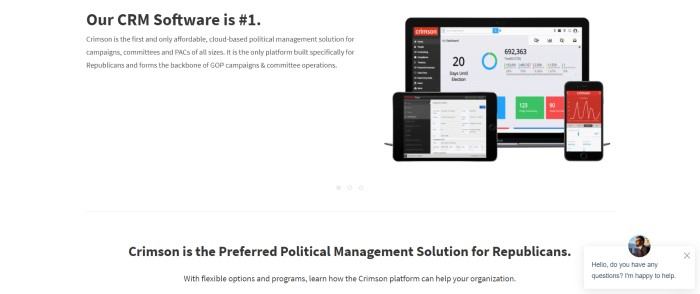 CMDI is a political CRM and compliance company with a premier software package, called Crimson, that helps manage all the details of political campaigns. The software features data management and adherence assistance. It's affordable and cloud-based, and it's the preferred solution for Republicans.
This company runs its own affiliate program, and people who are interested in signing up are encouraged to send an email through the address provided on the affiliate webpage. CMDI also offers a strategic partner program and a sales partner program. Affiliates with the referral program make a 5% commission, while those with the sales program close the sale and make a 10% commission.
Why You Should Promote CMDI: CMDI helps manage political campaigns in a way that keeps them legal. It's also affordable and cloud-based.
10. Social Pilot

Social Pilot is a social media scheduling software program that allows politicians, advocacy groups, and marketers to easily get their message out across a wide range of social media platforms. It's more affordable than options like Buffer and Hootsuite.
Affiliates are provided with banners and links that can be used on websites, blogs, and social media. Payouts are made once a month through PayPal, with a minimum threshold of $50 and at least two active referrals. Social Pilot runs its own affiliate program.
Why You Should Promote Social Pilot: Social Pilot is relatively affordable, and it uses a variety of social media platforms.
Affiliate Website Ideas
Now that you've read about the top ten political affiliate programs, do you know how you'd like to weave them into your affiliate websites? I have a few ideas to share with you that you can use as springboards for your own affiliate strategies.
First of all, you might consider promoting some of the software programs on a website where software is sold. This could include all types of management and data analysis software, as well as computers and the other hardware needed to make it all work. Warranty plans and even coding classes could also be featured on this type of website.
A second idea is a website for people who are interested in improving K-12 education. Programs like Candidate Boot Camp could be promoted here, especially for openings like school board positions or city council positions. Curriculum, Chromebooks, and even homeschool supplies could also be featured here.
A final idea is a website for deeply patriotic people. This type of website could feature flags, made-in-America products, and travel tours covering national historical monuments. Any of the political affiliate programs listed above could be promoted here, as well.
Boost Your Affiliate Earnings
These 10 affiliate programs are just the beginning of what's possible. There are hundreds of ways to earn affiliate commissions with your website, including product reviews, top 10 lists, how-to guides, and more
But what about traffic and conversions? How do you make sure your affiliate links get clicked?
I used the affiliate training here to turn my brand new website into a six-figure income generator in less than two years. Build a business, not just a pocket-money side project!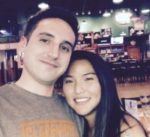 Nathaniell
What's up ladies and dudes! Great to finally meet you, and I hope you enjoyed this post. My name is Nathaniell and I'm the owner of One More Cup of Coffee. I started my first online business in 2010 promoting computer software and now I help newbies start their own businesses. Sign up for my #1 recommended training course and learn how to start your business for FREE!