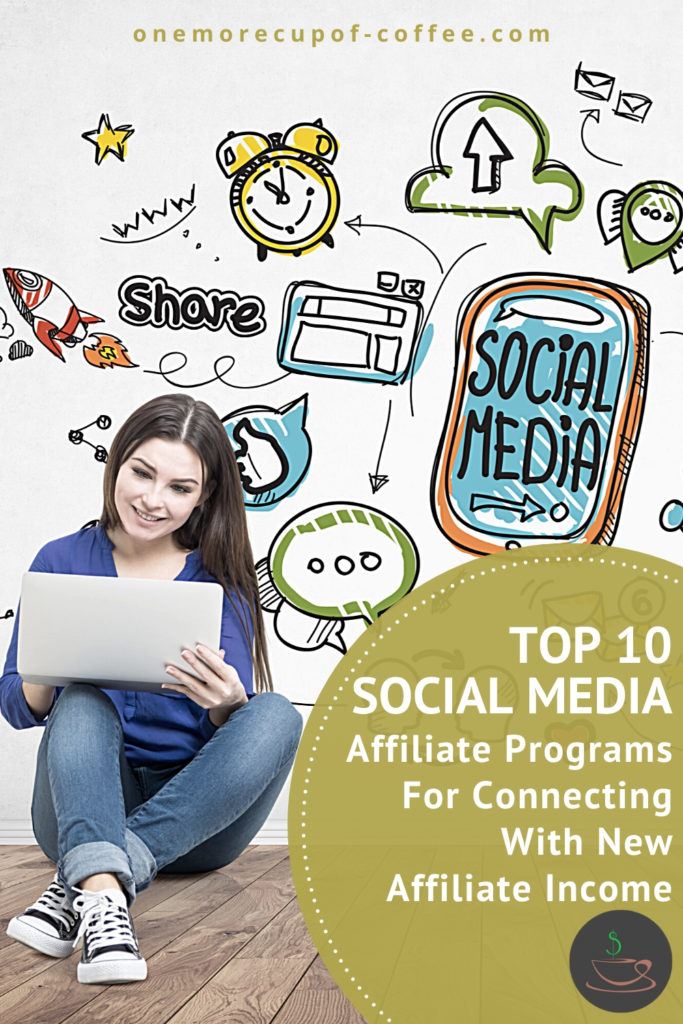 More than 3.5 billion people use social media to get news, share stories, and interact with friends and family members. That's about 45% of the world's population. In the United States, 68% of adults use Facebook, and people who engage in social media spend an average of three hours a day on their platforms.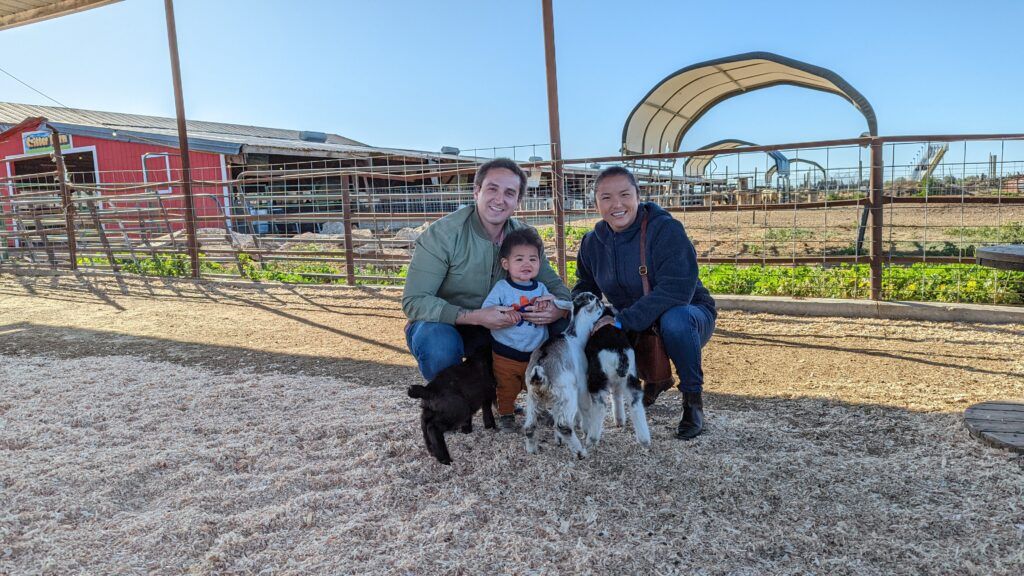 Are You Ready To Work Your Ass Off to Earn Your Lifestyle?
Are you tired of the daily grind? With a laptop and an internet connection I built a small website to generate income, and my life completely changed. Let me show you exactly how I've been doing it for more than 13 years.
It's no wonder that social media marketing has taken over everything. Social media is now where companies are meeting their customers. Small business owners are scrambling to learn the ins and outs of social media marketing so that they can keep up.
This is where affiliate marketing comes in. The best social media affiliate programs include social media marketing tools, magazines, conferences, and even companies that do social media marketing for you. If you're interested in learning more, read through this list of the top ten social medial affiliate programs. At the end of this article, I'll share some ways you can put them to use for you.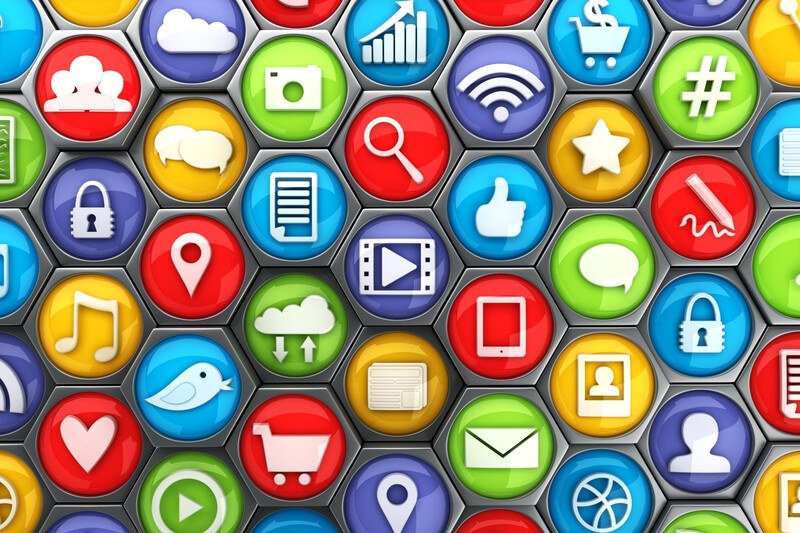 Social Media Affiliate Programs
Social Pilot
Social Searcher
The Social Butler
Social Media Marketing World
The Social Media Monthly
Hootsuite
Send Social Media
Social Web Suite
Revive Social
Lyfe Marketing
1. Social Pilot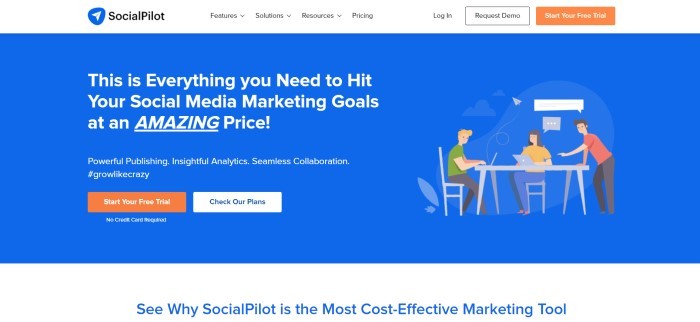 Social Pilot is an all-in-one social media marketing tool with a large selection of features for people who want to promote their work on social media—and automate it, too. This toolset includes bulk scheduling, a calendar, client management, a social inbox, publishing abilities, and social media analytics to help tweak social media marketing strategies.
This company offers a 14-day free trial period. Paid plans range from $25 per month to more than $83 per month.
The affiliate program is run in-house. Affiliates are paid through PayPal monthly when they reach the minimum payout threshold of $50, and they have access to banners and text links to help them promote the service.
Why You Should Promote Social Pilot: The commission rate is paid monthly each time a referral renews the service, which can bring in steady income for affiliate marketers. The free trial and wide range of features could help attract and convert shoppers, too.
2. Social Searcher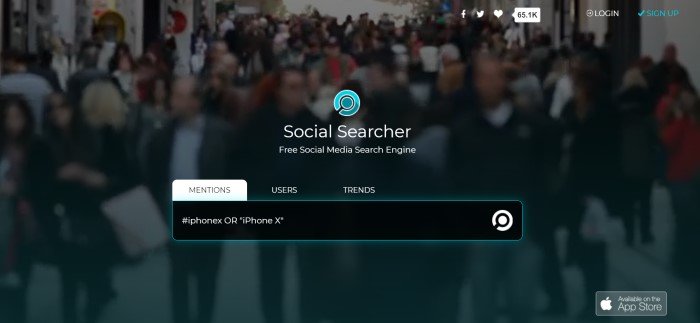 Social Searcher is a social media search engine that allows users to search social networks for content in real-time. It also provides deep analytics. Among its newest features is the ability to search for users and to search trending posts, which can help customers keep their social media marketing strategies up to date.
There's a free plan that includes 100 searches per month, as well as a free trial period for the standard plan. Paid plans cost €3.49 per month for the Basic plan, €8.49 for the Standard plan, and €19.49 per month for the Professional plan.
Social Searcher administers its own affiliate program and pays affiliate marketers through PayPal. This company provides multilingual banners as well as text links to help promote the service.
Why You Should Promote Social Searcher: This tool can help companies and individuals keep their marketing strategies up to date with great analytics and the ability to watch trending posts. The commission rate is generous and the recurring commissions are nice, too.
3. The Social Butler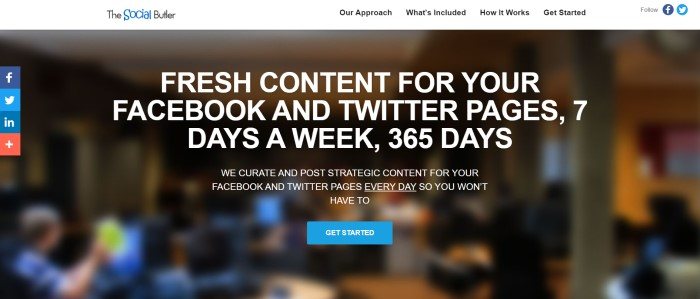 The Social Butler curates and posts fresh, relevant content to Facebook and Twitter every day. All content is unique to the customer and created with the customer's needs in mind. The customer's business is promoted online weekly, too.
This service costs $299 per month for the Socialite plan, with a 14-day, risk-free trial. Posting begins about three days after referrals give the service access to their accounts. The Growth plan costs $499 per month, and the Enterprise plan costs $799 per month.
Affiliates have access to banner ads and text links to use to promote this service on their websites or on social media. Social Butler runs its own affiliate program.
Why You Should Promote The Social Butler: This company takes care of creating content and posting it on social media so that business owners can attend to other aspects of growing their businesses. The recurring commission is terrific.
4. Social Media Marketing World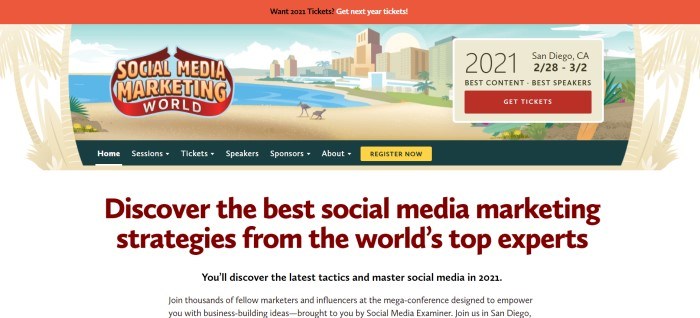 Social Media Marketing World is a conference where the world's best social media marketers present their strategies to the public. In 2021, the conference will be held in San Diego. Tickets range in price from $497 to $1697.
Affiliate marketers make $50 in commissions for Community tickets, but all other tickets bring in commissions of $100 per sale. Payouts happen within 30 days of the event, which is in February and March in 2021.
Social Media Marketing World runs its own affiliate program.
Why You Should Promote Social Media Marketing World: This conference lasts five days and provides the most up-to-date trends and strategies for social media marketing. The commission rate is high, but affiliates have to wait until after the event to receive payouts.
5. The Social Media Monthly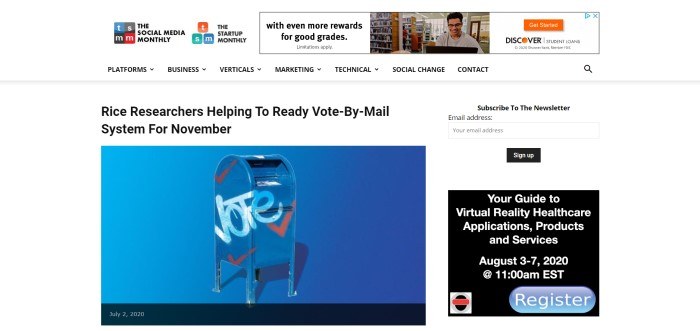 The Social Media Monthly, a print magazine focusing on social media, covers everything from new platforms to new marketing strategies. This magazine provides articles in several categories, including business, verticals, platforms, marketing, technical, and social change.
This magazine runs its own affiliate program. Affiliates can access an ad banners page to get the images, banners, text links, buttons, email copy, and other marketing materials for promoting the magazine. Many affiliates are internationally based, and the magazine is distributed in 20 countries across the world.
Why You Should Promote The Social Media Monthly: This print magazine brings top social media news home, covers several categories, and provides an extremely long cookie.
6. Hootsuite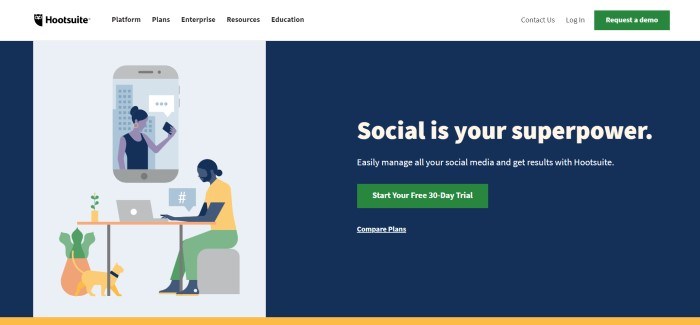 Hootsuite is a marketing toolbox that allows customers to access all of their social media accounts from one dashboard. This includes features such as writing and scheduling posts, engaging customers on both private and public social channels, and monitor activity across all social media platforms at one time.
The affiliate program is administered by Commission Junction. Affiliates are paid when referrals purchase add-ons such as enhanced support, upgrade to a Hootsuite Pro account or purchase an annual membership. This includes commissions for new team members that affiliates refer to Hootsuite.
Hootsuite isn't currently looking for new affiliates, but when the program is open, they seek affiliates that have a great website design, provide unique and thoughtful content, and have a large following.
Why You Should Promote Hootsuite: Hootsuite is a well-known social media marketing dashboard. While this program isn't currently accepting new affiliates, it could be a program to watch for in the future.
7. Send Social Media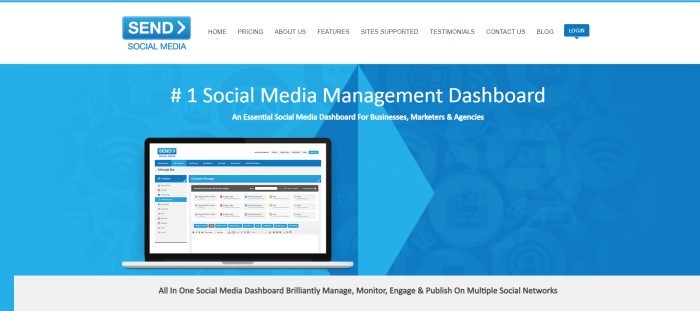 Send Social Media is a social media managing platform that allows customers to engage people in their social media world, measure results, and monitor brand results. Customers can have access to 30 or more social medial platforms at one time with this program. Paid plans range from $59-$199 per month.
This company runs its affiliate program in-house, and affiliates have access to banner ads and links for promoting the service. One nice thing about Send Social Media Marketing is that payouts are made immediately when referrals make a purchase.
Why You Should Promote Send Social Media: Send Social Media offers a decent commission rate, as well as commissions on sales from second-tier affiliates and immediate payouts.
8. Social Web Suite

Social Web Suite is a powerful social media automation platform, similar to Hootsuite or Social Pilot. However, Social Web Suite is unique because it is deeply integrated with WordPress. This company offers great technical support, and the program integrates well with Facebook, Twitter, LinkedIn, and Bitly.
Plans start out at $23 per month on the low end and top out at $2388 per year on the high end. All plans make recurring commissions, but some are paid monthly and some yearly, depending on the type of plan. The 30% commission rate is straight across all plans, which means an affiliate marketer could bring in anywhere from $6.90 per month to $716.40 per year for each sale.
The affiliate program is run through ShareASale.
Why You Should Promote Social Web Suite: The powerful integration with WordPress and a simple list of business-related social media platform integrations could help business owners save time. The 30% commission rate and a broad range of plans are great for affiliate marketers, too.
9. Revive Social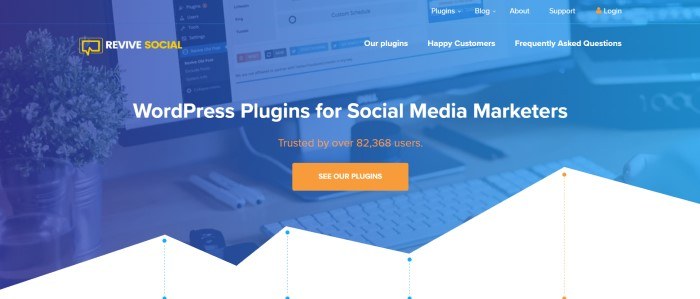 Revive Social is a set of two powerful WordPress plugins that help build website traffic and website networks. The first product re-shares old posts on social media to help keep discussions going and bring in more website traffic. The second plugin shares relevant posts from similar websites and mentions them. This allows a level of familiarity to build between similar websites so they can grow their connections together.
The paid plans range in price from $75 to $299. The affiliate program is administered through ShareASale.
Why You Should Promote Revive Social: Revive Social builds website traffic by recycling old posts and sharing relevant posts from similar websites. The commission rate and cookie length are great, too.
10. Lyfe Marketing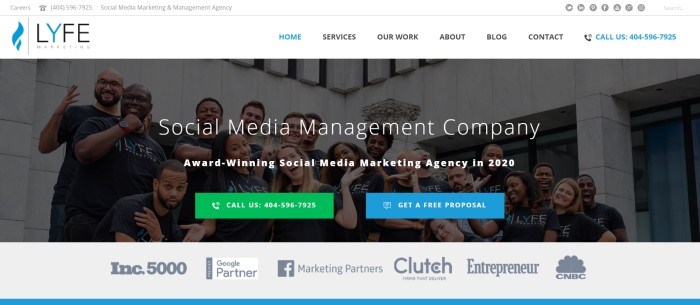 Lyfe Marketing is a social media marketing management company that offers a wide range of online marketing services for customers wanting to grow their brands. For example, Lyfe Marketing provides some SEO work, email marketing, and web design, but it also offers a digital marketing agency, a content agency, video production, branding services, and more.
The affiliate program is run in-house. Interested affiliates can get started by clicking the 'request affiliate information' button and filling out the form.
Why You Should Promote Lyfe Marketing: Lyfe Marketing provides a wide range of online marketing services, and the commission rate is nice.
Affiliate Website Ideas
Now that you've read through this list of the top ten social media affiliate programs, it's time to decide how you'll use them with your affiliate websites. I'm going to share some ideas to help get you started.
First, a website that focuses on spiritual healing could promote many of the social media tools as a way for spiritual healers to meet clients online and develop a following. Crystal jewelry, reiki courses, hypnotherapy, essential oils, and organic clothing could all be featured here, too.
Another idea is a website for takeout food delivery services that want to grow a strong customer base. A website like this one could include social media marketing services to promote them online while they focus on delivering food. Scooters, bicycles, helmets, bike racks, and trailers could be featured here, too, as well as hand sanitizer, wipes, and water bottles for the deliverymen.
A final idea is a website for moms of diabetic children or children with other lifelong challenges. This type of website could feature social media marketing as a way to raise social awareness for a cause. Diabetic supplies and home medical equipment could also be promoted here.
Boost Your Affiliate Earnings
These 10 affiliate programs are just the beginning of what's possible. There are hundreds of ways to earn affiliate commissions with your website, including product reviews, top 10 lists, how-to guides, and more
But what about traffic and conversions? How do you make sure your affiliate links get clicked?
I used the affiliate training here to turn my brand new website into a six-figure income generator in less than two years. Build a business, not just a pocket-money side project!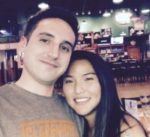 Nathaniell
What's up ladies and dudes! Great to finally meet you, and I hope you enjoyed this post. My name is Nathaniell and I'm the owner of One More Cup of Coffee. I started my first online business in 2010 promoting computer software and now I help newbies start their own businesses. Sign up for my #1 recommended training course and learn how to start your business for FREE!